We had never heard of Page, Arizona before planning our recent trip to the Southwest.
Page is a good size town planted strategically between Bryce Canyon, Zion, Mesa Verde and Grand Canyon national parks. It's a popular stopover between them. But we quickly learned it's also a base for some great nearby attractions and is worth more than a quick stopover.
We spent two nights in this town near the Utah border. Here is a review of the activities that brought us here, plus some tips on where to stay and where to eat in Page, AZ.
4 Things To Do in Page, AZ
Raft the Colorado River
We came here because I had read on the Grand Canyon website that local company Colorado River Discovery does half-day and one-day Colorado River trips.
We didn't have time to hike to the bottom of the canyon, and I wanted the experience of being down below looking at soaring rock walls above. This trip provided a taste of that and more besides.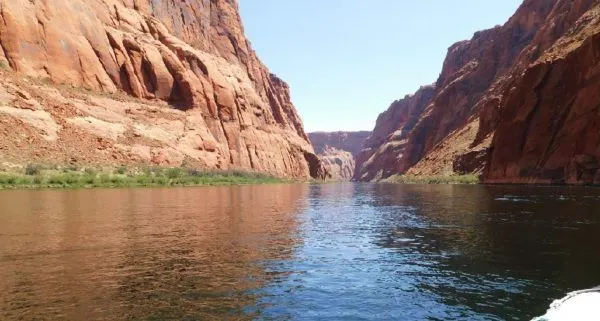 If you have the time, do the full day; you see more of the river and get more out of the trip. The fee includes the rafting, lunch and air-conditioned bus transfers to and from the river. The start of the trip is pretty cool with a bus ride through a mile-long tunnel down to the river at the bottom of the Glen Canyon dam.
I worried that after an hour or so Tiny Traveler might get bored, but between looking for wildlife, trying different seats on the raft, splashing in the water during rest breaks and snacking, she was had a great time.
The other kids on the raft, who ranged in age from about 6 to 13 seemed to be having fun, too. At the very least no one started acting cranky or bored.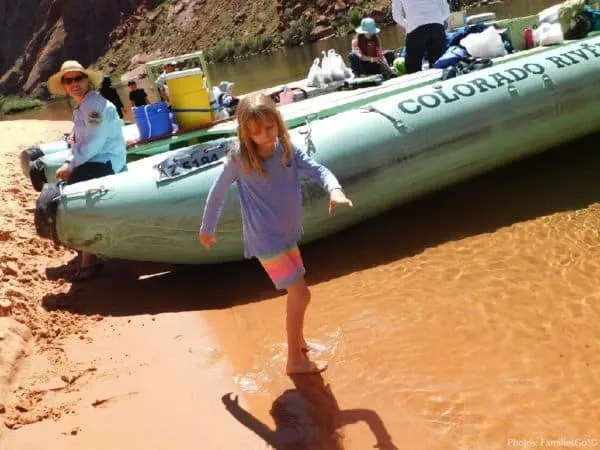 Our guide told us a lot about local geology and ecology, John Wesley Powell and some of the colorful guides who have worked the river over the years.
We spotted horses on the shore and birds and jumping fish along the way.
We stopped twice on small beaches to stretch our legs, and saw Native American petroglyphs. The Colorado was numbingly cold in April but the kids splashed in it anyway (I got in as far as my ankles).
In the summer I would put kids in rash-guards, swim bottoms and sport sandals for a full day of sun and water.
The bagged lunch included a sandwich, apple, chips, cookies and trail mix. Between the three of us, two lunches would have been plenty, especially since Tiny Traveler didn't eat her sandwich (I'm not sure any of the kids did). There are coolers of water for refilling water bottles and free cans of lemonade, too.
Tip: John C. Page Park is right across the street from Colorado River Discovery's store. it has an enormous grass field, playground and picnic tables. If you've had a long drive and your kids need to run around, seek it out when you get to town.
Tour a slot canyon
Our other main activity was a visit to Antelope Canyon, a slot canyon on nearby Navajo land. Slot canyons are formed when wind and floods wear through sandstone until smooth, winding passageways form. The canyons are often open at the top, allowing light to filter in.
The walls are known for their distinct waves of color and for curves and shapes that cry out to be photographed. We visited in the late afternoon, but I read that the light for photographs is best in the morning.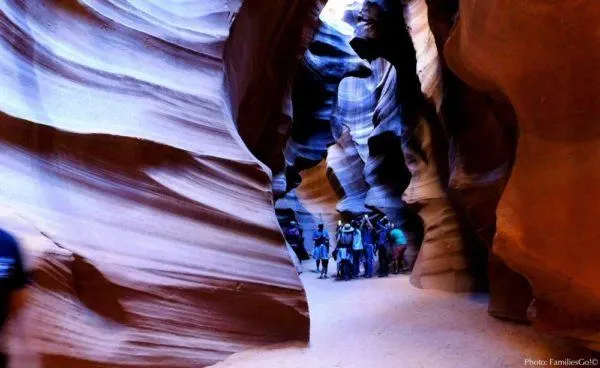 You can only visit the canyon with a Navajo-owned tour company. There are a few in town; we used *Antelope Canyon Tours. The canyon was interesting and different enough from everything we'd seen that we wished the tour had been just a little bit better.
The tour companies coordinate with each other so no two are heading into the cave at once, and each group is 8 or 10 people. But the tours start every 15 minutes, so there was always a group right in front and right behind us.
Our young tour guide had a genuine enthusiasm for showing the caves and preserving them. But he spent a lot of time playing with his phone's photo filter to make shapes appear in the rocks.
He tried to help the people on the tour do the same thing, but could only help one person at a time and this quickly got boring.
We would have preferred he spend more time talking to the whole group, explaining the unique geology and history of the place and maybe telling us more about the Navajo themselves. We saw other guides talking to their group more, so photography isn't always the focus.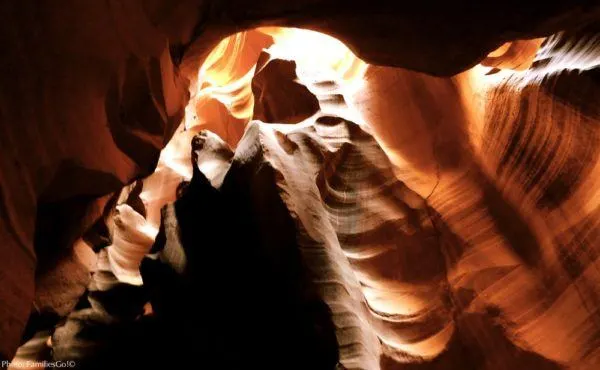 I think the tours might be better if they upped their prices enough to space the groups out and train the guides a bit more. Still, seeing these types of rock formations was exotic and unique for us.
Moreover, this slot canyon is much more accessible than others in the area, especially with kids. If you're in the area anyway it's worth your time to check them out.
A few things to bear in mind if you come with littler kids: The canyon is very narrow and gets darker as you walk deeper into it. Tiny traveler was old enough to appreciate the adventure of exploring a cave and to stay wth the group.
Young children could be scared of the dark and the funny shaped rocks, and could easily wander around a bend while you're busy taking photos.
The ride out to cave is on outdoor bench seats on the back of utility trucks; there are seat belts that two or three people share; it's fine but a little windy and bumpy.
Admire a river bend
As you head out of town in the direction of the Grand Canyon you'll spot a busy parking area on your right. Pull in and walk an easy, flat mile to a cliff overlooking Horseshoe Bend, a deep, scenic turn in the Colorado River.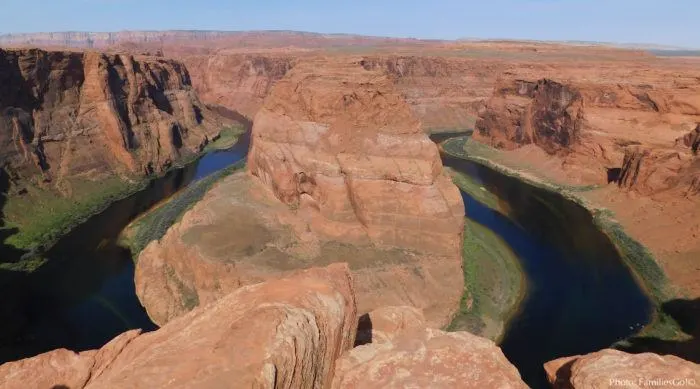 Creep as close to the cliff's edge as you dare, probably on your belly (remember, sandstone is soft!) and take photos. The round-trip walk takes a half hour at most.
Explore a national recreation area
Glen Canyon National Recreation Area is an enormous protected park, mostly in southern Utah (it spills into Arizona). It encompasses Lake Powell, the Escalante River, Grand Escalante Staircase and Rainbow Bridge national monuments and much more.
It's managed by the National Park Service, the Bureau of Land Management and other agencies, so information about its various sites can be a bit of patchwork. The local tourism agencies are sometimes the best places to ask if you need specific information you can't find.
The recreation area offers motorboat, kayak and canoe rentals, hiking, swimming and camping in various parts of the park. The national monuments are known to be spectacular.
Lake Powell is manmade and looks like the flooded canyon that it is. It's unique, scenic and worth checking out. If you want to explore this giant park in more than a token way, give yourself an extra one to three days in the area.
Where to stay in Page
Whatever your favorite hotel chain is, chances are they have a place in Page. Page had hotels in all price categories, but everything was a chain; no local boutique hotels here.
We had a very favorable experience at the Holiday Inn Express. It had a new or newly redone feel, a nice pool and hot tub, a friendly staff and free cookies and ice tea in the afternoon. There were also warm cinnamon buns at the breakfast buffet (yum!). At $140/night it was the best lodging deal of the trip.
Had we known about it however, we probably would have tried to get a room at Lake Powell Resort. It's a modern hotel without the rustic charm of the national park lodges but it's in the park, right on the lake and would have been a more unique experience than staying in town.
Where to eat in Page
The dining options in Page were ample but you have to work a bit to explore beyond the strip-mall fast food ubiquitous Mexican.
Lakefront cocktails
Lonely Planet suggested we head to the Rainbow Room on Lake Powell to watch the sunset over cocktail, and we tried to. It did have a nice view but was somewhat formal and even on the early side they wouldn't give us a table for just drinks.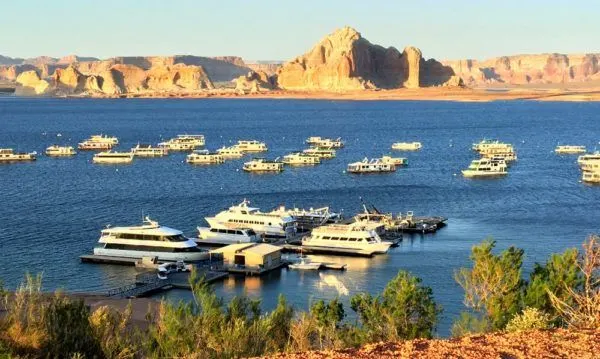 The lounge next door had no views but opened on to the pool deck, which had a fire pit and comfortable couches. So we took our drinks outside and had a sweeping lake view mostly to ourselves.
I read when I got home about new Latitude 37, a casual indoor-outdoor restaurant right on the water, a ten-minute walk from the hotel. Next time I would head there for my sunset cocktail.
Two Local Places
We tried an Italian restaurant called Bonkers in spite of its name because it had consistently good Yelp reviews. It was red-sauce Italian served up in a room decorated with bold southwestern murals.
The food was really good, we had the fastest service of any place we ate on the trip and the portions were the right size. We were happy.
It was almost inevitable that we eat Big John's Texas BBQ. We passed it every time we drove through town and it always looked hoppin'.
Either a rack of ribs or pound of brisket plus two sides would have been plenty for three of us. We naively ordered both, which was enough for about three meals. The meat was really good but the sides were only so-so (the beans tasted like canned beans).
If you go, order conservatively and stick to salads and cornbread for sides.
Pin it for later!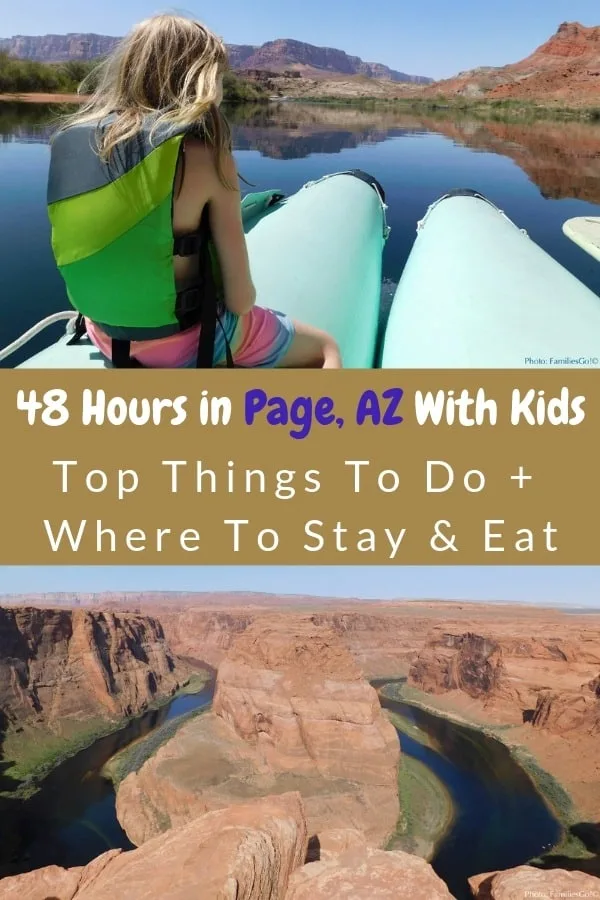 *Colorado River Discovery provided us with one free place on the raft. And Antelope Canyon Tours let us join the tour for free. We did not agree to any particular coverage in exchange for these and our opinions are always our own.