Access to Cuba from the U.S.
The U.S. was briefly more open to travel from the U.S. but Donald Trump reinstated most restrictions. You Can read what the U.S. State Department has to say. Read on for what you can expect when restrictions are lifted again.
Cuba is not the most likely place for an American child's first passport stamp. But this Caribbean island offers a short flight from the U.S. and so much vibrant culture and history, we decided to take a chance and made plans to explore this nation with our 2YO son.
New tourist investment dollars have not caused a sizable culture shift—yet. You won't find a Starbucks or McDonald's on the island, which is a plus in our minds.
The downside of this authenticity is that seeing Cuba can still be tricky without the comfortable, well-organized logistics offered by tour companies. We used one to book our flights and part of our trip.
Admittedly, we spent much of our time in Cuba relaxing on the beautiful beaches of an all-inclusive resort on Cayo Coco, a small island off of mainland Cuba, socializing with Canadians and Russians. Given how hot and hectic Havana is, families might consider starting in the city and having their beach R&R afterward.
We spent one night in iconic Havana on the way home. It wasn't enough to fully explore. But given the logistic challenges of sightseeing in Cuba and the limits of a toddler's attention span it was enough for us on this trip.
Read More
• Stopping in Havana on a Cruise With kids
• Ask FamiliesGo!: How Can We Visit Cuba With Kids?
Planning for your Cuba family vacation
If you're feeling adventurous, here are our tips for visiting Cuba, and particularly Havana, with kids.
Pack snacks
Many rentals offer a cooked breakfast for a nominal additional fee. But you won't easily find well-stocked grocery stores, even in the cities, so pack a trip's worth of your child's must-have snacks.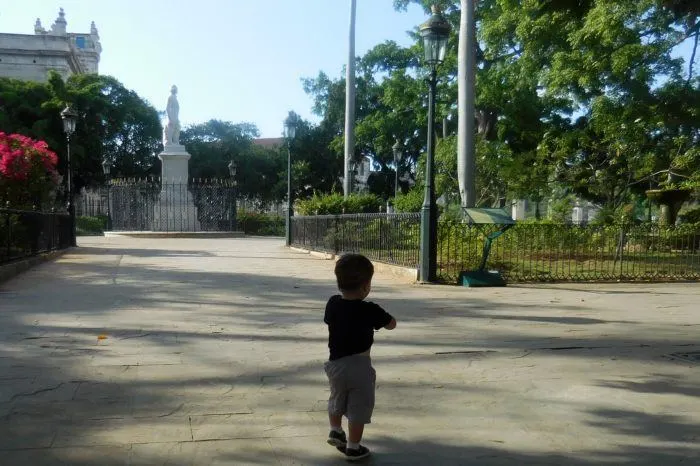 For our night in Havana we also packed nonperishable meals we could heat for all of us in the kitchen of our AirBnB rental. If you're traveling with child still in diapers, bring enough diapering essentials for the trip, too.
Tip: Recently retightened travel restrictions limit Americans to travel on group tours, which means private rentals might no longer be an option coming from the U.S.
Plan to go old-school for information
Mobile phone service is evolving in Cuba. Some U.S. carriers are introducing service but expect it to be spotty and to come with roaming fees attached.
Cuban SIM cards have recently become available and if you can, buy one before you go. They weren't readily available at the airport when we arrived.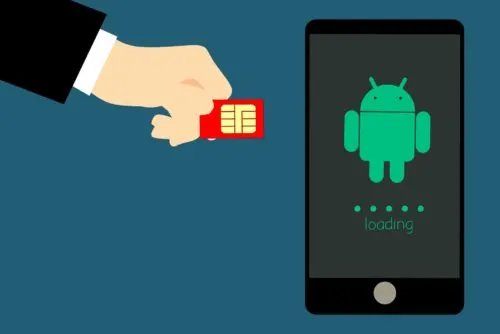 Outside of public parks, you won't find wi-fi beyond western hotels and they will charge a fee for it.
We planned in advance in ways we weren't used to. We downloaded or printed all of our reservation confirmations. And we made sure to download a translation app we could use offline, plus games, movies, and ebooks for our toddler.
Tip: Consider bringing a physical guidebook, and getting hold of a city map or downloading one you can use offline.
Get out to the beaches
While Havana is a coastal city, the waterfront is mostly seawall. We found many places that were ideal for having a cocktail and watching the sunset (not that we were able to do that).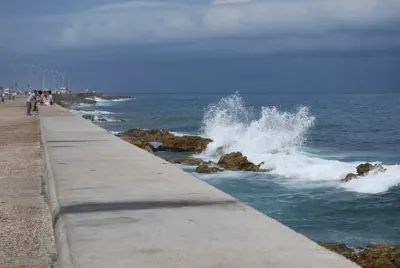 But if you want a place where a toddler can dig in the sand, head to the local beaches of Playa del Esta, a 30-minute taxi ride from town. If you aren't taking time at the beach resorts this is an excellent way to get a break from the city during your visit.
Brush up on your Spanish
It's essential to learn a few survival phrases in Spanish and have a translation app. I you want to converse with locals learn some family related words, too. Cubans love to talk about their children and will also ask you about your cuties.
Plan to pay for playgrounds
Well-maintained, free public playgrounds are rare in Havana.
The best known for-fee park is Parque la Maestranza, right on the waterfront in old Havana. General entrance is 1 CUC but once inside, there are separate fees for the attractions, which include small carousels and inflatables.
Jalisco Park is a small amusement park squeezed into a corner 23rd Street in the popular Vedado neighborhood. Both of these parks will probably seem run down by U.S. standards.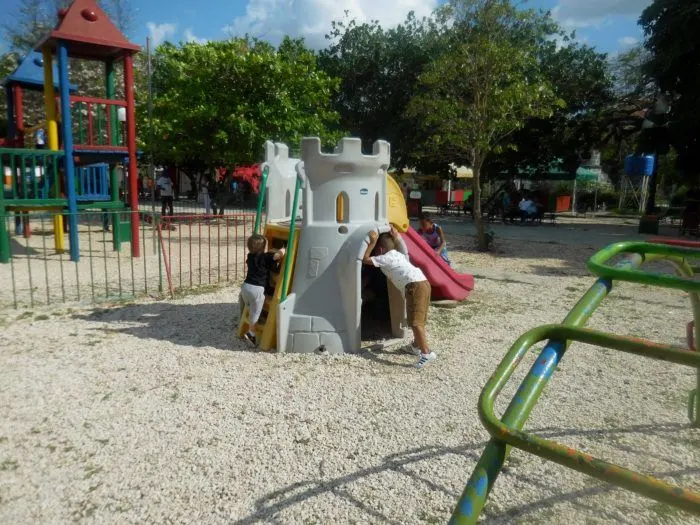 But our toddler didn't notice the faded structures and was happy for a much-needed play break from the museums and churches we were dragging him around to.
Bring your own carseat… maybe
Don't even think of renting or borrowing a child car seat in Cuba. and before you make plans to bring your own, consider that we rode to the Havana airport in a 1978 Russian Lada with a broken door handle and no seatbelts. (The tour company booked our airport-resort transfers, but we were on our own in Havana.)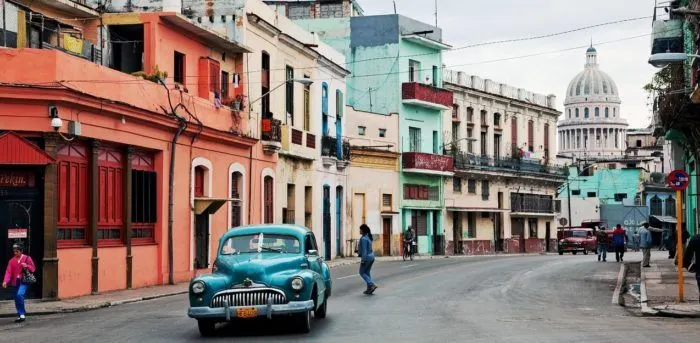 If you are uncomfortable taking even short rides without a seatbelt, stay at a western hotel and ask them to help you find a newer taxi. But know in advance that there are no guarantees.
Private vehicle ownership is not common, taxis make up the majority of traffic and most of these are old. On the reassuring side, since there aren't a lot of cars, roadways are very mellow; we actually saw a couple of horse-pulled carts on the roads,
The old cars Havana is famous for are stylish but slow. We didn't want to miss the experience of touring Havana in a classic car, and we felt OK despite the lack of seat belts.
Pin it for later!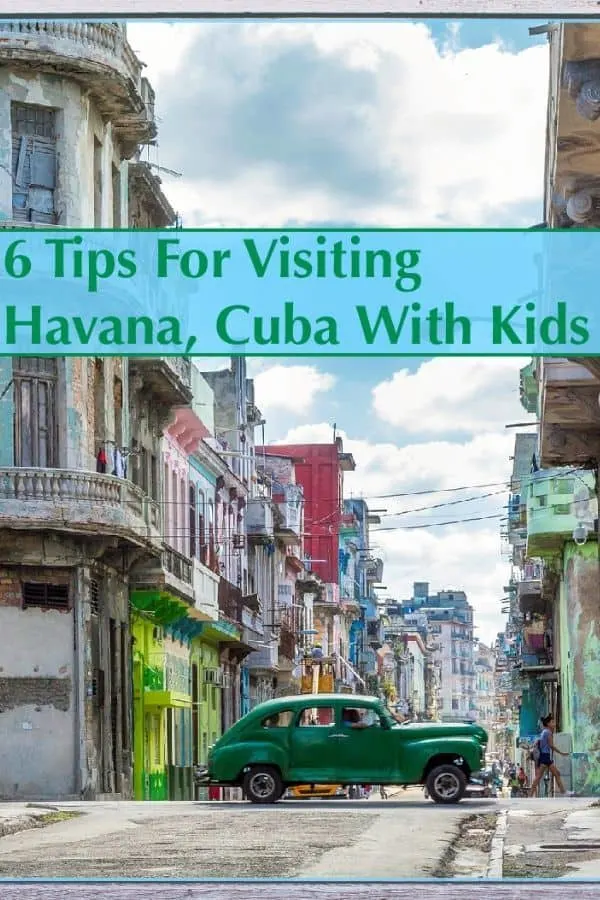 Aminda Parafinik and her husband Josh own a corporate team building business in Phoenix and are the authors of The Couple's Road Trip Guide: Relationship Lessons Learned from Life on the Road.
They have 2YO son and Cuba was his first international trip. Follow their travel at Josh & Minda's Couple Guide.