We went to Zion National Park without knowing anything about it other than that everyone who has been says it's stunning. Well, it is stunning, in a variety of ways. And we absolutely loved the 48 hours we spent there and in the nearby town of Springdale.
Zion has some rugged trails and the tougher ones are not for kids. But the canyon has a wealth of places where kids can climb, play around water and spot wildlife. Here is what you need to know to plan your own trip.
Also Consider:
13 Accessible National Parks For Multigeneration vacations
My Complete Planning Guide for a Zion Park Visit
About Zion National Park
Zion is divided into three main areas. There is the west entrance to the main canyon, near Springdale; the Kolob Canyons to the north, which are reportedly gorgeous and far less visited (we didn't get there); and the east entrance, toward Kanab, that connects to main canyon via a mile-long tunnel.
They allow only one-direction of traffic in the tunnel, alternating every few minutes. During peak morning hours count on some time to get through.
We found we were able to see the main part of the park as much as we wanted in three days. If you want to go to Kolob, experience a dude rance or do other things in the area, consider four or five days.
Like many people combine Zion with the Grand Canyon, where there is also quite a bit to do. We reluctantly skipped Bryce Canyon, to stop in Page, AZ, for Colorado River rafting and other activities.
An Amazing Afternoon Hike at Zion:
Driving from the Grand Canyon, we entered the park on the higher up Kanab side. It was a stunning introduction. The layers and textures and shape of the rocks were picturesque and like nothing we've seen.
There are a few pull-ins where you can take photos and do some short hike, but parking can be busy.
Tip: It's easy to spot grazing mountain sheep on this side of the park.
Our *National Geographic Guidebook (which I highly recommend) said the canyon view trail just before the tunnel is worth doing. It was an understatement.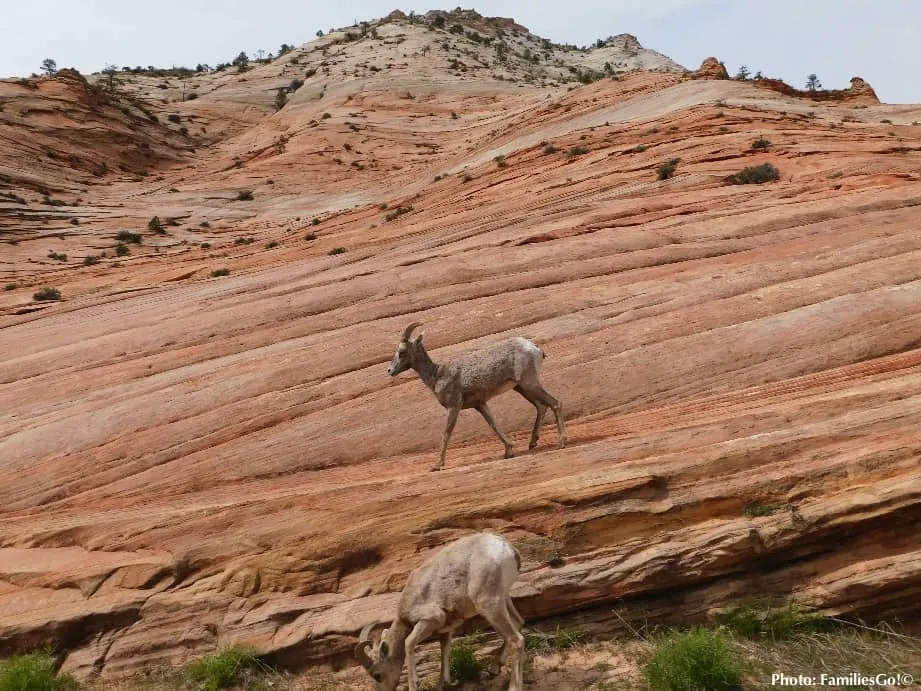 At one point the trail disappeared around a cliff and we only found it by watching where people were walking on the return trip. But the reward for persevering is a stunning view of the length of the canyon and a breathtaking introduction to the park.
Trail conditions: This walk is about a mile round-trip and not steep, but it's rugged and has some 10-to-30 foot drop-offs with no rails. I'd recommend it with kids 6YO and up.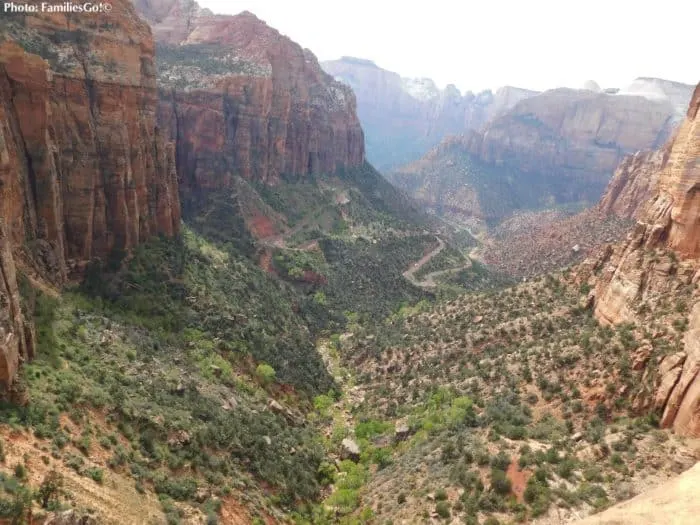 A Full Day in Zion Canyon
The next day we started bright and early to do as many hikes as we good on our one full day in the park.
A park shuttle has nine stops along the seven-mile canyon floor. As you ride passed Angels Landing look for rock climbers hanging high up on the canyon walls.
We rode to the last stop because the owner of our hotel told us that the riverside walk that starts here leads into the river narrows and gives a good feel for how the canyon was formed.
It's a nice walk with a fun rock garden at the end and plenty of places for kids to safely run free, climb on rocks and play by the river.
Trail conditions: This was an easy walk on a mostly paved path. It's one of the best walks to do if you have a family member in a stroller or a wheelchair.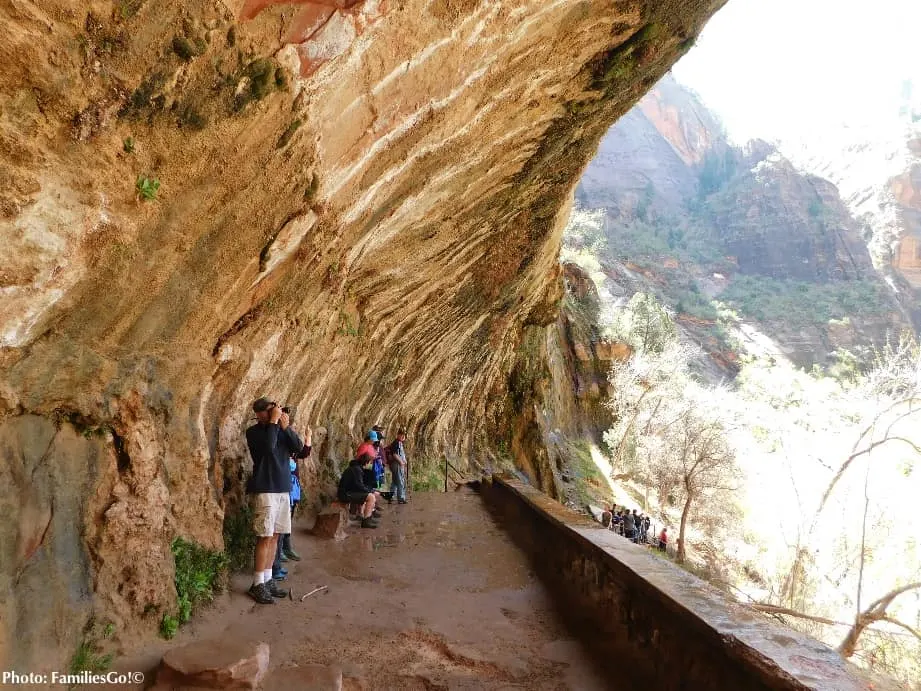 Next, we went rode the shuttle back one stop to weeping rock. National Geographic recommended it for its good examples of the hanging gardens the park is known for. The top of the trail is a rock overhand that was carved by dripping water and almost looks like a wave.
The hanging gardens are plants growing downward out of the rocks and are far less exotic than they sound.
Trail conditions: This trail is short and paved but fairly steep; fine with toddlers and baby carriers but not so good for strollers and wheelchairs.
Tip: I felt that taken together, the narrated shuttle bus ride, canyon view, river walk and weeping rock provide you with a good understanding of what makes Zion the place that it is. If your time is limited these are the trails I'd do first.
After lunch we tried to take the grotto trail up to the emerald pools, but the maps and signs were a bit confusing. We should have picked up the trail across the road from the grotto's picnic area.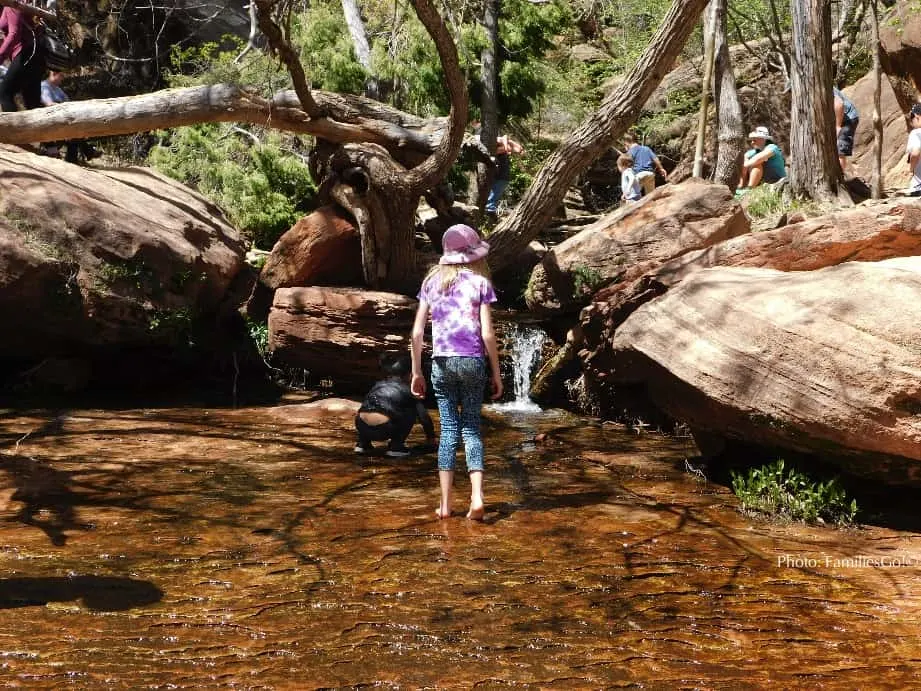 If you follow it straight out of the picnic area (as we did), it just follows the road back to the lodge. It was an flat, easy walk but pretty boring.
From the lodge we made found a paved trail up to the lower emerald pool. There is another water-carved overhang that a waterfall flows over.
When we were there it was just a bit more than trickle, but I imagine that at other times it can be quite a shower. Even so prepare to get sprayed a bit.
We walked on to the middle emerald pool via a short trail that starts to get steep and rocky. It's a popular spot with kids. Be sure to allow time to hang out while yours splash in a four-foot waterfall with pools above and below it.
There are plenty of rocks for parents to hang out and it's a pleasant place to chill. Those with kids under 5YO might end their hike here.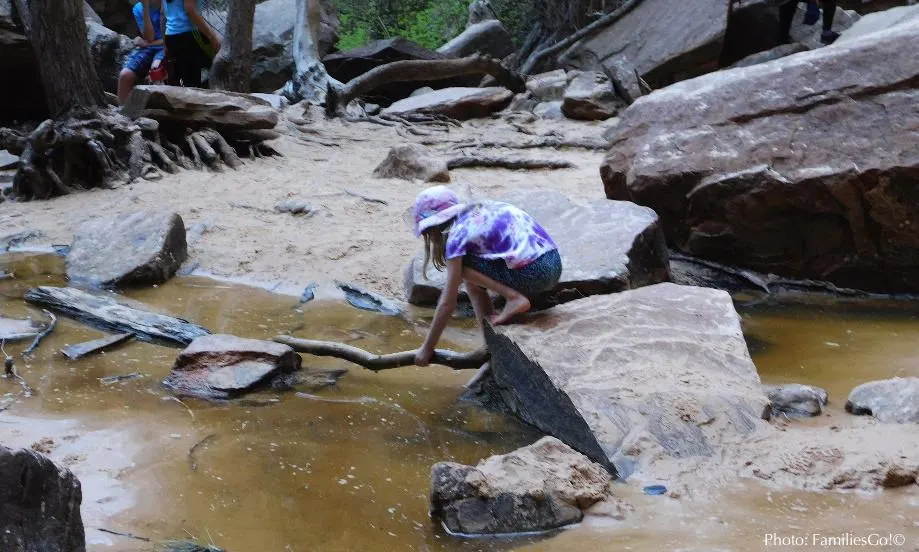 Eventually we made our way toward the upper emerald pool on the toughest trail we did that day.
It's steep and rocky and my knees were pretty sore by the end of the return trip. I was happy to have a walking stick with me for balance and extra support.
But it was worth it. A waterfall several stories high feeds a pool that is indeed emerald.
There are more places where kids can climb on rocks and splash in the water reasonably safely. Kids 7YO and up were having a lot of fun.
I'm not sure you are supposed to, but after a long day of walking it felt good to kick off my hiking boots and dip my feet in the bracing water.
Trail Conditions: You can easily get to the lower emerald pools with a stroller and toddlers, probably even a wheelchair.
The middle pool is steeper and more rugged, but fit parents with toddlers and baby carriers can manage it and it's worth the effort.
I would think twice about the upper pool if you have a baby in a carrier. The parents we saw making their way back down with that extra weight looked nervous and not very happy. You'll also have to hold tight to small children who like to run off because of a few open drop-offs.
Our last stop of the day was by the court of the patriarchs, where a very short, paved walkway brings you to the perfect height for photos.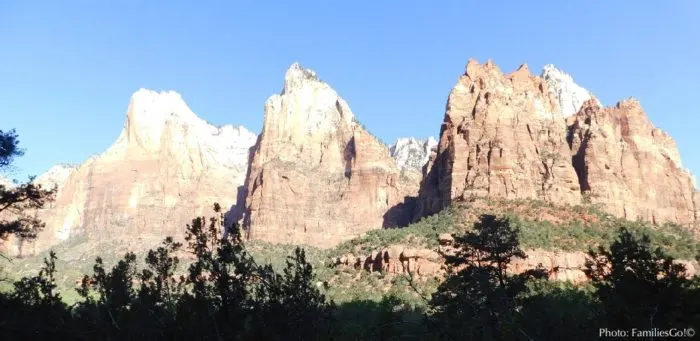 By the time we finished here we were ready for beer, ice cream and our hotel's hot tub.
---
Packing Tips:
• In addition to a good camera that zooms and does panoramas well, bring binoculars for spotting wildlife.
• Kids like having a notebook and pen to record what kinds of animals, bird and even rocks and flowers that they see.
• Pack closed-toe shoes for the trails and be prepared for big temperature swings over the course of the day.
Read and print our outdoor packing list.
---
A Morning Horseback Ride in Zion:
The next day we on the waiting list to go horseback riding with Canyon Trail Rides.
They have a strict 20-person cut off and had only two no-shows, so Rich took Tiny Traveler while I stayed back. They very much liked that the horses have their own trail. They ventured into a part of the park that they had largely to themselves and had great views of the towering court of the patriarchs.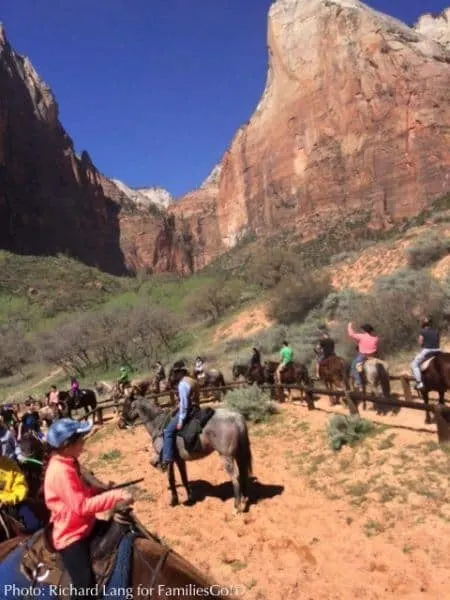 The ride itself is geared toward first-timer riders. It was slow, nose-to-tail riding, perfect for Tiny Traveler but a little underwhelming for her dad. They both said that overall it was worth doing for the novelty of riding in the park.
Tip: If you want to do this make a reservation before you arrive, at least two weeks ahead and probably more in the high season.
---
Planning a trip?
• Use Trip Advisor to read reviews and find the best rates on hotels near Zion.
• Families can save money, have more space and stay longer with a vacation home from VRBO.
• Make the most of your visit with guided activities.
---
Zion Park Dining:
On our full day in Zion we didn't want to worry about lunchtime crowds at the lodge so we stopped at Hoodoo's General Store, one of several in town, for picnic food. We ordered freshly made sandwiches and Tiny Traveler had a pretty decent (by NYC standards) bagel.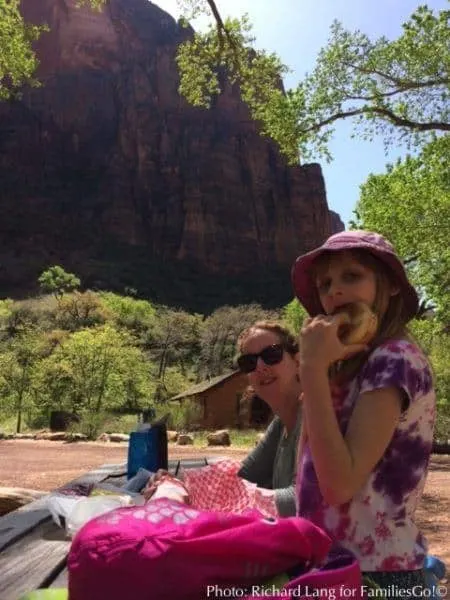 There are plenty of shady picnic tables at the Grotto and this option definitely saved us both time and money.
Our favorite meal in town was at the Spotted Dog at Flanigan's Inn, where we stayed. The room is attractive, the vibe is laid back, and everything coming out of the kitchen looked good. There was even Utah wine on the drinks list.
Rich had buffalo/elk/beef meatloaf, while I had pear-filled pasta and a beet salad; all were good. The Spotted Dog also has a small but good and pretty inexpensive breakfast buffet.
Mexican joint The Bit & Spur is loud; grab an outside table if you can. But it has good cocktails, great chile verde and tacos and burritos on the kids' menu in lieu of the usual chicken fingers. Tiny Traveler ate her first tamale here, and liked it.
We stopped at the Zion Canyon Brew Pub, just outside the park, for our afternoon beer and a root-beer float, and again the next day for lunch. The patio has great views.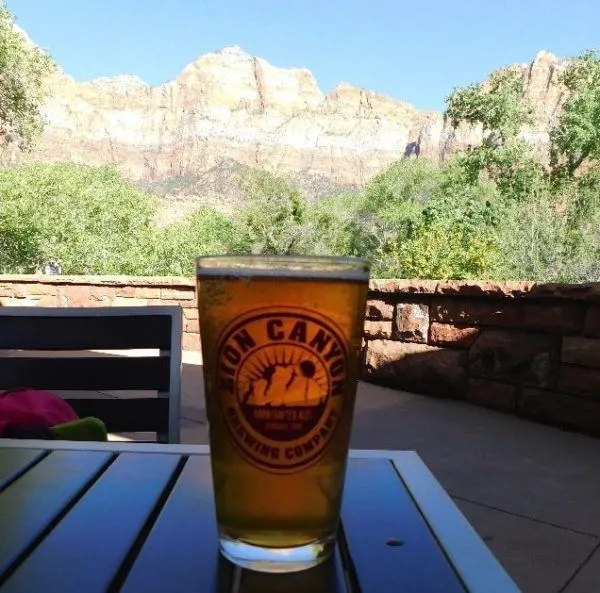 The beers are interesting. I had a well-balanced passion-fruit sour beer. They've since replaced it with a pomegranate version. The pale ale isn't overly hopped.
The nachos come in a pile as high as the mountains around you and can easily feed four people. Rich's burger was overcooked but my steamed clams were really good (I know, clams in Utah? I guess so!).
Service is a little slow at lunchtime, but it's still a handy alternative if the lodge is busy.
Hotels Near Zion Park:
Zion Lodge is small, but ideally located in the park and probably worth a stay if you manage to get a room.
If you don't, Springdale is one of the best National Park towns we've been to. It offered a good variety of hotels, restaurants and shops and had the prosperous, well-kept feel that many national park towns sorely lack.
The hotels are not inexpensive but they were nicer and a better value for the rates they charge than what we've experienced outside of other national parks.
We stayed at stylishly rustic Flanigan's Inn, which we liked a lot. One of its best features is that it's close enough to the Zion entrance to walk to and from the park.
---
More on Flanigan's Inn
• Read our complete review of Flanigan's Inn.
• Find out more about Flanigan's and book the best price on Trip Advisor.
---
If you want to stay on the east side of the park, Kanab is reasonably close and has ample dining and lodging options. There are a few guest ranches on this side of the park, too. They look amazing (one has a buffalo herd). To make the most of Zion and the ranch facilities you would need a good four days.
---
Some families choose vacation rentals so they can stay longer, have more space and cook.
VRBO lists some nice vacation homes around Springdale and Kanab.
---
Practical stuff
Zion National Park Crowds:
The challenging thing about Zion is that it's not designed to handle the growing crowds it's attracting. There is one visitors' center, one parking lot, one park lodge, one shuttle line that pretty much everyone has to take for some part of their visit.
It's a challenge to avoid parking, getting on the shuttle, eating at the lodge, and so on at the same time everyone else is. After our Emerald Pools hike we considered a stop at the lodge's very nice outdoor patio for ice cream and local draft beer. But the ice cream line was so long so we decided to stop in town instead.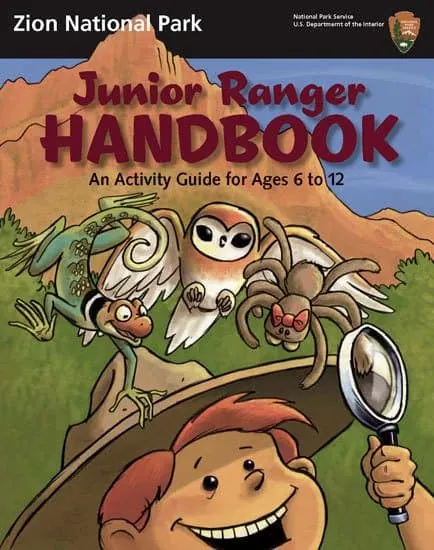 Tip: If you do Zion Park's Junior Ranger program (which we recommend), try to avoid waiting until the end of the day to get your badge. Everyone else will do that, too.
Tip 2: Zion does have a few lesser-known trails (some you need permits for). If the park is just too busy for you, ask a local outfitter or someone at your hotel if one of these trails might be doable for your family.
Parking and Shuttles:
A car line starts forming outside of the west entrance of Zion before 9:00 am and once the parking lot fills you have to park in town and take a shuttle in. Aim to park and be on line for the shuttle before 10:30 am, and the earlier the better.
People who stay at hotels in town can leave their car behind and take the town shuttle. Just keep in mind that the closer you are to the park the more full the shuttles will be by the time they get to you. If you don't want to walk to Zion, which we did, you might wait for a few full ones to go by.
Tip: There are several outfitters in town that rent bicycles, one just outside the park. The canyon floor is fairly flat and biking allows you to bypass the shuttle line at the visitors' center. If you get tired of biking at some point, the park shuttle has a rack.
If you are considering biking with kids keep in mind that bicycle riders share the road with the park shuttles, which come by every eight minutes.
We certainly would have rented bikes if had been two adults, but we couldn't rent a tandem and didn't want to worry about Tiny Traveler tiring out and staying out of the way of the buses.
National Park Fees:
Admission is $30 per car or $15 per person for a seven-day pass. An $80 annual pass allows one car or four people into any park that charges a fee. There are discounts for military families and park volunteers. We used the Every Kid Outdoors pass, which give 4th graders and their families free access to the parks from September through August of that grade.
Pin it for later!