The Hotel:
Flanigan's Inn
Where: Zion Canyon, Springdale, UT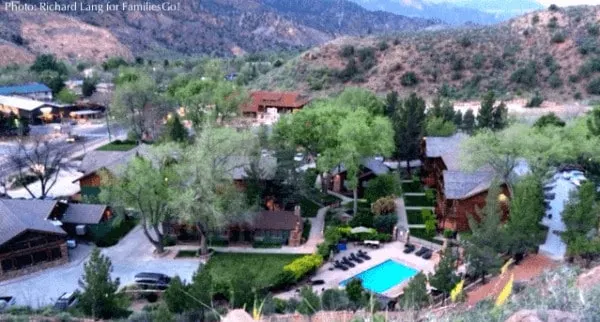 The Location:
Flanigan's Inn is a half-mile from the south Entrance to Zion National Park, and just at the beginning of town. You can easily walk to the Zion visitors' center, a grocery store, outfitters and a few restaurants.
The Room: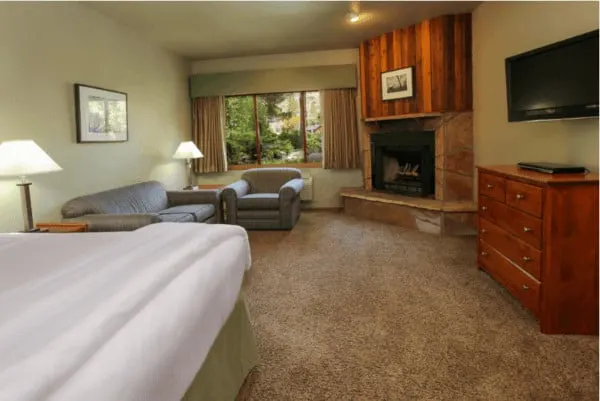 The Inn is a series of small buildings spread over the property. Our room was big and comfortable with a small outside porch, indoor gas fireplace, a fridge, large bed and small couch and easy chair.
The bathroom was modern and stylish with the sink separate from the shower and toilet and nice toiletries from the hotel spa. We could easily have fit a rollaway bed.
Our only quibble is that despite a reservation for three they were out of rollaway beds when we arrive (they said they'd just ordered more for the summer). But they gave us extra bedding and Tiny Traveler was small enough to be fine on the couch.
The Amenities:
The pool area at this Zion-Park hotel has a nice deck. The heated pool was temperate despite cold evenings in early April. The hot tub was steaming.
The onsite restaurant, the Spotted Dog, has a laid-back but stylish vibe and good food; they even had Utah wine! If we had stayed longer than two nights we probably would have eaten there a second time.
The breakfast buffet, about $5 per person, was small but everything was fresh and there was a slight southwest accent to it.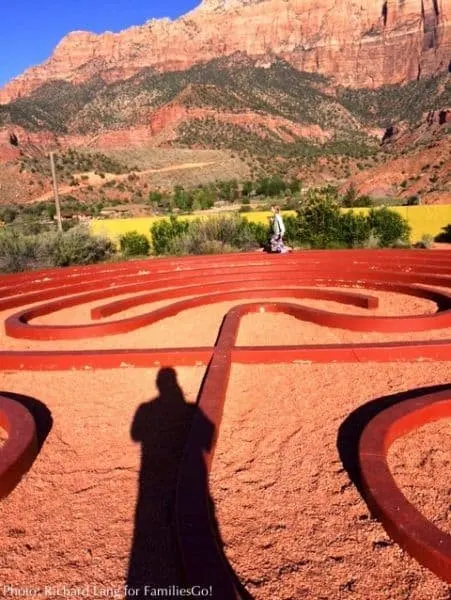 The coolest thing about the hotel is its hilltop labyrinth, great for climbing up to with kids and for enjoying the sunrise or sunset and a nice view of the town.
Wi-fi is included. There is free herbal tea and coffee all day in the lobby—always a nice touch—DVDs and bikes to borrow, and an exceedingly helpful staff at the front desk.
They spent several minutes tracking down a horseback riding contact for us and tipped another family off to a "permit-only" trail that was a good fit when they asked about less crowded trails in the park.
The Vibe: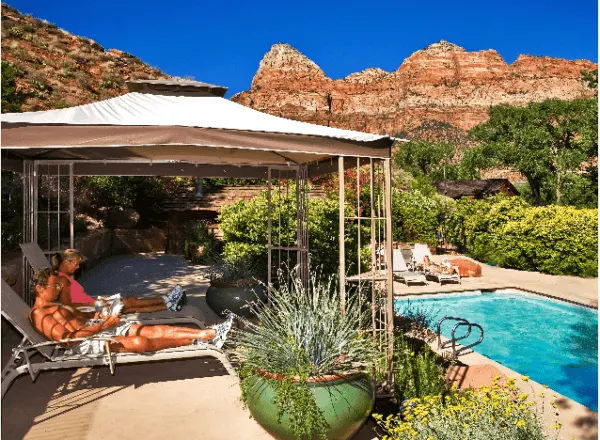 I would call Flanigan's Inn upscale rustic. The property is landscaped for privacy and the log exteriors hold comfortable and well appointed interiors. Families were welcome but if you wanted a quieter, more adult experience you could have that.
The Bottom Line:
Hotels this close to a national park are expensive. We booked late and had to go directly to the hotel, which meant we paid the rack rate ($249). But we felt that we got our money's worth with a good location, great service, a big comfortable room, a very nice pool and an onsite restaurant we enjoyed.
Pin it for later!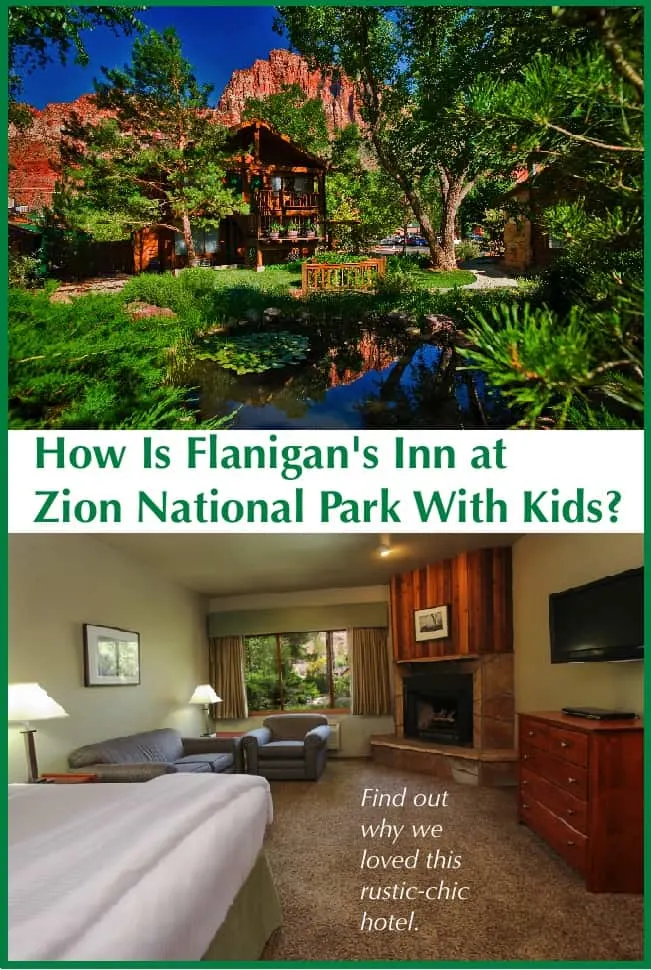 Photos by FamiliesGo!© except room and pool photos (Flanigans).