I love bicycle riding. From the moment we began teaching Tiny Traveler to ride a two-wheeler I have been dreaming of family cycling trips through Tuscany or Alsace or even just the Hudson Valley, two hours from home.
I've had to downsize my family biking dreams a bit for the time beng. Tween Traveler has grown from easy mile-long rides to more adventurous jaunts around our NYC neighborhood and on the carriage roads of Acadia National Park.
But we're still a long way away from all-day rides…and road biking…and hills.
We've brought bicycles with us on vacation for three summers now.
You might also like:
family cycling trails in Australia
17 Things To Do in the Berkshires With Kids
Parents getaway in Bucks County, PA
From buying a bike rack, to finding kid-friendly trails, here's what I've learned about traveling with bicycles to help get you started on your own bike riding day trips and cycling vacations with kids.
Scroll to the end of the story for a list of kid-friendly bike trails we've tried, from Virginia up to norther Maine.
6 Tips For Taking Bicycles On a Family Vacation
Make Bike Riding Fun
Think About Where & How Far To Ride
For now cycling is just a part of our vacations, mixed in with other activities. It isn't the focus of our getaways and might never be (though a mom can dream).
Tween Traveler's confidence has grown with each slightly longer ride she does. But with her 20" bike tires she tires faster than we do on long rides, even flat ones. And with no gears, even short hills are challenging.
We've learned to look for rail trails, boardwalks and other paths that will be wide and relatively flat. They're a good way explore further than we can on foot and get a different outdoor experience without wearing ourselves out.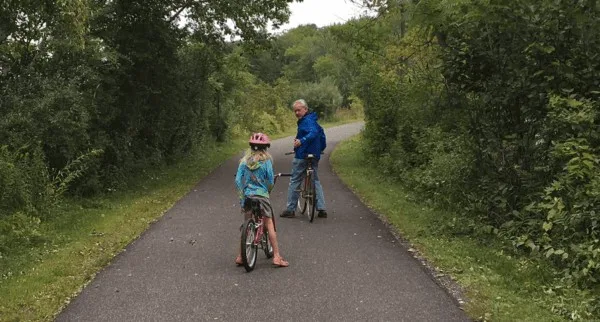 We bring plenty of water and a few snacks, even on short rides. Nothing makes a child crankier than being hot and thirsty halfway through your ride.
Most of our rides take an hour to two hours with stops, but we need fewer stops as she get older and stronger.
We pause for water, snacks, to throw pebbles in a river, scramble on rocks or explore short side paths on foot.
This is fine. We're biking to have have fun, be outside together and see our destinations in a different way. How far we ride is rarely the point.
Find Good Bicycle Trails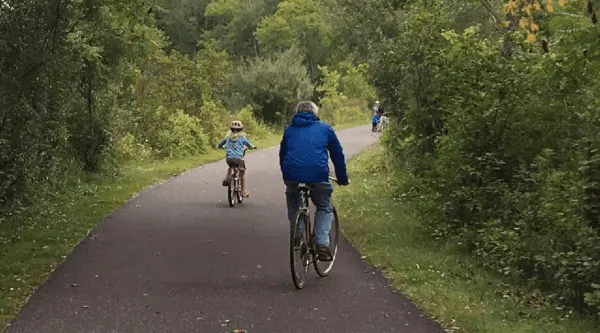 The best way to find scenic bike trails that are good with kids is to call or pop into a local bike shop and ask. Bike shops are owned and staffed by biking enthusiasts and it's amazing how helpful they will be.
You can also call or stop into the local tourism office, describe what you're looking for and ask for recommendation. But how well this works might depend on whether or not you happen upon an employee who bikes.
Some trails can be 10, 40 or 50 miles long. They might start out in town or even in an industrial area but also have bucolic stretches.
If you are only doing part of a longer trail find out where to park to access the prettiest and easiest segments.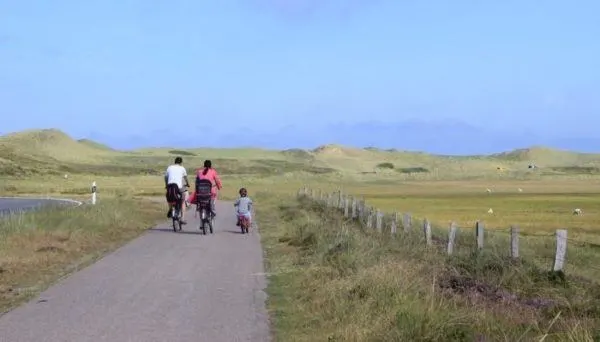 How To Use Trail-Finder Apps
I've learned that there are long scenic bike trails. And there are functional trails local people use for exercise or getting around. Trail-finding apps and websites don't always do a good job of distinguising between the two.
I recently discovered All Trails, which can point you to trails for activities in addition to biking. The trail information is clear and easy to understand and the maps are pretty good.
The information on TrailLink is often vague and it's let us down enough that I quickly stopped using it.
On any trail site or app, read the written descriptions carefully and pay attention to the reviews and comments. These will often have information on the trail's condition, difficulty and scenic factor from people who have actually riddenon it.
Have a great ride!
Logistics For Traveling With Bikes
Look at Bicycle racks in person
There is a range of bike racks out there, with different modes of attaching the rack to the car and the bikes to the rack.
We quickly ruled out a roof rack for large, heavy adult bikes. If you have too many bikes to put on trunk rack, I might consider a roof rack for kids' bikes.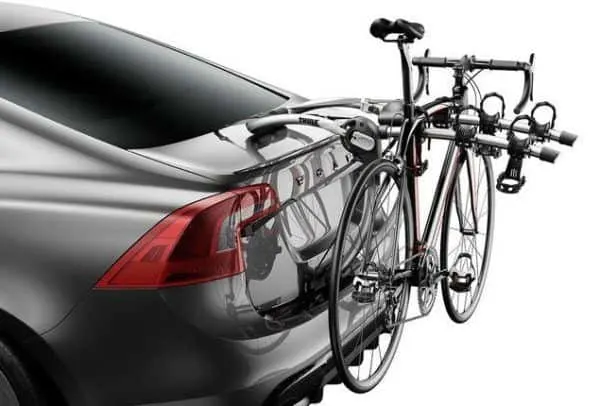 Shop around—in stores— to see how different brand's sizes and systems compare. We chose a *Thule trunk rack because we trust the brand and it was one of the few I found for a reasonable price that could hold three bikes.
It was pretty easy to attach to the car and has a lot of redundancy built in, which helps us feel secure about heading onto the highway with bikes stuck to the back of the car.
Try Out Your Bicycle Rack Before You Leave
Don't wait until you are doing your final packing to try putting your rack on the car or the bikes on the rack.
The Thule was easy to mount on the car but with six straps to adjust it took a few minutes of fiddling to get it just right.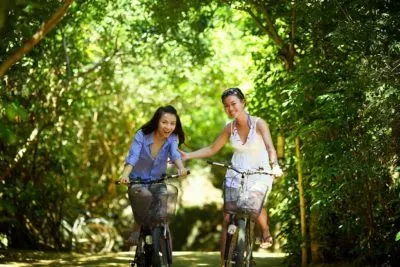 Once we had it fitted, taking it on and off was pretty easy. We learned though, that we always had to readjust the straps after adding the bikes.
Adding the bikes took some doing. Putting three slim racing bikes on a rack is probably no sweat. But hybrids and mountain bikes can have wide handlebars and chunky bodies, and kids bikes can be quite chunky and irregular.
Getting a racing bike, a hybrid and a kids' bike with a curved crossbar to fit into the rack's fixed grooves took some trial and error.
I removed my front basket and rear child seat and it definitely made it easier to fit the bikes around each other. For your first few trips I recommend stripping your bikes down to their slimmest and lightest.
Note on Women's Bikes
Women's bikes don't have a crossbar to hange them by. So I had to buy a *removable adaptor bar to use with the bike rack (They're about $18-$45).
They don't make adaptor bars specifically for kids bikes (though some brands do make shorter ones), so you might have to be creative getting those bikes to fit on the rack.
Pack A Few Tools For Your Ride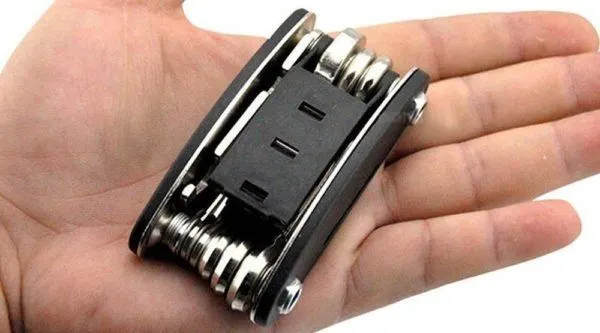 I recommend carrying a pocket tool or portable tool kit with pliers, a few screwdrivers and an Allen wrench or hex keys in case you have to make some small tune-ups along the way.
No matter how well you do taking your bikes on and off the rack, handle bars are going to poke through spokes and get tangled in wires.
At one point my front breaks got pushed out of place. If we didn't have pliers in the car it would have been hard for me to ride that day. At other poitns we've used the tool to tighten reflectors or handlebar bells that have come loose.
Patch Kit or No Patch Kit?
I got a free flat-fix kit at a bike event and carried it everywhere for a few months. Then it occurred to me that I don't know how to remove and replace an an inner tube and don't carry a hand pump. The kit now sitting in my hall closet.
As long as we're riding on trails where we can walk a flat tire back to our car or lodging, I probably wouldn't bother carrying a patch kit. If and when we start to ride for hours or between destinations, I would pack one.
I would also make sure everyone in my family knows how to patch or replace an inner tube and fill it with a hand pump (which isn't easy!). I might also pack compressed air, which is easier to use than a hand or foot pump and packs more compactly
Before you leave on vacation, check everyone's tires to make no one needs air. Bikes lose air while sitting the garage and if your tires are even a little soft you'll have to pedal a lot harder.
If you find you need a top-up while traveling, look for outfitters. They're usually willing to help you out with their air pump.
Have a Plan for Overnight Bike Storage
We packed a light chain and lock so we could secure our bikes to the trunk rack.
It wouldn't have stopped a really determined or experienced thief. But our bikes are not expensive and our hotels were off the beaten track, so we thought it was enough this time around.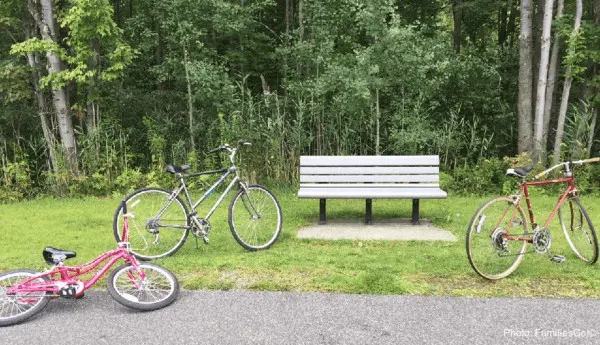 If you're traveling with expensive bikes and/or staying in the middle of town you need to think about what you'll do with your bikes overnight.
The Berkshire Mountain Lodge outside of Lenox, MA has ample bike racks in their parking lot, but not every hotel does. Some people bring their bikes into their hotel or vacation rental.
It's worth calling your hotel to ask how they can accommodate bikes securely: Do they have racks or storage or first-floor rooms you can roll your bikes into? Keep a decent chain and lock in the car for securing the bikes overnight or in busy public places.
10 Awesome East Coast Bike Trails
1. Roanoke Valley Greenway (Roanoke, VA): This thirty-mile path is paved and rolling, easy to enjoy with kids and any kind of bicycle.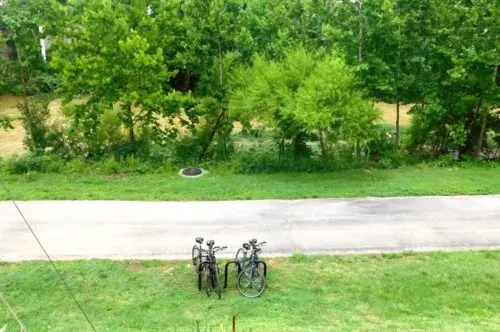 Parts of it wind through parks with playgrounds and along the Roanoke River.
This stretch passes by the Blue Cow, where you must take a break for rich homemade ice cream in unique flavors like Banana Puddin' and Balsamic Strawberry.
Take a look at Visit Roanoke for a map, tips on popular sections and where to rent bikes and park near access points.
2. The Delaware River Towpaths (Bucks Co., PA; Hunterdon Co., NJ). 30 miles of towpaths run parrallel to the Delaware River. You can use bridges that come every few miles to do a loop ride or follow one side of the river or the other for an out-and-back ride.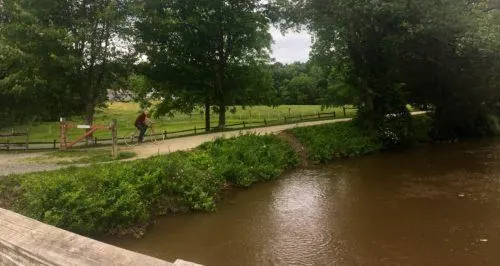 The New Jersey side is much wider and more kid-friendly than the Bucks County side and most bikes can handle the packed-dirt trail.
The Pennsylvania side is narrower and close to the river in some parts. And it's not a path you want to ride on road bikes or hybrids.
3. The Capital Area Greenbelt (Harrisburg, PA): about one-third of this 20-mile greenway runs the length of the Delaware River with no more than one or two streets to cross.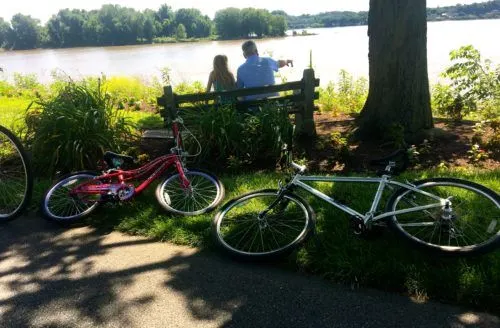 It's flat, paved, passes the capital buildings and bridges, and is super easy with kids. Just be prepared for a lot of sun in thje summer and bring plenty of water.
4. The Putnam Rail Trail (Putnam Co., NY): 12 rolling miles along the former York Central Rail line. We park in Carmel, roughly mid-trail and then ride south.
5. The Riverfront Trail (Dutchess Co., NY): Start from Scenic Hudson's Long Dock Park in Beacon, NY and head south on packed dirt trails along the river.
It's steps from the Metro North Train station and there is a playground at the north end of the park, too.
6. The Ashokan Rail Trail, on the other side of the river near Saugerties NY, is a flat, wide 12-mile trail. It alternates between woods and open views of its eponymous reservoir and nearby Shawangunk Mountains. There are three trailheads so you can do a section at a time.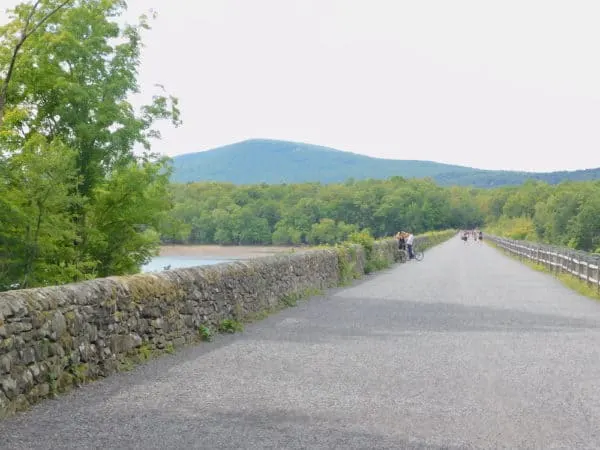 7. Ashuwillticook Rail Trail (Lanesborough, MA): This flat, curving 11-mile trail takes you from North Adams southward past two reservoirs and ends in a shopping area. Park mid-trail along Route 8 to bike along the water. Parking areas are well marked. (See photos up above in the main post.)
8. The Stowe Recreation Path (Stowe, VT): This five-mile trail starts behind the white-steepled church in downtown Stowe. It roughly follows the road between the village and the ski mount, winding over streams and past meadows and corn fields. The half that is closest to town also passed by restaurants, a cidery a brewpub and an ice cream parlor. It's a fun, fairly flat ride and you'll see plenty of kids of all ages.
9. The Kennebunk Bridal Path (Kennebunkport, ME): This flat 6-mile round-trip trail begins just before the parking lot for Sea Road School, about ten minutes outside of town.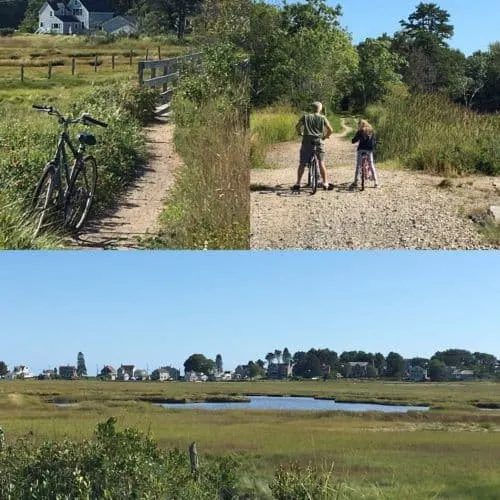 The paths starts off woody (wear bug spray), then opens up to gorgeous river views and ends among scenic marshes, not quite in view of the seaside (with a little road biking you could get to the beach, but it's a busy road).
I managed the gravel with my hybrid but fatter tires would have been better. There's a good chance you'd pop a tire on a road bike. Kids are required to wear helmets in Maine, even on off-road trails.
10. The carriage roads in Acadia National Park (Mount Desert Island, ME): John D Rockefeller built 45 miles of carriage roads in and around Acadia.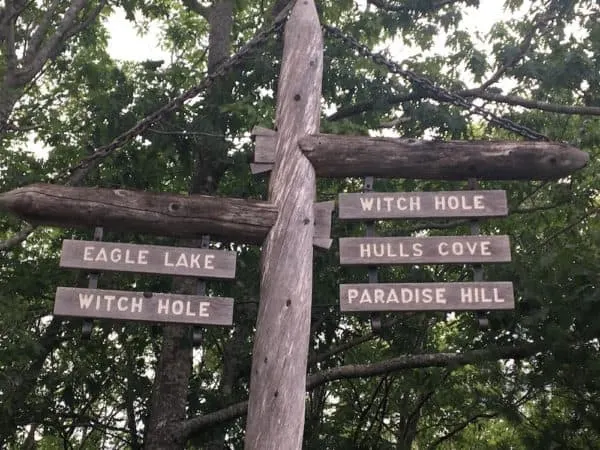 Today most of them are gravel paths protected by the park and closed to traffic for cyclists.
Keep a map of the carriage roads with you and pay attention to the numbers posts at intersections. Otherwise you'll wind up taking a much longer ride than you meant to.
A Ranger tipped us off that the flattest trails are the ones in the northeast corber of the carriage road map. As you move further south and west across the map, the roads have bigger hills.
Following this advice, we parked at the main visitors Center and did a loop around Witch Hole Pond.
It's a short, pretty easy ride but it took us nearly two hours while because we stopped to check out the pond, spot a beaver damn, pick wild blueberries and explore beneath one of Rockefeller's beautiful bridges (which I recommend).
Several of the paths intersect near Jordan Pond House.
Starting there you can bike for four or 20 miles depending on how you combine the loops. We ran into some big hills on these paths that Tween Traveler walked up, but she she loved going down.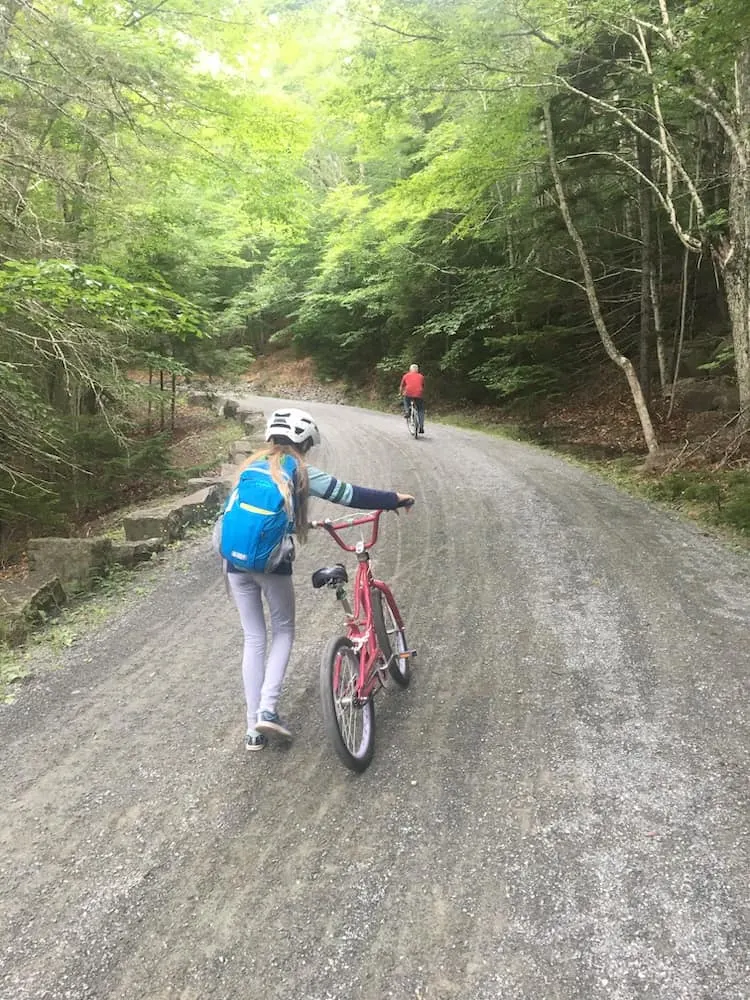 These trails are tough on tires so don't plan on using a road bike. But don't worry if you pop a tire (I did); several outfitters in Bar Harbor can fix a flat or rent bikes to you.
If you rent, have a rack to bring the bikes into the park. Riding from town into the park isn't practical with kids.
Pin it for later!