We know Jiminy Peak Mountain Resort in Massachusetts as a ski area handy to both New York City and Boston, but this was our first summertime visit to this Berkshires resort and the first time we stayed overnight. It was easy and not ridiculously expensive and we had a lot of fun. What more can you ask for a nearby summer getaway?
Jiminy's summer adventure park offers a lot to do for kids and teens. Plus there's good, casual onsite dining and a nice hotel. Whether you're heading to the Berkshires for a weekend or a week, I recommend spending a night at Jiminy Peak Mountain Resort.
Here is my guide to help you make the most of Jiminy Peak's summer activities.
You Might Also Want To Read
• 17 Cool Thing To Do in The Berkshires With Kids
• 8 East Cast Places For Phenomenal Fall Foliage & Fall Family Fun
• The 10 Best Weekend Family Getaways From NYC
24 Hours are Jiminy Peak Mountain Resort in Summer
First, The Hotel: The Country Inn at Jiminy Peak
With the green, forested slopes of the Berkshire Mountains all around, the Country Inn at Jiminy Peak has an Alpine lodge feel in summer, especially at the end of August when the weather can start to get a little cool and crisp.
All the rooms at the Country Inn are suites with small full kitchens with a two-burner electric range, microwave, toaster, small refrigerator and a counter with stools. There's a living area with a pull-out couch and a separate queen bedroom with TVs in both. The full bathroom has a second sink outside the door.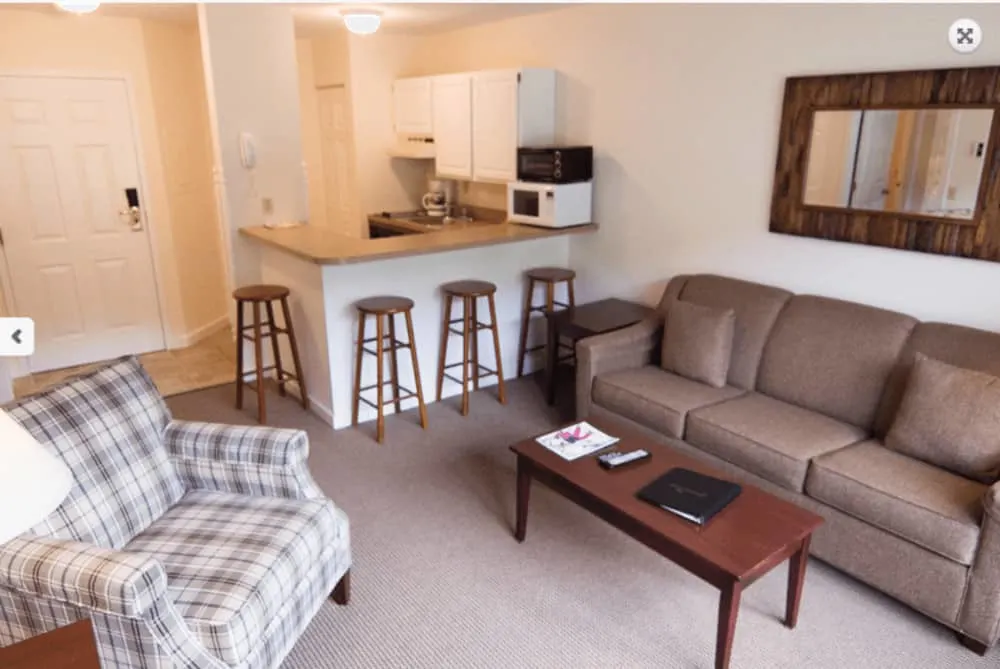 These suites have an older feel than others we've stayed in and are pretty compact, fine for a family with two kids or tweens. With two large teens the room might feel cramped. There are larger suites available, but I didn't see what those looked like.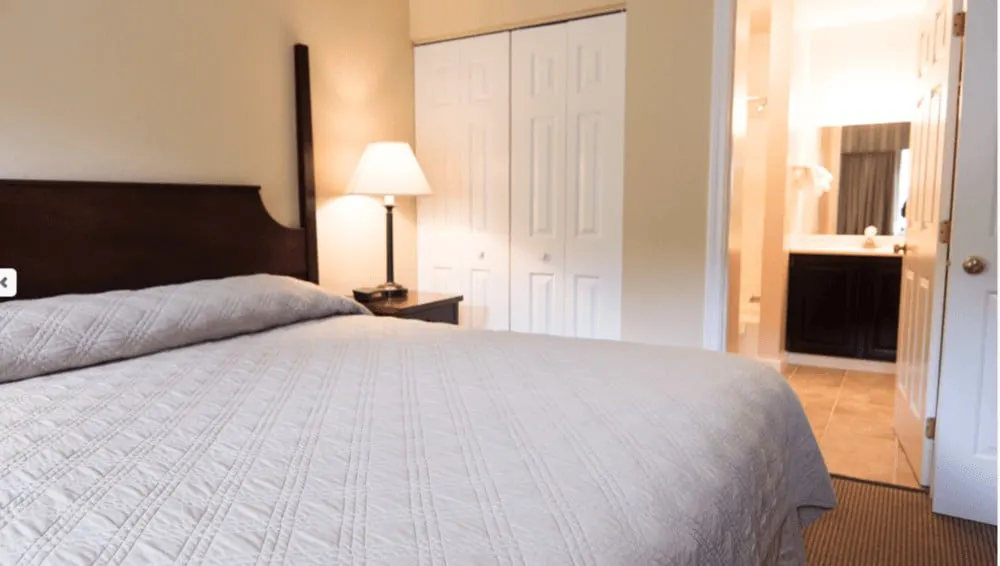 The hotel has indoor and outdoor hot tubs and an outdoor heated pool. We didn't have a chance to go swimming until evening and the temperatures had dipped in to the 60s. So we appreciated that the pool was heated (they use it nearly year-round). It's not a huge pool but it wasn't very crowded so it was fine. And I liked that I could keep an eye on Tween Traveler from the outdoor hot tub.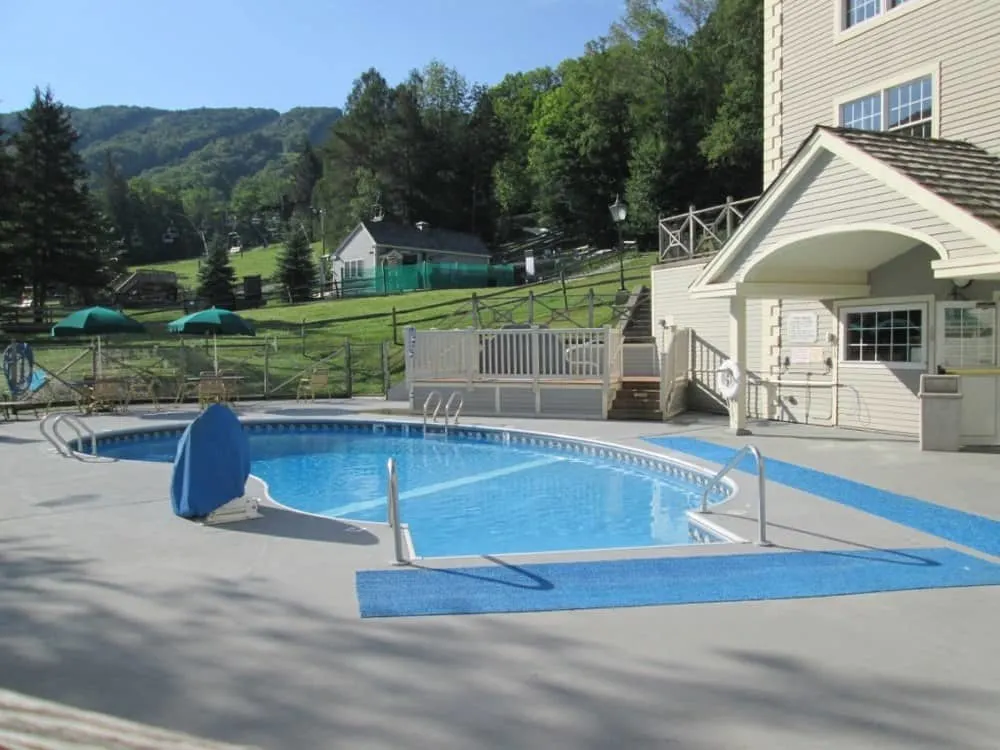 The lobby is welcoming and the seating area is probably very nice in winter with its slope views and large fireplace.
The hotel sprawls and corridors are long. They could use some brightening up to make the journey between room and elevator more cheerful, but this is a very minor detail.
There's a Country Store onsite that has a good-size beer and wine section, a deli counter where we got egg sandwiches and coffee in the morning, drug store items and basic groceries.
Tip: In late summer the resort has become a destination for Orthodox Jewish families from the New York area. They often have big families, so the activities were very busy. These families don't eat in the restaurants, though, so dining wasn't crazy. And they were extremely quiet in the evenings.
But we went swimming at night and an Orthodox father made his sons get out of the pool every time my daughter, clad is swim shorts and a rash guard, went in. I felt bad for disrupting his kids' fun, but I wasn't responsible for his choices and neither was my kid. If you don't want to deal with that kind of awkwardness, just pick a weekend in July or early-to-mid-August when they aren't there.
Tip: You can use the adventure park without staying at the hotel. If you want something more central, we also enjoyed our stay at the Berkshire Mountain Lodge.
Then, Jiminy's Big Summer Activitiy: The Adventure Park
The main Jiminy Peak summer activities are centered on the outdoor adventure park and aerial adventure park, which cost additional fees over the hotel rate. Your pass is good for 24 hours. We spent three hours there during the afternoon we arrived and another four hours the next day, which made us feel we'd made the most of our passes.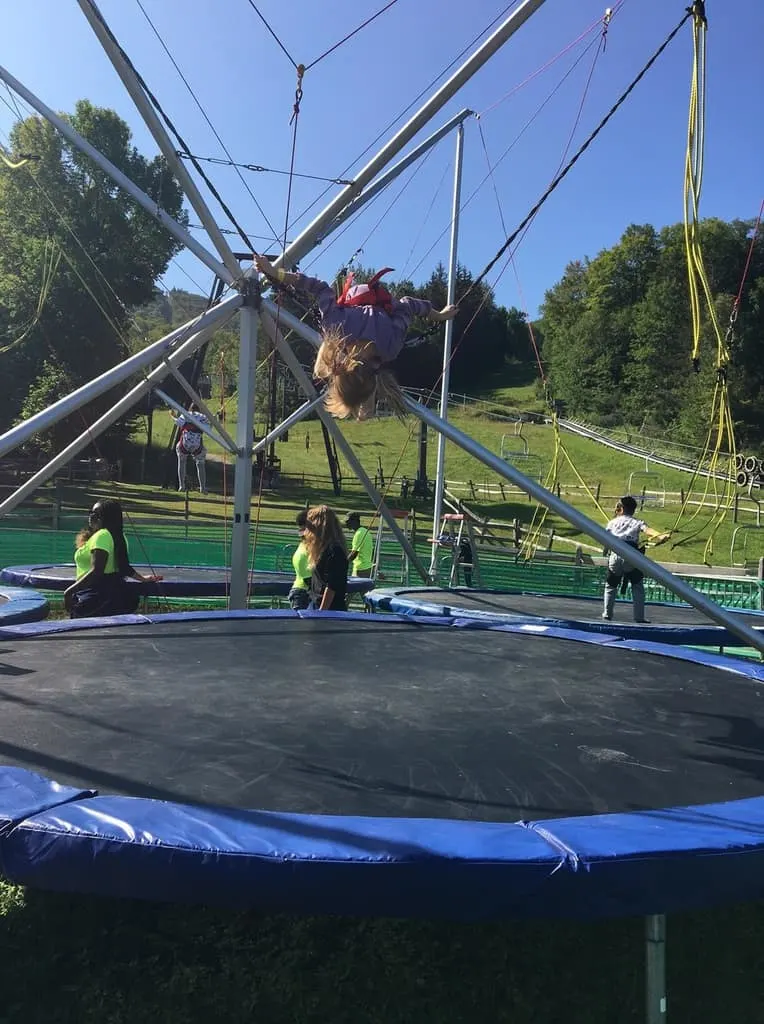 Tiny Traveler spent most of her time on the bungee trampolines and the zip lines and rope courses, which have five levels of difficulty (and differing heights). I didn't have closed-toed shoes for the ropes course (open sport sandals don't pass muster) so I spent my time on the long, winding alpine slide and the shorter, faster mountain coaster.
The former is on wheels and the ladder on a track; both let you control your speed with a hand break. You access the alpine slide via a very scenic chairlift ride to the top of the peak.
Rich did the rope course with Tiny Traveler, and was the only one of us to brave the Soaring Eagle, which looks like a downward facing, high-speed ski lift. There was also a giant swing, a kids' climbing wall and a playground, inflatable mazes and 8-foot high mini rope course for smaller kids.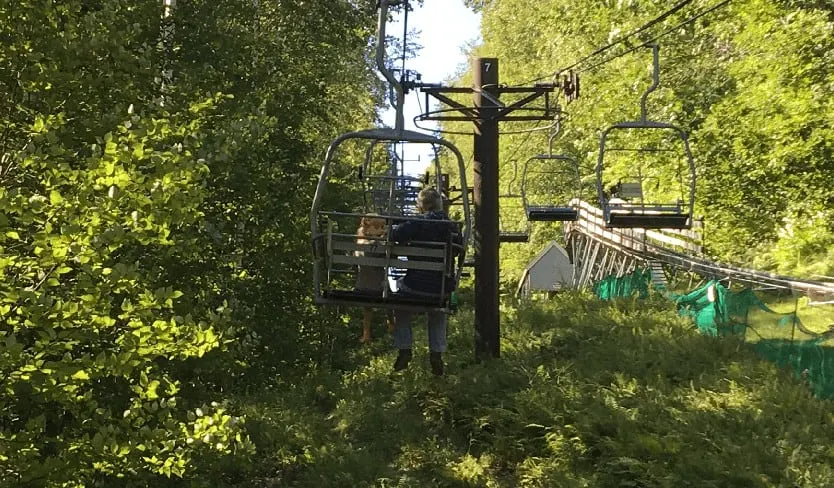 There are some height restrictions, of course and beyond that what your kids do will depend on their age and daring. I mostly saw teens and adults on the big swing and soaring eagle. The two slides appealed to a wide age range. Older kids and tweens like the bungee trampoline and climbing wall. 10YO Tiny Traveler warmed up on the mini rope course but grew board with it pretty quickly and moved on to the regular one.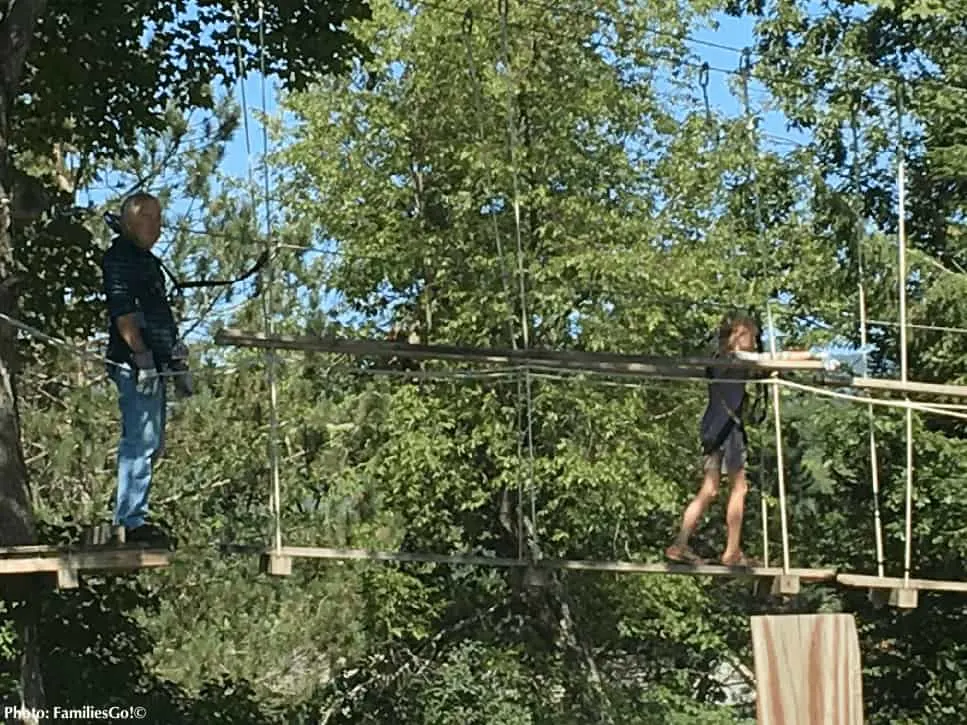 The inflatables and playground are handy if you have kids under 8 who might be too short or not ready for some of the other things.
As with many things it's a good idea to get an early start. At 10:00 a.m. there were no lines for anything and we did everything we wanted to several times over. Between 12:00 and 1:00 lines began to form for popular activities and after 3:00 most things took much longer, even on what was most likely a slow week.
Finally, Slopeside Dining at Jiminy Peak
We had lunch on the deck of Christianson's Tavern, which sits slope-side.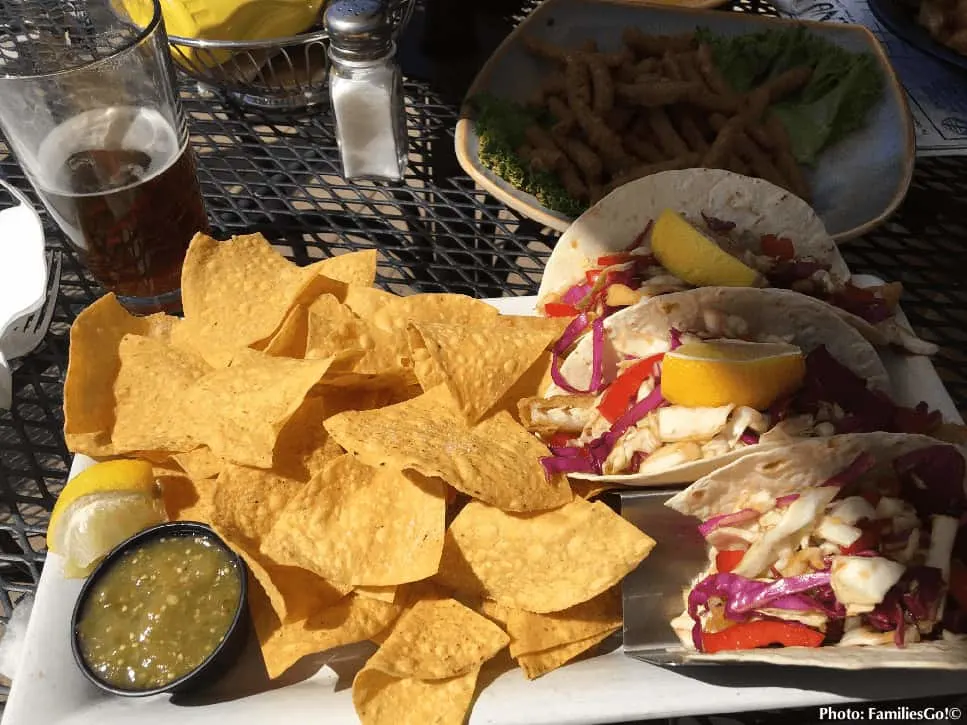 You never know how ski resort food will and this was surprisingly good pub food. We shared crispy fried string beans, a reliable way to get kids to eat veggies. Then Rich had fish tacos while I had grilled hot dogs that came with potato salad in a parfait glass. Tiny Traveler had grilled cheese on white, hold the tomato.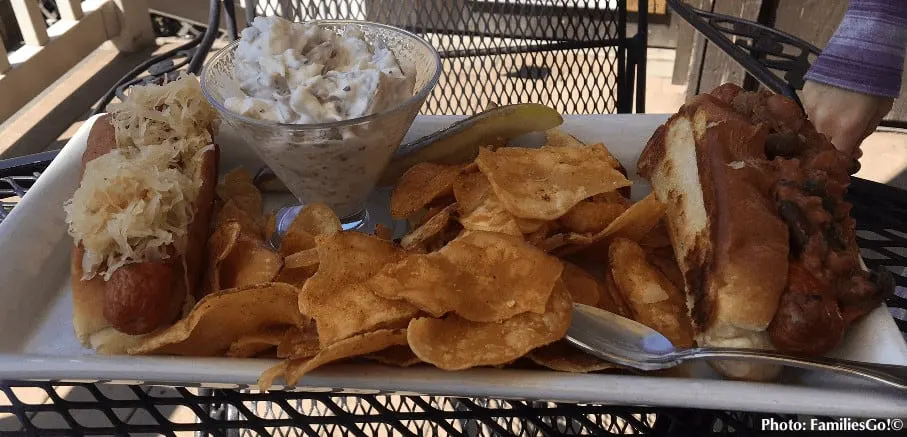 The other onsite restaurant is John Harvard's, a mini chain of brewpubs. It's a better choice for dinner because it has pub food, too, but also has entrées like pasta, roast chicken and salmon.
There is free parking and Wi-Fi, which I was even able to access on the deck at Christiansens.
Here are 10 more ideas for weekend getaways from NYC.
The Bottom Line:
The room rates for a midweek stay in August start below $175 for a one-bedroom suite. In addition to the onsite activities and dining, the Berkshires' many museums and hiking and bike trails are nearby.
My family all agreed that from mid-spring to mid-fall Jiminy's Mountain Resort is an easy weekend getaway with kids and a good value. In the autumn when the foliage is turning colors the scenery from the ski left or tavern deck is probably spectacular.
Pin it for later!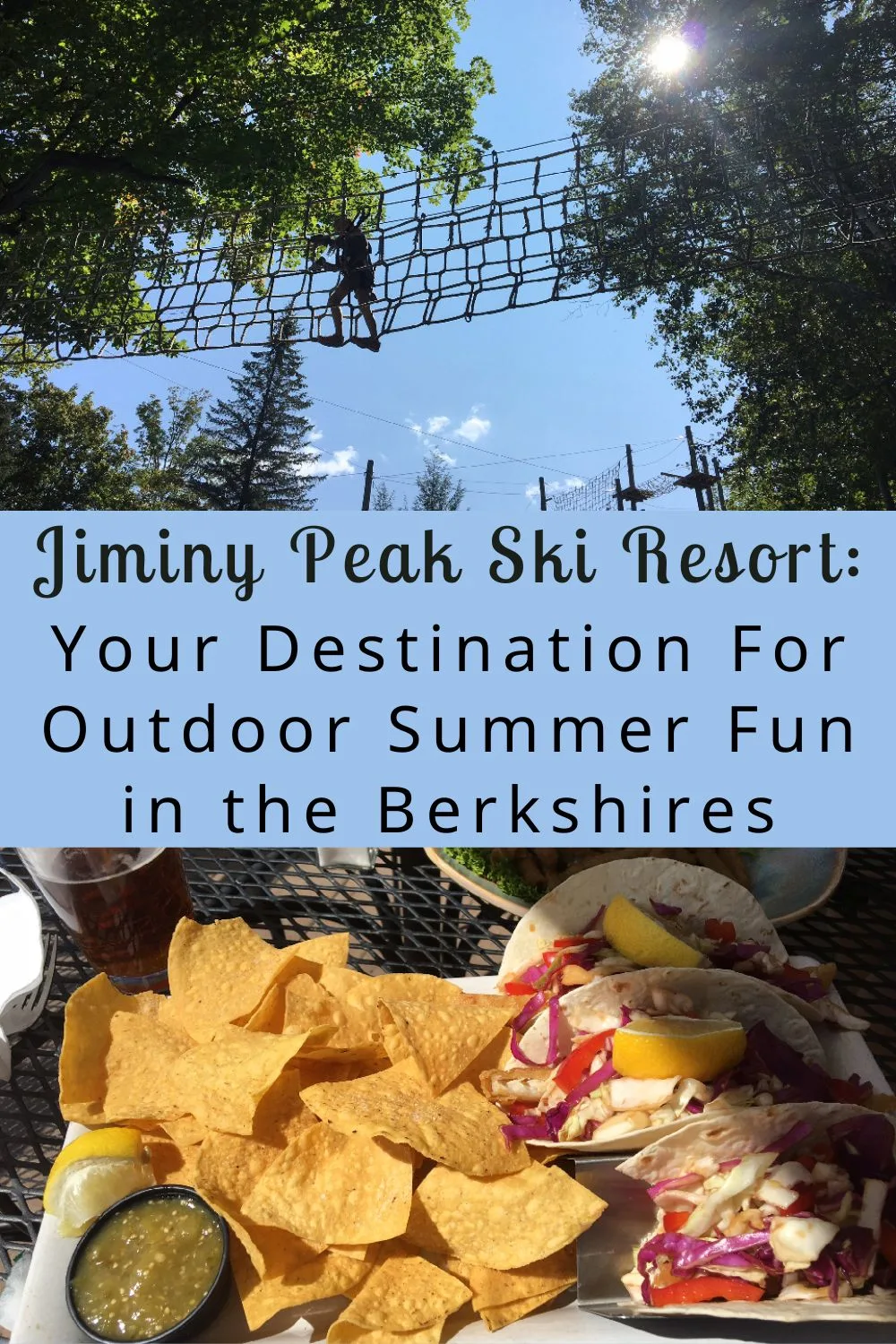 *We were guests of Jiminy Peak for a one-night stay. We did not guarantee any particular coverage in exchange for the stay. Our opinions are always our own.
Photos by FamiliesGo!©