One of the most fun parts of being on vacation is eating good food. For you that might mean trying all kinds of new things or eating fancier meals than you do at home. But for your kids it might mean getting to eat chicken fingers and ice cream every day for a week. Or not eating anything because all the food they find is new and suspicious.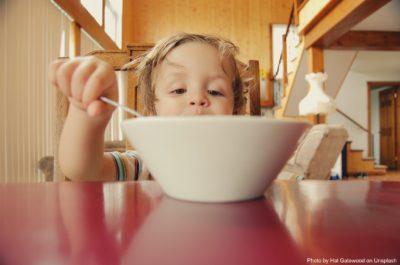 We face unique challenges feeding our kids on vacation that we don't face at home. One challenge is making sure they don't get too much sugar and that they eat fruit or a vegetable now and then. We also have to deal with kids being too excited or tired to eat enough when mealtime rolls around or that we time things badly and wind up with hungry, grouchy, crying kids (and maybe adults, too!).
Here are four of the top challenges that go along with mixing kids, travel and food and how to head then off.
How To Keep Kids Fed & Healthy on Vacation
Challenge One: Not Skipping Meals in Transit

Flight and train schedules can easily conflict with meal times. On long drives we don't know where we'll be and what will be available when hunger rolls around.
The Solution:
Once you've scheduled your flight, train ride, or driving route, make your best guess as to where you'll be around mealtimes and make a plan for how you'll handle it. Will you be fed on the plane? Will you plan a driving break in a certain town with plenty of restaurants? Will you bring a meal from home to eat in the terminal, train station or at a rest stop? Regardless of your dining plans, bring plenty of snacks, including a few that can hold you and your kids well in case your plans run up against delays, weather, poorly times naps or other unexpected problems.
Challenge Two: Staying on Budget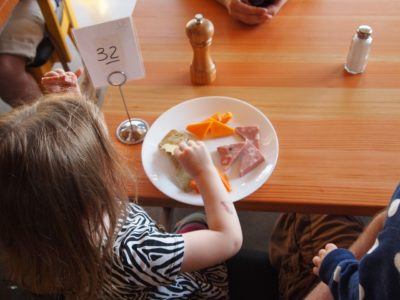 Eating three meals a day in restaurants is not necessarily relaxing with very young kids. And with older kids it adds up over a weeklong vacation.
The Solution:
Consider a vacation rental or a hotel room with a full kitchen. You can keep your kids favorite breakfast items on hand, keep the fridge full of water bottles or juice boxes, and make lunch to take along if you like.
If this isn't practical for you, try to at least book a hotel room with a refrigerator and microwave. You can to keep, yogurt, milk and cereal on hand and fix hot dishes like single-serving oatmeal and macaroni and cheese.
Regardless of where you stay, consider packing an insulated bag that will keep food and drinks cold. There are coolers you can wear as a cross-body or shoulder bags or as a backpack. This gives you the option of packing lunch or picking up prepared items from a grocery store or farmers' market while you're out. Rotisserie chickens are easy to find and pair with chips and fruit for a picnic lunch.
Find a bag with a extra pockets for things like your wallet, keys and phone so everything is one place.
Challenge 3: The Picky Eater
If one of your kids is very fickle about what they eat then I actually recommend against revolving vacation meals around his limited preferences. The rest of the family won't enjoy their vacation as much as they could, and he or she might not eat much no matter what you do.
The Solution:
Let each kid, including the picky one, choose what the family eats for dinner on one night of the trip; this could mean choosing the type of restaurant you go to or the meal you cook.
Make sure each kid eats at least one good meal a day; breakfast is often the easiest for finding healthy, filling foods kids like. If your kids find something filling and reasonably nutritious and they want to eat it every day, let them. You'll fill in the gaps when you're back home.
Keep a stash of healthy snacks you know your kids can fall back on if they don't manage a good meal all day: bananas, apples, hard-boiled eggs, ramen, cereal bars, yogurt, dried fruit, crackers with nut butters, cheese or salami, single servings of hummus and microwave pizza can be easy solutions. Once your kids are old enough, give them input on the snacks you pack and the shopping you do when you arrive. They might surprise you. (Read more tips for managing picky eaters.)
Challenge 4: Travel Tummy
New flavors and types of food can have unexpected affects on our digestive systems. And even close to home, who hasn't overdone it on vacation now and again?
The Solution:
Some parents like to have their families take probiotics leading up to a trip and while traveling; the idea is that boosting the good bacteria in your system makes you less susceptible to the bad stuff.
In developing countries, stick to bottled drinks and hot, cooked food. Avoid raw vegetables and pre-peeled fruit.
Even in North America and Europe, pack medications that will mitigate nausea, diarrhea and dehydration (enough to last you until you can find a pharmacy). Peppermint and ginger teas are handy to have around for mildly upset stomachs.
Additionally, you or your child could have food allergies that you're unaware of, that emerge when you meet new ingredients for the first time on vacation. Always carry Benadryl. Watch for rashes that will not go away, or grow worse within a few hours. When in doubt call a doctor or dermatologist (your own if possible). They can tell you how to manage the situation and if you need to see a doctor locally.
Pin it for later!