Adults-Only Resort: Luxury Bahia Principe Sian Ka'an
Where: Mayan Riviera, Mexico
If Rich and I were to maage a kid-free couple's getaway that was more than a night or two I would splurge on a stay at Gran Bahia Sian Luxury Sian Ka'an, an adults-only boutique hotel within a larger all-innclusive resort complex.
Parents who have managed longer romantic getaways tell me it was wonderful for their relations. And yes, the kids were fine (souvenirs help to melt away any lingering resentment). The older and more self-sufficient kids become, the easier it is to leave them in someone else's hands for four or five or seven days.
One of the best things about this beach resort is that they offer comfort and indulgence at a good value, which means you can come home feeling rested, pampered and start planning another vacation somewhere—this time with the family.
The Vibe:
Bahia Principe Sian Ka'an and Akumal Are the two adults-only, all-inclusive hotels at this sprawling Yucatan resort. They are also the two "luxury" resorts on the property, and offers a step up in amenities from the "Grand" hotels that site alongside them.
Read about our family vacation at Gran Coba.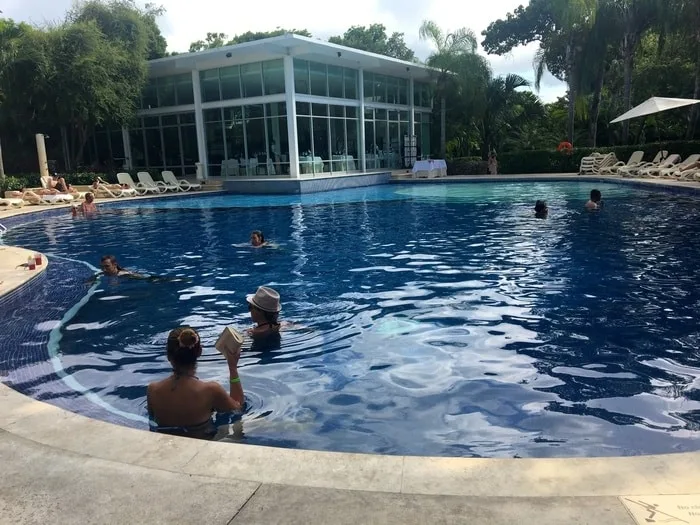 Boutiquey Sian Ka'an (left) is ideal for parents looking for a quiet, secluded kid-free getaway.
It would also be a great destination for a relaxing, feel-good babymoon.
The grounds are lush with jungle gardens that surround walking paths and a series of medium-size pools that lend themselves to reading, talking and lounging while nursing a cold drink.
The adults-only hotel at Akumal resort has an airy, beach-resort feel and offers a livelier atmosphere.
Either would be an ideal choice for a five-to-seven day romantic getaway. It's a bit too much travel from the U.S. for a weekend.
The Rooms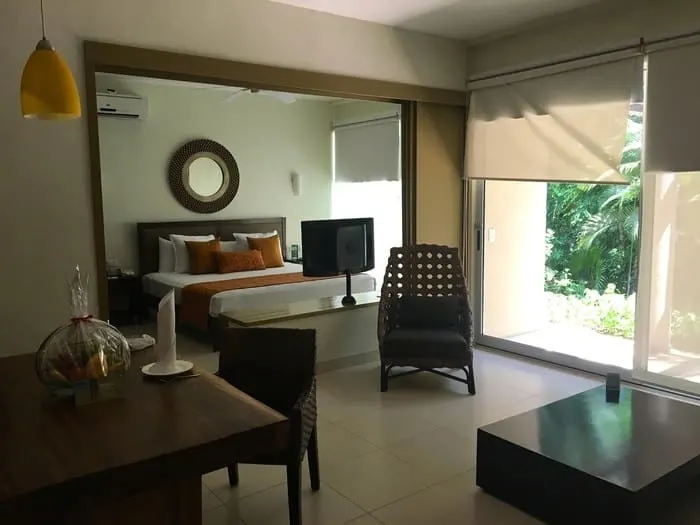 Most Sian Ka'an rooms are open two-room suites with a wet bar, dining table, couch, and a private hot tub on either roof decks or secluded outdoor patios.
The private patio was a nice spot for morning coffee or an afternoon glass of wine. But I made sure to take advantage of the complementary bug spray before enjoying it.
The rooms are the perfect size for a couple and comfortable enough that you actually want to hang out in them.
The bathrooms are modern with a shower and no bathtub.
Akumal has traditional hotel rooms that have recently been done over with warm tropical colors, canopy beds and whirlpool bathtubs.
They are spacious for standard rooms. All have small seating areas and balconies and some have sea views.
I preferred Sian Ka'an's rooms, but Akumal's airy outdoor spaces
Location:
Bahia Principe is a good hour from Cancun Airport, not far from Tulum, various cenotes and other Riviera Maya attractions.
Within the resort, Sian Ka'an is located next to the golf course and near the resort's jungle walks and new residential properties.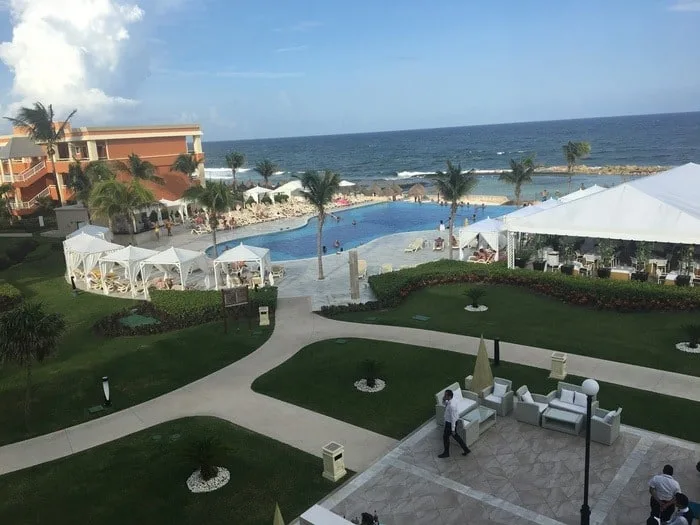 It's across the highway (via a private overpass) from the larger main resort and the beach. Shuttles run all day long to take you to Sian Ka'ans exclusive beach area and all other parts of the resort.
I would have loved it if they offered bikes so you didn't have to wait for the shuttle.
Akumal (left) is on the beach in a corner of the main resort. You can walk or shuttle to the main beach, buffets, restaurants and other pools.
Being inland, Sian Ka'an is actually warmer during the day than Akumal, which gets a cool sea breeze. This matters more in the summer than in the winter, but is worth keeping in mind.
---
Plan this trip:
Find the Best rates for Luxury Bahia Principe Sian Ka'an on TripAdvisor.
Find the lowest airfares to Cancun and car rental rates with Kayak.
---
Amenities:
Luxury features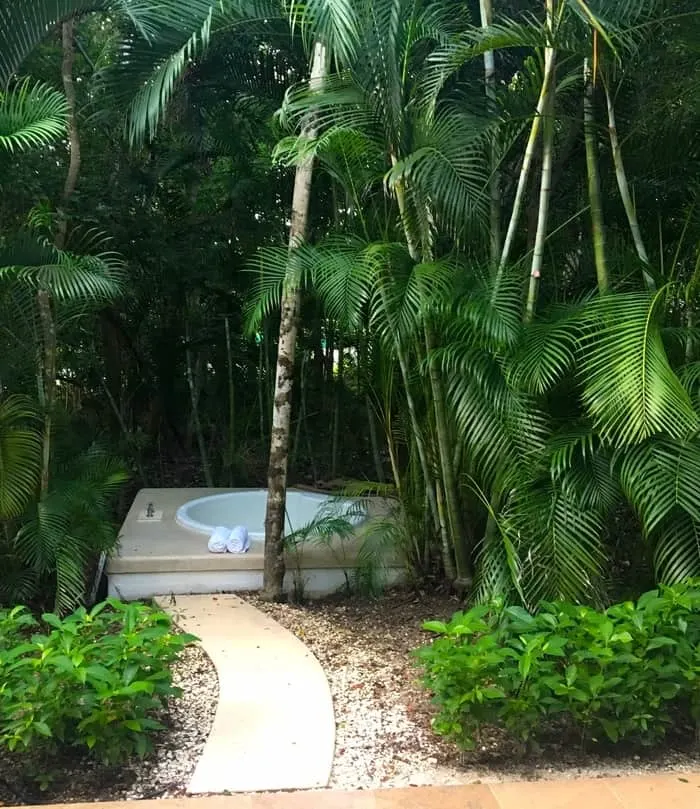 My room came with butler service, but I couldn't think of a reason to avail myself of it. The butler did fill the private hot tub one evening, even tossing in rose petals. But the maid closed the drapes when she did my turn down so I didn't know until the next morning.
I saw a posted schedule of daily activities at Sian Ka'an. While a staff member had no luck rousing pool goers for a croquet game, a daily pool-volleyball game was popular. The pool bar had a little library, should you run out of reading.
Sian Ka'an's beach area was private and secluded but a little sparse. I preferred hanging out at Akumal's adults-only area, which has its beach right below a fantastic infinity pool
Akumal's adult pool stops well short of a party atmosphere but it's more hopping than Sian Ka'an's.
There is pop music on the speakers all day long, lounge chairs are harder to claim and the white canopies on the deck are more selfie backdrops than sun protection.
Wi-fi was free but spotty.
Bahia Spa
The spa at Sian Ka'an is only for guests of the luxury hotels and is for adults (other spas on the property have treatments for teens). It has a nice solarium for relaxing before or after your treatment. Upgraded service includes mimosas and snacks during your visit.
The first half of my 50-minute Mexico lindo massage was light, but the second half that focused on my back was deep and thorough, almost like two different massages.
If you prefer a deeper touch throughout, say so when you meet your massage therapist.
Golf
If you are at all curious to try golf, this is a good place to try it. The clubhouse has a very good golf pro if you want a lesson.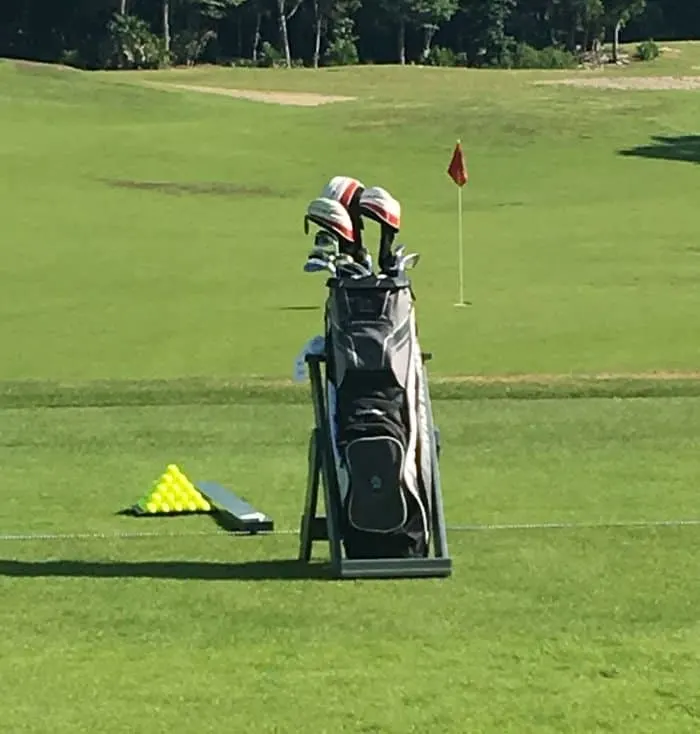 There's a nice driving range and putting green if you just want to rent clubs and practice your swing.
Whether you play a full round (9, 18 or 36 holes) or just drive some golf balls get an early enough start to be done by 9:00 or 9:30. The sun heats up the golf course pretty quickly
Fiesta Night
We spent one evening at the resort's new fiesta dinner show. It's in the Hacienda Doña Isabel, which has shops and stalls during the day and a nightclub on other evenings.
The show is extremely well done with lighting effects, live music, colorful costumes and fantastic dancing. It was first-rate expression of Mayan history and Mexico's rich musical culture. It's a must do while you're there.
I was glad to see it without Tween Traveler along, though. She would have liked a lot of the costumes, lights and dancing. But it was very loud (she doesn't do loud) and the Mayan portion with its primitive costumes and brief ritual sacrifice would have sent her running from the place.
While the show was great, the dinner was not nearly as good as the food at the buffets and restaurants. And it was hard to eat in the dark while trying to appreciate all the colors and sounds onstage.
This is an event you pay extra for and you can opt to see just the show without dinner. I would recommend eating an early dinner elsewhere on the property and just coming for the show.
Either way, admission includes access to stands set up near the entrance of the zocalo with games, popcorn, cotton candy, soft drinks and cocktails, Mexican sweets and woman handing out spicy, creamy corn, a popular street food. If we didn't have to sit down to our dinner we would have been better able to enjoy these treats.
Dining:
Bahia Principe changes up its restaurants every so often to keep things fresh for returning guests, which I can appreciate.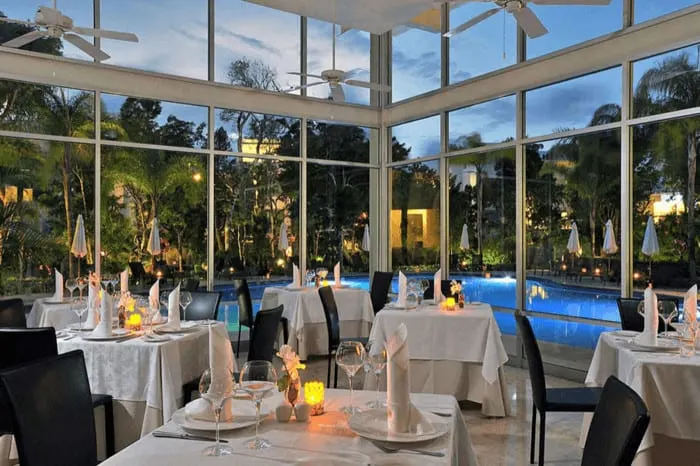 I had a chance to try Alux, a gourmet fusion restaurant that is one of a handful reserved for adults who are luxury guests.
It's picturesque glass-enclosed room next to one of Sian Ka'an's pools. If you want a romantic dinner on your vacation, this is the spot.
For an appetizer, a large shrimp was perched on a foamy wild mushroom soup, and my baby lamb chop main course was perfectly rare.
For dessert, a tiny chocolate-robed sacher torte came in a bowl filled with cold stones, over which a waiter poured hot tea to create a theatrical scented steam
We also ate in Mashua Nikkei, a gran-level restaurant offering Peruvian-Japanese fusion (yes, it's a thing).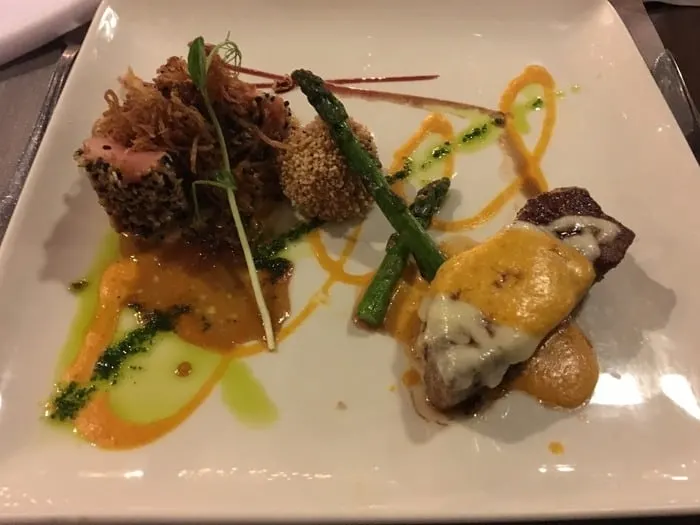 I didn't know what to expect but really enjoyed ceviche served in a half coconut and sashimi accented with passion fruit and pineapple. a surf and turf had black-sesame crusted rare tuna with a crunchy quinoa arancini and hanger steak in a fruity sauce.
The buffet at Sian Ka'an was similar to those elsewhere on the property. The food is fresh, there is good variety and there's Mexican food at every meal. The honey they offer is local and amazingly complex and delicious. Try it on churros for breakfast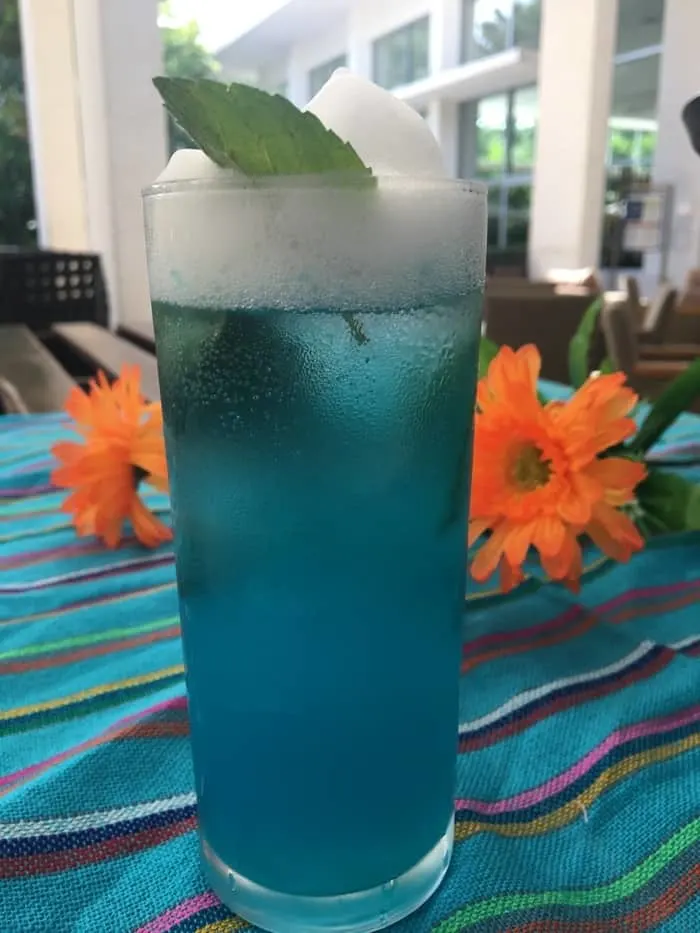 In Short:
I really loved the lush landscaping, the quiet vibe and the amenities in rooms at Sian Ka'an. But it's hard for me to be at beach resort and not near the beach.
If I were to return for a couple's getaway I would be torn between having Akumal's cooler beachfront and pool and Sian Ka'an's romantic privacy.
Travelers who frequent 5-star resorts might not consider this to be a full-on luxury property, but its details and amenities are a good step above other all-inclusives we've done. I felt pampered, which is how I want to feel when I'm enjoying grown-up time.
The value for the quality is excellent. For example, $120 for a 50-minute massage is not only very reasonable for a resort spa, it's less than I would pay at a New York day spa.
Add in the beautiful pools, lovely dining and easy access to good sightseeing. The result is a long weekend that will help you to better appreciate your spouse and return to your kids more relaxed than they've ever seen you.
Pin it for later!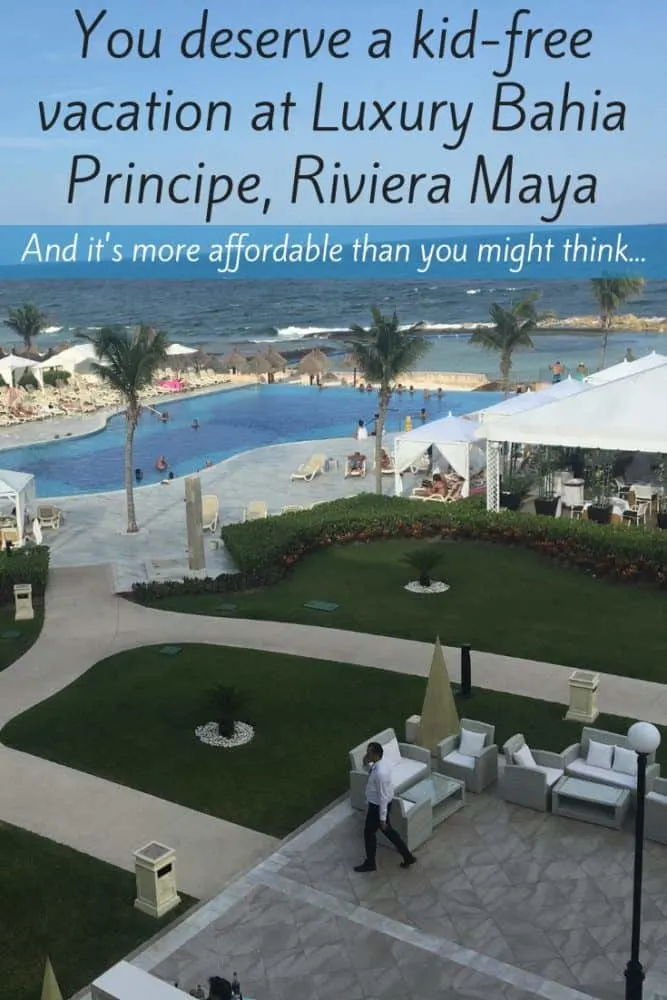 Disclosure: I was a hosted by Bahia Principe for my stay at Sian Ka'an. I did not agree to any particular coverage in exchange for the stay. Our opinions are always our own.