We would have never guessed it was spring in Lake Tahoe as we climbed out of the car on a May weekend. While the ski lifts were closed, plenty of winter snow lingered. As we gazed on these remnants of winter we tried to remember that the area has great things to do with kids, even when it's not ski season.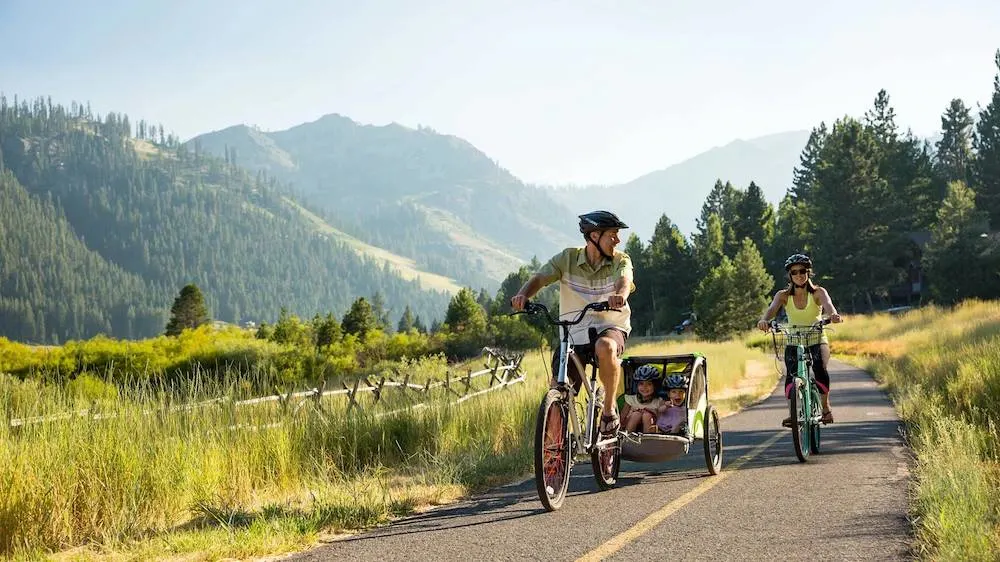 Lake Tahoe is an easy and fun weekend getaway with kids. Though, admittedly, a lot of the activities we tried would have been easier with kids who are school-age or older, rather than the 2YO we were traveling with.
But we found activities to do with a toddler that that pleased mom and dad. And we took advantage of her naps, too.
This weekend plan, which was mostly on the California side of the lake, would work in summer or fall, too. Here are some of the best things we found to do—plus two resort recommendations— on a Lake Taoe weekend with kids.
2 Kid-Friendly Lake Tahoe Resorts
Where to Stay in Heavenly Village
We stayed at the Marriott Grand Residence at Heavenly Village. We chose it because we could book a fully equipped villa and also have the resort's shops and restaurants at our doorstep. On our first afternoon we found a grocery store nearby and stocked up on breakfast essentials, fruit and yogurt.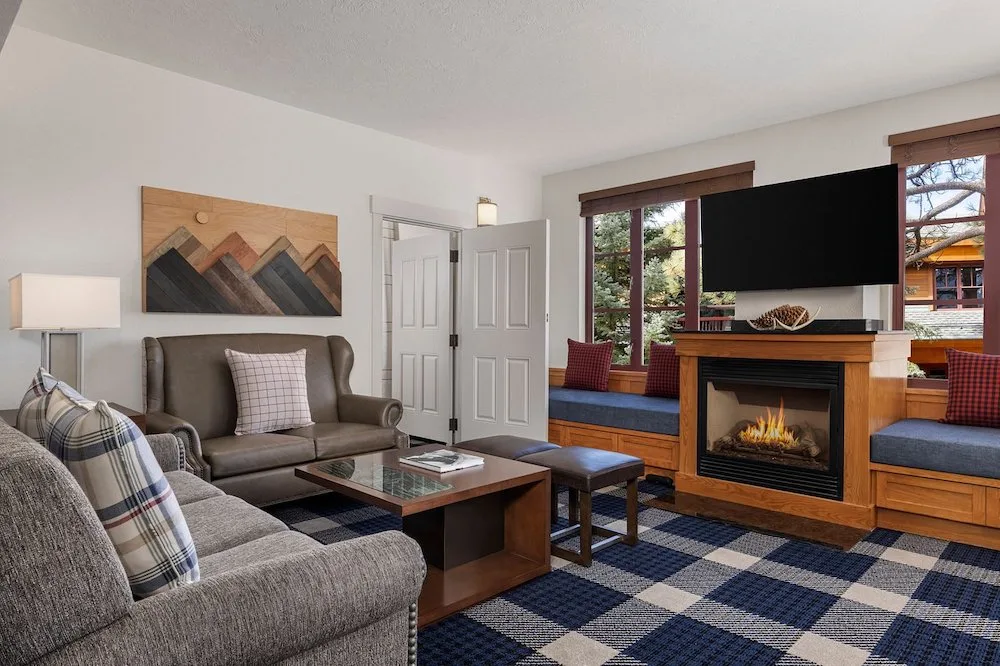 The Marriott turned out to be a good pick for a family. The villa had separate sleeping and living areas, a full kitchen and fireplace, which was a nice touch on chilly spring evenings.
It had books you could borrow for free, plus a kids' activities and a playroom with toys, the latest video games, a coloring area and game arcade.
The whirlpool and pool are outside but they're heated, making a swim possible even on a chilly spring day. I admit, we weren't brave enough to try it, but we saw older kids splashing around happily. The fitness center has a sauna and steam room, too.
Where to Stay in Palisade Tahoe Resort
Palisades Tahoe Resort (formerly Squaw Valley) doesn't quite have a big modern resort that is the counterpart to the Marriott. My choice of hotel for a vacation with kids would be the PlumpJack Inn.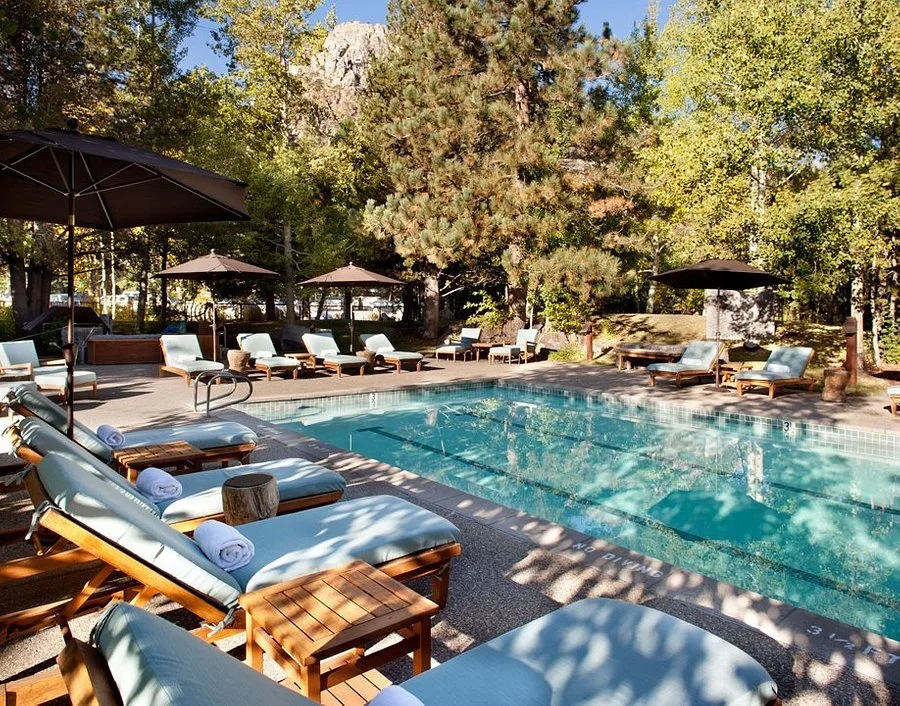 It's a comfortably rustic resort that sits on the periphery of Palisades Village and is extremely family friendly.
Kids can stay and eat free and you can book one of several suites (one has a kitchen) or adjoining rooms.
Families with older kids can borrow the hotel's bikes to explore the ski village. And alll families can play ping pong, bocce or bean-bag toss by the heated outdoor pool and hot tub.
The village has a good number of restaurants nearby. And the hotel's café serves up nicely presented seasonal California cuisine at indoor and outdoor tables.
More Ideas:
• How to Explore Sonoma Wine Country With Young Kids
• 11 Cool Things To Do With Kids in Palm Springs
• 5 Ideas for an Easy Monterey Weekend Break With Kids
5 Lake Tahoe Activities To Do With Kids When It's Not Ski Season
Things To Do With Kids
1. High Camp at Palisades Tahoe:
We used our first full day for a drive over to Palisades Tahoe resort, the site of the 1960 Winter Olympics, above the north end of the lake.
The Olympic Village was still full of snow and even though spring skiing is popular here the resort was definitely in a lull between its busier winter and summer seasons. We were primarily there to scope it out for future ski trips, but hiking and bike trails open up once the snow melts.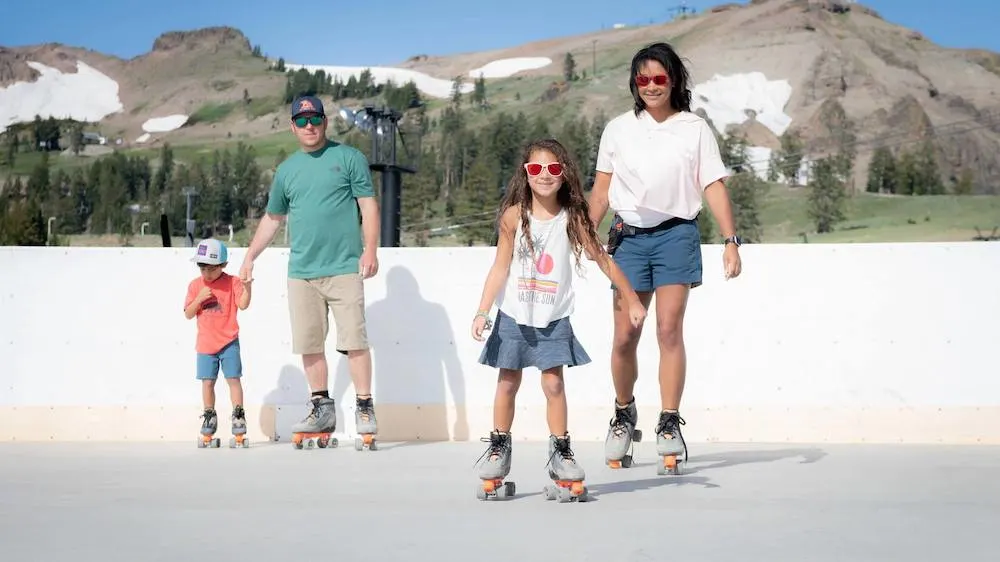 There's also a scenic aerial tram to the High Camp, which you can ride for the views at any time of year. You can hop onto hiking trails from here, join a guided, enjoy roller skating with amazing views or try geocaching with your kids.
Back in the village, any kid old enough will want to tackle the ropes course. And you can rent bicyles to explore some of the area's paved paths.
The 38-mile drive from our hotel took more than an an hour because of the windy roads and alluring scenic overlooks. Our toddler napped in the backseat for much of the way, allowing us to stop and admire the views of Emerald Bay, Meeks Bay and Cascade Lake.
2. Tour a Lakeside Castle
Vikingsholm Castle's Scandinavian architecture made it look like a fairy tale play castle as we approached it from above. The castle was built in 1929 from local wood and granite at the head of Emerald Bay. It's open by tour only, from Memorial Day weekend through the end of September.
The inside is supposed to be quite exotic, with carved dragon heads and intricate painted detail. We couldn't imagine trying to do such a tour with curious, active toddler, though. We'll come back to see the inside when our she's 7 or so and can into the house's fairy tale charm.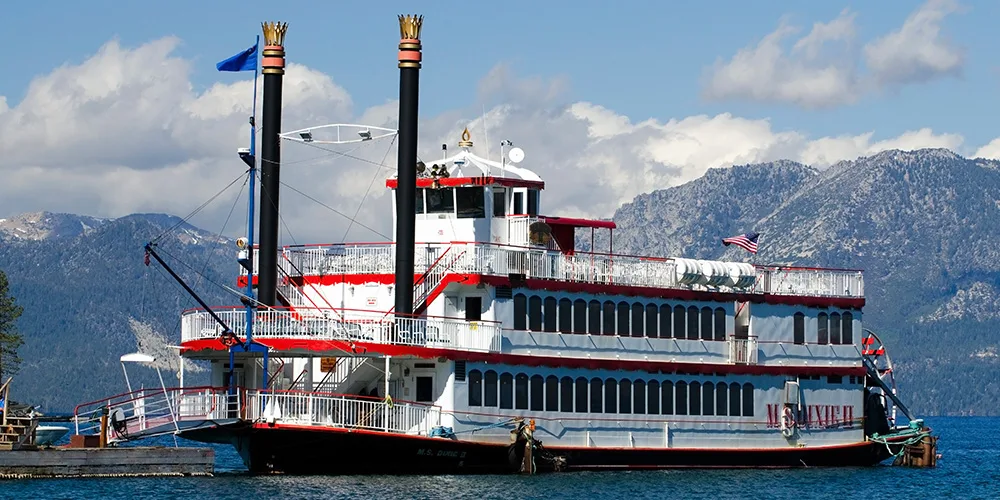 3. Hop on a Steamboat
On another day, we headed to Zephyr Cove on the Nevada side of the lake to take ae steamboat cruise aboard the M. S. Dixie II. We learned how the Lake was formed and about the marine life that lives in its blue water. My husband and I enjoyed close-up views of Emerald Bay.
Exploring the boat and looking for wildlife over the side kept out 2YO reasonably happy for most of the way. but it was a longish ride for her.
I think the trip is fine for kids 7 and up, who have longer attention spans and can better take in the educational content. For parents with younger kids there are shorter boats rides that are probably a better fit.
---
Planning a trip?
Find the best rates for Lake Tahoe resorts on TripAdvisor.
Rent a lake-front or mountainside home on VRBO.
Fend the best flights and car rentals for your family on Expedia.
---
4. A Day at Heavenly Village
We spent an afternoon walking around Heavenly Village, at the south of of the lake and also between seasons. We explored the shops and art Galleries.
Heavenly warm-weather activities, too, that are mostly better for older kids. The include a scenic tram, hiking trails, zip-lines and a climbing wall. It has a movie theater, in case you need a rainy day option. And they run a daily kids camp during the summer.
There's also a visitors center, where we found information about kid-friendly walking trails. You can also plan tours or educational activities here and even see short documentaries about the history of the lake and preservation efforts.
5. A Great Lake Tahoe Restaurant With Kids
Heavenly has every type of retaurant you can think of. Most of them are casual and family friendly, including typical ski-town options like pizza, burgers and Mexican food. We didn't try many since we were able to cook.
But we went to the Fire + Ice Grill + Bar at the Marriott's Timber Lodge (also a great place to stay and shares amenities with Marriott Residence) for dinner one night because we could walk there from our place. It specializes in Mongolian barbecue and is a fantastic choice for a family dinner.
Each person picks his or her own protein, veggies, carbs and sauce. Then, voila! Bandanna-clad grill masters cook up your meal on a large grill in the center of the restaurant. It's an awesome display of dicing, flipping and mixing that my daughter enjoyed watching.
We were able to order child-size portions for the kids. And like most kids would, they loved getting to choose all the ingredients for their dinner.
Pin it for later!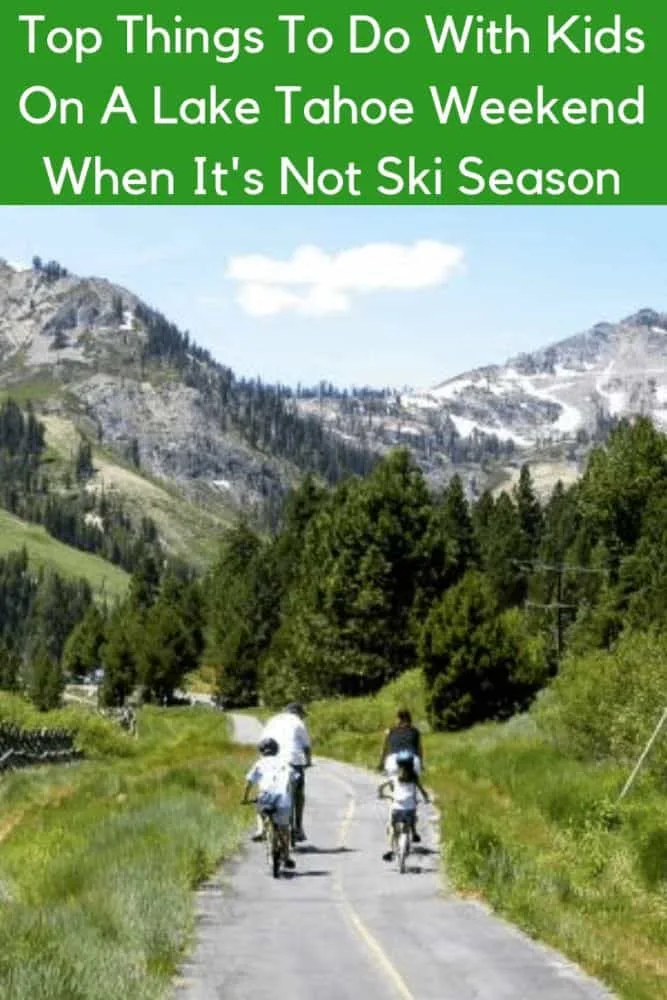 Barbara Mascareno has degrees in Biochemistry and Chemistry. She taught under the NCLB program and now teaches Spanish, science, and math. Visit her blog, Spanish4Kiddos.