We would have never guessed it was spring in Lake Tahoe as we climbed out of the car on a May weekend. While the ski lifts were closed, plenty of winter snow lingered.
Nevertheless, with attractions like the Olympic Village at Squaw Valley, boat rides on the lake and opportunities to learn about the area in small doses, Lake Tahoe is an easy and fun weekend getaway with kids.
Admittedly, a lot of the activities we encountered and tried would be easier with kids who are school-age or older, which we note below. But we found things that pleased mom and dad that managed to engage our toddler. And we took advantage of her naps, too.
This weekend plan, which was mostly on the California side of the lake, would work in summer or fall, too. Here are some of the best things we found to do, and places to eat and stay with our 2YO.
Itinerary For a Lake Tahoe Family Weekend
Things To Do With Kids
We used our first full day for a drive over to Squaw Valley, the site of the 1960 Winter Olympics, above the north end of the lake.
The Olympic Village was still full of snow and was in a lull between its winter and summer seasons. We were primarily there to scope it out for future ski trips, but hiking and bike trails open up once the snow melts.
There's also an aerial tram to the High Camp, which you can ride for the views at any time of year. A large free-form pool opens in June (great for any age!). The roller skating rink has amazing lake views (try it with kids 3 or 4YO and up). And there's zip lining and geocaching for families with tweens and teens.
The 38-mile drive from our hotel took more than an an hour given the windy roads and alluring scenic overlooks. Our toddler napped in the backseat for much of the way, allowing us to stop and admire the views of Emerald Bay, Meeks Bay and Cascade Lake.
Vikingsholm Castle seemed like a miniature doll's house as we approached it from above. The castle, built in 1929 to complement the natural surroundings, is open for tours roughly between June and September and is probably best for kids at least 7 and up. We'll come back.
On another day, we took 71-mile steamboat cruise around the lake aboard the M. S. Dixie II. We learned how the Lake was formed and about the marine life that lives in its blue water. My husband and I enjoyed close-up views of Emerald Bay.
Exploring the boat and looking for wildlife over the side kept out 2YO reasonably happy for most of the way. but it was a longish ride for her. I think the trip is fine for kids 7 and up, who have longer attention spans and can better take in the educational content of the trip.
For parents with younger kids there are shorter boats rides that are probably a better fit.
We spent an afternoon walking around Heavenly Village, at the south of of the lake and also between seasons. We explored the shops and the Wyland art Galleries.
Heavenly has some of the same warm-weather activities as Squaw, such as a scenic tram and zip-lining. It also has summer tubing (With a run just for little ones), a mountain coaster, climbing wall and ropes course. The SUV expedition tours are very easy with preschoolers.
There's also a visitors center, where we found information about kid-friendly walking trails. You can also plan tours or educational activities here and even see short documentaries about the history of the lake and preservation efforts.
Where To Stay in Heavenly Village
We stayed at the Marriott Grand Residence at Heavenly Village. We liked it because we could book a fully equipped villa and also have the resort's shops and restaurants at our doorstep. On our first afternoon we found a grocery store nearby and stocked up on breakfast essentials, fruit and yogurt.
The Marriott turned out to be a good pick for a family. It had a wonderful selection of books, CDs and DVDs that you can borrow for free. There are also kids activities and a playroom with toys, the latest video games, a coloring area and game arcade.
The whirlpool and pool are outside but they're heated, making a swim possible even on a chilly spring day. I admit, we weren't brave enough to try it, but we saw older kids splashing around happily.
Where To Eat Around Lake Tahoe
We went to the Fire + Ice Grill + Bar at the Timber Lodge for dinner one night because we could walk there from the Marriott. This place, which specializes in Mongolian Barbecue, is a fantastic choice for a family dinner.
Each person picks his or her own protein, veggies, carbs and sauce. Then, voila! Bandanna-clad grill masters cook up your meal on a large grill in the center of the restaurant. It's an awesome display of dicing, flipping and mixing that my daughter enjoyed watching. And we were able to order a child-size portion for our toddler, too.
On the way back from Squaw Valley we stopped at the Bear Beach Cafe, a wonderful treat. Walking in, you're greeted by different size bears and a friendly staff. This diner has salads, burgers and sandwiches as well as an eclectic range of entrees, all under $20. They also make awesome hot chocolate, the perfect ending to a fun, somewhat wintery spring weekend in Lake Tahoe.
Planning a trip?
Find the best rates for Lake Tahoe resorts on TripAdvisor.
Rent a lake-front or mountainside home on VRBO.
Fend the best flights your family on Kayak.
Pin it for later!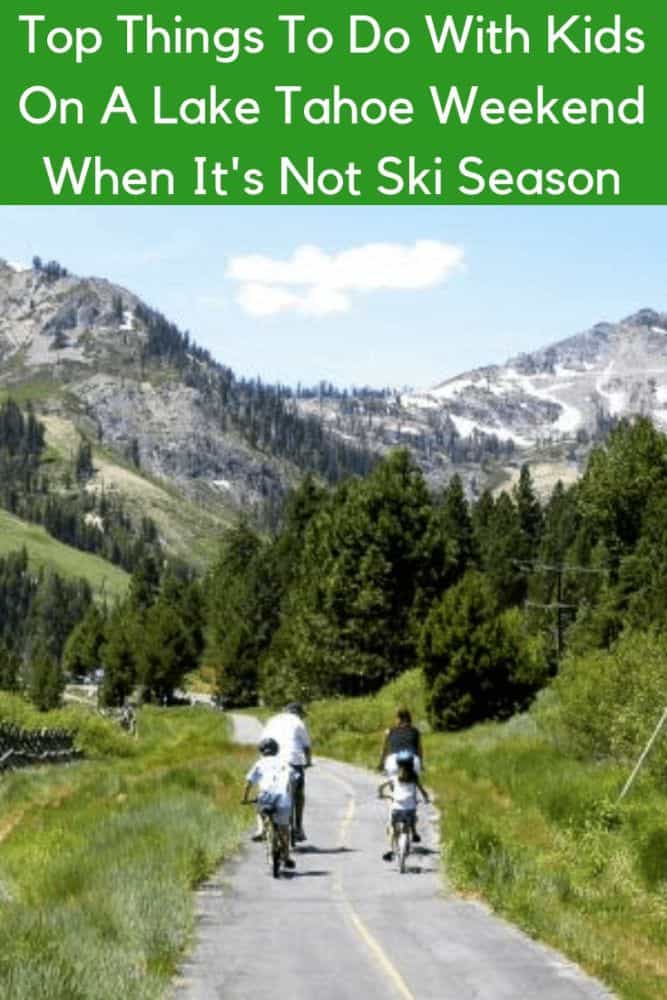 Barbara Mascareno has degrees in Biochemistry and Chemistry. She taught under the NCLB program and now teaches Spanish, science, and math. Visit her blog, Spanish4Kiddos or connect with her on on Twitter .