I had the good luck to be invited down to Lafayette, Louisiana for Mardi Gras and I made a few excellent discoveries while I was there.
The first: Once you get outside of New Orlean's French Quarter, Mardi Gras is a family friendly, community based celebration.
The second and more important: the Big Easy doesn't have a monopoly on top notch Cajun and Creole food or good live Zydeco music.
Lafayette's restaurants have amazing local food, especially the bisques and gumbos. They have good live music. And they're often cheaper and more casual and kid-friendly than their high-profile counterparts in the Big Easy.
Lafayette encompasses a wide area with a very small downtown. You have to be willing to get out and explore a bit to find the good places to eat. A good food tour makes it easy but you can also do pretty well on your own
You also have to be open to the fact that you will find very good, authentic local food in strip malls, boxy catering halls and what appear to be a down-at-the-heels grocery stores.
Here are 9 Lafayette-area restaurants I enjoyed immensely when I visited. Some have kids' menus. If they don't most will work with you to find something your child will eat.
Remember that portions are generous and the food is rich. If there isn't a kids' menu inquire about half portions and look at the appetizers and sides.
More Travel Ideas:
Things to do with kids around Lafayette (including our Mardi Gras tips!)
• Things To Do In San Antonio After You Visit the Alamo
• Do These Bucket List Activities On Your Dallas Getaway
9 Must-Try Lafayette Restaurants For Families
Breakfast
1. French Pastries
I stopped by Poupart Bakery for its Louisiana-style king cake, replete with cream cheese filling and green, purple and gold-colored sugar on top. But this bakery, started by a French baker who transplanted himself here in the 1960s, is a great place for a light breakfast.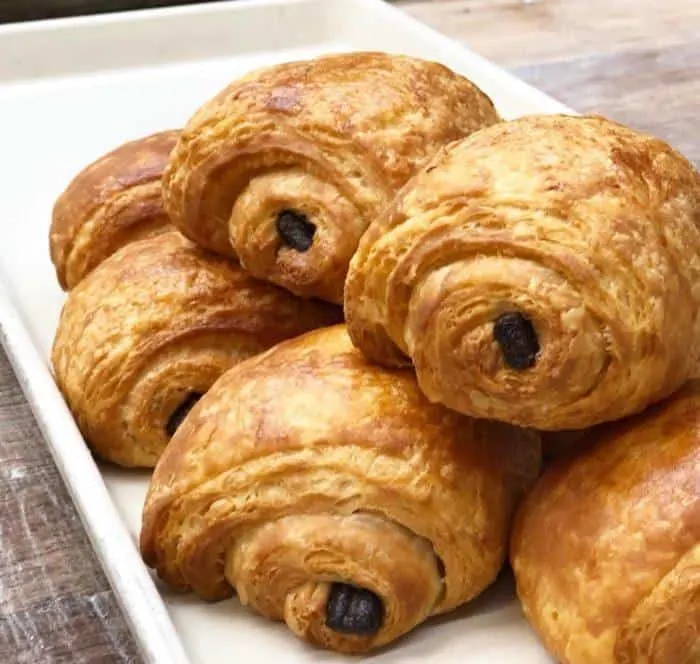 Grab some Community Coffee and choose from plain and filled croissants, quiche, danishes, tarts, biscuits, cinnamon rolls and flaky kouiamond, which are known to sell out early.
You can order a traditional French style king cake, with puff pastry and almond cream filling. I think they taste better than the local ones, but they're less colorful.
2. Hardy Breakfast
ou have to have breakfast at The French Press, which is right downtown. But don't plan to eat for the rest of the day after you've done so.
The chef enjoys putting a quirky spin on classic local ingredients. Make sure to order a side or two of praline bacon for the table. It delivers that addictive salt-sugar-fat combo made perfect with a dab of Tabasco.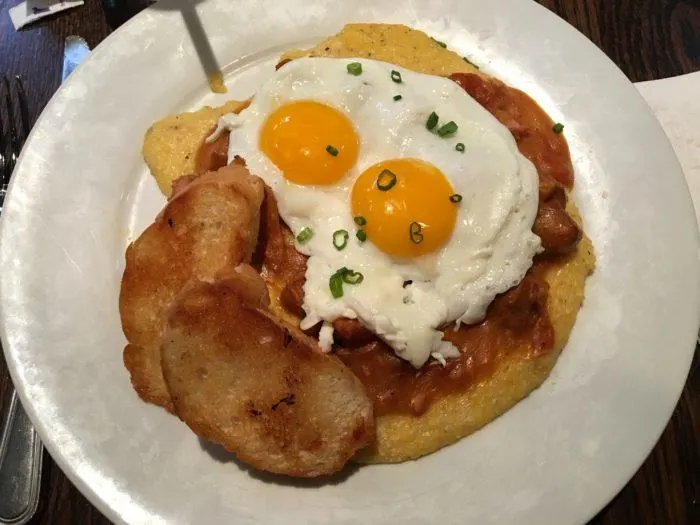 The most unique dish is the sweet baby breesus, which puts 3 fried boudin-sausage balls on biscuits and tops them with Steen's Cane Syrup, a local specialty that is as tooth-rotting sweet as it sounds.
Grits and grillades (bits of meat), topped with eggs is a great less-breakfasty choice and the Cajun Benedict pairs poached eggs with more boudin and gumbo. Most egg dishes come with cheese grits or potatoes.
Kids can opt for chicken and waffles, stuffed French toast or enormous pancakes (definitely ask for a half order). You can also ask for a scrambled egg with a biscuit or side of potatoes.
What's Boudin?
Boudin is a French word for sausage. Ask for it in different parts of Louisiana and you'll get slightly different things. In this part of the state it's a rice and pork sausage that can be loosely packed when it's handmade. It's often tossed in with other ingredients but try to eat it plain at least once to get a real sense of the flavor and texture.
3. Zydeco Brunch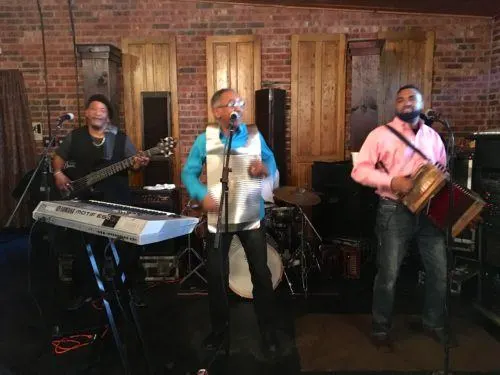 If you visit in the fall of spring, keep an eye for the Abacus catering hall and its periodic Zydeco Sunday brunch buffet.
The music is loud, especially for kids, so when you make your reservation (essential) ask for a table that isn't in the room where the band is. There are plenty of kids and you can easily stay as long as you want and join in two-stepping after you eat. Come at 10:00 or wait until noon; 11:00 seemed the peak hour.
There are buffet stations throughout the hall, so check out everything before deciding what you want to try. The food is a bit all over the place, but having had my share of mediocre brunch buffets I can say it was mostly very good.
You can stick with basic eggs, bacon and biscuits or try stuffed pork, fried chicken or gumbo. Scallion-flecked eggs Sardou were tasty and I went back for seconds on the boudin in puff pastry. Kids will most likely go for the waffles and sweet toppings.
At any time of the year, head one town over to Buck & Johnny's in Breaux Bridge for its regular Saturday morning Zydeco breakfast, which gets going at 8:00 AM.
Order beignets for your kids while you enjoy eggs mixed with grits, crab cakes, Tasso ham, boudin, étouffée or other goodies. Kick back with a bloody Mary and watch dancers of all ages go at it.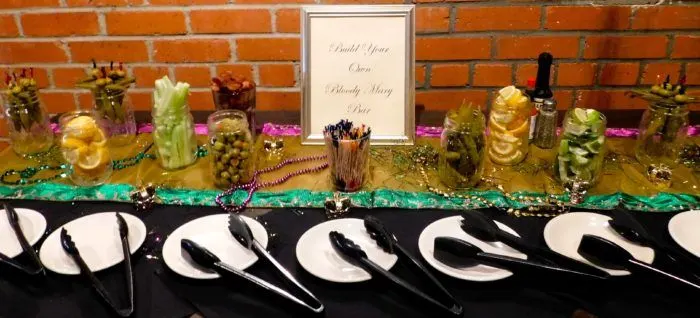 Cheap Eats for Lunch
4. Classic Po'Boys
I can count on one hand that number of sandwiches I've had that I thought were transcendently yummy. I had one of them at Old Tyme Grocery, a hole in the wall buried deep in one of Lafayette's modest residential neighborhoods. (read about the great sandwich I had in Lambertsville, NJ, too).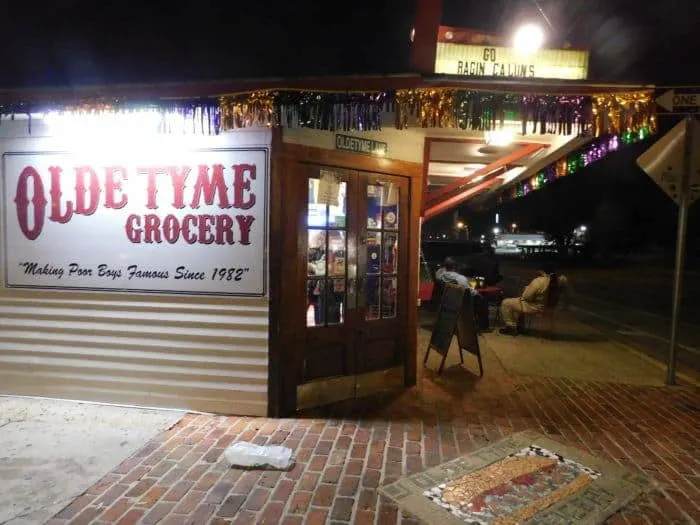 From the outside it looks like any other vinyl-sided corner grocery. The front room has a counter for ordering po'boy sandwiches to go and refrigerator cases with bottled beer and soda.
Proceed to the back room and you'll find a cozy sit-down space with curtains, wooden tables and a hurried but helpful waiter. The things to get are the fried seafood po'boys: crispy oysters or shrimp any day, catfish on Fridays and crayfish during lent.
If you can't make up your mind between two, ask for a half and half. But bring someone to share with. Half sandwiches are available and are ample dinner for most people.
Old Tyme's po'boys come with thick and crunchy Zappo's potato chips, or you can order fries. The thick-cut fries are really good, but on top of the sandwiches, one order is enough for a table.
Kids can order sandwiches on sliced white bread. In the summer the grocery opens an Old Tyme snow cone stand next door, the perfect incentive to get them to finish their meal.
5. Creative Hot Dogs
Dat Dog is an outpost of a New Orlean's mini-chain. It's neither cajun or creole but it's funky, fun, cheap and easy. What more do you need?
It has big booths and several local beers on tap (they'll let you sample before you commit). Choose from a list of sausages ranging from your basic beef hot dog to links made with Guinness, crayfish or alligator, among other things.
I ordered a duck sausage with browned onions, cheese and creole mustard. Not nearly as over-the-top as some other options but it packed plenty of flavor and I could eat it gracefully.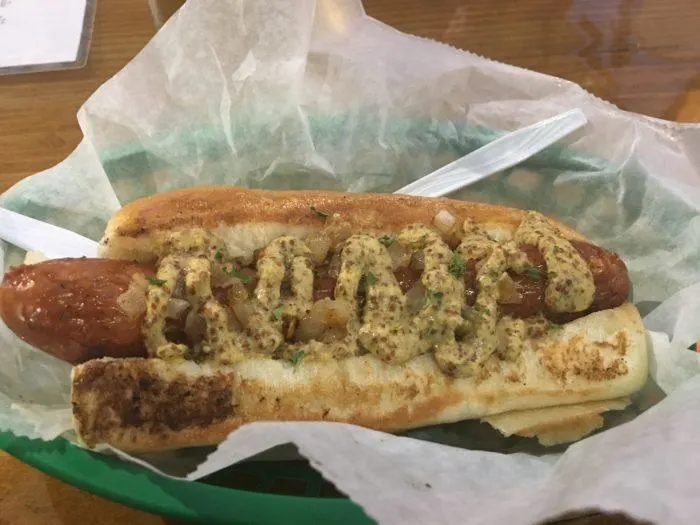 Here again, think of the fries as a side to share, especially if you order them topped with crayfish étouffée (and really, why wouldn't you?)
Picky kids can choose a plain dog, chicken fingers or grilled cheese with fries. If they're more daring let them try one the sausages and hold the exotic toppings.
6. Old-Fashioned Ice Cream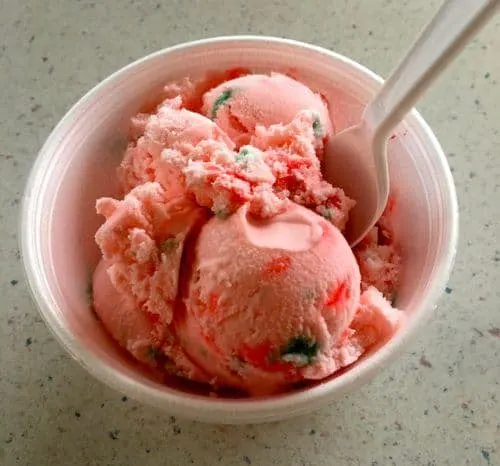 Borden's isn't authentic Cajun-Country cooking by any stretch of the imagination. But it's the last Borden's left in the country. And if you've been foisting a lot of "exotic" local food on your kids, the vinyl booths, old-fashioned counter and 23 ice cream flavors will make the happy.
The food menu is limited to hot dogs, chili, nachos and Frito pie. Feel free to skip it and just go for the old-fashioned sundaes, banana splits and ice cream drinks.
They have modern flavors kids love like birthday cake and cotton candy. But parents will appreciate hard-to-find old-fashioned choices like peppermint (one of my favorites), vanilla-fudge swirl and orange sherbet.
Try a food tour of Lafayette
that stops at Poupart, Old Tyme and other top local spots.
Dinner
7. An Out-of-the-Way Favorite
Randol's Seafood Restaurant & Dance Hall is located in a shopping plaza about 15 minutes outside of town. But don't let that stop you. At the tail end of several days of amazing eating this place still stood out.
If they're in season, order boiled crayfish by the pound. You haven't experienced Cajun Country until you've eaten a plateful of seasoned crayfish tails.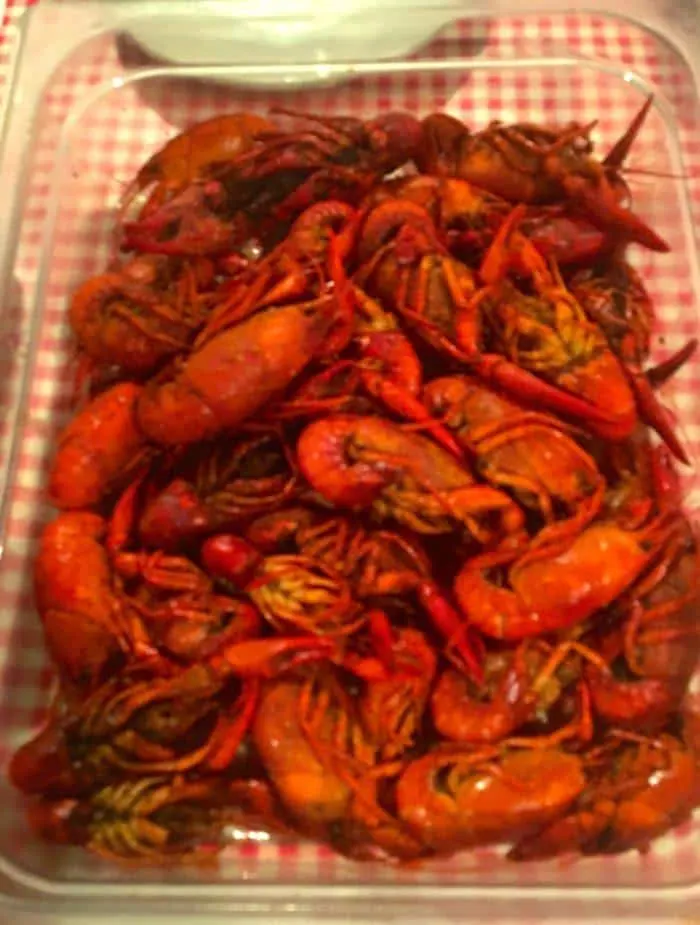 Fresh oysters, dark gumbos and rich bisques are good bets. The boudin balls might have been the best I had (and I had them almost everywhere I went). The spinach and artichoke dip is a departure from the rest of the menu but is warm, gooey goodness.
This is one of those places where it's better to order a bunch of plates to share rather than sticking to entrees. Everyone will want what everyone else is eating anyway.
The dance hall is glassed off from the rest of the place, so the music is there in the background, but it's not loud.
8. Dinner with a Dog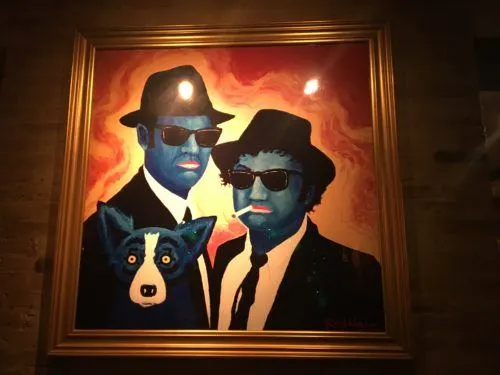 The Blue Dog Cafe was opened by George Rodrigue, who is known for painting the blue dogs that hang all over the restaurant. It's a good choice for people who love Cajun and southern food but who are traveling with folks who don't.
You can get your fill of items like cornmeal crusted oysters, blackened catfish, deviled eggs, pimento cheese and pork rinds, crab bisque, gumbo or shrimp and grits.
You can also stick with a green salads, burgers, steak or roast chicken. Again there's no kids menu, but there were quite a few families in the dining room when I visited and some of the simpler dishes are easy to share with them, maybe with an extra side.
A new chef has taken over since I visited, Ryan Trahan, who's known for his way with seafood. Next time I'm in town I think his crayfish enchiladas would be at the top of my list of things to try.
No matter what, save room for buttermilk pie and pecan-studded bread pudding.
9. Busy downtown standby
We went to Don's Seafood and Steakhouse before watching the one of the many Mardi Gras parades that roll right by its doors. Needless to say it's crowded, loud and perhaps not the most kid-friendly pick during this festive week (if you want to try it anyway, make a reservation).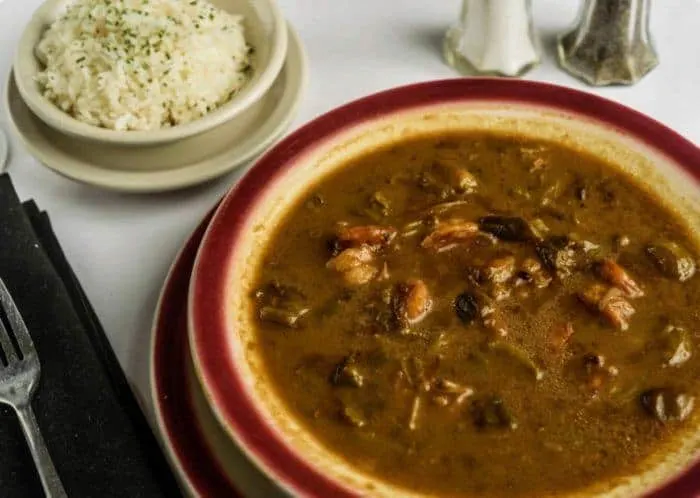 At other times of the year it strikes me as a reliable local standby with something for everyone: Good cocktails, a kids menu and killer gumbos alongside steaks and simple fish dishes.
If you like okra (I do!) try it fried as an appetizer, or in the shrimp gumbo. Hush puppies and battered green beans are reliable kid favorites from the main menu. The only thing that disappointed me were the dry alligator bites
The seafood salad is the thing to get if you want something that isn't fried or in a roux. The chicken and sausage gumbo was perfect on a chilly night and the shrimp remoulade is a good version of it.
If you want all the flavor and spice of Cajun country, without the New Orlean's crowds and prices, Lafayette is a good base for your family's immersion in all the things that make Louisiana unique.
What's your favorite Lafayette restaurant with kids?
Pin it for later!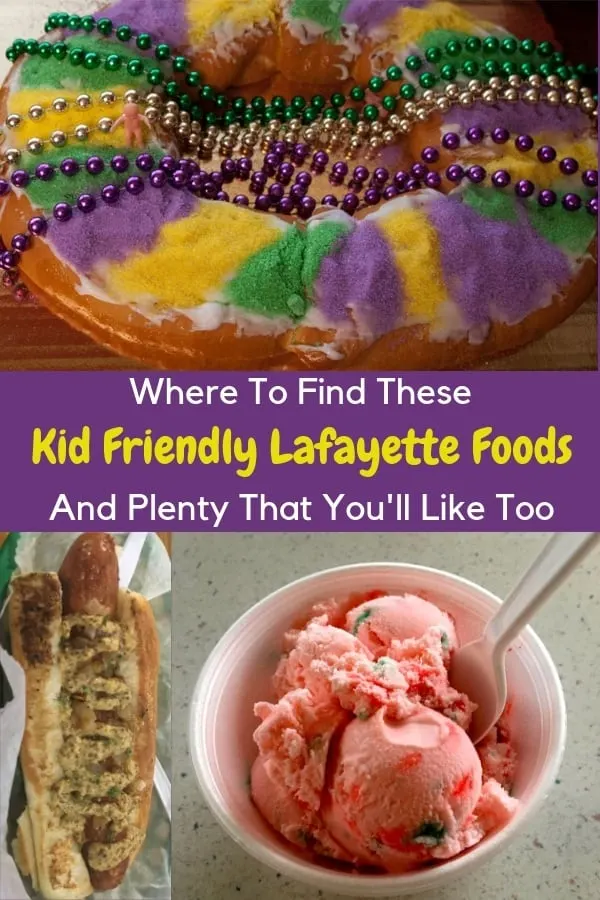 * We were guests of Visit Lafayette for most of these meals. We did not agree to any particular coverage in exchange for the meals. Our opinions are always our own.
* All photos by FamiliesGo! except those provide by Poupart Bakery