Our family took a winter-break cruise on Norwegian Cruise Lines' Getaway because the ports of call on its Western Caribbean cruise really intrigued us. I was particularly looking forward to docking in Harvest Caye because I'd been curious about Belize for some time.
The other three ports were Roatan, Honduras, which we were also curious about; Costa Maya on Mexico's Yucatan Peninsula; and Cozumel, an island off Cancun.
We quickly came to feel like NCL had expressly designed Harvest Caye to make it hard for passengers to have any impromptu local experiences or talk to local people not connected to the cruise line.
We appreciate that for many people this insulation offers safety and comfort and is an upside of cruising, especially if you're sailing with small kids and maybe grandparents. As a family that seeks out authentic local experiences when we travel, we found it frustrating.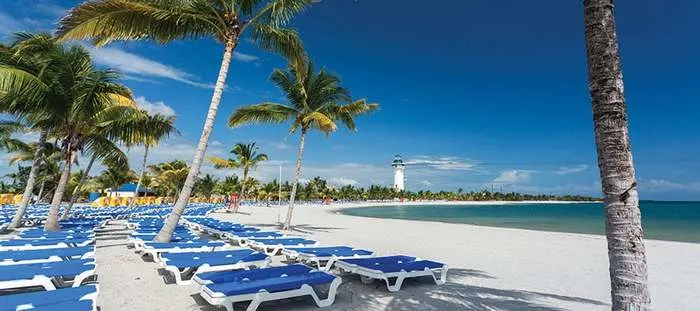 Below I'll tell you what we found to do in Belize with a tween. And I offer tips for getting off of Harvest Caye so you and your kids can have a genuine taste of this awesome Caribbean country.
Making the Most NCL's Harvest Caye, Belize Port Day With Kids
Reaching the Real Belize
In Belize, NCL docks in Harvest Caye, a private island that is its pride and joy and the reason many people choose this cruise.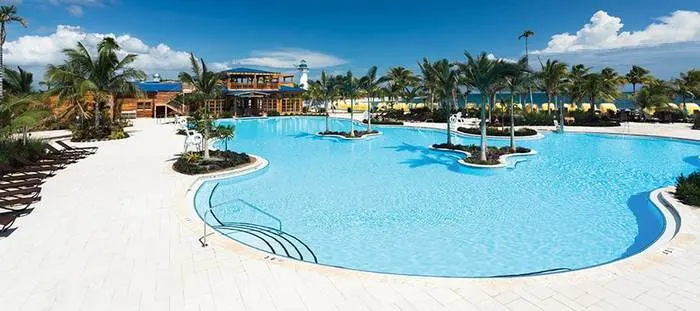 From my pre-trip research it seemed as though the only real way off of Harvest Caye, which is several miles offshore, was via an NCL excursion. So we booked one, hoping it might give us some time to ourselves on the mainland before returning to the ship (it didn't).
The Secret Harvest Caye Ferry
On the way to the dock that the excursions leave from we learned that you can take a ferry to Placencia, a colorful beach town that's popular with tourists and locals alike.
You won't find any mention of this ferry service on NCL's website. I think this is partly because they want to keep people on Harvest Caye or direct them to ship excursions. But it might also be to allay local concerns about a few thousand cruise-ship passengers overwhelming this small peninsula.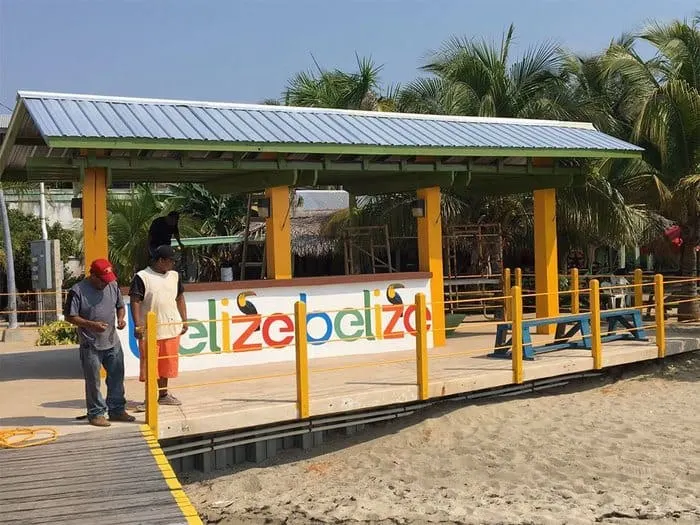 Note well: Round-trip ferry fare was $25 when we were there. But you have to buy your ferry tickets from the excursion desk onboard the ship before you disembark. This is also the only place to find a ferry schedule.
The ferry service is capped at fewer than 400 people per day. If this is something you know you want to do, I recommend inquiring about tickets early in your cruise.
Practical Stuff: You are supposed to take a return ferry three hours after you arrive. This is probably enough time to eat lunch, enjoy the pristine beach and do some souvenir shopping.
That short window of time could make it tricky to do any excursions with a local company. However, if you miss your scheduled ferry, I can't imagine they can refuse to take you back to the ship.
If you are considering a local excursion, find a company that works within the ferry parameters. Or ask on the Placencia side what happens if you miss your scheduled return and plan accordingly.
---
Want To Take This Cruise?
Find: the best prices for this trip on CruiseDirect.
Read: Our Review of the NCL Getaway
Read: One Day in Roatan
Read: 1 Day Each in Costa Maya and Cozumel
---
Things To Do in Placencia With Kids
You can walk from the ferry to most things you'll want to do locally in Placencia. If you have a little one, bring your stroller.
The beach is a narrow in places but the sand is white and the water is very clear. There is public beach but you can also find places to rent chairs and settle in if you want that.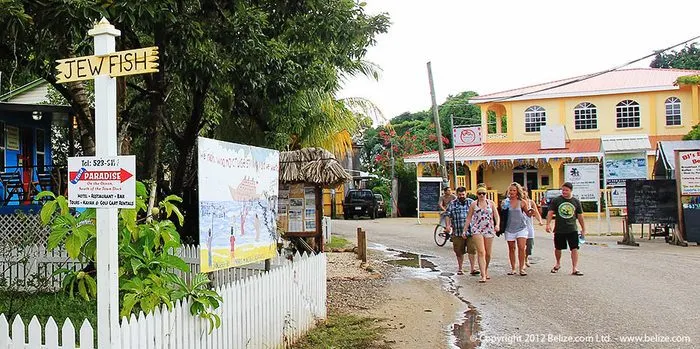 Laughing Bird Caye National Park, a small island 11 miles from shore, is popular for snorkel and dive excursions.
You can rent bikes or a golf cart if you want to explore a bit further than your feet your feet will take you. Or rent sea kayaks to explore the bay.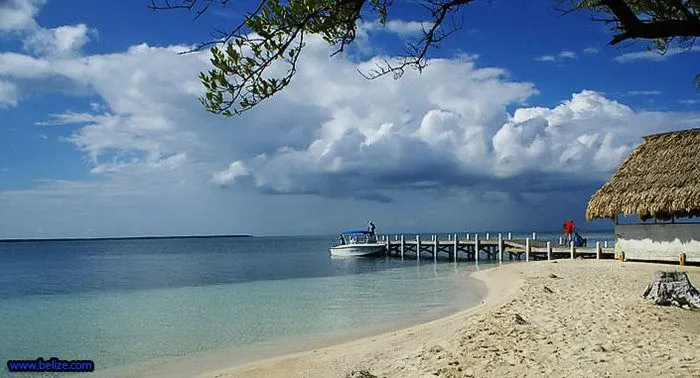 Fishing trips are popular here, but I have no idea what you would do with your catch. Maybe a local restaurant would cook it for you if you have the time.
In town and along the beach you'll find small beach bars, cafés selling jerk chicken, fried local fish and conch fritters and chowder. You'll also find art galleries and souvenir stands selling local jewelry, crafts and rum, among other things.
You can book land excursions on shore, but roads in Belize are not built for swift travel. I think it could be very hard to fit these into that three-hour window.
This seems like an easy authentic excursion to do with kids. The dining is going to be casual beachside eating. And Placencia beaches will give them more room to run, romp and explore than Harvest Caye's.
Read more: Staying on Ambergris Caye, Belize
Our Belize Shore Excursion: River Tubing
We chose a rainforest river-tubing excursion because we wanted to see the interior of the country and it sounded like the most adventurous option.
It wasn't adventurous, but it was fun. The river was very slow when we were there and they lashed all the tubes together so no one would float off.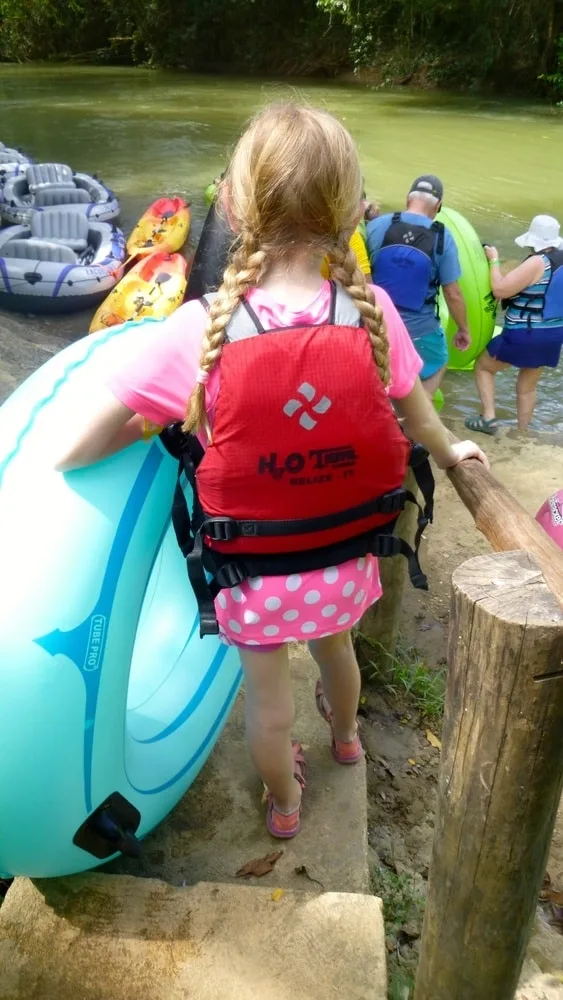 This seemed overly cautious to me, but one small group among us got on our 9:00 A.M. ferry drinking beer, and bought more beer during the two-minute layover between the ferry and the bus. I could sympathize with the tour company. I wondered if there might be a little less handholding for customers who aren't cruise-ship passengers.
You do the tubing for the experience of being on the river in the jungle, looking up at the tall canopy and listening to exotic birds. I think you'd have to get out on the river earlier or in late afternoon to spot monkeys.
Our guide did a good job of telling us about the trees, flowers, birds and villages we spotted along the way.
The most fun part was stopping at a natural hot spring. We crossed an invisible line and the river changed instantly from cool to warm. I could stand with one foot in each temperature, which was really crazy.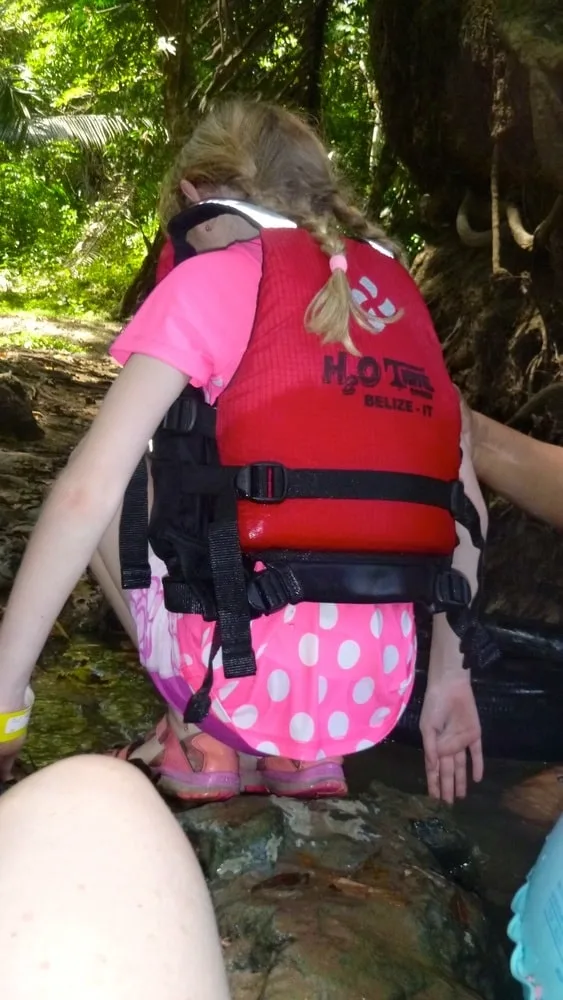 We got out of our tubes and Tween Traveler, who is a natural climber, enjoyed scrambling over the rocks, exploring, and swimming in the spring.
When we returned to basecamp there was a small shop, tastings of local rum, cashew and blackberry wine, and lunch catered by a local restaurant that we could buy.
We tried beef empanadas, chicken and cabbage empanadas (similar to egg roll filling), and chicken escabeche, which was stewed with onions and accompanied by good chewy rice and fried plantains. It's a typical local dish and really tasty. Two empanadas, the chicken, a beer and a coke cost less than $20.
The cashew wine is made from the tree's fruit, not the nut. It was good; fruity and not overly sweet. Definitely try it if you have the opportunity.
Belizeans have varying accents depending on whether they're family is English, Creole or Mayan.
Our guide spoke English, a local Creole dialect, two Mayan dialects and a smattering of Spanish. He talked for most of the bus ride and the tubing.
We learned a lot of Belize's history, people, culture and landscape. He definitely tried to give us a good taste of his country in the short window he had.
Practical stuff: We left our towels and dry clothes at basecamp, which had lockers and changing rooms.
Even with the slow river we all got life vests, making it a safe activity for kids of almost any age. Ideally I would do it with kids ages 5 and up. But kids too small to sit in their own tube could probably share a tube with a parent.
The calm river also made it easy to take photos without the risk of losing our waterproof camera.
Travel Time: The main downside was that we spent more time commuting than tubing. The round-trip ferry was 90 minutes and the bus was an hour each way (longer than NCL says it is), compared with about an hour on the river.
The ferry travels to and from a private dock in the middle of nowhere so we didn't get any free time on shore.
On balance I would have preferred to go to Placencia for snorkeling or kayaking and some local color.
Things To Do On Harvest Caye
Naturally, we got back early enough to spend some time on NCL's island paradise. The highlight for us here was the enormous pool.
It was fairly empty by the time we got back and quite a pleasure to swim in after the Getaway's tiny and crowded pools.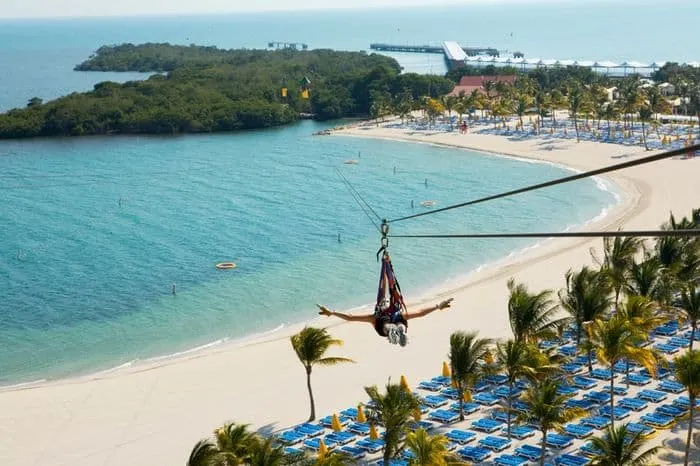 Had we stayed for the day we could have availed ourselves of a beach with chairs and water than was calm but not particularly clear.
There was a zip line, a kids' splash pad, kayaks, paddleboards, private cabanas, a manatee lagoon and animal encounters, some of which carry additional costs.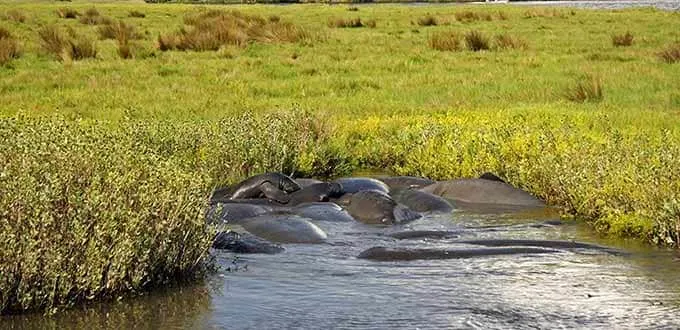 All the souvenir shops and the Landshark restaurant are owned or run by local people and I've heard good things about the food. But we found the shops pretty expensive.
Because NCL agreed to use local vendors you have to pay for all your food and drinks on Harvest Caye, even if you bought an onboard beverage package. It's a fair arrangement and more cruise lines should probably do it. But it's not usual for private islands and some passengers were definitely grumbly, especially if they weren't expecting it.
While we made the most of our NCL port of call in this up-and-coming country, Belize is a place where I would definitely like a do-over.
When we get around to going back, maybe we'll base ourselves in Placencia.
A tip for cellular service
For most of our travel outside the U.S. our cellular service charges us $10/phone/day in roaming fees. This adds up, even when we agree that only one of us can have roaming service at a time. So I was very happy when a fellow traveler writer introduced me to Airalo. It was a where-have-you-been-all-my-life moment.
Airolo is an app that provides virtual SIM cards, so you can access a local cell network without having to replace your actual SIM card and risk losing it. In most international locations now I can all the data I need for about $5/phone/week.
For $15, all three of us can have full use of our phones for a weeklong trip, instead of $70 for one of us to be able to. At that price I would even by an Airalo SIM for a single port day!
Pin it for later!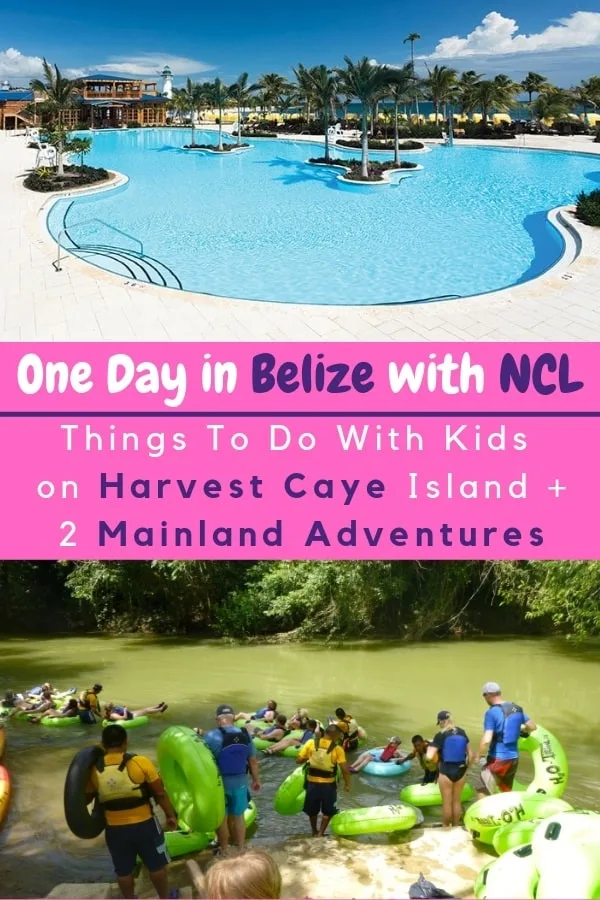 *Placencia photos care of Belize.com; Harvest Caye photos courtesy of NCL. All others by FamiliesGo©.