I Review Bermuda's 2 Fairmont Hotels:
The *Hamilton Princess & Beach Club in Hamilton
The Fairmont Southampton in Southampton
I had the great good fortune to stay at these Fairmont 's two Bermuda resorts in a single visit.
They are very different in their locales and ambience. I'm partial to the Hamilton Princess & Beach Club. But the Fairmont Southampton left me absolutely nothing to complain about.
There were plenty of kids at both hotels. I think each hotel is ideal for families in different ways. And each lends itself to a different kind of Bermuda vacation.
The Location
Both Bermuda hotels have their own private beach coves, but neither is on the beach.
The somewhat legendary Hamilton Princess is a full-scale Bermuda beach resort right in Hamilton. It's on the water and walking distance or a short cab ride from the city's restaurants, shops and sightseeing. There is a free-20-minute jitney ride to its beach club.
The Fairmont Southampton sprawls across a hill overlooking East Whale Bay. It's roughly halfway between Hamilton and Somerset Village and near one of the island's most famous beaches.
You can take a free ferry from the resort to Hamilton, There is a 5-minute shuttle-bus ride brings you to the hotel's beach cove, right next to popular Horseshoe Bay with its pinkish sand. The front desk sells tokens for the public bus, which is pretty easy to use.
Read More:
4 Day trips to Bermuda's Best Public Beaches
+ 9 Things To Do WIth Kids & Teens on Bermuda
The Vibe: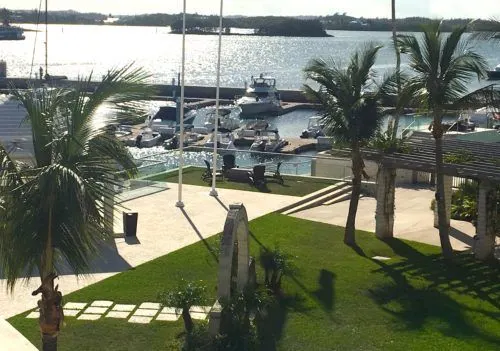 While I really enjoyed both of these very different Bermuda resorts, the Princess (top) won me over with its just-right mix of colonial and modern. I also really loved that Hamilton was right outside it's doors but once you walked through them you were a world apart from the city's hustle, bustle and heat.
The exterior is the same pale pink as the island's sand. The male staff wears salmon-colored Bermuda shorts with jacket and tie. You'll find an eclectic collection of fantastic original 20thcentury art throughout the hotel.
A perfect lawn faces the harbor and has several comfortable seating areas and fire pits for cool evenings.
The guests are a mix of tourists in sun hats and business people in suits visiting the insurance giants nearby. But in the morning it was common to see kids running around on the lawn while their parents lingered over the buffet breakfast and coffee at one of the restaurant's outdoor tables.
This is the resort to pick if you want to mix relaxation with sightseeing and dining around. It's the better pick for families with tweens and teens, who will like the bright modern vibe.
Teens can even venture on their own to some of the nearby shops if they would like a little time on their owm/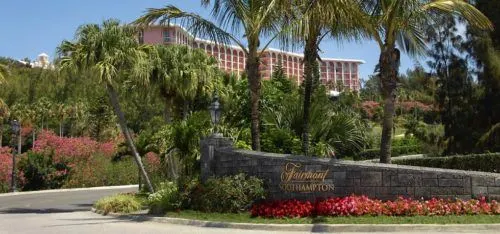 The Southampton is more tucked away and feels that way. It's the resort to choose if you want to stay on property and relax for most of your visit. It's also the better hotel with babies, toddlers and younger kids.
Even though it's the younger of the two hotels the bright pink Southampton has a more classic, colonial atmosphere. Its lobby has lots of dark wood, Persian carpets and a subdued vibe.
The recently renovated rooms have colors and fixtures that give it a 1950s resort feel. I expected to run into Don Draper in the elevators.
The Rooms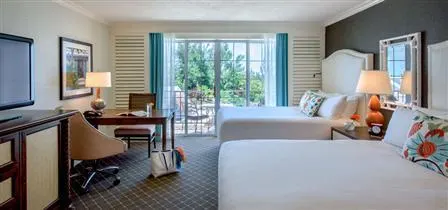 The Southampton recently did resort-wide room renovations. The "after" rooms feature beach pastel colors and a retro island vibe.
The standard rooms in both hotels are are roomy but not huge. Both rooms had a desk, a refrigerator, and a large walk-in closet. They each had outlets on the bedside tables and only one USB port on the desk.
In Southampton the bathrooms were average hotel size and nondescript. But they had bathtubs and the sink was separate from the rest of the fixtures, two amenities families appreciate.
The bathrooms in the princess were even smaller and very modern. There was a lot of chrome, a glassed-in shower stall (no bathtub) and the option to pipe the TV in through hidden speakers.
Southampton rooms have small balconies. Front rooms face the ocean and backrooms face the hillside.
However, my front room was on a lower floor. While I could see the water in the distance, I mostly saw (and sometimes heard) the parking lot, so I didn't really sit outside.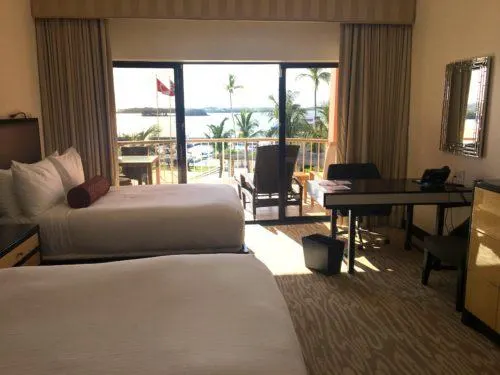 Rooms at the Princess face the courtyard and the harbor or they face the city. Some have bigger balconies than others.
My harbor-facing room had an enormous balcony separated from the interior by a glass wall. This gave the space that airy, sunlit feel that tells you you're staying on an island.
While the room wasn't actually bigger than my room at the Southampton, it felt more spacious. Plus, the offshore breezes were cool enough at night that I slept with the AC off and the balcony doors open.
The balcony had a card table and two lounge chairs. Had I been with my family we would certainly have spent our early evenings on the balcony drinking rum cocktails and ginger beer and playing card games.
I ordered a room-service breakfast one morning to make the most of it. My only (very small) complaint is that the balcony is a nice place for getting a little work done and could use an electric outlet.
The bathroom was also modern but small; following the new trend of a nice shower and no tub. You could pipe the TV's audio into the bathroom, which I guess is handy if you want to listen to news or sports while you're brushing your teeth.
I don't think I'd squeeze an extra bed or crib into the rooms at either place
Amenities: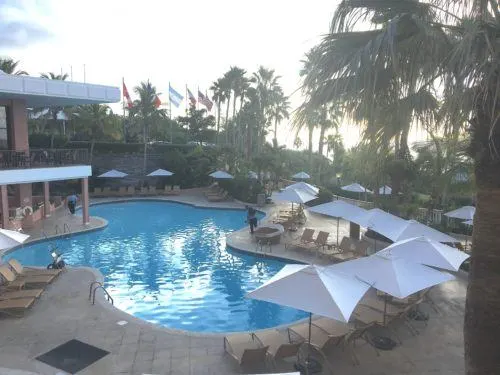 The Southampton has a good size pool with ample deck space (and plenty of chairs!). It has a separate wading pool with a slide for children, making it the winner for families visiting Bermuda with kids who are not yet swimmers.
It also has a hot tub but not all the jets were working during my stay. I was there in the off-season though, so hopefully it will be fixed in time for spring and summer guests.
There is a kids club downstairs, which offers opportunities to both drop kids off for activities and drop in with your little ones to play with the toys and small climbing structure.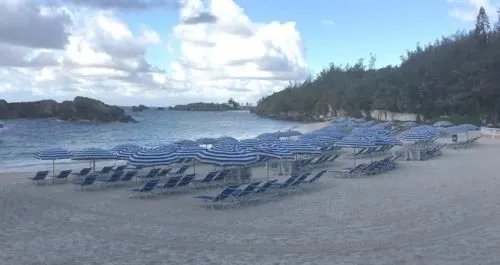 The beach is in one of Bermuda's many protected coves. The waves are small and the water is mostly calm.
It's only about $20 an hour to rent a kayak or stand-up paddleboard. It's easy going as long as you stay within the rocks the mark the cove. Go beyond those and be prepared for the wind and current to pick up considerably, but I saw some enormous, brightly colored fish out there.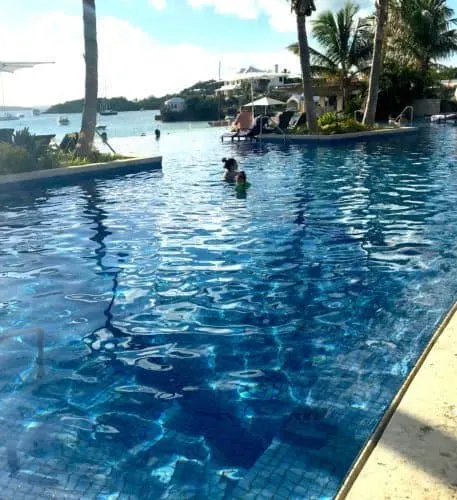 The Princess has an adults-only pool that's fine but nothing special. The main pool is an infinity pool with sprinklers, a graduated entrance and a variety of stairs and levels. Both have hot tubs.
Tweens and teens will love the glamour of the infinity pool, especially if they manage to snag one of the lounge chairs that sit in the water. Smaller kids will prefer the Southampton pool area.
I didn't get a chance to visit the Princess's beach. But I know it's also a protected cove. It has a ship-themed playground that will suit a wide age range.
The resort's kids club is at the beach. Kids 5 and up can join in activities on their own. Those 4 and younger can join in some activities with a parent.
Both hotels have spas, tennis and water sports. Southamton's spa has a lovely indoor pool for adults and The Princess's has some fun fitness classes.
The Southampton's golf course is built into the side of the hill next to the hotel and looked like a tough course. And you'd have to schedule your rounds very early or late in the day to avoid the sun and heat, even in late fall.
Dining
In addition to having Hamilton's restaurants at its disposal, the Princess has the unique and lovely 1609 Restaurant that sits over the water next to the infinity pool. I had sunset cocktails and appetizers there one evening, which is exactly what the restaurant was made for. This is something you must do once, even if you don't stay there.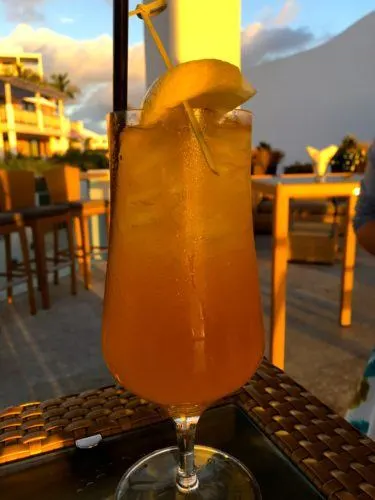 If you're staying with kids it's also the ideal spot for a casual sunset dinner. And it's where you'll order a salads and burgers while you're at the pool.
The lobby bar is good for an outdoor nightcar and has an ample good breakfast buffet. There is a casual cabana restaurant at the beach. There isn't a place to just grab coffee and a pastry in the morning, but you can do that easily enough nearby.
The Fairmont Southampton also has several dining options (but I didn't really get to try them). You'll need reservations at the dockside steakhouse, waterfront seafood restaurant and an upscale Mediterranean place that features tapas and shared plates.
The pool, beach and golf club all have casual lunch spots. And the breakfast buffet is in a room with lovely ocean views.
There is a coffee bar for a quick morning bite. But even allowing for Bermuda's high price tags, be prepared for your tab to bite you back.
Just about all of the restaurants at both hotels, including Marcus, have kids menus.
Plan This Trip: Hotels, airfares, tours
---
---
In Short…
I love these islands, and this is the first time I got to stay on land instead of on a cruise ship. It's not a budget getaway by any means. But a stay at either of these Bermuda resorts will be one of the most relaxing and delightful family vacations you'll ever have.
I favor the Fairmont Southampton for golfers, families with very small kids and anyone who wants a relaxing-do-nothing resort vacation.
You can have a lovely lay-around vacation at the Hamilton Princess, too, but it's so easy to step out and do things, it would be a shame not to. It's the spot I'd choose with kids 7 and up, and for families that want to explore.
It's also the spot I would return to for a romantic weekend with my husband, which is easy enough to do. Bermuda is a one- or two-hour flight from most of the U.S. East Coast.
Maybe we should plan that…
Pin it for later!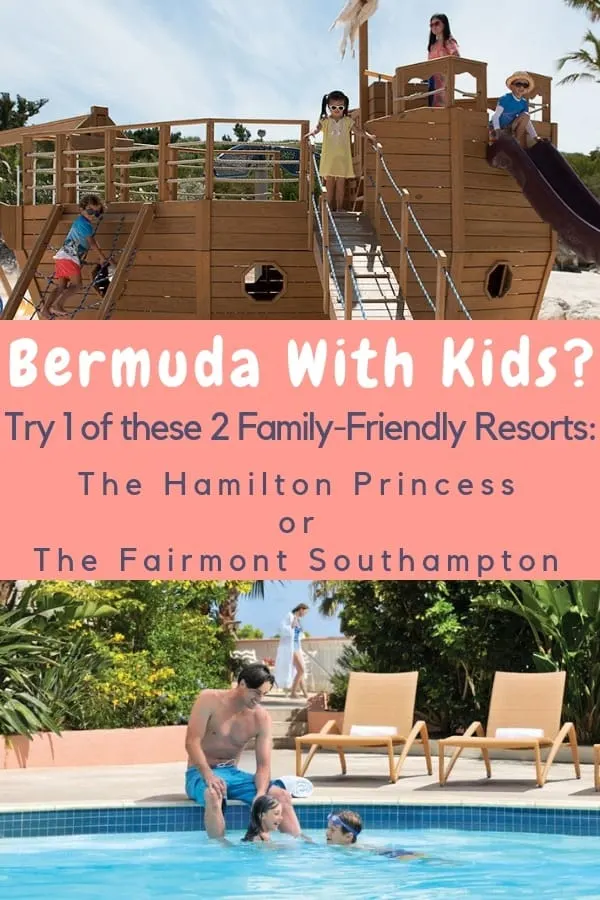 *I paid for my stay at the Fairmont Southampton. I was a guest of the Bermuda Tourism Authority for my stay at the Hamilton Princess. I did not guarantee any particular coverage in exchange for the stay. My opinions are always my own.
Photos by FamiliesGo!© except the Fairmont Southhampton room and front entrance (courtesy of Fairmont).