Taos, an artsy town in northern New Mexico, receives a mere 13 inches of rain a year. We had the bad luck to encounter a fair amount of it during our three-day spring break visit.
Seeing a place in the rain definitely colors your perception of it. But it's easy to imagine the appeal of this inexpensive, laid-back adobe town on a more typical, sunny day. So I recommend adding it to any Southwest family road trip. It also makes for a great outdoor weekend destination.
Here are some of the things we enjoyed during our stay in Taos, and that we recommend with kids, rain or shine.
A 48-Hour Taos, NM Itinerary With Kids:
What To Do, Where To Eat and Stay
Top Things to do in Taos With Kids
Explore Native American History
• Taos Pueblo, a UNESCO site and National Historic Landmark, has been continuously inhabited by local tribes for more than 1,000 years.
Individual families own the small, stacked homes and maintain them by redoing the adobe facade annually. About 2,000 Taos Indians live on in the area, but only about 150 of them live on the pueblos full time. The rest will spend part of the year or stay for family gatherings and tribal events.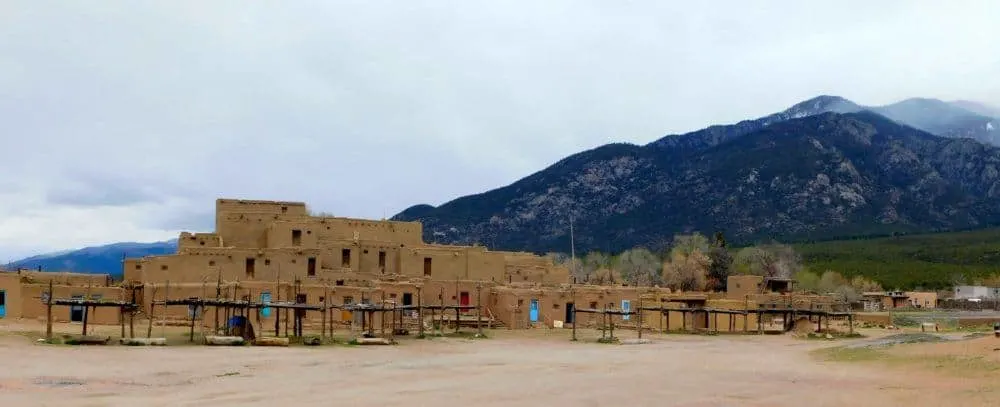 You can only explore the pueblo, which is a few miles outside of town, with a resident guide. I highly recommend taking a tour (bring some small bills to tip your guide).
The tour takes less than an hour and you'll learn about local native history, customs, and modern tribal life.
Some of the pueblo residents set up stores in their homes where you can buy jewelry, pottery and cookies, breads and pies they bake in the beehive shaped clay ovens you'll see outside of the houses. This is the only way you'll get to see the inside of the pueblos, so take time to visit a couple.
In the one we went into, the lady of the house had fresh fry bread cooking, which she sells for a few dollars. Served up warm with honey and cinnamon, it was just the thing Tween Traveler wanted after walking around the pueblo in a cold drizzle.
The baked goods and nut brittles, which sometimes incorporate local chiles, looked good and were also inexpensive.
Learn About Southwest Hacienda Life
Our Trolley Tour guide strongly recommended we visit the Hacienda de los Martinez, about three minutes from town. So we did, and really loved it.
It was the working ranch house for a family headed by a prosperous trader who brought goods up to Taos from Mexico. It was interesting to learn that despite being well off and having six kids, the family on lived pretty sparsely in two of the hacienda's 21 rooms.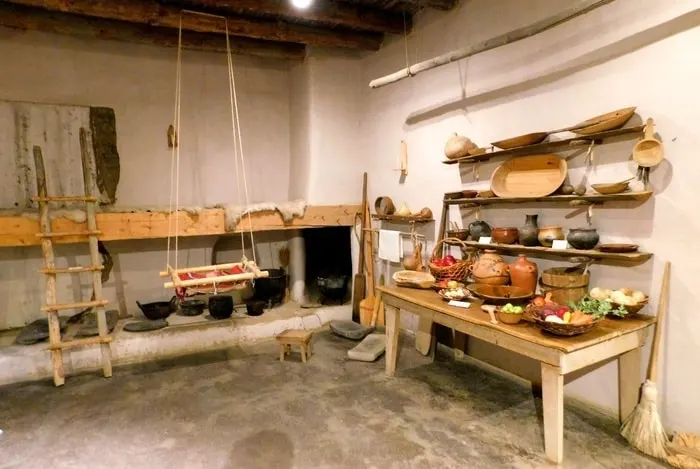 The rest of the house, built around an outside courtyard, was given over to practical activities including cooking, weaving, metal-working, storage, taking care of animals and Mr. Martinez's trading.
One of the rooms showed step by step how adobe bricks are made, and kids could touch the clay dirt, straw and finished bricks. The former barn is now a kids activity room with southwestern dress-up, toys that were typical of the time, and a few small activities.
A younger Tiny Traveler would easily have spent a half hour playing there. But Tween traveler was happy to move on after rolling her at me for trying on a sombrero. It took about an hour to see the rest of the house.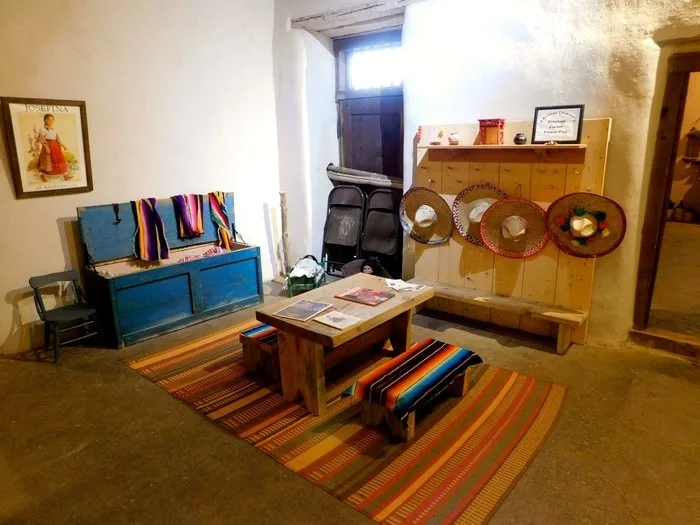 The Trolley guide told us to pay attention to the original 1806 floor in the kitchen, made of concrete made from adobe and animal blood. He also told us quite a bit about the family history. Without that a guided tour would have been helpful but I'm not sure they offer them on a regular basis.
A Gorge and A Hobbit House
A bit further out of town is the Rio Grande Gorge Bridge, which you have to see.
The river gorge is impossible deep and narrow and winds on for miles in both directions.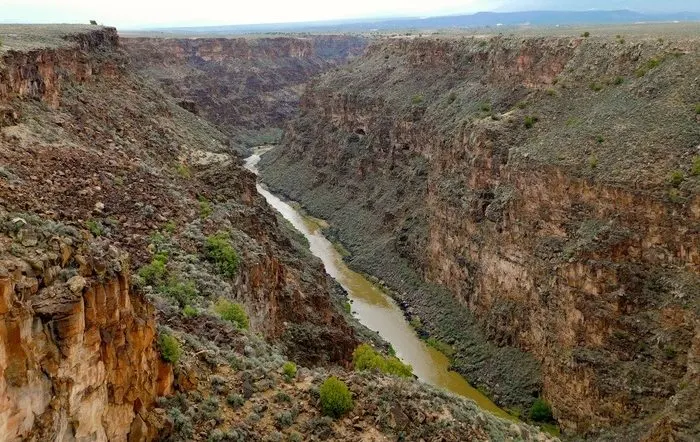 You can walk out on to the bridge. But usually fearless Tween Traveler had a bout of acrophobia before she got a quarter of the way across. I got to the midpoint by absolutely not looking down. The view was worth it.
Tip: There's free parking on the far side of the bridge.
The area around the bridge is wide open. Expect it to be windy, hot in the sun and chilly if it's cloudy. Luckily you don't stay long. It's a look around, take your photos and move on kind of place.
Keep going away from town for a few more miles and you'll come to Earthship Biotecture, a collection of whimsical off-the-grid houses that look a bit like hobbit holes and a bit like something out of a Mad Max movie.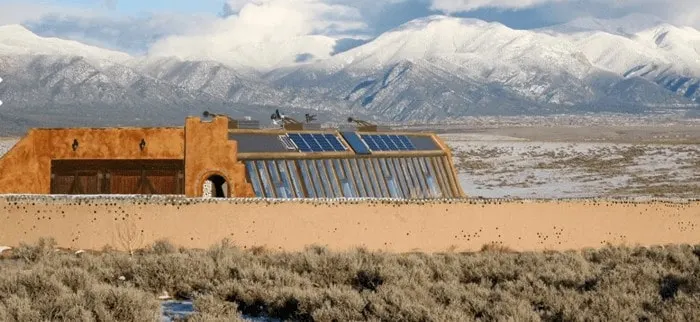 If you arrive during business hours (unfortunately, we didn't), you can head to the visitors center to see a model earthship home and learn how to built your own sustainable house from earth, glass bottles and other recycled and reused items. If you pay a bit extra for a guided tour you can see some of the actual homes, too.
Tip: For a truly unique eco-tourism experience, you can stay in one of these houses during your visit to Taos. They promise that going off the grid doesn't mean having to give up hot showers or Netflix. If we return to Taos we will absolutely do this.
Get Out on the Rio Grande
Despite a highly discouraging weather forecast we persevered in our plan to go river rafting with Far Flung Adventures. And we were rewarded with a sunny, warmer-than-expected morning.
We met our guide, Hank O', a lifetime off-the-grid-outdoorsmen, who I would absolutely want with me if I did one of their multi-day trips.
Since the weather outlook was iffy he gave us wet suits and rain pants and jackets as well a life jackets. It wasn't a flattering look but they would keep us, safe, dry and warm.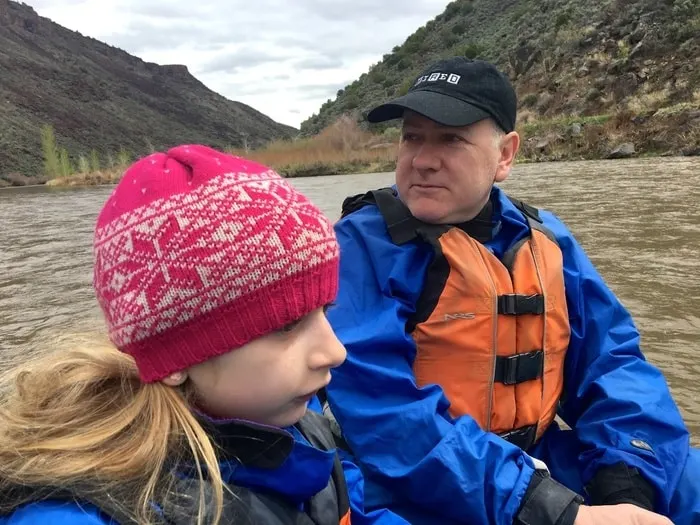 He put our car keys in his van for safe keeping and we headed out to our launch spot on river we had looked down at from the bridge the night before.
Despite the recent rain the first part of the day was a flat float downstream. Perfect for younger kids, but 10YO Tween Traveler, already gumpy about the rain gear, was hoping for a more excitement.
For lunch we pulled off to the side of the river and Hank O' set up a camp table with salsa, chips, cookies and sandwich fixings. Tween Traveler collected cool rocks and Hank O' helped her find and identify some animal tracks. Things were looking up.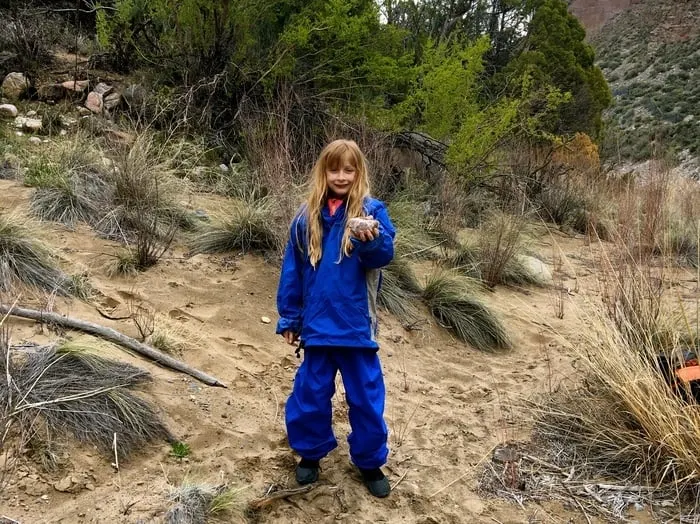 Back in the raft, we headed into some class III rapids, which were exciting but not scary and just about right.
Hank O' let her kneel in the front of the raft when the river was fast but not rocky and she thought that was great (even when a wave came over the bow and soaked her).
As we were coming out of the last set of rapids, the sky opened up and frozen rain began pelting us. In minutes our hats, gloves and socks were soaked through and we were cold. But we were having a lot of fun and knew the trip was almost over, so we didn't care.
Hank O' rowed fiercely to get us to the pull-out spot quicker than we would have otherwise and while he got the raft on the trailer we hopped into the van to take off our rain gear and wet things.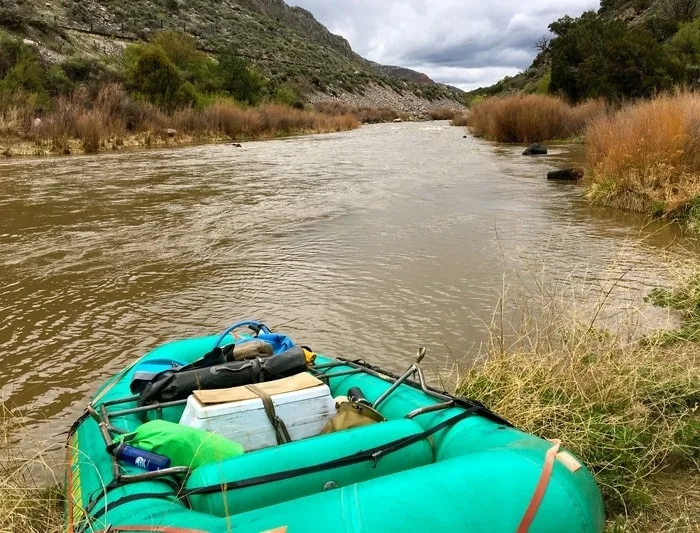 Far Flung has a full-day float that's ideal with kids 7YO and younger. And you can bring kids 12YO and up on a day trip with class IV rapids. The class III trip we did is good for the ages in between.
The Rio Grande is a famous river and it's worth taking a full day out to explore it by raft with kids.
Good to Know: You get wet on this trip. In summer wear sport sandals and leave a change of clothes in your car. In cooler weather wear warm, wicking socks, hats and gloves, and a thin, warm base layer under something waterproof.
Tip: The meeting spot for Far Flung's outtings is the optimistically named Pilar Yacht Club. It's open early for rafters and a place to pick up coffee, an egg sandwich or an empanada while you wait for your guide to arrive.
A Jolly Hour on a Trolley
We took the Historic Taos Trolley Tour, which leaves from the Taos Plaza. It will take you through town, out to the pueblo, passed the Hacienda Martinez to San Francisco de Asis chapel, built in the early 1800s.
The reason to take the tour is that the guide is great and can tell you everything you want to know about Taos's history, its artist culture and its current socio-economic climate.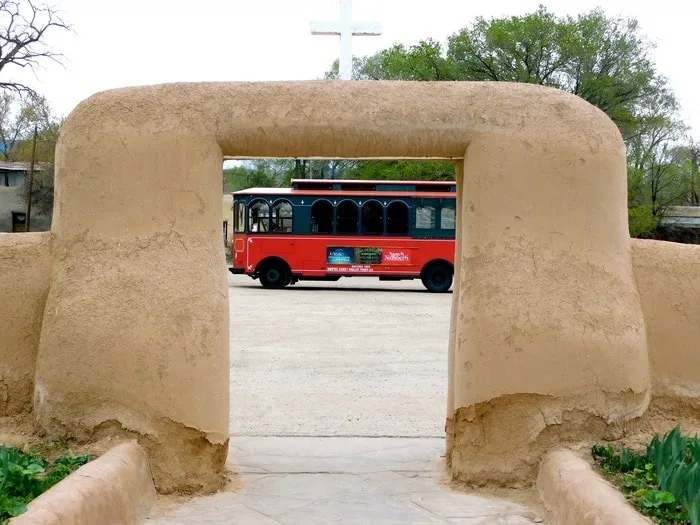 The St. Francis Chapel is pretty and an interesting example of older adobe building. But it's also surrounded by tiny old adobe buildings, so in a state of decay, which gives you a sense of both what Taos was probably like in its pioneer days and how old adobe buildings were put together.
A Real Pioneer House
We didn't get to the Kit Carson House & Museumbut I would recommend it with kids, especially in tandem with the Martinez home. Carson's place was built about 20 years later. It has the same structure— square with an interior courtyard. But it's smaller and the interior reflects the life of a scrapping pioneer rather than a wealthy trader.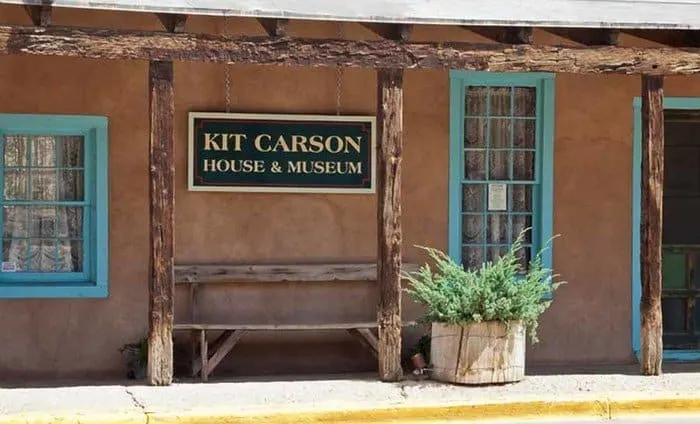 Green Space
Kit Carson Park, on the edge of town, is a good spot to have in your back pocket if your kids just need to run around. it has grass, ball fields and a playground. It hosts concerts and other events in the summer.
While you're there, take a walk through the 19thcentury graveyard were Carson and other local legends are buried.
Hop in to Hot Springs
This is the thing we really wanted to do, especially after rafting. But the weather just didn't allow it.
About half an hour north of Taos, near the town of Arroyo Hondo are two sets of 97º natural hot springs. Black Rock springs require a ten-minute walk from the roadside. Manby has a short drive down a rough road and then a 20-minute walk from a parking lot.
But when you get there, they're free and relaxing and you can't beat the view.
About 25 minutes south of town you can find the pool-like Ponce de Leon warm springs amid the ruins of an old resort. They're on Pueblo land but the public is allowed to use the springs, which are an easy walk from the roadside parking.
Tip: You can read a first-hand account of visiting them and the other springs on A Couple of Drifters.
Good to know: The springs are clothing optional. Many people wear bathing suits; some don't. I haven't read anything to suggest the atmosphere is inappropriate for kids, but be ready for possible discreet nudity.
Planning A Trip?
Book the best rates on top Taos hotels TripAdvisor.
Book your own beautiful hacienda on VRBO.
Find the lowest airfares to Abuquerque on Flighthub.

Restaurants in Taos
We didn't get to try nearly as many places to eat in Taos as we wanted to. But we enjoyed everything we tried.
• There are a few coffee places in town. But for breakfast, the place to go is Michael's Kitchen. It has a sit-down restaurant if you want eggs and fluffy pancakes. We just made do with coffee and the tantalizing doughnut counter.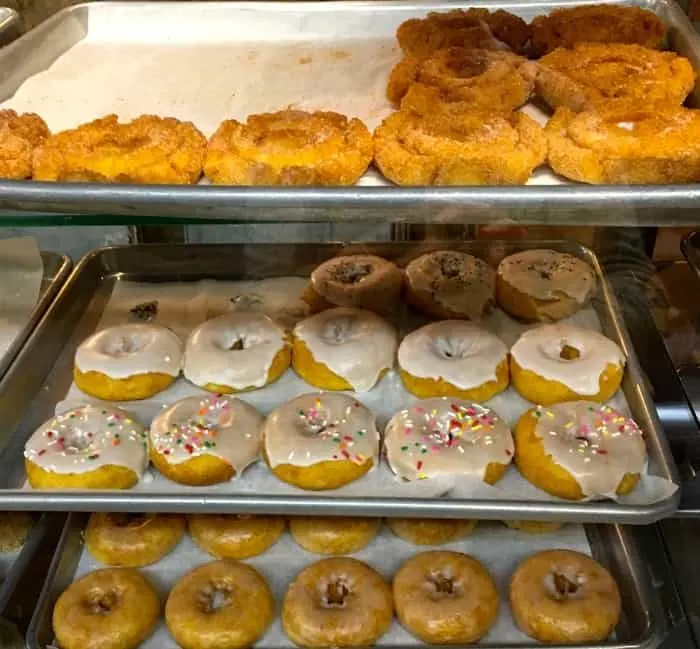 A chile-and-cheese croissant was not really croissant-like, but it was gooey and good nonetheless with just a little bit of a kick. What looked like a plain cruller was flavored with cardamom and was one of the best donuts I've had. If you're a cinnamon bun, fan stop by for the ones here.
We stopped into Taos Mesa Brewing's Tap Room for an afternoon snack the day we pulled in to town. It's a good spot to hit for lunch because they have a kids menu and good-looking wood-fired pizza.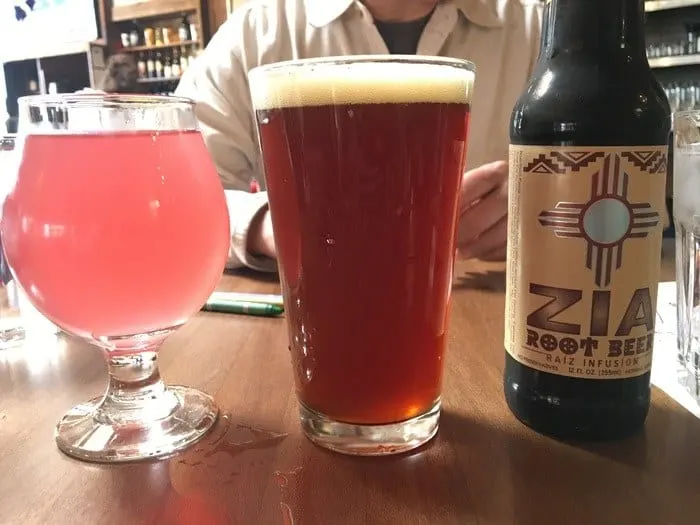 For an afternoon snack we shared a plate on honey-chile wings that were neither too cloying for the adults nor too spicy for the tween. They were good.
I drank a bright pink cider flavored with hibiscus and Rich had a dark IPA. Tween Traveler got a bottle of local root beer. it was just what we needed between a long drive and an afternoon of exploring.
• After rafting we headed to Orlando's, a colorful and popular spot on the road just north of town. Expect a wait and hope the weather is nice enough to hang out on the outside patio because there's no room to stand inside.
Tables are tiled, colorful Mexican knick-knacks are everywhere. A pressed-tin dessert case holds tempting heart-shaped bizcochitos and wedding cookies.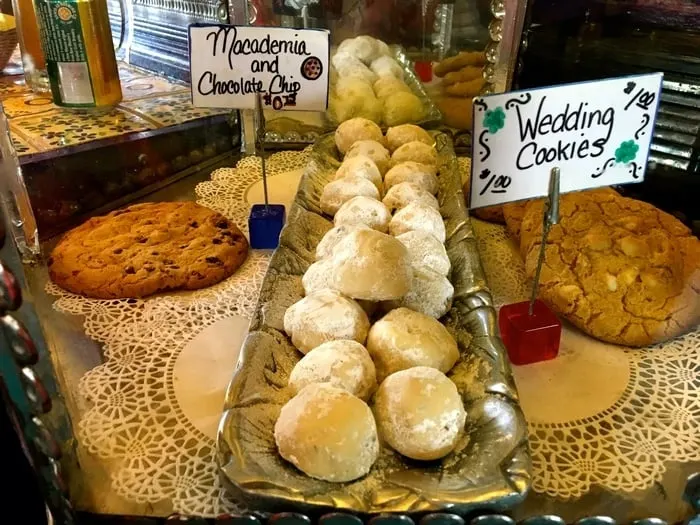 My tamale was full of roast pork and my chile relleno was pleasantly smoky. Richard's and my dishes came with pozole, pinto beans and a tortilla for dipping in the spicy green chile sauce.
Tween Traveler raved about her beef and bean burrito and the hot fudge sundae (with candied pecans) that followed. While the food was really good, I think she was also starving from long day on the river.
Almost nothing was more than $12 and kids menu items were $6. Portions were reasonable and not overwhelming, which we like.
The wedding cookies ($1 apiece) are delicious and we felt we had absolutely earned them.
• We had dinner another night at Doc Martin's, the restaurant at the Taos Inn. It sits in the house that once belonged to a popular town doctor and has a cozy feel.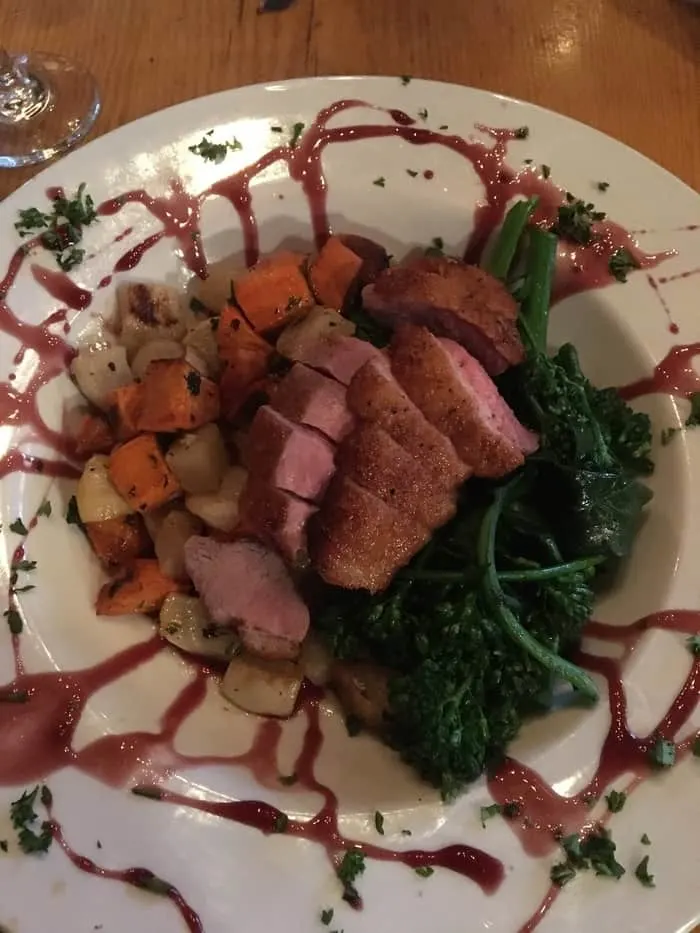 It's focus is Southwest food, but more refined than your standard enchilada joint. And you can find some lighter options if you want a break from beans and rice. I had duck, a daily special, in a spicy, fruity sauce, with root vegetables and broccolini.
• The hotel's Adobe Bar is easy to like. It spills into the lobby, which is designed to resemble a charming Mexican Zocalo. Two sunken tables next to the fireplace are the coveted spots and we managed to get one at the end of one afternoon.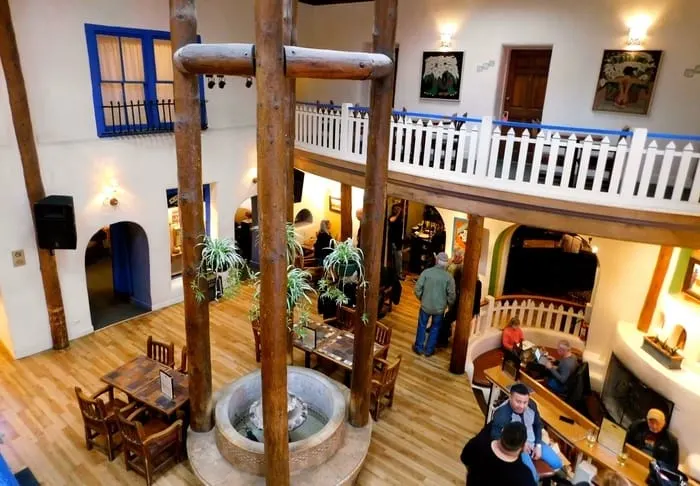 They have great margaritas and we tried a few of them: Rich prefers a classic, no salt. I had a peppery jalapeño margarita that I really liked.
We stopped in after dinner one night to try more margaritas and even though it wasn't on the menu, they combined ice cream from the kitchen with root beer from the bar to make a float for Tween Traveler.
• Taos Cow is a local ice cream store that uses hormone-free milk and cream and local ingredients. Stop in for unique New Mexican flavors like piñon caramel, cinnamon and Rio Grande chocolate.
The store is in Arroyo Seco, 20 minutes north of Taos, but the owners are planning a second store just south of town, too.
Hotels in Taos
There are a lot of places to stay in Taos, most are inexpensive relative to their quality. There are chains on the fringes of town. But I think this is one of those places where the local hotels are good and have character that add to your visit.
• We stayed at the historic Taos Inn, which is right on the main road and has the oldest neon sign in town hanging outside its front door.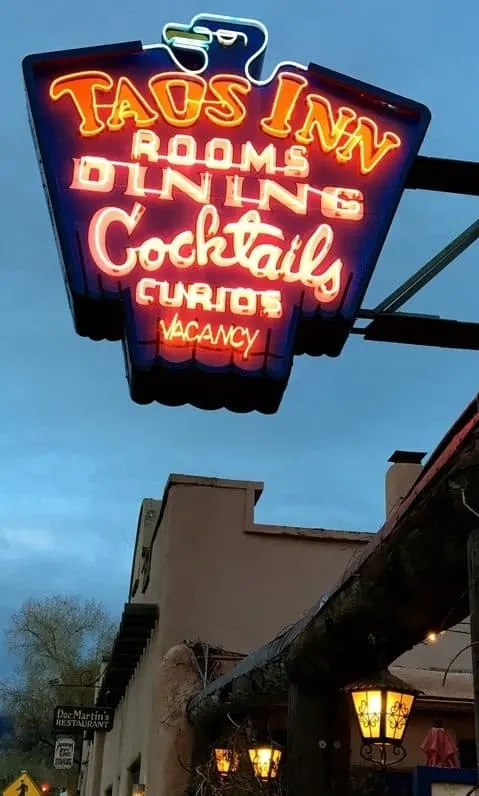 It's a quaint and comfortable hotel with an ideal location. The main building has the reception desk, restaurant and bar. Behind it are rows of rooms that feel like connected cottages.
On one row, each room has its own brick patio in front, ideal for morning coffee or an evening drink. The other rows surround a small grass courtyard that's handy if you need to send rambunctious children outside.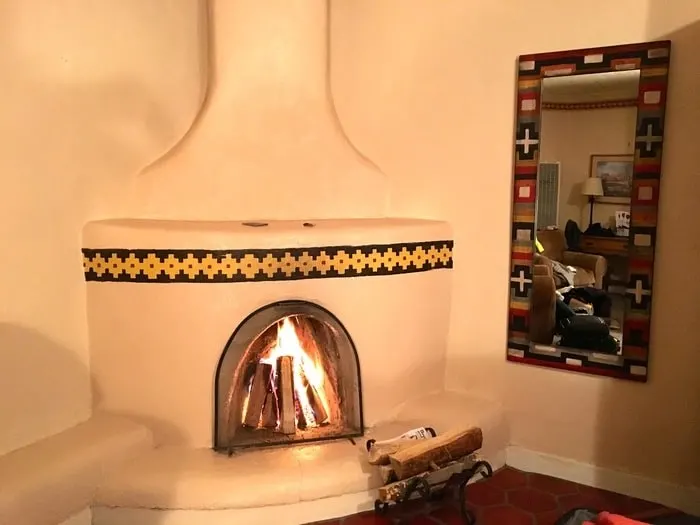 Our room had a main bedroom with a kiva fireplace and room to spread out, a small living room with a pullout couch, and two (small) bathrooms. We lit the fireplace one night with the wood left for us and it was just the thing to take the chill of the day off of us.
• El Monte Sagrada is the upscale hotel on the edge of town that you might not expect to be kid-friendly. But it has an indoor pool and hot tub, and a "library' with tables that are ideal for playing board and card games at night.
The rooms are spacious; many are suites and some have soaking tubs. The restaurant has a kids menu along with a stylish vibe. And it as a quiet woodsy location on the edge of town.
Moreover, Taos being a pretty inexpensive town, the rates are lower than you might expect.
• Taos Valley Lodge is a good budget option just south of town. The rooms are a bit frumpy but it has an indoor pool and good size hot tub. There's free coffee and basic breakfast items in the morning. It recently finished a renovation.
Taos Essential Information
Where Is Taos?
Taos is 90 minutes north of Santa Fe and two-and-half hours north of Alburquerque's airport.
If you are driving round-trip from points south, consider detouring via route 76 in one direction. It will add about a half hour to your drive and take you past Chimayo and its picture-perfect Sanctuary chapel, built in 1816, and some nice murals.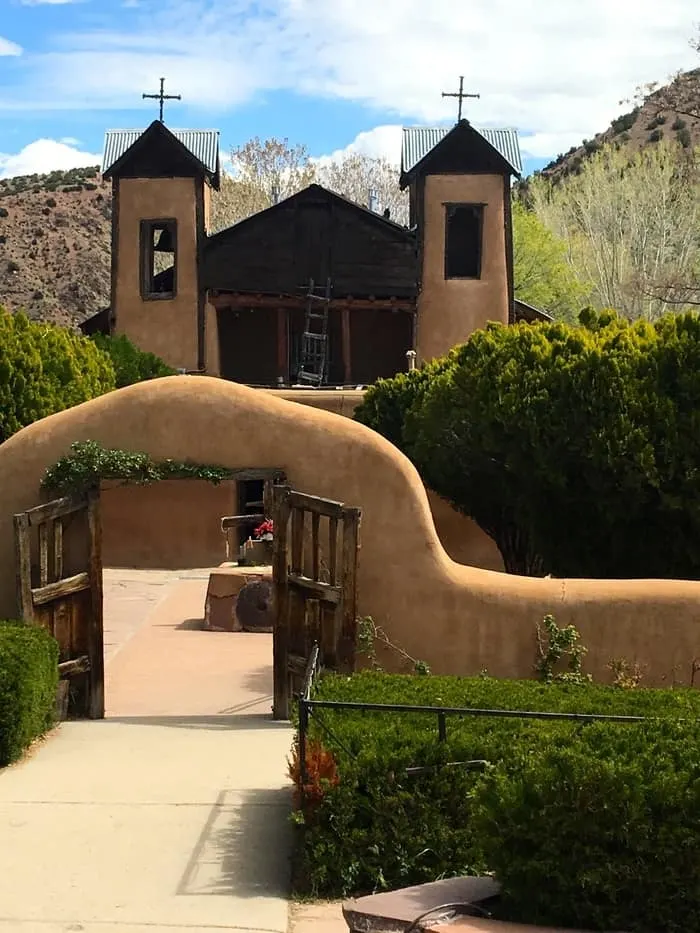 The road is scenic, and many of the people who work in Taos live out this way. So you get a sense of what New Mexico looks like away from the beaten tourist track.
Taos Weather
Like a lot of New Mexico, Taos is high desert, so the temperatures change a lot from day to evening. In spring and fall you an expect to go down to short sleeves on a sunny afternoon and then don a fleece and light wool hat at night or in the early morning.
Winters are very cold and snowy (they do have ski resorts, after all). May, June and September are probably the ideal months for activities like hiking. Temperatures top out in the 80s during the summer, so activities, especially water-based outings, are still comfortable.
Business Hours in Taos
The one frustrating quirk we ran up against in Taos (and Santa Fe) was that businesses and museums pretty reliably open at 10:00 and close at 6:00 sharp. Restaurants seemed to start winding down around 9:00.
So we couldn't squeeze in a few more things to do by getting an early start or extending the day a bit. In the off-season we even had a hard time finding bakeries open at 8:00 AM.
The upshot is that Tween Traveler got to sleep in more than she's often allowed to on our busy vacations and was happy about that.
And New Mexico has good coffee to linger over while we waited for her to wake up.
Pin it for later!
* We were guests of the Town of Taos for part of our stay. We were hosted at the Taos Inn, Docs, Far Flung Ventures and the Trolley Tour. We did not agree to specific coverage in exchange for the experience and our opinions are our own.
* Photos of the Kit Carson Museum and Earthship are courtesy of Taos.org. All others are the property of FamiliesGo!©