In the spring, Virginia's Shenandoah Valley Virginia is impossibly green and in the fall its leaves burst into color.
The historic town of Staunton, at the valley's southern end, is the perfect base for a romantic couple getaway at any time of year, but it's particularly appealing in these two seasons. Plus the weather is perfect for pretty much anything you want to do.
Here are some activities I enjoyed when I visited in early May and that I recommend for making the most of a kid-free weekend in and around Staunton.
Down below, I also recommend some places to eat and three very different places to stay that are perfect for two.
Staunton, VA Getaway For Two:
Things To Do + Where To Eat & Sleep
Choose Your Staunton Hotel
The Historic Blackburn Inn
Coming up the long driveway toward the Greek revival portico of the Blackburn Inn, you feel like you're approaching a university or state house.
In fact, the Blackburn was a hospital for the mentally ill designed by Thomas Blackburn, a protege of Thomas Jefferson's, in the early 1800s.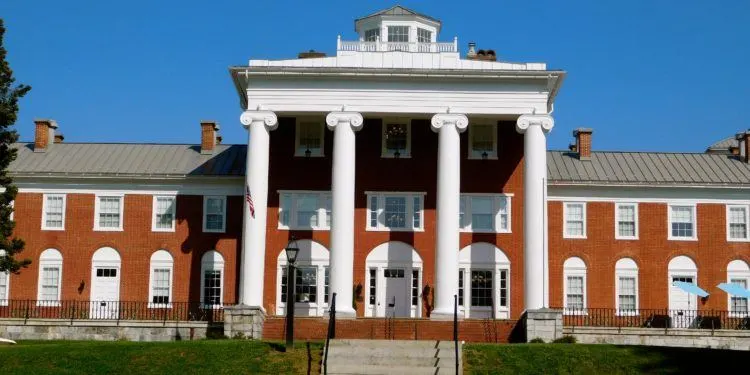 The hospital's chief doctor had the progressive notion that being in pretty and peaceful surroundings aided the wellbeing of his patients. All the rooms have high ceilings, big windows and a lot of light. The patio looks out on a perfect lawn.
As a Historic Hotel of America, the Blackburn couldn't change its interior much. The rooms are small and almost perfectly square; there's no avoiding the fact that they were once cells (bright paint colors would help). Some of them have their original—very thick—doors.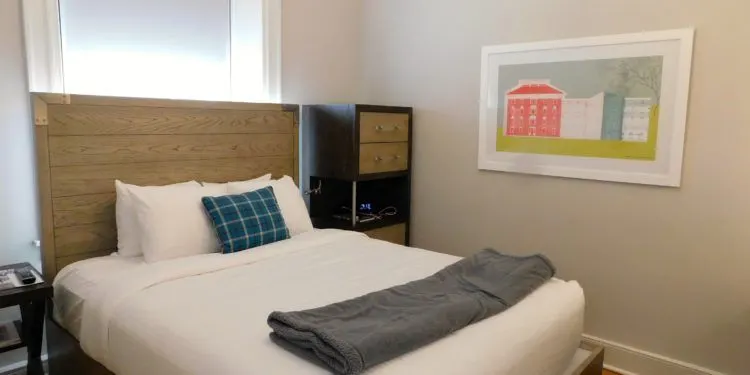 The beds are comfortable, but don't bring a lot of luggage because there's no place to put it. They do have roomy bathrooms and nice bath products.
To make up for the small rooms the inn has plenty of comfortable, alluring common spaces where you can sit and talk or read or enjoy a glass of something.
The 2ndDraft restaurant has a cozy and warm indoor dining room. Its terrace is the perfect place for morning coffee or an afternoon drink on nice days (if you can claim two of the 20 seats available).
The breakfast that's included with the room rate includes fruit, yogurt, juice and those delicious Reunion croissants. For weekend lunch and nightly dinners there is an upscale pub menu with local ingredients and dishes that seasonally.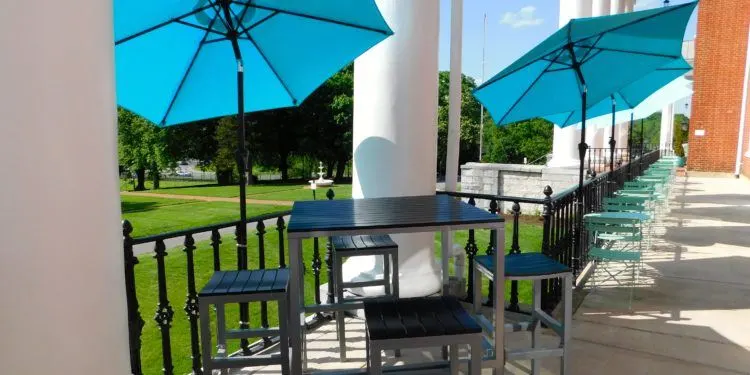 Tip: Even if you don't stay, go for an afternoon drink on the terrace and stroll the grounds.
The Blackburn offers free parking. It's about five minutes from the center of town. You can walk or bike if you don't mind crossing busy roads.
if you would prefer to drive street parking in town didn't seem difficult and there is a public garage that's near everything.
Downtown's Stonewall Jackson Hotel
If you want to be right downtown, steps from the Blackfriars and all those restaurants, check in to the Stonewall Jackson Hotel.
It had a major renovation in 2018 and the rooms are a fair size. They often run packages that include tickets for the Shakespeare plays.
The cocktail lounge has wingback chairs, a fireplace and good happy hour prices, making it a nice place to relax on a chilly afternoon. The breakfast buffet is a good deal, especially on Sundays.
And the hotel has a heated indoor pool. It's okay to use the pool without the kids along (we do). If you decide to come to Staunton with the kids though, stay at the Stonewall Jackson.
If you bring a car you'll use the public garage, which is connected to the hotel.
The Romantic Inn at Meadowcroft
If you want a unique and romantic country inn experience reserve a cozy room at the Inn at Meadowcroft, six miles west of Staunton, in same direction as North Mountain Outfitters.
The inn is an 1820s log farmhouse that was expanded a few years ago by adding a 1790s farmhouse.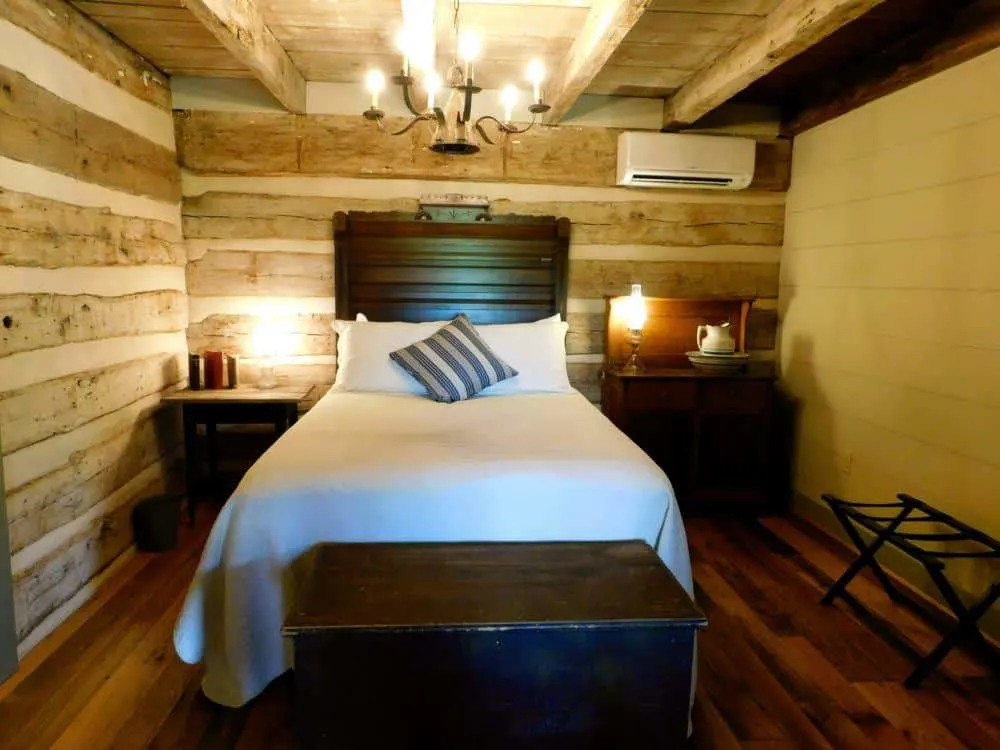 The rooms are not uniform. Some are bigger, with nice seating areas, and some are smaller, but none are cramped. They all have modern luxury bathrooms, big beds and furniture that suit the historic feel.
Room rates include breakfast with locally sourced ingredients and the farm's own jams. There is a monthly 5-course dinner (locally sourced, naturally). Call for dates and details if you want to time your stay with one of these meals. And book well ahead.
Tip:if you don't stay, call the Inn and schedule an afternoon tea for two. It's a nice reward for a morning horseback ride or hike in the national forest.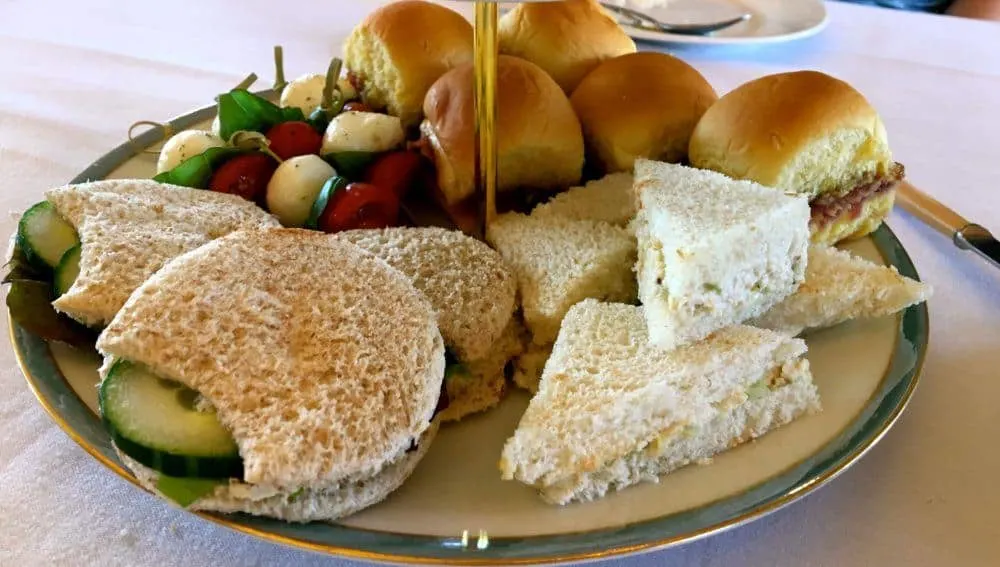 My group's afternoon tea began with asparagus soup, followed by cucumber, ham and chicken salad finger sandwiches, thyme scones and more dainty desserts than we could finish (though we managed to). Of course the inn's jams and pickles showed up, too.
Things For Couples To Do in Staunton
Take a Walk Around Town
Staunton has put a lot of effort into restoring and preserving its historic downtown. The bright storefronts and brick facades of the shopping streets give way to old Victorian houses in the residential neighborhoods.
On Saturday mornings from May through October, volunteers at the Historic Staunton Foundation give two-hour walking tours of the town.
As with a lot of larger small towns there's more to Staunton than meets the eye and this tour is a good way to get a lay of the land.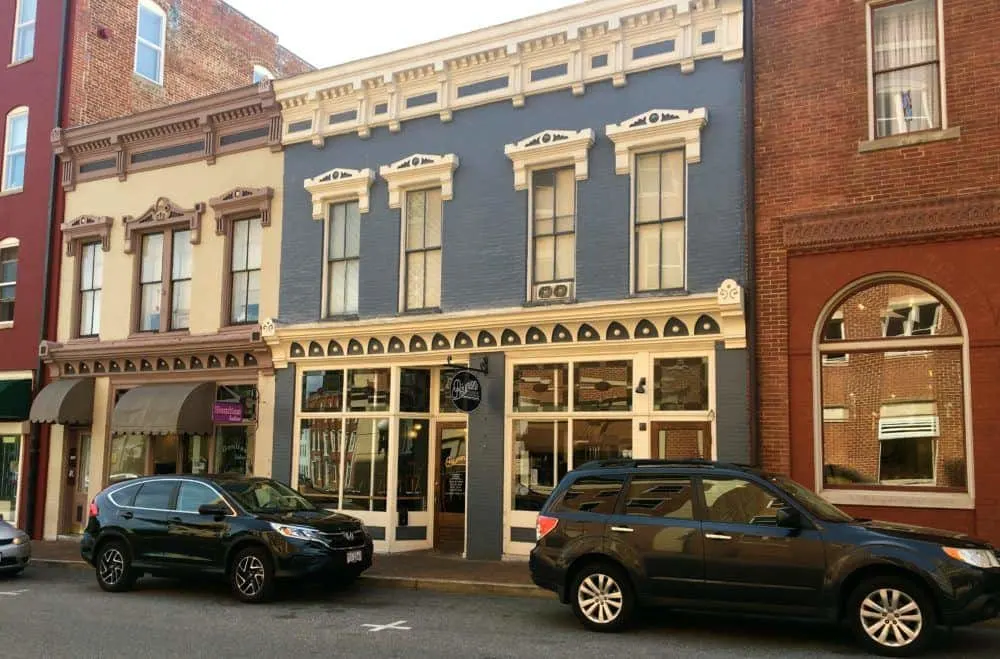 The tour brought my group to a quaint historic neighborhood I wouldn't have found on my own and also to a not obvious spot behind the railroad tracks with great views of the town.
You'll probably pass Sunspots Glassblowing Studio during your walk and it's worth stopping by for a look around. The items are creative, whimsical and really beautiful. A few, like the blown glass cruets, are even practical.
By this time it's early afternoon so it's handy that Sunspots puts you within range of Ox-Eye Vineyard' sand Red Beard Brewing Company'stasting rooms.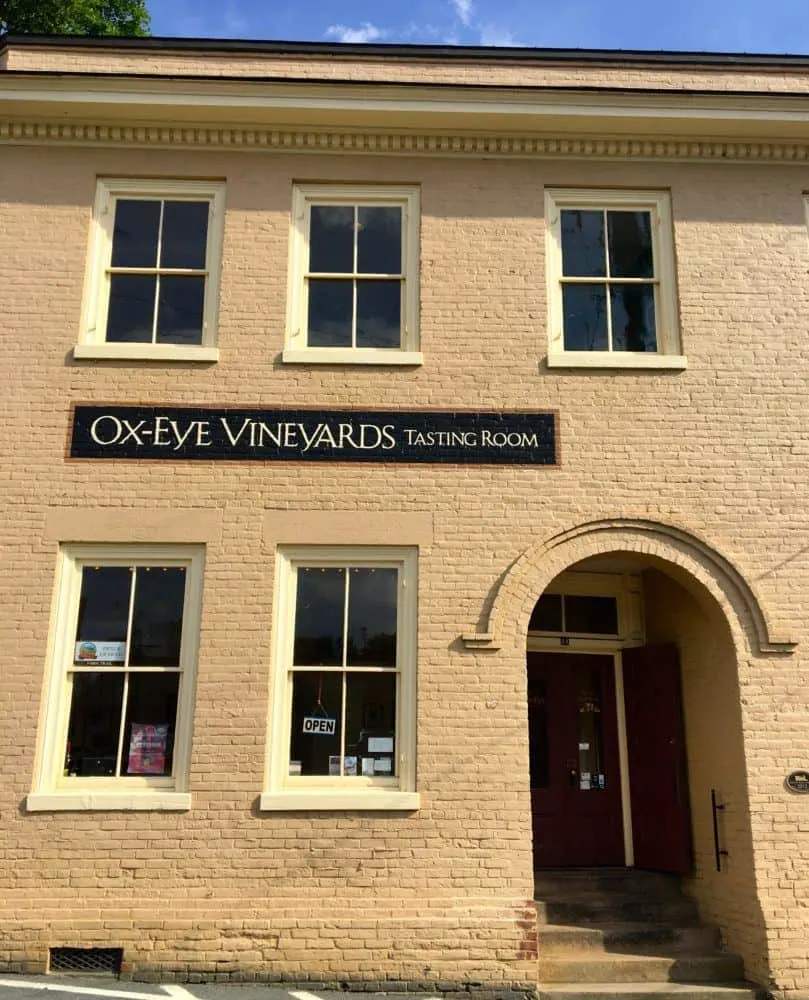 Neither serves lunch but like a lot of Virginia tasting rooms they both let you bring your own food to accompany their well-regarded wine and beer.
Luckily the Staunton Saturday farmer's marketis just a few blocks away from both and a good resource for the makings of a light lunch.
If you and your spouse are car enthusiasts than make an afternoon visit to Bruce A. Elder Antique And Classic Automobiles, which houses antique cars from the early 20thcentury through the 1970s.
You can only visit by guided tour but the museum offers four tours a day on most Fridays and Saturdays for only $5 per person.
See A Shakespeare Play
One the top reasons I favor Staunton for couple time rather than family time is the American Shakespeare Center at the Blackfriars Playhouse, a recreation of Shakespeare's indoor London theater situated right downtown. It's worth a visit for both the plays and the theater itself.
Shakespeare created lively entertainment for a mass audience, not highbrow theater. ASC strives to keep that original spirit in its performances.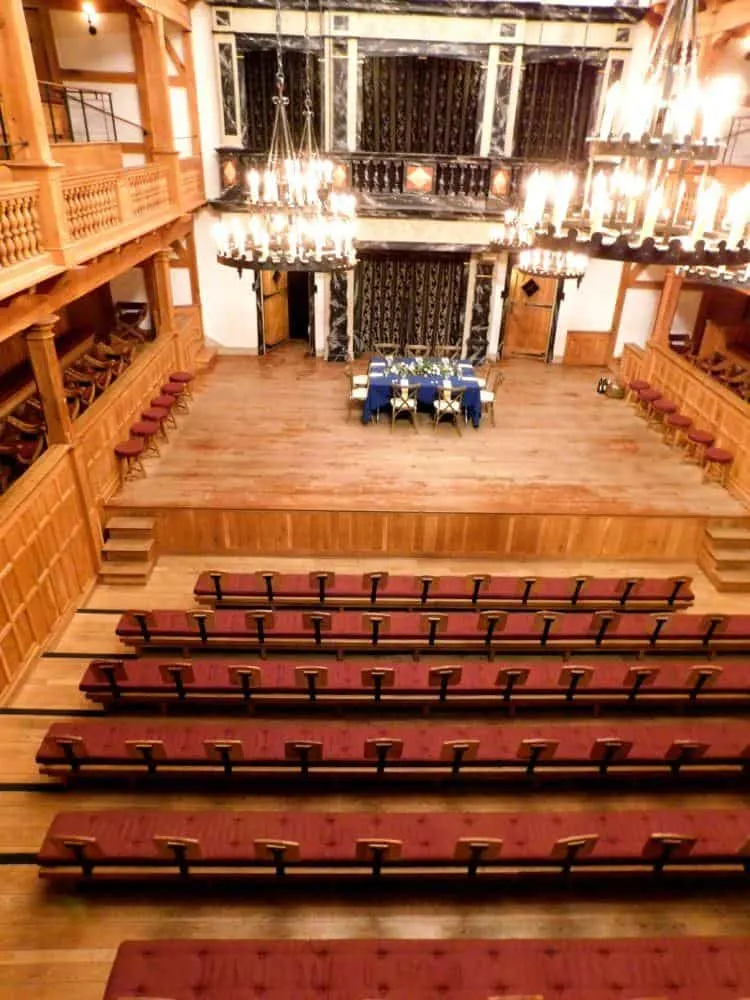 It keeps the house lights on during the plays so the actors and audience can see each other, as would have been the case in 1500s. The theater also has musicians playing modern music themed to the night's play between acts.
You could absolutely bring teens and tweens who enjoy Shakespeare to this theater (and they always do family oriented shows in December). But there's something to be said for being able to get engrossed in Shakespearean dialogue is without worrying about your kids squirming or getting bored.
The theater puts on four to plays in the spring and four to five more over the summer and fall. Usually two or three are Shakespeare and the rest are by modern playwrights.
Get Outside
Drive & Hike
Staunton sits between Shenandoah National Park, the Blue Ridge Mountains and the enormous George Washington and Jefferson National Forest, so there are ample opportunities to get out and hike.
About 17 miles east of town you can pick up Skyline Drive to head north into Shenandoah or The Blue Ridge Parkway south into those mountains. Both drives offer plenty of places to pull over to enjoy scenic vistas or jump onto a hiking trail.
You can pick up the Appalachian Trail in both parks. In Shenandoah it parallels the road for long stretches. It sits further from the Blue Ridge Parkway but crosses it a few times.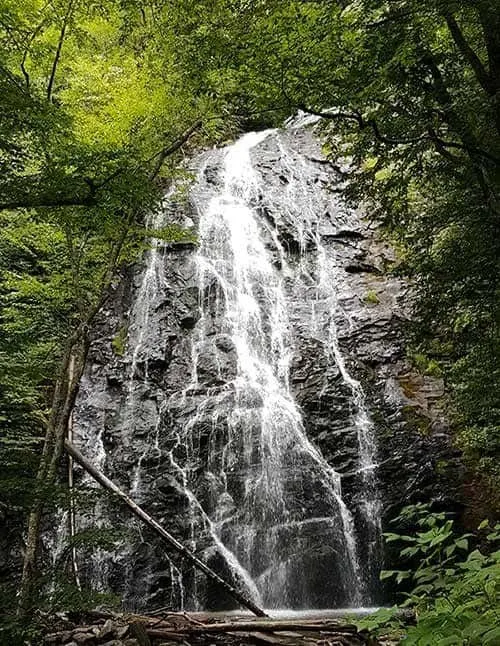 As you make your way through the parks keep an out for the trails to Doyles River Fallsin Shenandoah, and for Crabtree, Statons Creek and Panther Falls along the Blue Ridge.
Crabtree requires a short steep hike and the entrances to Statons and Panther are a little off the beaten path. But they all offer great photogenic falls when you get to them. Doyles River is probably the most accessible for wading if you catch a warm day.
Explore A Cave
If Stalactites are your think, head 22 miles northeast of Staunton to Grand Caverns National Landmark. These caverns were discovered in the very early 1800s and both sides made use of them during the Civil War (you can look for soldiers' graffiti on the walls).
Seventy-minute tours take you on a mile-long walk through the grotto. While you're there you can walk or bike ride in the surrounding park and use the pool during the summer.
Ride Horses
You'll find some more than a half dozen stables that offer trail rides within 25 miles of Staunton, making this the place to visit if you and your partner like to ride.
I spent a morning at North Mountain Outfitters, 11 miles west of Staunton. The vista from the ranch's stable area is gorgeous, with rolling hills and a vineyard nearby (photo, top).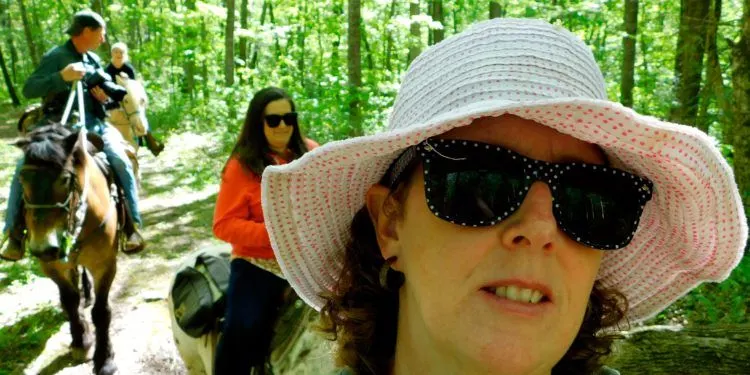 The forested mountain trail was rugged and with enough up and downs that we had to ride actively, but the first-time riders in our group were fine.
The owner said he's seen both deer and bears along this trail but all we was endless green foliage and wild flowers. The horses view the spring foliage as one long salad bar for them. The hardest part of the ride was keeping them from eating for the entire way.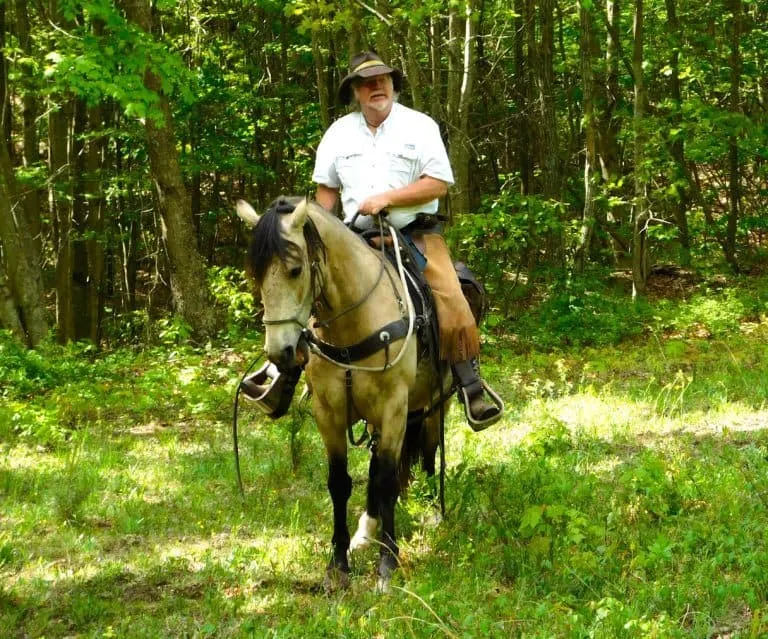 The shortest ride North Mountain offers is three hours, but they take a break along the way and put trail snacks and water in your saddlebags (the horses know where they are). If you want feed your horse your apple they'll cut it up for you.
Staunton Restaurants
Staunton's small downtown center has an ample choice of good places to eat. You'll find plenty of appealing restaurants, microbreweries and coffee places. The following are three stand-outs I really liked.
Start your day with breakfast at Reunion Bakery. I had a quiche made with ham from local, sustainably raised pigs and it was just the right combination of creamy, eggy and salty.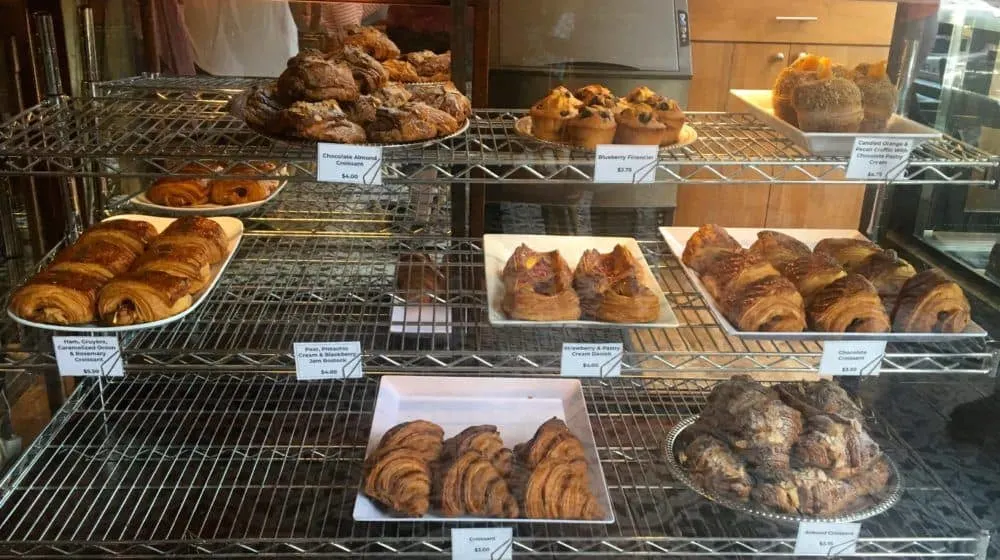 You also can't go wrong with coffee and a pastry. They serve the bakery's flaky, traditional French croissants at the Blackburn Hotel, where we stayed. And I can tell the almond croissants are worth every calorie.
For lunch you can eat in or grab meals to go at Lundch. Chef Mike Lund cut his teeth at the Inn at Little Washington a little further north before settling in to Staunton, so this isn't your average sandwich joint.
His sandwiches, salads and soups feature eggs, chicken, ham and produce from local farms. And he likes adding a seasonal touch to things. Look for local asparagus in soup and salads in spring, tomatoes in everything in summer and apples and root veggies in the fall.
The town's most high profile restaurant at the moment is Zynodoa (a variation on Shenandoah), which offers great cocktails and modern farm-to-table food.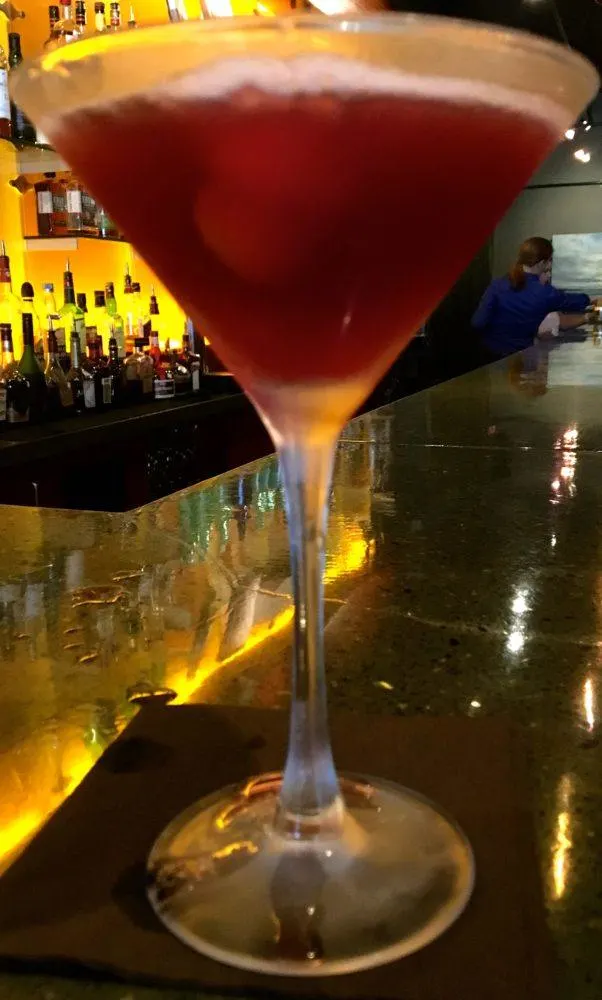 I had perfectly fried Chesapeake oysters, crunchy outside and soft inside. Then I opted for local pork cooked two ways: tender pulled pork and crispy pork belly over stone-milled grits with cheese.
Order a créme brulée corn bread appetizer to share; It's studded with jalapeños and comes with honey butter for that perfect spicy-sweet balance. Heck, you could have it for dessert, except the desserts are good.
The dining room is decidedly adult, quiet and not large (make a reservation). There's a nice bar where you can start your evening with pretty cocktails and a chalkboard lists the local purveyors whose ingredients they use.
Practical Information
ook Your Staunton Weeken
• Find the best available hotel rates on Trip Advisor.
• Rent a cozy love nest via VRBO.
• Use Expedia to book a flight and rental car package
How To Pronounce Staunton
If you want to show that you're not from around these parts, pronounce Staunton the way it's spelled. Locals act as if the "u" isn't there and pronounce it was a flat "a" (Stanton).
Getting to Staunton
Staunton is a three-hour drive from Washington, DC, two-hour drive from Richmond, VA, and just under four hours from Durham, NC.
If you'd like to fly it's about an hour from the Charlottesville airport and 90 minutes from Roanoke's, which might have more flights.
Amtrak's Cardinal line also stops in Staunton three times a week. The line makes several local stops in Virginia after running through New York, Philadelphia, Baltimore and Washington, DC and before toward north to Cincinnati and Chicago (among other stops).
The train is an easy option if you're planning to spend your weekend in town, but if you want to get out and about, you can rent a car nearby.
Pin it for later!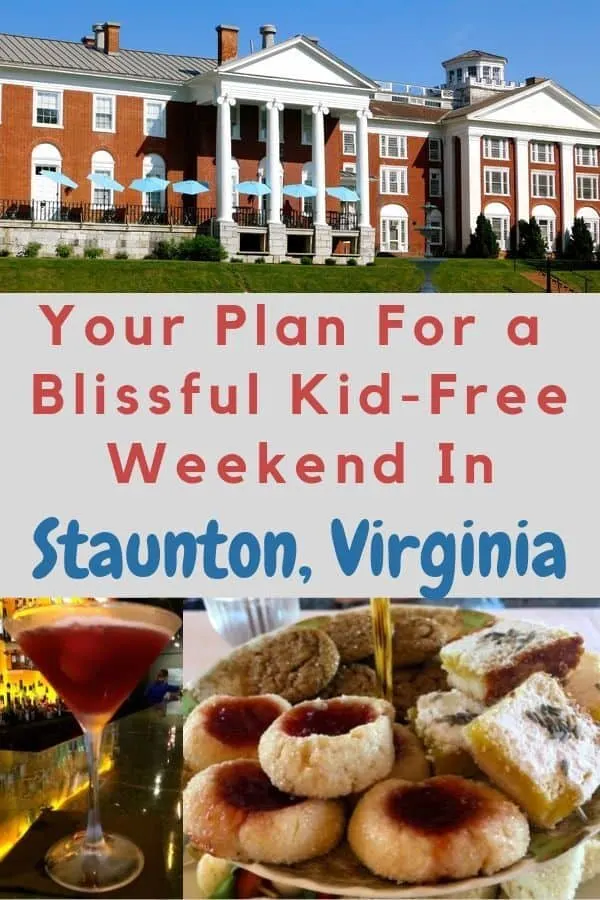 * I was a guest of the city of Staunton and Augusta County, Va for this trip. They hosted my meals, hotel and activities. I did not promise an specific coverage in exchange for the visit and my opinions are always my own.
* Photos are the property of FamiliesGo!© except for Crabtree Falls, which is courtesy of the National Park Service.