Hershey, Pennsylvania is a no brainer for an easy summer weekend getaway with kids if you live anywhere between Washington, DC and Connecticut.
What you might not realize is that if you take into account the many things there are to do in Hershey, Harrisburg and Lancaster—plus a detour over to Gettysburg—this is a region that can easily fill a five- to-seven-day family vacation.
I recommend at least three full days to get the most of your time at Hershey and to enjoy some of the other nearby activities, too.
We spent a weekend in Hershey and Pennsylvania Dutch Country when our daughter was 5 and visited again when she was 11, this time replacing Lancaster with Harrisburg.
Here are our tips for making the most of your time in the area, regardless of how long you stay.
Your Plan For a Super Fun Hershey-Area Family Vacation
Where To Stay: Hershey Area Hotels
Hershey has your pick of budget-friendly chain hotels nearby. It's handy to be close to the park if you have little kids who might need a mid-day break. But staying toward Harrisburg is easy and gives you a wider array of options.
On our latest visit we stayed at a Sheraton outside of Harrisburg, about 20 minutes from the Hershey.
Driving a bit away from Hershey was worth it because it's a full-service hotel with more amenities than places closer to the park with comparable rates.
The rooms are a good size—some have small balconies. And there is an large indoor/outdoor pool with a nice pool deck and an indoor hot tub.
There is a decent breakfast buffet. Take advantage of it if you can find a package that includes it.
We didn't try the onsite restaurant, but it's handy for that long day out when you want something easy. There are plenty of chain restaurants and a Starbucks close by, too, if you want to bring food in.
The bar came in handy when we wanted a nightcap one evening.
First time around we stayed at a Comfort Inn a few minutes from the park. The indoor pool was handy when we woke up to a rainy morning and the free breakfast was Okay.
If your budget is a little deeper, try the elegant but pricey Hershey Lodge, which boasts a small indoor water park, or the boutiquey Hotel Hershey.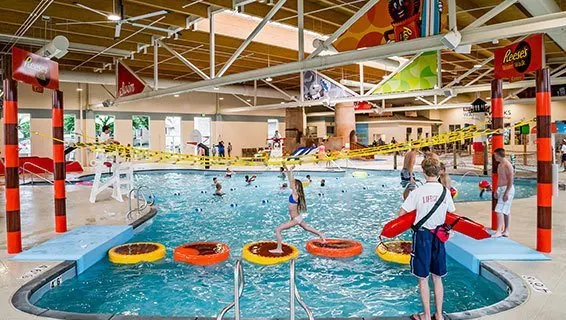 Staying at these two places gets you extras like a shuttle to park.
For a bit of adult indulgence, look for chocolate-themed cocktails in their restaurants and cocoa-themed treatments in the spa.
Tips For Your Hershey Visit
First, don't try to do Hershey all in one day, especially if it's summer and you want to hit both the water park and amusement park.
If you do that, you'll want a second day for Chocolate World, The Hershey Storymuseum. There's also Hershey Gardensand ZooAmerica, which we haven't yet explored and are probably better bets for a spring or fall visit than in summer.
Your theme park ticket includes ZooAmerica. You can easily combine the theme park with either the waterpark or the zoo in a single day. All three would be a bit much.
Similarly, Chocolate World and the theme park share a parking lot, making it easy to visit Chocolate World before or after the park. We did this on our first visit when Tiny Traveler was only 5YO and a few hours of rides were plenty.
The Museum is quite fun. And far less busy than the other attractions, which is nice. But it has shorter hours than the other attractions and the best things to do here happen in the middle of the day, making it hard to see on the same day you go to the theme park.
I strongly recommend making it as second day activity. You can get a combination ticket that pairs it with the gardens.
The Main Attraction: Hershey Park and the Boardwalk
Let me say right at the start that we're not really theme-park people. We can spend all day on the teacups and tilt-a-whirl, but anything beyond that is more thrilling than this little family can handle.
But we do love water parks. On our most recent visit, a hot day in late June, we headed straight for the Boardwalk.
We spent most of our day between the lazy river and the wave pool, which suited us fine.

If you want to try the big-thrill slides like the water coaster, the Whirlwind or the Tidal Plunge, do them early in the day. By 1:00 the wait for these was more than an hour.
The three more mild Coastline Plunge slides were Rich's and my sweet spot: Lots of speed and curves but no big drops. But the wait for these was 30-to-40-minutes after lunch.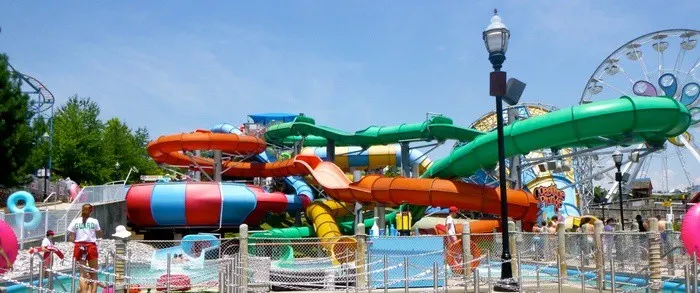 Sandcastle Cove is a play area for the littlest kids but we saw a wide range of ages in the Shoreline Sprayground, which has three fun medium-size slides, a soaking bucket and myriad ways to get wet and get other people wet.
Lunch at the Boardwalk
For lunch, a Nathan's stand, a Chick-fil-A truck and the Coastline Grill had longish lines and about what you would expect on their menus.
We found a taco truck over by the wave pool with almost no wait and really good tacos for reasonable prices.
A gourmet grilled cheese stand also had no wait, decent prices and good-looking sandwiches.
Tip: They don't let you walk around the non-water part of the park in a wet bathing suit, so plan to pay for a locker for your dry clothes and towel as well as your valuables.
There are lockers to the left as soon as you enter the Boardwalk area. But they're pretty crowded and don't have a changing area. Walk deeper into the water park and just past the Beachology shop on the left are more lockers and changing rooms.
The main part of Hershey Park is a great theme park if you have a family that loves roller coasters; it has a dozen to choose from.
It's also a good pick if you need to entertain both thrill-ride lovers and very little kids. Because both ages will find rides to please them.
Having learned from past mistakes, on our latest visit we stayed at the water park until early afternoon, then left the parks to do other things. We took advantage of summer hours to return in the evening when we could hop on a few favorite rides, like the antique cars, with no wait.
The surprise hit was riding the Kissing Tower in the dark. Tween Traveler got a huge kick out of the whole experience. Then we left the park as it was closing.
Tween Traveler would have preferred another hour or two at the main park to hit a few more rides than we did (but then we would have had to skip other things).
On our first visit, doing the amusement park with a single small child had its challenges. The handful of moderate rides that we could do together had very long lines. They've since added a few more including the new, interactive Reeses Cupfusion.
We spent most of the day watching a Tiny Traveler go on kiddie rides alone or squeezing into too-small rides alongside her. The park fees seemed steep for spending the day watching a child ride a merry-go-round and bouncing airplanes.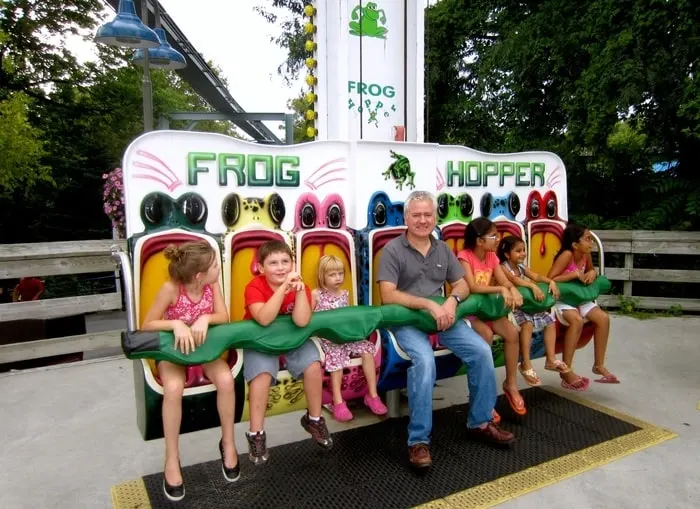 Having another family with us and adding in the water park would have made a huge difference and we probably would have gotten better value for our money.
I would say that three to four hours in the water park and four or five in the main park is probably about right for us. And combining the two parks definitely made us feel like we got full value of the ticket price.
Tip: If you just want a small taste of the park and don't like crowds, you can head to the park after 4:00 and buy a Sunset Ticket for 40% less than a full-day one.
A Museum in Hershey? Yes!
The first time we visited we missed the Hershey Story museum, on West Chocolate Ave, downtown Hershey's main strip.
I think a lot of people overlook this gem, which was good for us because we could enjoy it at our leisure without the crowds we had elsewhere. P
But a lot of people are missing out on a cool experience. Particularly with older kids and teens I might recommend it over Chocolate World if you have to choose between them.
The smaller crowds and more intimate experience make it a winner. It also has a lower price tag, even if you do all the add-ons.
Make a point of stopping here if you're doing a multi-generation trip. It's kid friendly and will definitely appeal to the parents and grandparents.
Plan on a good two to three hours here if you do all the extras.
Definitely do the chocolate tasting that takes place at the stylish bar area across from the ticket counter. It's an added fee but you can easily share one tasting among two or three people.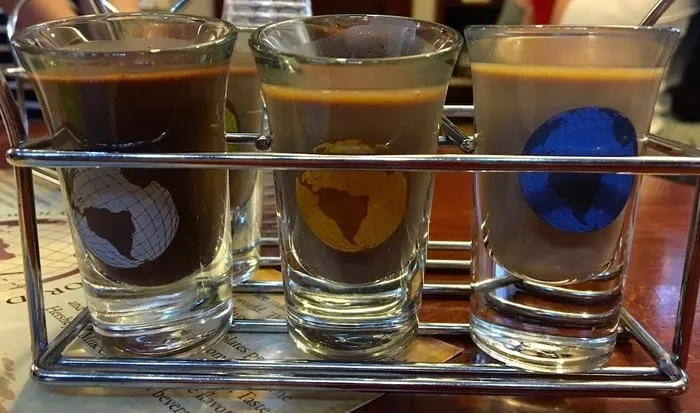 They give you a half dozen shot glasses of single-source drinking chocolate from different parts of the world. You taste in an order from darkest to sweetest (the last is Hershey cocoa).
It was interesting to see just how different they all tasted, some fruiter and others spicier. We each had a different favorite.
The chocolate labs cost extra, too, but they're fun.
Tween Traveler was a little disappointed that the "labs" don't include any hands-on food science. We picked Planet Chocolate because it seemed to have more potential for learning something new than the s'mores lab.
We learned about where chocolate grows today from and where Hershey sources its beans. Then we tried cocoa nibs from different countries and flavored our own dark chocolate bars with cinnamon and red pepper as the early Mexicans did.
The nibs we sampled were the same chocolate we tried in the tasting. But our favorite raw nibs were not the same as our favorite drinking chocolate, which was surprising.
It's hard to say which activity to choose if you only want to do one. We learned more in the lab and made chocolate bars to bring home. But the drinking chocolates were absolutely delicious and you can do it at your own pace.
Keep in mind that kids have to be at least 5YO to do the labs. Kids who don't like dark chocolate probably won't like the tasting. The tastings also end long before the museum closes; I don't really know why.
Tip: You can buy tickets to the museum and chocolate tasting ahead, but you have to buy lab tickets in person on the day of your visit and they do sell out.
Upstairs, the main permanent exhibit tells the story or Milton Hershey, his early failures and the rise of his chocolate empire.
Kids get a personalized coin they can use at interactive stations in each room to learn additional facts. And there are details like a phone where you can listen to "Milton" having conversations about his new chocolate business. And you can see an example of an early Hershey's Kiss machine.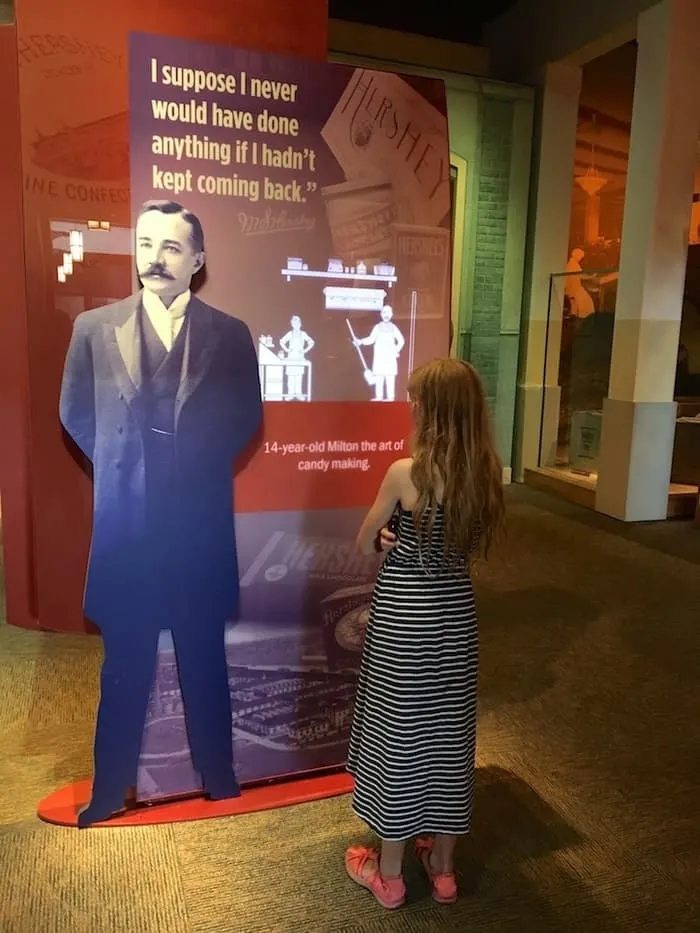 Our budding graphic designer would have spent hours at touch-screen kiosks where you can design chocolate bar wrappers; definitely her favorite thing.
Downstairs there was an exhibit about the plantations Milton owned in Cuba for a while. This was a bit of history we knew nothing about and it was interesting.
A World of Chocolate
Chocolate World is expensive, but it's fun and will definitely be a hit with kids 8 and under.
Plan on two to three hours here if you do everything. Almost everything here requires a timed ticket and on busy summer days slots can fill up quickly.
While you're waiting for your scheduled activities, take advantage of the Chocolate Tour, the one attraction that's free and that you can do anytime. In fact, even if you do nothing else at Chocolate World, stop in and do this on your way to or from the park.
This ride, which I recall doing when I was a kid, carries you through a pseudo Hershey's factory where candy bars narrate, the journey from cocoa bean to Hershey's kiss.
Tween Traveler's favorite activity here is Create Your Own Candy Bar. She will happily do it every time we visit.
First you don fashionable hairnets and take embarrassing photos of your family.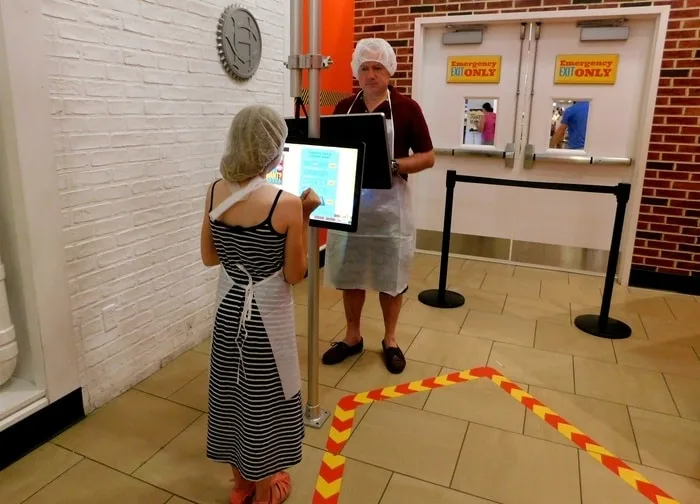 That done, you move to touch-screens, where you choose white, dark or milk chocolate for your candy bar coating (the base bar is milk). I always choose white while Tween Traveler has moved on to dark chocolate from milk, and Rich went with dark, too.
Then you select up to three add-ins, which change from time to time. On our first visit we put freeze-dried raspberries and cookie bits in our bars. This time there were butterscotch chips, toffee bits and dark chocolate nibs. You can also opt to add sprinkles on top.
We followed our bars as they progressed along a mini assembly line where they were filled and dredged in coating. Then they're cooled and packaged.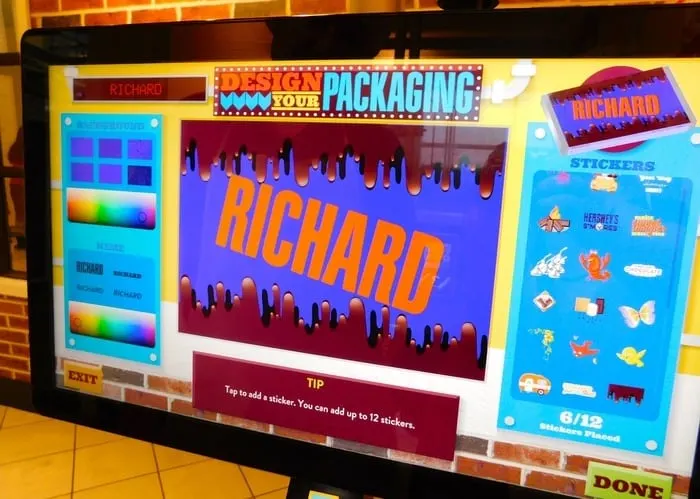 While they made their way through the cooling tunnel we designed unique labels for our treats. You might recognize this software from the museum. The design options are extensive and each of our three boxes looked completely different.
Tip: At the start of the process you type your name into the touch-screens so that you can follow your chocolate bar on its journey. This is also the name that will appear on your box. If you want a nickname or someone else's name on it, remember to input it at the beginning.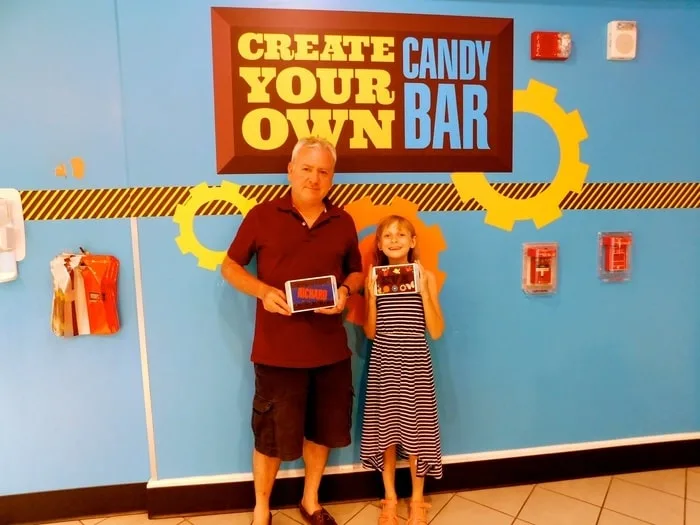 The Trolley Works tour mixes group singing with actors hopping on and off to tell the story of the town and its namesake and founder Milton Hershey. It's another for multi-generation groups.
I really enjoyed learning about Milton and his many failures and innovations. I also liked singing songs that Baby Boomers and Gen-Xers will recall from their family's Mitch Miller albums ("Let Me Call You Sweetheart" "You Are My Sunshine" and "Bicycle Built For Two").
But truth-be-told, Tiny Traveler was mostly interested in the free candy they gave out. Rich rolled his eyes at the singing and hammed-up acting. I still think it's worth doing once though.
Read More: Visit Hershey at Christmastime when they sing holiday songs on the trolley.
One of two new features on offer this time around is the 4D Chocolate movie, which presents a mystery to solve at the Hershey factory. We were lukewarm on it.
They use some cool technology to interact with the audience but the 4D effects were so-so. I think Tween Traveler would have been more impressed with it when she was younger.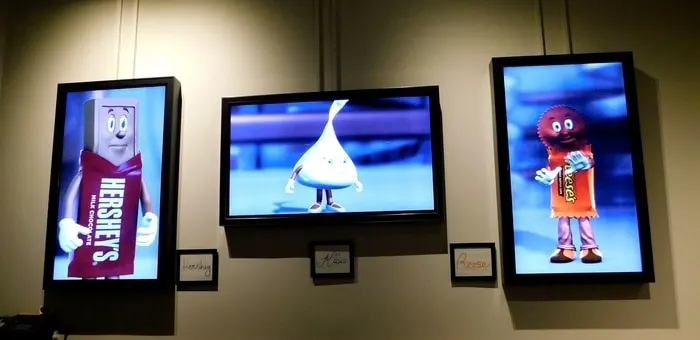 Finally, there's Hershey's Unwrapped, a new live, interactive performance that tells you more about chocolate-making and involves eating chocolate.
We didn't get to try this, but I would say if you have to choose this or the movie, go with this. There's free candy involved and is probably amusing.
Tip 1 :Buying ticket bundles for two to four of the Chocolate World attractions can save you some money.
If you buy tickets ahead online you can choose your activity times ahead, too.
If you don't buy them online, stop by early in the day, even if you want to do the activities later. Slots can fill quickly on busy days.
Tip 2:If you don't think you need a whole day at the park, consider reserving activity slots in the mid-to-late afternoon.
You can get an early start at the park, and then take a break for some indoor (air-conditioned) fun when the lines grow long and your family starts getting hot and cranky.
Take the free shuttle downtown for dinner and then if your kids still have energy left, come back to do more rides into the evening when the crowds are thinning. (If you want to take your car to dinner you can ask at Chocolate World for a return voucher).
With older kids it definitely pays to take advantage of the longer summer evening hours at the park and at Chocolate World.
Kid-Friendly Restaurants Near Hershey Park
On our first visit Rich and I were thrilled to discover that local microbrewer Troegs has a kid-friendly taproom just down the street from the Park.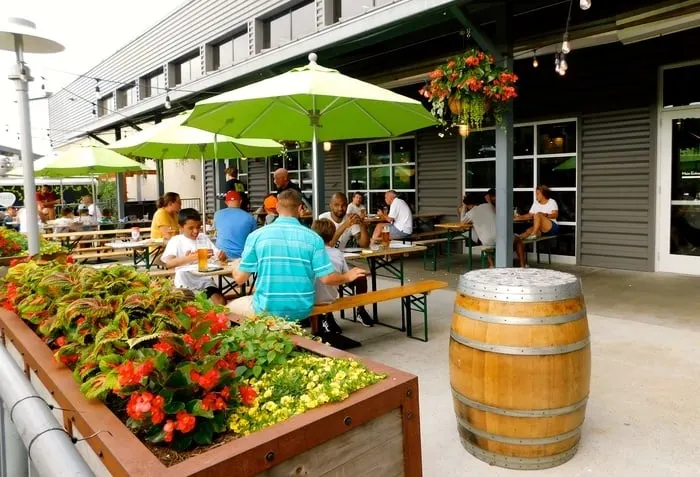 The Tap Room menu and space have grown since were were last there. On both visits the very good beer was a welcome change from the day's chocolate binge.
The food is very good and features a lot of house-made items and local ingredients.
On our latest visit we had very good raw oysters, another charcuterie plate with duck prosciutto among three house-made meats, and a pizza with kale and wild mushrooms.
Tween Traveler was content with a fat hotdog and chips from the kids menu.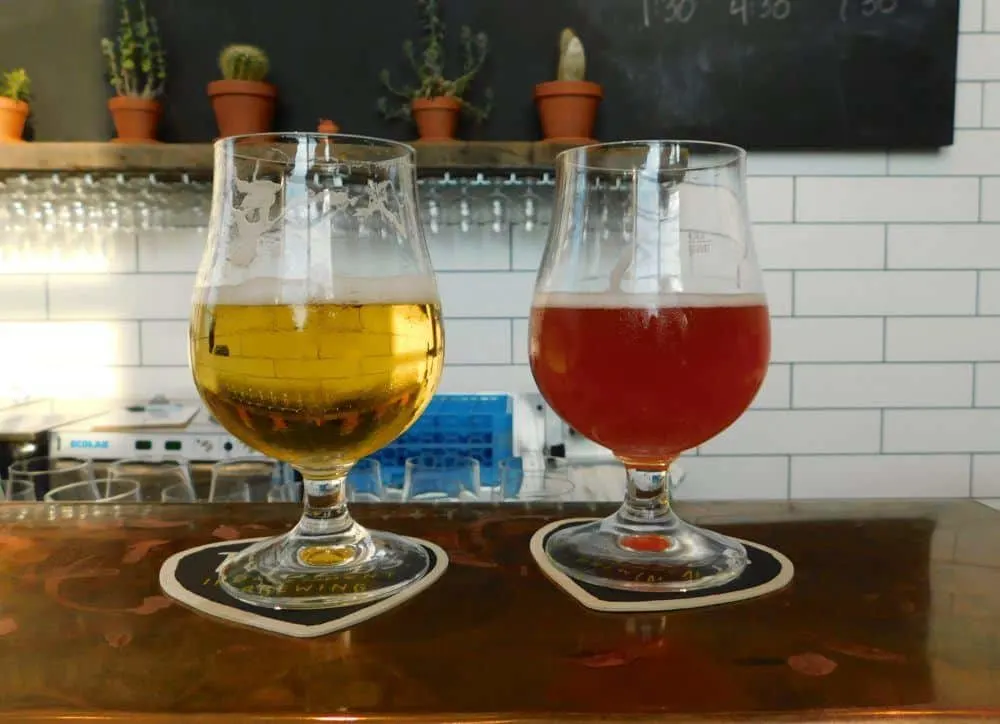 The first time around, Rich and I shared spicy tortilla soup and a charcuterie plate while Tiny Traveler chomped on chicken saté.
I recommend sitting in the new upstairs taproom because it's quieter and has table service. Plus, this is where the pizzas are.
Your tab will follow you wherever you go so you can still order food from the main kitchen downstairs and beer from the main bar, which has a bigger selection.
If the weather is nice, you can opt for the new beer garden and bring food and drink outside. This is also quieter than the main room and ideal with small kids who might not sit still.
For dinner one night we managed to wangle a table The Chocolate Avenue Grill (not easy to do).
The cocktail menu was fun while familiar sandwiches, salads and wraps all had enough of a twist to make them interesting. The kids' menu had steak, salmon, Caesar salad and coconut-crusted chicken as well as the usual items.
Fenicci's is an easy option for families with Italian standards like risotto, chicken parm and penne with meatballs. Entrees come with a salad for the table.
The dining options on Chocolate Avenue have definitely expanded in recent years. Options now include a creperie, Japanese food, an outpost of the Pittsburgh sandwich icon Primanti Brothers, another brewpub and a Biergarten.
Planning A Hershey Vacation?
Secure the best hotel rates online with Trip Advisor.
Need more space? Rent a house near Hershey on VRBO.
Extend Your Hershey Vacation With These Side Trips
Lots families opt for a weekend to Hershey. But if you want to extend your stay, which I recommend, here are a few ideas for your extra days.
Two Nights in Gettysburg
Gettysburgis easy and an essential family destination especially with tweens and teens, who are starting to dig deeper into American history.
But there are activities to engage school-age kids, too. Read our Guide to 24 Hours in Gettysburg.
Discover Harrisburg
We've driven past Harrisburg quite a few times on our way to southern Pennsylvania and I can now say that was a mistake.
Pennsylvania's capital city is an ideal place to stop for a few hours to break up a drive and it has a lot of activities to add to your Hershey Weekend.
Any visit to this city is likely to center on the Millworks and Broad Street market, three buildings we returned to a few times on our visit.
Harrisburg's Markets:
Broad Street Market has a collection of food stalls that offer fresh produce and meat, baked goods, jams and honey, coffee and prepared foods.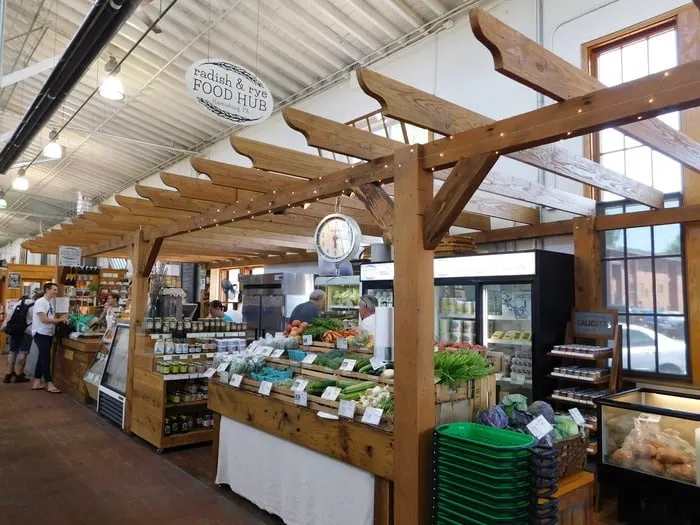 Many of the vendors Amish but you can find everything from Polish pierogi and Greek food to African Jollof rice and tacos. We shared fall-off-the-bone tender ribs and sides from a few different vendors on our first visit.
When we returned another day, Rich and I split oozy raclette-cheese and prosciutto sandwich while Tween Traveler dug into potato pierogis fried in butter.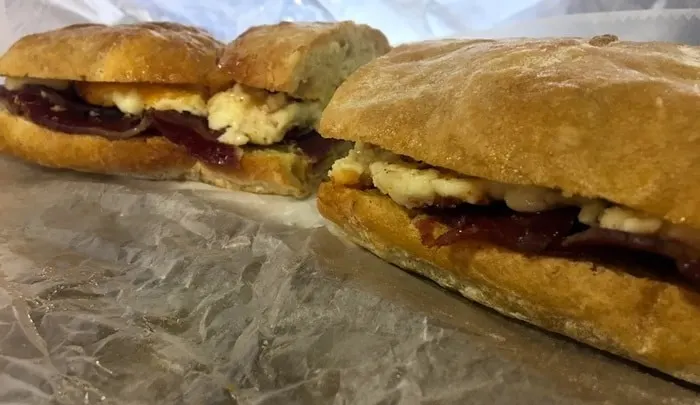 On both visits we samples beer from local brewer Zero Day. The wit and watermelon sour are both great summer beers.
Urban Churn, a well-regarded ice cream place, was closed both times we visited. We took solace in missing good ice cream with large, fresh cookies from one an Amish baker, a steal at 6 for $4.
Next door, the Millworks is a former mill repurposed as an artists' space, brewery and restaurant.
Upstairs the artists' space looks like a quaint street. Studios resemble their own little houses with steps going up to each front door.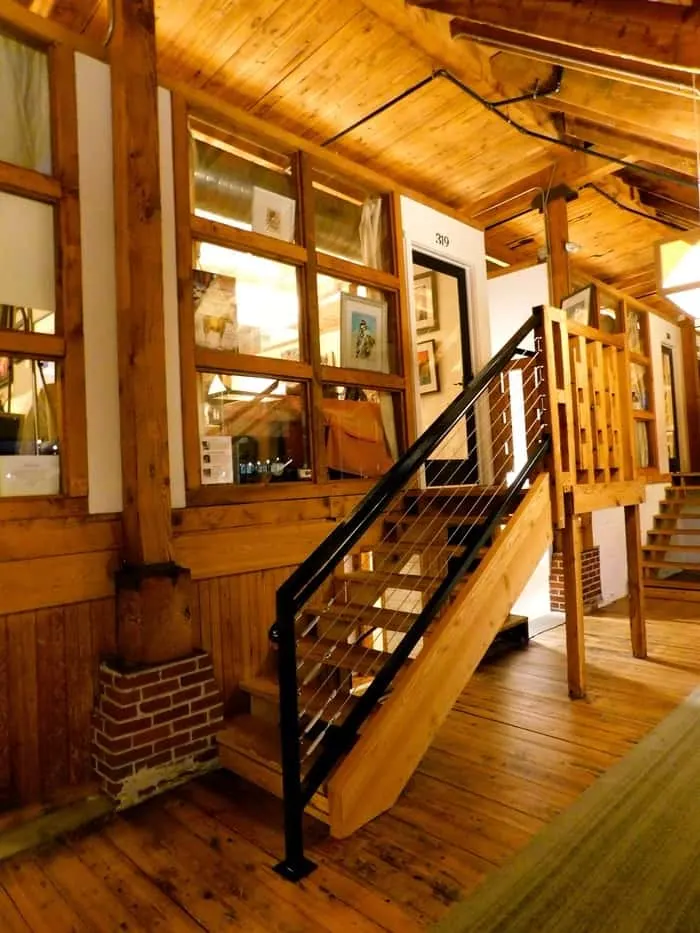 We had dinner at the restaurant one night, eating outside on a patio lit with fairy lights. Tween Traveler had macaroni & cheese topped with pulled pork they cook in a smoker out on the sidewalk.
Rich tucked into what he said was the best catfish sandwich he's had. I had a grilled-greens salad topped with steak.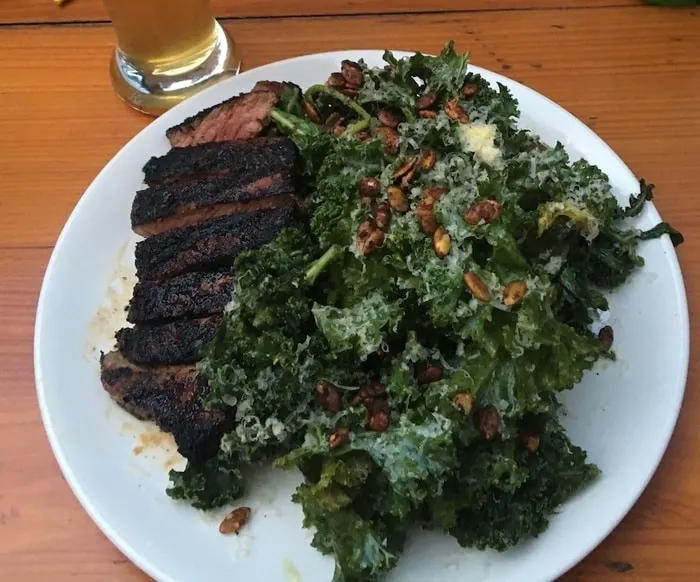 The restaurant also has an outdoor roof deck, which is the ideal place to sit with drinks and board game on a cool afternoon in spring or fall.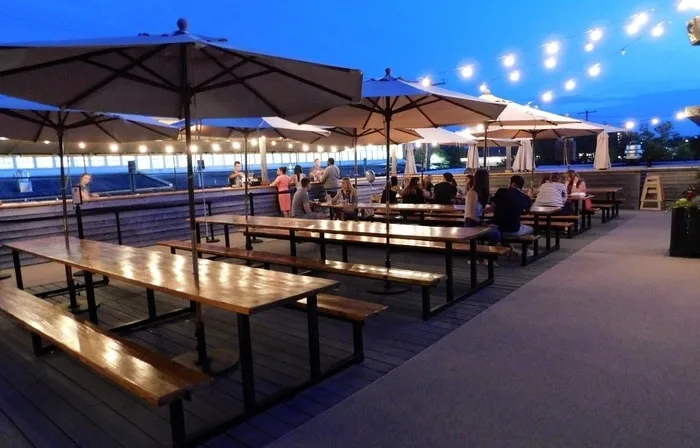 The brewery isn't as IPA-focused as many microbreweris are today. It had a good selection of lighter summer beers to go with the food. If you like the beers you can buy a growler to go.
Browse For Books
If you like books, don't even think of leaving town without a visit to the Midtown Scholar, a bookstore that sits cattycorner from the market on 3rdStreet.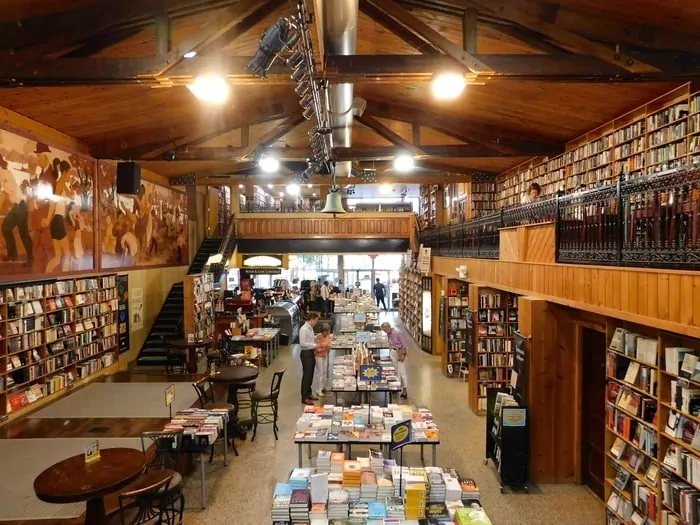 While the tween and I browsed, Rich disappeared. He came back 20 minutes later to announce, "This place doesn't end!" Indeed we left after an hour and could have happily spent twice as long there.
Make sure to seek out the kids' book room, with well-curated young-adult picks, the used-book section up on the balcony and the rare-books-and-prints room in a far corner of the basement.
Rainy Day?
Exploring the studios at Millworks(most of pretty kid friendly) is a good plan B if you get stuck with a rainy day. You can also check out the National Civil War Museumor the small, eclectic Susquehanna Art Museum.
Fun on the Susquehanna River
If you need some outdoor activities to counter all that theme park, head to the river. A 20-mile greenbelt surrounds downtown Harrisburg and the long stretch along the river makes for very easy (mostly) car-free biking with kids.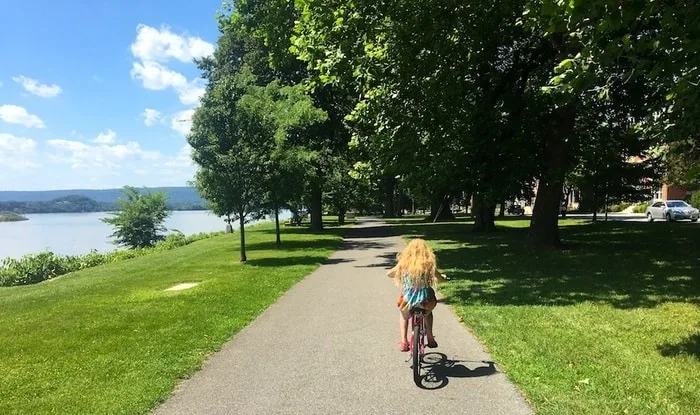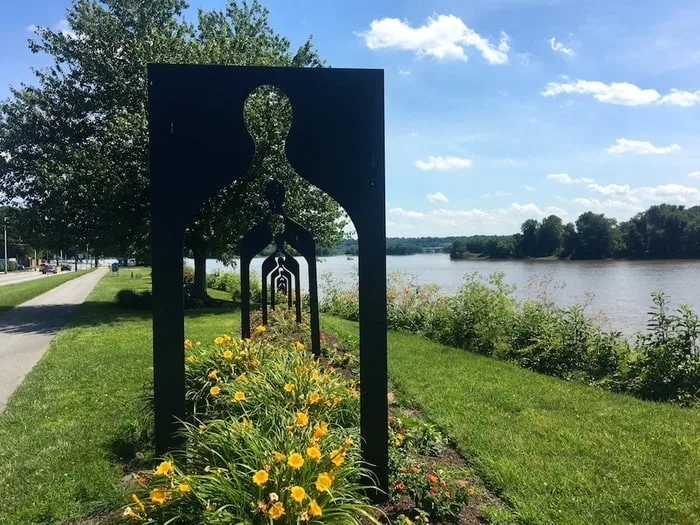 The Pride of the Susquehanna is a paddle-wheel riverboat that offers sightseeing and dining excursions from June through October.
We were interested in an evening jazz cruise, but the one-hour sail didn't fit with our dinner plans. Luckily, there's a happy hour on the boat prior to the sailing that anyone can stop into for free.
I expected the jazz to be the boisterous, Dixieland variety. It was more modern and mellow, which is good because the inside cabin where the band was playing is smaller than you might expect.

We spent about $12 on a cocktail, a beer and a Shirley Temple and sat outside on the top deck, admiring the river views and listening to the live music. It was a nice way to wind down from a busy day.
If you want to really get out on the river we highly recommend adding a day of kayaking to your theme park weekend.
We visited Blue Mountain Outfitters, which has its store about ten minutes north of the city in a former railroad depot above the river.

We did an easy two-hour paddle and really enjoyed it. Small islands and large rocks dot the middle of the river. Tween Traveler had fun climbing around on a few of these when we wanted a break from paddling.
We also saw a good number of turtles on the rocks and some river birds we couldn't identify.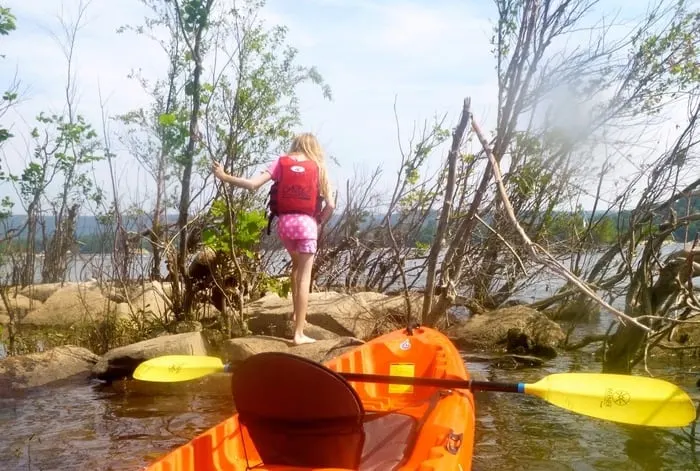 You can arrange half or full-day trips and even overnight adventures where you camp on one of the islands. The Susquehana is wide, parts of it are fast and there are rapids in the spring.
But the longer trips are entirely down stream, which makes means the river does some of your work for you. The folks behind the desk can tell you about conditions at the time of your visit and recommend a trip that's appropriate to your kids' ages and ability.
Ride a Horse
We also spent part of a day horseback riding at Ironstone Ranch, 20-minutes south of the city.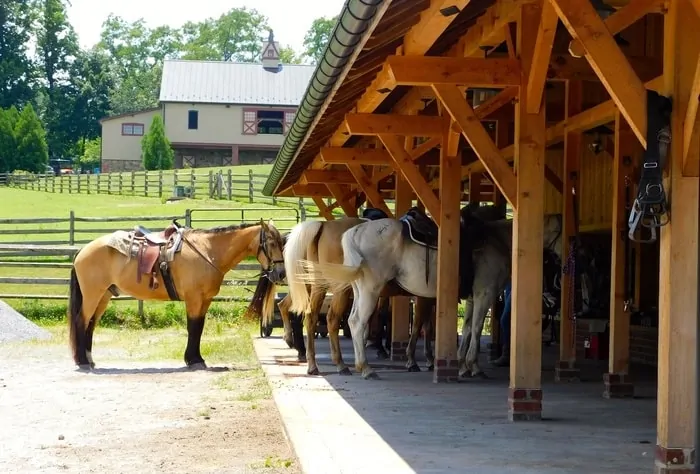 The riding isn't strenuous; the two tweens in our party both did fine. The property, which is popular for weddings, is large, gorgeous and makes for a fun ride. We passed farm houses, several restored barns and a replica of Lincoln's funeral train car.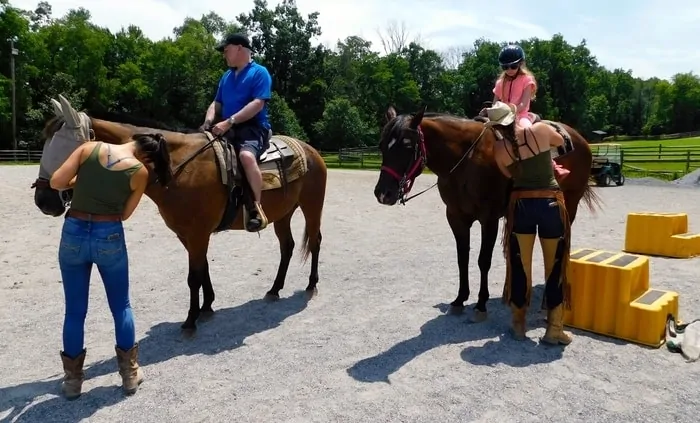 With 275 acres and several miles of trails, you never have to do the same ride twice.
Explore Amish Country
The important lesson we learned on our first visit to Hershey is not to visit the Lancaster area on a Sunday. Nothing is open.
The one thing we did manage to do was eat lunch.
We sampled local specialties like chicken and dumplings, baked cabbage and buttered noodles along with several kinds of pie at Miller's Smorgasboard,on route 30 in the town of Ronks.
Afterward, we stopped at the nearby Dutch Havento bring home a gooey but good shoo-fly pie.
If you want to spend more time in Pennsylvania Dutch country, make a point of heading to the Lancaster Central Market for seasonal produce and local specialties like fresh horseradish, egg noodles and pickled vegetables.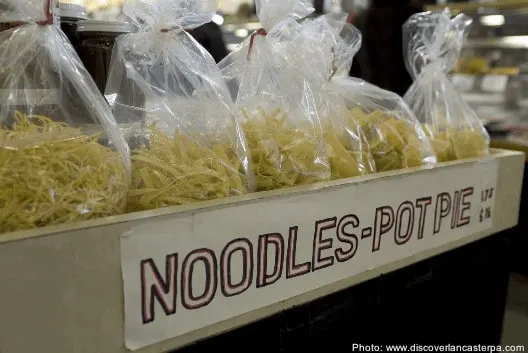 Anyone with young train fans (and especially Thomas fans) should consider a ride on a restored steam train in Strasburg.
You can also try Dutch Wonderland, which families have told us is ideal for kids under 10.
If you have little ones and teens you might hit Hershey and Dutch to keep everyone happy. The parks offer a combo ticket to do just that.
Tip: If you want to base yourself in Lancaster for a couple of days, consider a farm stay. They're always a hit with kids and you might get a rare inside look at Amish life and ways.
Stops Along The Way
From New York:
The road from New York City to Hershey passes through Easton, PA, home of the Crayola Experience.
It promises games and interactive activities (probably arts & crafts). Plus, you get to learn how crayons are made. It seems like a good short break from driving if you need it.
It sits on a town square with a decent selection of restaurants and there are hotels in town, some of which offer Crayola packages.
From Points South:
Baltimore families can break up the drive with an afternoon or morning in Frederick which offers its own piece of Civil War history, period homes and small children's museum.
Pittsburgh families can take a few days to relax with a detour to Raystown Lake Recreation Area, which is known for its water sports and houseboats.
From either city it's an easy detour through Cumberland, MD, which offers it's own scenic train and some small historic sites. It also marks the start of the Great Allegheny Passage, a bike and walking trail that runs 150 miles to Pittsburgh (I biked part of it during a stay at Nemacolin Woodlands Resort).
I hope these tips help you to get the most out of a weekend getaway to Hershey and maybe inspire you to plan a longer stay.
Pin it for later!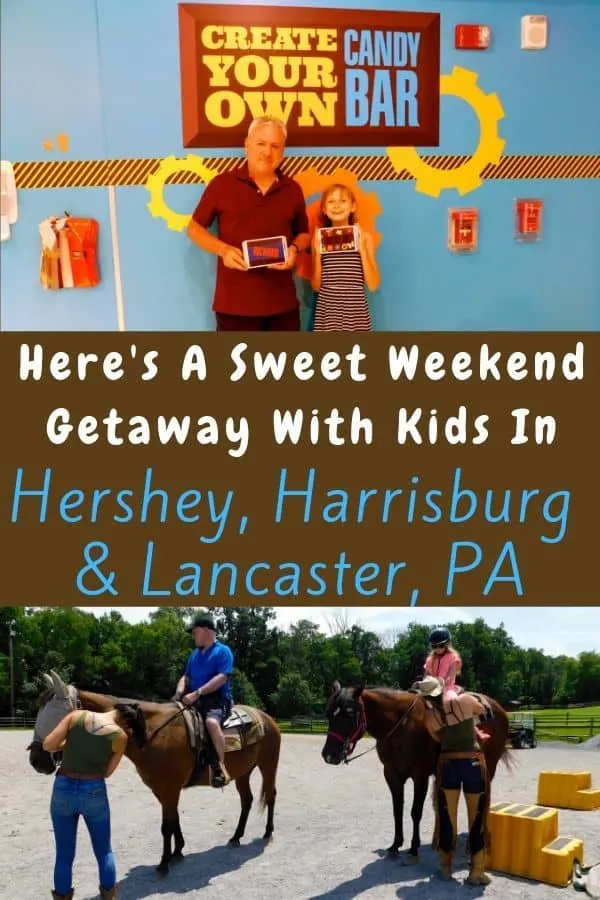 *All photos are property of FamiliesGo!© except the Hershey Lodge (provided by the hotel) and the egg noodles (provided by Visit Lancaster).
* Visit Hershey-Harrisburg provided us with tickets to Hershey attractions for our latest visit and the kayaking trip. Ironstone Barns provided our horseback ride, Troegs provided us with a meal on our latest visit. The Sheraton gave us a media discount on our room. We funded all other expenses. No particular coverage was guaranteed or arranged in exchanged for our access. Our opinions are always our own.