People visit Savannah, Georgia to explore the genteel, antique-filled homes during the day and sip Southern cocktails in the evening . If you're visiting this southern city with small children, that's not going to happen.
The city presents its challenges for older kids, too. They might be less likely to break something in a historic home, but they might still be bored and want opportunities to be active.
So after strolling River Walk and popping into Savannah's Candy Kitchen at City Market for praline samples, what things can you do in Savannah with kids?
Here's what we enjoyed most in the city when our son Cameron was a toddler. And tips with older kids, too.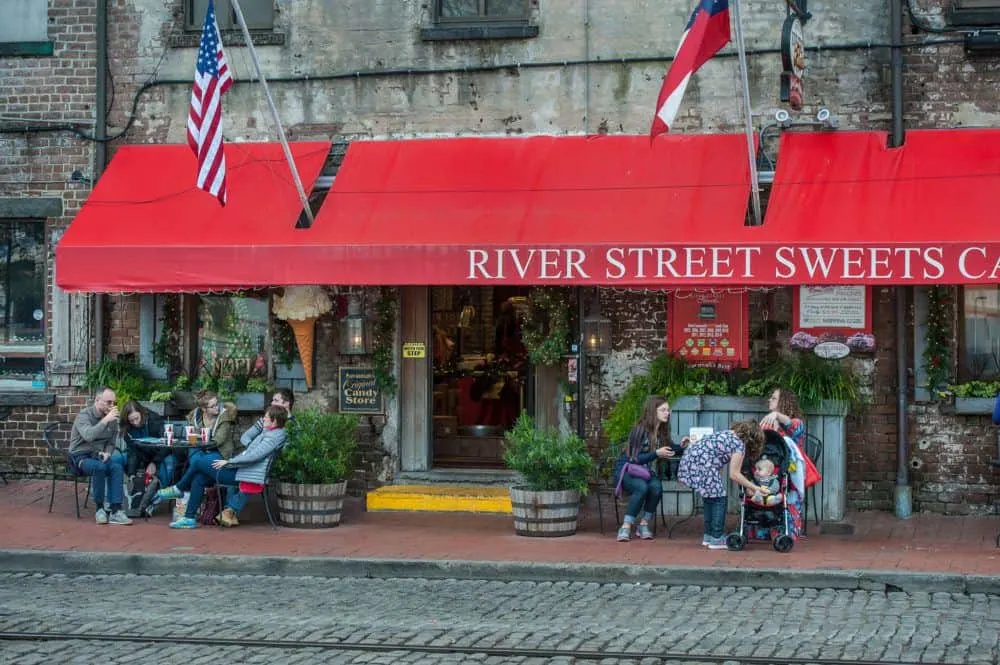 ---
Weekend Getaway:
Great Things To Do in Savannah With Kids
1. Parks & Squares
If your child is still in a stroller, strap him or her in and go for a long walk through Forsyth Park. The mansions and homes surrounding the park are as beautiful as the overhanging trees inside.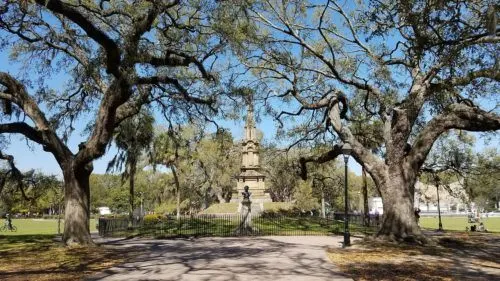 There are several playgrounds in the park for all ages and in the summer months kids love to cool off in the fountains.
In the spring when the flowers are blooming we would often get lunch or coffee and croissants from the nearby and very family friendly Sentient Bean and picnic on the grass.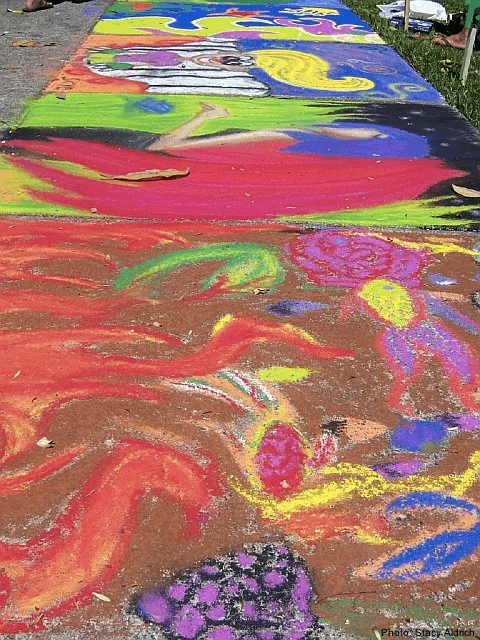 The best times to visit Forsyth Park are during the SCAD Sidewalk Arts Festival in April, when students cover the ground with amazing, temporary art work.
We also love the Savannah Jazz Festival in September. Cameron enjoyed watching the artists that cover the city's sidewalks with amazing chalk drawing. We enjoyed getting to hear great music for free, and being able to walk away when things go to loud or he got fidgety.
You'll find yourself in the City Market pedestrian zone at some point. If you're there in the hot weather, make sure to head to Ellis Square at the market's east end.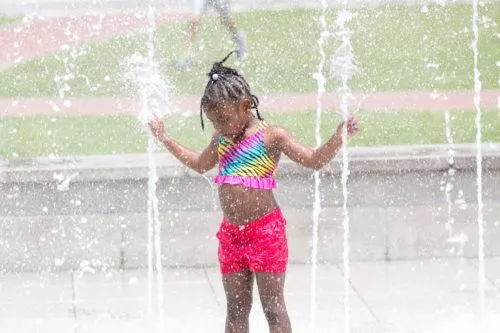 There are fountains for kids to splash in and places for parents to sit and sip an iced coffee while their kids run around and cool off. Make sure to take a photo with the statue of local hero Johnny Mercer.
2. Art and Culture
Savannah is home to a large number of galleries, museums and theaters that offer arts and culture in family friendly doses.
The Savannah College of Art & Design played a large role in preserving and restoring the city's historic buildings, and you can feel and see its influence all over town.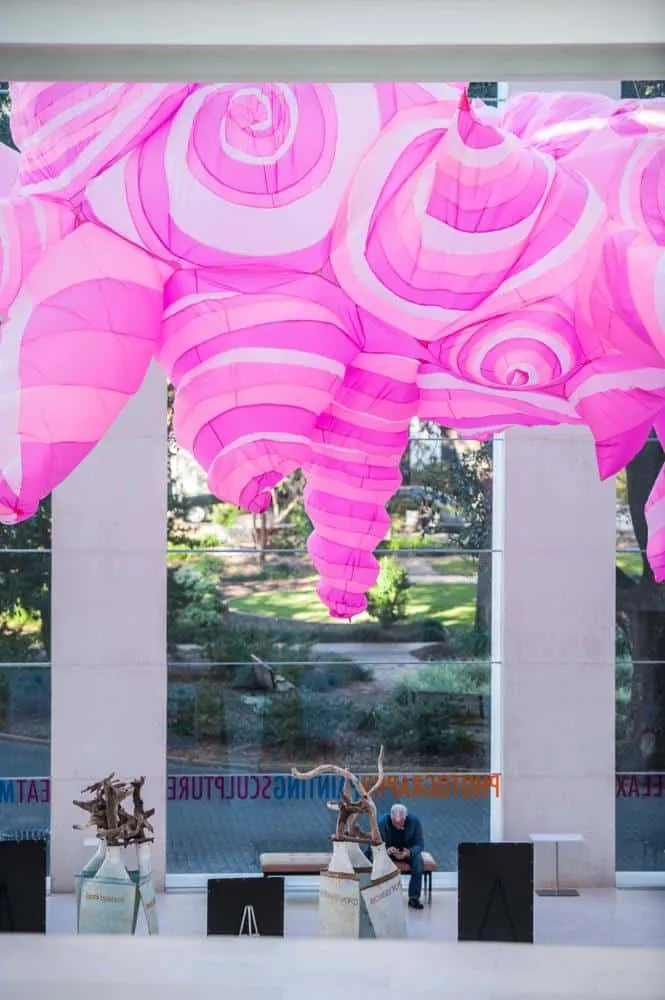 The Jepson Center one of three Telfair Museums, has family programs that change every month and focus on things like photography, creating flipbooks or painting.
The Telfair Academy itself has a stroller-and-toddler tour one morning a month and a daily drop-in studio where kids can do art projects in the afternoon.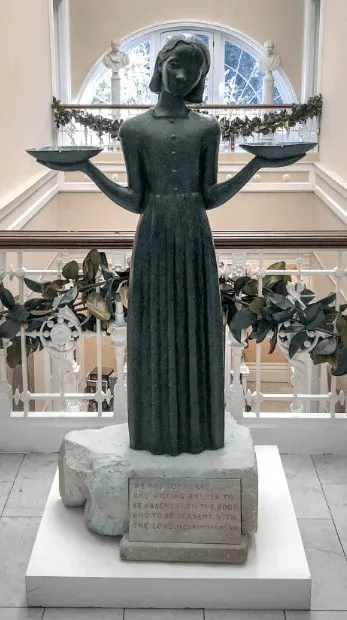 It's also now home to the famous Bird Girl statue from Bonaventure Cemetary, that graced the cover of Midnight in the Garden of Good & Evil.
Third museum in the trio is the Owens-Thomson House & Slave Quarters. I don't recommend it with toddlers and preschoolers but you could do the guided tour that shows how both halves of this household lived in the 1800s. School-age and older kids could enjoy it.
Savannah Art Walk, on the second Saturday every month, is another low risk way to see what local artists are doing.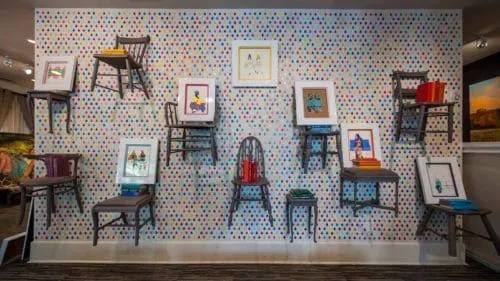 Thirteen galleries, including SCAD's, open their doors for people to wander in and out. Preschoolers are usually pretty frank in their assessment of art work, which can make for an entertaining afternoon.
Sometimes the artists are onhand to talk about their work. And the afternoon is usually bookended with free cocktails at area hotels.
Savannah is a city with a lot of history and great local stories. House tours are a good way to hear some of these stories but we didn't want to attempt any when we visited the city with a very active 2YO.
We did have luck with a carriage tour, which you can pick them up in Market Square. They are shorter and less in-depth than house or walking tours. But the carriage ride gave us at least a taste of all that local color and was the right amount of time for kids.
The novelty of being in an open-air vehicle, without a seat belt, with a horse in front kept Tiny Traveler amused for about the half the ride. Cheerios and small toys got her through the rest. School-age kids will actually listen to the tour and it will be over just when they start to get fidgety. — Eileen Gunn
3. Tybee Island
Take a 45-minute drive from downtown Savannah and your family can have their toes in the sand, enjoying a day at the beach.
Consider the dolphin watching tours, fishing excursions and kayak and Jet Ski rentals you'll pass on the way to Tybee Island.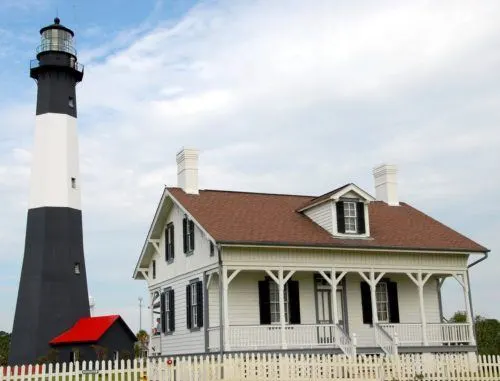 When our son was as young as 2, he would sit in the middle of a rented kayak while my husband and I paddled through marshes full of new sights and sounds. We would take short fishing tours, too (or just drop a line in the water from shore) when he was that young.
Older kids and tweens will be happy to hop into a tandem kayak or ride the back of a jet ski with you, while teens will like doing these things solo.
Once you reach the beach, rent bikes and beach gear or tour a lighthouse, though it could be a lot of stairs for very little ones.
4. Georgia Marine Education Center and Aquarium
The UGA Marine Center & Aquarium (MAREX) is 15 minutes from downtown Savannah on beautiful Skidaway island.
It's a "public teaching aquarium." So look for touch tanks, art and science labs, a marsh boardwalk and nature trails and more.
Cameron's favorite at this Georgia aquarium was always the touch tanks. There is a small grocery store and a few restaurants on the Island where you can eat or pick up items for a picnic.
5. Savannah Restaurant Tips
Savannah is home to great coastal southern food and many of the best spots are both casual enough for kids to eat in and great for take-out.
Unless you're a huge Paula Deen fan, bypass crowded, pricey Lady & Sons and head for the Mrs. Wilkes House.
Kids love the fried chicken, butter beans, mac and cheese and biscuits. It's only open for lunch and lines form early. I used to call ahead for take out (make sure to ask about daily specials if you do the same). Find a nearby square and tuck in.
Blowin' Smoke Southern Cantina has laid back outdoor seating and games to play while you wait for your pulled pork and onion rings. In the warm weather they have music on some evenings (go early!).
Zunzi's Take Out is a little place with a big following. The menu is a little South African and little everything else.
It's a good vegan restaurant with options like quinoa, rice or potatoes topped with grilled veggies, curry or vegetarian frikkadels (fritters), plus hummus and avocado.
My favorite sandwich is the portabella mushroom sub. Kids might be happy with pita and hummus, south african sausage, or if they're really picky, plain rice, quinoa or smashed potatoes.
There are a few outdoor tables, but the line can be very long so it's better to order online and take it to go. Oglethorpe Square, just around the corner, is a handy picnic spot.
Lepold's Ice Cream (top) is a classic soda fountain and lunch counter around the corner from the Owens-Thompson House.
Tuck in to pimento cheese, curried chicken or PB and banana sandwiches. Or just reward your kids for good museum behavior with a scoop of caramel swirl. Flavors like honey almond and lemon custard please adults.
Discover the best of Savannah's cooking by booking a food tour.
Savannah Hotels For Families
There are plenty of family friendly hotel chains on the outskirts of the city. But staying in town lets you park your car once and leave it while you get around on foot.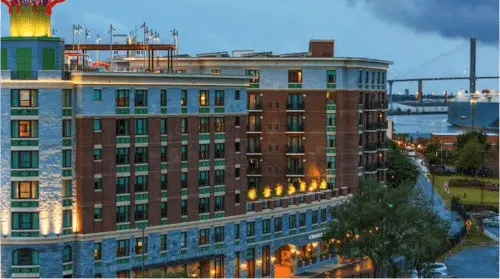 Embassy Suites, Homewood Suites (photo), Holiday Inn Express, Hyatt Regency, DoubleTree and boutiquey Alida hotels all have pools, locations in or next to the historic distric, and prices that start below $150 a night. Be ready to pay for parking, though, and some of these are valet only.
Find the best hotel rates and more hotel listings on Trip Advisor.
Pin it for later!
* Photos courtesy of Visit Savannah and Pixabay.