What little I knew about Lapland before I had the opportunity to visit was mostly wrong.
I thought this part of Finland was covered in snow all the time, that there were far more reindeer than people, and there wasn't much to do besides feeding the reindeer, eating smoked fish and looking for the Northern Lights.
I learned that in actuality, there is a lot to do in Lapland and it's a great place to visit with kids.
It IS really freakin' cold…in winter. But it doesn't snow year-round and spring through fall is the ideal time to visit and enjoy the forests and lakes. These off-peak seasons also offer lower airfare and hotel rates and next to no crowds.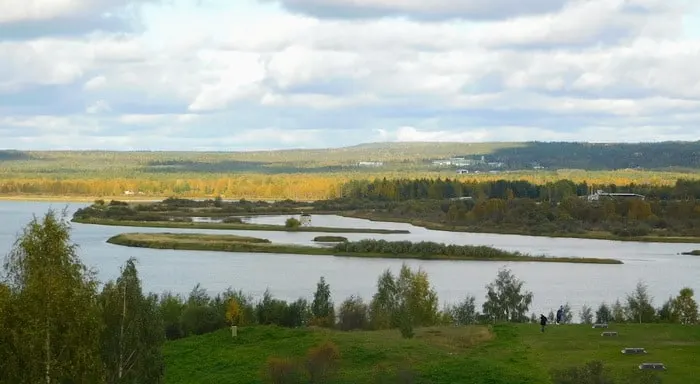 You can see the Aurora Borealis as early as mid-September. And it's mild enough then to get outside, breathe very fresh air, see some beautiful nature and enjoy unique cultural experiences.
Most people fly into the small city of Rovaniemi, Finland from Helsinki.
You Might Also Like: Why Families Will Love Helsinki.
It's possible to travel much deeper in Lapland than I did. But with kids it makes sense to use Rovaniemi as your base. You have easy access to pharmacies, supermarkets and playgrounds if you need them, and fast, casual dining as well as nice sit-down restaurants. And you can see quite a bit on day excursions.
Here is an itinerary to help you get started planning an autumn vacation in Lapland with your kids.
Pland This Amazing Lapland Adventure in Finland With Kids
Things To Do In Rovaniemi
Start at the Arktikum Museum
At the Arktikum Museum in the center of the city you can learn about the people, animals, weather and ecology of the arctic circle. It provides context and background for things you'll see and hear about during your visit so it's a good place to start.
The main hall has a long glass atrium that overlooks its arboretum and the Ounasjoki River. But the exhibits are hidden away behind doors and there isn't an intuitive flow to the place. Be sure to get a map or you'll miss things.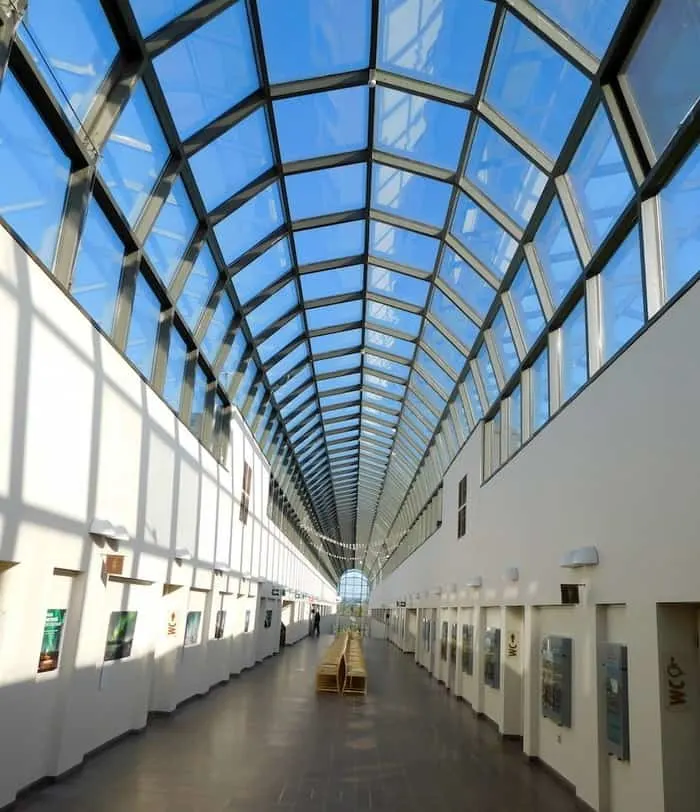 Unfortunately there are no regularly scheduled guided tours. Focus on the rooms that explore the culture of the Sami people and the arctic climate. These include Northern Ways and Arctic In Change.
Tip: The museum has a café with a small buffet lunch. It's perfectly fine and convenient. But you're so close to town you might as well head to the nearby pedestrian zone where you'll have more options.
See the Northern Lights
The best place to see the aurora borealis is in the middle of nowhere and there are plenty of ways to do that.
But if you catch a clear night in Rovaniemi between September and March, head to the walking path that goes along the Ounasjoki River, through the Arboretum below the Arktikum (ask your hotel front desk for directions).
You won't avoid the town's light pollution entirely, but if the aurora is visible you can absolutely see it. This where local people stroll to get a glimpse of these dancing lights when the skies are clear.

Dress warmer than you think you need to and bring a blanket to wrap your kids in. If you catch a good show you don't want to have to cut your view short because you're getting frost-bitten!
Tip: Winter is the peak time to see the northern lights and high-season hotel rates kick in around December 1. But sub-zero temperatures and sudden snow storms make it hard to get out and about with kids in winter. So taking advantage of the fall's should season rates and milder weather is ideal.
Tip: Taking photos of the northern lights is hard. You have to be able to adjust your aperture and keep your lens open for several seconds.
You need a DSLR camera that lets you adjust those settings, or a phone with an app that lets you take pictures manually (or in the raw). If getting photos is important to you, do some reading on how to do it before you go.
Things To Do just outside of Rovaniemi
Go Dog-Sledding With Huskies
Dogsledding with the Alaskan huskies at Bearhill Huskies was easily the most fun thing I did in Lapland. I wondered how we would go dog sledding without snow. Or a sled. But we did.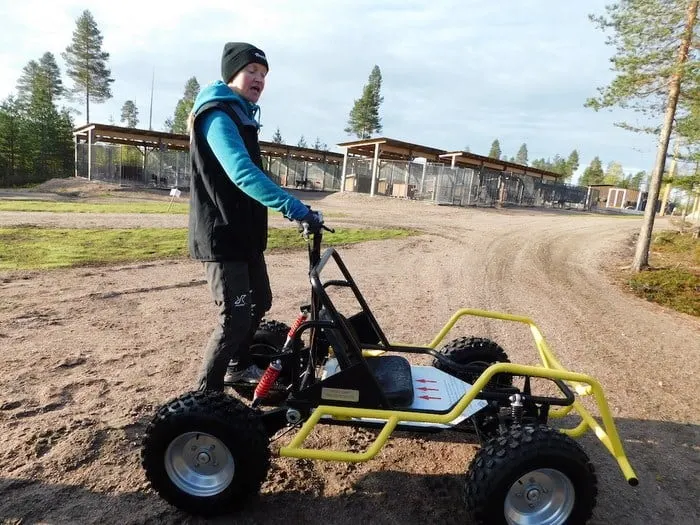 The dog trainers at Bearhill want to keep the dogs running in sled formation year-round to keep them trained and healthy. In the months with no snow, they use specially made two-person metal-frame sleds on wheels.
They look a little like ATVs. The difference is that the passenger sits in the front as they would on a sled and the driver stands in the back to steer and apply breaks to (try to) control the dogs' speed.
A small child could probably sit on the lap of the passenger. If you bring a baby or toddler along, use a front carrier so your hands are free to hold on (do this for snow sledding, too).
I thought that standing and steering would be scary, but it's not. I enjoyed being up above the dogs and being in control of the steering and breaking.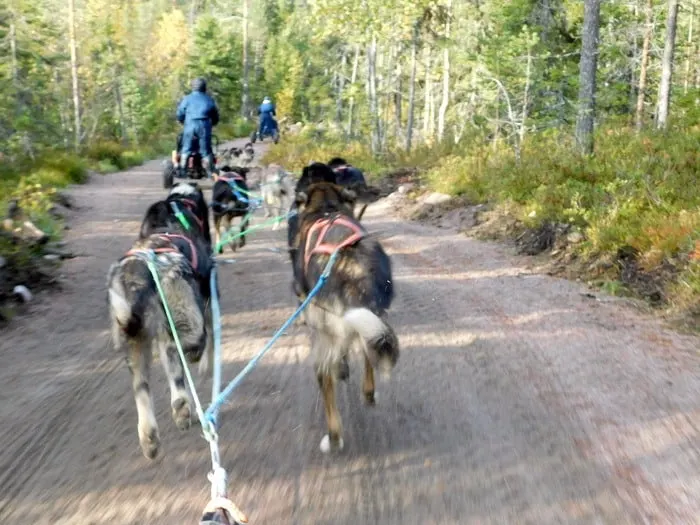 It's amazing how fast the dogs go and how much they like to run. When the staff starts lining them up in their teams and they know they're going to get to run, they bark, wag their tails and leap in anticipation. It's fun to see them get so excited.
The dogs kick up quite a bit of mud behind them (snow in winter), but the folks at Bearhill give you coveralls and lined waterproof boots to keep you clean and warm. They also provide thick gloves that will keep you warmer than your own.
Tip: You probably want to face babies and toddlers toward you to keep the mud and cold wind off them.
After the ride they bring you into a hut to warm up with hot berry tea served in traditional Lapland mugs and ginger cookies.
In spring summer and fall there are often puppies around. If you're lucky you'll get to hang out with them. Just be forewarned, they are so adorable your kids might well come away wanting one.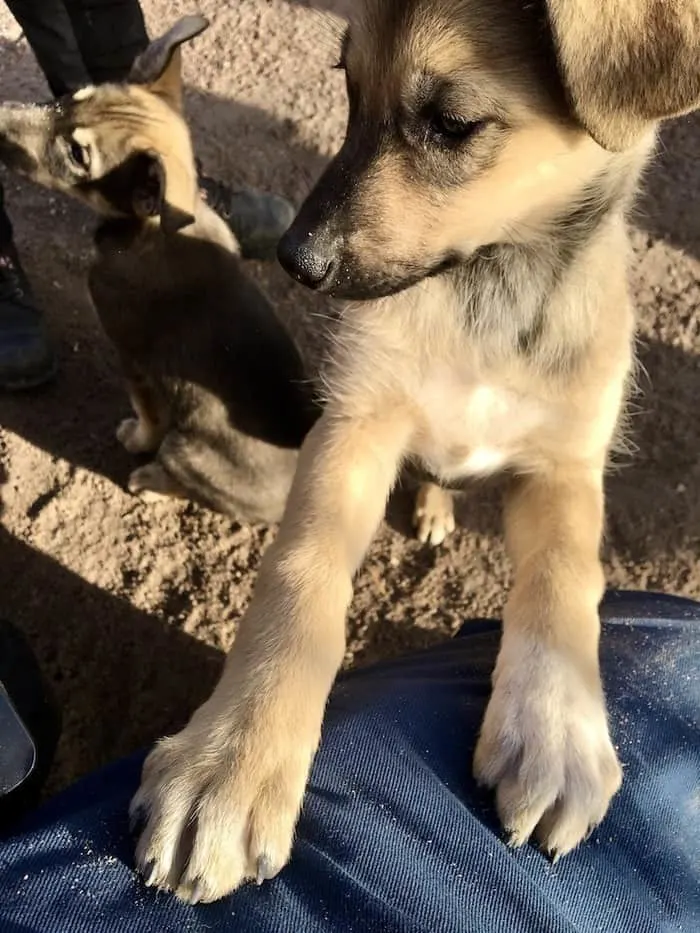 Tips: This is a daytime activity. Some places offer moonlight rides but the woods are dark at night so you can't see anything. And the temperature drops once the sun goes down so it's very cold even when it's not winter.
With kids along a 30-to-45-minute ride is plenty. They get bored if it goes much longer. And, especially in winter, no matter how many blankets they pile on, kids will still get cold quickly.
Bearhill has an outpost near the North Pole. With kids under 5 it might be better to book a ride here and make it 20-to-30 minutes.
Meet a Reindeer Herder
The most unique experience I had was an afternoon with Irene and Ari Kangasniemi at Hornwork Handicrafts.
Irene is a reindeer herder with a knack for handicrafts and baking. Her husband makes chandeliers out of reindeer antlers. He also makes other items, like hunting knives and cases, from antler, bone and hide.
A former teacher, Irene knows how to engage an audience and keep kids from getting bored. She talked to our group about their day-to-day life, her reindeer herd, her Sami shaman grandfather and lingonberry picking.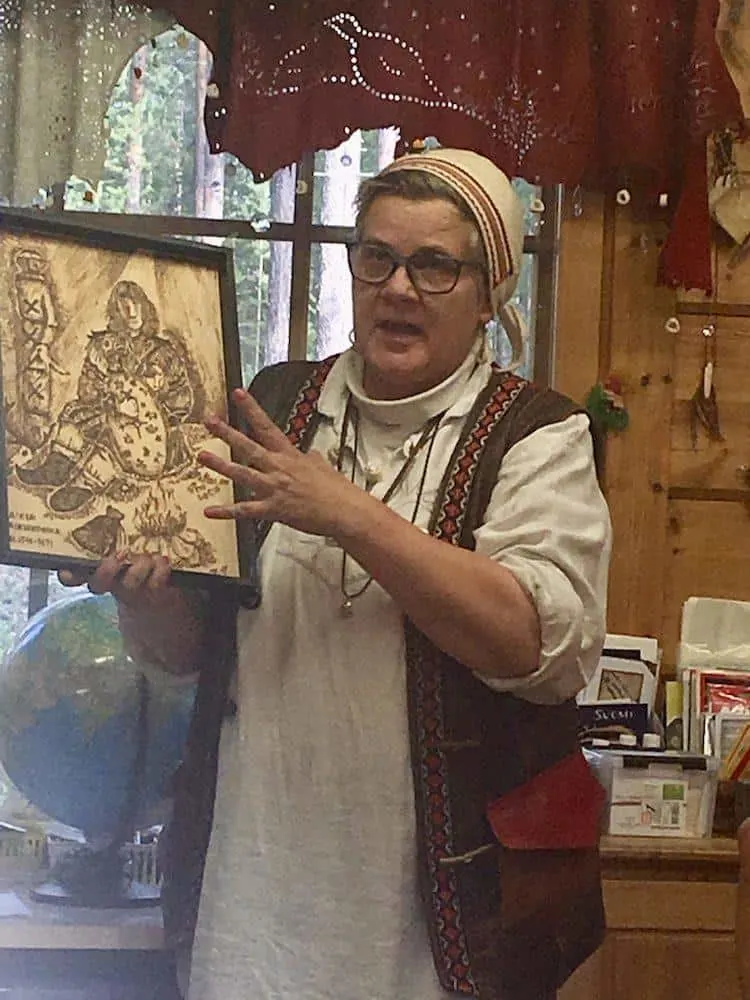 Then it was craft time: We made necklaces earrings and key chains from reindeer horns cut into different sizes and shapes.
Then we joined Irene and Ari in their kitchen for freshly baked cinnamon buns (yes, they were delicious), coffee and blueberry juice.
Tip: This is a unique opportunity to spend time with lifetime Laplanders in an authentic Finnish home. I can't recommend it enough.
But Irene keeps very busy with her reindeer, crafts and baking. You have to call or email in advance for a session or book through a tour company. If you have trouble reaching her, ask Visit Rovaniemi for help.
Visit Santa Claus
Finland claims to have the real Santa Claus at the real North Pole. It's not the geographic pole but it's far enough north and cold enough that I'm willing to believe them.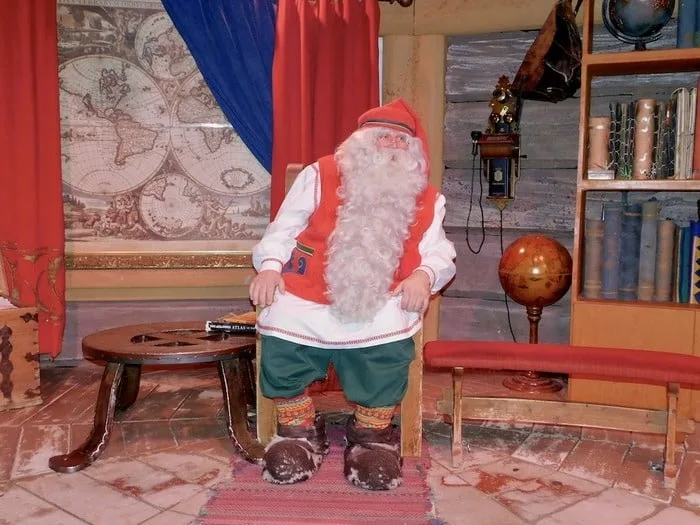 The main attraction is a visit with Santa himself. Naturally the man in red speaks several languages, including English.
They allow people in to his meet-and-greet room in groups and they give each group ample time, so be patient. If you wind up waiting in line there's plenty of eye candy to keep you occupied.
After visiting with Santa go spend some time with his reindeer. The handlers give you lichen, which is like reindeer popcorn, that you can feed to them while you guess which is Prancer and which is Vixen.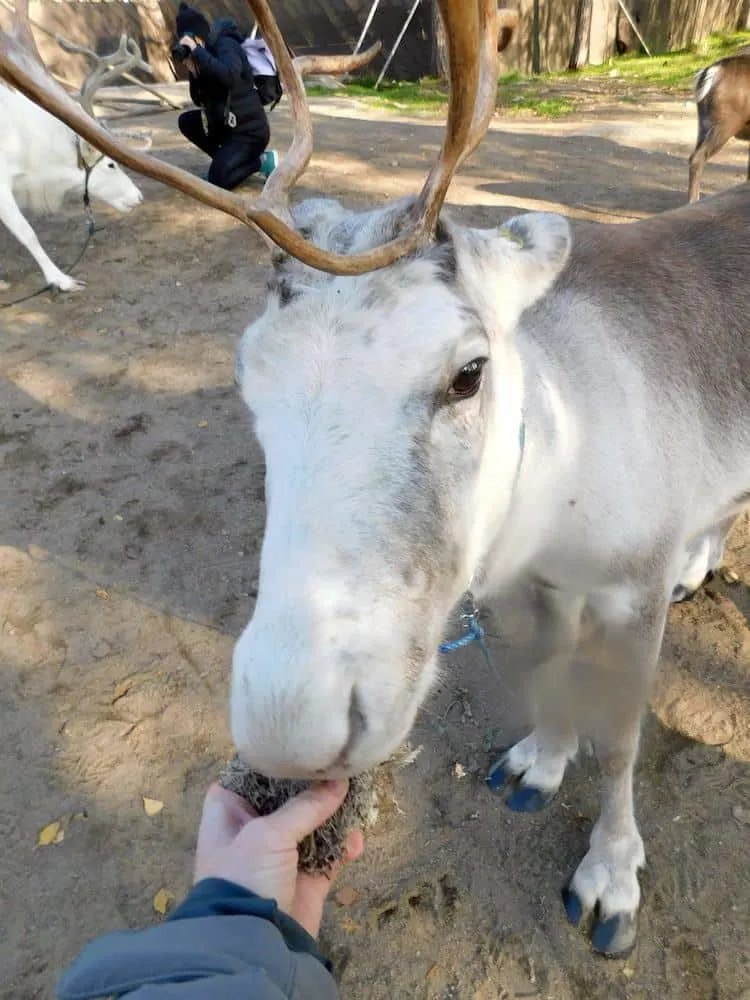 They will eagerly pursue your lichen in they're hungry but they're gentle about it. You can pet them and take photos. Their antlers are surprisingly furry and soft, but they don't like having those touched so try hard to resist!
The last place you must stop is the post office, which has its own unique stamps and postmark. You can buy and mail post. You can also buy a letter from Santa himself that will be delivered right before Christmas.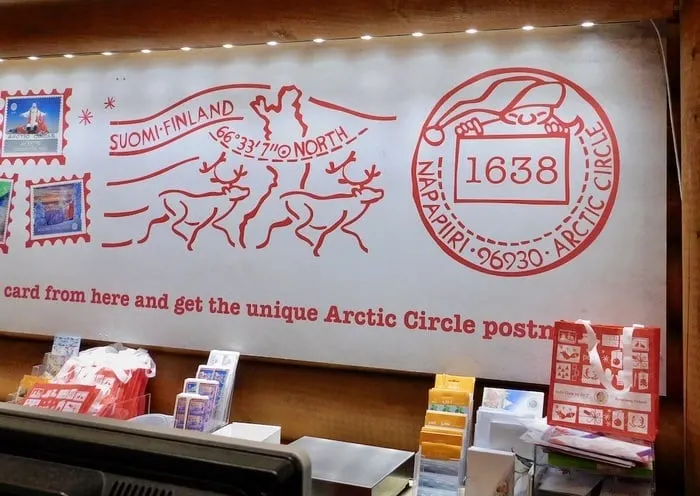 Tip: If your kids are along with you and you want them to be surprised by this magical mail, have another adult take them to the large and very good playground on the far side of the main building while you arrange the mail.
Before you leave, make sure to have someone take a photo of your family balancing on the Arctic Circle (a red line in the main plaza).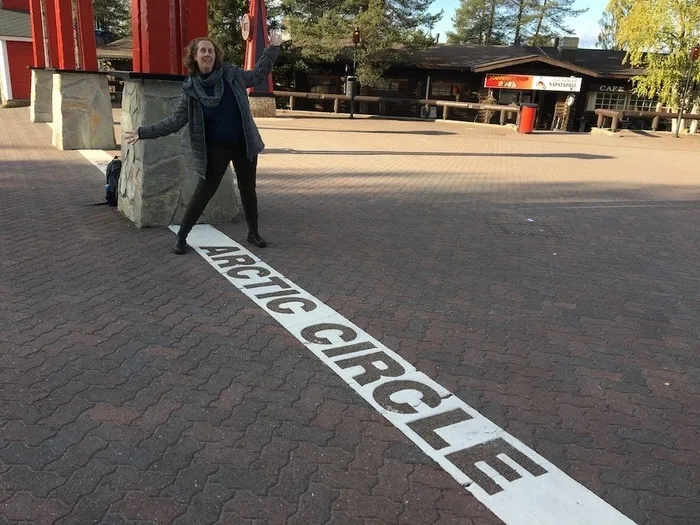 If you're in to shopping there's a good handful of stores here including a few outlets and a new Fazer store, selling Finland's national chocolate brand.
The North Pole and the Post Office have the best souvenir shops, and they have different items from each other. There are other souvenir shops across the plaza but the items didn't seem as nice.
Tip: The Santa Claus thing makes Rovaniemi a popular Christmas destination, and there are a few hotels and guest cottages in Santa's Village if you really want to make the most of a holiday season visit. This is also when you'll pay the highest peak rates.
The advantage of visiting in the fall is that you can give Santa your letter and Christmas list. You can arrange to get a letter from the big guy. And you can Christmas home with in the form of some of the best snow globes, tree ornaments and holiday decorations you'll find anywhere.
Go Foraging
Lapland is greener than you would expect. And in the warmer months there are wild blueberries, raspberries, lingonberries and cloudberries as well as mushrooms.
In Finland, the law says that you can walk anywhere, even on private land. And you can forage on any public land. Most Finns have their favorite spots that they keep as guarded secrets.
Berry-picking is often paired with hiking or bike riding. If the sun is out it can be a lovely day. Visit Rovaniemi can connect you with a guide to help you hunt mushrooms and other goodies.
Rainy day activity
Pilke Museum
The Pilke is a small interactive science museum that focuses on wood (in a country that is 70CK% forest, wood is pretty important). It's adjacent to Arktikum.
Hands-on displays help kids understand Finland's forest laws, where forests come from, how they are sustainably maintained, and how paper is made. It also highlights some of the more innovative renewable products being made from wood these days,
It's good for ages 5 or 6 up to 11 or 12. Depending on your child's ability to delve into places like this I would plan to spend one to two hours.
The building itself is really cool: It's made entirely of wood, most of it native to Finland (you can pull up the wooden blocks that make the floor, but please don't!). The atrium that rises up around the museum houses local businesses and the museum's offices.
It's an interesting space, but I would hold it in reserve for a day when the weather is too poor to do anything else.
Rovaniemi Hotels
There is a group of Santa Claus hotels in and around Rovaniemi, they vary in price and style but they all make an effort to be holly-jolly places to stay year-round and are worth looking out for.
We stayed at the Hotel Santa Claus in the center of Rovaniemi. It was less ideal than some other properties for seeing the aurora but it was handy to have several good restaurants, convenience stores, shopping and within a few blocks' walk.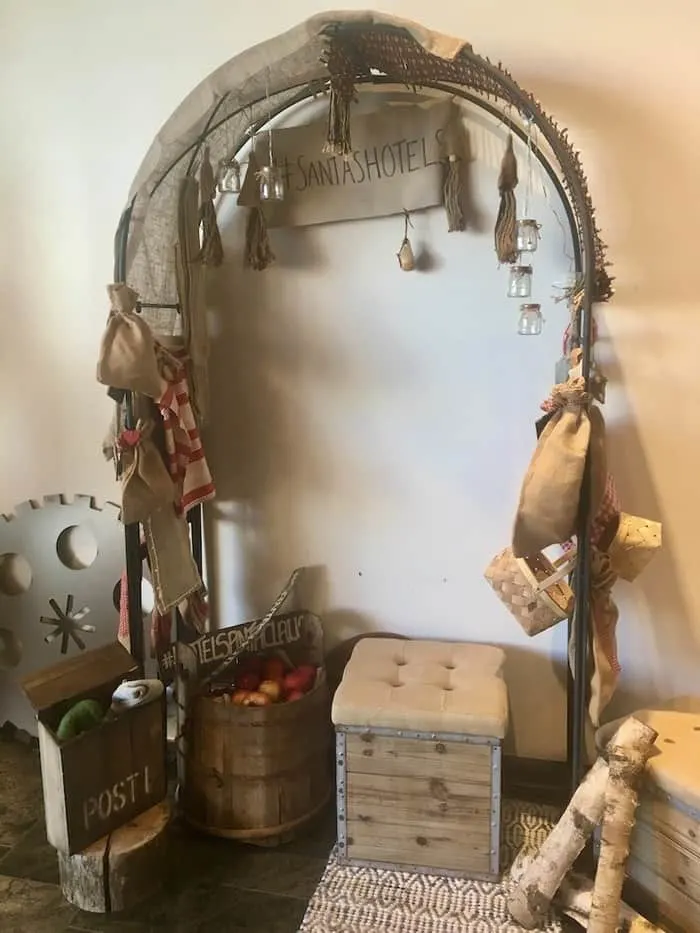 The hotel had elves of various sizes and shapes all over the hotel, including a few in each room. Other Christmasy touches were fun and not over-the-top.
My room had two double beds pushed together and a long couch that folds out into a bed for kids.
The buffet breakfast was very good, with a spread that included breads, cold cuts and smoked fish as well as eggs, cereal, oatmeal and smoothies in shot glasses.
There's no pool, but seriously consider paying extra to book one of the top-floor rooms with its own sauna. Family sauna time is a Finnish tradition and it really is just the thing after a chilly day outside. These rooms also have great top-floor views.
Santa's Hotel Rudolph, about a block away, is the chain's budget option. If you stay here you can have breakfast at the Santa Claus.
See the Northern Lights From Your Bed
A short walk from the North Pole, you can stay at upscale Santa's Igloos Arctic Circle. Basic igloos have a glass-enclosed bedroom, small kitchen and a side bedroom. You can upgrade to a cabin with a sauna and two igloo bedrooms.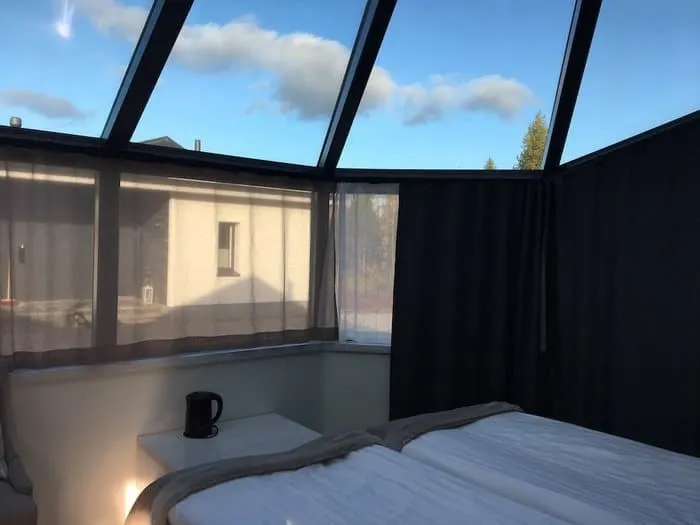 The point of the igloos is that the bedroom has a glass dome, so if the Northern Lights stream across the sky at 1:00 AM, all you have to do is open your eyes and look up from under your warm covers.
Rates start above $450 during Northern Lights season. But they sometimes run multi-night discounts in fall that bring the price below $300. Rates include breakfast and an electronic tablet that will send you an alarm if the aurora show up in the middle of the night.
Many people book one night in the igloos and hope to luck into a clear sky, even if they stay in the area longer.
Visit Finland reports that the lights are visible on about 200 nights a a year, and the vast majoity of these happen in fall, winter and early spring. So if you go with this one-night splurge you have a reasonably good chance of seeing them.
Book it: Find the best rates for Rovaniemi hotels in any season.
Rovaniemi Restaurants
One of the challenges of Rovaniemi is that most of the building are very plain and bare on the outside. So you have to be a bit daring and poke your head in to places.
We had dinner in three restaurants that looked absolutely non-descript from the street but were quite nice once we went inside.
All the restaurants had vegetarian options on their menus, often pasta. Being a pescetarian makes it a bit easier because you can find salmon and smoked fish almost anywhere.
If it's just too cold or you're too tired to leave the hotel for dinner head Hotel Santa Claus's ZoomUp bar & grill. It has the same menu as the more stylish Gaissa, but is more laid back and kid-friendly.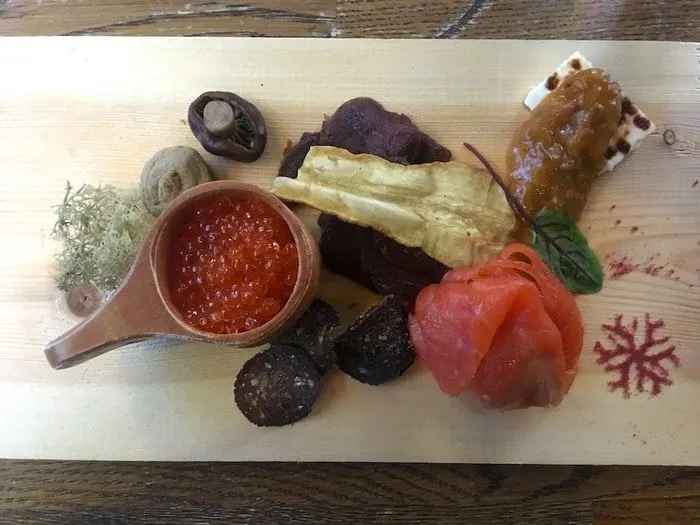 Be sure to order at least one set of lapas (Lapland tapas), a no-risk sampler of local foods including fried lichen (surprisingly good), reindeer carpaccio, smoked salmon and caviar.
You'll find local specialties like reindeer with lingonberries and hearty salmon soup on the menu along with pub mainstays like pasta and hamburgers.
We had great dinners at Arctic Flavors and Roka Wine & Kitchen.
Arctic Flavors was a stylish spot inside the Arctic Light Hotel. It has fun cocktails with local flavors like lingonberries and blueberries and has great reindeer carpaccio and Jerusalem artichoke soup. It's subdued but as a hotel restaurant they probably know how to please kids.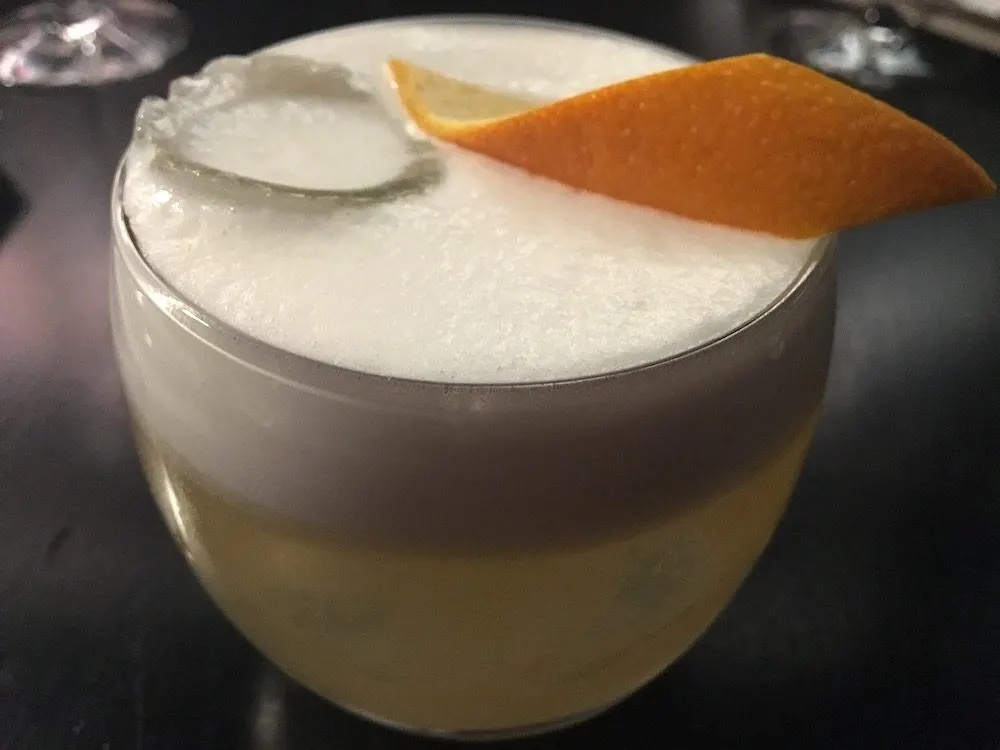 Roka had a cozy country feel and local wine, including berry wines that were drier than you might expect. I really liked the cep mushroom soup, and while the grilled salmon was very good, if I went back I'd opt for the reindeer roast dinner.
They have a prix fixe deal that includes two starters, a pasta or vegetable and a main course. They also have a vegetarian menu thast you can ask for.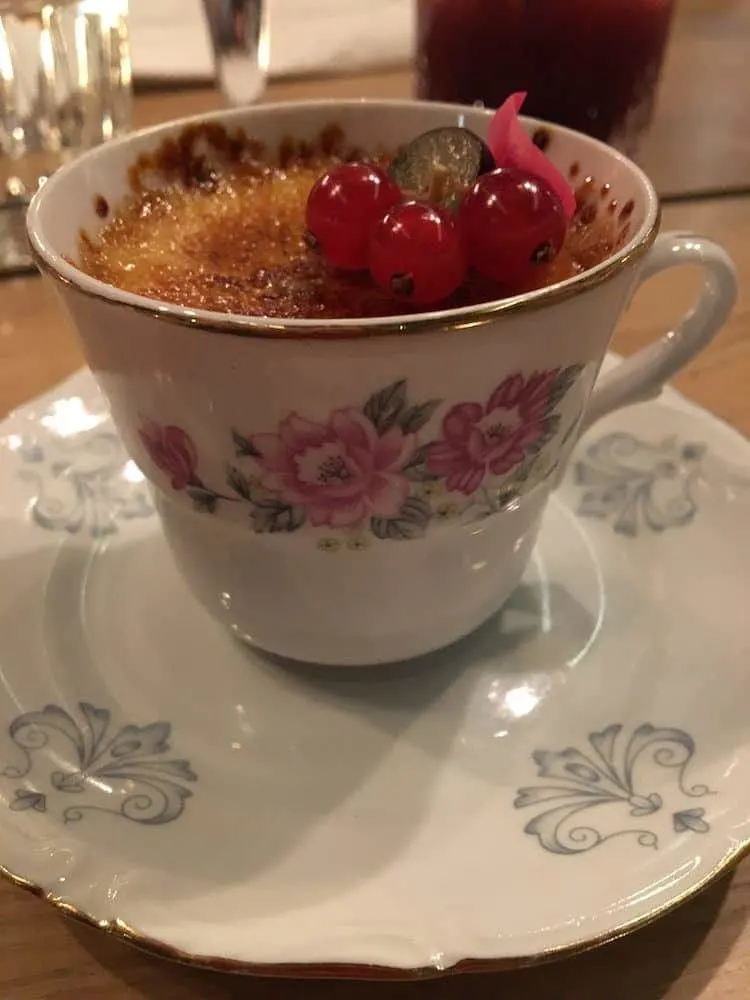 Be sure to save room for rosehip flan. The tart berry sits at the bottom of a pretty teacup, hiding beneath a creamy custard.
Expect main courses to start above €23 in all these places, with burgers and vegetarian options coming in below €20.
Lunchtime Deals
All the attractions and many hotels have cafes with buffet lunches that are a good deal. They each have something a little different from the others that keeps them from getting too repetitive.
In general, expect a salad bar, one or two kinds of meat stew with some kind of potato, bread and cookies or some other small dessert. Vegetarians will mostly have to fall back on potatoes and salad.
The price usually includes water, coffee and tea. Juice, soft drinks and alcohol are extra and they usually have additional sweet treats to buy, too.
The best buffet we had was at the Nova Sklyland Hotel at the Santa Claus Village. It offered shredded potatoes au gratin studded with smoked reindeer, a nice change from the usual mashed potatoes.
The salad bar was good. And my group talked for days about the cranberry sourdough bread that you could eat with your meal or for dessert.
Tip: Finns eat reindeer the way we eat chicken and beef. It's everywhere. If you think your younger kids will find the idea of eating Dasher and Dancer somewhat upsetting be prepared to keep menus away from them.
You can also tell them the reindeer they eat are mean and not the kind that fly Santa's sleigh. (It sounds absurd but this tactic worked for us in France, when someone served Tiny Traveler a plate of rabbit.)
The Basics
How To Get To Lapland
The easiest way to get to Lapland is the fly to Helsinki (stay for a few days; it's a lovely and kid-friendly city) and then fly FinnAir to Rovaniemi. It's a short flight.
Tip: Flighthub is a great resource for finding low airfares.
Helsinki's domestic terminal is small and it can get quite busy. Be sure to use the FinnAir app to check in ahead of time. Machines allow you to self-check your bag (with all those bulky winter clothes you'll probably want to check).
Take advantage of the family lane at security (look for the huge banner; you can't miss it). These lines are always much shorter, the security people are usually friendly and you won't get the evil glares if it takes you an extra minute or two to get organized.
Rovaniemi Weather
This is the Arctic Circle, after all. You'll never find yourself swimming in those lovely lakes (though the Finns do. Brrrrr!). Summer highs can reach the low 70s and winter lows are in the single digits.
In September, expect highs in the 50s and lows in the 30s or 40s. During the day sun was bright and it felt warm. Nights were definitely chilly, especially the one when we stayed out late to catch a glimpse of the aurora.
Year-round, it rains about 8 days out of every month.
Packing
Plan to dress in layers. From September on, fill your suitcase with furry boots, warm hiking boots, mid-length, rain-resistant down coats, performance base layers, fleece tops and wool socks. Don't forget the gloves and hats, gators or scarves.
• Or just print our winter vacation packing list and buyer's guide.
Many hotels have USBs outlets for charing devices, but not all and not many so a travel converter that handles both plugs and USB cords was very handy.
If photographing the Northern Lights is really important to you, bring a camera that can shoot in manual mode and do some research before you go to learn about the best camera settings.
Or you can just enjoy Mother Nature's show and buy postcards.
---
Sidetrip to Ranua
Where is it:
The Ranua area is about an hour south of Rovaniemi. You can make a day trip out of it, but staying overnight gives you a good chance to experience the Lapland countryside.
You can find organized tours for some of these activities, but if you want flexibility it's typically safe ane pretty easy to drive yourself in autumn.
The main attraction:

Ranua Zoo

The main attraction in the area is the Ranua Wildlife Park, which is really just a zoo. But it's a very good zoo.

The best thing about this zoo is that we got to see all those cold-weather animals that are always hiding or sleeping when we visit our local zoo on a warm summer day.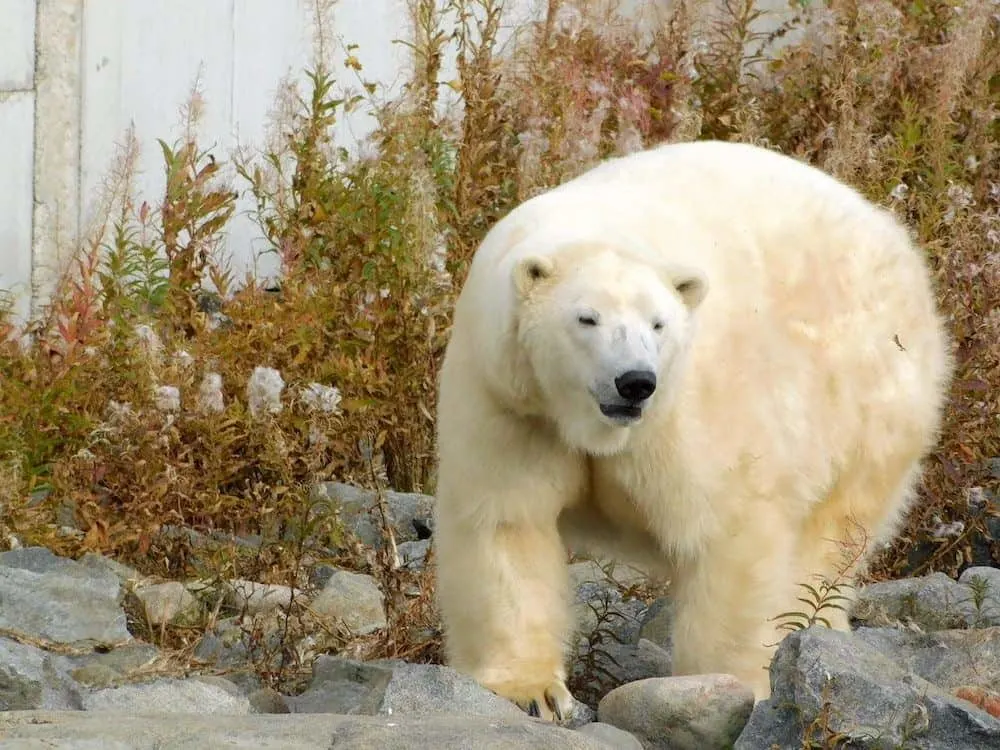 They love Lapland's nippy air. So most of the animals we saw were pretty active. Despite having very large enclosures we saw almost off the the animals well and took great photos.
We saw an enormous polar bear and some unique animals like arctic foxes and wolverines, which I'd never seen before.
Tip: The buffet in the zoo's Wild Arctic café had a few more options than other ones we tried and had fresh sugar-covered doughnuts for dessert.
Other things to do:
Ranua has beautiful countryside for hiking and biking. Even if it doesn't get warm enough to swim you can get out on the water in canoes, kayaks and even SUPs if you're really daring (and have a wet or dry suit).
Visit Ranua offers ideas and resources for activities with a guide or on your own.
There are also two national parks nearby, for more hiking and biking options, as well as some interesting camping.
Ranua Hotels and Other Lodging
The zoo has a holiday village next door and camping in basic huts right inside the park. There are other small ins and vacation cottages nearby.
We took a peek at the Arctic Fox Igloos, which sit on a lakefront about ten minutes from the zoo. They're in the middle of nowhere so there's no white light to inhibit your view of the aurora.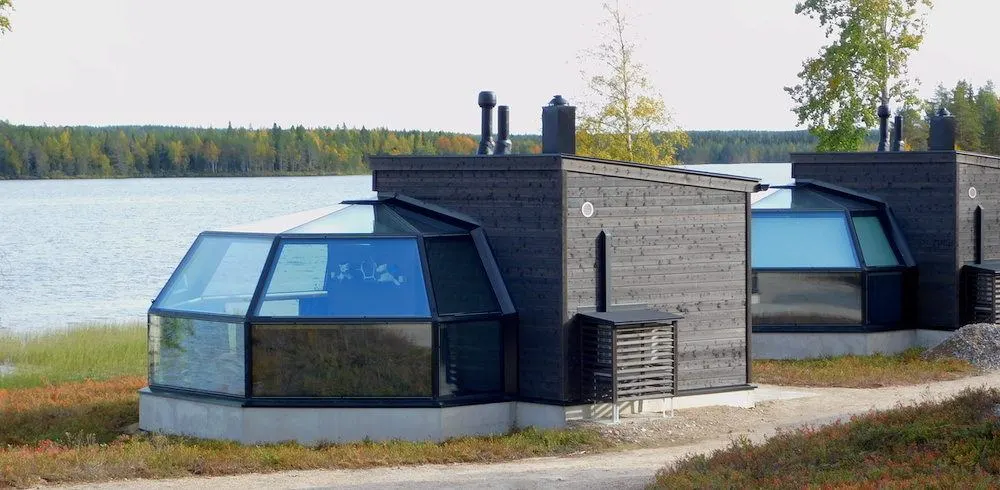 Each igloo has a small second bedroom (without the glass ceiling), a kitchen and a stylish compact bathroom with its own sauna. They can add an extra bed to the bedroom but it will be a squeeze.
Similar to Santa's Igloos, the rates climb above $400 in October and even higher in December.
Tip: In summer you can enjoy this unique lodging, your own sauna and some gorgeous lake views for only $150/night (no aurora though).
Eat like Laplanders
Since my group did Ranua as a day trip we only ate at the zoo café. You can explore the restaurant options in the small towns in the area.
But better still, most accommodations have kitchens. The zoo and national parks have huts with fires and simple cooking tools. Locals cook sausages on long forks, toast bread and make pancakes.
Pick up groceries in Rovaniemi and do some Lapland inspired cooking.
A tip for cellular service
For most of our travel outside the U.S. our cellular service charges us $10/phone/day in roaming fees. This adds up, even when we agree that only one of us can have roaming service at a time. So I was very happy when a fellow traveler writer introduced me to Airalo. It was a where-have-you-been-all-my-life moment.
Airolo is an app that provides virtual SIM cards, so you can access a local cell network without having to replace your actual SIM card and risk losing it. In most international locations now I can all the data I need for about $5/week instead of $70. Big difference!
Will I be using Airalo for all our overseas trips from now on? Yes, I will.
Pin it for Later!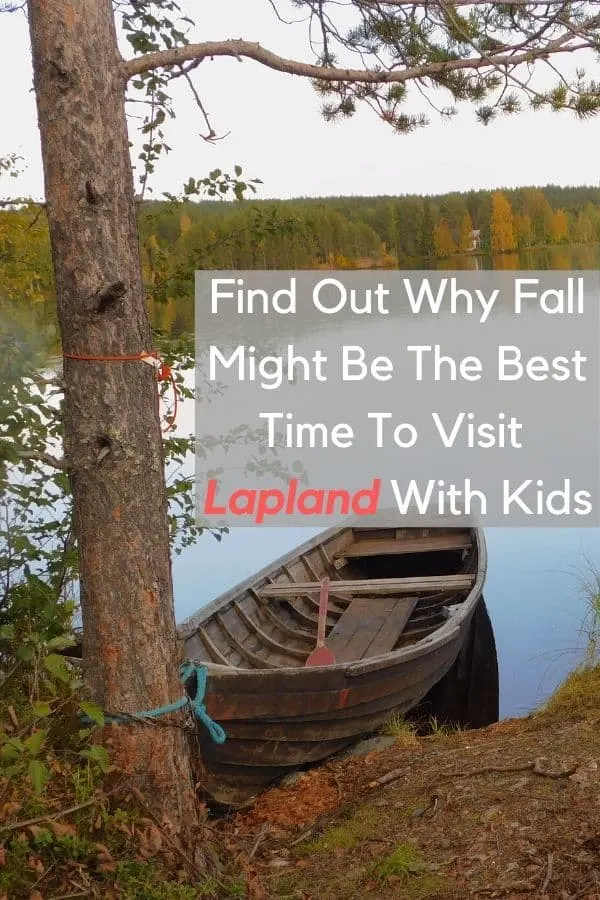 * I was the guest of FinnAir, Visit Finland and Visit Rovaniemi for this visit. I did not promise any particular coverage in exchange for the visit and opinions are always my own.

*All photos are the property of FamiliesGo!© except the Northern Lights by Sturrax from Pixabay.