I had a 36-hour layover in Helsinki on the way to Rovaniemi in Lapland. It wasn't nearly enough time to properly explore this charming walkable port city on the Baltic Sea.
Helsinki is compact, very family friendly and easy to get around. My group managed to squeeze two-or three-days' worth of activities into the 36 hours and still didn't get to see as much as we wanted.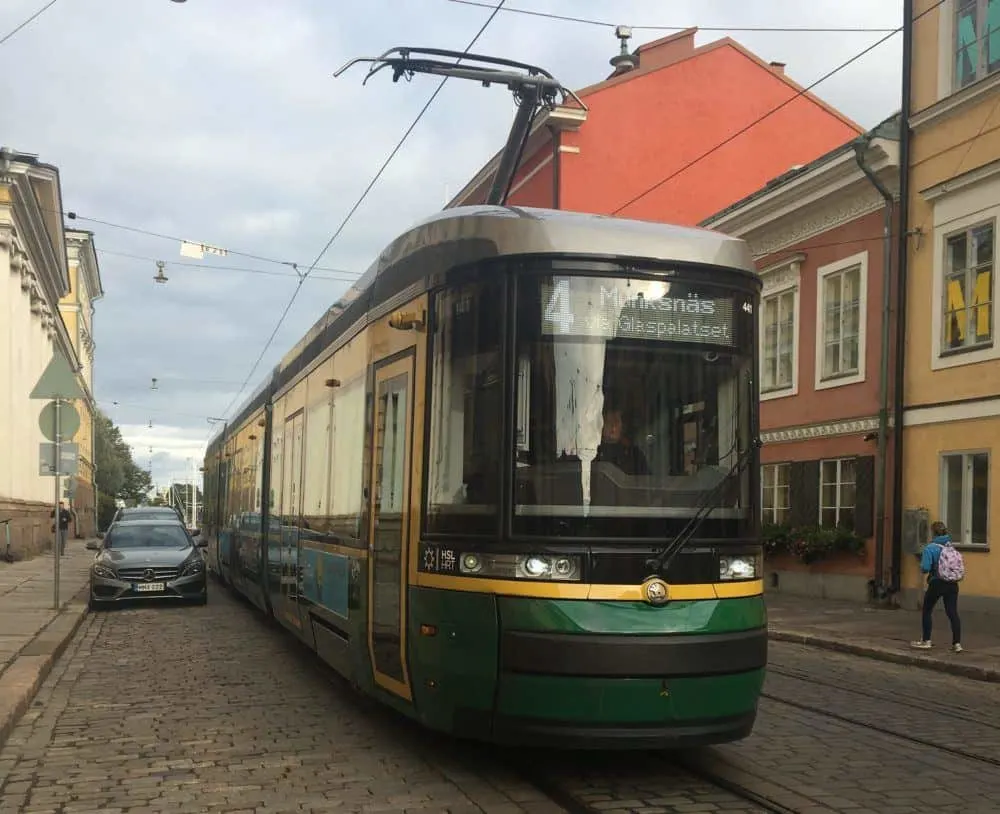 I don't recommend our pace or our short stay.
Slowing down and spending three to five days in this city will give you time to linger in its many cozy cafés, wander through neighborhoods filled with fairy-tale-inspired art nouveau buildings, and revive your tired tourist feet in one of its ubiquitous saunas.
Here is what we did, what to prioritize on a short visit and what to add to a longer stay in Helsinki, Finland.
I also recommend some kid-friendly hotels and some fun places to eat.
More Europe Travel Ideas:
• Take Your Kids to Lapland in the Fall
• The Best Things To In Amsterdam With Kids
Our Guide:
Things To Do Helsinki With Kids
Explore Helsinki's Water Front
The Market Square waterfront area is a good place to start exploring the city. Sightseeing boats leave from here, as do ferries to Suomenlinna and the zoo (more on those down below).
Most days you'll find a tourist-oriented crafts market and outdoor green market in the center of the square. Buy a container of whatever berries are in season; especially if they you see local specialties like lingonberries and cloudberries, or tiny wild blueberries, which are quite different from the farm-grown ones sold in American supermarkets.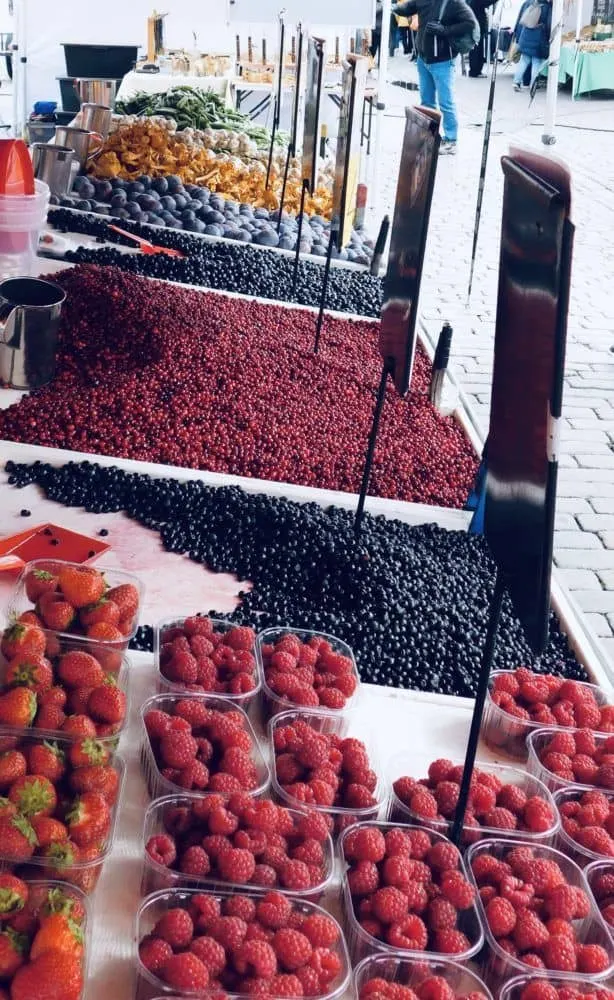 The market is a handy place to shop for hand-knit hats, mittens and scarves, as well as birchwood and reindeer products from Lapland. I bought handmade penguin earrings for Tween Traveler.
Look at a few stalls before you buy anything and be discerning. The quality and authenticity vary a bit.
The birchwood items, particular the small handled cups that all Laplanders own, are attractive and great souvenirs that will come in handy back home.
Some are all wood and some are plastic-coated and you can only tell the difference by feeling them. The wood is more authentic, but the plastic is dishwasher-safe. Your call.
At the fried-fish stalls look for tiny freshwater fish that they flour and fry in batches when the weather turns colder. If you ask, they might let you sample.
Aside from the fresh fried fish, skip the prepared food at the outdoor market and head over to the attractive striped building along the right side of the harbor.
This is the Old Market Hall (Vanha kauppahalli), built in 1889. Inside you'll find food souvenirs including cloudberry jam, reindeer jerky and smoked fish. Cloudberries have a lot of seeds so jam is a good way to enjoy them.
The stands and small restaurants in here are provide good options for breakfast, lunch or an afternoon treat, too.
On the opposite side of the harbor you can't miss the giant Skywheel, which will give you nice views of the city, harbor and nearby islands, and especially of two cathedrals that perch on hills above the city.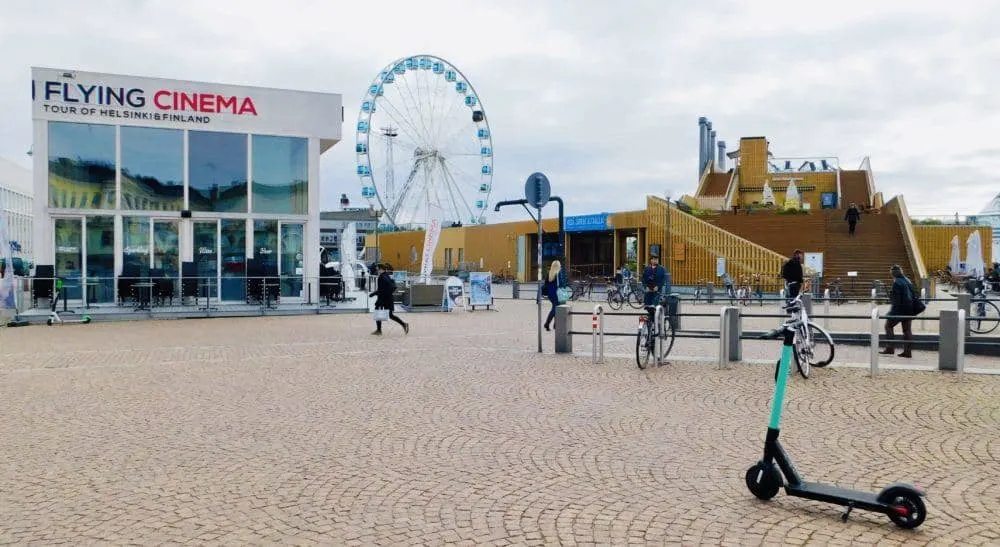 The Flying Cinema next to the Ferris wheel offers a 15-minute aerial "tour" of Helsinki and Finland. I didn't get to try this, but my family did a similar movie experience in Vancouver and it was a lot of fun.
If you've done Soarin' at a Disney park you'll have an idea of what to expect: You're fastened into seats that rise and draw up close to a large, curved screen so that you feel like you're flying over real scenery.
Take A Long Walk
Climb the Cathedral Steps
One block back from the harbor, the Lutheran Helsinki Cathedral towers over the city, visible from everywhere. It's fairly plain inside. But you'll want to climb the steps for the great city views you have from the top.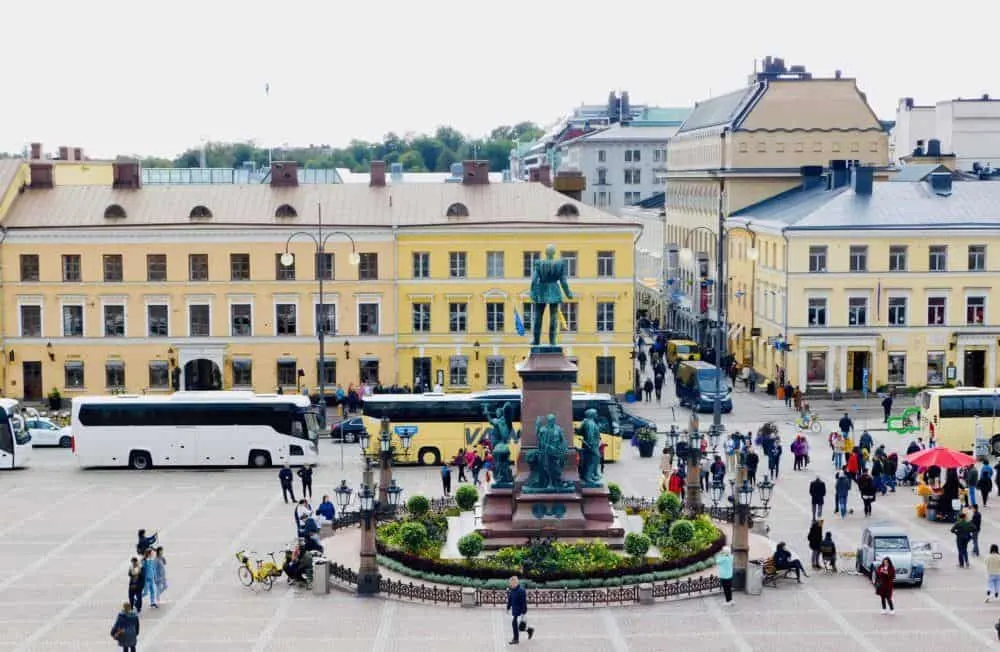 Go to the Library
From the cathedral you can walk or take a tram to one of the city's latest architectural sensations, the giant Oodi Central Library. It's one of a few large modern buildings on a cultural campus next to the train station.
From the outside it's a huge glass and metal building with clean, swooping lines that you don't need to be an architecture buff to appreciate.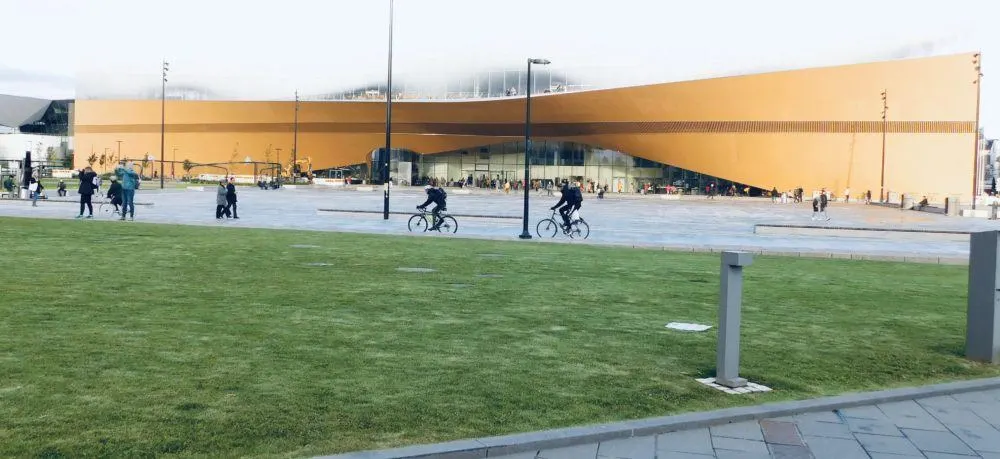 Inside, those big windows provide lots of light and potted trees give it a peaceful feel. The second floor has tiered, carpeted seating where tweens and teens congregate after school to talk, do homework and take advantage of the free, fast wi-fi.
The third floor has a large carpeted play area and dozens of picture books for the baby and preschool set. There is a nice first-floor café and smaller coffee bar upstairs.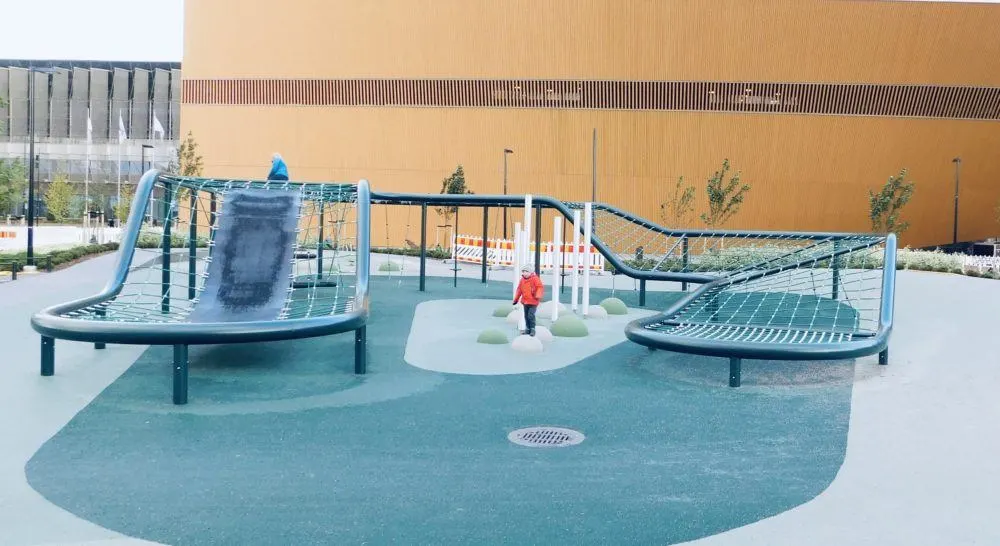 Skateboarders like the open pavement just out front and the bike path that cuts across the campus is busy. There's an adventure "playground" where I saw little kids amusing themselves, but it's really built for tweens and teens to clamber around on. Tween Traveler would have been all over it.
This cultural campus also includes the glassed-in Kiasma contemporary art museum, the Helsinki Music Center, the pale pink Hakasalmi Villa (a city history museum) and, a bit further on, the Kansallis Museo, the National Museum of Finland.
Check their websites to see what these places have going on and what's kid-friendly and accessible in English.
Go Shopping
On your way between Market Square and the library, stop in to Stockmann's, one of the oldest and biggest department stores in the Nordic countries. The original art-nouveau store was built in 1930 has since expanded to include most of the block it sits on.
Inside, stop by the visitor's center for a 10%-off voucher for tourists, then explore. You'll see familiar high-end brands and prices will probably be high relative to the U.S.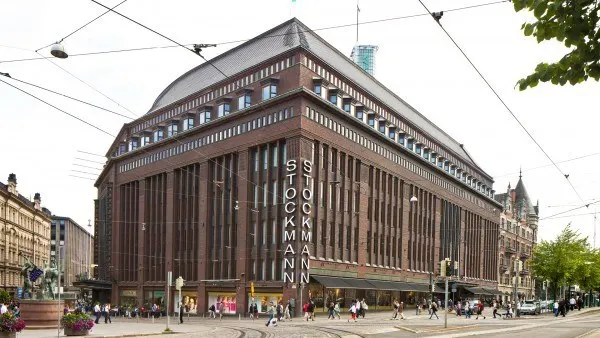 Still, make a point of checking out the kids' department. European kids' clothes are usually cut better and hold up longer than their American counterparts, especially girls' clothes. And if your child is either very tall or very slim you might find they fit better, too.
Also, stop in the grocery department downstairs. The gourmet shop is famous for its quality and there might be some good sampling to be had.
Go Island Hopping
Suomenlinna
When Helsinkians need a break from city life they catch a ferry to one of the many islands that surround them. One of the most accessible and charming is Suomenlinna.
Some 800 people live on this island that lies 10 minutes from Market Square. It's housed a fortress and various communities since the 18th century and has some charming houses and historic military buildings.
If you don't mind paths that can be a little uneven here and there, it's a great place explore by bike (rent on the mainland). The Visitor's Center, in the middle of the island, offers walking tours (which I recommend), and nighttime cave tours in the summer, which seem a likely hit with older kids, tweens and teens.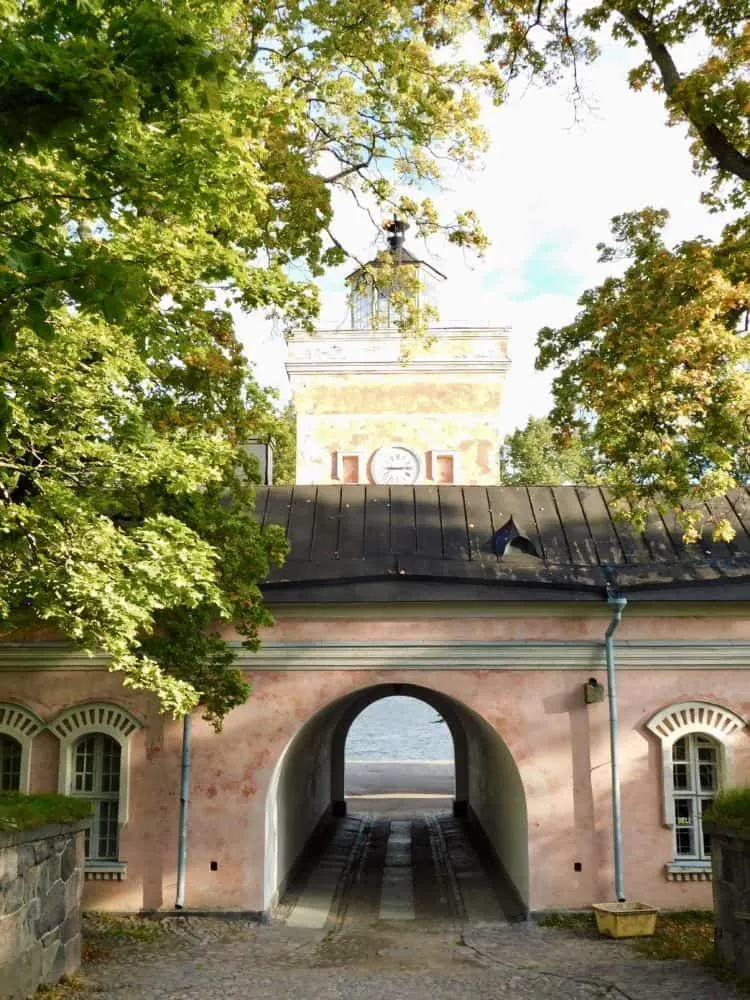 There's a small supermarket next to the ferry landing where local visitors will stock up for an island picnic. I urge you to do the same weather permitting, but don't buy dessert!
After you've explored the fortress and had your picnic find your way to the small Toy Museum, hidden away on the far side of the island. It's collection of toys is extensive and ranges from popular and charming to obscure and amusing.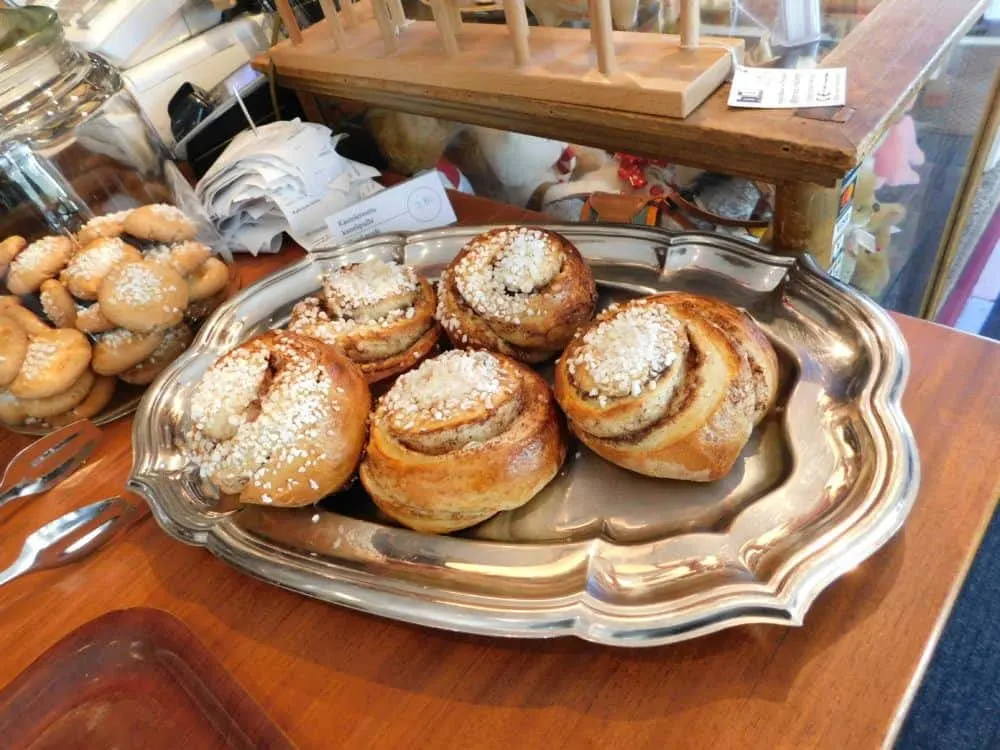 But for me the real draw here is the café, a cozy parlor space with couches, tables and lamps. Order the fresh cinnamon rolls or any of the other baked goods the owner makes each morning, along with hot cocoa or coffee and settle in to an afternoon tea that both you and your kids will love.
Tip: Many of the island's offerings, including its museums, are seasonal. If you're visiting between late fall and early spring, check the website to see what's open.
Seurasaari
A tour guide we spent time with highly recommended a visit to Seurasaari Island, which is clear across Helsinki from Market Square and accessible by bus from the Central Station.
The island is most known for its Open Air Museum, which has a collection of traditional wooden houses and buildings from across Finland. It's the kind of interactive museum where kids can roam and explore pretty freely.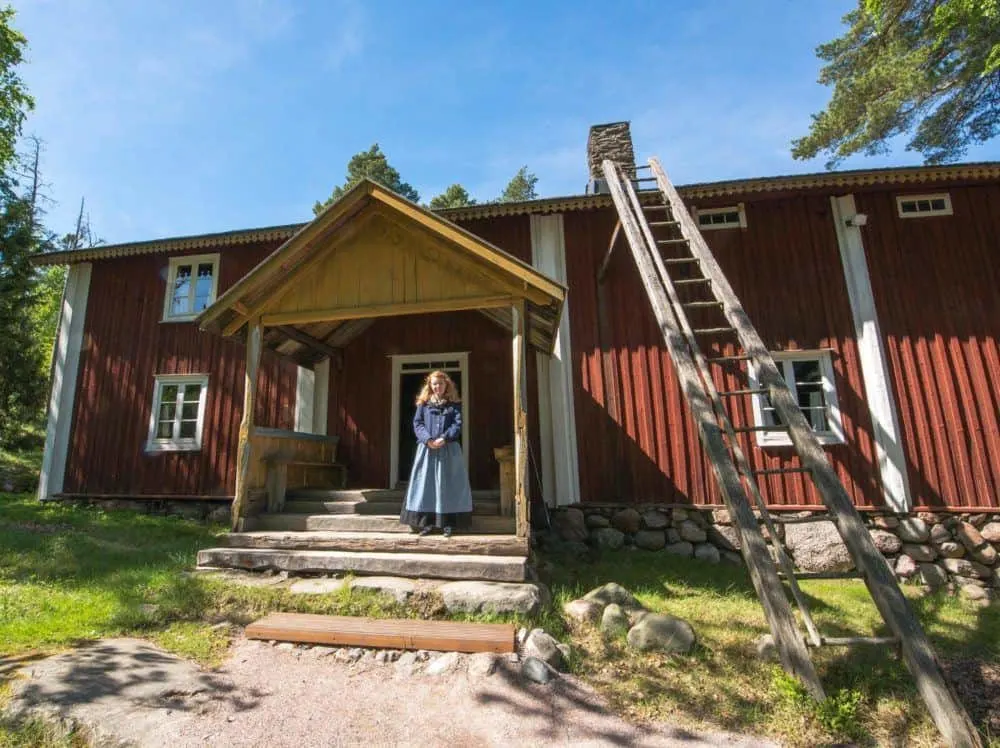 Guides in period clothes offer tours in English during the summer. Head to the just-renovated museum café for a light lunch or look for food kiosks around the island for snacks and drinks.
The island also has a fair amount of wilderness to wander it that's home to hares and a large number of European red squirrels. If you pack a picnic you'll find plenty of lovely spots for it.
Seurasaari has a popular beach that's co-ed two days a week. At other times men and women each have their own section and bathing suits are optional.
Discreet nudity is part and parcel of Finnish culture, which brings me too…
Public Pools & Saunas
Sauna-going is an adult experience in the U.S. but in Finland it's both a communal and family activity. Most families have a sauna in their homes. And most hotels will one, too, even if they don't have a pool. If you're lucky, you might even find a sauna in your room!
MyHelsinki has a list of public saunas. Expect a visit to costs about as much as a night at the movies.
Rules vary a lot from one sauna to the next. Some require bathing suits and others don't allow them at all. Generally, when the sauna is nude or clothing optional, it has either separate areas for each gender or specified hours for each.
Some also have specific co-ed hours, which will be the most family friendly. They'll have all their practices, hours and prices on their websites.
Tip: The saunas are generally places for relaxation, not partying. Bring a towel to wrap around you and another for showering after. Be discreet. And leave your cell phone in the changing room; this is not the time for selfies!
The Allas pool complex, next to the Skywheel on Market Square, is your best bet for a kid-friendly experience.

It has two heated outdoor pools —one with lanes for lap-swimming and one for families— plus an unheated sea-water pool that you can probably leave to the hearty locals. It also has three saunas, fitness classes and places to lounge.
For a different kind of experience, you can visit Yrjönkatu, a 1928 "swimming hall" with beautiful art deco details. It's a few blocks back from the water and has swim-suit optional hours that differ for men and women.
I'm surprised they don't have any co-ed hours for families to swim together. But at the very least, all kids under 7 can swim at either session. The second floor has changing cabins, two saunas and a steam room.
If You Have More Time
Linnanmaki Amusement Park
If your family are fans of old style amusement parks, spend an evening at Linnanmaki. It was built in the 1950s to provide a treat to the generation of kids who had missed out on a lot of childhood fun because of World War II.
There's a wooden coaster, but overall the park doesn't have that old, creaky feel that small amusement parks sometimes do. It's modern and was busy on the fall weeknight when we were there.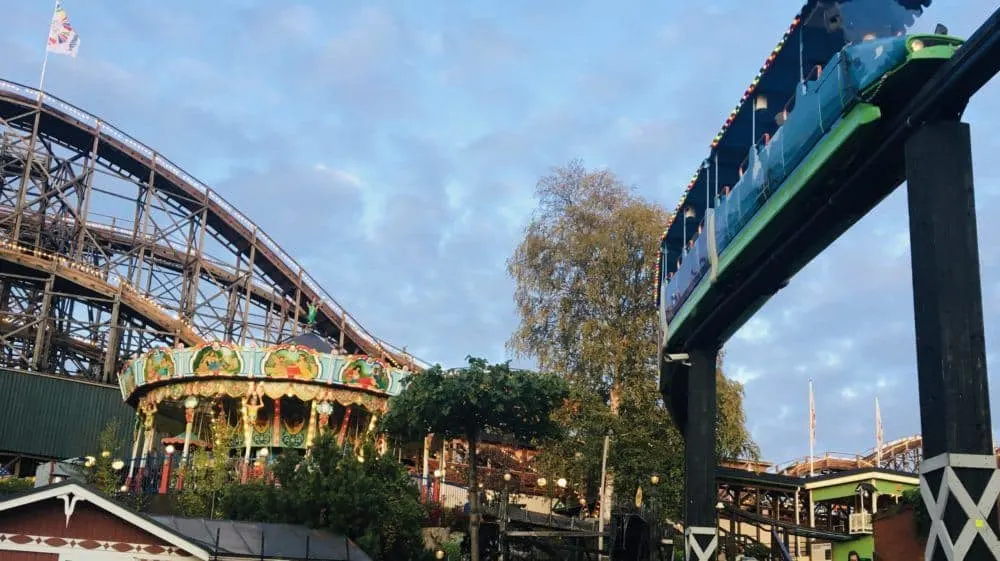 Little kids will like the antique carousel, play areas, horses on a track, and a chance to make your own cotton candy. Teens will like the modern roller coaster, flume and other thrill rides. The whole family can chase each other around the bumper cars and watch the 4D movies.
Look for seasonal activities like a Carnival of light October and a Scarefest in September.
Admission to the park is free, and there are nine little-kid rides that you don't need to buy a ticket for.
If you want to do more you can buy a one-price bracelet either for the whole day, or for the last three hours before closing. The night ticket is probably the best way to experience Linnanmaki with tweens and teens. It's plenty of time and will fit around your other sightseeing.
Have a chocolate day
Fazer is Finland's national chocolate maker and you'll encounter it everywhere. Small chocolate nuggets wrapped in blue foil often accompany a cup of coffee and supermarkets have many shelves devoted to Fazer chocolate bars.
To learn more about this local treat, head to the Fazer Experience Visitors Center, 17 Kilometers from Market Square for an hour-long tours in English.
You'll visit a greenhouse that grows the fruits and herbs that find their way into the chocolate, learn how their chocolate is made and, of course, try some samples.
It seems like Fazer puts a slightly different twist on its "factory" tour. It's probably a kid-friendly and different way to get insight into modern Finnish culture. It's a good indoor activity that will please adults and kids of different ages.
If you have time to leave Helsinki for a night or two, Finland as lovely national parks and other opportunities to explore nature.
Take a Walking Tour
Helsinki is known for its wide range noteworthy architecture.
Look for hyper modern structures like the Oodi Library, the Seussian windows of the underground Amos Rex Museum (also popular with skateboarders) and the Church of Silence, which resembles the prow of a ship.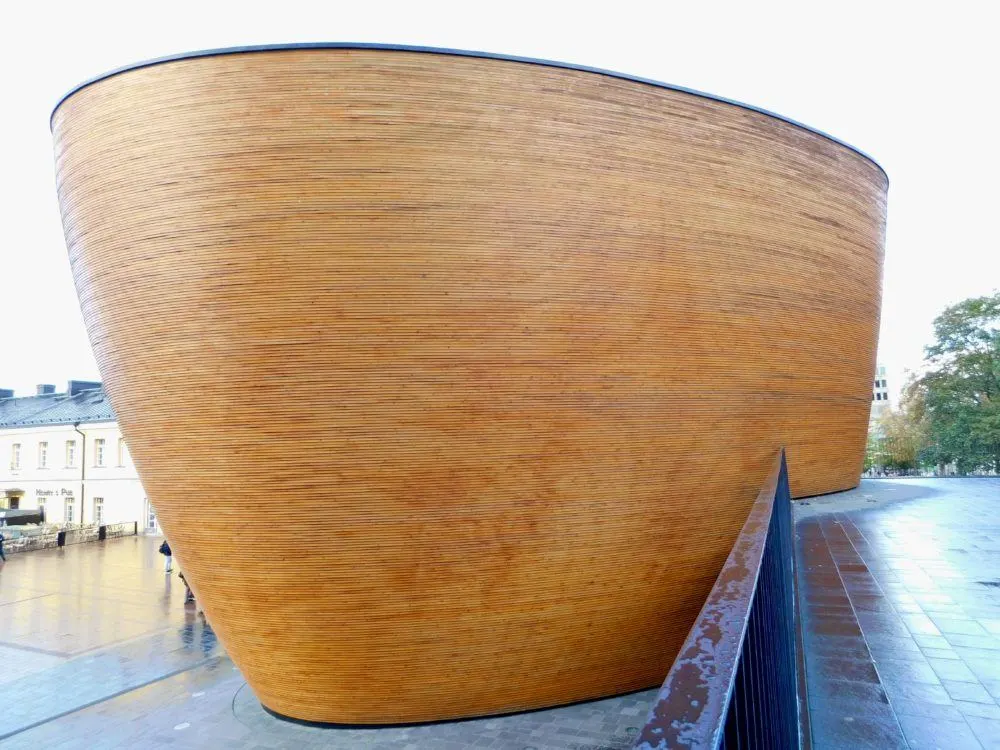 You can hark back to art-deco masterpieces like the Central Station and the National Museum, or explore the fairy-tale inspired buildings in neighborhoods like Katajanokka, which is a stone's throw from Market Square. Frescoes just inside the museum depict the Finnish stories that inspired these colorful apartment buildings.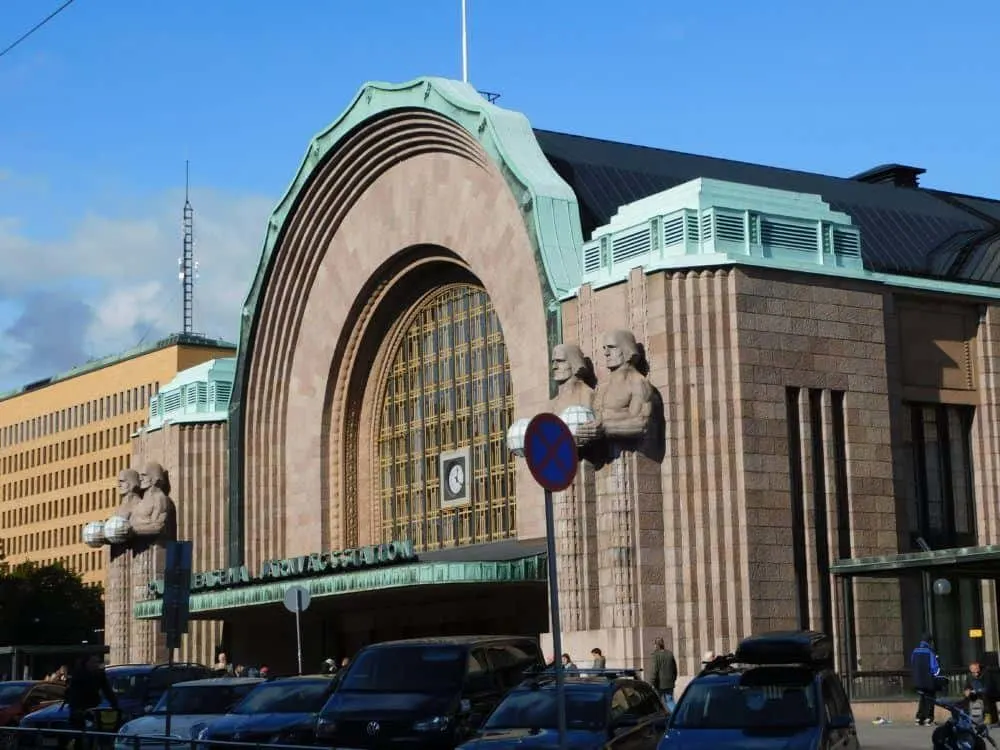 The Church of the Rock, a round, modern church built into a large boulder, is simply unusual. It's about a ten-minute walk from the Central Station. After you've admired the church, it's okay to let your kids climb up the boulder behind it.
If you have time I recommend an architecture-focused walking tour that takes you past these and other noteworthy buildings. It's the kind of tour that's best done with very little ones in carriers or strollers, or with tweens and teens.
If you can't manage a tour, at least keep your eye out for some of these stand-out buildings while you're exploring. You'll find apps to help guide you in both the Apple and Google stores.
Helsinki With Very Small Kids
Take a Ferry to the Zoo
Helsinki families love the Korkesaari Zoo. It's a small local zoo that I recommend if you're traveling with kids 6YO or younger and just need something easy that you know they'll like.
Korkesaari's best attribute is that it's on an island. From May to September, Ferries run to the zoo from Market Square and on a nice day it's a really lovely ride through the harbor.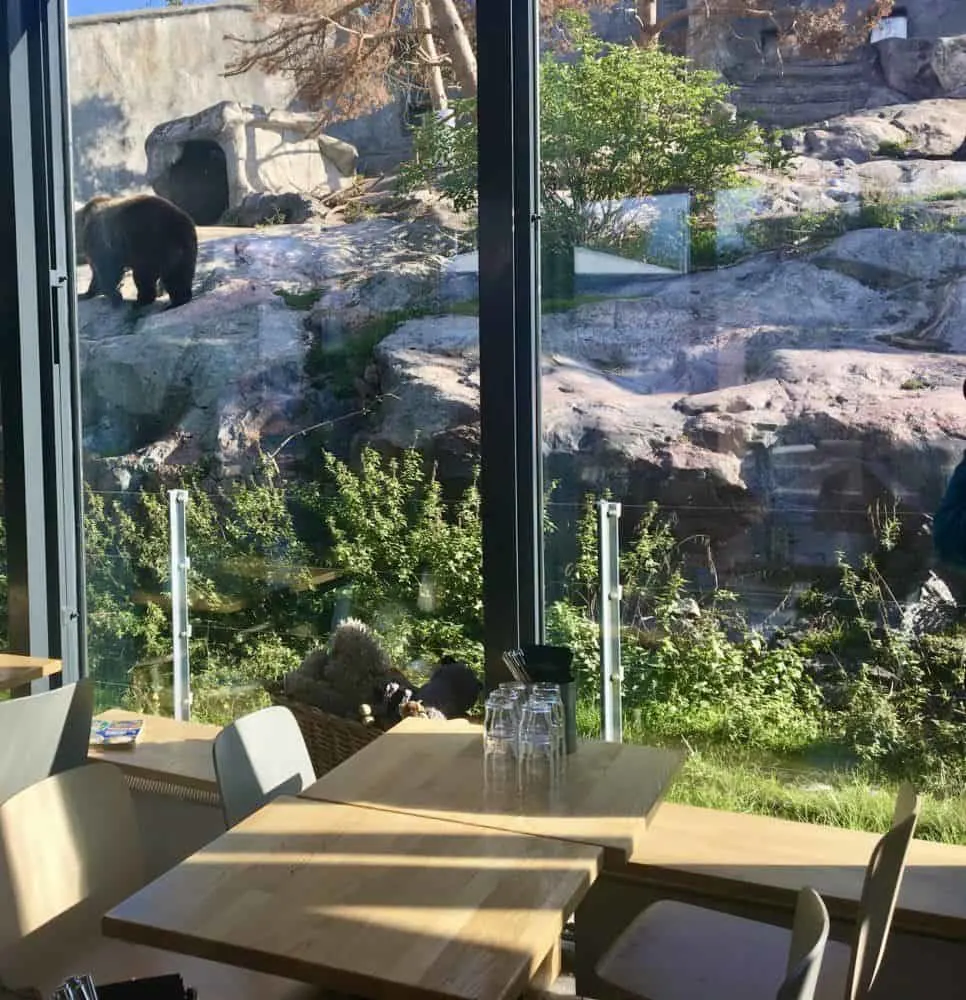 It's other fun feature is Restaurant Karhu, which has large picture windows overlooking the brown bears' habitat. You're almost certain to see a bear amble by while you're dining on local soups, really good French fries and ice cream. And boy, do kids get excited when they spot the bears.
There is a nice playground and sand-play area just outside the restaurant where kids can play while you linger over coffee.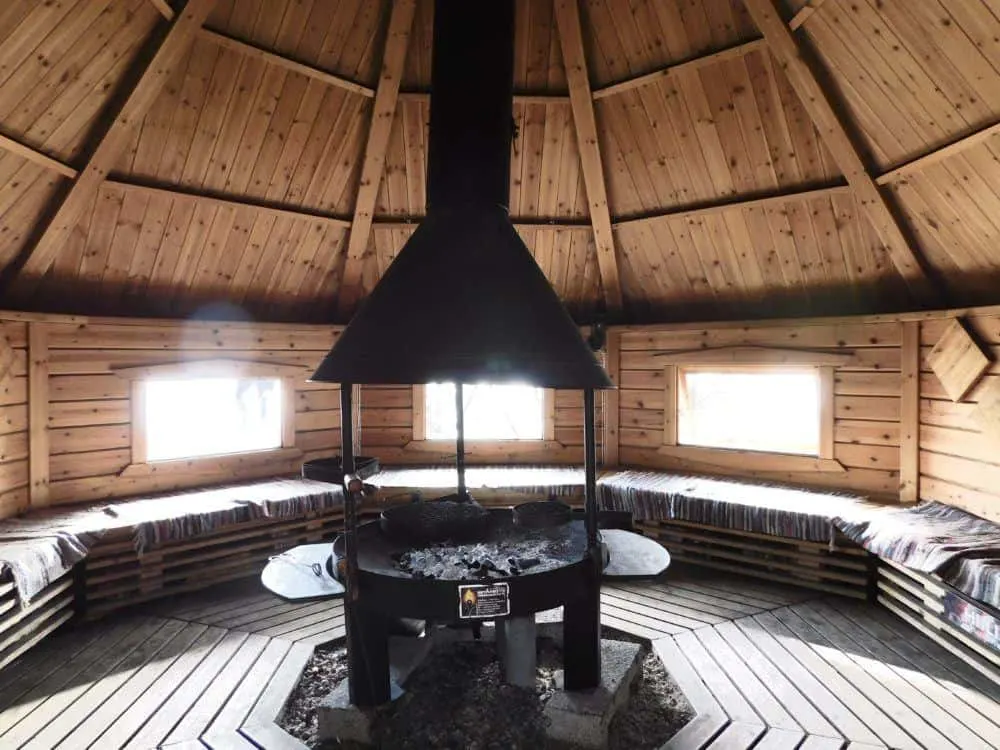 Like many Finland parks, Korkesaari has a round wooden hut with a fire in the center and benches around it. You can pick up picnic fare — sausages, rolls, ready-to-pour pancake mix and do some easy cooking over the fire with the pans and long forks the zoo provides.
It's a very Finnish thing to do and little kids will feel like they're having an adventure. Be sure to thoroughly clean-up when you're done, which is also a very Finnish thing to do.
Korkesaari Zoo is open year-round. All of its outdoor animals thrive on Finland's cold climate, so there's no need to bring them inside and out of sight for the winter. If you won't be getting up to Lapland, it's your opportunity to see reindeer and other Arctic animals.
Tip: You can use your Helsinki metro card to take the bus to or from the zoo, but the ferry is a separate ticket. You can arrive by one means and return by the other if you want to.
A Rainy Day Museum
The City Museum is one block back from Market Square, catty corner from the Cathedral. Admission is free and it has Children's Town, a multi-floor kids museum within the museum.
The play areas include a room with a nautical theme, a farm, an 1800s school room and 1970s living room and kitchen. There's a large closet full of dress-up clothes, too.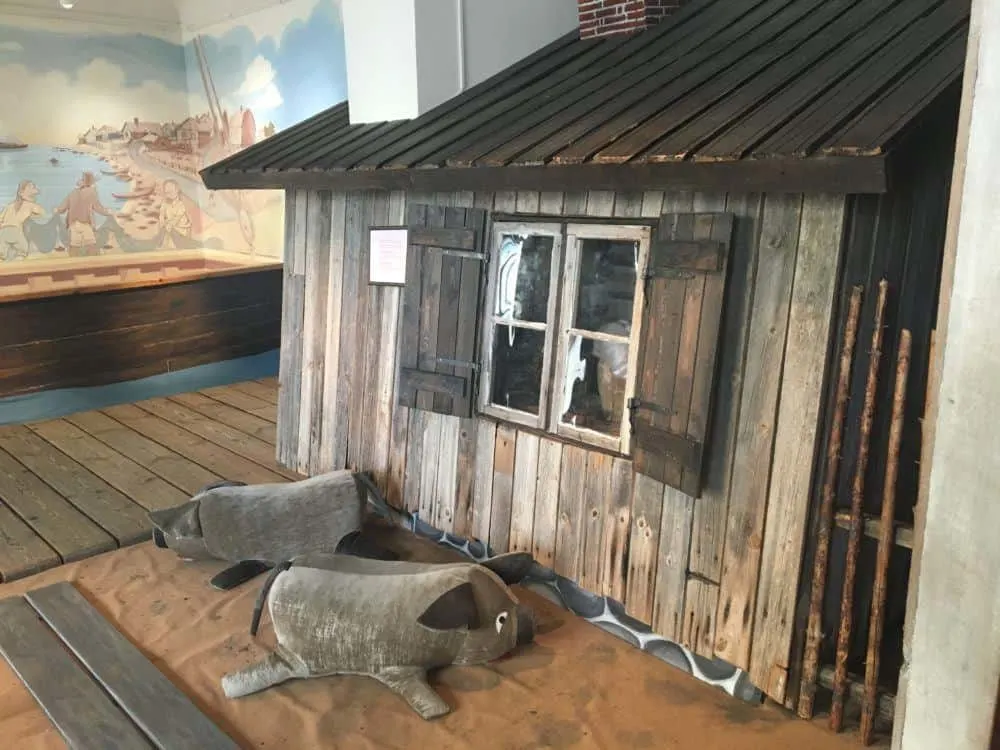 Your preschoolers will love it, as will school-age kids who still like pretend play. But there's nothing particularly Finnish about it. I would keep it in reserve it for a day when the weather is too poor to do anything else.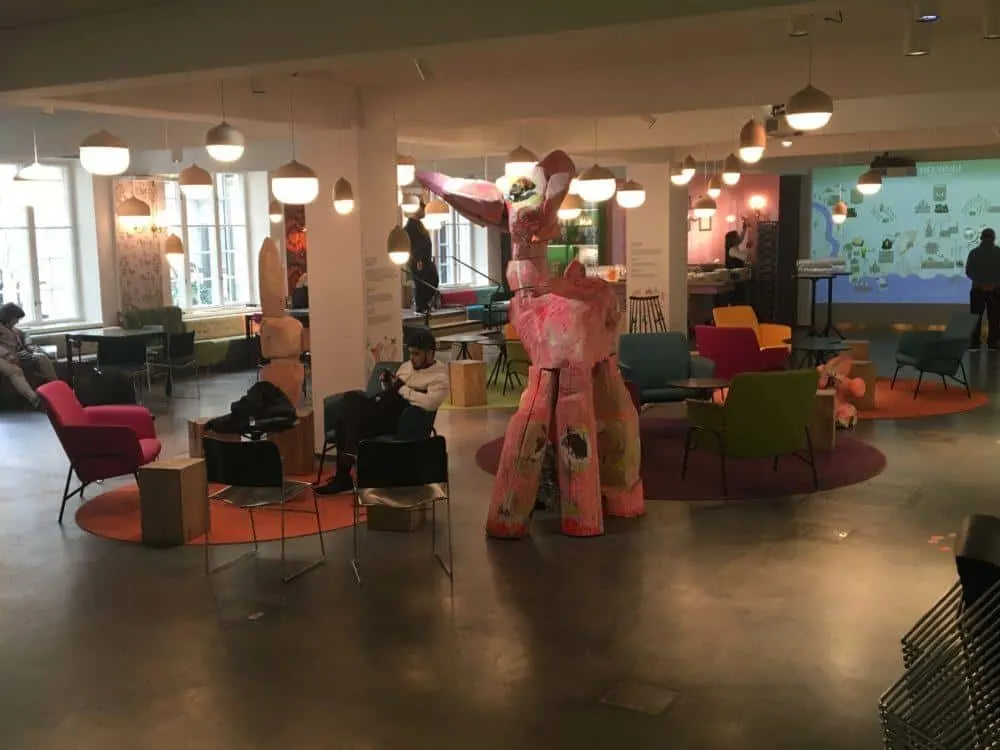 Tip: Behind the information desk on the first floor is a big lounge with eclectic furniture, colorful pieces of art and a small coffee bar. This is the place to stop if you need to come inside to sit down, warm up, check you guidebook, or make use of free wi-fi and clean bathrooms.
Helsinki Restaurants
I wasn't in Helsinki long enough to get a comprehensive view of the dining scene, but I had a few good meals and can recommend places to look out for.
Hands down, the most kid-friendly café near Market square is Moomin Café, which is themed after Finland's beloved cartoon characters, has a play area inside, and connects to a Lego store.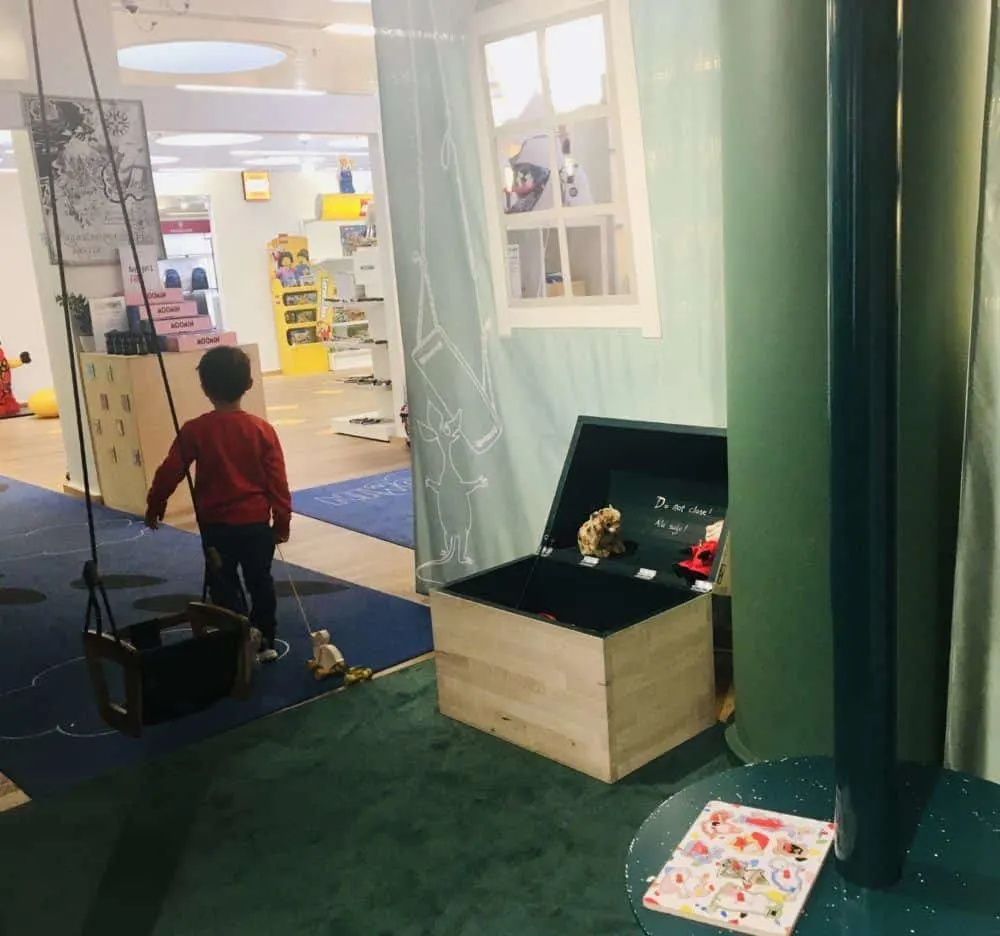 Inside you'll find typical Finnish baked goods like cardamom and cinnamon roles, cookies, savory croissants, sandwiches and egg dishes.
Coffee and hot cocoa are served in Moomin mugs (which are also for sale) with Moomin outlined in cinnamon on top.
Salutorget, also just off Market Square, serves upscale, nicely plated Finnish food in a beautiful space that used to be a bank.
The dinner entrees and desserts are good and they will do half portions for half price for kids. Whether you'll find something your kids will eat on the smallish menu depends on how adventurous they are (the meatballs with lingonberry sauce are good bet).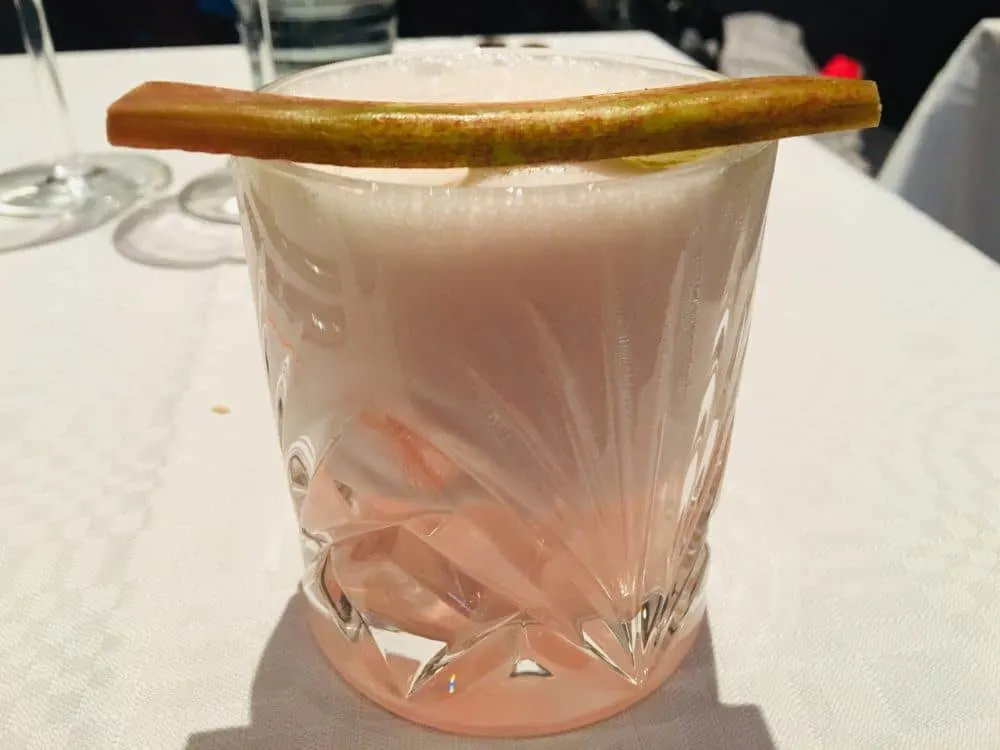 The restaurant also does an afternoon tea with small sandwiches, savory tarts, scones, cookies and cake. This is probably the most kid-friendly way to have a meal in this beautiful space and its very reasonably priced.
For lunch one day, we had salmon and potato chowder, a popular Finnish dish, at Story in the Old Market. The bowls were large with big chunks of fish and potato and a healthy dash of dill.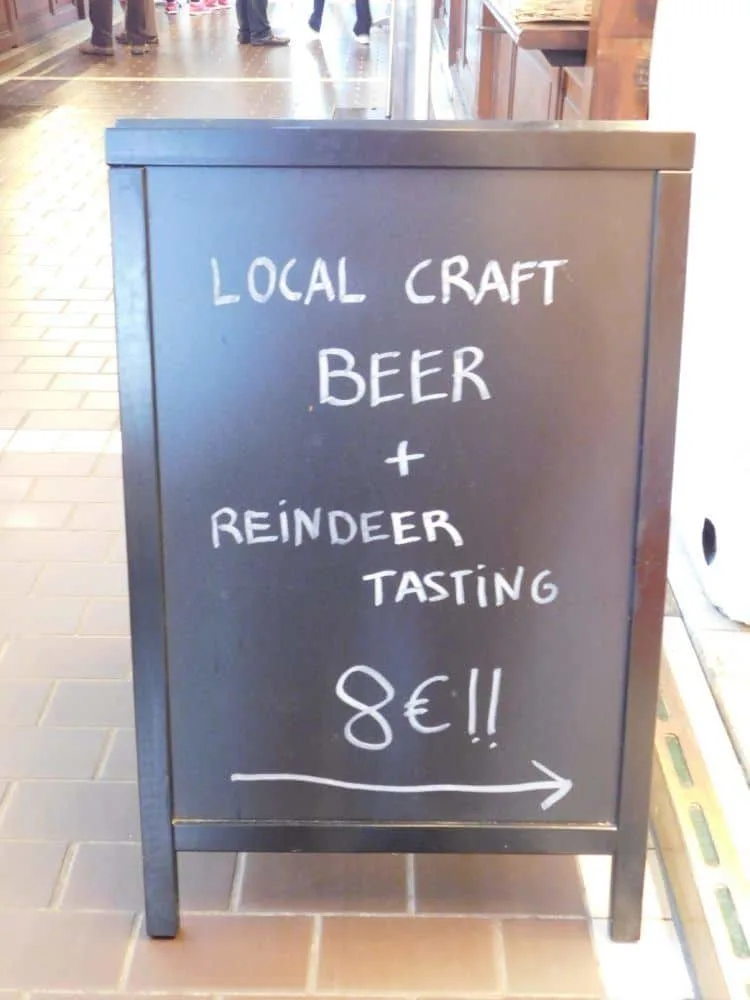 Options in the market abound though. Walking around I spotted a soup stall that seemed popular and places to buy prepared seafood and sandwiches.
I regretted having to walk past a sign that offered a reindeer and local beer tasting. After lunch, look for fresh doughnuts and puffy, pastel-colored merengues for dessert.
There's a large outdoor food market in Plaza Narinkka near the church of silence and the Amos Rex. You'll find everything from Bavarian sausage and pretzels to Spanish paella to burgers made from crickets (they offer samples if you're curious).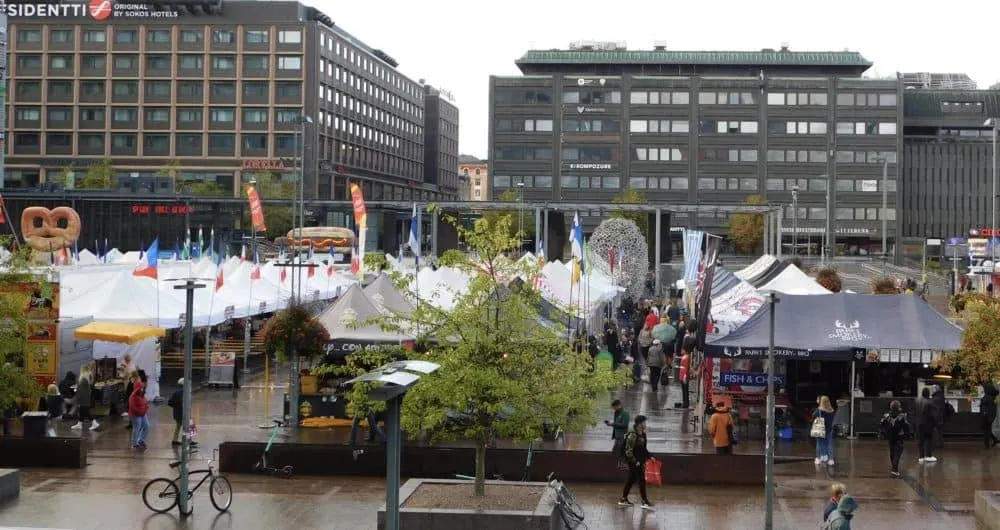 We needed a quick, cheap dinner one night and were happy to find Fafa, catty corner from train station. This quick service restaurant serves falafel, kebabs and merguez sausage in sandwiches and on salads. The fried cauliflower appetizer is a good way to get your kids to eat some veggies. They also serve beer and hard cider. Expect to pay €8-€16 per person.
If you've need something familiar and easy, Woolshed is an Australian gastropub, also near the train station. Burgers, fries and fish 'n' chips will please the kids while you can tuck into craft beers, salads and steak or fish entrees.
Helsinki Hotels
In general, it's easy to find family friendly hotels in Europe. Breakfast buffets are standard and usually good. Bypass any hotel that doesn't include one in the room rate.
The Historic Hotel Katajanokka
We stayed in the Hotel Katajanokka, which served for many years as the local prison.
Its past is evident in the central staircases that lead to the upstairs rooms, the heavy doors on each room, and the cell-like shape of the bathrooms. (I stayed in a former insane asylum this year, too.).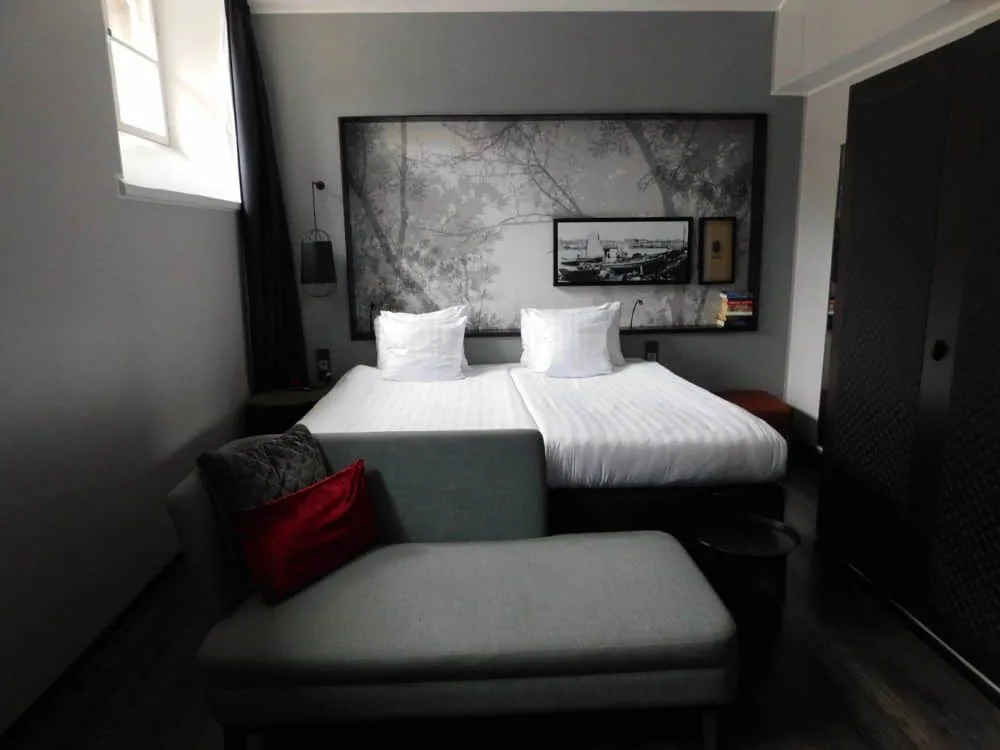 The rooms are stylish and comfortable, the location is ideal and the breakfast buffet is really good, with fresh fruit smoothies and a wide selection of sweet and savory items.
The complementary toiletries included bath salts— which I absolutely made use of after walking myself off my feet seeing the city—an unusual and nice touch.
My double room would have been ok with a very small child. They do have bigger rooms for families. I would absolutely stay here with teens, who might like the hotel's dark past. Younger kids might be a little unsettled. Whether you show your kids the prison cells still left in the basement is up to you.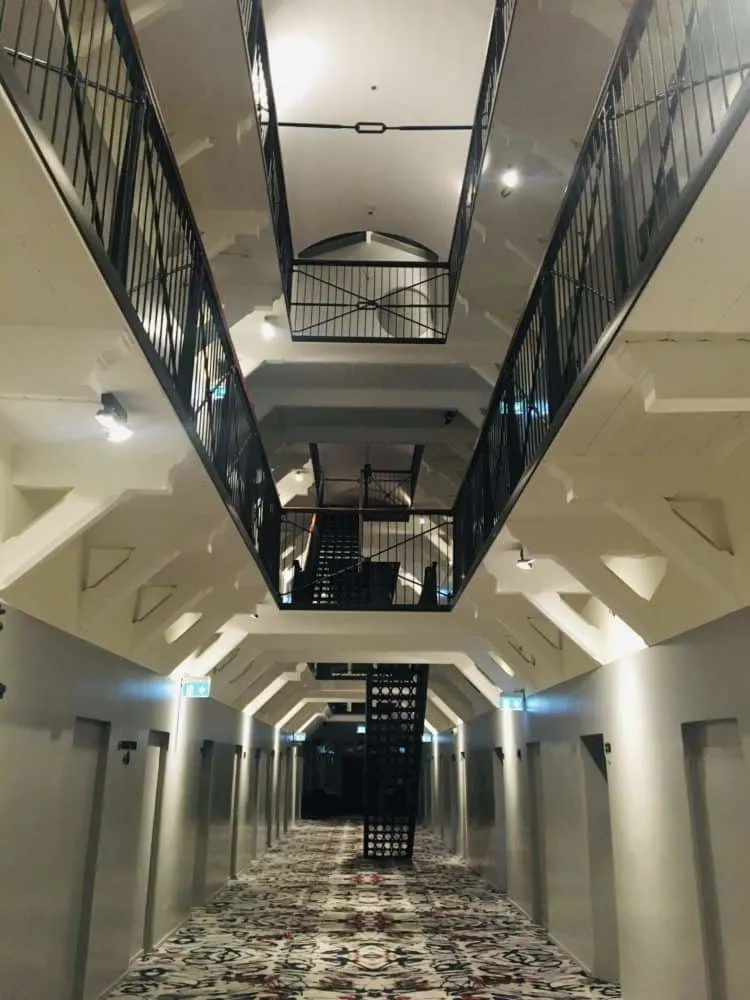 You can reserve the hotel sauna by the hour and enjoy the outdoor patio if you catch a warm day.
The Family Friendly Scandic Grand Marina
The Scandic Grand Marina, in the same neighborhood, is and my choice with very small kids because of its indoor play area and kids activities on school holidays.
The family rooms have sofabeds and the hotel has both a breakfast buffet and a sauna. It shares a former warehouse building with several other restarants and shops, which is handy after a long day of sightseeing.
If you want a hotel with a pool, try the Hotel St. George, Hilton Helsinki Strand and Sokos Hotel Presidentti. They're all fairly central, but prices are higher than the two boutique hotels in Katajanokka.
Basic Information For Traveling to Helsinki
Planning A Trip?
Find reviews and the best prices for Helsinki hotels on Trip Advisor.
Book one of VRBO's most popular vacation rentals right in the city center.
Find the best flights to Helsinki with Flighthub
Language
Finns speak Suomi and most signs are also in Swedish. Menus, public signs and museum labels are not always translated into English, but everyone speaks very good English so don't hesitate to ask questions.
Saving Money
The Helsinki Card gets you into 25 museums and attractions, including several listed in this post. It includes the Hop-On-Hop-Off sightseeing bus and unlimited travel on the city's buses, trams and trains and the Suomelinna ferry.
Upgrading the card will get you to and from the airport. You can buy a card for one, two or three days. Prices start at €38 for adults and €19 for kids, a good deal when you consider admission alone to some of these attractions is €15-€30.
Tip: Children in strollers ride public transportation for free and so does the adult riding with them. Keep this in mind when you're decided what type of card to buy.
The Museum Card, which gives you entry to 300 museums around Finland including 40 in Helsinki, is a good resource for longer stays.
A tip for cellular service
For most of our travel outside the U.S. our cellular service charges us $10/phone/day in roaming fees. This adds up quickly. So I was very happy when a fellow traveler writer introduced me to Airalo. It was a where-have-you-been-all-my-life moment.
Airolo is an app that provides virtual SIM cards, so you can access a local cell network without having to replace your actual SIM card and risk losing it. In most international locations now I can all the data I need for about $5/phone/week instead of $70. Big difference!
Will I be using Airalo for all our overseas trips from now on? Yes, I will.
Flights to Finland
Helsinki is a seven-hour flight from New York City and there's a seven-hour time difference.
Finnair flies from NYC, Chicago, San Francisco, Miami and Los Angeles. It's part of the OneWorld Alliance and uses its partners' first-class lounges outside of Finlan
I was lucky enough to fly First Class on the way over, which gave me access to JFK's American Airlines lounge in NYC. I got to wait for my flight with my feet up and a glass of champagne to drink.
The lounge doesn't have a particularly good play area, but kids will enjoy the free snacks and soft drinks and big windows for watching the planes come and go.
Given the length of the flight and the time difference I was grateful for the flat-bed seats in First Class that actually allowed me to sleep for a few hours. The seat was wide enough that a toddler or preschooler could easily curl up with you.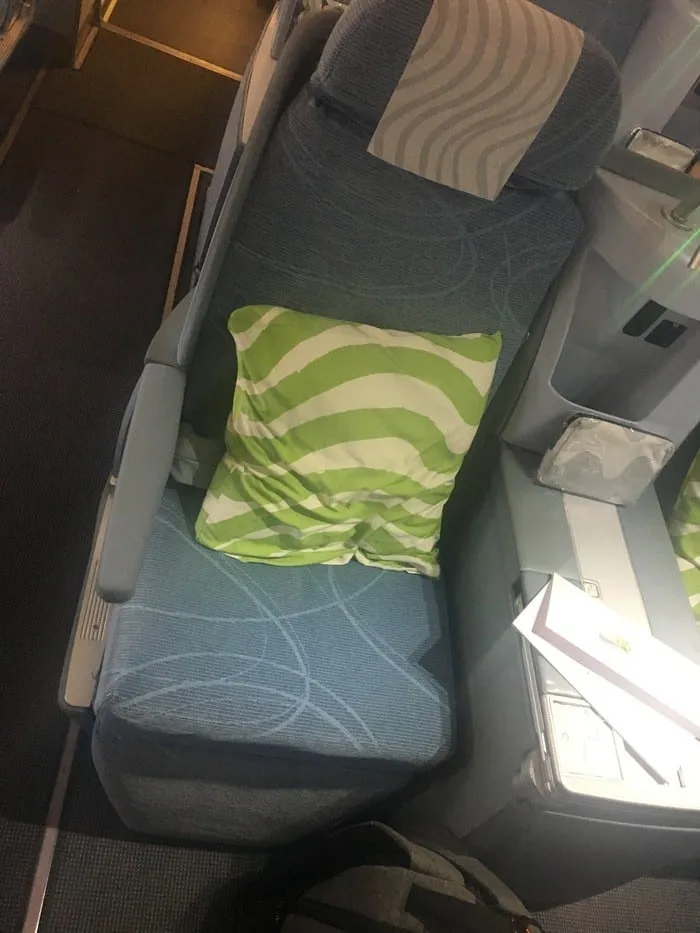 The dinner was easily one of the best meals I've had on a plane. I had a beet salad followed by roast pork with fingerling potatoes. I even got to try Finnish blueberry beer. I had a choice of cheese, apple tart or Fazer chocolates for dessert.
Coming back, I was in economy, which was still a better experience than I often have on domestic airlines. My one complaint was very sparse legroom. But the seats reclined more than they often do these days, which helped, and would have been welcome on the overnight flight over.
The entertainment system had great mainstream and independent movies and plenty of good number of selections both for little kids and tweens (including Moomin cartoons, of course).
Finnair still provides blankets, pillows, a hot meal on transatlantic flights, and a snack before landing. You can order kids' meals pre-flight and don't be surprised if a flight attendant comes by with small toy for your child to keep.
If you want to pick your economy seat ahead of time, you have to pay a fee, which varies depending on the seat. For my two short internal flights I didn't bother with this. But I didn't want to get stuck in the middle for the seven-hour flight home, so I paid about €30 to choose an aisle seat. If undisturbed sleep on the flight over is important to you, pay extra for a window seat.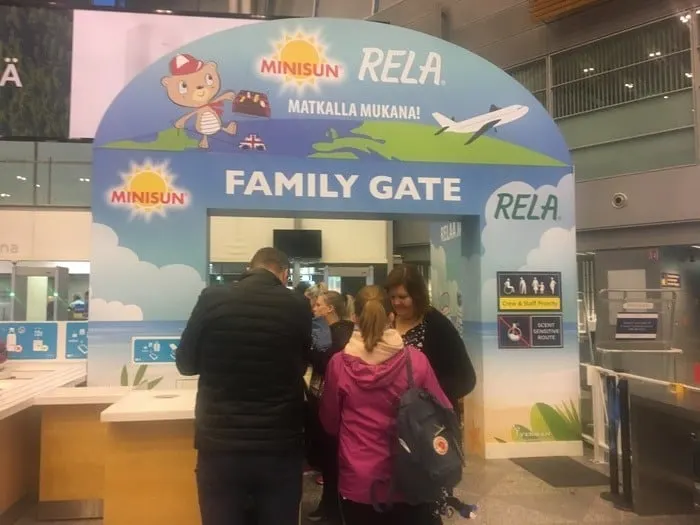 Tip: On the return from Helsinki, look for the family line at the security gate. It will be shorter and the workers on this line usually make a point of being patient and friendly. There's also a nice play area near Gate 16 if your kids have energy to burn before the flight.
Pin it for later!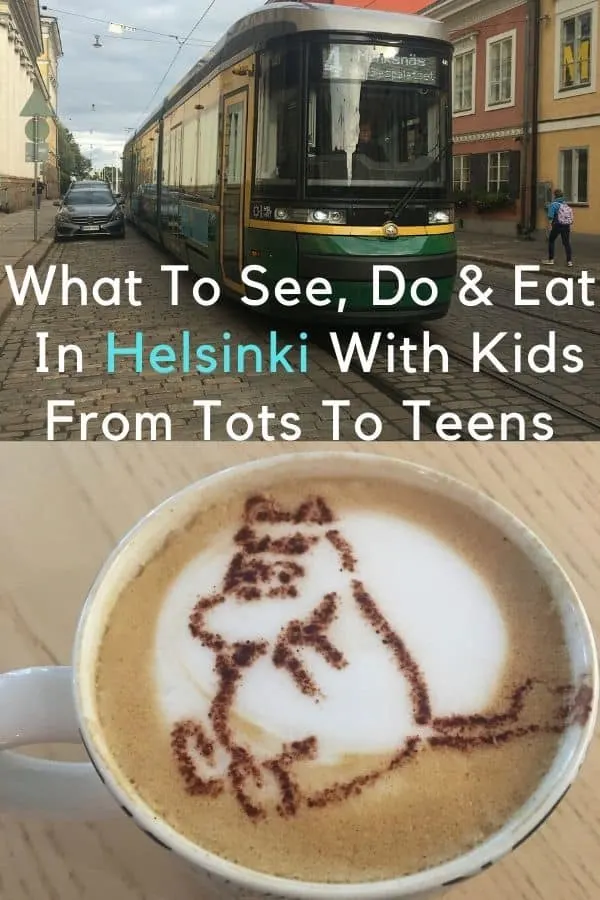 * Disclosure: I was sponsored by Visit Finland, My Helsinki and FinnAir on this trip. I did not agree to provide any particular coverage of the trip in exchange for the visit. My opinions are always my own.
* All images by FamiliesGo!© except Stockmann's, courtesy of Visit Finland, and the Open Air Museum, courtesy of the museum.