I really liked St. Augustine, Florida. It's a city that predates both Jamestown and Plymouth. Its lesser know history, outdoor activities and great local food blend very nicely to create a fun family destination that's about more than just the beach.
Consider a typical vacation day:
In the morning you can take a tour of the Colonial Quarter led by a guide whose family landed here in the 1580s. You can lunch on local seafood and ice cream, then walk a few blocks and be surrounded by 19th century Gilded- Age architecture.
Or, you can go to the beach.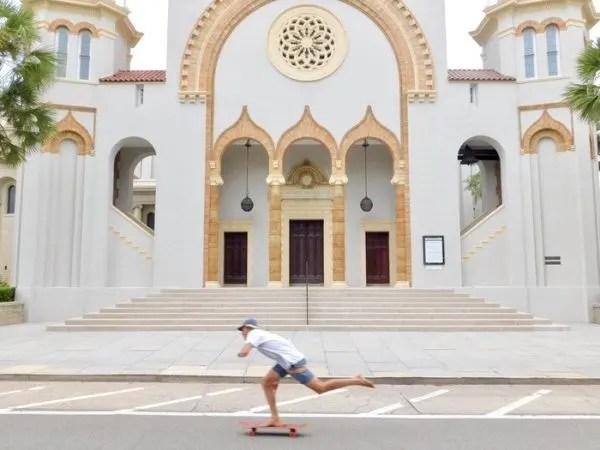 Here are some of the most popular things to do in St. Augustine that give you the opportunity to you appreciate its many sides. I'm including tips for making the most of your visit with kids and what age groups each activity is best suited to.
Things To Do With Kids In St. Augustine:
History, The Beach & Alligators
Discover the City's Spanish Colonial Past
• St. Augustine predates Jamestown by some 40 years. But it was a Spanish colony rather than a British one. So it's often overlooked when we study Colonial America in school.
No worries. This city gives you lots of opportunities to discover its history in kid-friendly ways.
The Colonial Sites
1. Start at Castillo de San Marcos National Monument, This national park site, known locally as simply the Fort, is probably the city's most famous attraction.
Founded in the late 17th century by Spanish military forces, the two-story, squarish structure sits at the edge of Matanzas Bay.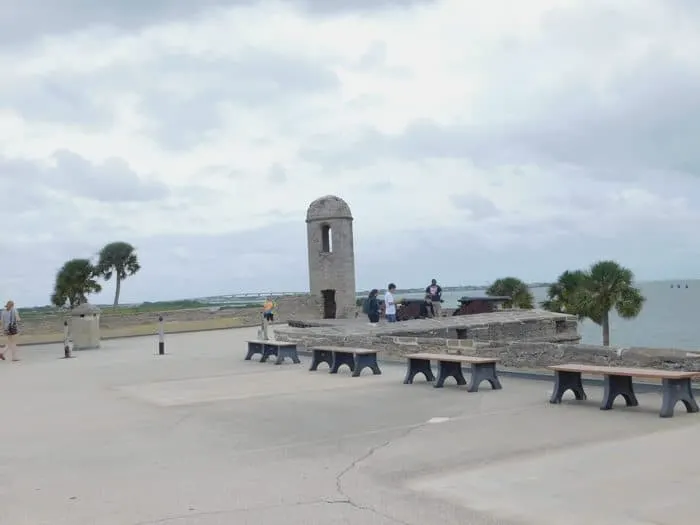 It's built with a local concrete called coquina, made from limestone that's full of tiny seashells. When it hardens it's nearly indestructible. Locals credit this with the fact that the fort has never been captured by an attacking army.
It's a National Historic Site. So kids should be sure to pick up their junior ranger books to get more interactivity out of their visit.
When you arrive, ask for a schedule of the talks and demonstrations that rangers and volunteers give in the inside courtyard on most days.
On the day I was there they were talking about colonial Spanish and British uniforms. To the kids' delight they we passing around vials of the hard-shelled cochineal bugs used to make red dye back then.
Give your family an hour to see the fort and take in its views of the city and the bay. Allow for more time if you catch more than one of the talks or demonstrations.
Best for: The talks will appeal to school-age kids and tweens, but teens with an appreciation for history will enjoy it, too.
2. The Colonial Quarter is a living history museum where costumed interpreters mingle with visitors amid the colonial homes and shops and dirt streets. See a blacksmith plying his trade or tour a houses that were home to some of the city's oldest residents.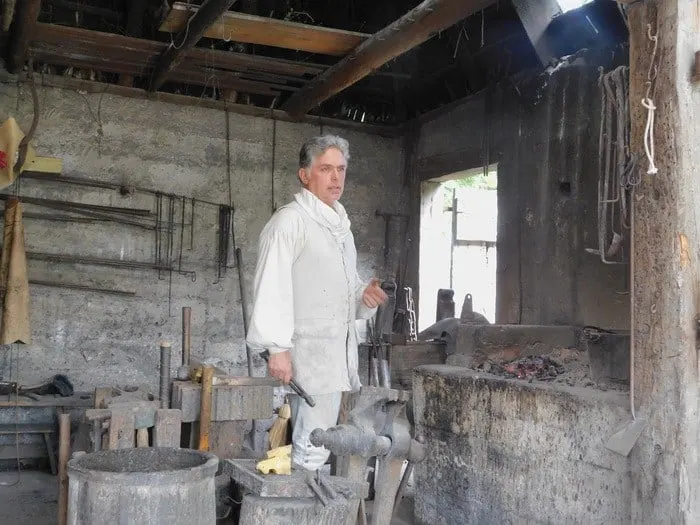 The day I was visited was fairly quiet. But the volunteer who led the tour explained to me that his family has owned and expanded the house over several generations down through his grandmother. He knew the house well from having spent time there as a kid.
History doesn't really get more hands-on than that.
Best for: Colonial Quarter School-age kids through early tweens. You'll find things that younger kids can appreciate, too.
Note: A combo ticket to the Colonial Quarter grants you entrance to the Government House and the Pirate & Treasure Museum (ARRRR, more on that down below, maties).
Lunch Break at a Colonial Quarter restaurant
3. The Colonial Quarter owns three restaurants and an outdoor concert venue that are all accessible from the quarter or St. George Street in the Historic Quarter. The restaurants are all casual and family friendly with kids menus. Eating at them supports the quarter.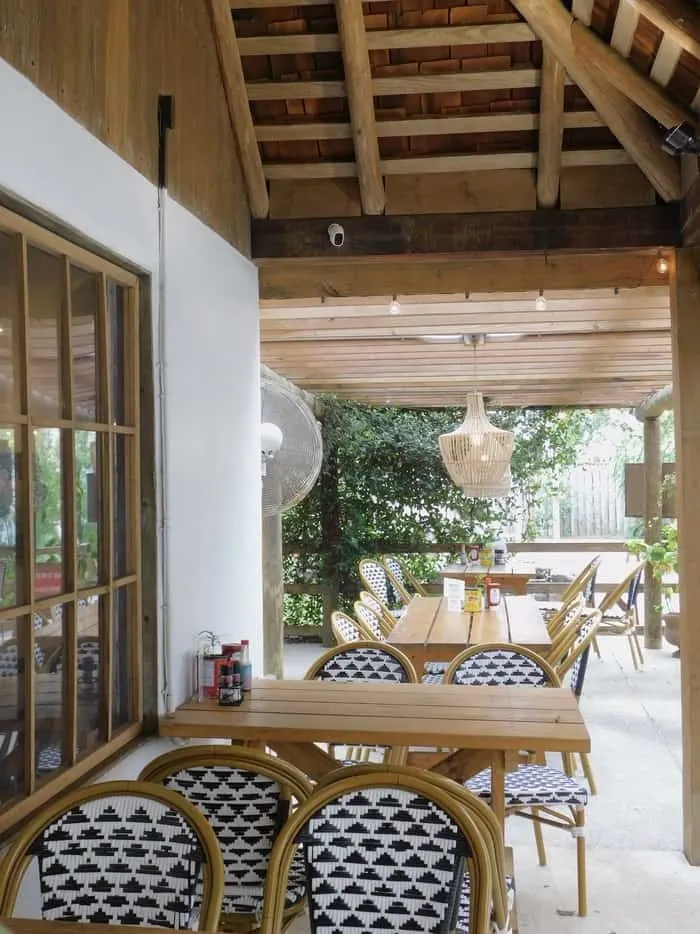 Taberna De Caballo has a lovely shaded patio and pan Latino menu. You'll find some tasty healthy options along with an impressive burger and classic Cuban sandwich. Kids can order a quesadilla, fried fish or dirty rice.
The Bull & Crown is a British-style pub while the St. Augustine Seafood Company offers up local seafood as well as signs that tell you a bit about the history of the local shrimp industry. The pub's food is a bit heavier than the other two options but you can't go wrong with any of them.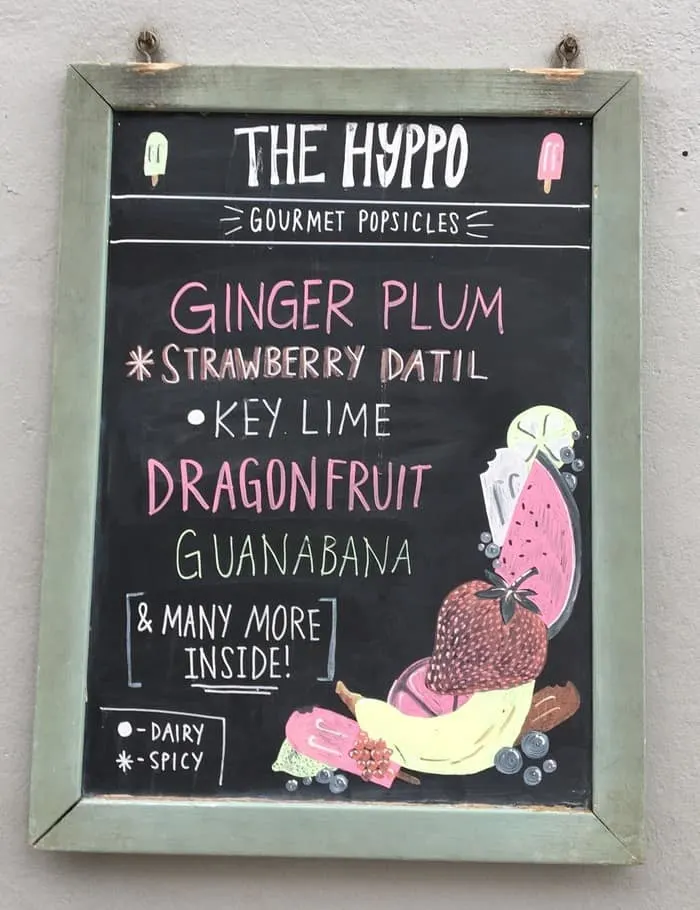 Nearby, Hyppo Ice Pops makes their own gourmet fresh-fruit paleta-style pop in creative flavors like hibiscus pear, blueberry-cinnamon and pumpkin latte. I was drawn in by the promise of a dragon-fruit pop, but wound up with a peach-ginger-bourbon one that was very refreshing while exploring the city in the autumn heat.
Stroll the Historic District
4. The historic district is one of those handfuls of real, living neighborhoods around the U.S. that transport you to someplace exotic without you needing your passport.
You'll see brightly colored wood-frame, stone and Victorian buildings from the city's many periods of history.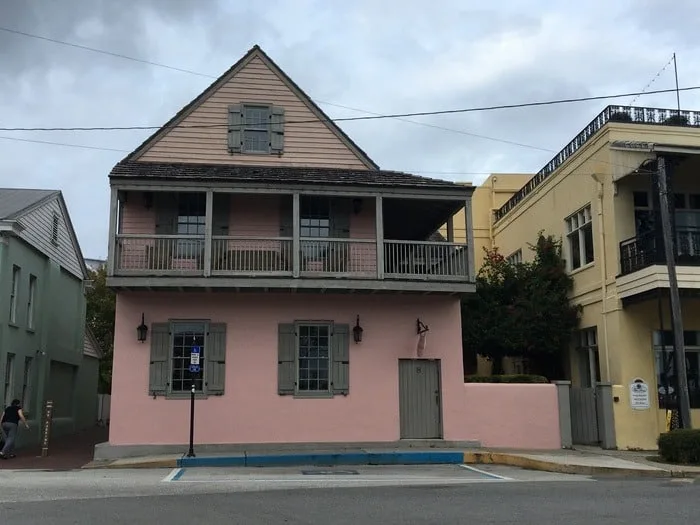 Look for indentations about the size of a large grapefruit in the white-washed stone walls when you explore some of the older, narrower streets. They mark where canonballs hit but couldn't penetrate the coquina foundations the Spanish built.
This is where you'll do a lot of your dining and shopping. You'll also find small hotels and vacation rentals (Not all of the small hotels accept accept kids so be sure to check).
I enjoyed walking around here both in the daytime and at night; and it has a different feel during each.
Make sure to pop into the Heritage Walk collection of indoor shops. It has two store that sells fossils (one is an outpost for kids) another tht sells beer-based soap and shampoo, and some fun jewelry and food stores.
Best for: Everyone in your family will find something that they enjoy in this little neighborhood .
Tip: Like all of Florida, St. Augustine is H-O-T in the summer. Plan your sightseeing for early morning or better yet, visit during one of the other three seasons.
The city is idea for a fall or spring weekend getaway or a winter break destination that's off the beaten track.
Enjoy St. Augustine's Gilded Age
St. Augustine experienced a renaissance during the Gilded Age, funded by barons of industry who were drawn by its location and historic charm. You can explore their over-the-top architectural additions to the city within a few impressive blocks.
5. Start at Flagler College, which has a gorgeous courtyard gracing its main building. The college is relatively young, but this main hall dates from 1888 when it Henry Flagler built it as a luxury hotel. It's architecture was inspired by the city's Spanish colonial past.
When the college is open, students give historic tours of the courtyard, quad and main building and dining hall twice a day. They aren't long, the students are engaging, and some say the dining hall reminds them of the Great Hall at Hogwarts.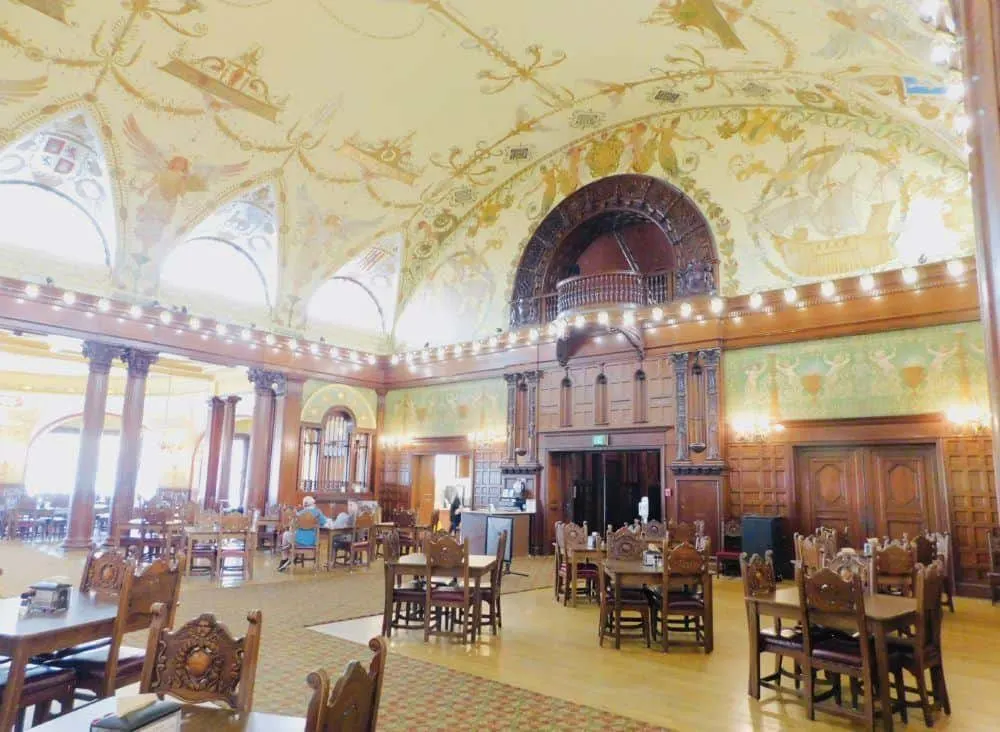 All-in-all, it's a tour that kids can handle and well worth doing.
6. Next, head across the street from the college to Casa Monica, which also dates from 1888 and is still a luxury hotel. It offers a guilded-age interpretation of Moroccan design.
It's well worth walking through the lobby. And keep an eye out for autos from the hotel's antique car collection, which often hang out by the curb near the main entrance.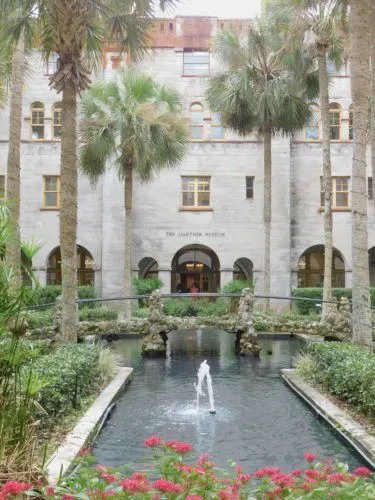 7. Catty corner from Casa Monica is the former Alcazar Hotel. Opened in 1889, this hotel with a motif inspired by Moorish Spain, was quite posh by not as high end as the other two.
It was also the "fun" hotel with amenities including a movie theater, archery, tennis, a bowling alley, Turkis and Russian baths, a casino and a swimming pool.
8. The building has a small, elegantly landscaped inner courtyard. One wing of it is now the Lightner Museum of 19th century decorative art.
The collections were a bit fussy for my taste, but it's worth exploring the museum to find remnants of the old hotel, including the Russian baths on one of the upper floors. And it's a good indoor stop when you need a break from the heat or rain.
Best for: Teens with an appreciation of historic cut glass, clothing and furniture.
Lunch Break: A Restaurant In a Swimming Pool
9. The Alcazar's swimming pool was the largest indoor pool ever built when the hotel opened. Now, the pool houses the Café Alcazar, opened most days for lunch or afternoon snacks from 11:00-3:00.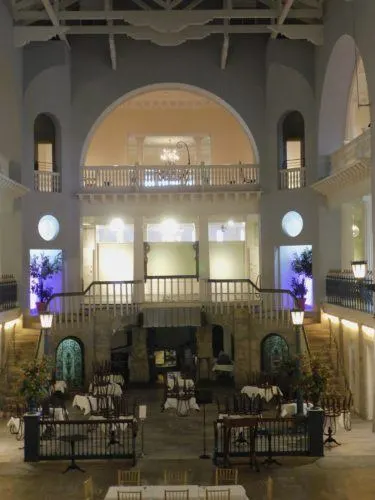 If your kids will appreciate the idea of eating a somewhat posh lunch at the bottom of a swimming pool, make sure to stop in. You can also see the pool area from the museum's third-floor balcony.
Explore the City's Quirky Side
10. I expected the Pirate & Treasure Museum to be really cheesy and thought I'd spend ten minutes cruising through. But it was one of my favorite activities.
The museum offers just enough hoke to make a visit entertaining but it also deals seriously with the history of piracy, particularly around the Florida coast and the Caribbean.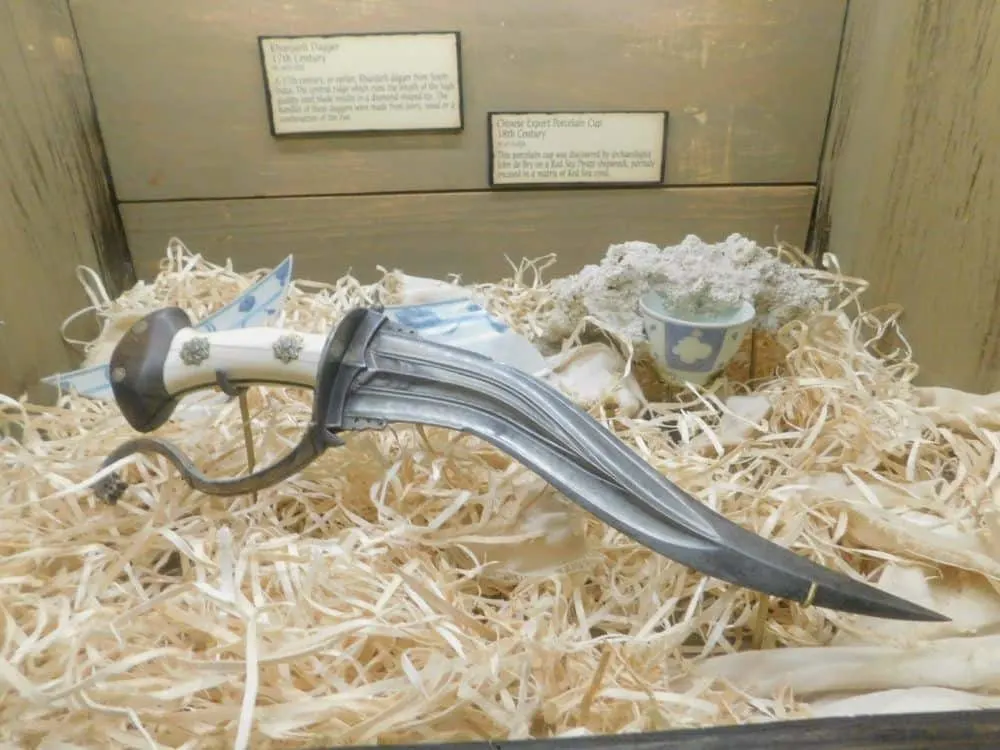 It sets out to clear up a lot of the false mythology that exists about pirate culture, particularly the innaccuracies cultivated by Hollywood.
It also tells the stories of some of the most notorious pirates—men and women—to drive home the point that this was a life that was both rougher and more structured than you would imagine. And very few well-known pirates got to retire peacefully with their booty.
Adults and kids alike can ask for a scavenger hunt when at the ticket counter. If you find everything you get to choose a "gem" or "gold" coin from the treasure chest.
Best for: This is an easy indoor activity to do with Tweens and teens. Use discretion with kids, who might find the history boring and some of the interactive bits scary. Parents will appreciate it more than you expect to.
11. I took a ghost tour with Ghosts & Gravestones. It was a trolley-based tour, and I was concerned we wouldn't see much just riding on the trolley. But we got off the trolley to visit a haunted cemetary, Potters Wax Museum inside the Old Drugstore, and the Old Jail.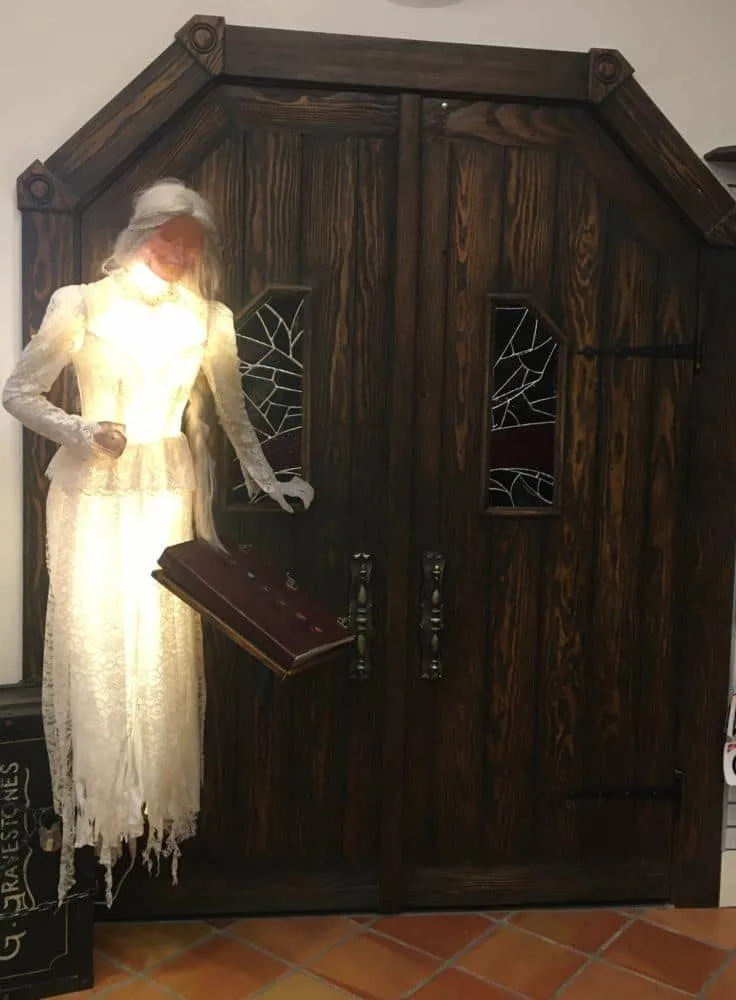 And having the trolley is handy if its very hot or wet out.
You want eerie? Walk through a wax museum at night. It was plenty spooky, and that was before the "ghosts" showed up to tell us about one of the grimmer episodes in St. Augustine's past. At the jail, another "ghost" popped up to lock us in jail while he explained that he didn't do it.
Best for: This is a fairly kid-friendly ghost tour. They'll like the wax museum stop. If they scare very easily they might want to skip going inside the jail.
12. You can visit the Old Drugstore and the the white-gabled Old Jail on your own, in daylight if you prefer.
The jail is a pleasant, white-washed Victorian building from the outside. but tour guides delight in giving visitors a vivid explanation of incarcerated life in the late 19th century. There are several tours a day.
Best for: Tweens and teens.
13. This town's Ripleys Believe It or Not! Odditorium is the original, founded by Ripley's children. It was also the set for the 1980s Ripley's TV show hosted by Jack Palance.
For these two reasons I wanted to check out the museum here, even though I've eschewed its outposts in other places because they aren't as "local" as other attractions.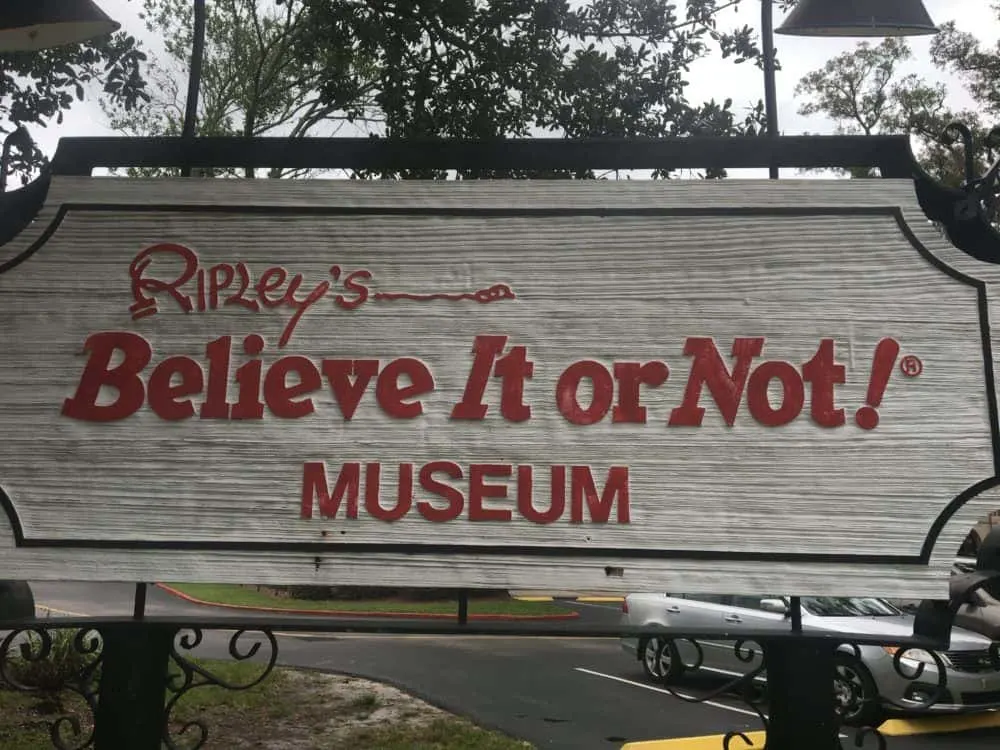 This museum is also worth a walk-through because it's housed in Castle Warden, yet another Moorish-style gilded-age mansion, with a haunted history. Make sure to look up at the ceiling in the atrium that features space oddities.
Author Marjorie Kinnan Rawlings (The Yearling) turned the mansion into a hotel, wher Robert Ripley was a guest. He liked it so much he tried unsuccessfully to buy it. A decade later the hotels' fortunes had turned and his heirs succeeded in buying it.
Most of the oddities are mild by today's standards, like a two-headed cow, optical illusions, impossibly tiny art. There is a section on contortionists, some shrunken heads and a Fiji mermaid. It's easy enough to breeze through any rooms you find icky.
There are some interactive elements that are fun, such as using a touchscreen to make your own odd animal hybrid or a mirro that puts masks over your face.
Best for: It's another easy indoor activity. Older kids through teens will like it, especially the interactive stuff. Young children just won't know what to make of it.
14. Just south of the city is The St. Augustine Aligator Farm, a pretty stereotypical Florida attraction. I really expected a pond with a handful of gators.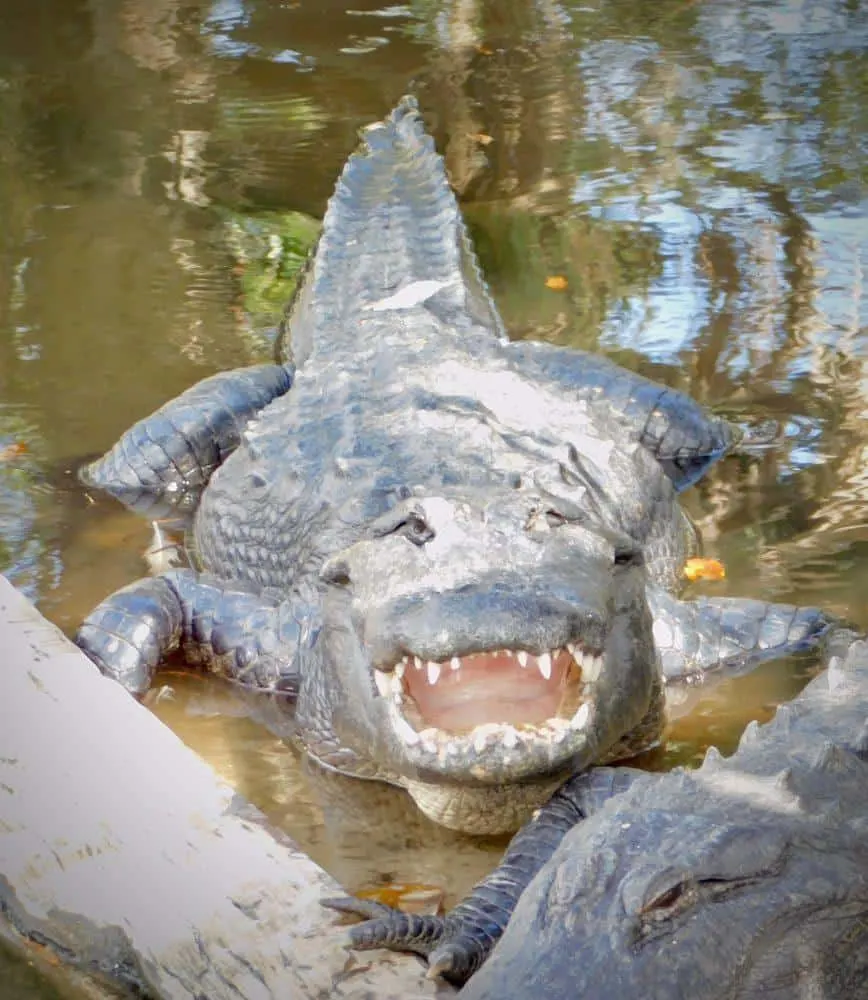 This little zoo actually has a lot of alligators, in all sizes and from all over the world. It also has other reptiles including a crocodile who's almost too big to frame in a photo. It has sloths lemurs and some exotic birds.
Bring quarters for the alligator food dispensers. Your kids will get a kick out of throwing the food in the ponds and watching the gators swarm.
The alligator farm gift shop is kind of fun. I bought an alligator snow globe for Tween Traveler.
Best for: Preschoolers and young school-age kids will be very impressed by these grinning reptiles. Older school-age kids and tweens will be amused but will probably be ready to leave more quickly. Teens will mostly enjoy the opportunity to zip-line over the gators.
Plan on about 90 minutes, maybe less with older kids, maybe longer with younger ones.
Have Some Kid-Friendly Fun
15. The Red Train Tours and Ripley's both run trolley-train tours around town. They're hop-on-hop-off and will take you past pretty much everything you want to see. They're very similar, though the Ripley's trains can go down some narrow Historic District streets that the Red Trains can't.
It was pouring rain the day I arrived in St. Augustine so I hopped on the Ripley's train and stayed on. I saw most of the city and heard a lot of funny anecdotes, colorful stories and bits of local history along the way. It was very entertaining and some of it was even true.
As touristy as it is, it's worth doing when you first arrive to get yourself oriented and to get some kid-size doses of historical context for everything you'll see during your stay.
Best for: All ages
16. The St. Augustine Lighthouse and Maritime Museum has a lot to do and definitely worth a couple of hours.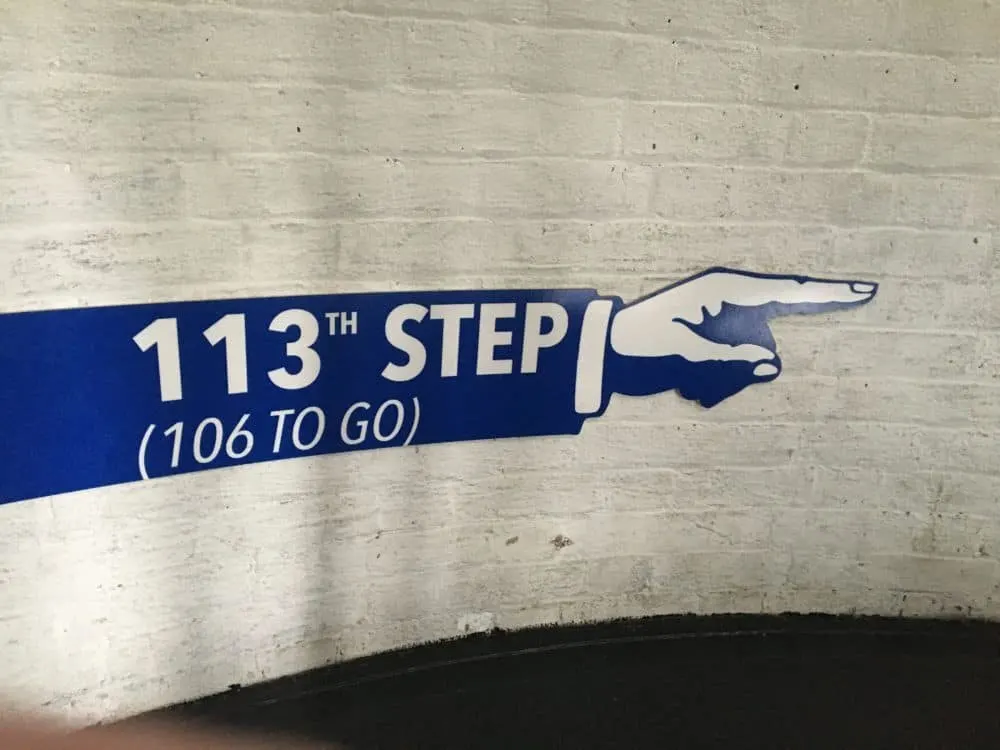 The top of the lighthouse offers great views of the town and surrounding coast. The climb up isn't bad, and there are factoids and trivia on every landing, to give you an excuse to pause and catch your breath.
The cottage has some period rooms from when the lighthouse last had an onsite keeper. But far more interesting is the exhibit in the basement about an 18th century shipwreck that was discovered nearby in 2009.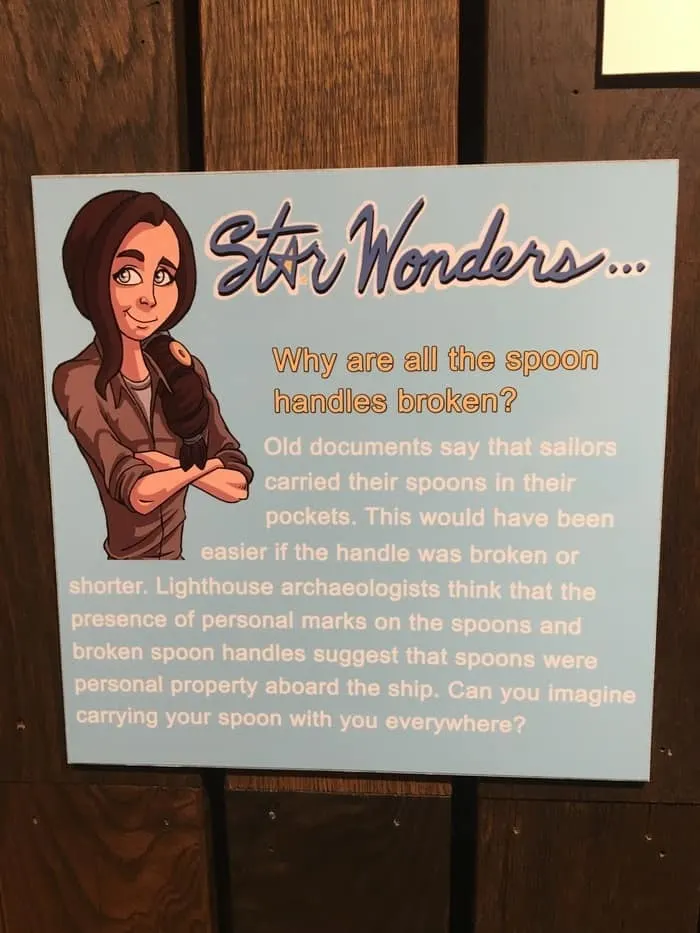 The interactive exhibit explores the artifacts raised from the ship and what they say about who might have been sailing. And it shows what is involved in recovering items from a historic ship on the ocean floor. Both are interesting.
Back outside, there's a nautical-themed playground that any kid under ten will want to spend time in. And there are some short nature trails to wander along (hats and bug spray are essential for these).
If you're lucky you might get to see volunteers making recreations of historic boats used in the area. And there are cottages from World War II, when the Coast Guard was active in the area.
One of the WWII outbuildings has the archeologists' lab with a viewing window. How interesting this is depends on what they're doing the day you visit.
Tip: Next door to the lab there's a small café that looked tempting, at the very least for a cold drink and a snack.
Best for: Where you spend the most time here will depend on your kids' ages and your family's interests, but I think almost anyone would find something to engage them,
Treats for All Ages
St. Augustine Distillery and Whetstone Chocolates both give tours that include tastings. And they are located conveniently near one another (and you can take the trolley trains).
Whether you placate your kids with chocolate before heading to the Distllery or reward them for good behavior with chocolate afterward is up to you. But I recommend doing both; neither turn takes more than an hour, including tastings.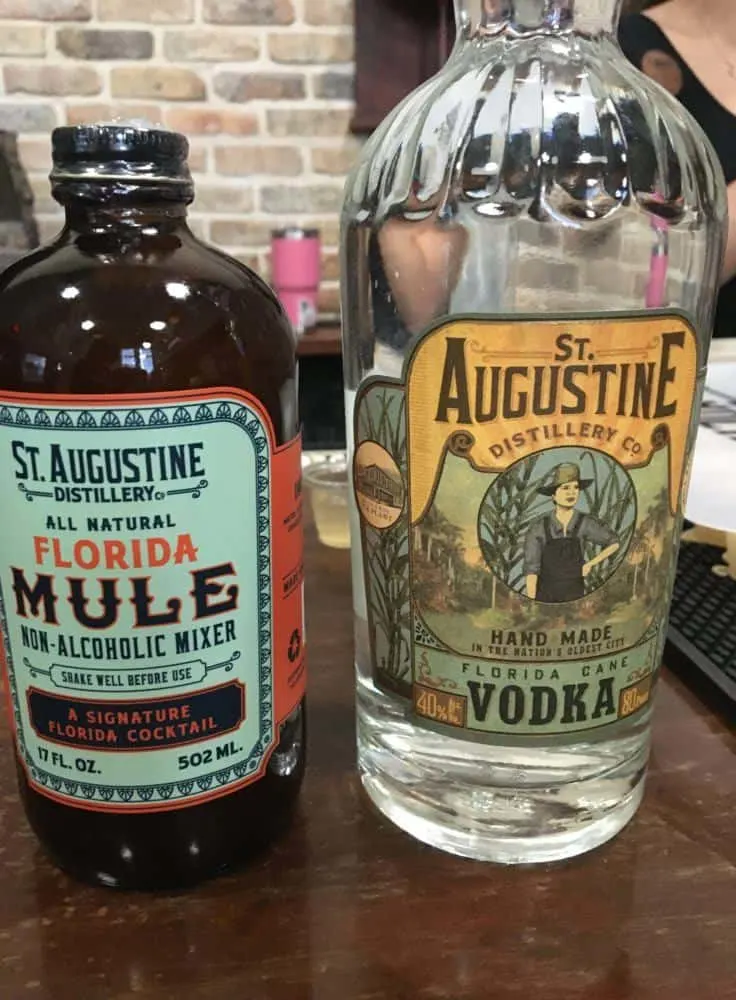 17. In the distillery the guides walk you through the fermenting and distilling room, show you their barrels and explain some of the unique things they do with their spirits.
Then it's on to the tasting room, where you get to try each of their drinks with the premium-premade mixers they sell (clever!). They're good and the cocktails tasted freshly made.
In the souvenir shop you can try the company's one rum, vodka, three gins and 2 bourbons straight. My favorites were the bourbons, which are well-aged, and the rum, which is made with molasses and sugar cane.
Try the gin, even if you don't normally like it. They use some different botanicals and test less of juniper that is usual.
18. The chocolate tour begins with a short movie on Whetstone's history, followed by a fudge sample. Then you learn where cacao comes from and how its processed into chocolate while the guide hands out samples of the chocolate maker's basic milk, dark and white chocolates.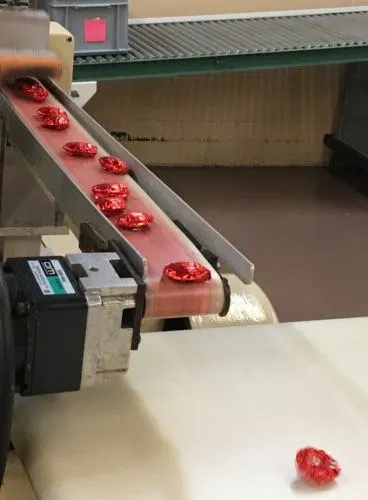 Next, it's on to the shop floor to see how the chocolate is tempered, flavored, molded, cooled and packaged. Here you'll get a surprise sample of the day.
After you leave the factory you get to hear about all the different types of confections Whetstones makes —with more samples. And, no surprise, the tour ends in the company's chocolate store.
I spent more at Whetstones than at the Distillery but only because I couldn't put liquids in my carry-on luggage. The rum and bourbon were sorely tempting.
Best for: All ages.
Play on St. Augustine Beaches.
St. Augustine has some of the best beaches in Florida. State parks charge nominal parking fees and there are additional fees to drive on certain beaches; otherwise and you can access a lot of the sand and surf for free.
19. The beach you must visit is Anastasia State Park. It offers a glimpse of what Florida once looked like with moss-draped oaks skirting a beach where hawks, eagles and ospreys make their home. Look for turtles in the brush.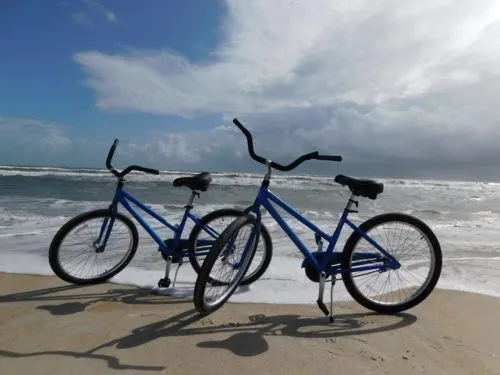 The park has a playground, picnic areas, a snackbar (think burgers and ice cream), a farmers' market on Saturday mornings and scheduled activities like guided hikes and nature walks.
An onsite outfitter rents SUPS and kayaks for exploring Anastasia's protected cove. At the store next to the snackbar it also rents fat-tire bikes for riding along the shore.
It's best to your ride a little bit before low tide. The ideal sand for this is was recently wet and is now dry enough to be somewhat packed.
When I did this I hit some patches that were super easy to ride and others where I got boggest down in soft sand. I would do this particular activity with teens, who can handle the bikes and some of the tougher pedaling.
It's a great park for seeing birds and other wildlife. on the beach and in the grasses around the beach. We spotted the friendly turtles in the video.
Tip: This beach is about ten minutes down the road from the lighthouse. It's a great thing to pair with a visit to either that or the alligator farm.
If I were to try to do all three in one day i'd do lighthouse, then beach for lunch and a swim or paddle, then the alligators on the way back to town
Tip: Near the entrance to the park pull over and walk about 40 feet into the brush to see an old coquina quarry.
Best for: Well, who doesn't like the beach?
18. St. Augustine Beach, just south of town, is the place to go for beach-front chain hotels, mini-golf and casual, inexpensive places to eat. It offers what you probably think of as a typical Florida beach experience with historic St. Augustine ten minuts away.
A recently opened Embassy Suites resort makes it the ideal homebase for families, especially those with with toddlers and young children.
Lunch Break at a Restaurant in St. Augustine Beach
I had lunch at the Sunset Grille, a very kid-friendly that parents will appreciate on this beache's main stretch of road.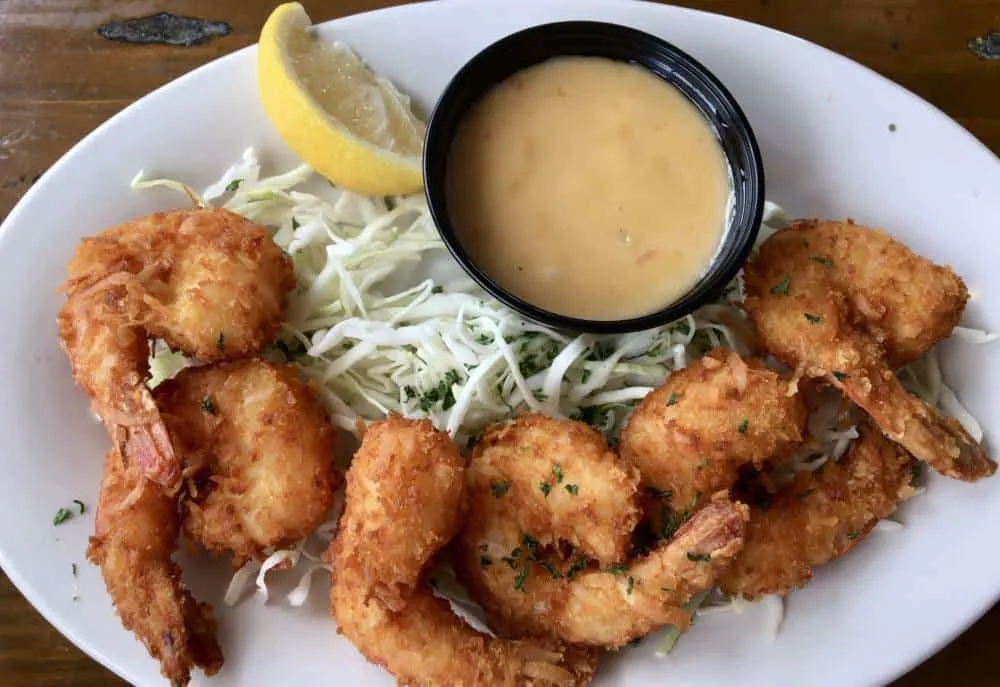 There's a good kids menu but kids can also find items to like on the main menu like rice and beach, fresh fish nuggets and coconut shrimp.
The menu is big and the portions are ample. It's a good place to share a few plates, like the coconut shrimp, which are coconuty with a good, fresh texture and a lively lime dipping sauce.
The Ahi Tuna appetizer, mahi tacos and any of the seafood sandwiches are a good bet, too.
You'll see Minorcan chowders on a lot of menus. The conch chowder here is a good one, especially if you spice it up with a dash of the grille's hot sauce, which is made with local datil peppers.
19. A stretch of sand north of the city toward Jacksonville includes Ponte Vedra Beach and Recreation Area, the the Guana Tolomato Matanzas National Estuarine Research Reserve Vilano Beach.
These beaches are a bit more wild and isolated than those closer to town; think narrow shorelines hidden by dunes and accessed by boardwalks over the dunes.
Vilano Beach is known as one of the better beaches for finding shark-tooth fossils. Here's a quick video to show you what to look for.
Planning a Trip?
• Find the lowest fares on flights to nearby airports.
• Stay at the beach or in a historic home by booking a vacation rental.
• Secure the best St. Augustine hotel rates online with Trip Advisor.
• Viator offers access to unique local tours.
St. Augustine Hotels For Families
St. Augustine has plenty of hotel and vacation rental options for families.
I stayed at the Bayfront Inn, which has the dual advantage of good rates and a location right in the Historic District, across from the marina where several tour boats dock.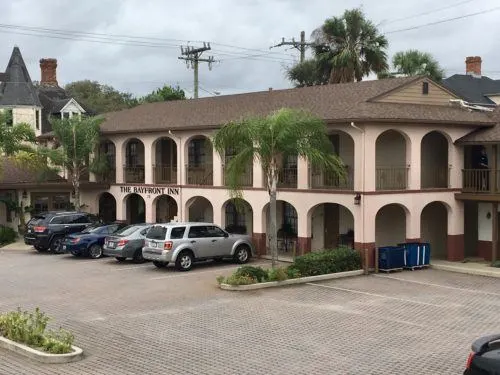 It has a small pool on the parking lot side of the property, and a deck that offers a nice place to have coffee with a bay view in the morning.
The breakfast is fine, and they leave out jars of cookies or muffins in the afternoon, which is always nice. The rooms are a standard size.
It's a motel with outdoor corridors, which I usually avoid if I can. But it's set back from the street and the area is quiet at night, so I it turned out to be fine.
With its great location—I could walk to anything I wanted to do in town—and affordable rates, the Bayfront offers good value for families.
You'll find plenty of familiar, family friendly chains along St. Augustine Beach, including a Hampton Inn and an Ascend Collection Hotel, which both offer good rates and a beachfront location.
The new Embassy Suites has a large pool and beachfront and bicycles to borrow. Plus it has a Starbucks, an onsite restaurant that's getting good buzz, and a poolside bar. It offers complimentary drinks and snacks every afternoon.
Its rates are higher than some other places. But with its extra amenities and suite-style rooms it offers a bit more of a resort feel while still being close to town.
Pin it for later!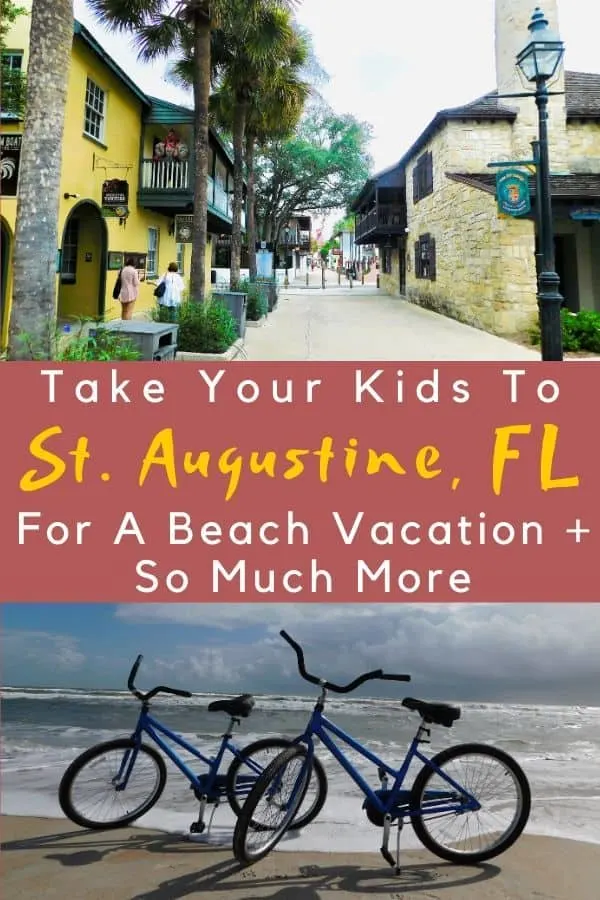 *I was hosted by Florida's Historic Coast so that I could research this post. I didn't agree to any particular coverage in exchange. My opinions are always my own.
Loren Eaton, a travel writer and resident of south Florida helped with this story.