We loved Santa Fe pretty much the moment we rolled in to town, and I imagine that's how most people react.
The Old Town is a historic district where local people live and work —rather than one that seems frozen in time for tourists. This gives it liveliness and relevancy as well as an ample amount of charm.
There is plenty to explore beyond the old downtown as well. Old and New art districts, a plethora of museums and some beautiful scenery not far outside of the city.
We spent two nights in the city, which allowed to see and do most of what we wanted to. But we easily could have kept busy for another day or two.
Here are some of the most unique and fun things to do with kids in Santa Fe, along with restaurants we really liked and a few hotel recommendations.
---
This New Mexico road trip also incuded two nights each in Taos and Albuquerque.
You can also read about 3 fun and unique Albuquerque hotels
---
Exploring Santa Fe With Kids: Fun Activities, Food & Hotels
Santa Fe Hotels For Families
• We stayed at La Fonda on the Plaza. It's a beautiful and historic hotel and again, you might not expect to be all that kid-friendly.
But it has an outdoor pool and hot tub, and the location couldn't be better. We saw a other families at breakfast every morning.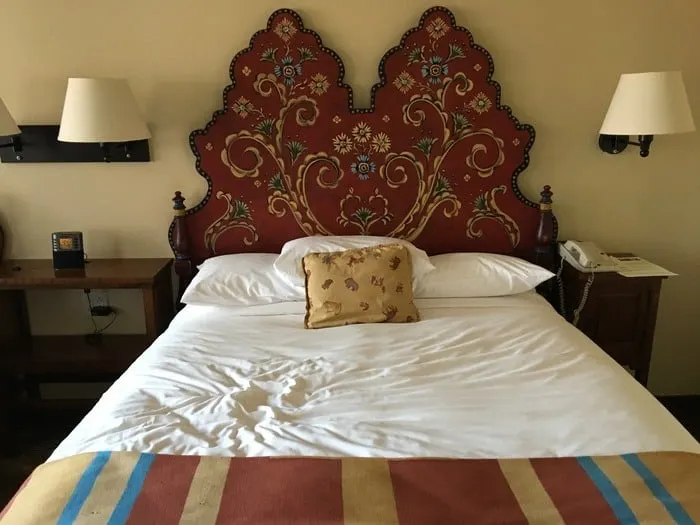 The rooms are standard with bathrooms on the small side, pretty Southwestern décor and Nespresso machines.
If you don't stay, make sure to look around and consider taking one of its daily tours. It's filled to the brim with New Mexican art work and has quite a long history that spans the early days of the railroad and WWII intrigue at around Alameda.
---
Read my full review of La Fonda on the Plaza.
Book a room for your family at La Fonda
---
• The Inn of the Governors, two blocks south of the Plaza, is also a great family option with amenities like free breakfast and parking, refrigerators in the rooms and a heated outdoor pool.
Some of the rooms have the sink outside the bathroom, always handy for families, and several have kiva fireplaces. There's also free cookies, tea and sherry in the afternoon.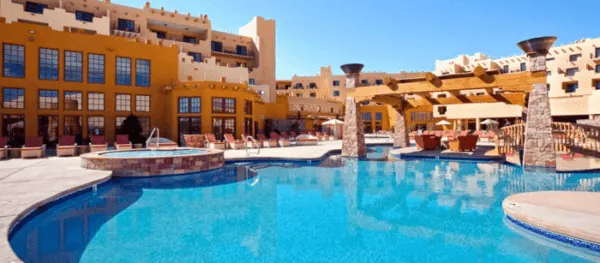 • If you want to combine your city sightseeing with some resort relaxation, consider the Hilton Santa Fe Buffalo Thunder, 14 miles from town.
Buffalo Thunder offers an expansive outdoor pool, kids splash pad and hot tub, golf and tennis, several restaurants, a pool grill, Starbucks and deli. All rooms have refrigerators and on-demand movies.
Some standard rooms at this Santa Fe Hilton have balconies and junior suites have a dining table and pull-out couch in a studio layout. Starting rates are lower than you would probably expect.
---
Find the best room at the best rate at family-oriented the Inn of the Governors.
Or reserve rooms at the relaxing Hilton Santa Fe Buffalo Thunder.
---
Top Things to Do With Kids in Santa Fe
Experience Meow Wolf: The House of Eternal Return
Meow Wolf was not only our hands-down favorite Santa Fe activity but the best thing we did on our entire New Mexico Trip.
It's hard to write about Meow Wolf without giving too much away, and serendipity and surprise are what make it so cool. I can tell you it's an interactive art "experience" in a former bowling alley.
You can read a great story about the artists who collaborated on it in the New York Times.
Our journey began in the ideal American house, a Victorian confection complete with a gingerbread porch, stained-glass window, giant fireplace and winding staircase up to the bedrooms. The kitchen is anachronistically stuck in the 1950s. The thing is, the house seemed too perfect, maybe strangely so.
While we were looking around trying to figure out what we were supposed to do, we started to notice people disappearing. A kid crawled through the fireplace and was gone, people walked into the kitchen and didn't come back or they disappeared into a bedroom closet like the Pevensies.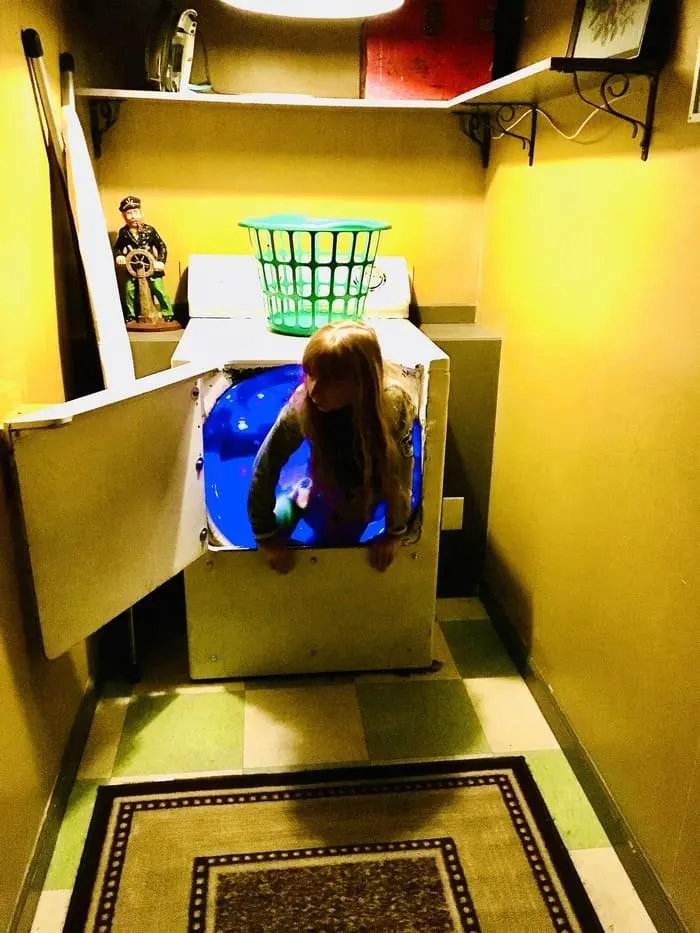 Aha! We realized that the house is a portal and, like Alice, we had to find our way down the rabbit hole.
Once we crossed one of a half dozen portals we were in an artsy, eccentric, weird and not-scary fun house. We walked, crawled and climbed through a maze of rooms filled with colors, shapes and sounds.
Along the way we played percussion on a dinosaur, climbed into a treehouse, played with giant toddler toys and stepped into a 1920s-era black-and-white cartoon kitchen.
Be prepared for your kids to run off and disappear. There are several junctions with multiple ways to go. A few times we had to wait at one for Tween Traveler to realize she'd lost us and double back.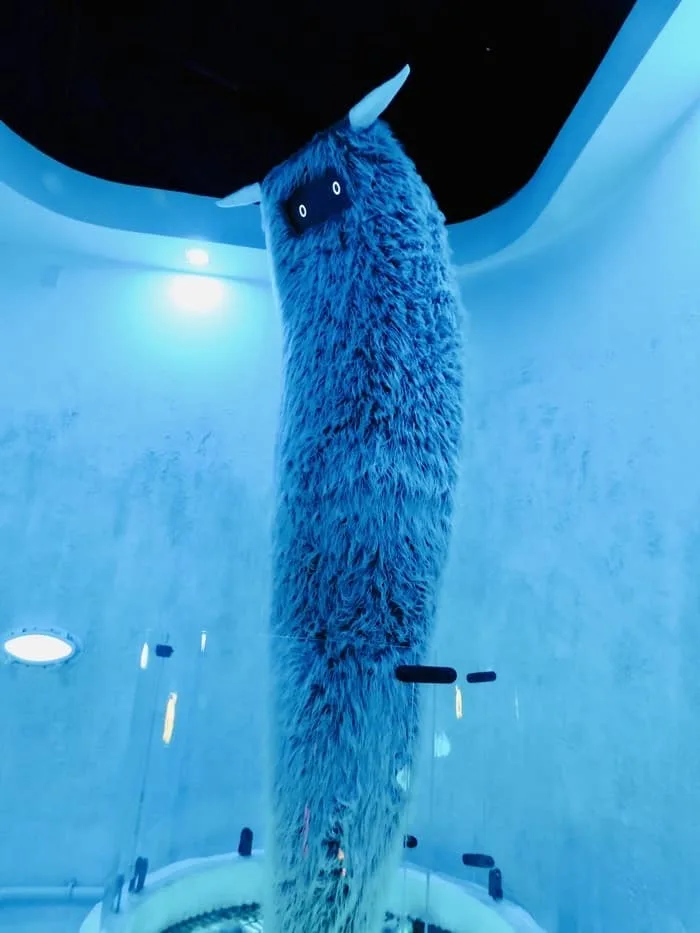 If you're with kids or tweens it's a good idea to plan on a meeting place back in the house. If you really can't find your kids, look in the clothes dryer. Kids love that portal—maybe because adults can't fit through it.
More important, little kids love this place, too. But I can't tell you how many curious tots I saw wandering off in one direction while their parents were walking in the other. I'm not a fan of toddler leashes, but this is one place I'd seriously consider one.
Give your family a good three hours here, including time to check out the quirky gift shop.
Tip 1: The house has some papers and letters that provide a vague backstory about the family who lives in the house and clearly has secrets.
It's nothing that you need to spend time on to understand the exhibit (to the extent you can even begin to "understand" it).
Tip 2: You have the option of buying 3-D glasses with your ticket. They enhance the experience a little but aren't essential by any means. If you're curious you can easily share a pair.
Explore the historic downtown
Like most people who visit Santa Fe, we spent a lot of time in the old town. The neighborhood is built around Santa Fe Plaza, a small park with chile peppers hanging from its lamp posts, a hanful of food vendors and busking musicians.
A walking tour is a good introduction to the old town, which has a treasure trove of history and legends in its walls.
We took a walking tour with the New Mexico History Museum (look for the covered wagon just off the north side of Santa Fe Plaza, next to the Palace of Governors).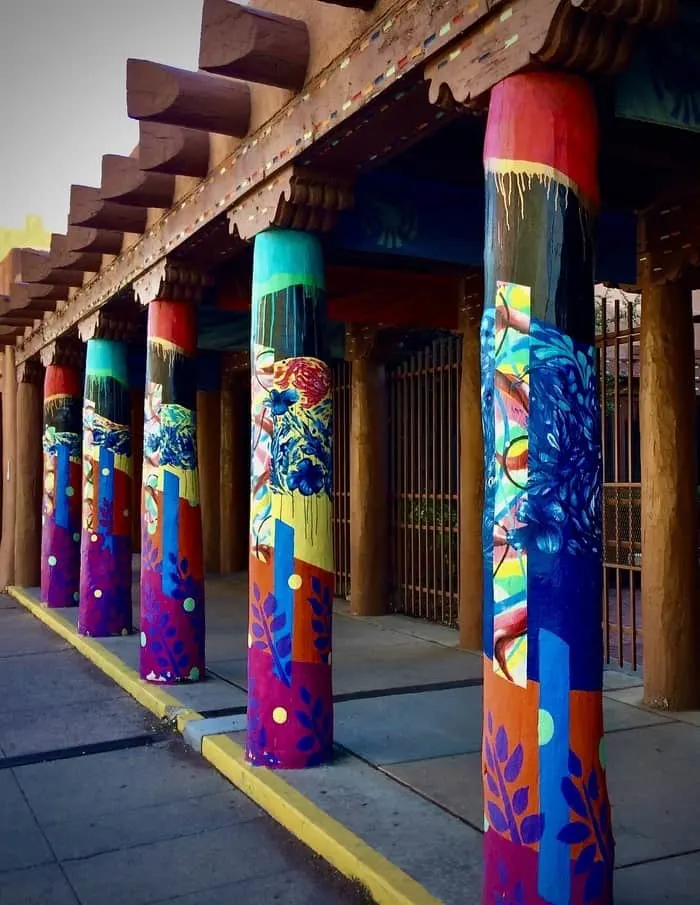 Volunteer docents lead the tour, which is free for kids. Ours was one of many retirees who move to the city.
He knew a lot, answered questions and had a few good stories, like those about the ghosts in the La Fonda Hotel and the witches who lived in what's now the oldest standing house in New Mexico.
This was cool because it showed what adobe homes looked like when the early settlers were living in them. They were tiny and quite different from the adobes-style homes you see today.
He had a scavenger hunt for kids to do along the way. But Tween Traveler said it felt more like a school worksheet than a game.
The tour goes by the Loreto Chapel, whose spiral staircase is an architectural wonder. We had the option of going in to see it. As much as we were curious, we weren't convinced we wanted to pay $12 to look at a staircase.
When you're done with your tour and are strolling on your own, keep a look out for Doodlets, south of the Plaza on Don Gaspar Street. It's crammed full of quirky toys, picture books, puzzles, games, novelty candy, nick-knacks and tchotchkes.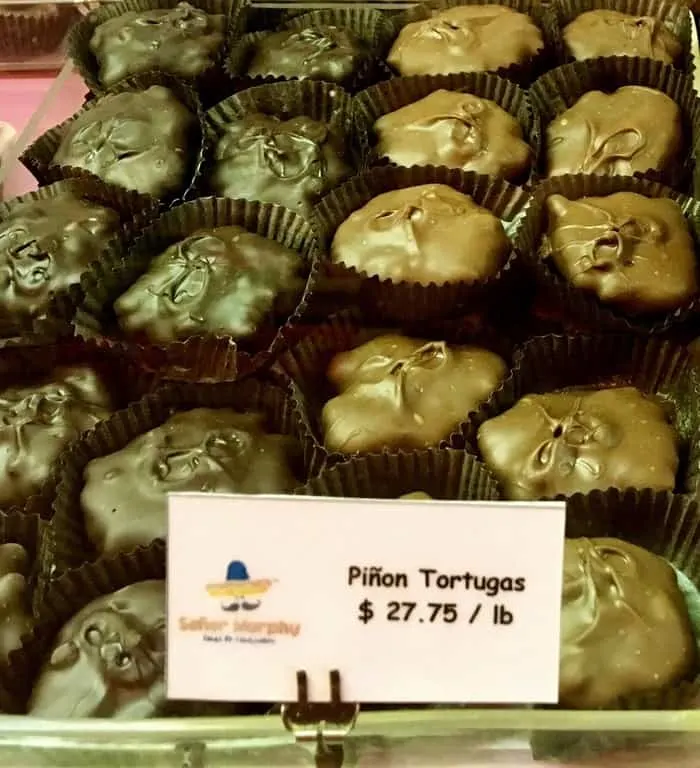 Also pop into Señor Murphy's a candy store built into La Fonda's street front. Its handmade chocolate has a distinct New Mexico accent, incorporating piñon (pine nuts) and of course, chiles. Fudgy bollitos are a local specialty and the piñon toffee is addictive.
The Palace of Governors was closed for repairs while we were there, so we didn't get to look inside this Spanish colonial building that was built in 1610. Stop in if it's open though; it's one of the oldest surviving structures in the country and remnants of a different colonial period than we learn about in many U.S. schools.
one very cool thing to do is to stroll along the palace's side portico. The American Indian artisans who assemble there daily come from the state's 21 pueblos and native tribes.
They need to demonstrate artistry and skill to qualify to set up shop here. Styles range from traditional to quite modern and prices vary from $12 for beaded earrings to $100 for a silver belt buckle, and upwards from there.
Tip: It's acceptable to ask for a discount if you buy more than one item from a vendor but they don't haggle. Many of them can take credit cards but for inexpensive items they prefer cash.
Take A Walk Around Capital Building—Literally
Santa Fe is full of working artists. There are lots of galleries and public art is everywhere, making it easy to enjoy with kids along.
One place you can see a lot of great contemporary art for free is the state capital building, about six blocks south of the Plaza on the Old Santa Fe Trail. It's the only round state capital in the U.S. and has the same brown adobe-like façade as the rest of the city.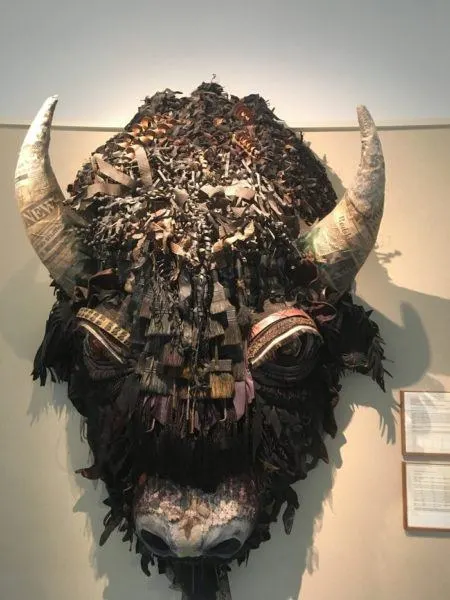 The building is open to the public most weekdays and on Saturdays in the summer. The security guard gave us a map showing us which floors and hallways had art displayed.
The Capital Art Foundation acquires pieces that reflect New Mexico's history, cultures and people. The collection of photos, paintings, sculptures and other media is large and veers from serious photojournalism to colorful folk art.
We spent about 45 minutes wandering the hallways and taking in a temporary display of handmade quilts. You can get a guided tour of the artwork if you call ahead.
Explore Beyond Downtown:
There are a few fun neighborhoods outside of the old-town area that you'll want to check out.
Canyon Road
We headed to Canyon Road, the epicenter of artsy Santa Fe, because we wanted to try a Persian tapas restaurant there (more on that that below). We took a walk before dinner to check out the galleries.
Most close before the dinner hour, but several had outdoor art and there's a colorful sculpture park about midway up the road.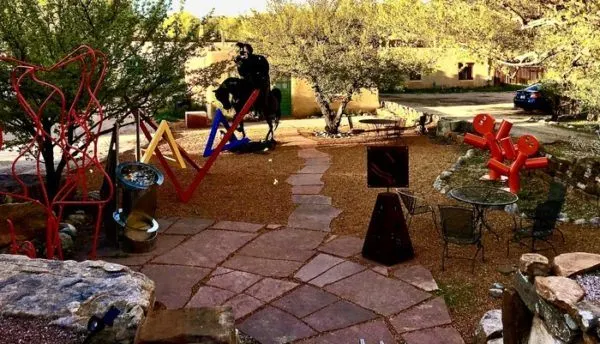 Tween Traveler, who is extremely uninterested in art museums at the moment, got a big kick out some of the more playful outdoor art, especially in the little park.
We would have been able to see more if the galleries had been open, but it was probably more fun not having to worry how our kid would be received, or what all-to-frank comments she might make about the art.
You can take art-centered walking tours of Canyon Road.
Tip: While Canyon Road had a more kid-friendly thing to do than we expected, it's no place for a stroller. The sidewalks are narrow and they come and go. If you're visiting with a baby use a carrier.
Railyard Arts District
The Railyard area is a newer center for Santa Fe's artsy side. We didn't get to explore it as much as we wanted. But you'll find galleries, a book store, brewpub and cafés, REI store and funky public park. This is where the farmers' market is on Tuesday and Saturday, and there's an artisans' market on Sundays.
It's large but worth exploring if you have time, especially with tweens and teens. You can take a guided tour of the Railyard District farmers market if you wanted an introduction to the are.
Museum Hill
Santa Fe has a lot of history and art museums. A good number sit on or near the downtown Plaza, including the Georgia O'Keeffe Museum, which was recommended to us by a few people. But we decided it should wait until our fickle tween decides she likes art museums after all.
Museum Hill is a bit on its own, about a ten-minute drive southwest of downtown. You can't see it all, but make a point of checking out one or two of the four large museums and botanical garden here.
On a recommendation, we checked out the International Folk Museum. The heart of the museum is a collection of folk-art objects from 100 different countries, many of which came from the personal collection of the museum's founder. There's a play area for young kids and a few galleries for temporary exhibitions.
Start with the permanent collection, regardless of what they suggest at the ticket counter. It's huge and dizzying in its detail and diversity. If you do other parts of the museum first your kids won't have enough attention span left to delve into it.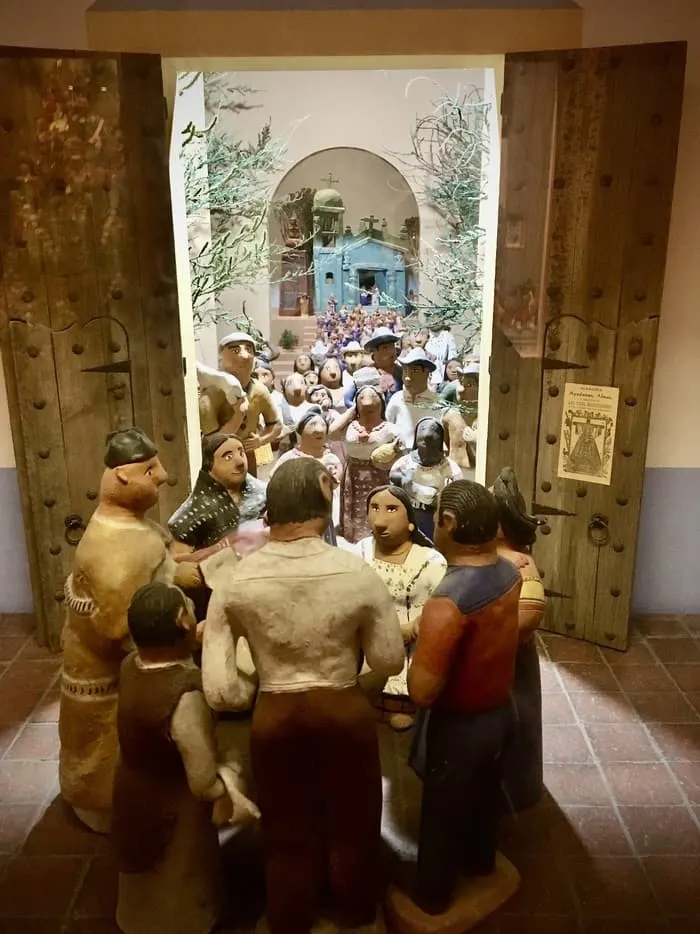 Even at 12, Tween Traveler was overwhelmed by all the items competing for her attention and her instinct was to give up and walk out. But we led her through it, pausing to look at a few items we thought would most engage her.
We all liked a large model of a bright colored Mexican village that reminded us of the movie Coco.
She also liked a Guignol puppet theater tucked away in the back, a collection of paper play theaters, and a dollhouse Christmas lunch that had a teddy bear, a Swiss-Miss-like rag doll and a cowboy sitting at the festive holiday table with other dolls.
But truth be told, she spent most of the time we spent in that gallery in another part of the museum, coloring a copy of an elaborately painted ceramic plate. She probably spent an hour on it. You never know what will engage kids.
The Folk Art Museum offers docent-led tours three times a day, which I think would tremendously help families navigate the collection. The docents are volunteers though, so call the day of your visit to confirm the schedule.
At the other end of the hill is the Museum of Spanish Colonial Art. It offers a collection of art, artisan objects like woven rugs and everyday items like furniture, that were came out of or were inspired by trade among the Spanish, the European colonists and the local pueblos.
I thought it would further illuminate a period in North American history I don't know a lot about. But we didn't get to it.
This museum also has docent-led tours, a family art room and some interactive elements in the galleries.
Tip: A $30 New Mexico Culture Pass gives you admission to four Santa Fe museums, plus other 11 other museums and cultural sites across the state. Be sure to look into it if you're visiting more than one part of the state, but it could be worth buying just for Santa Fe.
Side Trips Outdoors
If you want to experience New Mexico's outdoors, consider a side trip to Kasha-Katuwe Tent Rocks National Monument, which is 40 miles south and west of Santa Fe, or Bandelier National Monument, which is 40 miles north and west.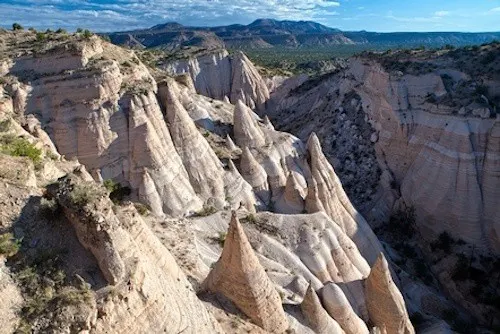 Tent Rocks has three one to one-and-a-half-mile-long trails that take you through a slot canyon and provide views of the park's unique cone-shaped "tent rocks." (They're similar to the hoodoos you see in Bryce Canyon.)
Bandelier has trails that take you past Petroglyphs, cave dwelling and building walls, some more than a millennium old, carved into the park's impressive mesas.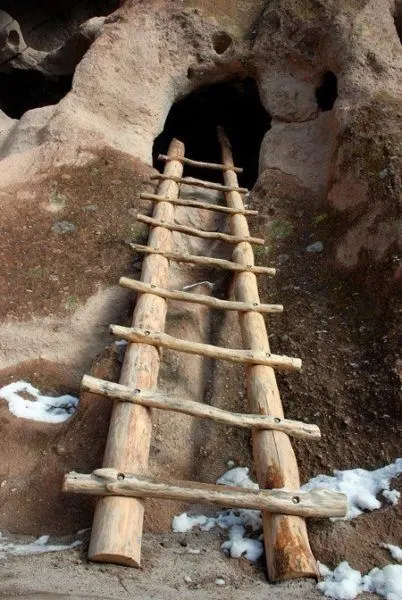 Tip: Spring and fall are the best time for these hikes. Summer will be very hot and winter can bring snow to the trails. Get an early start if you can and carry plenty of water.
This was a stop on our New Mexico road trip. Read more about it:
• My review of Santa Fe's historic La Fonda hotel.
• Top Ideas For a Taos Family Getaway
• 3 Unique Albuquerque Hotels for Families
Kid-Friendly Santa Fe Restaurants
Santa Fe has some 400 restaurants, or about 10 per square mile of city. This is a town that takes food seriously. Many restaurants are clustered downtown, but there's good elsewhere, too.
Around Santa Fe Plaza
For your morning coffee seek out on of Iconik Coffee Roasters' three locations. Good coffee drinks, airy places to sit and healthy breakfast options.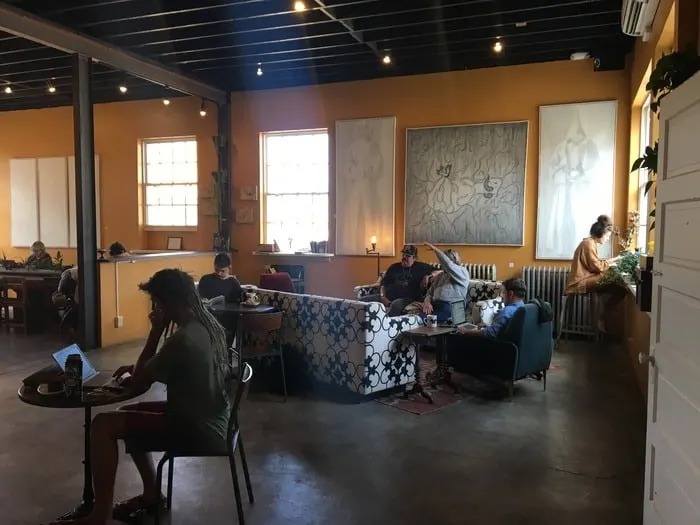 • The original Lena street location has the broadest menu that includes several vegetarian egg dishes, a brown-rice stir fry and a curry-chicken salad. The downtown outpost has burritos and bagels.
• If you're looking for a bigger breakfast and a splurge, consider La Plazuela at La Fonda. The restaurant, which resembles a glass-enclosed Mexican zocalo, has hearty breakfasts with southwester ingredients like pozole, tomatillos, black beans and chile rellenos.
There's also typical items like waffles, pancakes and bagels if your or your kids don't want to face red and green chile sauce first thing in the morning.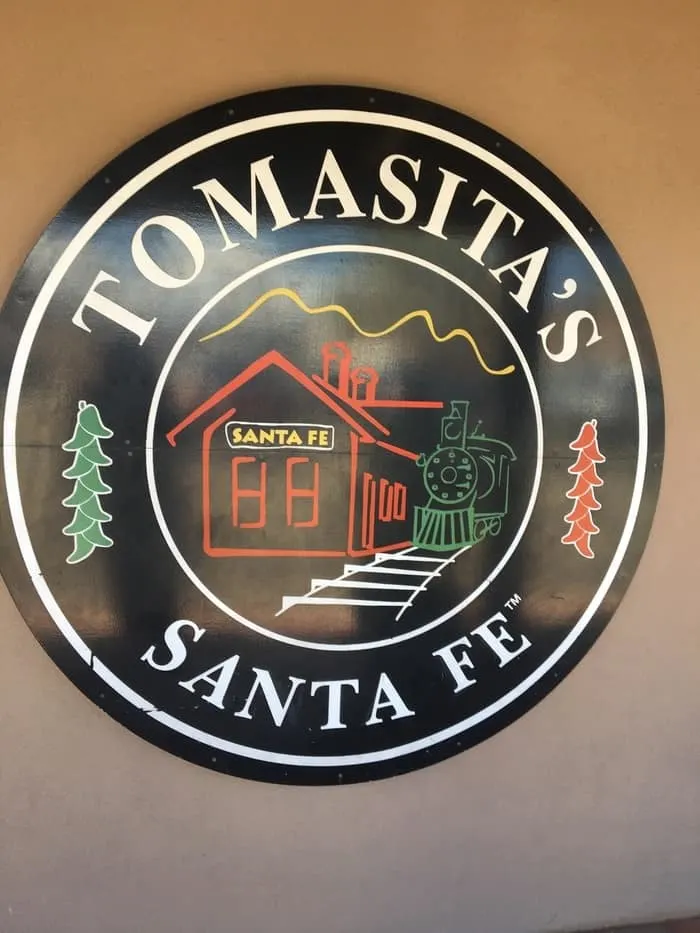 • Tia Sophia's, two blocks west of the plaza on San Francisco street is a diner with inexpensive plates or huevos rancheros, breakfast enchiladas and blueberry pancakes.
We had a great lunch after our walking tour at the Burger Stand at Burro Alley, also two blocks west of the plaza. They had a nice backyard patio, an interesting menu of local beers and very good burgers.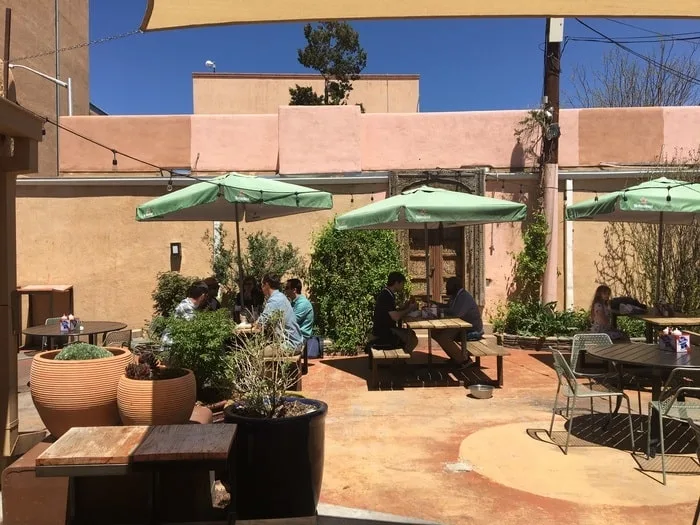 I chose a burger with avocado and habanero jam while Rich chose the obligatory green-chile-cheese burger. We all shared duck-fat fries, which we highly recommend.
Among the on-tap selections we liked a toasted pecan beer and a blood-orange cider. Tween Traveler gave her vanilla shake a thumbs up.
• The Five & Dime store on the south side of the plaza claims to have invented Frito pie, and you can still order it at the lunch counter if you're into that sort of thing.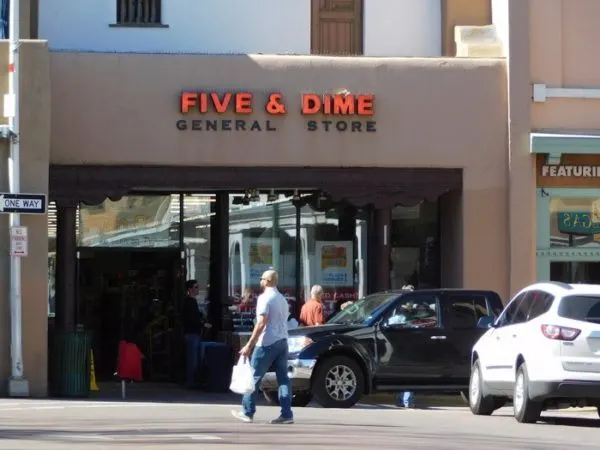 One of the best ways to find a place to eat in the Old Town is to stand in the Plaza and look up. Places with outdoor balconies offer nice views of the plaza and the surrounding area.
• The Rooftop Pizza & Draft Station, next to the Five & Dime, is a good bet for families. Try to snag a table on the upstairs balcony, order one of the local beers on the menu along with one of the gourment pizza.
Then send the kids downstairs to play air hockey, table tennis and foosball while you wait for your pies to come.
• We stopped into the Shed, just east of the Plaza on Palace Street, because its hidden patio looked charming. It's popular for its good food and fun décor.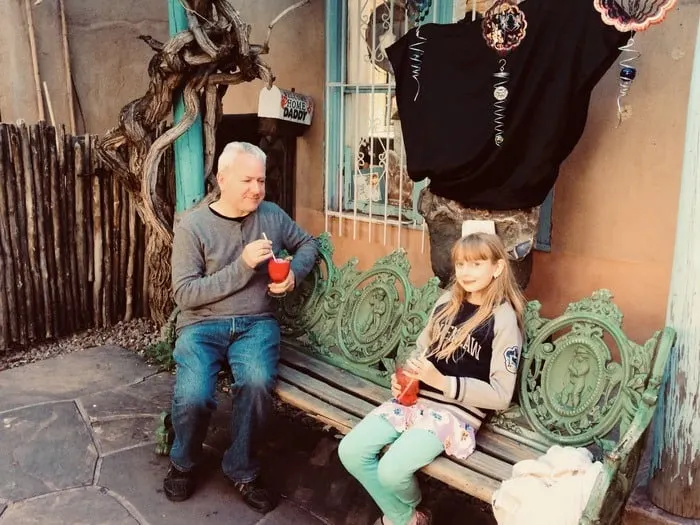 The outside patio has twinkling lights, a nice tree and benches if you're just there for drinks. Inside the rooms are painted colors as bright as the pink cactus-pear margaritas we ordered.
The cocktails were great and reasonably priced. The food looked good.
If you want to eat there with kids I recommend arriving before 6:00 to minimize your waiting. If you do have to wait, a nice jewelry store and a Christmas ornament store share the patio and make for fun browsing.
• The outdoor Bell Tower Bar at La Fonda is another good bet for an afternoon or early evening cocktail. It offers nice views of downtown and distant mountains. But it's only opened seasonally.
• We really wanted to get ice cream at La Lecheria, one block north of the plaza on Lincoln Ave., but we never finished dinner before it closed at 7:00 p.m.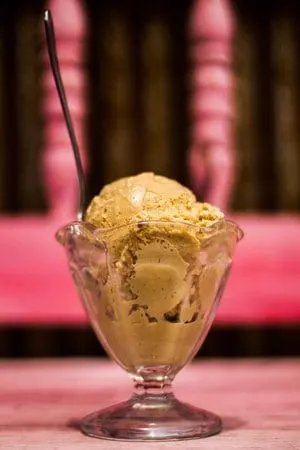 A local chef churns out four always-on flavors (vanillia, chocolate sea-salt, Iconik coffee and not-green mint-chocolate chip).
But people stop by for more inventive rotating flavors like sweet corn, miso-brown sugar, saffron rose and brown sugar-red chile (of course).
Ingredients are local, flavors are seasonal and the ice cream is reportedly good and rich. I wish I could tell you about it first-hand.
Other Parts of Town
• If you're looking to eat before or after Meow Wolf, consider Tumbleroot Brewery & Distillery, about a mile away on Aqua Fria Street. It makes a point of being family friendly, especially in the warm months.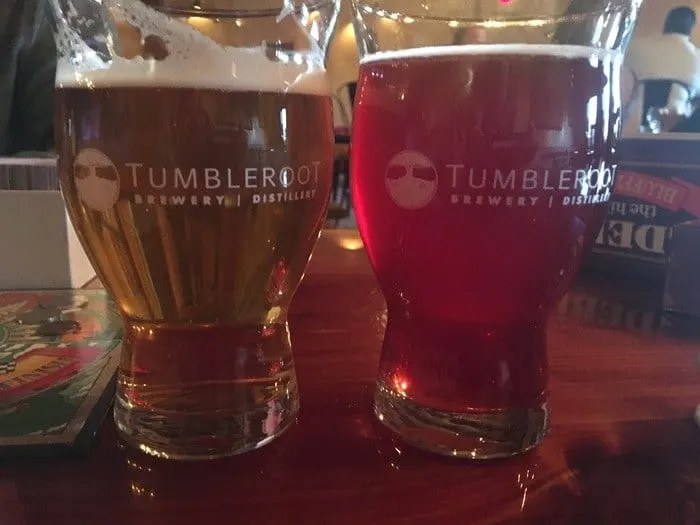 That's when parents can hang out on the patio enjoying a pint or playing horseshoes while the kids keep themselves busy in a good size play area. When it's patio season the taproom also has a food truck with Asian bites.
The indoor taproom is a bit rough around the edges, but there is a play area for smaller kids with a couch, games and toys.
We shared a bowl of Marcon almonds, a beet salad, macaroni & cheese and elk sausage that came with pretzels, pickles and mustard.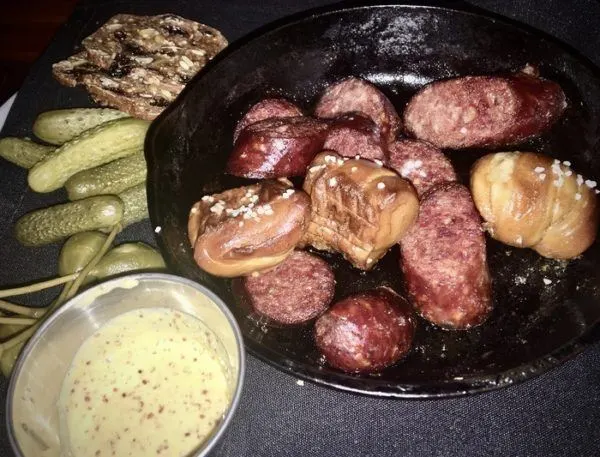 Kids meals come with carrots, apples, celery, cucumber and almond butter, which is really nice! But Tween Traveler preferred to share what we were eating.
Like a lot of breweries they had local root beer for kids. I really like my ruby-red honey-hibiscus wheat beer. Rich drank an IPA.
We would have liked to have tried a drink with the house-made rum, bourbon or agave. But we'd had a long day and had to drive back downtown. Another time.
• On the way back from Meow Wolf, you'll pass Tomasita's, in front of the train station. It's a big, busy place with a menu of Southwestern food's greatest hits. Get your fix of New Mexico enchiladas, sopaipillas, carne adovada and chile rellenos.
If you want to make your kids very happy order a freshly made sopaipilla with ice cream and strawberry sauce.
Basic Information
Time in Santa Fe
New Mexico is in the Mountain Time Zone, two hours behind East Coast standard time.
As we also found in Taos, it's important to pay attention to the time in Santa Fe because businesses and attractions don't open until 9:00 or 10:00 and they close pretty promptly at 5:00 or 6:00.
The upside of this is that there's no point in rousing older kids from bed to get an early start. But you'll want to make the most of the hours when things are open.

Santa Fe Weather
Like much of the Southwest's high desert, the temperature in Santa Fe is hot in the summer and very cold in the winter. Expect snow in the cold months, and not much rain in the other seasons.
In fall and spring temperatures can vary quite a bit between day and night. Layering is a good idea.
Getting To & Around Santa Fe
Santa Fe is any easy 68-mile drive from the Albuquerque airport, where you'll arrive if you fly to New Mexico. The drive is a bit more than an hour. It's all highway with some nice scenery.
It's 77 miles from the town of Taos (less than 90 minutes) and just under 90 miles from the Taos Ski Valley.
This is car country. Unless you plan to stick entirely to old town, you'll need a car to get around.
Parking in the old town is as difficult as you would expect, with a lot of restrictions. But the Canyon Road area has a municipal lot and most other places away from downtown had parking lots.
Our hotel had paid parking with in-and-out privileges but if you can find a hotel with free parking you'll be glad of it.
Pin it for Later!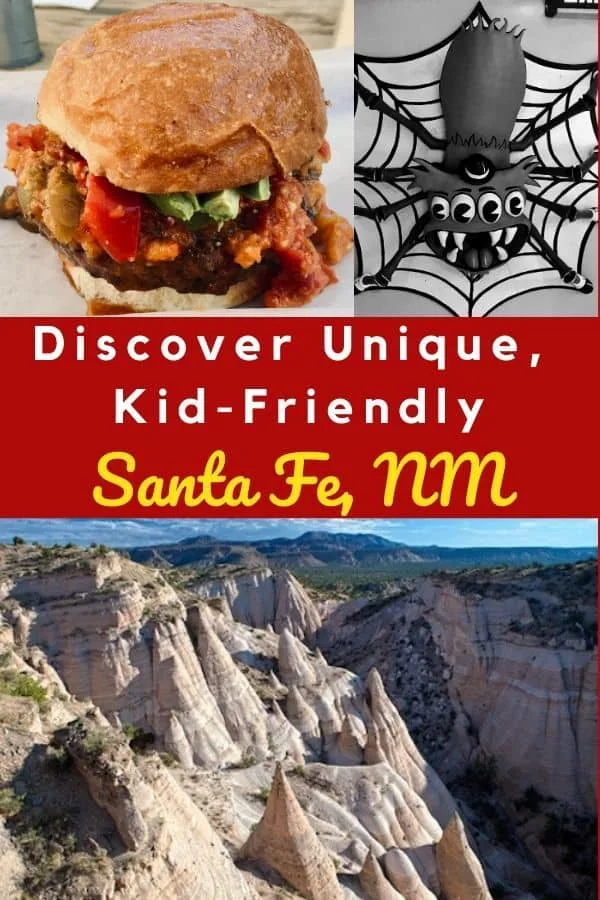 * My family were guests of Tourism Santa Fe, La Fonda, Meow Wolf , Milad, Tumbleroot, the Folk Art museum and the New Mexico History museum. We did not agree to any particular coverage in Exchange for the hospitality. My opinions are always my own.
* All photos by FamiliesGo!© except Tent Rocks (courtesy of NPS), Bandelier (courtesy of Sally King/BLM), the ice cream (courtesy of La Lecheria) and the falafel (courtesy of Milad Café).