Every summer I get press releases from AAA about how many cars are hitting the road for summer vacations.
If you're staying closer to home than you'd hoped this year at least be able to uphold that tradition of lighting the grill for mostof your summer dinners. And if your family can't travel as far as you'd like, at least your menu can.
Add a global flavor twist to your summer grilling with recipes from Malaysia or Hawaii, a side dish from Poland or Argentina's most ubiquitous condiment.
Below is a roundup of grill recipes, side dishes and condiments, plus a few desserts, from across the U.S. and around the world.
Need more Staycation inspiration?
Try these cookbooks and breads.
Plus 20 Fun Staycation Activities.
29 Dishes to Give Your Summer Barbecue Global Flavors
Global Entrees On the Grill
Grilled Chicken From Bali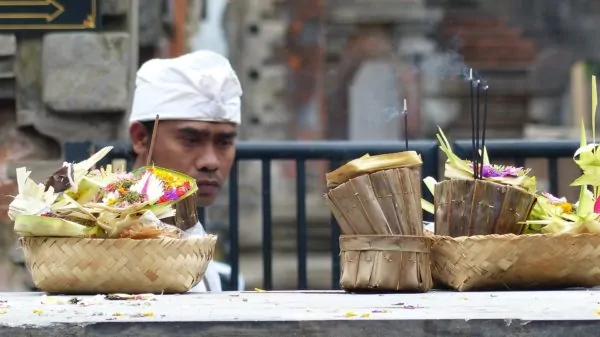 A barbeque is not a barbeque without chicken. The most succulent chicken I have tasted was Ayam Goreng, well-seasoned fried chicken I ate whenever I could in Bali.
It's actually perfect for the barbeque, too (and grilling is healthier than Frying.
It needs a little bit of preparation. The chicken is first simmered with spices to infuse them into the skin. Then pop it onto the grill until it's golden brown.
It goes perfectly with salads, rice or maybe a spicy sauce like the Indonesian Sambal below.
— From Larch Gauld at The Silver Nomad.
BBQ chicken from Hawaii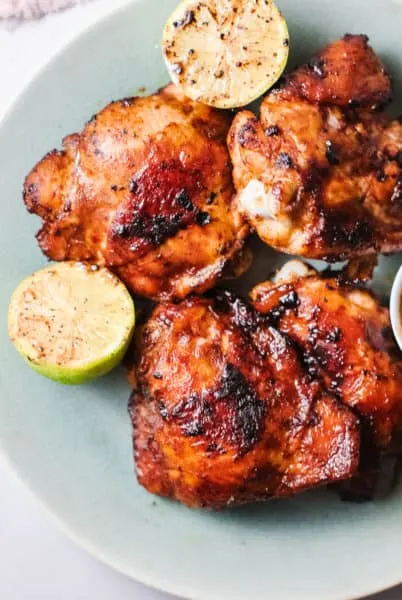 One of the best things about visiting Hawaii is eating all the amazing barbecue.
One of their signature dishes is Huli Huli Chicken, which is barbecue chicken that is slathered in yummy Hawaiian barbecue sauce. Kids loves the sweet and tangy flavors in this dish.
My recipe is easy to follow and you can make it in the oven if you can't grill. It's perfect to eat with rice and macaroni salad (see a recipe below) for a homemade traditional Hawaiian plate lunch.
And you can slice up leftovers to put on top of a green salad.
— From Marcie Cheung at Marcie in Mommyland
Tandoori Chicken From India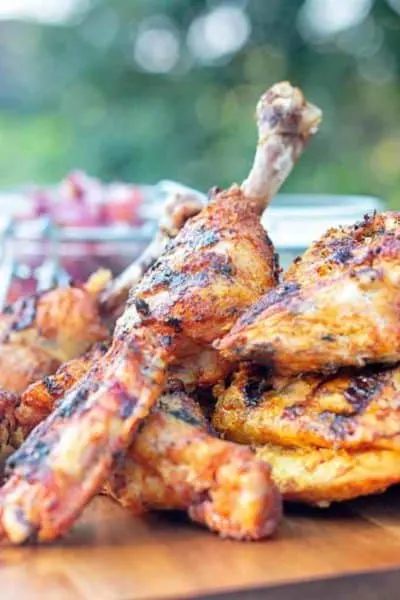 I take a lot of my cooking inspiration from Indian flavors and classic dishes. Tandoori chicken gets its name from the clay tandoor oven it's cooked in.
These ovens reach extremely hot temperatures — almost 900°F or 480°C. This gives the chicken its signature flavor and sets it aside from other marinated chicken.
The very best way to replicate this at home is by grilling your tandoori chicken; your barbecue can actually get hotter than a typical indoor oven.
Simply knock up a quick yogurt-based marinade up to a day before your grill party and let the chicken sit. Then get your grill as hot as you can and break out the bhangra beats!
Add in the Paneer Tikka below, some rice, grilled Indian bread and chutneys for an India-themed barbecue.
— From Brian Jones At Krumpli
Chicken Satay From Malaysia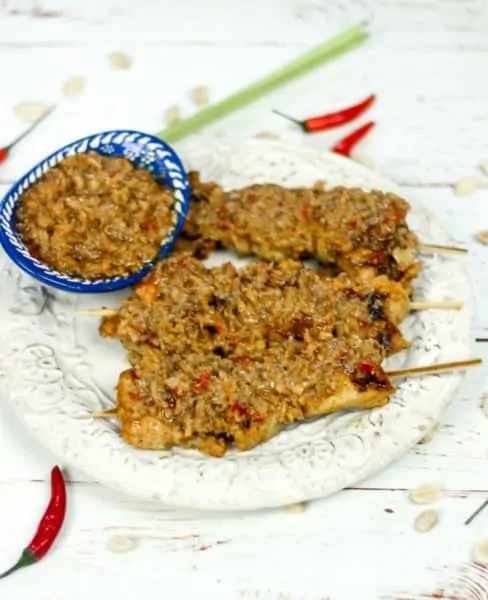 Satay is one of the most popular street foods throughout Southeast Asia. On a visit to Penang I discovered Malaysian-style Satay, which is very different from the Thai version most of us are used to.
There's no coconut milk. Instead the meat is basted with fresh lemongrass oil and served with a coarse peanut paste
It will make you think of chicken satay in a whole different way.
—From Mireille Roc at The Schizo Chef
Masala Burgers From India (sort of)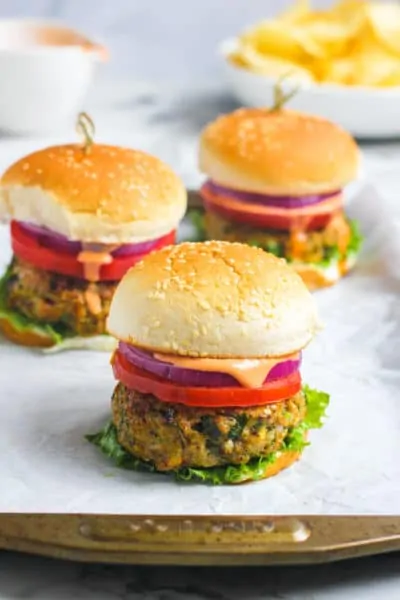 I love recipes where I can fuse the spices I grew up with in India with classic American recipes. This chicken burger adds a masala spice mix to the most classic dish, the hamburger.
Spicy Indian Style Masala Chicken Burgers have a mix of garam masala, ginger, garlic and cilantro added to the ground mea.
It's an easy way to pack familiar burgers with global flavors for quick weekday meal or, preferably, a relaxing weekend grilled lunch.
If you don't want to use chicken, the seasoning mix would work just as well with lamb or beef.
— From Archana Deshmukh-Mundhe at Ministry of Curry
Beef Skewers From Mexico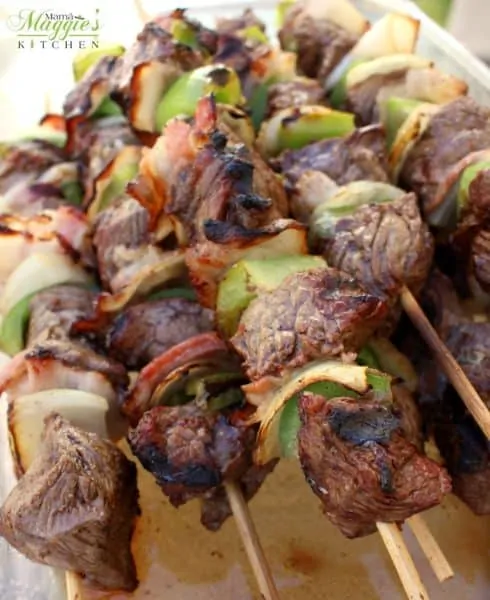 My family is from the state of Durango, Mexico. This Alambre de Res an authentic recipe from Northern Mexico and how we make beef skewers at home. They're perfect for any summer backyard barbecue.
Once you take the meat from the sticks, you add it to tortillas, drizzle with salsa, and YUM!
Give your whole barbecue a Mexican theme with tortillas warmed on the grill, rice, guacamole, salsa and the Borracho Beans below.
— From Maggie Unzueta at Mama Maggie's Kitchen
Shredded Beed Salad From Guatemala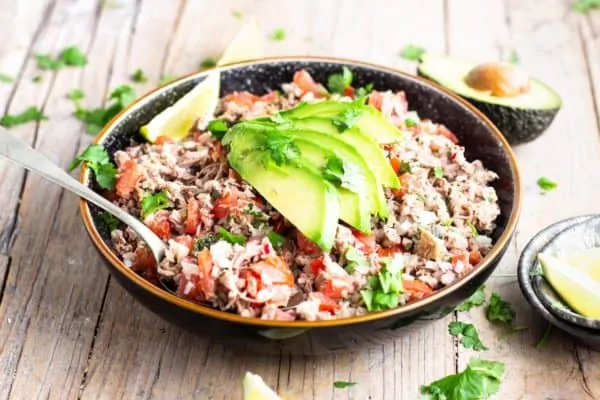 Salpicón de Res is a refreshing shredded beef, radish and mint salad.
This traditional appetizer hails from Zacapa and Chiquimula in eastern Guatemala. The region is known for its ranches and farming so it's no surprise that the main ingredient is shredded beef brisket.
Unlike many other Latin American appetizers that are deep fried, salpicon de res is quite light and refreshing, perfect for enjoying alongside cold beer or cocktails during a casual get-together with friends and family.
I first enjoyed this dish in Guatemala City where it was prepared by my husband's cousin's wife. We ate it on their outdoor terrace shaded by a leafy ceiba tree. We had cold Gallo beer and shots of venado, the popular local aguardiente, alongside it.
In this recipe for salpicon de res, the beef is slow-cooked in savory spices then mixed with naranja agria ( bitter orange juice), thinly sliced radishes, chopped mint, cilantro, onion and tomatoes.
It's perfect for parties and summer barbecues because it's prepared in advance, chilled and then served at room temperature, usually on tostadas topped with wedges of avocado.
— From Michele Peterson at A Taste For Travel
Shrimp From Spain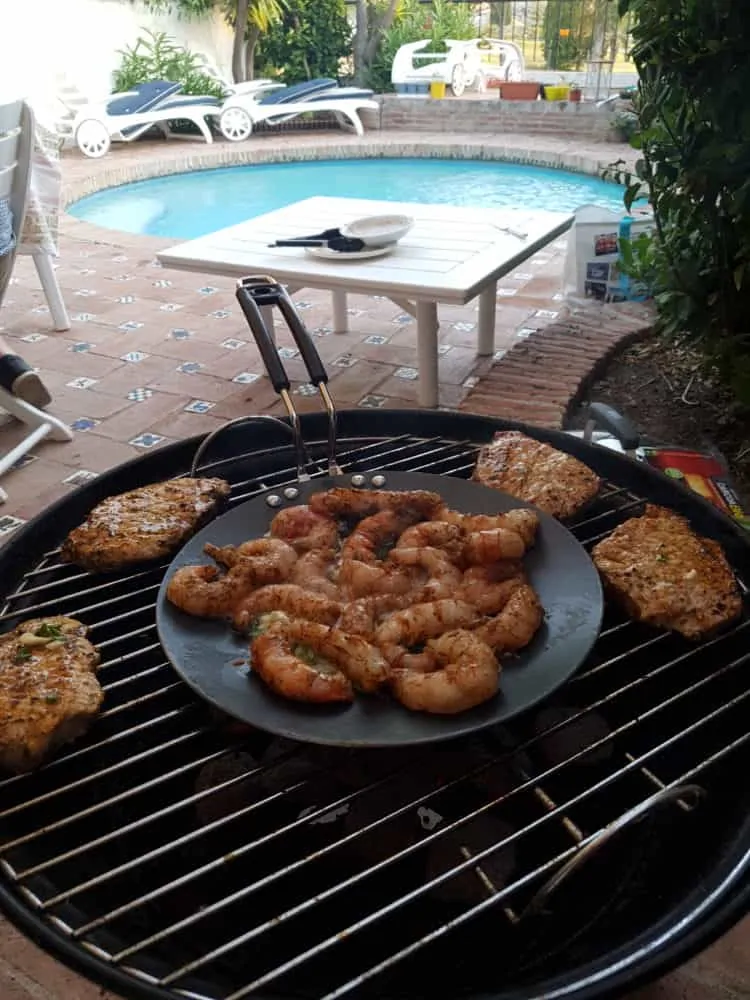 Prawns pil pil is a delicious tapas dish found all over coastal Spain. In summer it's perfect with a cold beer as an appetizer or part of a barbecue spread. Adding it on top of the grilled steak makes a lovely garlicky surf and turf.
It's a very simple dish: medium-size shrimp cooked in a delicious garlic and chili sauce.
I have made prawns pil pil on the stove and on the grill; either way I use a stainless-steel pan. I love it on the barbecue because the prawns get a bit of that smoky charcoal flavor.
The pil pil sauce comes from the Basque Country, but nobody knows who invented the dish. Both northern and southern regions of Spain claim it.
— From Joanna Davis at The World in my Pocket
Lamb Chops From South Africa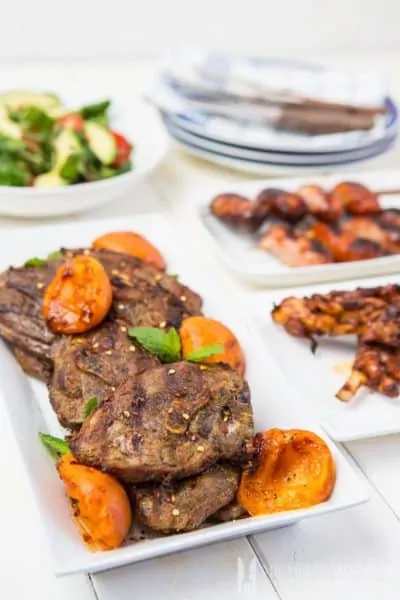 Braai is the Afrikaans word for barbecue and it would be an understatement to say that all South Africans love a good braai. Fruit is often paired with meat in this cuisine, and lamb and apricot is a classic combination.
Thanks to an Indian influence, curry and other spices are regularly used in South African dishes. Curried Lamb Chops with Grilled Apricots remains a mainstay at family get togethers.
If you prefer pieces of meat to chops, Lamb and Apricot Sosaties (Skewers) is another classic!
Try it with the Braai Boodjes below.
— From Michelle Minnaar at Greedy Gourmet
International Grilled Sides & Appetizers
Tofu Skewers From Thailand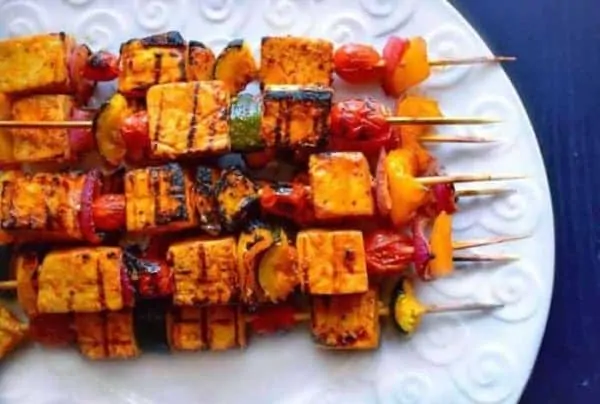 I grew up eating curries and when I moved to US, Thai cuisine was the one that gave me a familiar, comfort-food feel.
A reliance on fresh ingredients has made Thai is a popular world cuisine and it's the source of the most tried and perfected recipes in our house, especially for parties.
Even with serious meat-eaters among our family and friends, these Sweet Spicy Thai Tofu Skewers are a must whenever we're grilling. The kids love the sweet-spicy combination, too.
Combining tofu with zucchini, onion, tomatoes and bell peppers and homemade Thai-basil sauce, the flavors hit the right spots and our guests don't miss the meat.
The dish pairs amazingly well with fruity sweet cocktails/mocktails.
— From Molly Kumar at Easy Cooking With Molly
Grilled Fennel From Italy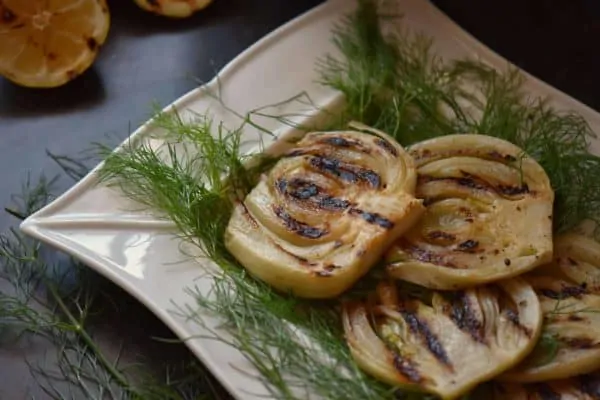 Growing up Italian meant we ate a lot of fennel. It would often be roasted it with olive oil and lemon and served as a simple side dish.
During a family reunion barbecue, we were inspired by my mom to try grilling the fennel instead of turning on the oven to roast it. It has since become my entire family's favorite barbecue side dish.
This family recipe, which still has just three ingredients, might be just the thing offers a different grilled dish to your vegetarian friends and provides a unique side for your meat-eaters.
— From Maria Vannelli at She Loves Biscotti
Grilled Paneer From India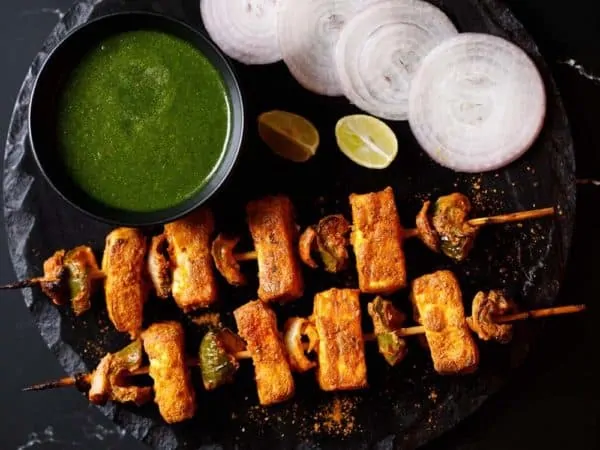 Paneer Tikka is marinated paneer (which is a fresh cheese), arranged on skewers and grilled (or baked in the oven). The marinade is strained yogurt (Greek-style yogurt) seasoned with spices and herbs.
It's a very popular vegetarian dish in India, especially in northern cuisine. In restaurants the paneer cubes are baked in a tandoor (a cylindrical clay oven). Grilling adds some of the same subtle smoky charcoal flavor you get from the tandoor.
My family loves this tikka, both grilled and baked. I serve them as a starter or sometimes make wraps.
For authenticity you can serve your Paneer Tikka with a mint or cilantro dip, sliced grilled onions and lemon wedges.
— From Dassana Amit at Veg Recipes of India
Grilled Camembert Cheese From France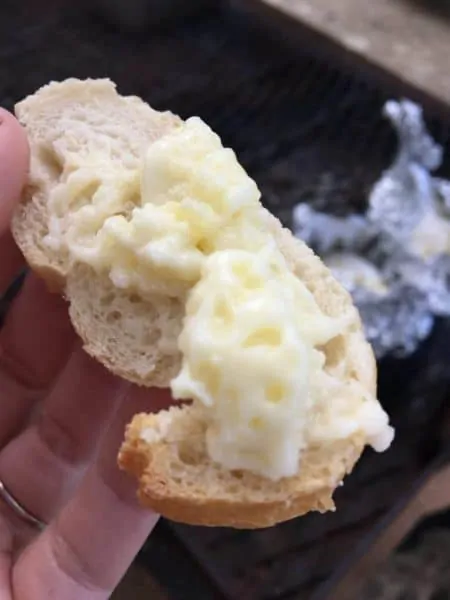 I was lucky enough to win a trip to France a few years and part of the prize was visiting a vineyard. When we arrived, the vineyard workers had a barbecue going and they were grilling Camembert in foil.
I love Camembert, and the way they'd prepared it with white wine added was simply sublime! I thought I was in heaven; they almost had to tear me away from the grill!
Back at home I've recreated it and serve it with lots of crusty baguette and a cold glass of white wine. It always disappears fast.
— From France From Christina Conte at Christina's Cucina
Grilled Cheese From South Africa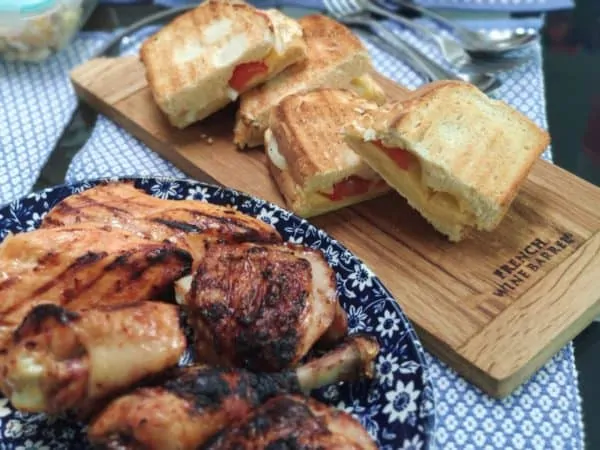 A braai is more than just a way of preparing food in South Africa, it's a way of life. So much so that South Africa's National Heritage Day has been reimagined as National Braai Day, when inhabitants from all cultures gather around the grill.
Boerewors (sausage) and tjops (lamb chops, like those above) are grill staples and the humble braai broodjie (barbeque bread) that is a must-serve accompaniment.
A fancy version of a toasted sandwich, the broodjie starts with two slices of thick white bread slathered with butter, then heaped with shredded cheese and slivers of white onion and tomato.
Toast the sannies on a cast-iron griddle on a grill, ideally over wood, or on your stovetop.
It's a simple dish that satisfies even the hungriest South African (young and old). And it's the perfect side to a plate full of grilled meat.
— From Lee Nelson at The Travel Scribes
Off-the-Grill Side Dishes From Distant Shores
Macaroni Salad From Hawaii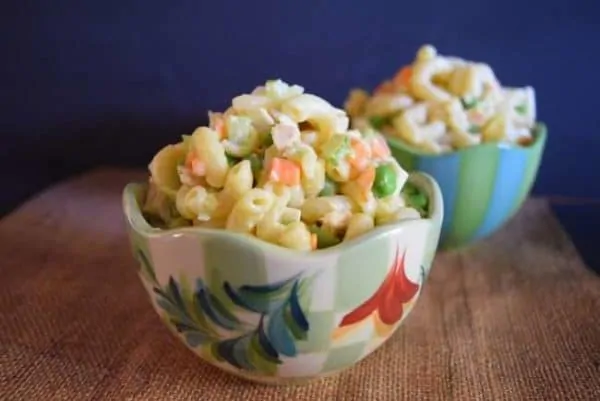 Anyone who have ever ordered a plate lunch in Hawaii, know that the island folks love their macaroni salad.
This Hawaiian-style macaroni salad is the perfect addition to barbecues, especially if you're making barbecue pork, grilled chicken or even beef brisket.
This Hawaiian plate lunch staple combines macaroni (preferably elbows), carrots, garden peas, hard boiled eggs, celery, canned tuna and a mayo dressing.
Try it with the Hawaiian BBQ chicken up top and some mai tai cocktails. for a themed dinner!
Tip: Double the recipe because it's always a BBQ favorite.
— From Nicky Omohundro atLittle Family Adventure
Panzanella From Italy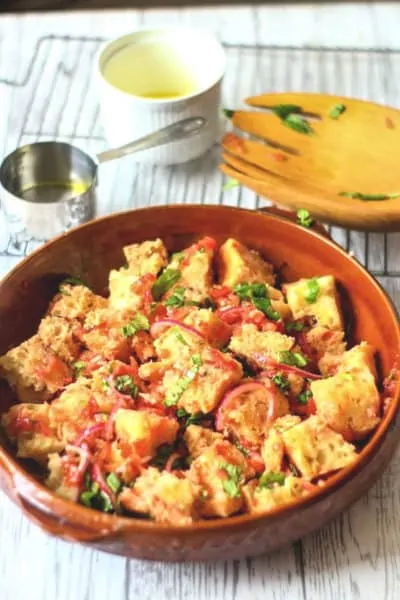 Traditional Italian Panzanella Salad is a simple celebration of the best tomatoes, basil and olive oil you can bring to the table in summertime.
It is one of my favorite side dishes and I get excited about serving it every single time.
I love the colors as well as the deep summer flavors. It's my kind of summer eating: easy, fresh and tasty!
— From Jenny Walters at Apply To Face
Pasta Salad From Greece (sort of)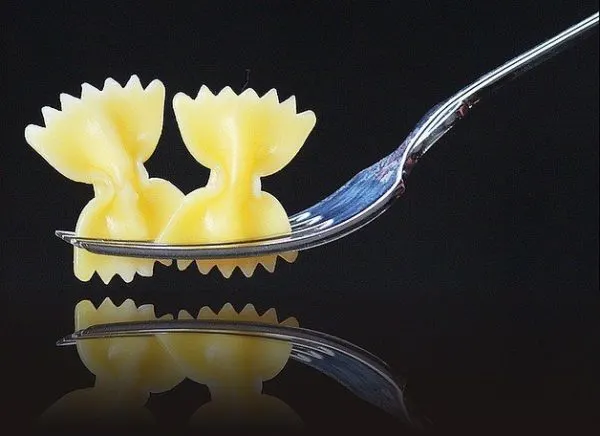 This is one of our go-to salads whenever we have guests for lunch in the summer. It goes with any meat we put on the grill. We pair it with grilled portobellos if we have vegetarians visiting.
Cook up a box of bow-tie pasta and run it under cold water to keep it al dente. Reserve some pasta water.
Put the pasta in a large bowl, then toss it with a container of Greek yogurt, one zucchini, thinly julienned, and a handful of chopped fresh mint and oregano.
Add enough olive oil or reserved pasta water to thin the yogurt into a creamy sauce. Serve it at room temperature.
— From Eileen Gunn at FamiliesGo!
Cole Slaw From Maryland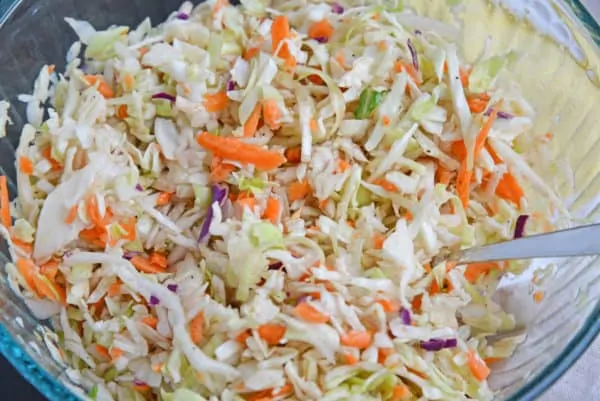 Vinegar Slaw is a staple in Maryland and along the Eastern seaboard. Easy to make and immune to hot temperatures, it is the essential BBQ and picnic side dish.
I am not a huge fan of mayo and since it isn't stable in the heat, I love the flavors in this slaw; they go with pretty much anything we grill.
No Maryland barbecue is complete without crab cakes, which also go really well with this delicious slaw.
— From Jessica Formicola at Savory Experiments
Cucumber Salad From Hungary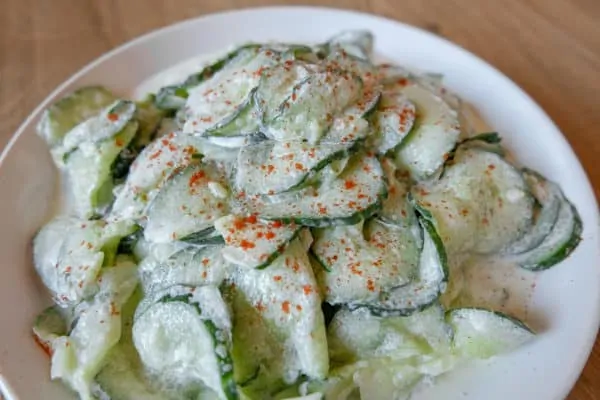 If you are searching for a slightly different salad to go with your grilled meat or fish, try this Hungarian cucumber salad.
Slightly creamy and slightly vinegary, this cold cucumber salad is made with Hungarian paprika and never lasts long on our table. It's been passed down through my family and we've been enjoyed it at gatherings for years!
This Hungarian cucumber salad, packed with European flavors, is simple to make with thinly sliced cucumbers, some freshly chopped onion, garlic, vinegar, sour cream, and a few spices.
The key is to let it refrigerate before serving!
— from Eric Wychopen at Recipes From Europe
Cucumber Salad From Poland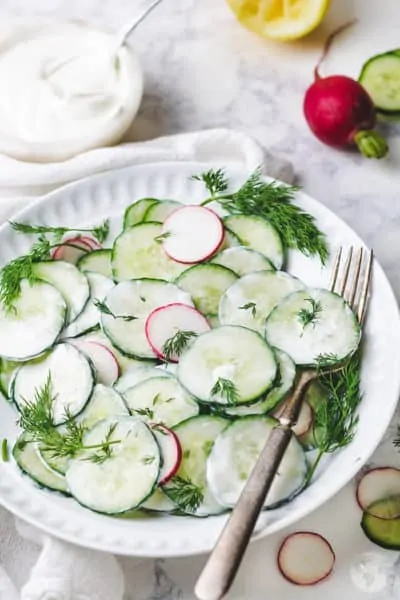 This salad has a story:
Legend has it that this cucumber and sour cream salad was a favorite dish of an Italian princess married to the Polish King Sigismund I in the 16th century. The dish made her homesick and sad, hence the name mizeria, which means misery.
According to another legend, this salad was popular among the poor and miserable peasants. Whatever the origin, the salad is more likely to bring joy than misery to your next barbecue.
My family loves exploring global foods from and I found the recipe in a Polish cookbook.
It's very similar to the cucumber salad from my childhood in the Balkans, with the exception of the sour cream, so it's one of my favorites.
It's often on our menu during the hot summer days and a must-have side when we're grilling.
— From Jas Brechtl at All That's Jas
Green Beans & Potatoes From Greece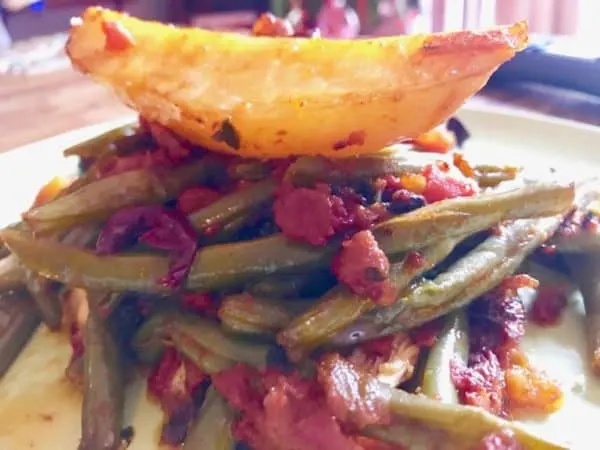 Summer for me meant days in Greece, at the beach with my cousins.
We'd come back for dinner cooked by my Yia Yia, always with dishes with lots of olive oil, lemon, garlic and oregano; the quintessential flavors of Greece.
Yia Yia cooked by sight and she left no recipes. But this Fasalakia Freska is a close copy of one of my favorite dishes of hers.
Fresh summer green beans and tomatoes are the key.
—Lucee Arvanitis Santini at MomJunky.com
Drunken Beans From Mexico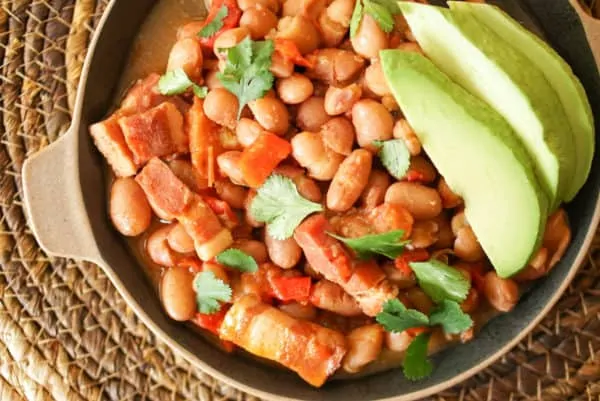 Borracho beans, or drunken beans, is a popular dish in Northern Mexico and Southern Texas. They are made by cooking pinto beans dark Mexican beer, like Negro Modelo.
The flavors in the borracho beans, which are seasoned with chili powder, cumin and paprika, complement the richness and smokiness of grilled meat, especially steak.
For me, borracho beans are a comfort food. They offer a combination of rich, warm and hearty that just makes you feel good inside. Sometime I eat them as a main dish.
And don't worry about this being a family-friendly dish; the alcohol cooks off during cooking.
— From Amber Hoffman at The Bean Bites
Black Bean and Black Eyed Pea Salad From the Southwest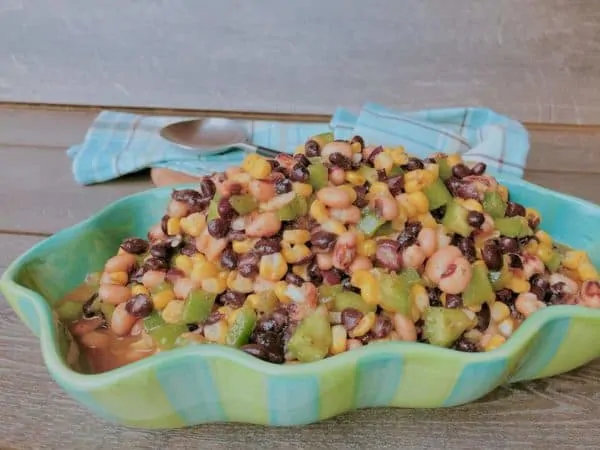 Cold marinated bean salads are always welcome barbecue side dishes. This mixed-bean salad is one of my go-to dishes to bring to potlucks, backyard BBQs and pool parties.
It's simple to make and goes with almost any grilled entree. Plus it's vegan, so it's ideal for all diets.
— From Nicky Omohundro at Little Family Adventure
Potato Salad From Germany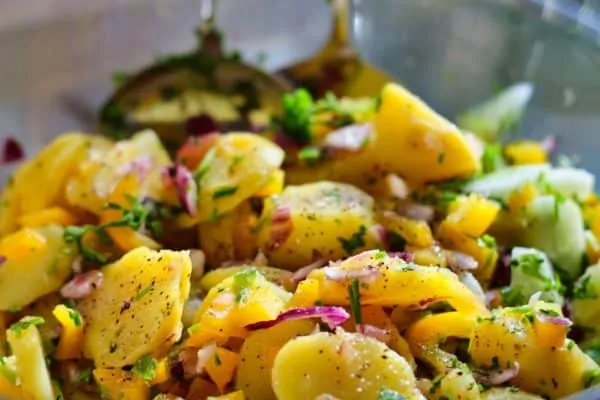 This is one of few summer salads my mom makes that I liked when I was a kid. I was very happy when I learned it's also a staple in my husband's Bavarian-born extended family.
Boil 2 pounds of potatoes that aren't too starchy (we use red-skinned or Yukon gold). When they're cool enough to handle, peel the potatoes and slice them into disks.
In a pan, cook up 6 to 8 strips of bacon. When they're cooked, put them aside.
Cook diced onions in the bacon fat, remove from heat and add white vinegar to taste. Crumble the bacon and toss it with the potatoes and vinegar and onions. If it's a bit dry, you can add a some olive oil.
Garnish with a healthy dose of parsley before you serve it. You can eat it warm but we make it ahead to let the vinegar soak in to the potatoes and serve it at room temperature. You don't want to serve it chilled.
For a casual lunch, it's a natural partner to sausages, especially bratwursts, knockwurts, kielbasa and really good frankfurters.
— Eileen Gunn at FamiliesGo!
Condiments With Global Flavors
Sambal From Sumatra
I discovered sambal whilst travelling through Sumatra, Indonesia, where there's often a spoonful of it on your dish or a bowl on the table.
If you love a bit of fire in your dishes then add some of this to your next BBQ, either as a condiment or, if you really like heat, smothered over your meat or fish before grilling.
Although there are many variations, the main ingredients are always the same.
Simply chop and blend together half a tomato, 4 shallots, a clove of garlic, 3 chili peppers (or more) before cooking on low heat in a frying pan with some oil. Add some salt, sugar and lime juice to taste.
Multiply the recipe if you love it as much as I do or you're feeding a crowd.
Sambal is very versatile and is traditionally served over grilled meats, chicken and fish (try it with the ayam goreng up top). Rice is a handy side because it soaks up some of the heat.
Try it and you'll be wondering how you ever lived without sambal in your life!
— From Jeff Yip at Life of Y
Chimichurri From Argentina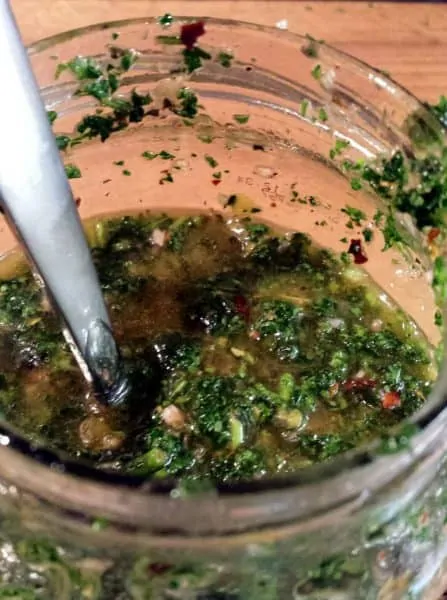 Eight years ago I spent two months in Buenos Aires and the only recipe I brought back with me was chimichurri sauce. Without a doubt it is the most common condiment in Argentina and you'll find it on every restaurant table.
In fact, you can tell if you're in a good restaurant by how they serve it. The great steakhouses always have a blend of fresh green herbs with red pepper flakes and oil.
But if you're in a cheap pizza place you'll find a mix of dried spices that's been sitting there for who know how long.
While many people associate chimichurri with steak (Argentines' favorite food), it's fantastic on grilled vegetables.
I also toss it into a bowl of roasted potato for a fast potato salad. Toss a spoonful into soups to brighten up the flavors or put it on sandwiches.
It freezes well so I usually make a batch and store it in small amounts in the freezer.
— From Ayngelina Brogan at Bacon is Magic
Gold Mustard BBQ sauce From South Carolina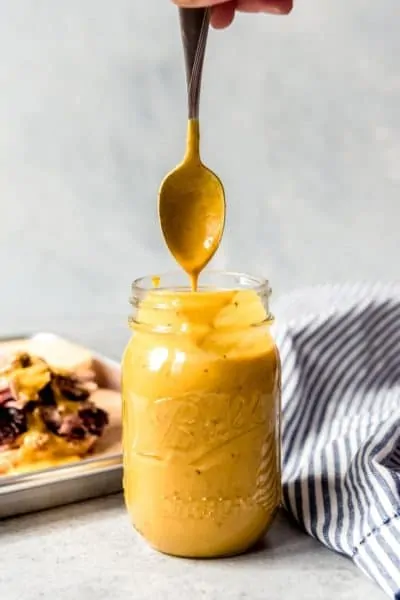 North and South Carolina each have their own regional BBQ sauces. North Carolina's is vinegar-based, while South Carolina has vinegar and mustard.
We visited South Carolina last year for the first time and discovered this vivid yellow and shockingly delicious BBQ sauce!"
This South Carolina Mustard BBQ Sauce recipe is an easy way to reproduce that tangy, slightly sweet sauce that is popular across the state.
For anyone who hasn't tried it before, expect an edgier condiment than the sweeter ketchup and molasses sauces that you typically see.
It's delicious drizzled over smoked pork, chicken, burgers, ribs – you name it! – after they come off the grill or out of the smoker.
— From Amy Casebolt Nash at House of Nash Eats
Globetrotting Desserts
Grilling desserts is always exciting and makes the most of your still-hot barbecue. Add these global flavors to familiar dishes to see the kids light up.
Stroopwafel S'mores From The Netherlands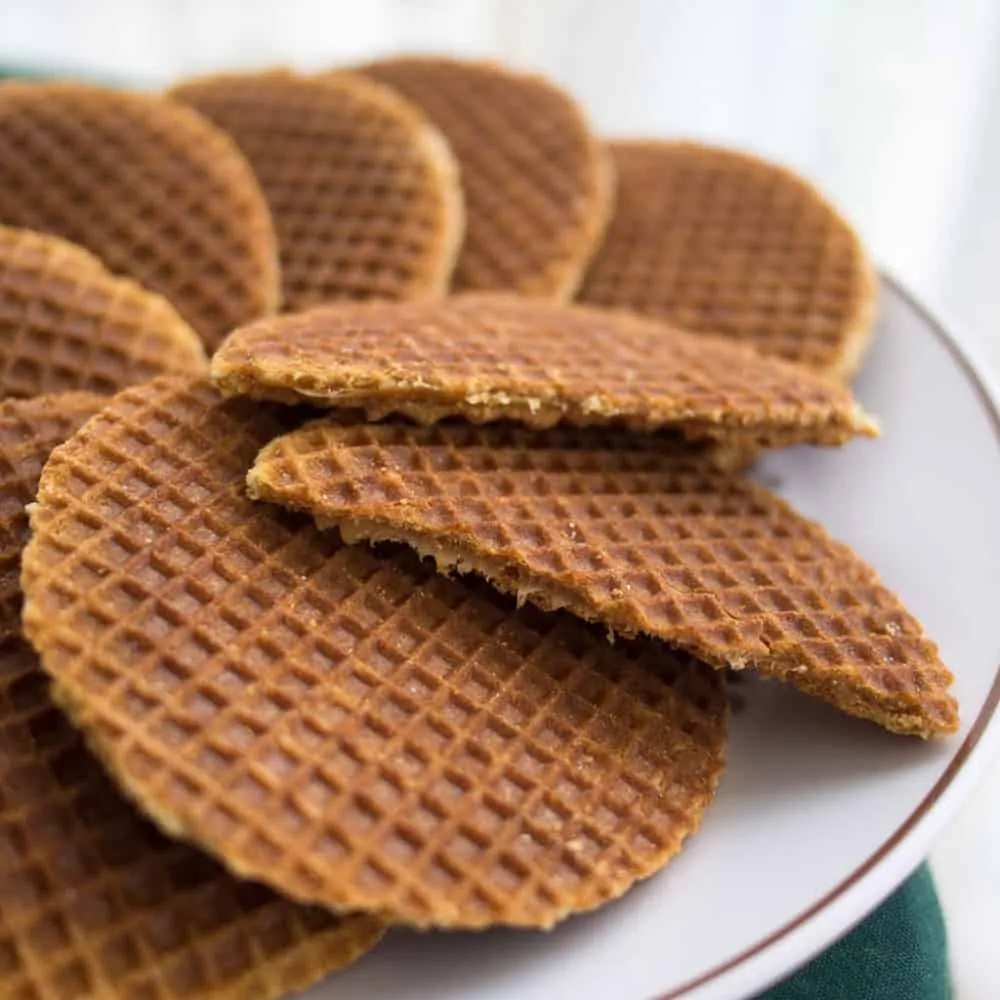 Stroopwafels are thin waffle cookies, usually sandwiched with a thin layer of caramel in between. A friend taught me how to use them to make s'mores.
Try this Dutch twist on traditional American campfire S'mores at your next barbecue.
Just layer one Stroopwafel, a piece of dark chocolate and one or two marshmallows on top, and finally, another Stroopwafel.
Wap it up in aluminum foil, place it on the BBQ and wait for the chocolate, marshmallows and the Dutch cookies to melt together.
The dark chocolate is a good foil for the sweet caramel and marshmallows, but they're tasty if you skip the chocolate, too, which kids might prefer.
The biggest challenge is eating them neatly!
Your kids will never go back to graham crackers and Hershey Bars.
— From Lara Hartog at Both Feet on the Road
Blueberry Cake From Maine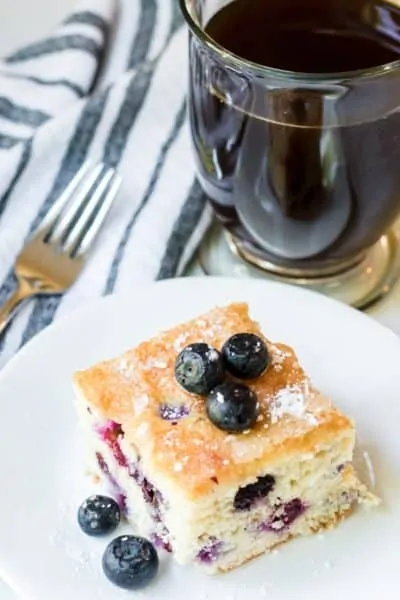 If you're going to visit Maine in the spring or summer, your visit will most definitely include something delightful made with fresh blueberries.
My mom was born and raised in Maine and back in the 80s, my family created a cookbook with some of our favorite tried and true recipes.
While I never lived there myself, a few visits and making recipes from the family cookbook have Maine feel like home.
For example, this classic Maine blueberry cake is a great dessert when summer blueberries are showing up at the farmers' markets.
If you're like me, you will want the leftovers for breakfast!
— From Andrea Updyke at Just Is a Four-Letter Word
Pin it for later!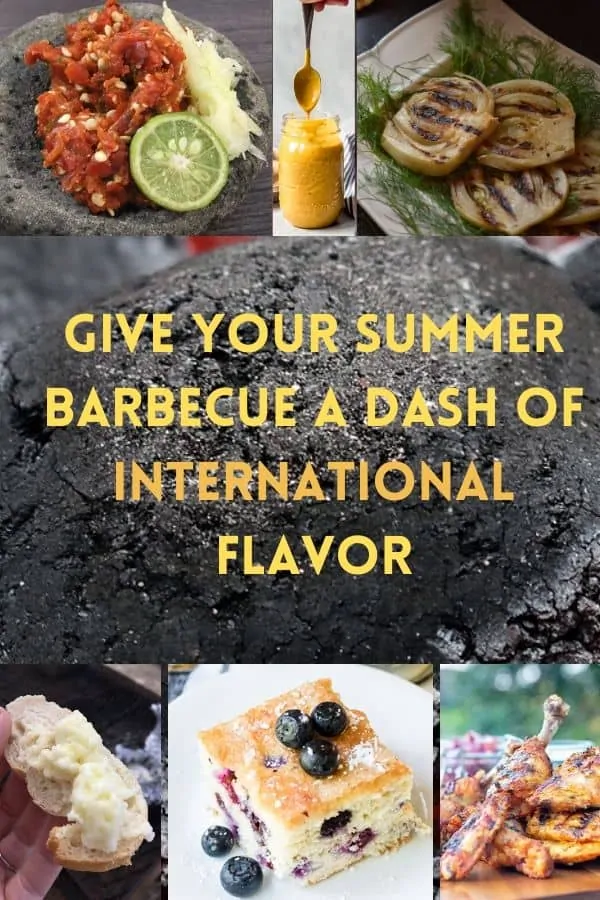 Photos courtesy of the writers who contributed except at noted: Balinese man (Patric Franso via Pixabay); bowtie pasta (Pixabay); potato salad (Sinawa via Pixabay); sambal (Midoria via CC/Wikimedia); Chimichurri (Dominic Lockyer via CC/Wikimedia); s'mores ingredients (Takeaway, Evan Amos, Simon A Eugster, respectively via CC/Wikimedia