Alabama is not the first place I think of for a family beach getaway. In my mind U.S. beaches are on the Atlantic or Pacific coasts, period.
But after five days exploring Orange Beach and Gulf Shores, Alabama, I can tell you I would absolutely choose Alabama for a beach vacation with kids.
Gulf Shores and Orange beach sit side-by-side on the Gulf of Mexico, just over the state line from Pensacola, Florida.
Most important, it has lovely long stretches of beach with nice sand and a reasonable surf.
It has plenty of upscale vacation rentals and mid-range hotels right on the beach.
There's an enormous state park with some cool lodging options. It also has plenty of good local seafood and fun cocktails in laid-back kid-friendly restaurants.
Really, what more do you need?
Here is all you need to know to plan your spring break or summer vacation in Gulf Shores and Orange Beach, with my recommendations for things to do with kids, top places to eat and unique places to stay.

A Gulf Shores Family Beach Vacation: Can't-Miss Things To Do & Eat
Outdoor Family Fun
The Beach
This beach town has 32 miles of public beach, of which two miles are state park land.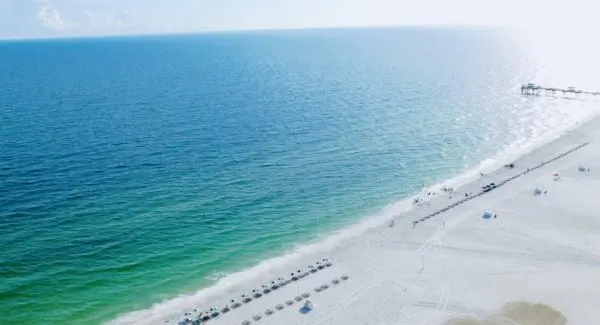 Much of the beach is behind hotels and large vacation condo properties. But there are ten public beach access points. These beach areas have free parking and some have picnic areas and facilities.
The sand is soft, and near shore the rolling surf was manageable. I saw a fair number of surfers hanging out where the waves were breaking, which was fairly far from shore.
It's a great beach for walking, swimming and bobbing around in the surf for with kids. The scene is pretty mellow and family oriented. This is no accident.
In addition to its pristine beach, Gulf Shores State Park has a fishing pier where visitors can catch more than a half-dozen edible species. There's a park fee for using the pier, and you need a fishing license which you can buy ahead of time online or at the pier's bait and tackle shop.
More To Do in Gulf Shores State Park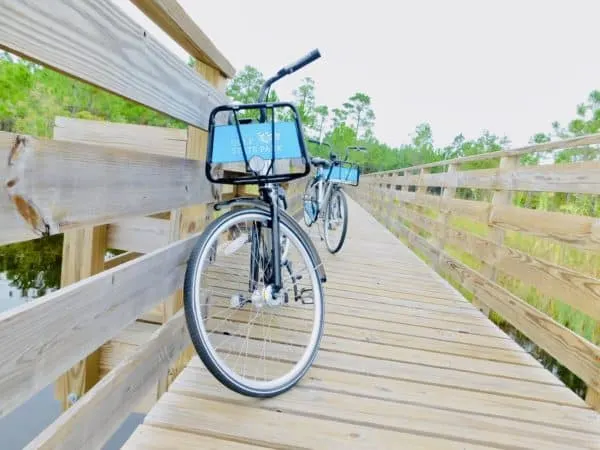 The state park has 28 miles of bike trails that are a mix of pavement, packed dirt and boardwalk.
They stretch from the waterfront inland through forest and around a lake where you can spot water birds and alligators from the boardwalks. Most of the paths are pretty flat and easy for kids.
The park launched a bike share program that allows visitors to borrow bikes from specific stations for biking within the park.
I tried the system when it was new last fall and it had a few glitches (luckily, I was using the bike station outside of the park's café, where I could ask for help). I'm guessing they've since worked out the kinks.
The bikes were comfortable and pretty easy to handle. It's a handy option for a spontaneous bike ride or to get around the park if you're staying at its hotel, cabins or campground.
The bike share only has adult-size bikes and they don't have helmets (riding on car-free paths I didn't feel like I needed one but anyone under 16YO has to have one). If you have kids with you, Beach Bike Rentals has a store near one of the park's many trail heads.
My New-Zoo Review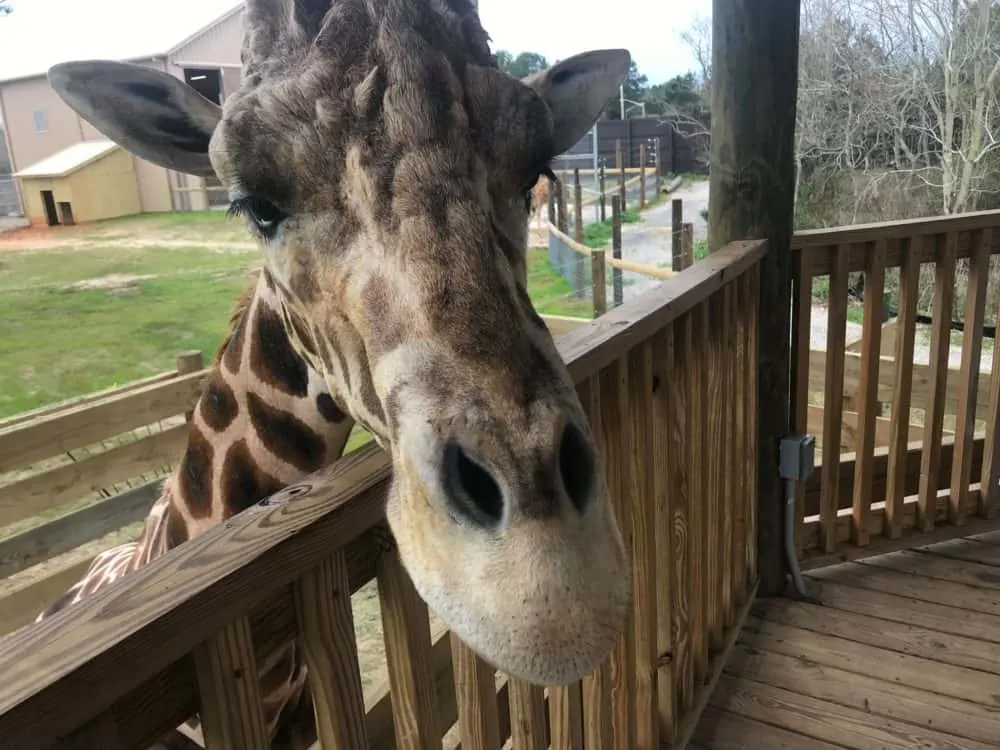 The new and quite impressive Alabama Gulf Coast Zoo was planning to make its debut in March. Covid 19 stepped in to interrupt but the grand opening resumed in late May.
I recommend a visit, ideally on a cloudy or cool day; zoos are hot.
The zoo, which is triple the size of the one it replaces, has been thoughtfully designed with both animals and visitors in mind. Viewing platforms for the giraffes are up high, so visitors can see eye-to-eye with them.
The monkeys will make their home on an island in a man-made pond. Visitors can observe them from shore or rent rowboats for a closer (but not too close!) look.
There a few nice playgrounds, a small carousel and a very alluring gift shop.
The best thing about the zoo, though might just be its restaurant and bar. I would recommend visiting it even if you aren't checking out the animals and even if you don't have kids with you.
Tip: The new zoo is a fair distance from the old one. Make sure to check the location before you go.
See the Blue Angels practice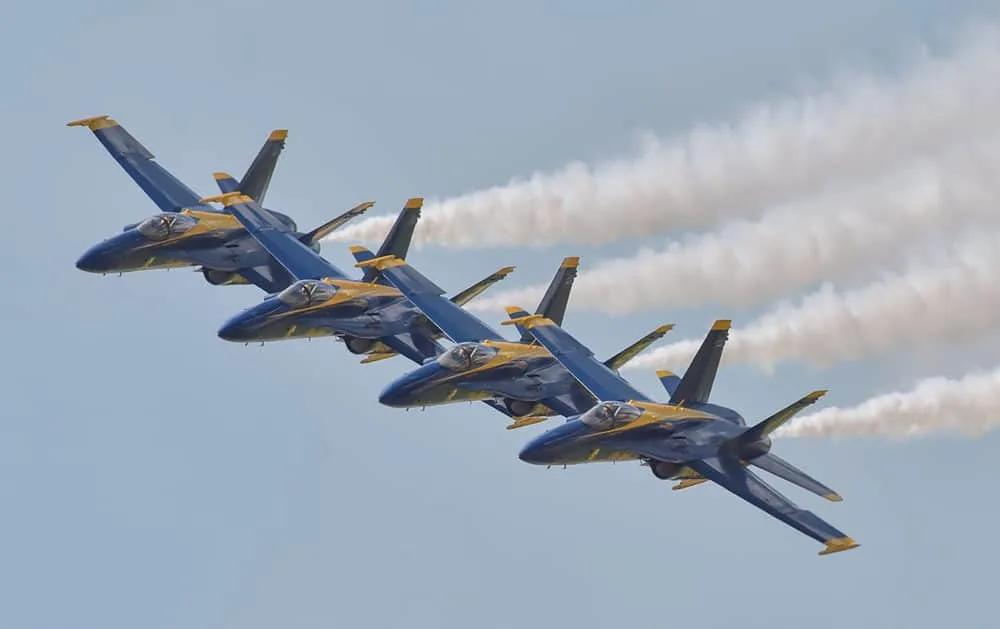 On select days from late May to late September the navy's Blue Angels take off to practice their daredevil routines from the naval base in Pensacola. You can see them for free on the naval base and from other points around Pensacola.
Performances last for nearly an hour so bring hats, sunglasses and sunscreen. Kids and anyone sensitive to loud noise will want ear protection.
For a full day out, you can catch a ride with one of several pleasure-boating companies that offer cruises to see the Blue Angel shows from the water. They are pricey boat rides but it's unique and really memorable experience.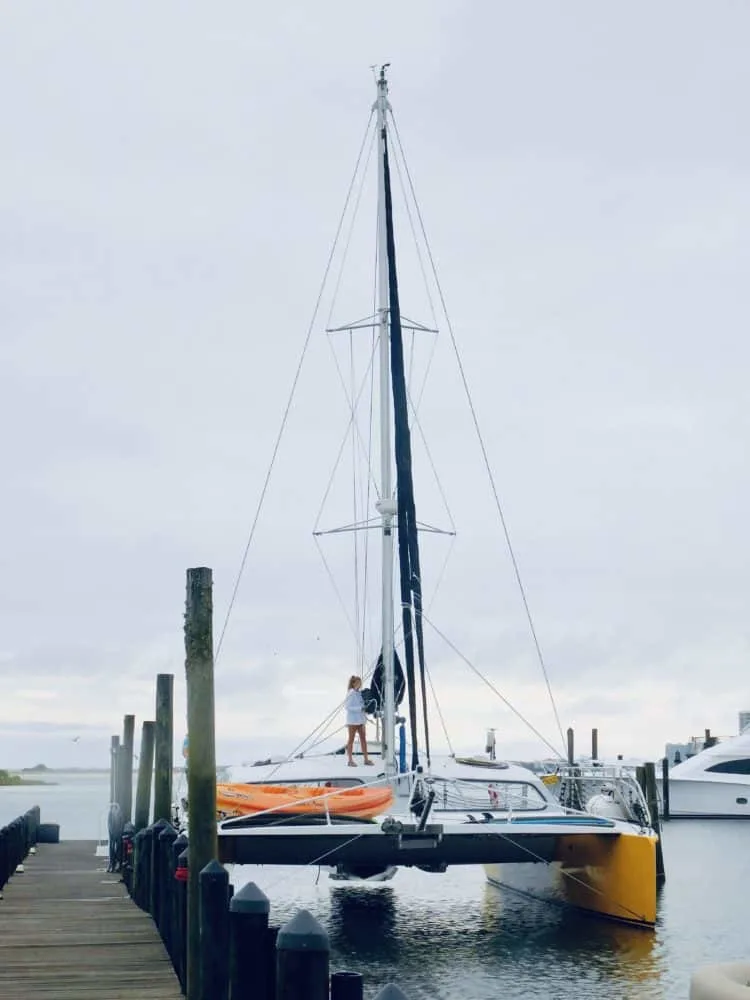 Sail Wild Hearts has a Dolphins & Angels Adventure cruise on a catamaran. You can enjoy a light lunch, look for dolphins and have a front-row seat for the Angels' dives and spins.
After the show the sailboat stops in a calm cove where you can snorkel, paddle board or kayak.
Unfortunately, it poured rain the day I was planning to sail with them, and it was the last day of the Blue Angels' practice season, but you can read a first-hand account of this adventure before you book.
Rainy Day Activity: Aviation Museum
The good thing about having a very rainy day was that I got to explore some of the area's indoor things to do with kids.
My consolation for missing the catamaran ride and Angels show was a visit to the National Naval Aviation Museum back across the state line in Pensacola.
I was imagining a collection of dusty war planes and could not have been more wrong. This huge, high-tech museum has something for everyone is actually a great multi-generation activity.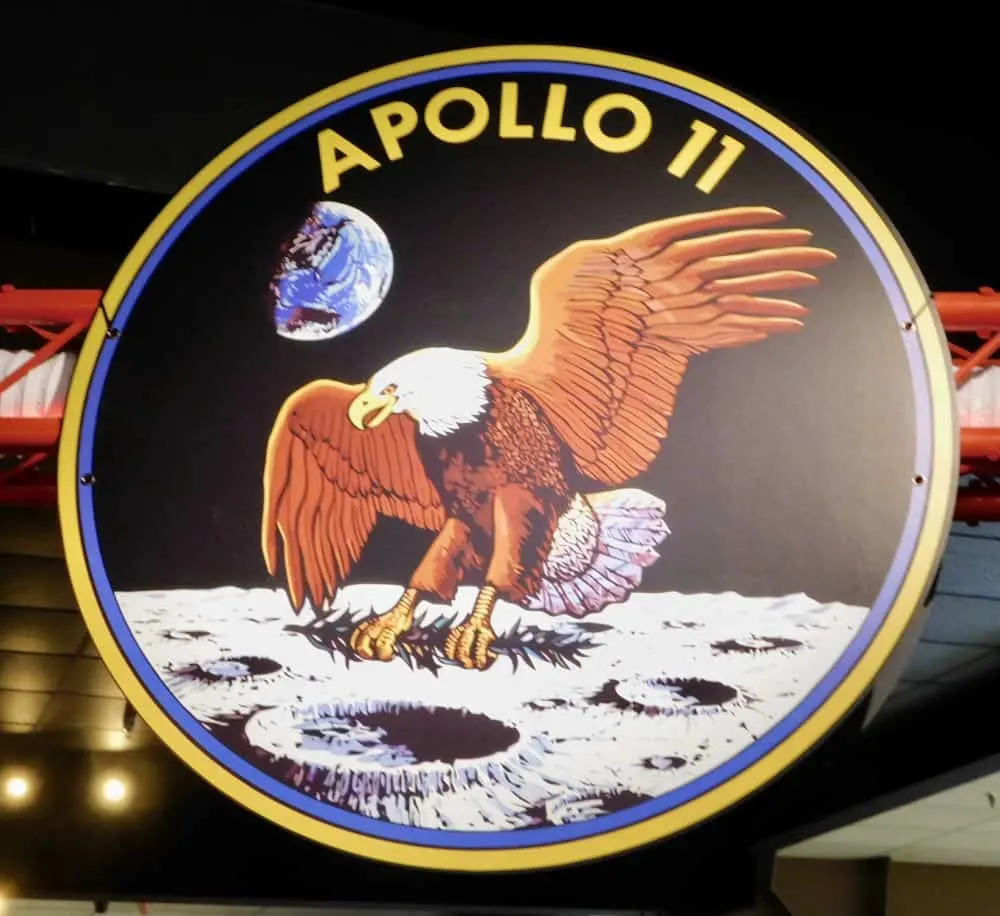 The Apollo 11 moon-landing VR experience was easily one of the coolest things I've ever done. You take off from Cape Kennedy, look down at earth from space and step onto the moon's surface. It's very immersive and the one simulation adults might appreciate more than kids.
If you also missed the real Blue Angels or can't get enough of them, the museum has a 4-D blue angels film, which is a lark. There is also a Blue Angels flight simulator, which I didn't quite have the nerve to climb into.
If you have real aircraft or naval history aficionados in your group, just let them loose with plans to meet up later. They'll enjoy the daily tour that starts from the front desk.
More casual visitors will like climbing aboard a real Air Force 1 Plane, and the small but nicely done feature on women in naval aviation.
Tip: The museum is on an active naval base. Every adult visiting will have to show I.D. to get on the base.
Rainy Day Activity: Make-Your-Own Bath Products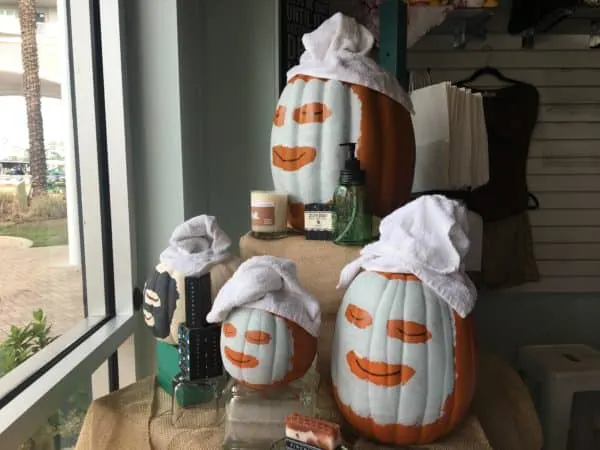 High Cotton, a fun bath products store at the Wharf outdoor mall, offers a DIY activity I haven't seen in other places, that's a great way for tweens, teens and moms to have a really fun girls' day out.
What they call their "signature experience" starts with a visit to the fragrances bar where each customer has up to 250 essential oils and fragrances in front of her.
My group spent a good amount of time sampling the difference aromas and mixing and matching them to come up custom scents of our own.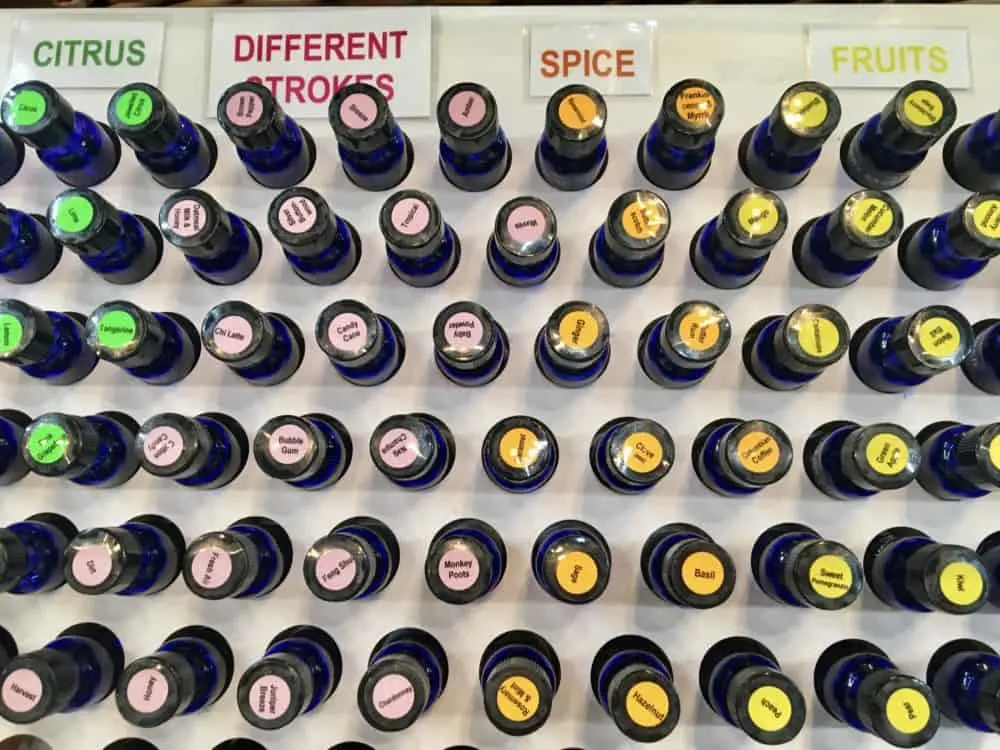 I started off mixing scents I usually like, mostly citrus oils and calming scents like vanilla. To my surprise that's not where I wound up. My winning combination was red currant, clove and cinnamon, which I used to make an uplifting sugar scrub.
After settling on your scent, you can have the staff mix it into most of the bath products High Cotton makes, including bath gel, bubble bath, scrubs, moisturizers and lotions, body sprays and shaving products.
I think this works best as a girls day or night out with tweens and teens.
They do have a men's products (body spray, shaving cream, beard oil) and essential oils like sandalwood if you want a co-ed afternoon.
They're fine with younger kids coming to make bubble bath or shampoo, but you really have to supervise them so they don't spill or go to crazy with the essential oils. And I wouldn't bring anyone younger than 7YO.
Practical Details: Prices for this experience start at $125 for up to eight people to make one product each (you can bring more than eight people but you'll have to take turns at the fragrance-making).
You absolutely want to call ahead to make sure they aren't hosting another group. They offered us complementary sparkling wine before we began the fragrance fun. You can bring your own drinks and snacks, too, if you arrange it with them beforehand.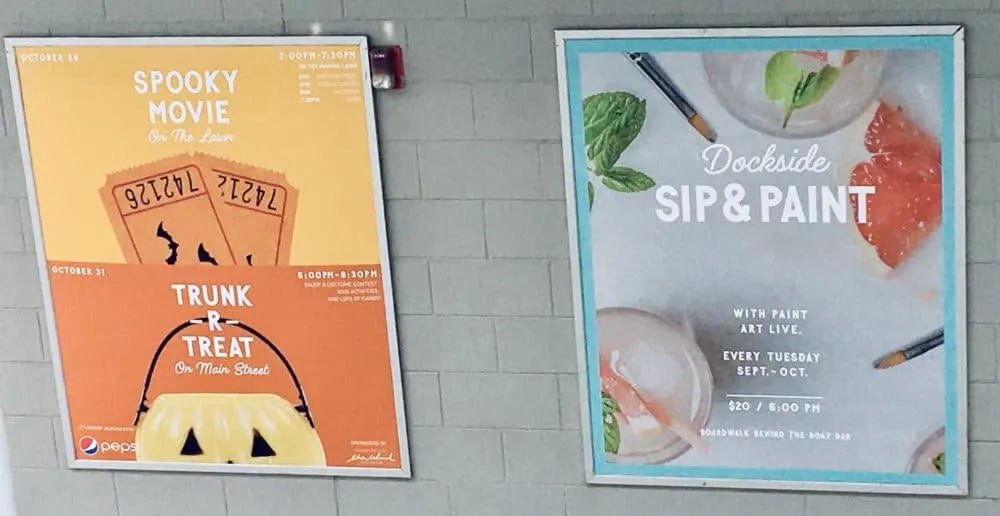 Tip: The Wharf is as close to a town center as Gulf Shores has. And it's likely you'll find yourself there at least once during your visit.
Other rainy-day activities there include a day spa, a distillery tasting room, a VR salon, escape room and a movie theater.
On sunny days it offers a zip-line, Ferris wheel and mini-golf as well as an outdoor amphitheater for summer concerts. Fishing boats and sunset cruises leave from the marina here.
This outside mall also has the usual mix of shopping and some very good local restaurants.
More Great Resources
• Beach House Planning & Packing List
• 10 Essential Items For Every Beach Day
• 6 Packling Lists For Every Vacation (including the beach)
Some of the best Gulf Shores restaurants
It's not hard to find good food, and particularly good seafood, at restaurants that are casual and kid-friendly.
In general restaurants in Gulf Shores and Orange Beach don't take reservations unless you're a large group.
Plan to eat breakfast early try to plan lunch and dinner for off-peak hours. Otherwise you'll most likely have a wait, especially during peak weeks.
The Safari Club
This is new bar and restaurant at the zoo and it's no zoo cafeteria you have ever been to.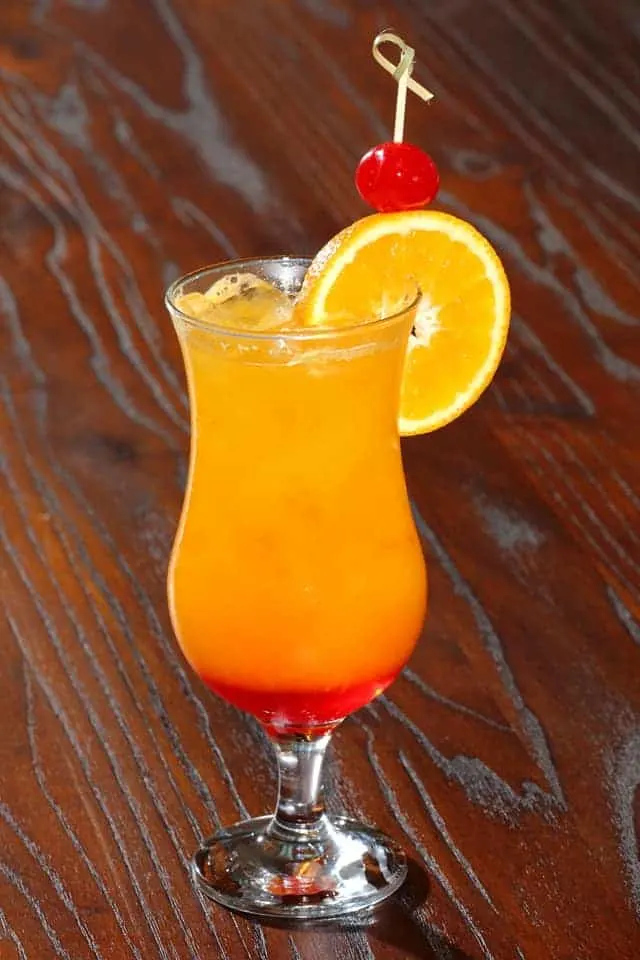 It's themed to look like an old-fashioned gentleman's safari club and is really well done. Safari khaki walls contrast with brightly colored furniture and decorations.
Many of the items on the menu are inspired by places the zoo's animals are from. Look for flavors from Moroccan and other parts of Africa, India and other parts of Asia and South America.
For example, Try tandoori chicken, falafel, Singapore satay or chalupas among the appetizers.
There's a wood-fired oven and pizzas are really good, especially the fennel sausage. I had one with Moroccan flavors when I was there that isn't on the menu at the moment; here's hoping they bring it back.
Closer to home, they serve gulf shrimp in a few different ways, including shrimp and grits.
And there's a bar! Yes. A bar. At the zoo! This really is a great spot for an off-beat date night. Try local beer or top or have them mix a zoo-inspired cocktail for you.
If you visit with kids, linger over a pint with the grown-ups while you send the youngsters to the carousel or nearby playground.
Perch At Gulf State Park
Hilton recently opened a gorgeous hotel on the beach in Gulf State Park. Make a point of having a meal or at least a deink there even if you stay elsewhere.
Perch is an indoor and outdoor restaurant that emphasizes local, seasonal ingredients and craft cocktails. I stopped in for drinks and appetizers and could easily have stayed all night.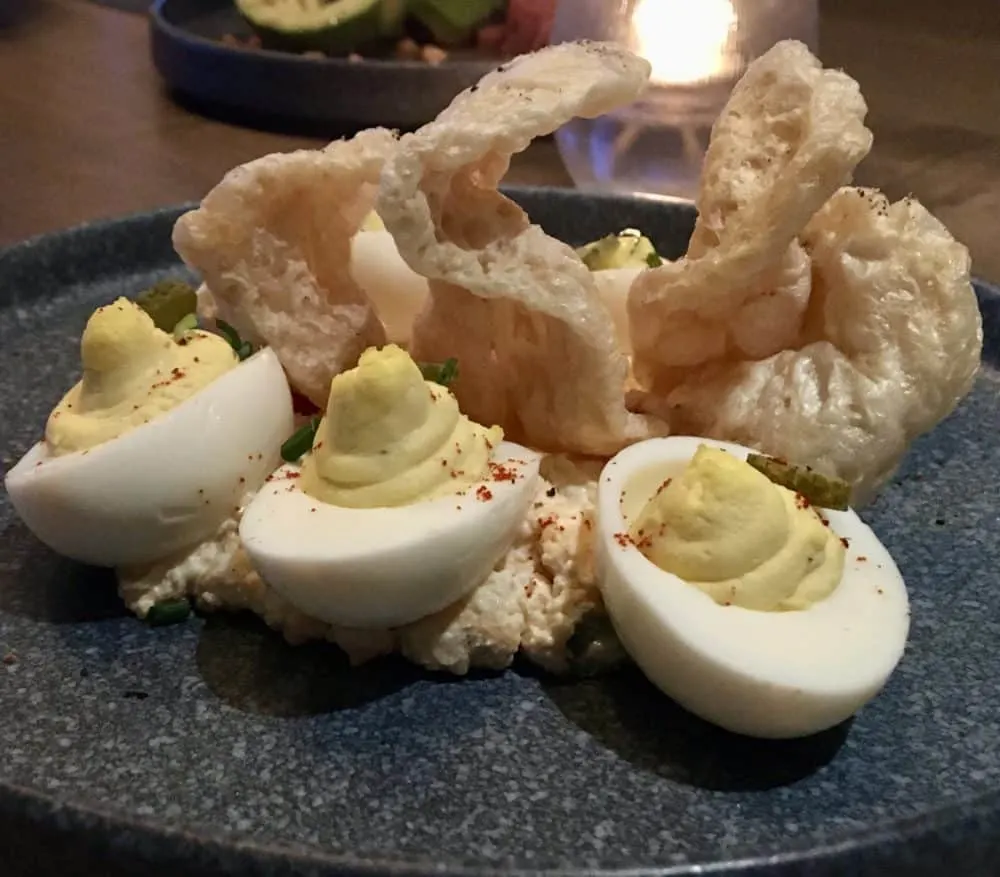 My blind tiger cocktail was a balance mix of sparkling wine with ginger and cherry liqueurs. Other cocktails mix elderberry and cucumber flavors, which sounds odd, but they're subtle and refreshing in the Alabama heat.
Share a plate of deviled eggs with your group; they involve pimento cheese and pork rinds ('nuff said).
The supporting ingredients in dishes are often surprising, like fried Brussels sprouts accented with horseradish cream or octopus on a bed of purple potatoes. I especially like the chilled beef tips on toast, smoked pork belly, and seared scallops.
If Perch is too formal for you, Food Craft, the hotel's less formal restaurant, also features local ingredients and has a few of them same plates and cocktails on the menu. And it's open for lunch as well as dinner.
The Gulf at Orange Beach
The Gulf is exactly the kind of place I love to find when I'm on vacation with my family. It's an outdoor fish shack made from shipping containers. You order at a window and eat at picnic tables.
It's right on the beach with room for kids to play while you wait for your lunch and dinner.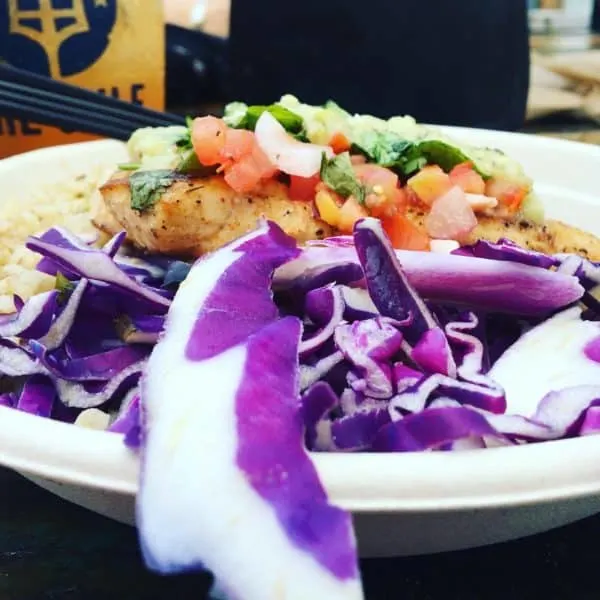 But the food is way better than your average shrimp shack. There's a smoked tuna dip appetizer. The poke bowl is a very pretty mix of pineapple, veggies and tuna.
My fish tacos came in a bowl with brown rice, black beans, purple cabbage and salsa verde. The daily special was grilled scallops on cauliflower puree.
If the kids menu chicken tenders and grilled cheese don't suit you, you can order hummus or rice and beans from the regular menu.
Everything is served on compostable plates. And the fresh lemonade is really good, especially if you mix it with the unsweetened iced tea.
Sunliner diner
This retro-style diner is the place to spend a rainy day if you're unlucky enough to have one.
Grilled cheese, burgers and shakes are de rigueur if you arrive after noon. The fried pickles and onion rings are top notch; get an order of each to share.
If you come for breakfast, don't plan on eating for a few days afterward.
The biscuits are light, fluffy and so good. They come alongside almost any egg dish. The pancakes are large and tangy with buttermilk. The eggs are all cooked to order.
If you're lucky, you might snag the booth that's inside a bright red convertible.
Southern Grind Coffee House
This café/gift shop at the Wharf has very good coffee drinks. We had breakfast there before our morning at High Cotton.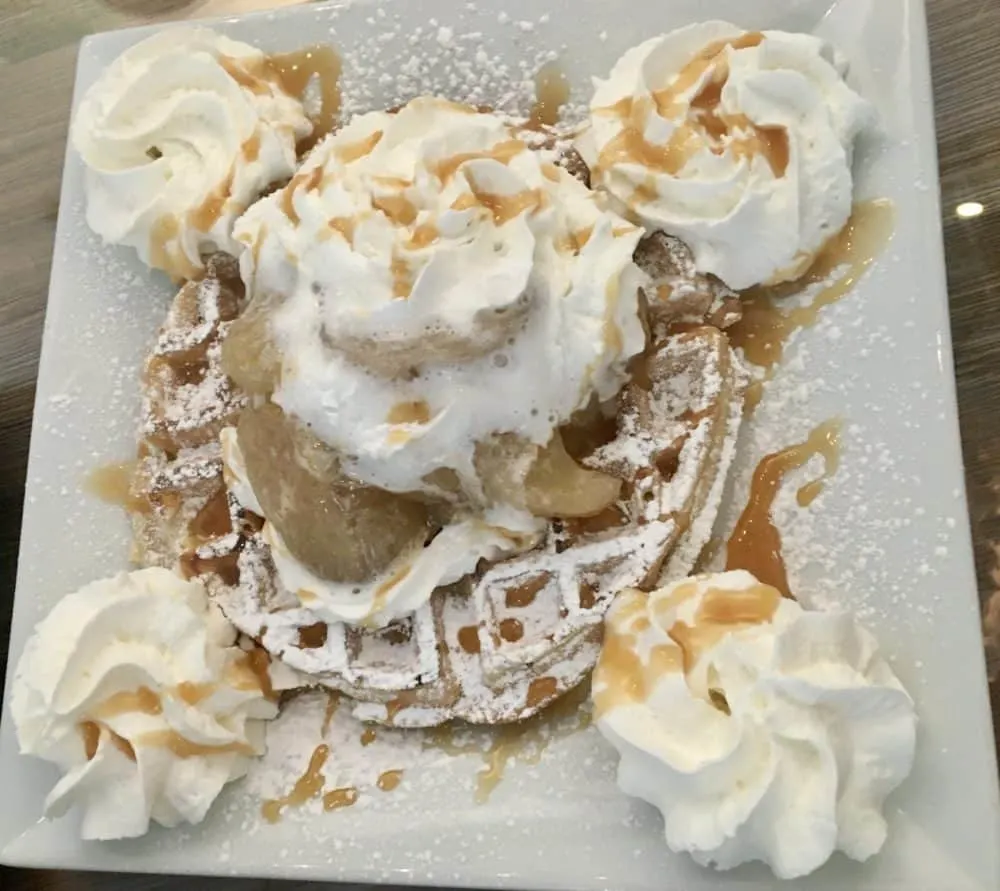 It's a good spot for a family with divergent eating styles. You can go health with oatmeal or quiche and fruit, get a simple egg sandwich, or dig into one several enormous omelets or elaborate waffle dishes.
In addition to breakfast it's a great spot if you need an afternoon cuppa. Have a cold nitro or an iced latte while your kids choose between ice cream and any of the baked goods, including sugar cookies with blue buttercream icing and fondant whale tails.
Brick & Spoon lunch or brunch
Brick & Spoon is a popular place for breakfast but I would caution against arrive too early in the morning because you have to have a bloody Mary.
You know those giant, over-the-top milkshakes people are posting all over Instagram these days? This is the cocktail counterpart to that.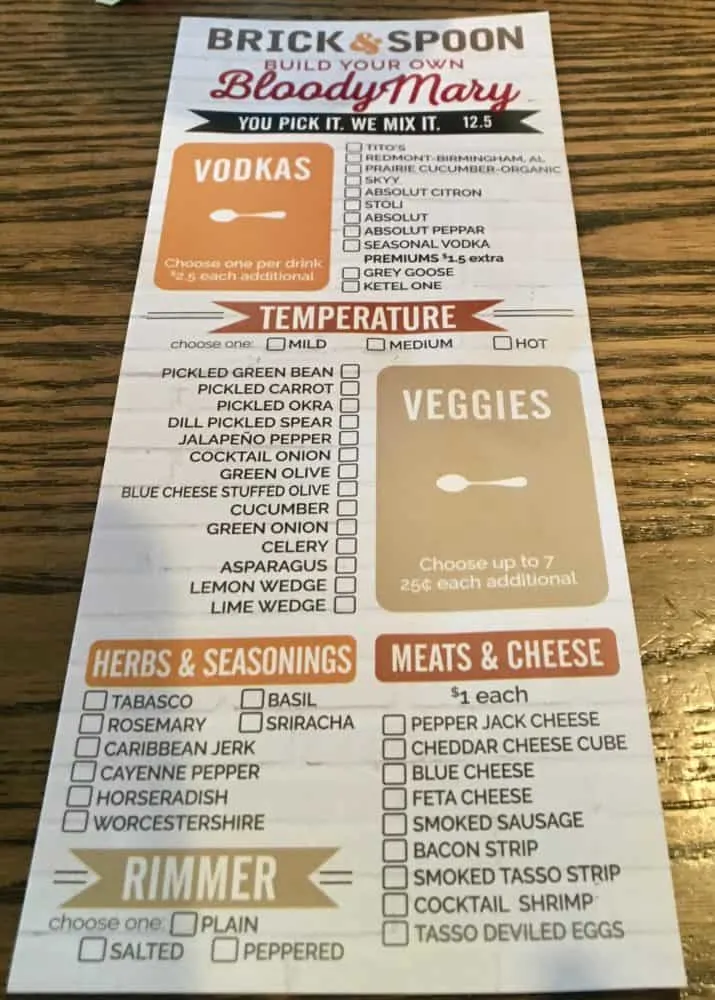 Pick one of ten vodkas, choose your level of heat, then add any of 12 pickled vegetables, eight seasonings, a salt or pepper-rimmed glass and a lemon or lime wedge.
If you want to eat your cocktail instead of drinking it you can add Tasso ham, bacon, cocktail shrimp, a cheese cubes or even a deviled egg.
The large menu has omelets, benedicts, tacos, a few pancake and French toast options and lighter items like avocado toast and salads. They encourage making a breakfast of sides, which I did with topping grits with an egg and avocado.
The toughest thing here is choosing your carbohydrate. The beignets, fresh fluffy biscuits and grits are all really good.
Ruby Slipper
Ruby Slipper is a regional chain where we stopped for breakfast. The food is good and it's the kind of place where everyone at your table can customize his or her order and they'll all come out right. The service is friendly and spot-on.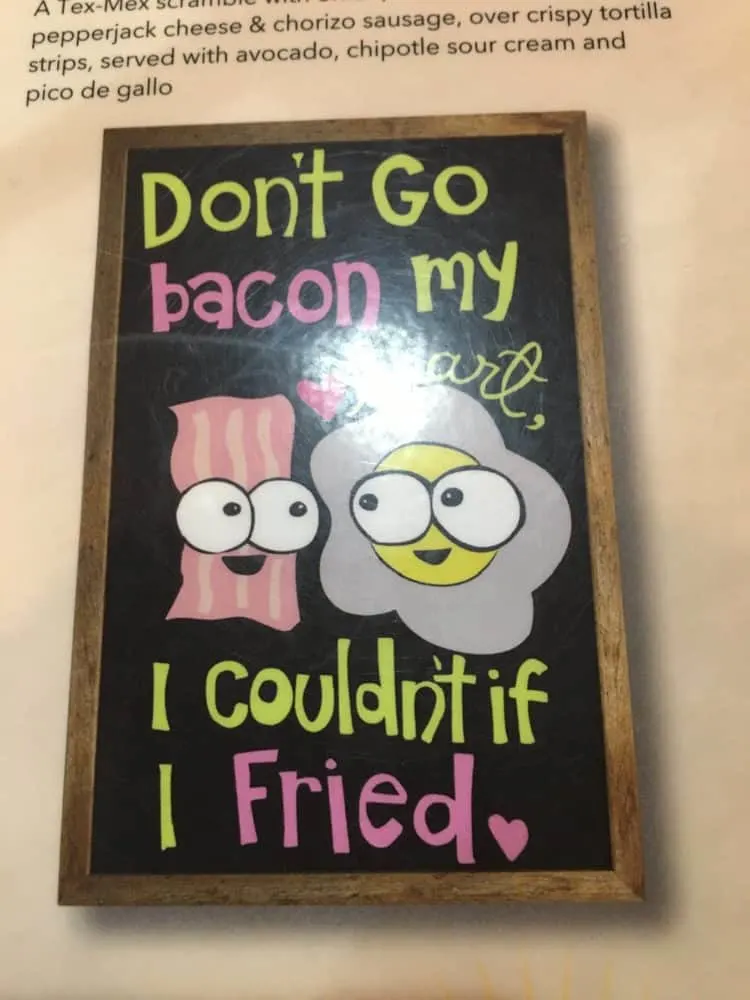 But entrees are big, brunch cocktails are big, the biscuits are big. Even the healthy dishes are big. Unless you don't plan to eat for the rest of the day (or even if you do) consider sharing entrees.
The biscuits were a denser style, and good (though I prefer the fluffier ones). Bacon candy will be addictive to anyone who likes that salty-sweet combo.
I ordered Mexican scrambled eggs with chorizo, pico de gallo and pepperjack cheese. But I skipped the sour cream to reduce the calories a bit. And I had a great blood orange mimosa with it.
This was probably the busiest place we visited for breakfast. Definitely a better bet for early risers.
YoHo Rum & tacos
This is a lunch spot at the Wharf, very handy for grabbing a bite before or after a boat ride.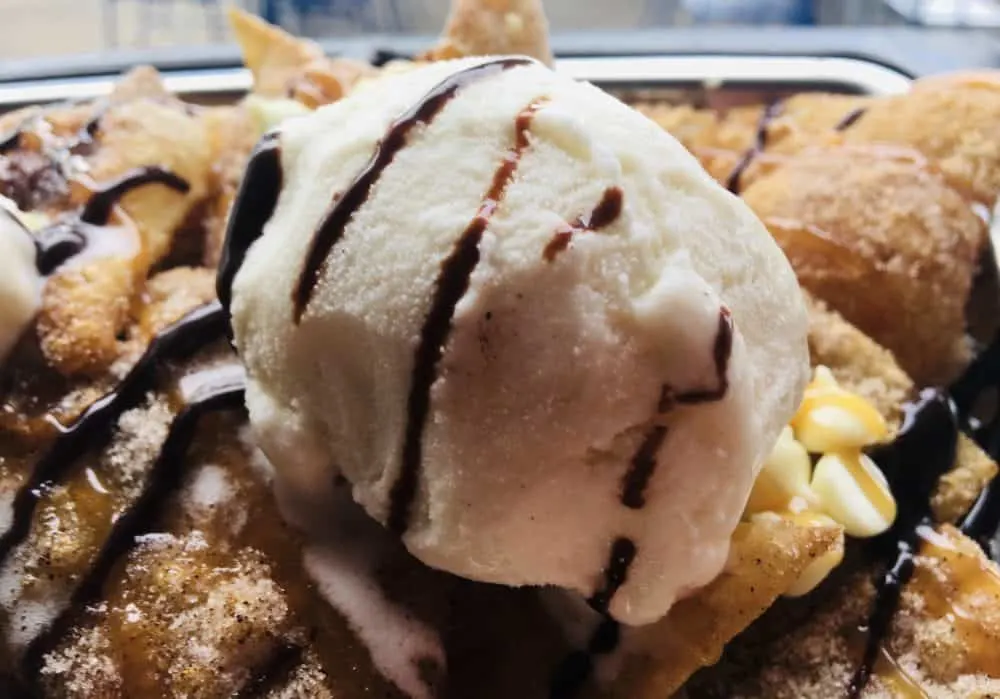 It's another place where you can easily make a meal of appetizers. The lobster quesadilla had plenty of the main ingredient and was outstanding.
The tacos all have fresh ingredients, great flavor combinations and vegetarian options. The wings were solid. The only thing I would take a pass on are the hushpuppies, which were dry.
Yup, they have rum and rum cocktails. But they take their rum seriously, offer several different styles and encourage sipping rather than mixing. You can order flights to compare a few, which I recommend.
GTs on the Bay
The thing to do here is to grab an outside table and settle in for drinks and shared plates while your kids run loose in the large play area that includes a play house and sandbox.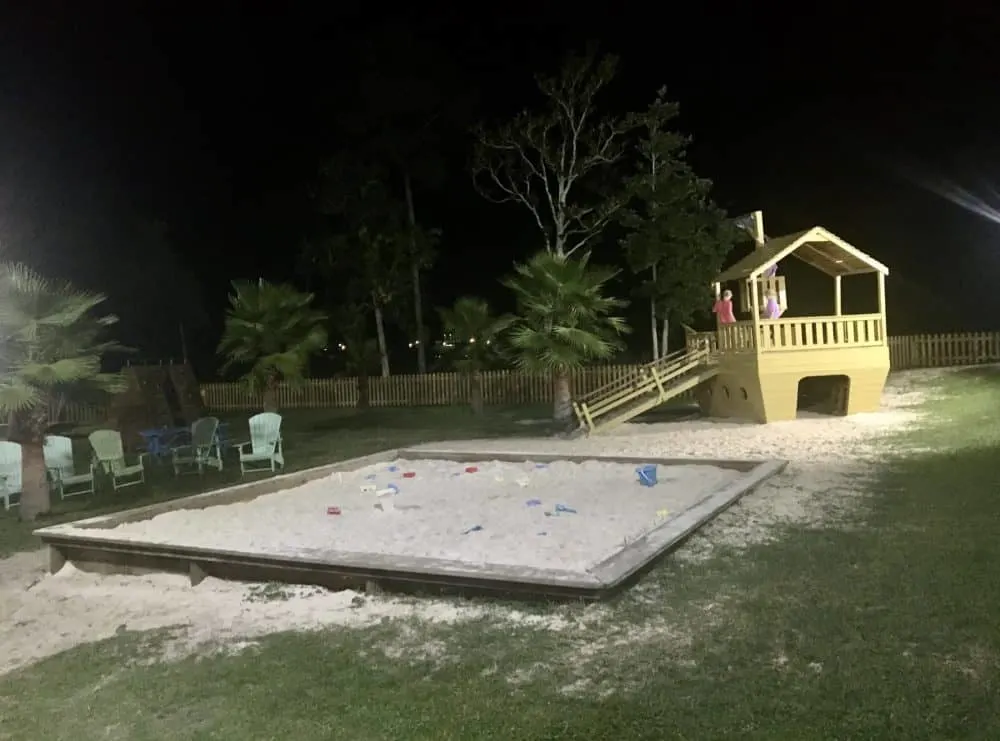 Fried platters of shrimp, oysters and fish come with tater tots (kids who don't do seafood can have chicken fingers). Can't-miss appetizers include totchos (tater tot nachos) with pulled pork, fried crab claws and firecracker shrimp.
The totchos are not the kind of appetizer I usually go for, but they were really good and best shared.
The entrees were fine; not fantastic. Keylime and coconut pies were very good and were the least heavy desserts.
I would say GTs won't blow your mind, but if you stick to apps, fried platters and desserts the food is solid, the atmosphere is fun and it won't blow your budget.
Lulu's
This restaurant, owned by Jimmy Buffet's sister, is another place with a beach outback and plenty to keep kids happy while you dig into gulf shrimp and fruity cocktails.
I didn't eat here but it should be on the radar of any mom whose kids have dietary issues. The menu is divided up by allergy. People who can't eat gluten, seafood, shrimp, eggs, dairy or soy can turn to a page of dishes they can safely eat.
Hotels and vacation rentals
You'll find a selection of hotels on the beach from familiar mid-range brands, but it seems most people opt for all-suites hotels or vacation condos on the beach.
The Hilton's hotel at the state park is just cool. From the outside the modern design blends with the natural environment. Inside it's open, airy and modern while still being comfortable and family friendly.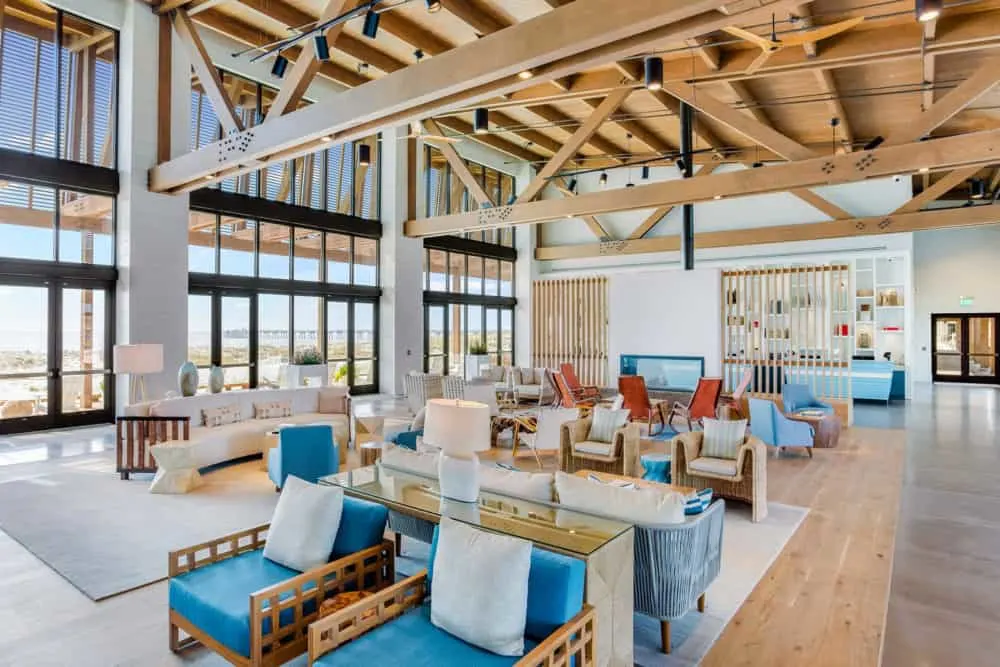 It was built with sustainability and the surrounding eco-system in mind. For example, it uses about one-third less energy and water than other hotels of its size.
It also uses passive cooling and natural ventilation to reduce air conditioning and recycles HVAC condensation into pool water.
Outside, lights point away from turtle nesting areas and a large portion of the property grows native plants and grass that are a habitat for native birds.
Rates start below $200 a night in the off season but climb well about $300 in the summer.
Gulf Shores Vacation Rentals
The Cabins at Gulf State Park
The state park also has cabins and cottages inland.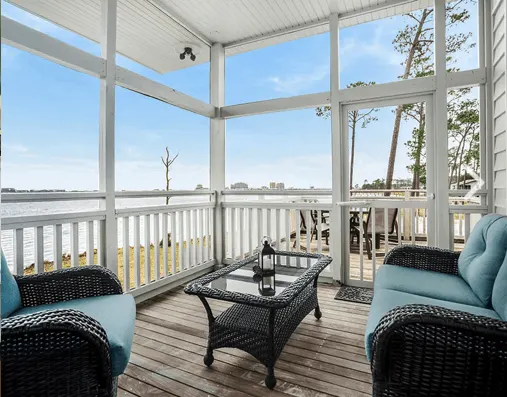 The new Eagle Cottages are three-bedroom luxury rentals with open-air and screened decks and ample living and kitchen space. They are lakeside and have stellar views of the sunset.
Thanks to a partnership with National Geographic the room rate comes with perks like a guided park tour, a library of guidebooks and nature documentaries to borrow from and complimentary bike rentals.
They are priced in line with other upscale vacation rentals in the area and are ideal for a big family or two small families to share.
Lakeside and trailside cabins don't look impressive from the outside but they all have two or three bedrooms, a kitchen and outdoor space and some have been recently renovated.
The Lakeside ones come with a view and cost a bit more. The trailside ones are the least expensive but I imagine they're mosquito friendly in summer.
The large rental market ranges from individual homes to condominiums with resort amenities, and prices range accordingly, from under $200 to more than $700 a night depending on the type and size of the property, how close it is to the beach and the time of year.
Turquoise Place
I had the good fortune to stay at Turquoise Place, possibly the most high-end of vacation condos in Orange Beach. The apartments have three, four or five bedrooms and three or four baths with a whirlpool bath and television in the master bath.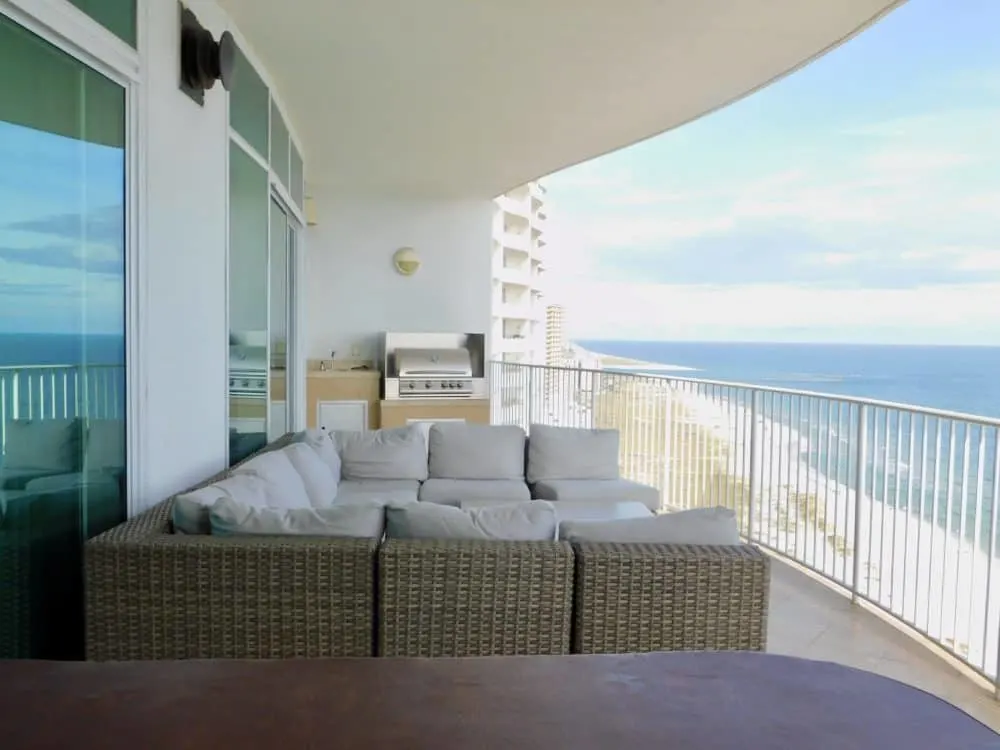 The open kitchen-dining-living-room area is spacious and has a gas fireplace. The balcony is a second, outdoor living room with a sectional, gas grill and a two-to-three-person hot tub.
The three-bedroom will sleep six, plus a crib or toddler bed in the master bedroom; possibly more if you want to let people bunk in the living area. (I was tempted to sleep out on the balcony.)
The property is on the beach and has both an outdoor pool and lazy river. It also has an indoor pool, hot tub and nice sauna for those rare cold or rainy days. It has a small outdoor playground, too.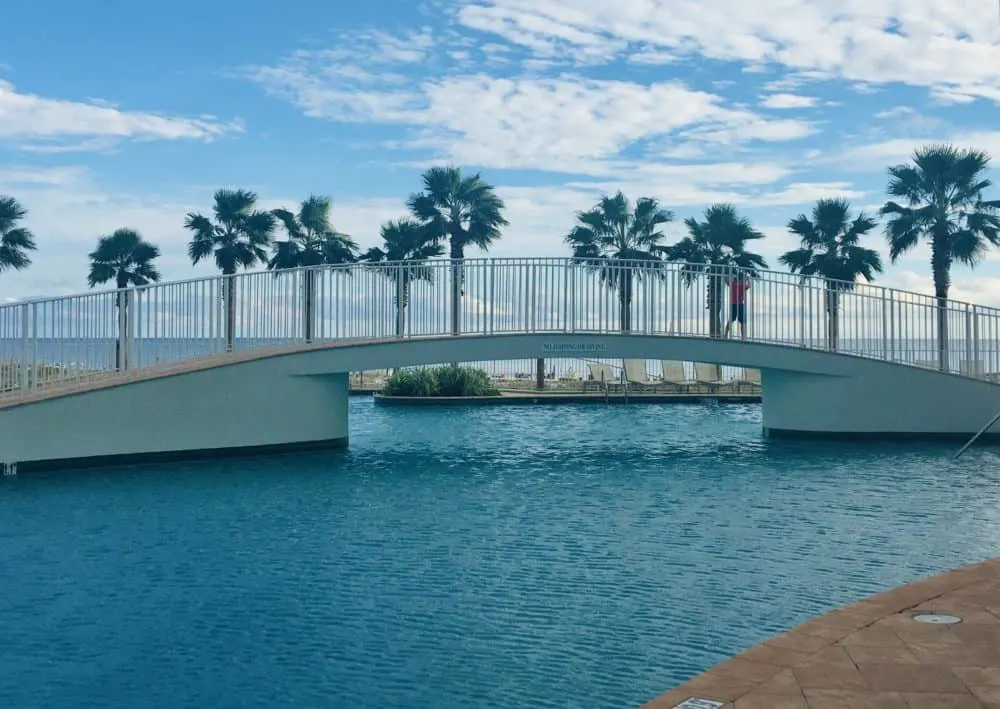 It was a gorgeous property and apartments are easily shared by multiple families. I'd stay again any time.
The quibbles I have are mostly small. For one, I wish the property had a small deli or convenience store for picking up items like milk, tea and juice. There isn't place to shop without getting in the car and driving.
Second, I needed a maintenance person to look at the air conditioning and was supposed to call a central number for several area condos. When they didn't return my call, I called the front desk and they sent someone up within a half hour.
But the front desk isn't manned 24/7 the way a hotel's would be.
Rates range from less than $400 to more than $700 a night depending on the unit and time of year. Because a lot of the units are rented by owners you can find very different prices for similar apartments. Shop carefully.
Essential information
Gulf Shores Weather
Spring or late fall are the best times to visit it's warm enough to swim but not hot and you get off-season rates. It's not quite warm enough to swim in February and temperatures climb into the 70s in March and April. June, July and August are the hottest months, with the most rain (nine to 12 days a month). But it's still peak season in terms of rates.
Spring Break for Families
Gulf Shores and Orange Beach go out of their way to discourage partying college students on their beaches. They has strict prohibitions about alcohol consumption on the beach. Which are actively enforced in March.
Additionally, you have to be 21 or older to check in the hotels, condos and rental properties without an adult. And many properties require the guest holding the reservation to be at least 25. Particularly during spring break, they will ask for I.D. and proof-of-age at check-in.
Airport
The closest Airport to Gulf Shores is Pensacola International, about 45 minutes from the Alabama state line. Plan to rent a car at the airport, there's absolutely no getting around Gulf Shores without one.
When I flew down I had to connect through Charlotte or Washington, DC., but Boston, NYC and Philadelphia have direct flights from mid-spring to early fall.
Shopping For Groceries & Beach Items
If you want to stock up on groceries before you arrive you can call a concierge service or stop at one of a few Rouses and Publix supermarkets in the area. There are two Dollar Generals and a Target if you need sand toys, beach chairs and the like.
You can buy beer, wine and hard seltzer drinks at supermarkets or local wine shops. For liquor, head to a state-run package store. Liquor is sold on Sunday.
Pin it for Later!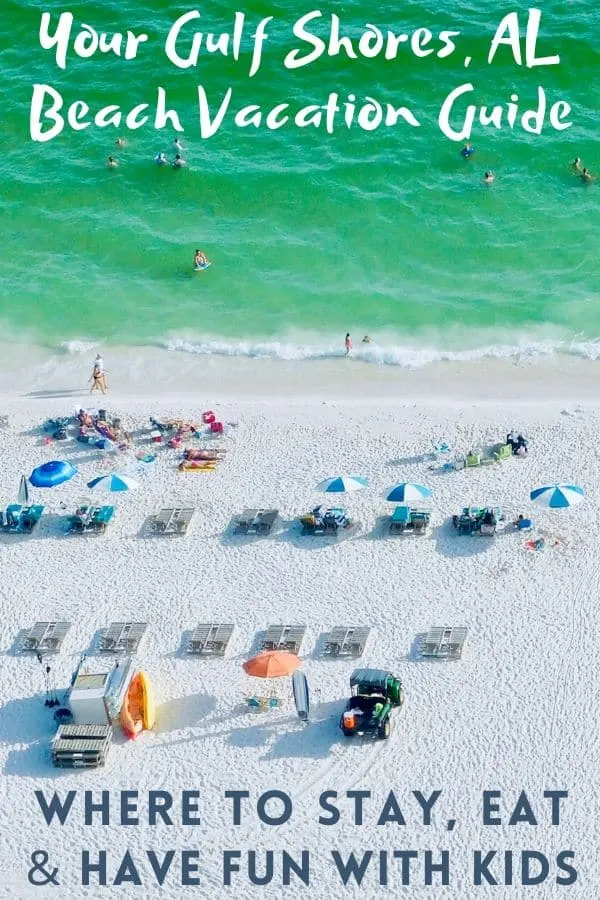 * I was a guest of Gulf Shores & Orange Beach Tourism for this trip. I did not agree to any particular coverage in exchange for the trip. My opinions are always my own. I focused on the activiteis, hotels and lodging that I thought were the best fit for families.
* Photos by FamiliesGo!© except the zoo's giraffe and monkeys (AGCZ), the Blue Angels flying (US Navy), the Safari Club cocktail (AGCZ), the lobby and deck at The Lodge and the Eagles Cottages (GSP).