We spent two summers in a row visiting Acadia National Park, off of the northern coast of Maine. We never go anywhere two years in a row, much less a destination that's a nine-hour drive from home.
But we really love Acadia, and I think we would visit every other year or so—if it wasn't 500 miles away.
It bookends nicely with Olympic National Park, in the Pacific Northwest. Both combine mountains, forest and shoreline. But Acadia packs its varied and gorgeous terrain into a much more compact and manageable area.
Your base for exploring Acadia is Bar Harbor, a seaside town that would be a picturesque summer destination even without a national park on its doorstep. It's not inexpensive (no coastal New England town is in the summer). But it's nicer and provides better value for your money than other national park towns we've visited.
Here are my tips for what to see and do in Acadia National Park, and how to do it the best with kids. I hope you love Acadia as much as we did—I can't imagine why you wouldn't.
More New England Travel Ideas:
• Recharge, Relax & Bond on This Summer Stowe, VT Getaway
• What to See, Eat & Do on A Boston Weekend With Kids
• East Coast Spots For Phenomenal Foliage & Fall Family Fun
Where to Stay: Two Hotels Near Bar Harbor and Acadia
There are 4 campgrounds in Acadia if you want to go that route and some private campgrounds. You can also find cottages and homes for rent around Bar Harbor. For example, you can rent a sunny three-bedroom cottage with a yard and porch, steps from shops and restaurants, for about the same rate as a hotel.
Hotel-wise, there are a few very nice upscale hotels and quaint inns in Bar Harbor. And there are plenty of inexpensive motels near Acadia if you don't mind outside corridors (I'm not a fan). We wanted something in between. And we found two good options close to both the park entrance and Bar Harbor on our visits.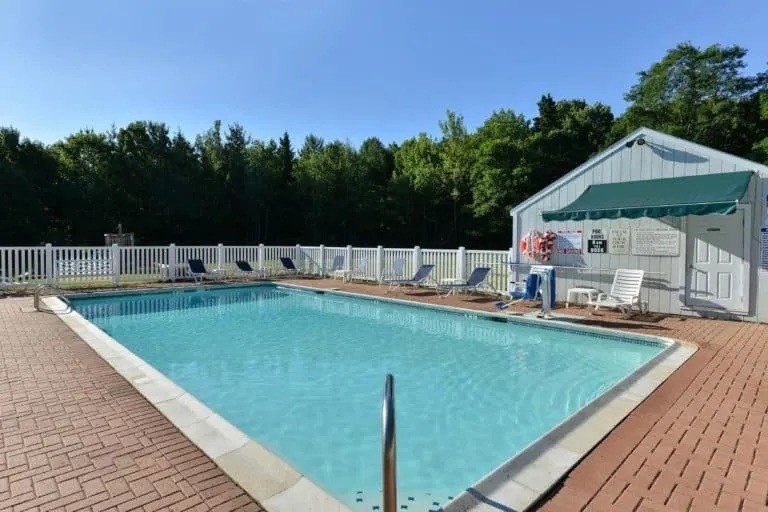 We stayed at the Acadia Inn the first time around, drawn by the promise of an outdoor pool and hot tub, small playground, big lawn, nightly fire with s'mores, and free breakfast. What more do you need traveling with kids?
The rooms are reasonably sized and comfortable; the folks at the front desk were friendly and helpful. The breakfast had all the usual options—not amazing but certainly handy. We made good use of the pool, the hot tub, the s'more kits and its proximity to both Acadia and Bar Harbor.
It's a good pick if you're traveling with an extended family; both grandparents and kids will feel comfortable here. And it won't break the bank.
On our most recent visit we chose the Atlantic Oceanside Hotel, which is probably a step up from the Acadia. It's on the water and has a lawn and small beach behind it. Our balcony looked out on the water and was a nice place to sit with coffee in the morning. We went down to the beach to look at the stars one night; it wasn't quite as pitch black as the park but we could still see quite a bit.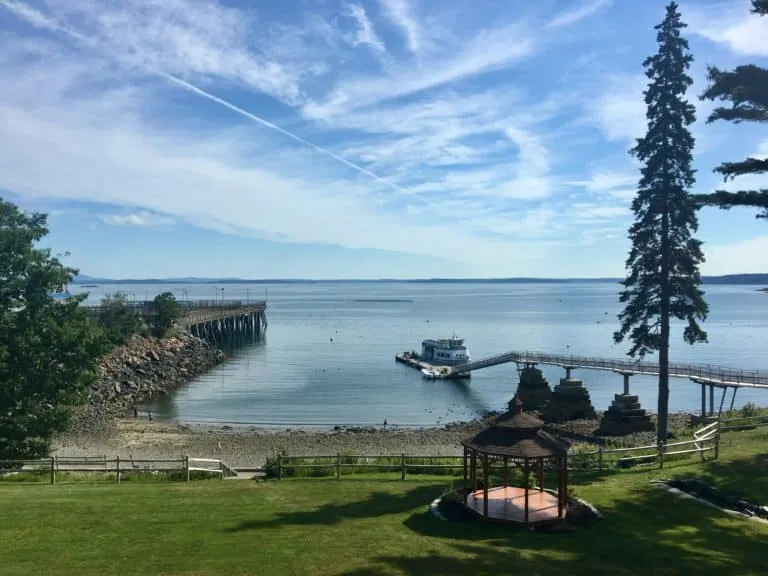 The rooms are a bit more modern and the balcony made ours feel a little roomier. The outdoor pool is nice and there is an indoor pool, which is very handy if you happen to catch a rainy day.
There's also a bar in the main building, where we stopped for tea and drinks on different nights and a restaurant that was closed because of Covid. The free breakfast included nice touches like fresh blueberry muffins and good yogurt.
The buildings are all low rise and have elevators but there are stairs and small inclines between buildings; something to keep in mind with small kids or grandparents along.
We thought both hotels offered good value and suited our needs. But you can't beat being on the water, and Atlantic Oceanside had a few more amenities. We'd probably choose it again if we went back.
That is, unless we splurged and booked the Harborside Hotel, Spa & Marina, which is on the water and right in town. It has really great historic photos of Mount Desert hanging on the first floor. And it looks delightful.
10 Fantastic, Fun Things To See, Do & Eat With Kids In Acadia National Park
1. Get a taste of every part of the park
Acadia is small enough that you can explore a lot of the park in a relatively short visit. Give yourself enough days to sample everything; it's all scenic in different ways.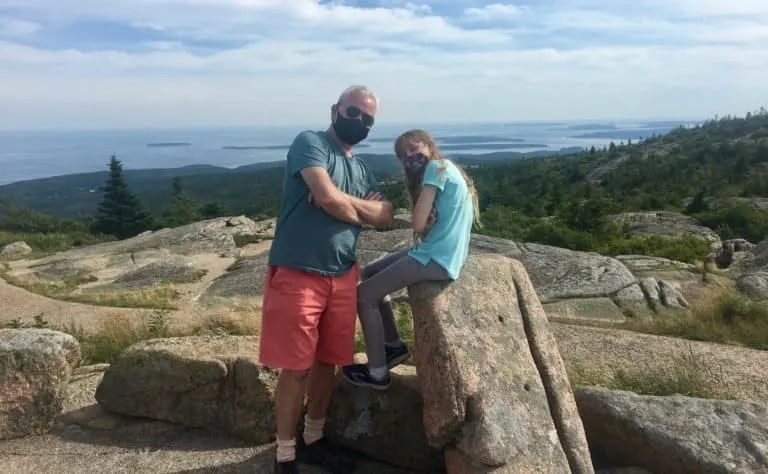 Drive to the top of Mount Cadillac and take in the view of the Atlantic and outlying islands. Some people like to drive up here on clear nights for stargazing. Just mind the curvy road in the dark.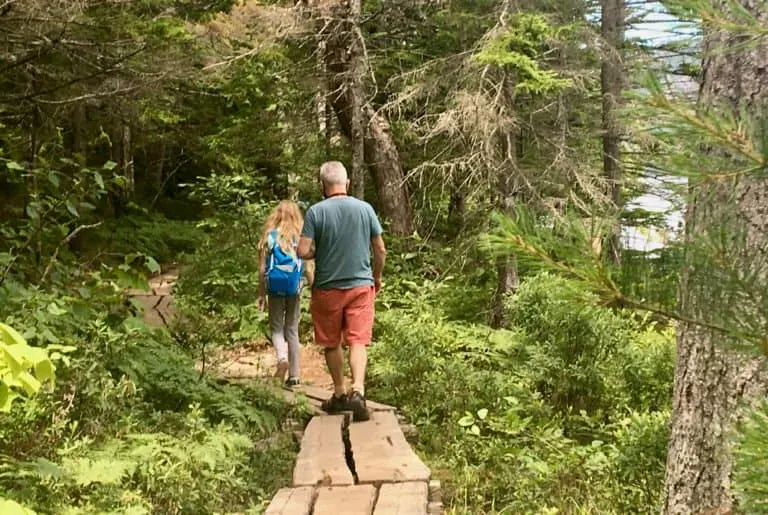 Take the walking trails around Jordan Pond or Eagle Lake. Kids like hanging out by the shore of Jordan pond, looking for frogs and skipping stones. But pull them away because the trail around the pond is a scenic and very kid-friendly trail. We had more luck finding frogs on the shores of the smaller, less popular lakes and ponds around the park.
If you want more challenging hiking, climb up to Bubble Rock and take in the views of the lakes and ponds below. Try one of several peaks on the west side of Jordan Pond. Or make a point of getting to the less crowded parts of the park on Schoodic Peninsula or Echo Lake Beach and Acadia Mountain on the west side of Mount Desert.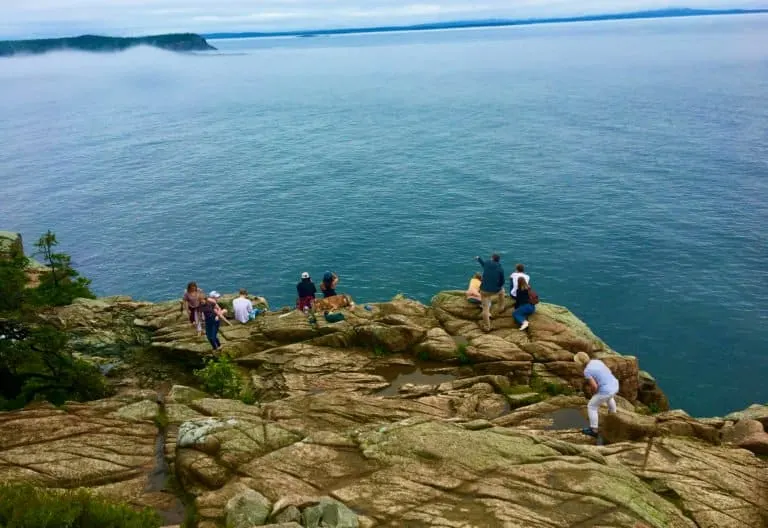 Visit Sand Beach and dip your toes in the very cold Atlantic. And take the coastal walking trails that stretch from beach, past the aptly named Thunder Hole to the Gorham Mountain Trailhead. Leave your kids plenty of time to clamber around on the huge rocks and explore the tide pools. Tween Traveler could have done this all day.
2. Get out on the water
Acadia is on Mount Desert Island. It's surrounded by water. If you don't take at least one opportunity to explore the coast and see the park from the water you're really missing something.
We spent the afternoon on a schooner called the Margaret Todd, which does an afternoon sail out of Bar Harbor guided by a park ranger. This is one of those activities that really works with every age group you might be traveling with. It's an easy excursion for grandparents, and even the youngest kids are excited to be on the water on an old-fashioned sailing ship.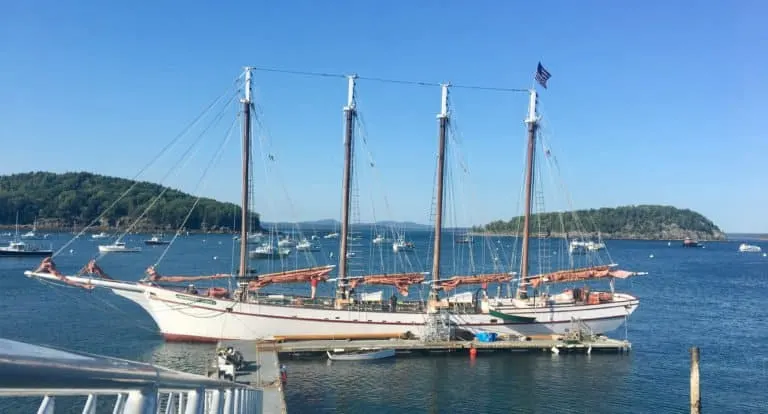 You'll get nice views of the park, learn about local and marine life and the water's role in the National Park. Ideally you'll see birds and dolphins and fish, too.
Tip: We brought lunch aboard our early afternoon sail, which they recommend. It was a unique setting for a picnic and we enjoyed it.
You can book kayaking tours through local outfitters, which I think would be really cool. But it is the ocean and there are currents and wind. I would suggest making sure you're very confident in your paddling skills and stamina.
Acadia has outlying islands that are uninhabited and reportedly full of wildlife. I was curious about them but getting to and around one or two islands can take the better part of a day. If you're staying for a week or more, though, carve out the time to see one or more them. You can reach some by ferry to explore on your own. Or you can book ranger led tours.
3. Ride a bike!
Several wealthy families that used to vacation in the area donated the land that makes up most of this National Park. One of those millionaires was John D. Rockefeller. While he still used his land for his own summer fun, however, he built 45 miles of carriage roads to make it easier for him to get around.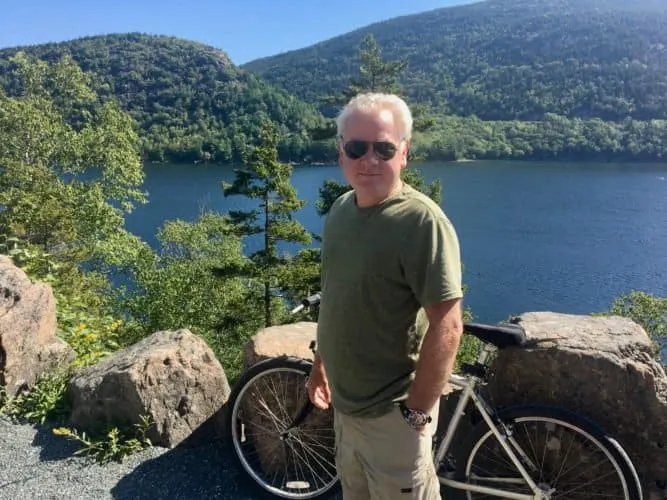 The carriage roads are gravel bike paths hemmed by stone walls and closed to traffic. You can bike for miles and miles around the park and all you'll see are other cyclists and the occasional horseback rider.
Don't bring your road bike onto the carriage roads; they'll chew your tires to bits. I punctured the front tire on my hybrid bike. Rich and Tween Traveler both have fatter mountain bike tires and fared much better.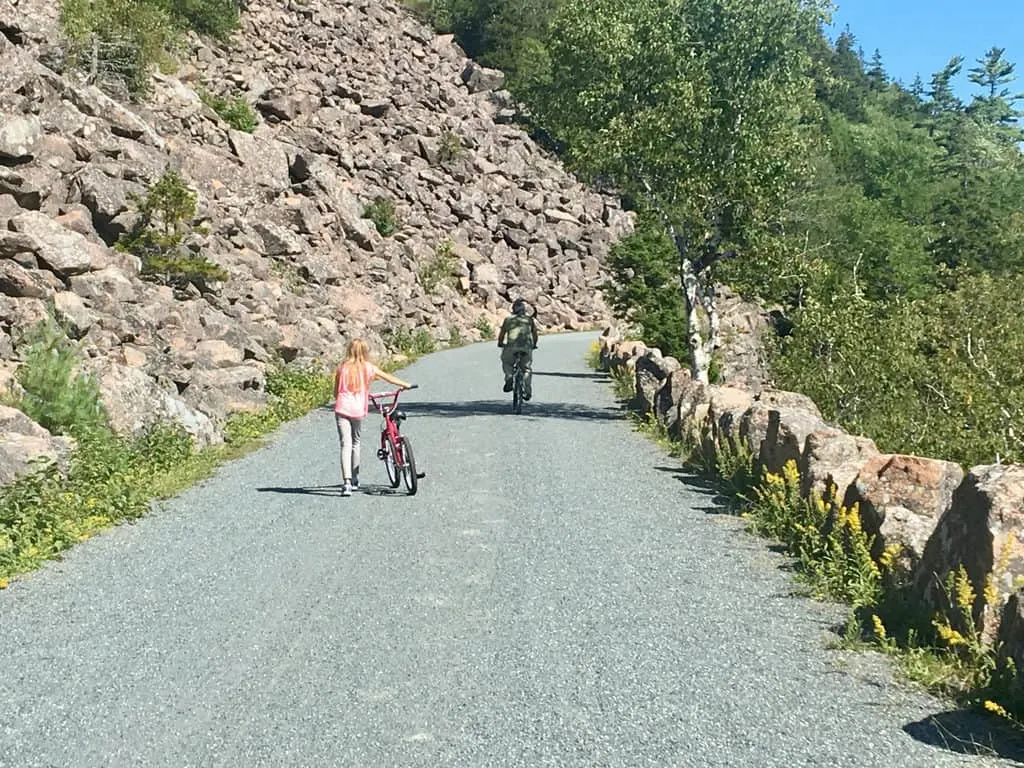 If you have kids on bikes that don't have gears, choose your paths carefully. If you set off in any direction from Jordan Pond and you'll hit big hills. Tween Traveler just walked up most of these big hills. She did like the long downhills on the other side, though.
A ranger recommended the carriage roads around Witch Hole, which you access from the parking lot at Hulls Cove visitors center, as flatter and easier for kids. And we had a good time doing that loop ride one afternoon.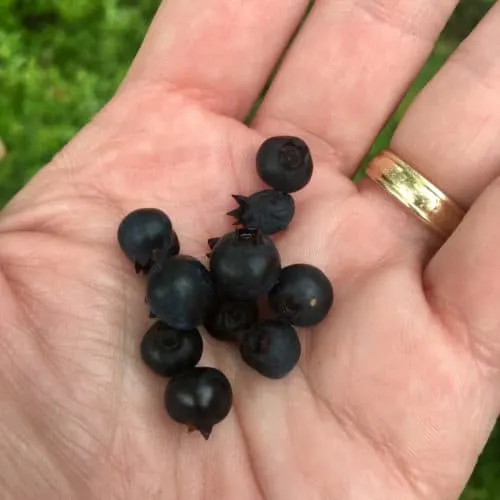 It's not a long ride but it took us about two hours because there are several places to stop. We paused to look at the ponds , admire a beaver lodge and to explore beneath the Duck Brook Bridge. We stopped when we saw a couple picking something on the side of the road and found ourselves in a field of low-growing wild blueberries. We picked and ate our fill and then rode on.
The area you access from Brown Mountain Carriage Road Trailhead on the opposite side of this part of the park but has hills but not the mountains you find in the center.
If you don't bring your own bikes there are a handful of outfitters in town. Bar Harbor Bicycle Shop on Cottage Street fixed my flat and they were very nice. If you don't want to bike from town into the park, ask about a bike rack, or take the bicycle express from the Village Green to Eagle Lake.
You can rent e-bikes in town, too. Just be aware that only the pedal-assist (class 1) kind is allowed on the carriage roads and the speed limit is 20 mph.
4. Look up at the Stars
One of the most popular ranger programs is an hour of guided stargazing on Sand beach. We learned about this program too late to do it on our first visit. And couldn't get a spot on our second visit, when they were capping the size of the programs for Covid-19.
Bar Harbor does a good job of limiting its light pollution so that it's quite dark in the park at night. If there are no clouds you can see tons of stars. Given how good the views are I recommend making a point to make it to this talk on your visit.
If you can't make it to the ranger talk, go the beach or Cadillac mountain to appreciate the night skies on your own.
5. Look down under the bridges
Each of the 16 stone carriage road bridges is a little different from the others, and most have paths that lead down beneath them. Take time out from one of your bike rides to explore under the bridges. The architecture is impressive and worth a few photos. Often the bridges have a small creek or stream below them where you can discreetly dip your toes on a hot day.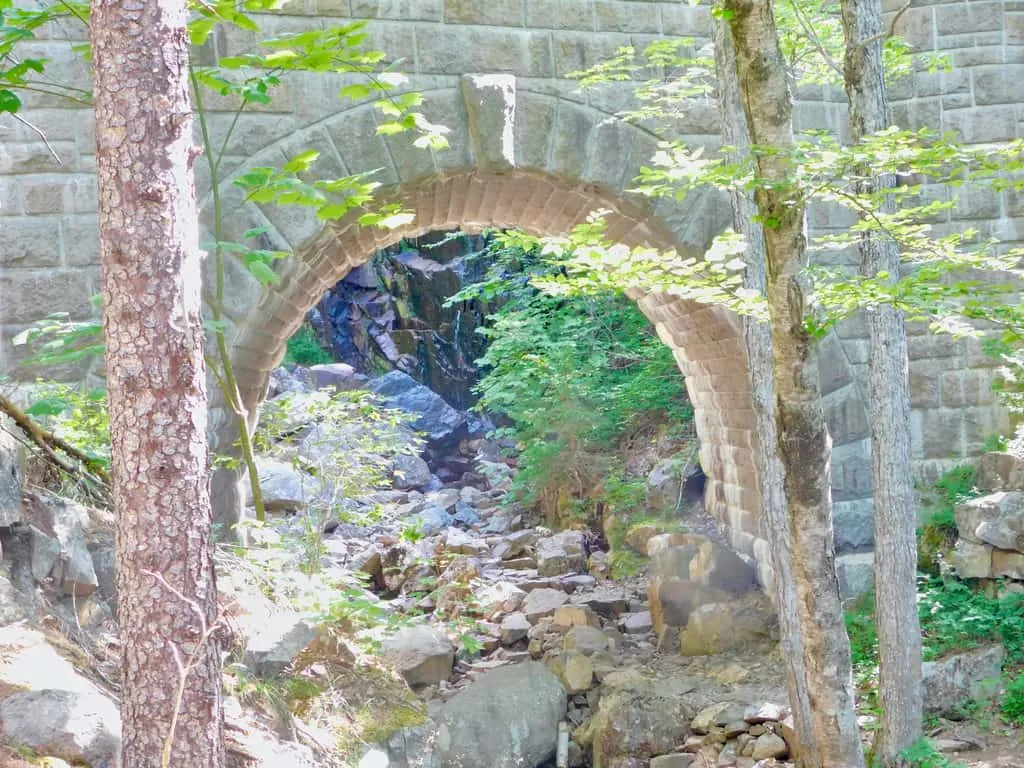 We got up early one morning for a ranger-led walk that visits two bridges near the Brown Mountain Trailhead. We learned a lot about how and why Rockefeller built the roads, walls and bridges. And the ranger was able to point out details on the bridges that we might have missed. It's a popular talk and worth getting up for.
Several wealthy families that used to vacation in the area donated the land that makes up most of this National Park. One of those millionaires was John D. Rockefeller. While he still used his land for his own summer fun, however, he built 45 miles of carriage roads to make it easier for him to get around.
Several wealthy families that used to vacation in the area donated the land that makes up most of this National Park. One of those millionaires was John D. Rockefeller. While he still used his land for his own summer fun, however, he built 45 miles of carriage roads to make it easier for him to get around.
6. Do a ranger talk
I think park rangers are a national treasure, and we make a point of doing some ranger programs whenever we visit a national park. As you can see Acadia is no exception.
You'll need a ranger program or two if your child is working on his or her junior ranger badge. Seek out one or two even if they aren't.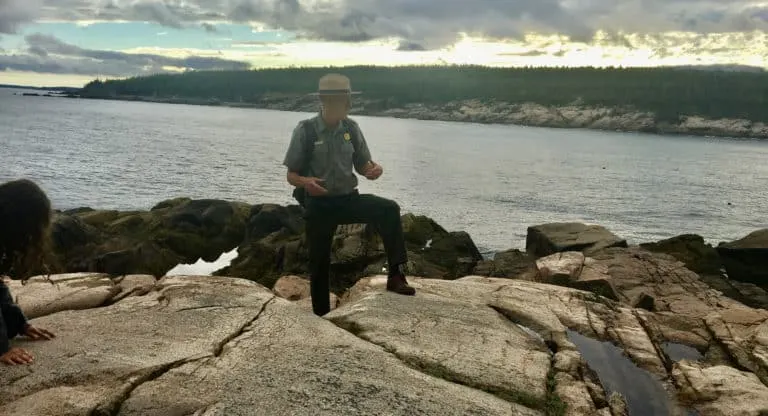 The other one we enjoyed was a guided walk over some of the rocks along the coast. The ranger knew quite a bit about Acadia's geology, how Mt. Desert came into being and what types of rocks your kids are climbing all over. The program doesn't require any serious climbing around, but you will be out on the rocks so wear practical shoes. It might not be a talk for less nimble family members.
When you arrive at the park on your first day you can get a schedule of talks for the next few days at the visitors' centers. You can also look at an online schedule.
7. Try an Earthcache scavenger hunt —maybe
You can do an Earthcache treasure hunt that takes you all over the main part of the park collecting clues to solve a final riddle. We thought it would something different and gave it a go.
It started out all well and good. It took us to some corners of Acadia we wouldn't have explored otherwise and figuring out the clue to the next location taught us more about the park.
We hit our first snag when one clue required us to hike up to Bubble Rock, a hike we didn't feel particularly inspired to do on the very hot day we were there. With a little Googling we figured out the next clue without the hike.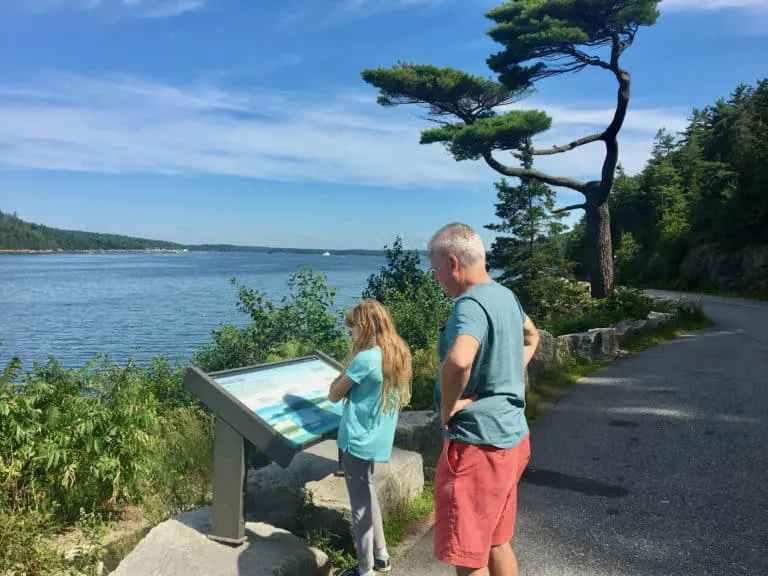 But one of the last clues led us up a trail that was pretty much a pile of boulders for a good long stretch. I was afraid of breaking an ankle (I've sprained them both a few times and they're a bit wonky). So I sent Rich and Tween Traveler on without me. They came back somewhat underwhelmed with where the "hike" took them.
We found the last clue in a dusty parking lot off the main road outside the park. The spot was geologically significant but as anticlimactic is it could possibly be. It was not a just reward for our perseverance. Worse still, the NPS website promises a special passport stamp for those who finish the geocaching challenge and can provide an answer to the last clue. When we called the park ranger office to ask where to go for this no one knew what were talking about. They told us we could go online and print out a certificate, but we could do that without even doing the geocache.
The person who developed this scavenger hunt clearly counted on everyone who does it being very young and very fit. I would recommend someone at the park rethink some parts of it to make it a bit less arduous and accessible to a wider range of park visitors. They also need a more rewarding finish. And they need to find that darn stamp—or to have an actual geocache at the end, so people who finish feel rewarded.
We did enjoy some parts of it so I can say it's worth looking at and starting. But keep in mind the age and fitness level of your fellow travelers and decide that you're okay with not doing all of it.
8. Eat popovers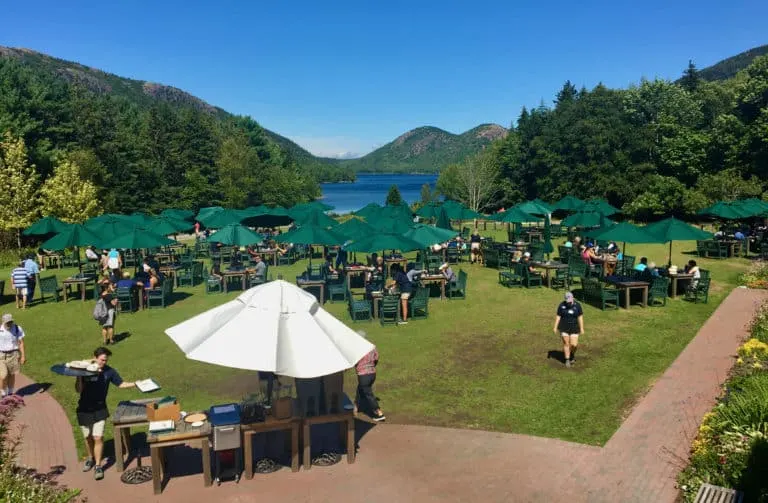 The Jordan Pond House is known for two things: a sweeping lawn with great views over the pond. And popovers.
A positive change during the summer of covid was that you could order your popovers to go. Previously you had to have a sit-down meal in the restaurant to have a crack at them. They are airy and golden and are served with butter and strawberry jam. Alongside some blueberry lemonade, they're ideal as a second breakfast or afternoon snack.
On our first visit we had them alongside lobster salad and seafood chowder for a filling lunch indoors.
9. Explore Bar Harbor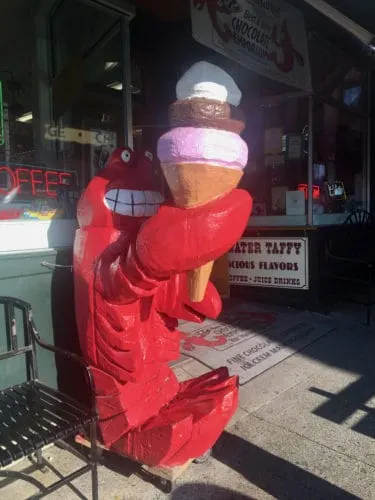 Bar Harbor is a pleasant town to walk around. Agamont Park slopes gently down to the water and there is a nice village green a few blocks away. Both are great places to enjoy a picnic lunch or to eat ice cream and people watch.
You'll find a couple of bookstores, a few outfitters for light adventure activities and the requisite ice cream and fudge shops. For dinner we usually went wherever we could get a table and didn't have ay bad meals.
10. Eat Ice Cream
Did I mention ice cream? Yes. There are three or four ice cream parlors around town. We found two places that make their own batches from scratch and have really great flavors.
Mt Desert Ice Cream
Every night as we strolled around Bar Harbor after dinner there was a ridiculously long line snaking down the street from this small scoop shop off the green. We were curious what all the fuss was about but weren't willing to wait on that line to find out. We lucked out on our last day when we walked past after lunch and there was no line.
Well, we understood why people waited in line. This is rich, dense full fat ice cream with creative but not crazy flavors.
I went with Vietnamese coffee, which had the right combination of dark coffee and condensed mill to send me back to mornings in Hanoi on our honeymoon. Tween Traveler was desperately torn between butterbeer and Nutella. She went with the latter and wasn't sorry. One of her top cones ever, for sure.
I wanted Rich to order the blueberry buttermilk sherbet so I could try it. But he didn't, thinking he would just share ours. He might have regretted this choice because we didn't share this ice cream very willingly.
Mini Golf & Ice Cream
If you go down Route 3 for dinner, make an evening of it with a stop at Pirates Cove Adventure Golf and an ice cream afterward.
Tip: Don't even think of playing mini-golf without mosquito repellent—those insects love the water features.
The winner of our golf round got a coupon for a free cone at Udder Ice Cream Heaven, just across the road. So we drove over to claim it. But the free cone was vanilla soft serve, which is the least interesting thing they sell.
We tossed it in the bin and tween traveler set to the hard task of choosing between hardpack flavors like cake batter, black raspberry and strawberry cheesecake. It being Maine, Rich and I made the easy choice and shared a cup of blueberry. I think we had to choose we'd say Mount Desert is better, but this is still VERY good ice cream.
Practical Information for Acadia and Bar Harbor
A Few Great Bar Harbor Restaurants
As you'll notice we consumer blueberries and lobster anytime the opportunity presents itself. They're what Maine do well. Here are some of our favorites places to eat with a kid in and around Bar Harbor.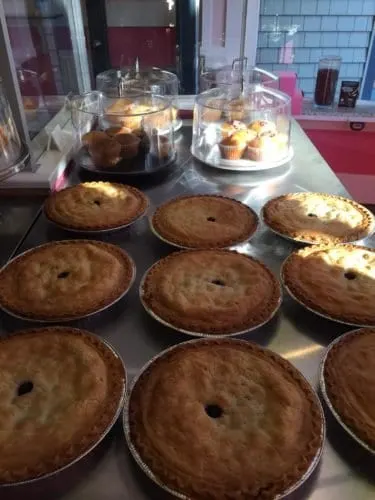 Pink Pastry Bakery
The colrful whoopie pies in the window brought us into this bakery but we didn't love them. However, ther other baked goods brought back multiple times.
We tried the lemon bar, blueberry pie, sugar cookies and cupcakes on various visits and loved them all.
Down East Deli & Boxed Lunch Co.
We did a take-out lunch here on both visits. On the first visit we bought lunch to bring on the schooner with us. We went back the next year and got the same lunch for a picnic on Agamont Park, a lovely and busy green that slopes down toward the harbor.
Tween Traveler ordered a baked potato with her choice of fixin's (her choice was butter and bacon – sigh). The adults ordered a lunch combo that included clam chowder, lobster roll, water and potato chips. We also shared a slice of blueberry pie.
Tip: It was hard to pick our favorite blueberry pie. Pink Pastry's pie had slightly better filling—a little less sweet and sticky— while the pie at Down East had a more buttery, flaky crust. Feel free to eat a few slices of each if it will help you decide which you like more.
Jalapeños Cantina & Mexican grill
We ate here on both our visits because it's easier to get a table here than at many other places and the food is both good and less expensive than at some other spots. On our first visit I had a lobster quesadilla that was a daily special. It was a different and delicious way to enjoy the local lobster; if you see it on the specials list order it.
On both visits Tween Traveler got a kids' tacos with beef, rice and beans and a Jarritos Mexican soda. The enchiladas and soft shell tacos—both with chicken, veggies or lobster on occasion— are reliably good, as are the margaritas.
Atlantic Brewing Co.
We've never eaten here—though the food always looks very good—but we stopped in for a drink at least once on both visits. Rich and I enjoy housemade brews like German-style summer ale and a not-overly sweet blueberry aleand an crisp IPA. Tween Traveler sips locally brewed root beer or blueberry soda.
Sidestreet Café
This was the only place in town where we actually waited for a table because the menu looked really good. And it was. Tween Traveler and I were won over by the gooey mac & cheese for which you can choose from a long list of add-ins. She went with bbq pork while I went with lobster, grilled onion and spinach. Rich ordered a green salad and a pot of mussels steamed in beer, which is a sizeable appetizer. As usual, we shared.
Leary's Landing Irish Pub
Pubs are usually kid friendly and this one is a reliable option. Both the fish chowder and fish & chips have fresh haddock. The chowder has bacon and potatoes and was just the thing on a chilly night. Tween Traveler approved of the haddock and crispy steak fries in her fish & chips. Rich was pleased with a hand-packed mushroom and swiss burger cooked to order.
Lighthouse Inn
15 minutes south of Bar Harbor, the Lighthouse Inn is a family run restaurant with an irresistible New England exterior and a welcoming relaxed feel inside. All the food is made from scratch right down to the salad dressings.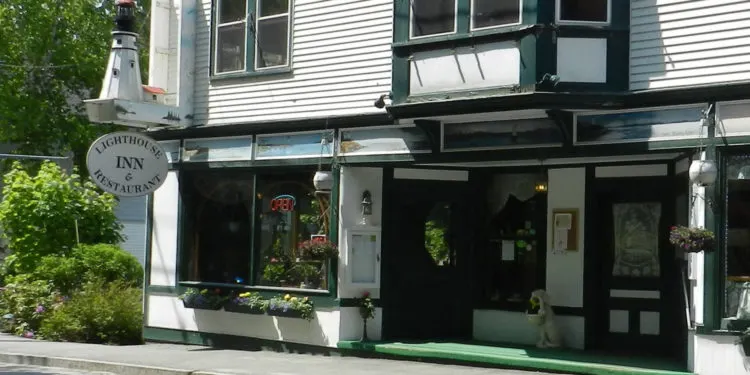 Tween Traveler asked for fettucine alfredo with chicken. It had tasty freshly made alfredo sauce. The portion was huge; perfect for an always-hungry teen-age boy, but we probably should have planned to share it with our petite tween girl. The seafood bisque was generous with the lobster, crab and other goodies. The Caesar salad had freshly made dressing, which really does make a difference.
As you would expect from a local place outside of town the prices were gentler than you find in town,
Breakfast
We stopped at the Take a Hike Café on the edge of town, for breakfast one morning. They're a little short on breakfast pastries but have great coffee and egg sandwiches. It's handy for a quick easy breakfast when you want an early start in the park.
We kept planning to go to Jordan's restaurant in town for manhole-sized blueberry pancakes, but somehow never got there. Next visit.
A Word on Lobster and Lobster Pounds
A lot of people feel you can't go Maine without having a boiled lobster dinner.
If this is what you want, go back over the bridge to the main land along Route 3 where you'll find a string of lobster pounds. Lunts and DownEast are well regarded. They're very busy, even a bit hectic, at dinnertime. The upside of this is that turnover is high and the lobsters and clams on offer are sure to be fresh. But we find these places a little overhyped and overpriced for a pretty basic dinner that you can actually do on your own pretty easily (all you need is a big pot).
Keep in mind that it's not hard to find lobster in Bar Harbor. Nearly every restaurant in town has bisque, lobster salad or a few kinds of lobster rolls, not to mention lobster mac & cheese, quesadillas, pasta, tacos and more. If I'm out to dinner I prefer these more creative preparations that I can't do at home.
If you're renting a house chances are good there is apot big enough for lobsters in the kitchen. Go to one of the pounds and get live lobsters, plus some potatoes corn, clams, butter and lemons and enjoy a DIY steamed lobster dinner on your deck.
Getting to Mount Desert Island
Acadia National Park is three hours from Portland, Me; just under five hours from Boston, six hours from Montreal or Quebec, and six-and-a-half hours from Burlington, VT.
You can fly into Bangor, Maine, fifty miles away. Or connect through Boston's Logan Airport to fly into Hancock county airport, ten miles from the park. Either way, you'll want to rent a car.
We've never driven from New York City in one shot. On our first trip we stopped in Boston and Kennebunkport on the way up and in Portsmouth, NH coming home. The second time, we stopped in York Beach going and Portland, ME on the return.
We liked Portland and Portsmouth. Both have a lively downtown and a plethora of a good restaurants and good hotels. But we enjoyed Kennebunkport and York Beach much more. They were better homebases for daytrips to nearby beaches and bike trails and worth staying a few nights. Kennebunkport has plenty of good restaurants, too.
If you love outlet shopping plan an afternoon or overnight in Kittery, which has a long stretch of outlets along route 1, or Freeport, the home of L.L. Bean. Bean has an entire campus in town with stores dedicated to clothes, outdoor and hunting gear and homegoods. Its outlet shop is tucked away with the other outlets in town, from the rest of its stores and is worth seeking out. We have found $5 Acorn socks and I bought an amazing winter coat (it has a gazillion pockets and is very warm) for half off the retail price. You can also pick up last year's backpacks and lunch boxes for the next school year.
Incidently, there is also a small L.L. Bean outlet on route 1, 30 minutes from Bar Harbor. It came in handywhen the weather turned old and wet on our first visit and we needed a rain jacket for Tween Traveler asap.
Weather in Acadia
Summer days are hot in Acadia, especially if you're out hiking and biking. Wear shorts and breathable shirts. Don't forget sunscreen if you're on the water and bug spray in the woods.
It gets chilly at night so a light fleece or hoody is essential. And bring a rain jacket just in case. Hiking shoes are important and sport sandals are handy.
No matter how hot the day is the ocean never warms up that far north so beach swimming requires some fortitude. However, we enjoyed swimming in the outdoor pools after a day of activity in the park. I used the Acadia Inn's hot tub after dinner even on cool nights.
Pin it for later!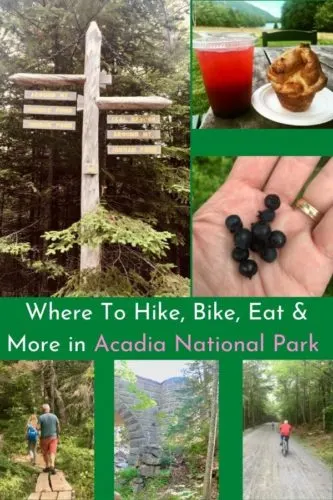 All photos by FamiliesGo! except the blueberry pies, Lighthouse Inn and Acadia Inn pool, provided by the respective businesses.