It's easy to like Boston, especially with kids along.
The city's neighborhoods are compact and easy explore. There are a lot of things to do outside in both summer and winter. It has unique museums for rainy and cold days. And it's bursting with historic land marks and good food.
Each time we visit Boston for a weekend getaway we have favorite things we revisit. And we always manage to discover new things to do as our child has reached new phases of kid-dom.
We have enjoyed weekend getaways to Boston in spring, summer and winter. And we've explored with a preschooler, tween and teen. On our last visit Rich and I even had a night to ourselves after dropping off the teen at a summer program. Here are the neighborhoods we visited, what we did and ate, what we liked and didn't. And even two activities just outside the city.
You'll see Boston has more than a weekend's worth of things to do. But perhaps you'll make a few return trips, too, in different seasons.
Cool Things To Do Across Boston Neighborhoods With Kids & Teens
History & More Around Boston Common
We spent quite a bit of time around the Boston Common, partly because it seems every walking tour in the city meets there.
A Break In The Common & Public Gardens
The Common is a good place for a sightseeing break or a picnic lunch with younger kids. It has as big fields for running around, an old but serviceable playground and Frog Pond, which children can splash around in when it's hot. Our Tween liked climbing onto the Frog statues.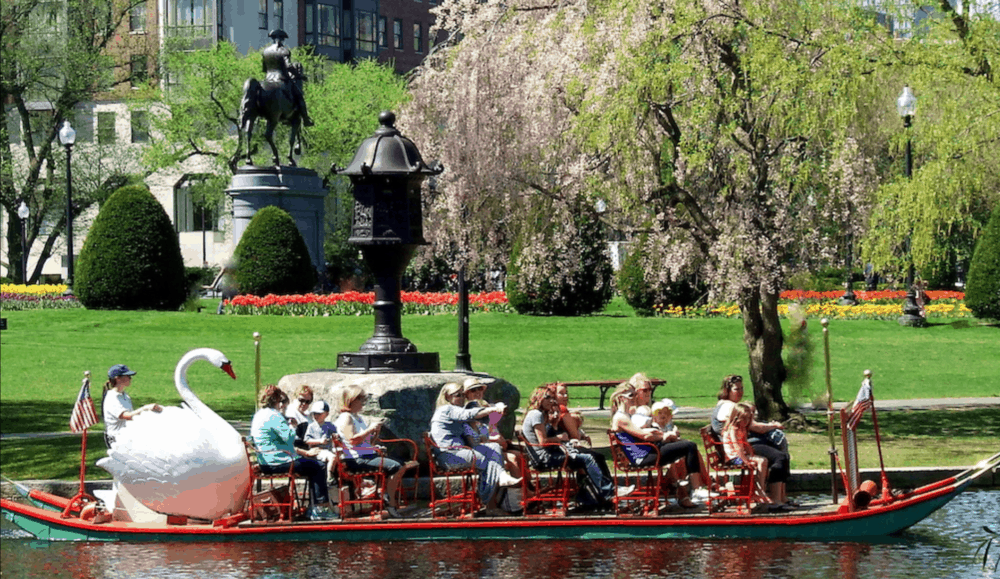 In summer, the adjacent Boston Public Gardens are a riot color and lush greenery and you can take a swan boat ride on the pond. Walking the winding paths and over the stone footbridge in these Victorian gardens make you feel a bit like you've stepped into an impressionist painting.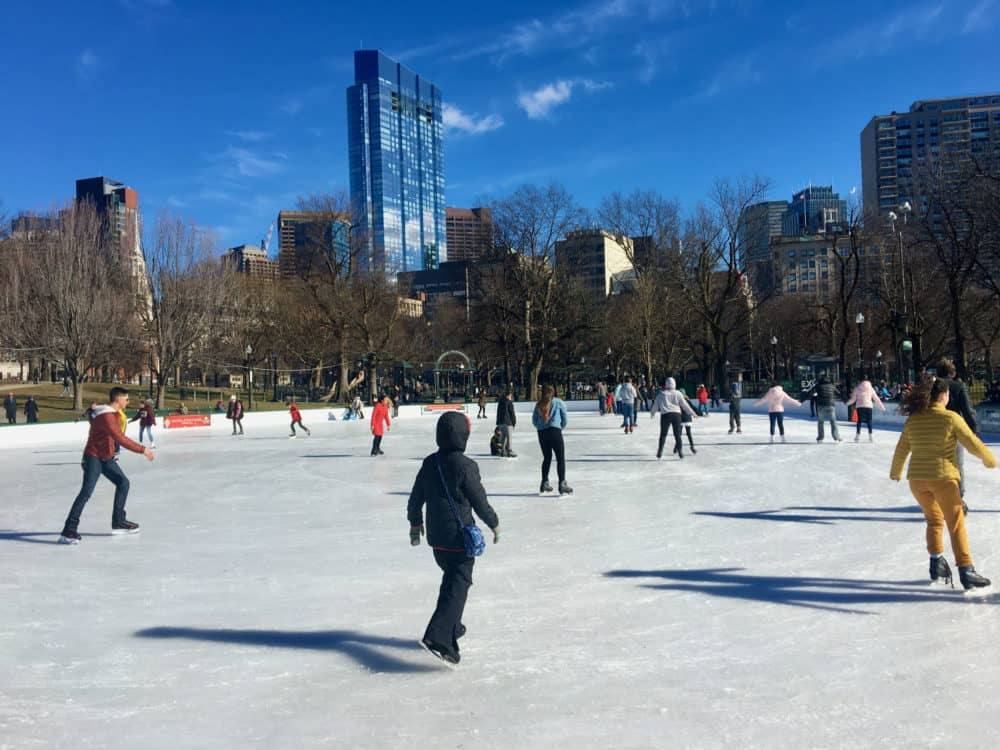 In Winter we brought our ice skates so we could skate on Frog Pond, in the Commons. It was an exccellent ice skating experience.
The rink is huge. It's in a nice, sunny outdoor setting, and it's not very expensive. If you like to skate it's an essential thing to do during a winter weekend visit. But the rink can be windy; dress your warmest.
Two Ghost Tours
We did a ghost tour on each of our visits. Both began at the burial ground in one corner of the Common. And each walked a mile-long route that took us past the Granary burial ground and ended near the Parker House Hotel.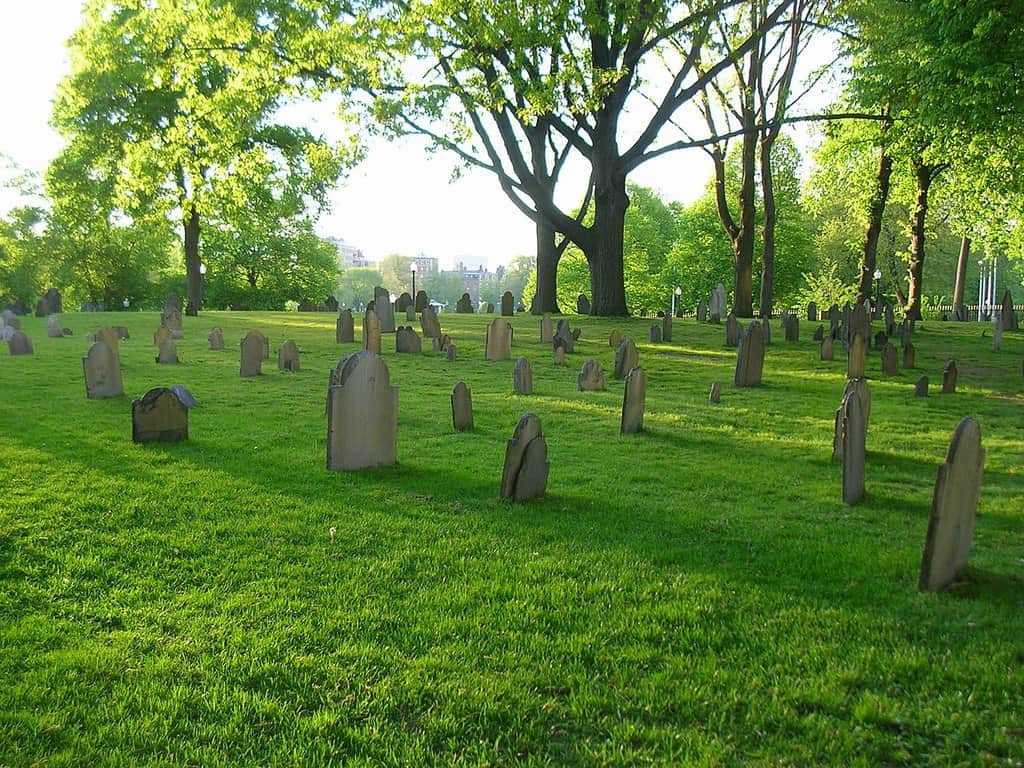 We did the Haunted Boston Tour in August, along with a good two dozen other visitors. The guide was an engaging story teller and he made himself heard even with such a large group.
His tales focused on how various poor Boston citizens met unfortunate ends and why they still haunt the burial grounds, the State House and the Boston Athaneum.
One interesting tidbit: Between the war, epidemics and hangings there are far, far more bodies buried under the Common than there are gravestones in the burial ground, easily a few thousand.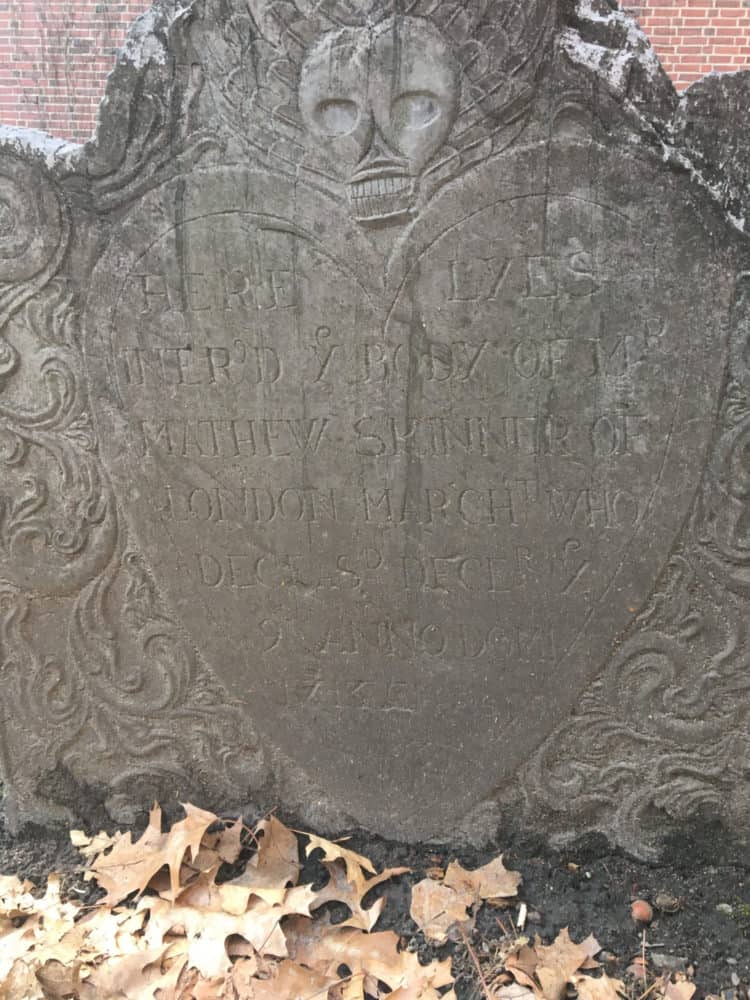 In February we met up with Boston Ghosts. There was only a handful of us on this tour, largely because the temperature was in the 20s. There was some overlap with the summer tour, but this time our tour guide focused on local ghosts and the people who had notable encounters with them.
Both were very good. Tween Traveler says she like Haunted Boston a bit better but she'd do either again.
Post-Tour Dessert: Both tours wind up in or near the Parker House hotel, which has had many famous guests. It seems a few guests and at least one former owner never really checked out.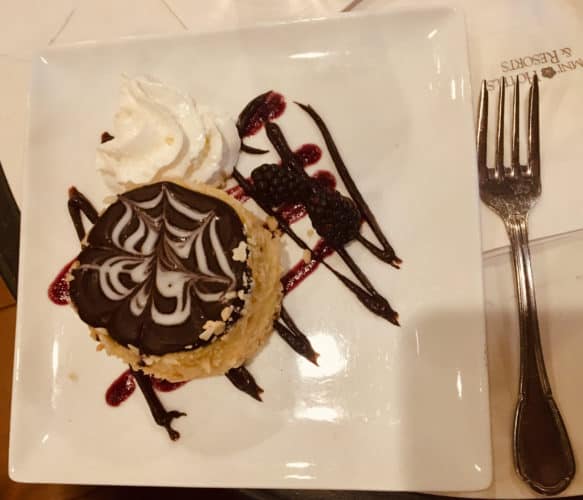 Parker House is the place where Boston cream pie was first served. After both tours we headed to Parkers Bar and ordered it. In the summer we had it with prosecco and in the winter with Irish coffee. Either way this combination of cake, vanilla cream and chocolate is an affordable splurge and an ideal way to cap off a day of sightseeing.
A Great Freedom Trail Tour With Kids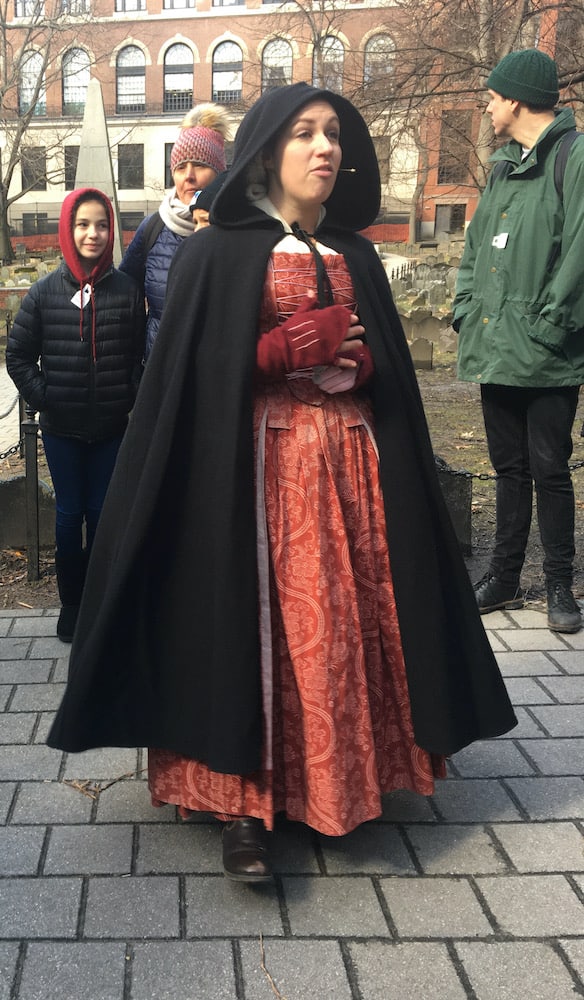 In February we returned to the Commons for a one of the Freedom Trail Foundation's ghost-free, daytime walking tours. The tours, led by knowledgeable guides in period costumes, are inexpensive and well done.
They don't walk the entire trail; instead, they wind their way from the Commons to Quincy Market, where the tour ends.
I've walked the Freedom Trail on my own and as an adult it's certainly doable. But a guided tour is a much better way to do it, especially with kids. The stories and little-known facts bring people to life and add a richer dimension to what would otherwise be pretty old buildings with plaques on the wall.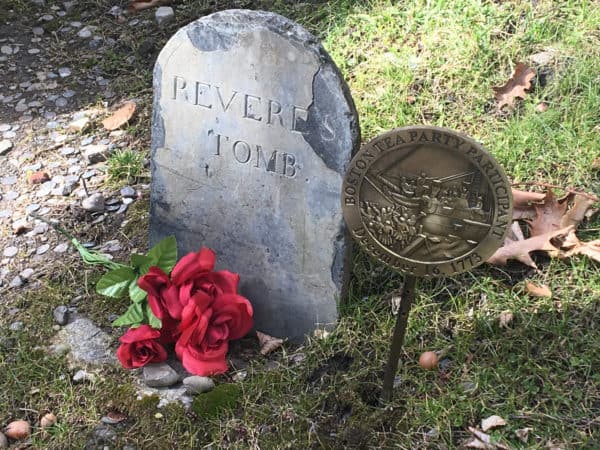 We went to the Granary burial ground, a stop on both ghost tours, but it was nice to see it in daylight and to walk around and see the several noteworthy graves.
Tip: The handy thing about FTF's tours is that once you buy tickets you can show up at any of the several tours they do on most days. At 11:00 on a cold morning our group was still about 20 people. During the summer her I'd choose the first tour of the day or one later in the afternoon to avoid the biggest groups.
If you're looking for something more specialized, FTF also offers a tour that focuses African Americans in the Revolution. Another covers the roles of Boston women in the Revolution, abolition, the Civil War and the suffrage movement.
Discover The Boston Public Library
A band that looked like renegade Gryffindor students were playing a set on the plaza outside the Boston Central Library as we walked by. They did us the wonderful favor or drawing our attention to the library building itself, and we went inside to look around.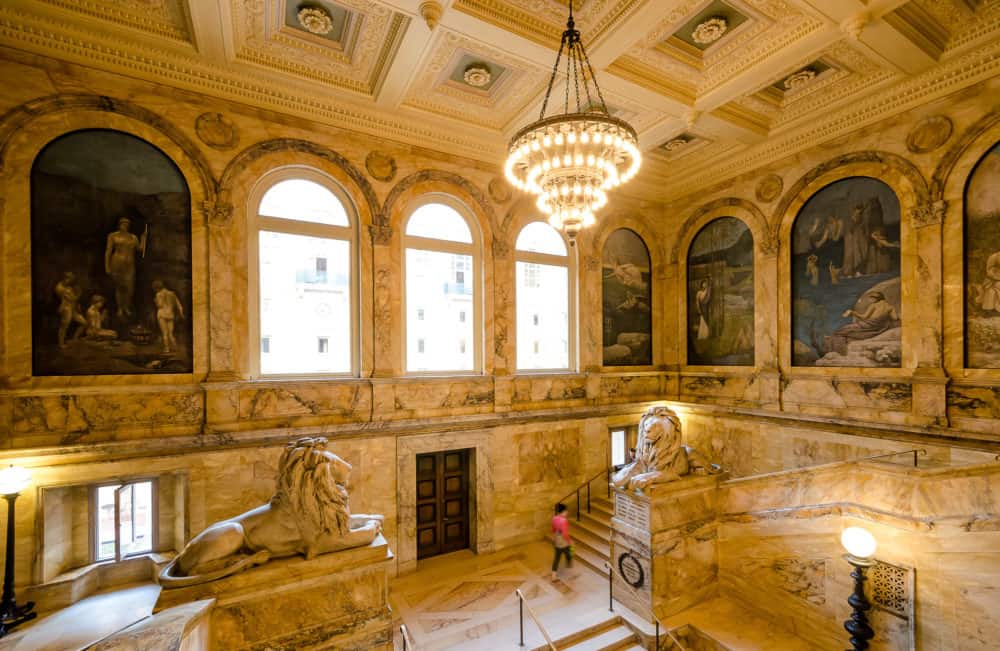 Good call! The Renaissance-style building has vaulted ceilings, murals, frescoes, statues and a grassy indoor courtyard. We were all impressed with it. It also has a lovely café that's a nice spot for morning coffee or an afternoon cup of tea.
There are free tours of the building daily, but the times vary from 11:00 am to 6:00 pm, so check the website. We would make a point of seeking these out on our next visit to learn more about the building and all its artwork.
The library is on Copley Square, at the cornes of Boyleston and Dartmouth streets.
Charles Street Restaurants
If you're near the Boston Common and you get hungry, take a walk up Charles Street, which runs between the Common and the Public Gardens. You'll find take-out and small grocers for picnic fare, cafés, ice cream, and casual and trendy restaurants.
Bar and Restaurant Gems Around Quincy Market
Quincy Market and Faneuil Hall can be fun to walk around if you want to do some light shopping or souvenir hunting. You'll find plenty of the usual t-shirts and baseball hats.
We found some unique jewelry at the smaller carts and you can find fun colonial-inspire bags and prints by artisans in a market building in front of the food hall.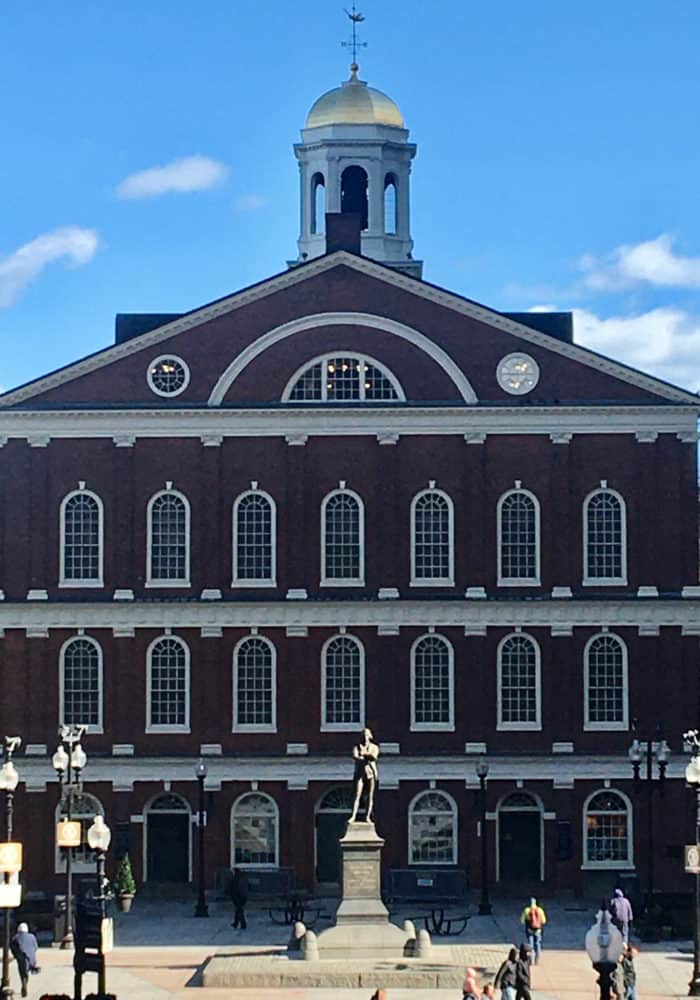 But the main reason to go there is that there are a lot of places to eat and drink, both in the market hall and nearby.
Classic Union Oyster House
Union Oyster House is probably one of the oldest and best known Boston Seasfood restaurants. At first glance it might seem old-school in a stodgy way. But it's not at all, and we've returned here several times over the years, including on our last visit.
It's a busy restaurant with frequent turnover so the seafood is fresh and the service is friendly and not rushed despite the busy dining rooms. I had mussels, perfectly cooked in wine and garlic while Tween Traveler was happy with her kid's portion of fish and chips.
Rich went with traditional broiled scrod, topped with breadcrumbs and served with bright steamed vegetables.
If you like shellfish, don't hesitate to order from the raw bar, or pop in at lunch time for a fried clam or fried oyster sandwich.
Sit-Down Dining at Faneuil Hall
A Fresh Take on Sam Adams:
We popped into the Samuel Adams Boston Tap Room next to Quincy Market when we had time to kill one afternoon. It's a nice space; big but not loud. They're fine with kids in the afternoon and have wide tables that are ideal for settling in with cards or a board game
It doesn't have a huge food menu but it has good pub snacks, like a giant warm pretzel with German mustard and several desserts. If you don't want a big meal it's a way to have a sit-down lunch without spending too much.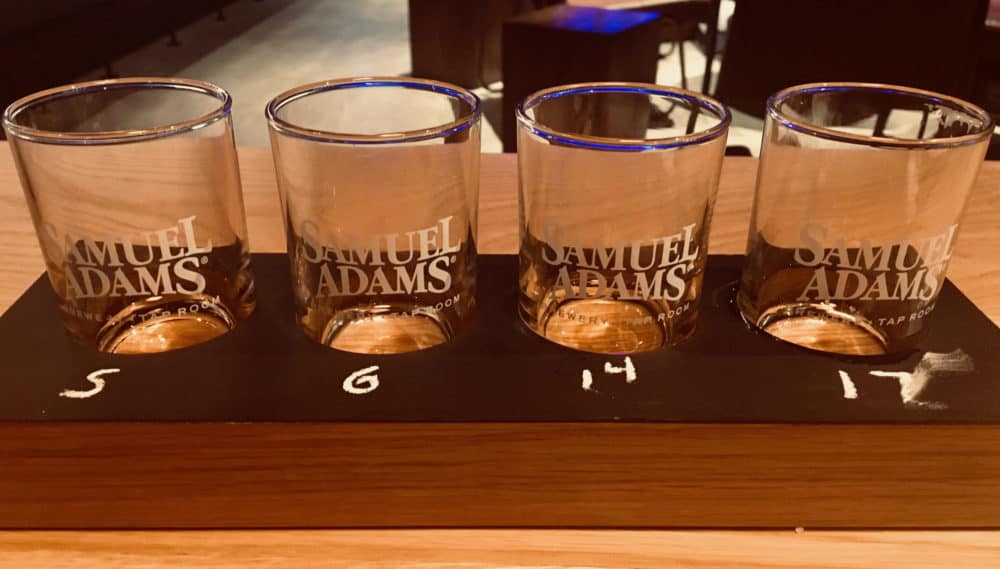 In addition to the original lager and their usual summer and winter beers, they have quite a few beers they only serve at their taprooms. Some seem pretty experimental, like smoked Scotch Ale, spruce lager or piña colada IPA.
We shared a flight so we could try a few and liked most of what we tried, even the more esoteric ones—though I admit we skipped the spruce beer.
We'd go back again because there's always something new to try and it's a good place to relax with a card game, drinks and snacks.
Al Fresco Lunch at the Salty Dog Seafood Grill
In the summer the Salty Dog has an outdoor patio at the corner of the market building, a prime spot for people watching and catching the busker acts. It's New England seafood and the prices were not as aggressive as they might have been.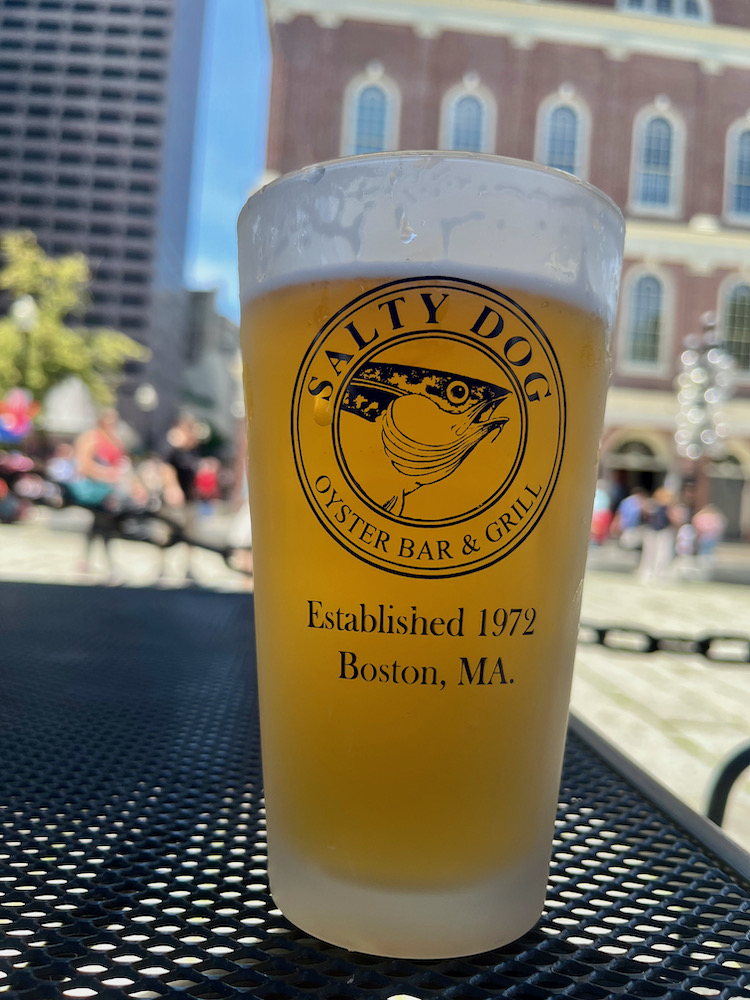 Steamers are thing-shelled clams you only see in New England and only at certain times of the year. because they are regional and seasonal, and typically served with a tub of drawn butter, I order them whenever I see them on the menu. The ones we had at the Salty Dog were fresh and plump. rich and i shared those along with a fried fish sandwich and fries. The fish was mostly likely the same that they use for fish 'n' chips. It was a good size, flaky filet and the bun held up to all the tomatoes and tartar sauce we put on it.
Teen Traveler usually goes for fried shrimp or clams in this type of place but here the burger and fries called to her. She liked the burger and that the portions were not overly large.. They have a chicken sandwich, too, and that is the extent of their non-seafood menu.
We had seen some good looking cookies at one of the push-cart kiosks on the other side of the hall, but we were too full to go back for them. Next time we'll leave room for dessert.
The Food Hall at Faneuil Marketplace
I have to say up front that I don't love the food hall at Fanueil Hall because it's tourist central and always mobbed. There is a second floor that has more empty tables than you'll find downstairs. But in the nice weather I highly recommend you take your lunch and dine al fresco. There's a good chance you'll have entertainment with your lunch as the plaza between the two market buildings is a popular spot for buskers.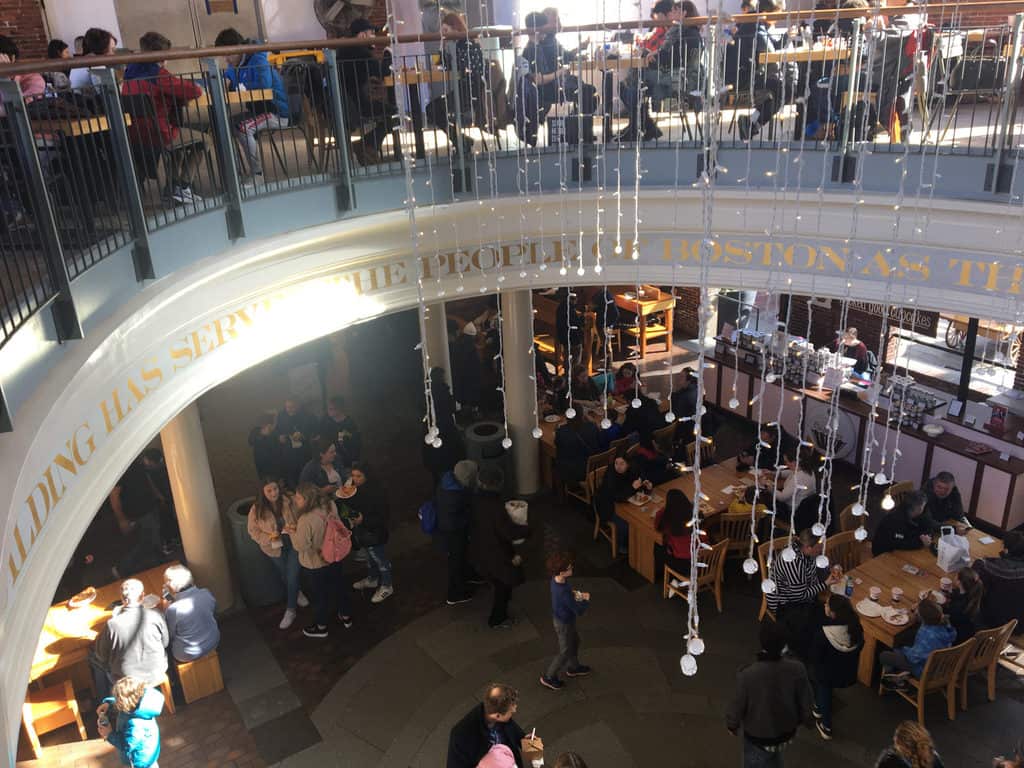 But it's handy with a family because you can agree on a place to meet up and then let everyone go and get their favorite thing. And there are some gems to be found if you pay attention.
We ate lunch here on our winter visit because it was a convenient place to warm up between our Freedom Trail tour and ice skating. Tween Traveler had very good macaroni & cheese from a stand the specializes in it. I got a cup of rich, chunky lobster bisque perfect for a frosty day.
But there are plenty of places at the market to get lobster bisque and New England clam chowder. Prices and no doubt quality vary, so look around to see who's busy and what looks good.
A North End Italian Dinner
On our winter weeekend we made the short walk from Quincy Market to the North End, Boston's Little Italy neighborhood. It was a cold, rainy night and a homey Italian restaurant was just the thing.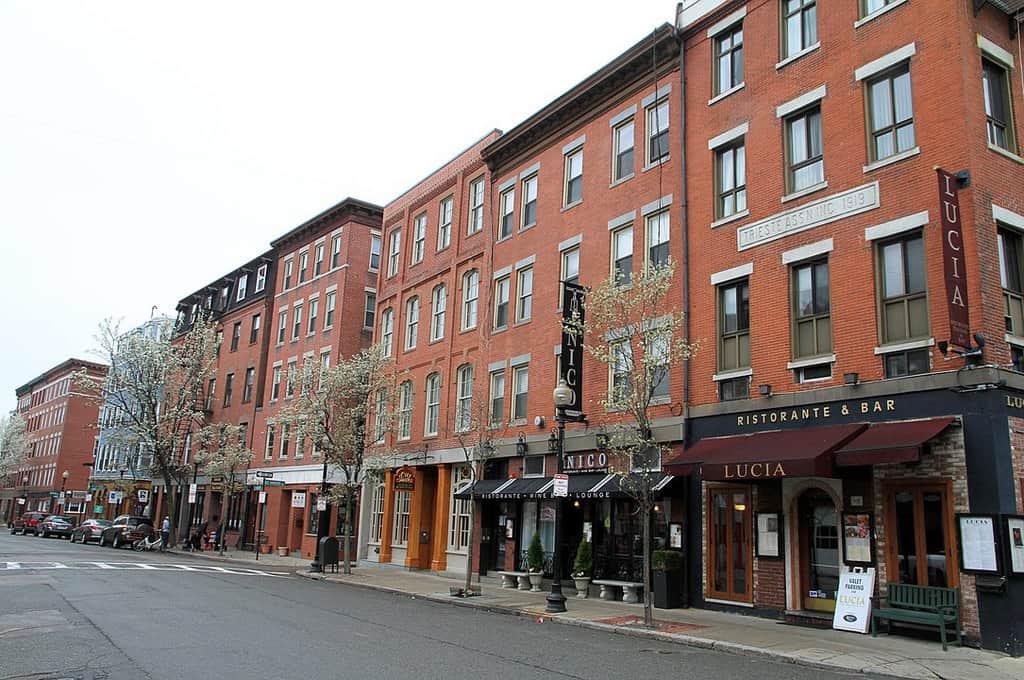 • We found Antico Forno, known for its brick-oven pizzas and red-sauce pasta and thought it looked kid-friendly. It is, but we had a bit of a mixed experience.
Tween Traveler was very happy with roast chicken, roast potatoes and green beans. Her dad's saltimbocca came with the same roast potatoes and she liked them enough that she ate most of his, too. The saltimbocca itself was on the salty side but his mushroom sauce was good.
I spotted ribbollita on the menu and thought this flavorful bread soup would be ideal for a winter night. It was chock full of beans and vegetables but was soupier and less bready than I've had before and not quite what I had in mind. The side of broccoli rabe I had with it was perfectly cooked and garlicky, though.
On balance we'd go back. Next time I'd what everyone else was doing: order thin-crust pizzas, pastas and salads. And roast potatoes.
• On a summer visit we took a cab to Carmelina's because we read good things, but it was small, packed and loud (reservations are a good idea in the North End in summer). We walked a short way down the block and found Casarecce Ristorante, which had some empty tables and a sandwich board announcing fresh pasta made daily. So we walked in and a very friendly waiter gave us a table by the window.
It was a great meal. Tween Traveler's favorite Italian dish is Gnocci and the ones she had here had a perfect pillowy texture and were topped with garlicky spinach, broccoli rabe and Parmesan cheese.
Rich went for saltimbocca again and it was probably the best I've tasted anywhere. It was cooked and served in a veal stock so the veal wasn't dry and the prosciutto wasn't salty, as can often happen with this dish. I had shrimp diavolo over spaghetti. The pasta had a good texture and the diavolo sauce had a peppery zing without being hot.
We didn't finish eating until after 10:00 and thought the pastry shops might be closing up by that hour. One of our waiters touted their cannoli and the other talked up their tiramisu. So we ordered both. The mini cannolli had a ricotta-mascarpone filling and were simple and good. Our only complaint is that it's hard to share two mini cannoli among more than two people.
Luckily Teen Traveler wanted the tiramisu mostly to herself and left us the cannoli. The tiramisu was the perfect layer of coffee-soaked cake, sweet mascarpone and chocolate. Also, the best we've had in a while.
The service was a little erratic toward the end of our meal. But summer they had some big parties and they were apologetic so it wouldn't keep up from going back.
• Normally in the North End we skip restaurant dessert and go find an Italian bakery to indulge in biscotti and espresso, cream-filled lobster tails, cannoli and gelato.
You'll find plenty of debates about the best North End cannoli but we always just go into the first place we see that doesn't have a long line (which is anywhere on a rainy night in February and almost nowhere on a summer night).
On our winter visit we happened upon Modern Pastry, where they don't fill their cannoli shells until you order—the sign of a very good and proper cannoli.
We could build our own pastries with the choice of a chocolate-dipped or plain shell, plain or flavored sweet-ricotta fillings and toppings such as nuts or chocolate chips. Tween traveled went all out with a chocolate shell, Nutella-flavoted filling and chocolate chips. Here dad went with the classic shell and filling (simple but not boring). I took the middle ground, choosing a chocolate shell and citrus peel in my cannoli cream.
It's down the block frm the famous Mike's Pastry, which has absolutely very good cannoli and had a line out the door and around the block on our summer visit. My advice is, if the line is that long, skip it and try one of the several pastry shops, bakeries and cafés along Hanover and Prince Streets. You'll make a new and delicious discovery without the wait.
---
Need More New England Travel Ideas?
An Easy Weekend in Newport With Kids
The Best Things To Eat and Do For Fun on Cape Cod.
A Kid-Friendly Summer Weekend in the Berkshires
---
Things To Do and Eat Around Fenway
Even when the Sox are not in season there's quite a bit bubbling up around Fenway these days and we were glad to check some of it out. Even if you aren't a Socks fan (as a New Yorker I'm definitely not) Fenway is pretty much the same park it's been since 1912 and it's a nice place to see a ball game.
An afternoon at Landmark Park
On our winter visit we walked over to Landmark Park, a relatively new shopping and dining area near Fenway Park, for lunch and more ice skating.
Time Out Boston is an urban food hall that its namesake magazine opened in a converted factory building here. The idea is that they bring noted chefs from across city together so you can sample the best of Boston's food scene in one place.
Like Quincy Market, it's handy with kids because picky eaters can stick to pizza or bagels while you experiment with Armenian kebabs or a gourmet hamburger.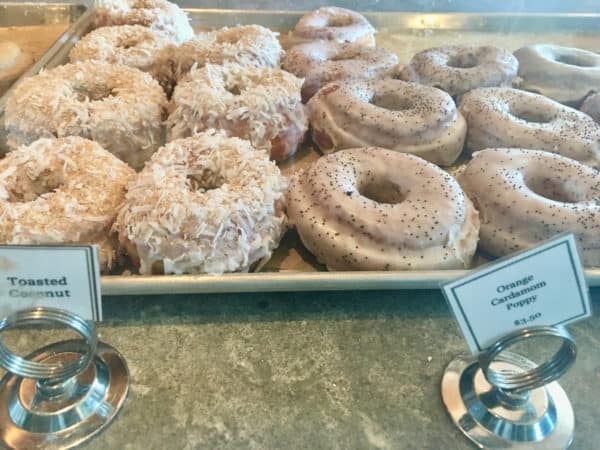 Rich and I shared clam chowder and a Cuban sandwich while Tween Traveler tucked in to Greek chicken wings flavored with lemon and garlic.
For dessert it was tough to choose between the creative fillings and frosting at Union Square Donuts (Vietnamese coffee, anyone?) or the creamy goodness at Gelato & Chill. In the end, chocolate gelato won the day and I can't say it was a bad choice.
On a subsequent summer visit Rich and stopped by a Union Square Donuts shop in Somerville for breakfast. Oh my gosh, these were the best doughtnuts we'd had in ages. He has a yeast donut topped with sugar-toasted hazelnuts. I had a crunchy crueller-style donut with lemon poppyseed glaze on top. They were so big we weren't hungry until late in the afternoon. You can't eat these calorie bombs every day but on vacation I would go back anytime I'm in Boston (possibly everytime).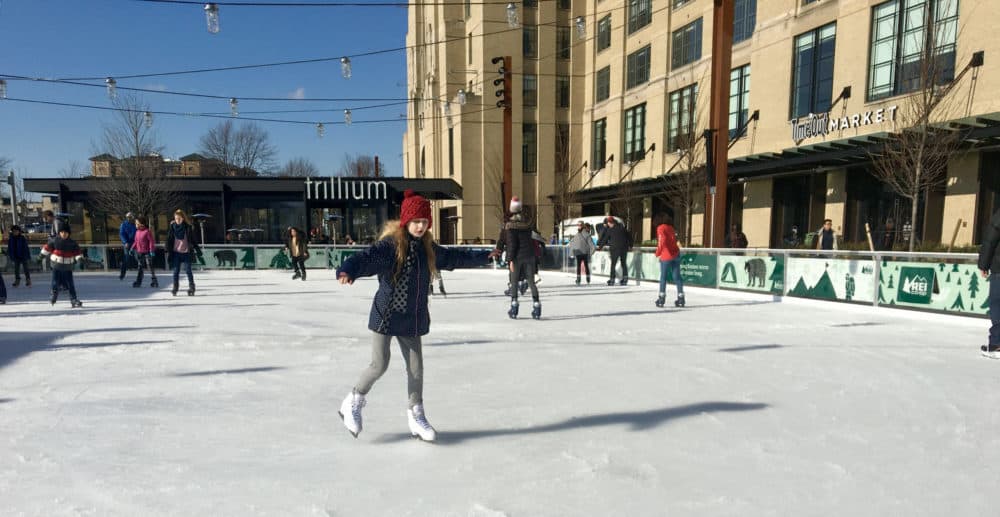 On your way out, stop by the camera that projects onto the way a pixelated image of you that tracks your movement (top).
In 2020 they set up a very small temporary ice rink on the green outside the food hall. On the day we were there, temperatures had popped up into the 40s and they ice was a little slushy, to be honest.
I noticed they didn't reopen it this year, mostly likely because of Covid. I hope they bring it back again, maybe with a stronger icing machine. It was a nice addition to the area.
During the summer the ice-skating area is a sizeable green space. Trillium Brewing Company has a taproom to one side with a big glass window and outside patio. It seemed to me like a good spot to settle in for a good pint and fun people watching at any time of the year.
Art in Isabella Stewart Gardner's Italianate Villa
There are three reasons to visit the Isabella Stewart Gardner Museum, across the Backbay Fens and a bit further out from the ballpark.
The first is the building itself, a Venetian style mansion with one of the most greenest and beautiful interior courtyards you will ever see and full from top to bottom with columns, window and door frames, reliefs, balustrades, and tapestries that Gardner and her husband brought back from Venice, Florence and Rome.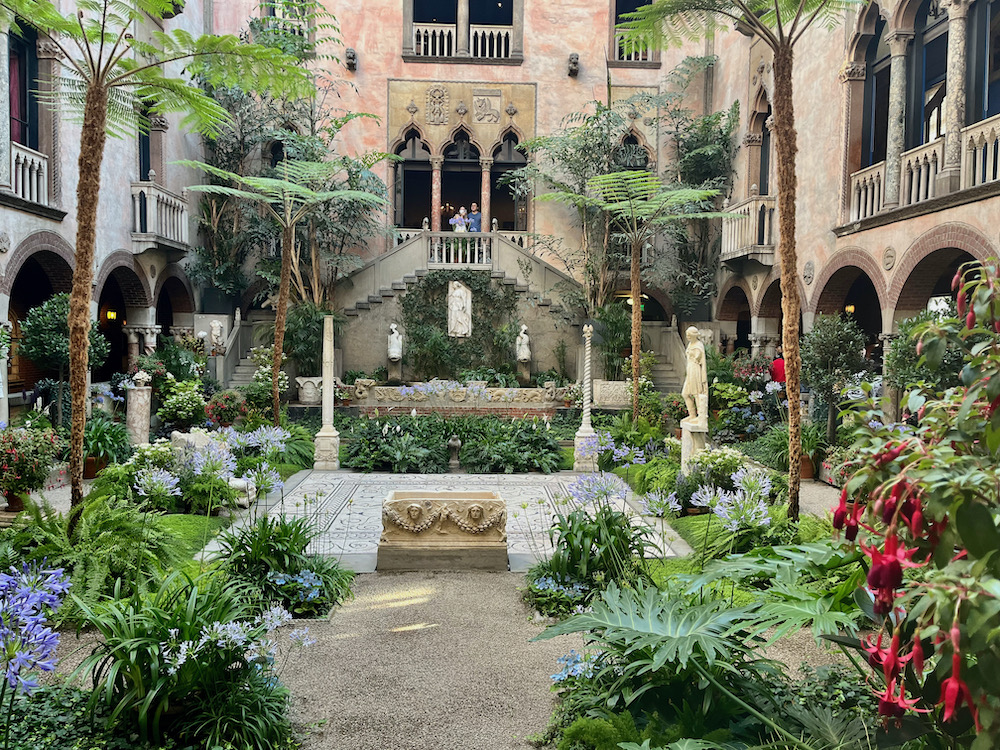 The second is that this museum was the site of one of the most notorious art thefts ever pulled off. In 1990 someone broke in and stole 13 works including five Degas paintings, three Rembrandts, a Vermeer and a Manet. Despite long investigations, a huge reward and several suspects the paintings have never been found. You'll see two empty frames on one of the walls where the Rembrandts should be. The Netflix documentary This is a Robbery: The World's Biggest Art Heist goes into all of it.
And finally, there is the art. It's on every square foot of every wall. Some of it is extraordinary, some of it is not great (IMO) but the quantity and variety of works she collected is mind-boggling.
There is an exhibition running through early september that looks at a series of Operas and ballets for which Mauric Sendak created the costumes and sets, including a stage version of Where the Wild Things Are and a very Sandakian Nutcracker Suite. You can instantly recognize his imprint on the sets costumes and it's cool how well his visual style tranlated to the three-dimensional world.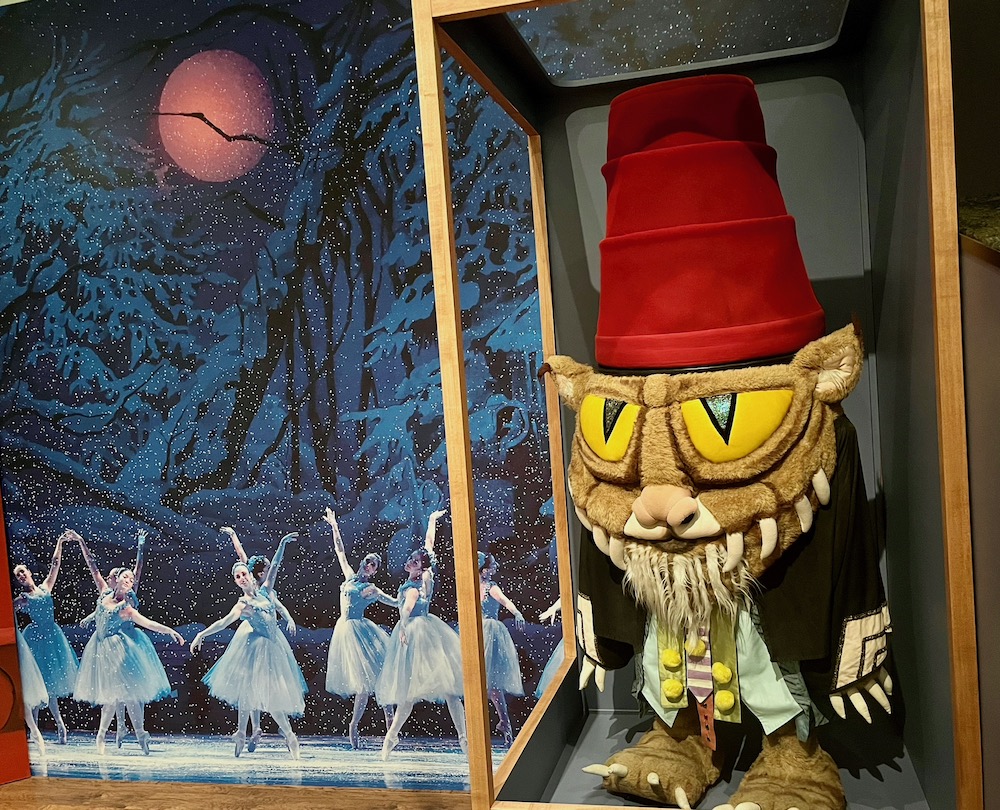 This is an all-ages exhibit but beyond that I think I would keep this museum in reserve for tweens and teens. Younger children would mostly find this museum frustrating and possibly fairly boring.
We found street parking relatively easily in the late afternoon. But you can also take the Green E line on the T. GIve yourself about 90 minutes to two hours to see the whole building at a leisurely pace.
Cambridge With Kids: Bookstores, Museums & Restaurants
On our winter visit we had planned to take the T to Harvard Square and spend a good part of a morning perusing the area's many bookstores. But we emerged from the train station into a downpour that continued to a greater or less extent all day.
No matter; we still found interesting things to do. And we returned on our summer visit to retrace our steps in better weather.
Books and Comic Books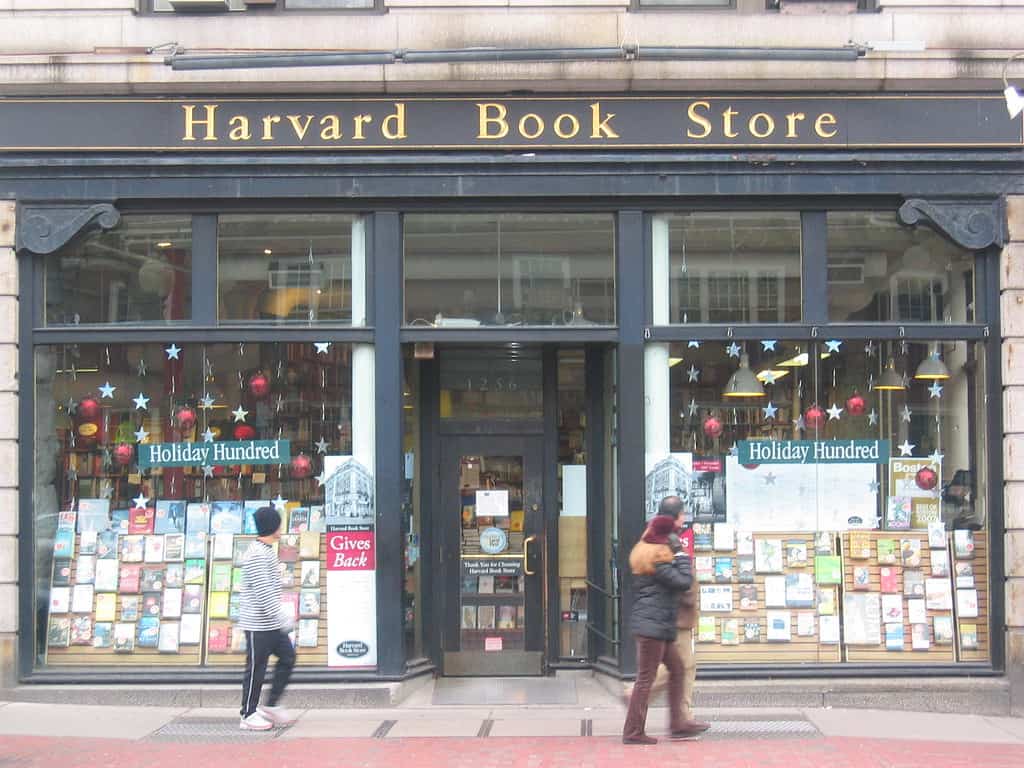 We spent a lot of time at the Harvard Co-Op, which has an excellent children's section with books that reflect a wide diversity of characters and authors, and there's plenty more besides. Tween Traveler picked up a book about coding on Scratch. On a subsequent Visit we went to the Harvard Book Store on Massachusetts Ave. It's used and remainder sections were smaller than I had hoped. But it has a well-curated fiction selection and a good selection of books on almost any subject.
We also popped in to Newbury Comics, which is hidden on the second floor of a quirky mini-mall.
Newbury is a fun store that sells weird stuffed animals, slightly subversive card games, many-sided dice and figurines for roll-playing-games, vinyl records, silly t-shirts and more. Somewhere in the store I think they also have comics.
Comic book fans should also seek out New England Comics and Million Year Picnic. All three stores are within a block of one another.
Raven Used Books is near the co-op anand Grolier Poetry Book Store is behind Harvard Book Store (Raven is closer to the T), but we haven't gotten to those yet. Maybe next time.
Pandemonium Books & Games is three-quarters of a mile from Harvard Square, just off of Massachusetts Ave on Pleasant Street. It specializes in science fiction, horror & fantasy books, plus all the books, dice and figurines you could need for roll-playing games, plus Magic The Gathering cards and other tabletop games.
Tween Traveler spent a happy 45 minutes exploring with Rich. I knew they'd be a while and relaxed with a blueberry beer from Maine and my NY Times app at the 730 Tavern & Kitchen around the corner on Massachusetts Avenue. When they eventually joined me Teen Traveler had a new book in hand and ordered a fudgy chocolate cake with vanilla ice cream while Rich and enjoyed our regional draft beers.
Check Out The MIT Museum
Our destination at the other end of Massachusetts Avenue was the MIT Museum, which features some of the innovation coming out of the university.
Tween Traveler, who brings a Fuji Instax everywhere she goes, liked an exhibit the showed how instant cameras have evolved from the 1950s until now. She even got to hold a couple of (huge and heavy!) antique models that they had out for visitors.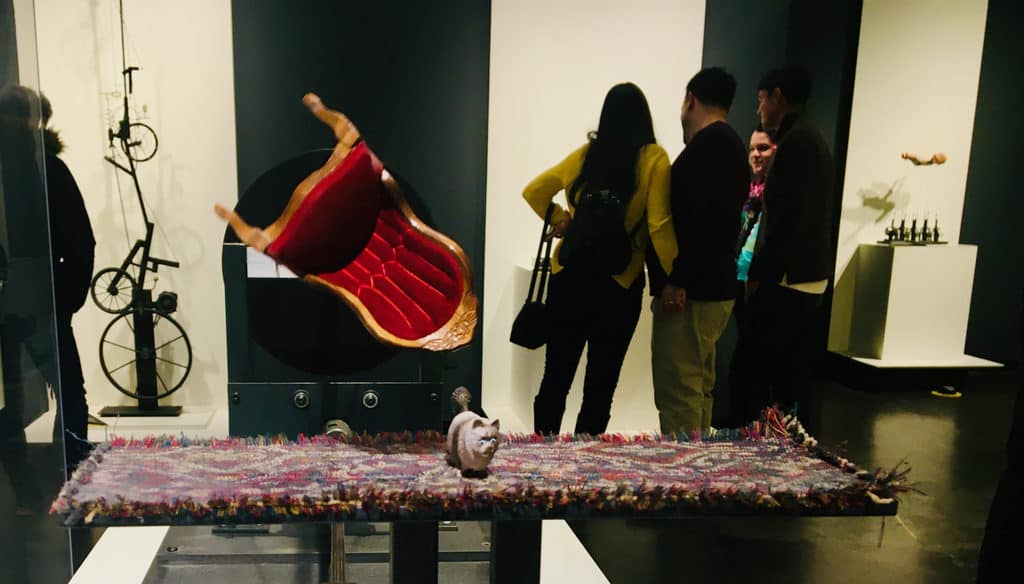 We all also liked a room full of motion machines, essentially moving sculptures that merged art and physics. Some were fun; some were odd. They were all interesting.
A room with robotic body parts was less hands-on than Tween Traveler would have liked. There was a classroom for kids, but the day's hands-on activities were too young for our tween.
Tip: The kids' actities aside, I think this is a science museum better suited to tweens and teens who are outgrowing the typical kid-centered science museums.
It wasn't the overwhelming success I hoped it would be with my STEM-loving kid. But it's one of those museums that's always worth stopping by. It's small enough that you can see everything in an hour or two, and the handful of exhibits change constantly.
Tip: From September to June admission is free on the last Sunday of every month.
Sample Harvard's Many Museums
Harvard has a half dozen museums on campus and you could make a day of exploring all of them.
The Science Center houses the one-room Collection Of Historical Scientific Instruments. It include mathematical, medical, astronomical, navigational and time-keeping devices dating from the late 1600s to early computers and radios. It takes 30-to-45 minutes to explore it, depending on how in-depth you want to get.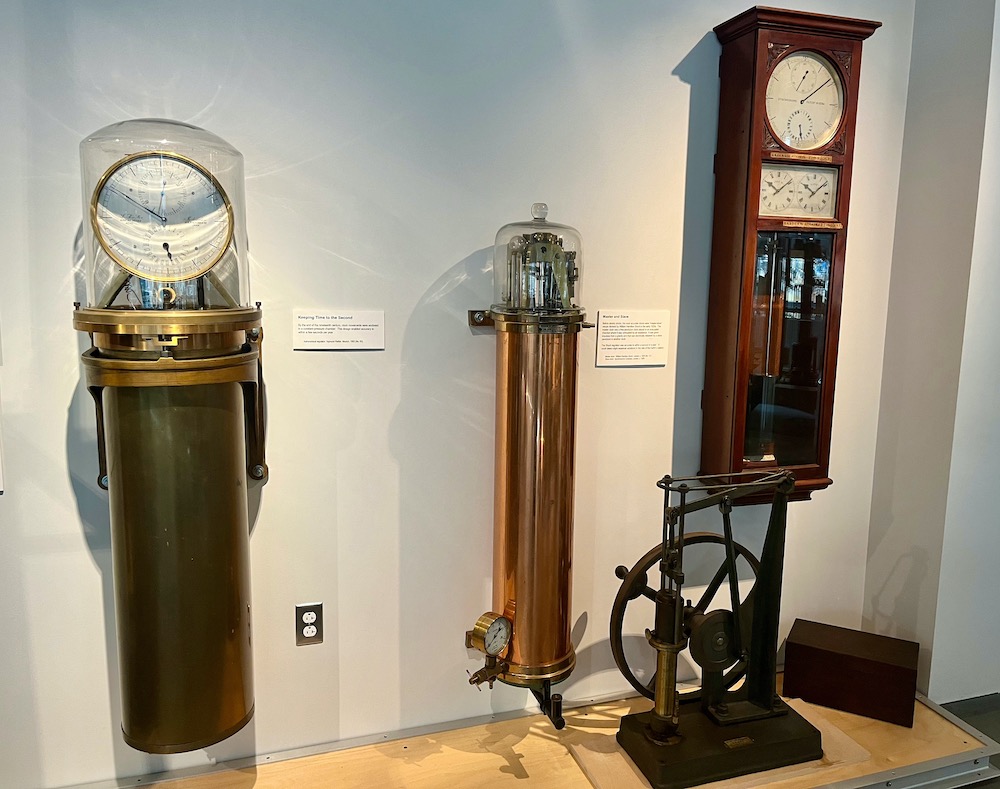 We went because I thought my STEM-happy teen would like it, but I enjoyed it more than I expected to. The collection shows how technology had evolved and also how the way we study math and the various sciences has changed since Harvard was founded in the 1600s. For example, Harvard required its earliest students to know how to make a sundial because they were considered essential scientific equipment.
They also have a working model of the planets that were known in the 1700s, in a gorgeous wood, glass and bronze case the size of a piano. Most of the equipment on display was used by Harvard students or professors in its day. Ben Frankly bought several items for the university on an academic shopping spree in Europe. More recent acquisitions include a Commodore 64 and early Apple desktops.
We have also gone to the Museum of Natural History, which connects to the Peabody Museum of Archeology and ethnology and the Museum of Comparative Zoology.
Despite encompassing three museums it felt small. If you've been to the Natural History museums Chicago, Washington, DC and New York it will seem underwhelming. But its size makes it's manageable with smaller kids.
The unique, can't-miss thing to see is the gallery of glass flowers. Made by Czech artisans in the late 19th and early 20th centuries, the flowers are meant to be scientifically accurate renderings of nearly 800 kinds of plants. Some even show depict how fruit decays.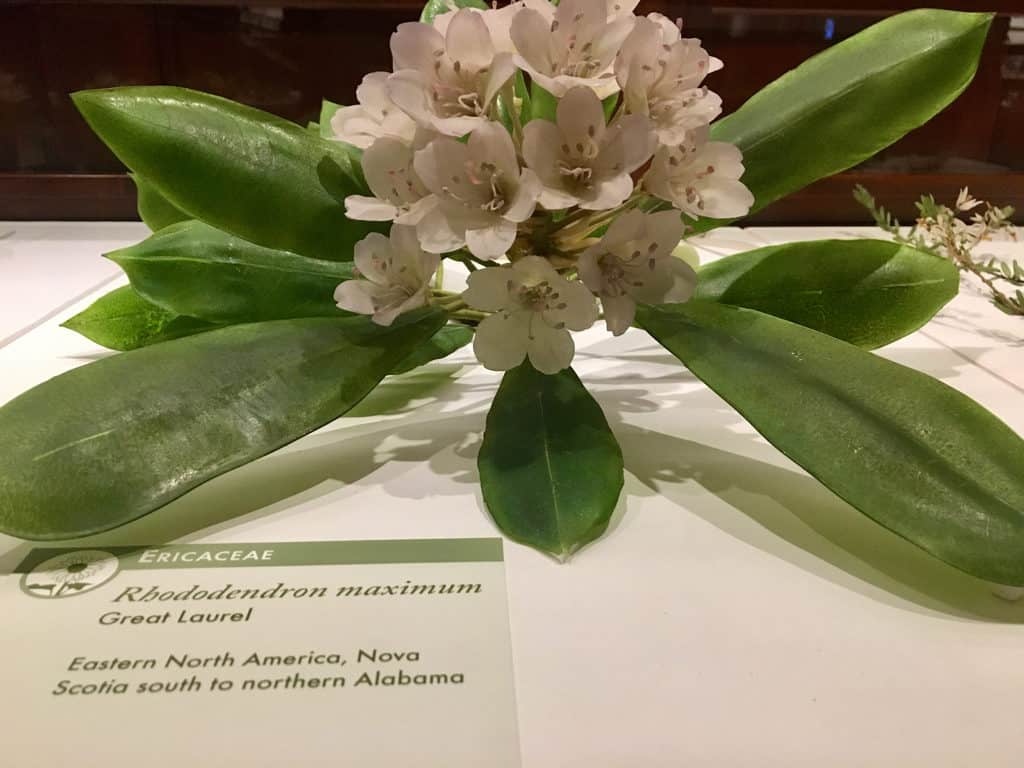 It really is cool. It's also the kind of thing I could spend a half hour perusing while my kid is ready to move after a few minutes. Luckily, I could send her ahead to the planetary sciences gallery while I lingered.
The university also has several small art museums focusing on Asian, European, American and German art, respectively, and the Museum of the Near East, which delves into the history, culture and languages of countries along the Eastern Mediterranean and north Africa into Iraq.
Kid-Friendly Restaurants in Cambridge, MA
Massachusetts Avenue has the full variety of ethnic and vegetarian restaurants you expect to find around college campuses. They're casual and definitely kid-friendly.
The rain and cold make us crave something heartier than Thai or Indian and we found what we wanted at the Asgard, an Irish Pub closer to MIT.
Tween Traveler went directly for spiral pasta in an oozy cheese sauce; she says it's some of the best mac & cheese she's tried. I had tomato soup and grilled cheese on sourdough, the classic rainy day combo. Rich went traditional with a shepherd's pie.
A few blocks back toward Harvard is New City MicroCreamery, your spot for small-batch locavore ice cream. In addition to the usual flavors try seasonal specials like cran-cherry or pecan-pie, made with molasses.
If you need a pick-me-up after all those Harvard museums, head to Zinnekin's Belgian Waffles for coffee and waffles topped with bananas, berries, chocolate, Nutella and whipped cream, among other things. They're impressive and shareable. It's a few blocks from campus at the top of Massachusetts Avenue. Tatte, on the same block, is a coffee and pastry shop that's popular with Cambridge locals.
Discovering Fort Point & The Seaport
Each time we return to Boston we visit Fort Point and the Seaport District, across the channel from Downtown. Each time there seems to be more restaurants and things to do, especially with kids.
Kid Fun On the Waterfront
When we were visiting the city with a Tiny Traveler, The Childrens' Museum was the thing we had to do. It's one of the best Children's Museums in the country.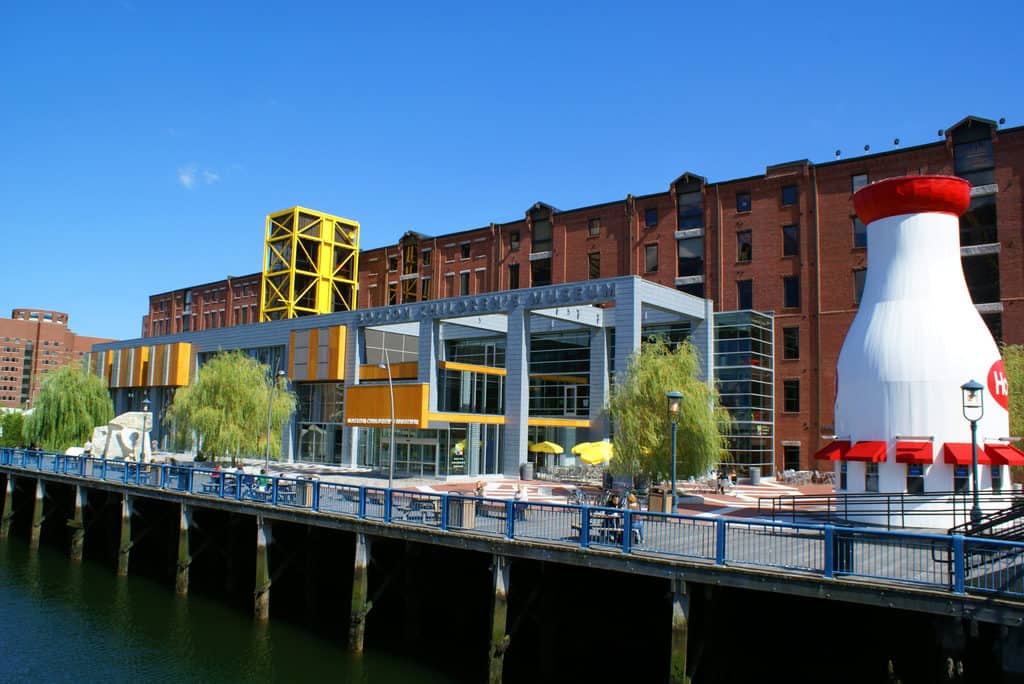 The fun offered across its three floor includes a giant climbing structure, an authentic merchant's house from Kyoto, a hands-on STEAM lab and a room full of Keva planks for building.
Read More: The 10 Best Children's Museums in the U.S.
Next Door to the museum is the Children's Wharf Playground, which is an awesome playground. Long metal slides, a large atom-like climbing structure, rocks, steps and a wooden ship will keep kids up to ages 10 or 12 occupied while you enjoy the harbor views.
Winter Activities at Snowport
Part of Boston's Seaport district turns into Snowport during the winter with curling, outdoor art and light displays, igloos and a wandering Yeti. Be sure to wander down the side streets to find coffee, snacks, lunch if you need to warm up after some outdoor winter fun.
In some years there's ice skating. It seems to be suspended for this year in favor of a more low-key experience.
The Boston Tea Party Experience
Over the summer we booked tickets for the Boston Tea Party Experience, which takes place on a period ship in the middle of the Fort Point Channel.
The Tea Party fun starts with a town meeting about the tea tax issue in a colonial meeting hall. We were all given identities of people who were known to participate in the tea party and we had the opportunity to speak up in character if we wanted to.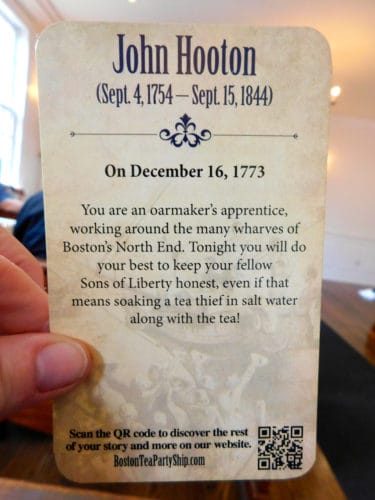 Known personalities of the day, like Samuel Adams, got the group riled up and indignant about unfair taxation from England. Huzzah! Then we headed out to the ship. The captain assured us we'd get no trouble from him. Huzzah! Then we got to throw bundles of tea (attached to ropes) overboard. Huzzah!
It was a fun way to experience a moment in history we've all heard about, and it clears up some of the apocrypha around this event. I'd been wanting to do this for a while because it's a great way to learn more about the Boston Tea Party with kids.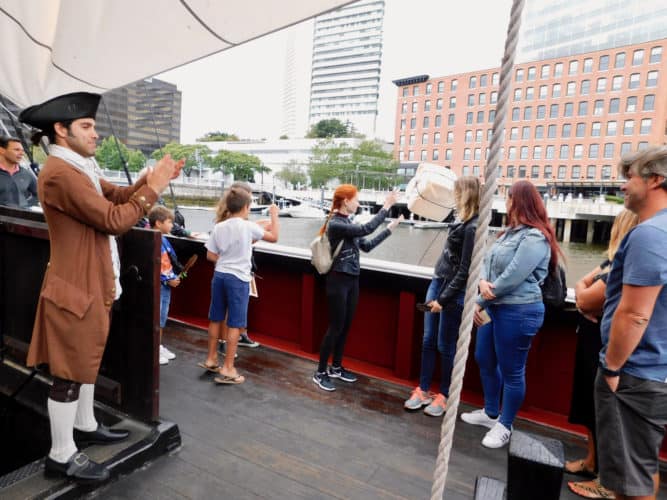 But I do wish we'd gotten to it sooner.Third through sixth grade is the sweet spot for the historic reenactment. My rising seventh grader was too cool to "Huzzah" with much enthusiasm And there was a bit of eye-rolling when I got too carried away.
We liked the (inevitable) gift shop. I even bought some nice tea that was thought to be a typical colonial blend.
Fort Point and Seaport District Restaurants
The Seaport and Fort Point districts can seem offputting at first — big hotels, mid and upscale chain restaurants and big convention center in the middle of it all. But there are quite few local gems, especially if you explore down the sidestreets. Here are a few places we discovered that you might like, too.
• Barking Crab: If it's a nice day, lunch at the Barking Crab is the perfect way to follow a morning playing at the Children's Museum or protesting the tea tax. And we've eaten there after doing both.
This popular seafood restaurant has a huge tented outdoor space right on the water. On a warm day it's hopping. When we visited over spring break a few years ago we managed (just barely) to get an outdoor table.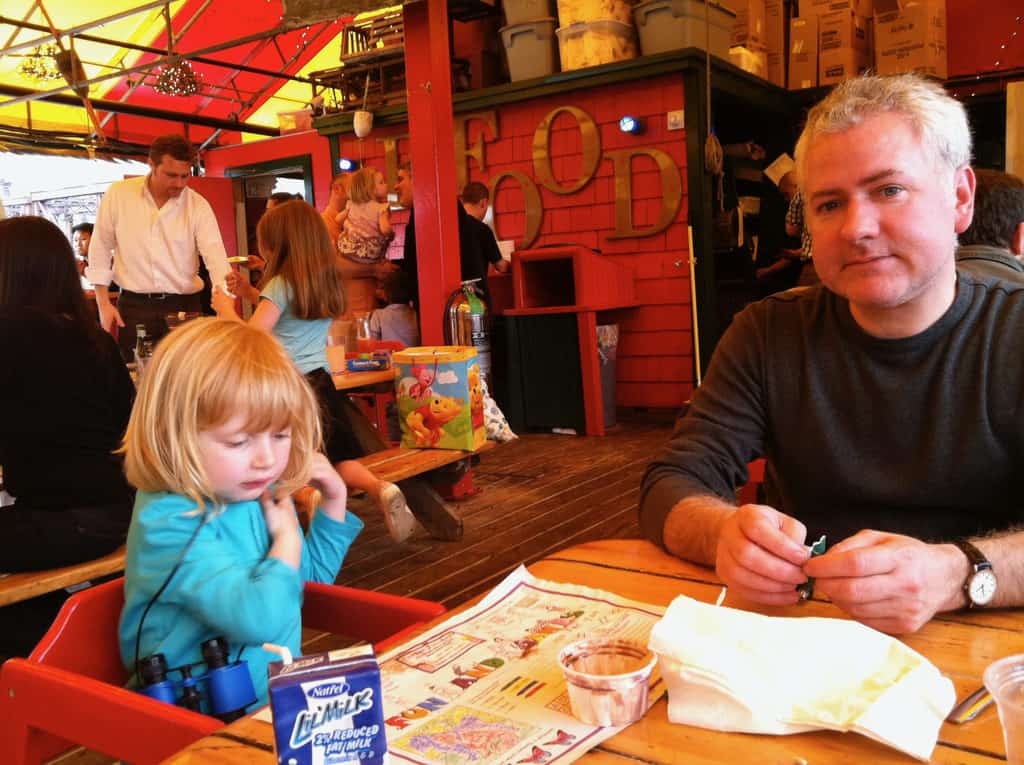 In summer, even on a weekday that wasn't happening without a wait. We did get a table inside the adjoining pub pretty quickly. It was suitably nautical, we had a nice water view and truth be told it was a bit quieter than outside (and air-conditioned).
On our first visit Tiny Traveler asked for Kraft mac & cheese off the kids' menu. I was torn between being happy she had something that she gladly ate up and resentful at paying $8 for a small bowl of boxed mac & cheese. As a tween she eagerly tucked into fried calamari.
Rich and I just indulge in New England shellfish when we come heer and share some combination or raw or grilled clams, steamers, seafood chowder and crunchy crab-filledcrab cakes. And of course, we drink pints of Harpoon because, what else would you drink eating clams on the waterfront in Boston?
• Trillium Taproom: On our latest visit we had lunch hd Trillium Brewing Company's main tap room in the Seaport District. It's a nice airy indoor space and a patio that looked welcoming but a bit too hot for the July day we visited.
The "for sharing" plates are not proper appetizers; they're things like olives that you can snack on while drinking your beer. So we couldn't have our usual share-a-few-apps lunch. But the entrees we had were all good.
Rich had the hot-chicken sandwich with a side salad. Teen Traveler h ad the same thing, but with fries and nothing but the chicken breast. The chicken was crispy outside and actually juicy inside and had just enough of a kick. They both liked it.
I had a grain bowl with beets and other root veggies, goat cheese, pickled rhubarb and rhubarb dressing. It was the kind of healthy and flavorful dish i love finding on menus. Teen Traveler drank a local brand of ginger-ale that she liked, Rich had a very hoppy IPA that he enjoyed and I had a mxed berry wheat beer that was tart, light and refreshing on a hot day.
• 75 On Liberty Wharf: We started our date night at this restaurant with a harbor view. We sat at the bar and had summer cocktails, including a frozé made with lemonade and crushed strawberries. We shared a shrimp cocktail that had a good dash of horseradish. Our seasonal flatbread pizza had an unusual combination of summer ingredients including tomatoes, peaches, blue cheese and pesto. It sounds odd but it was delicious.
It was busy and there was only two of us so we sat at the indoor bar and enjoyed the late-afternoon harbor view. But most of the tables are outside on their deck. There were families there and they actually have a good kids' menu with grilled chicken, salmon or steak along with the usual chicken fingers and pasta. The menu is creative but Teen Travelers would have found something on it that she liked.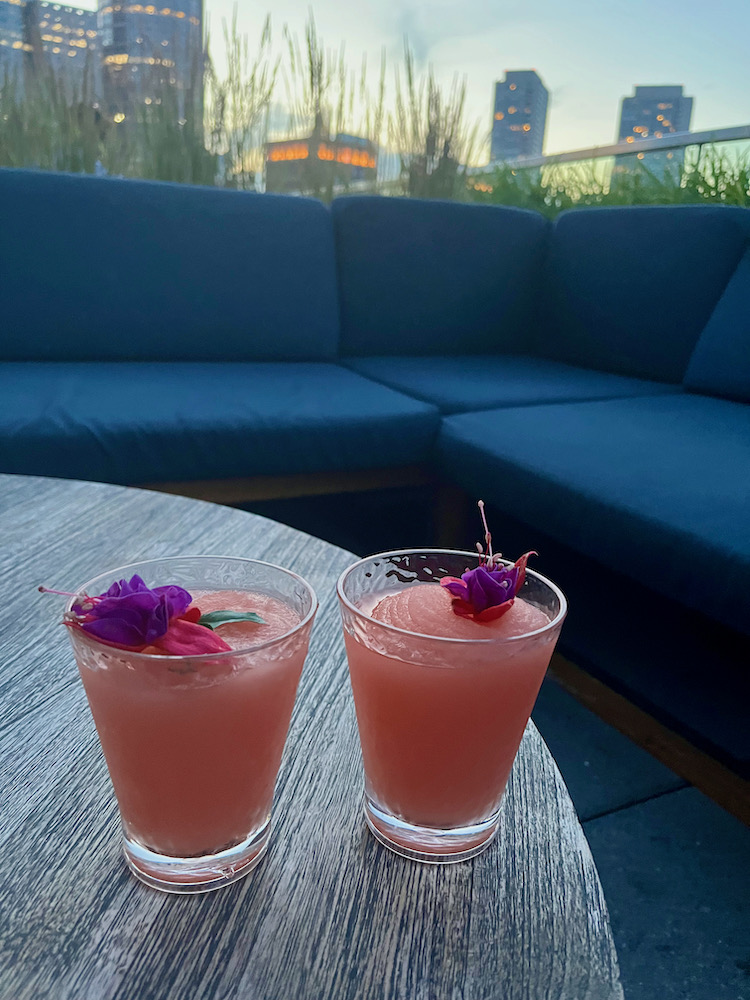 • Lookout Rooftop Bar at the Envoy: This rooftop bar perches right about the Barking Crab and has stellar views of the harbor and the city skyline. The bar area was crazy busy the night we were there, but the couches on the other side of the roof weren't and we had no problem finding a seat (after fighting to the front of the bar for drinks).
At night it seems to be a drinks bar —even if the food menu was available no one was eating— and is definitely adults only. But in the afternoon you might be able to take the kids up for Shirley Temples and bar food with a view.
---
More Things To Do!
Book a historic Beacon Hill home or cool Cambridge flat for your family
• Save on admisson to the Boston Zoo, Aquarium & Science Museum with CityPass.
• Or save time with skip-the-line tickets for the Aquarium
---
2 East Day Trips
Take a Walk through Mount Auburn
Mount Auburn Cemetary sits on the outer part of Cambridge. I'm considering it a day trip because there's no nearby T station and you can't easily get there without a car.
Mount Auburn was designed and open to the public in the 1830s, coinciding with a growing American interest in public parks and gardens as resources to improve people's health and well-being. It was the first garden cemetary in the U.S., modeled somewhat after Pere Lachaise cemetary in Paris but much, much greener. It's a stunningly beautiful park with lush greenery, very old trees and lots of birds, including wild turkeys. On a hot summer morning it was relatively cool and quiet. We decided it's probably gorgeous when the foliage turns colors in the fall.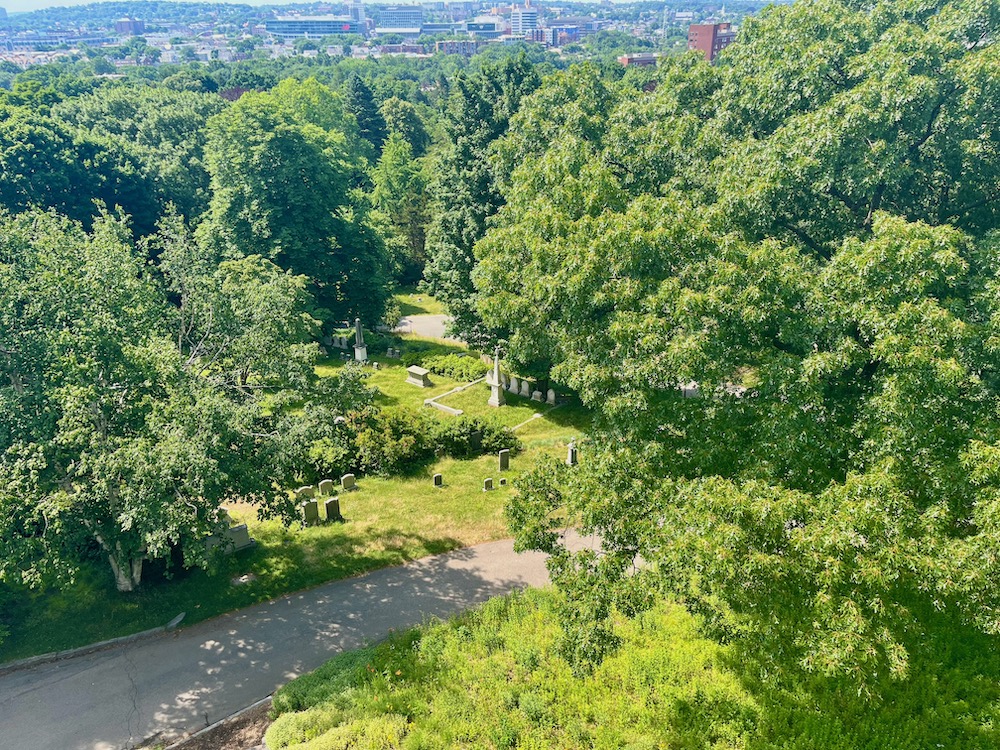 A good way to explore is to park where you can inside the gates and walk uphill until you get to the monument to George Washington. This tower is open to the public and a short climb to the top will give a view of the Boston skyline and surrounding Cambridge.
If you want to hunt for the graves of famous people, you can find those of Fanny Farmer, Isabella Stewart Gardner, Henry Wadworth Longfellow, Oliver Wendall Holmes and Winslow Homer, along with many politicians, military officers, a supreme court justice and a few Cabots and Lodges.
They encourage the public to visit and enjoy the grounds, but it's an active cemetary so there are a lot of rules. No pets, games or picnics, for a start. Be kind to the old tombstones. And above all, be considerate if you happen upon a funeral or somewhat visiting a grave.
Lexington & Concord
The site of the minutes-long battle of Concord in April 1775 has been memorialized at Minute Man National Historic Park. It's best to visit between Memorial and late October, when Park Rangers give daily tours that walk visitors through the battle itself and the events that instigated it. There's a 15-minute movie year-round and there are often volunteers available to answer questions. But following the footsteps of the Red Coats, local militias and minutemen with a ranger is the best way to see it.
The park sprawls over two locations and two visitors' centers and the site of the battle is only a small part of it. It has nice packed dirt trails for cycling and in the spring or fall you can take long but pretty easy walks.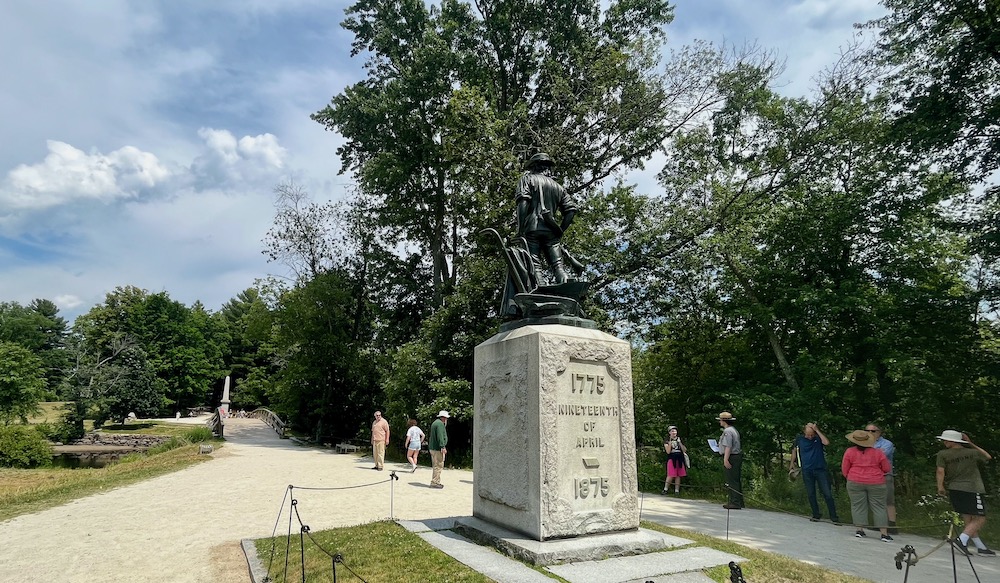 The Minute Man Visitor's center is just off of I-95 and is on the eastern side of the larger stretch of the park. It seems to have a bigger visitors'center and especially if you have kids you might want to start your visit here.
The North Bridge Visitor's Center is in a smaller patch of park just outside of the town of Concord. It's small but this is where the ranger tours meet to walk you through the day of the battle that broke out at the bridge just below it.
The Lexington Battle Green and Monument are 8 miles from North Bridge and 5 from Minute Man. You can take short walking tour here, too. But keep in mind that both battles lasted less than ten minutes and are very tied to each other, so there will be a lot of overlap between the Concord and Lexington talks.
There are organized tours that will take you to all the major sites with a tour guide.
If you really want to make a day of it, or stay over night, Louisa May Alcott's family home, where she wrote and set Little Women is just outside of Concord. Had I known this I wuld have absolutely made a detour. Walden Pond State Reservation, where Henry David Thoreau wrote Walden is two miles from Concord. If you go, stop by the visitor center to watch a short Ken Burns documentary on Thoreau and Walden.
Lunch in Concord
Concord is a typical New England Town with a few places to stay, shops and restaurants. You'll find clusters of restaurants on Main Street and Thoreau Street, including Indian, pizza, Italian, pub fare and cafés.
We had lunch at Concord's Colonial Inn because it seemed busy but not packed, had a attractive porch and offered the "Ye Olde" atmosphere you want after walking in the footsteps of Colonial soldiers. They had Yankee classics like chicken pot pie or baked scrod with mashed potatoes.
But I had an excellent salad with steak, avocado, black beans and cherry tomatoes over greens. And Rich had handpacked cheddar-bacon burger with a side salad. A local blueberry beer was refreshing after exploring the sunny battlefield.
Boston Hotels
On both of our visits we stayed at the Back Bay Hilton. We had free-room points with Hilton and this was the only Hilton hotel downtown with a pool.
But we often stay in the Back Bay area anyway because it's easy to get anywhere in the city from there by foot or by T. It stretches into a more residential area, too, so there are plenty of restaurants and shops around.
On the first visit we had corner room, which provided extra room for us to spread out our luggage. The second time around the room was more standard; comfortable but not quite as roomy.
The pool is on the small side but deep enough for adults. The water was pretty chilly on both visits and, especially in the winter, we really wished they had a hot tub alongside it. But any pool is a good pool as far as Tween Traveler is concerned so we were happy with the choice.
We didn't bother shelling out for hotel breakfast because local coffee chain Flour Bakery & Café had a store right across the hotel. We were very happy with its croissants, chocolate brioche and scones. They have egg sandwiches and avocado toast if you want something more.
On a third trip in 2022 we stayed in the Homewood Suites/Hampton Inn Seaport district. I chose it because I wanted to have a chance to explore the burgeoning Fort Point and Seaport District areas that have sprung up around the convention center. Also, it's a20-to-30-minute drive to Logan Airport, where we were dropping Teen Traveler off for a study abroad program and it seemed easier than finding out way there from a center city hotel.
It was built in 2021 and has a somewhat better pool than the Backbay Hilton (a little bigger and not nearly as cold). Our room was on the smaller side for a standard hotel room (I don't knwo what the suites are like). It did have a lot of hooks for clothes, coats, wet bating suits and towels, which I rarely see and very much appreciate. The bathroom is modern with a good shower.
And it has a typical breakfast buffet—waffles, eggs, potatoes, sausage, cereal, yogurt—included in the room rate. They have separate sides of the lobby for Homewood Suites and Hampton Inn guests. But the food is the same and the Homewood side as always more crowded for some reason. There are serve-yourself beer taps in the lobby that you access with a prepaid card, which is novel, but we didn't get around to trying them.
The hotel's main drawback is that it's in a semi-industrial area and further than it looks from the Fort Point's cluster of restaurants, hotels and activities. The busy roads make it tricky to walk, even to things that are close by, including the nearest T stops.
The isolated location and lack of foot traffic made it unappealing to walk to the hotel from the T at night, so we wound up taking a few Lyfts, which we never did when we stayed in the Back Bay.
The remoteness also meant we had limited parking options and they were all expensive. Valet Parking is $50 and you can take the car in and out as much as you need to.
A nearby garage said it was $30 after four hours and up to 24 hours. But in very fine print it says that all the rates only apply within a single business day and the new business day starts at 5:00 A.M. So when we picked up our car at 10:00 in the morning we had a $60 table ($30 for overnight and $30 for the five hours from 5:00 to 10:00 A.M.). We felt pretty burned.
The hotel itself is very new and basically OK. It's very close to the cruise ship terminal and I'm guessing that most people who stay are taking cruises or going to the convention center. It's hard to recommend it enthusiastically for a sightseeing visit because parking and getting around was so much more expensive and difficult than it would have been just a few blocks away.
A shuttle service to Faneuil Hall, the convention center or World Trade Center T stop (the nearest one with a proper station) would make the hotel more accessible for people exploring the city.
It's rates are in line with other more convenient Fort Point hotels and to me it should at least cost a bit less than the more accessble ones (which are also higher end brands). It's cheaper to book through Hampton Inn than Homewood Suites but the latter's floors have studio, one- and two-bedroom suites.
On a previous visit when our main purpose was to visit the Childrens' Museum, we stayed at the Westin Boston Waterfront, much more in the heart of Fort Point. It has a good size pool with a comfortable deck. Our room has space to walk around even after they added a roll-away bed.
It has a Starbucks in the lobby and all of Fort Point's restaurants and coffee bars right nearby as well as its parks and attractions. There's a T stop down the block
The Westin connects to the convention center so you might find better rates when there isn' a convention going on.
Pin it for later!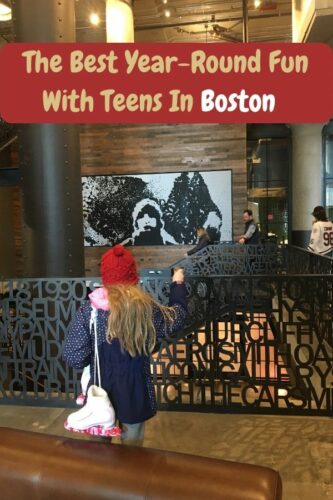 Photos by FamiliesGo!© except Public Gardens, Common Burial Ground (Visit Boston), Public Library (BPL), Boston Childrens Museum (BCM), Harvard Book Store (Adam Fagen/Flickr) and North End (Wikipedia).