New Yorkers love food. With all the walking we do, we can indulge in sweet treats now and again, and when I'm exploring the city with my tween we definitely do! Whether you want ice cream, cake, cookies, tarts or pastries NYC have some of the best desserts in the world, with flavors and recipes from around the globe.
Here are 24 places I think are worth seeking out if you are visiting NYC with kids; some because they're classic and represent great New York traditions. Others are here because they reflect the ever-changing city with fresh flavors and innovative spins on desserts we all know.
I start in Lower Manhattan, where my family spends a lot of time exploring and eating, and I work my way uptown and then to Brooklyn and Queens. At the end I add a few places you can find at several locations around town.
Put on your walking shoes and try a few of these great NYC desserts the next time you're in town with the family.
Read more:
• 5 Surefire Things To Do in NYC with Tweens
• Yes, You Should Take your Kids To Blue Man Group!
• 6 Ways to Enjoy NYC Like a Local
24 Top Spots for Authentic, Yummy New York City Desserts
Lower Manhattan
1. An Iconic Jewish Bakery: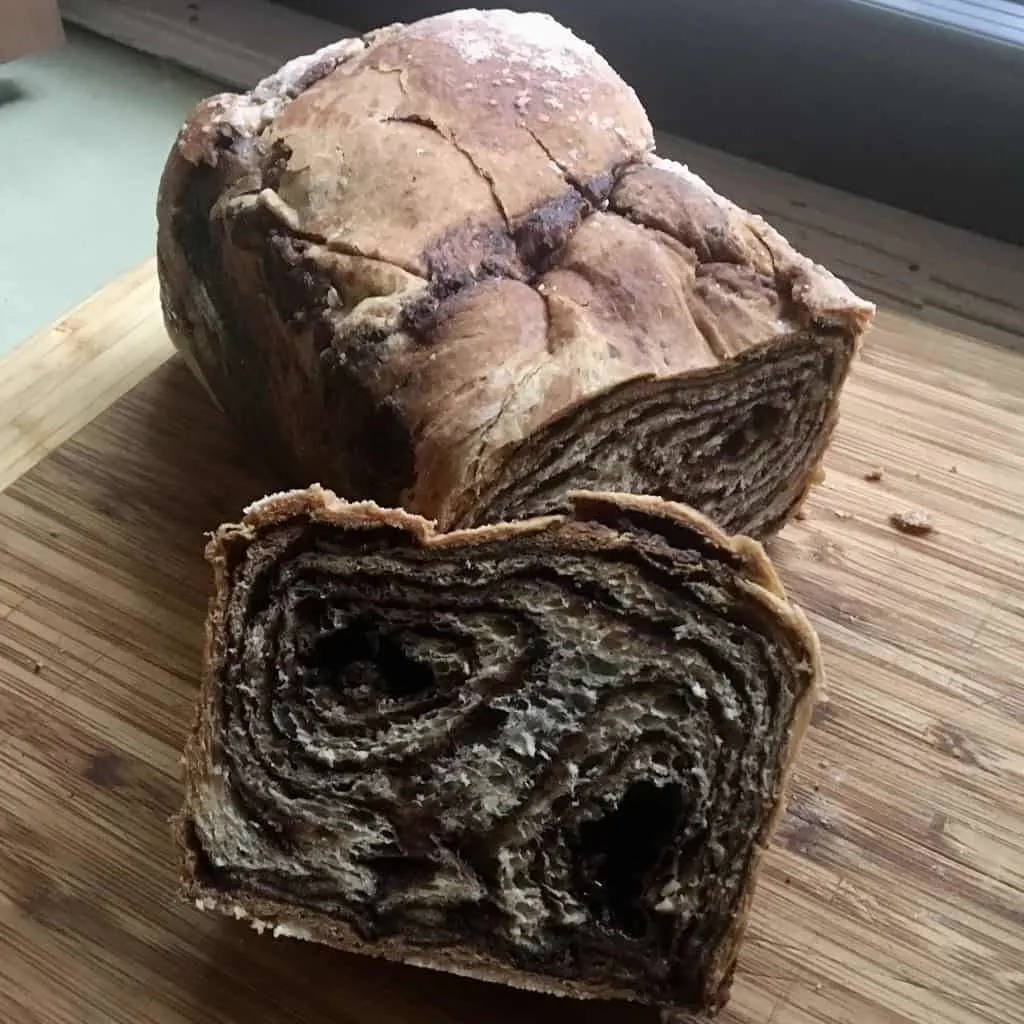 I usually go to Kossars on Grand Street for fresh bialies and bagels, but I rarely leave without a loaf of Babka, a spiraled sweet bread that this Kosher deli gets just right by using slightly darker chocolate than most.
Its rugelach are essentially slightly crunchy mini babka, filled with cinnamon or the same dark chocolate. They selll them by the bagful, the same way they sell their mini black & white cookies. I stop in here whenever I'm on the Lower East Side And I need a morning (or afternoon) nosh.
2. A twist on fried ice cream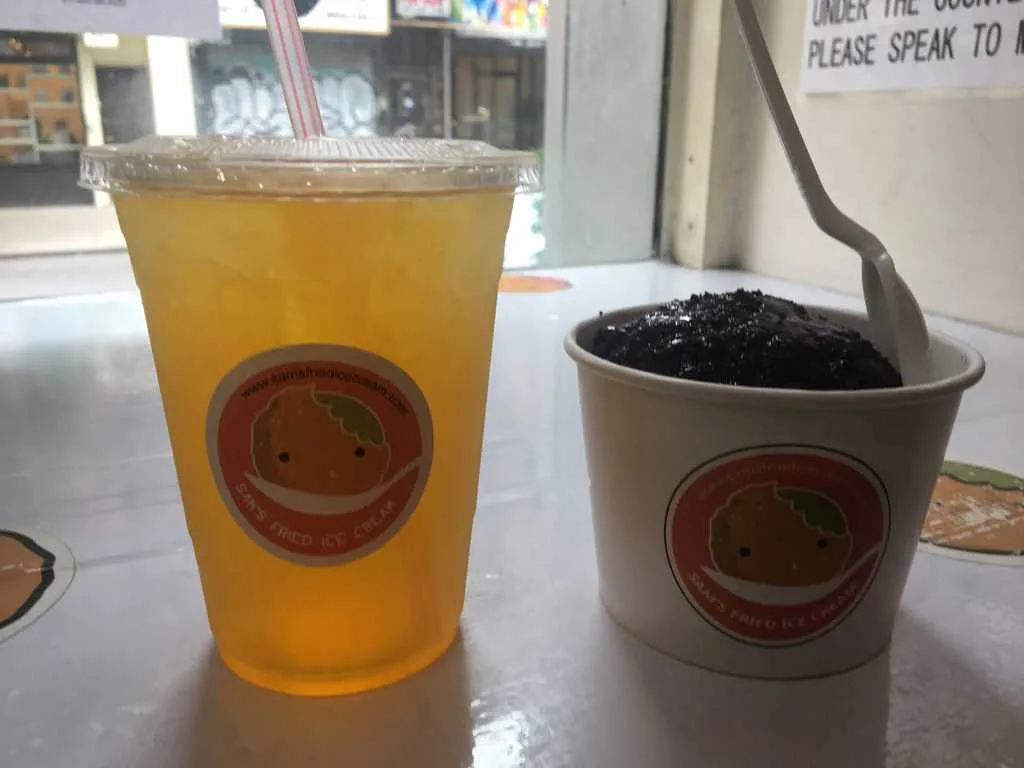 Sam's Fried Ice Cream is a few blocks west of Kossars on Orchard Street Anytime we are within five blocks of Sam's Tween Traveler lobbies hard for a detour here.
Choose one of a half-dozen ice cream flavors that are rolled in bread crumbs (or upgrade to a cereal or cookie coating. Once it's out of the fryer it takes a dip in powdered sugar, but you can kick things up a notch with toppings like Fruity Pebbles, caramel syrup, honeycomb or condensed milk.
Tween Traveler's favorite: cookies & cream ice cream coated in Oreo crumbs and topped with chocolate syrup.
3. Classic Latino Desserts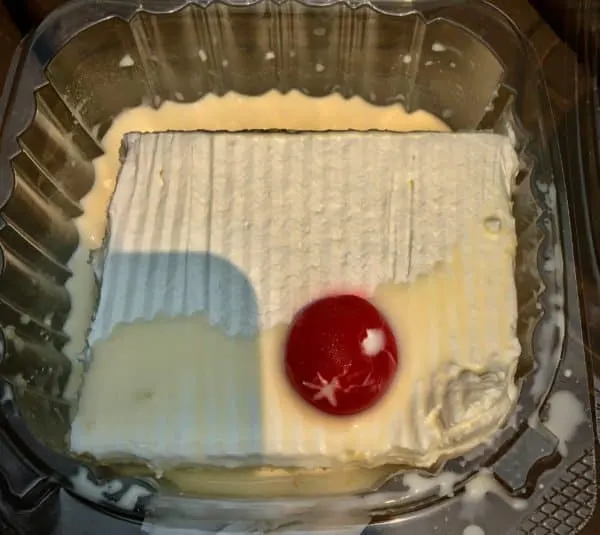 Walk a few block north on Orchard street and you'll hit Tres Leches Café, a small take-out shop where its Dominican founder doles out slices of tres leches cake that sometimes has people lining up out the door. It's a sweet and very moist vanilla cake steeped in three kinds of milk and topped with marshmallowy icing. If you don't have enough of a sweet tooth for that, try flan, a rich and eggy vanilla custard with caramel sauce hidden on the bottom (or dripping down the side if you flip it out of its little aluminum cup. I like the flan topped with shredded coconut.
4. Classic Italian Desserts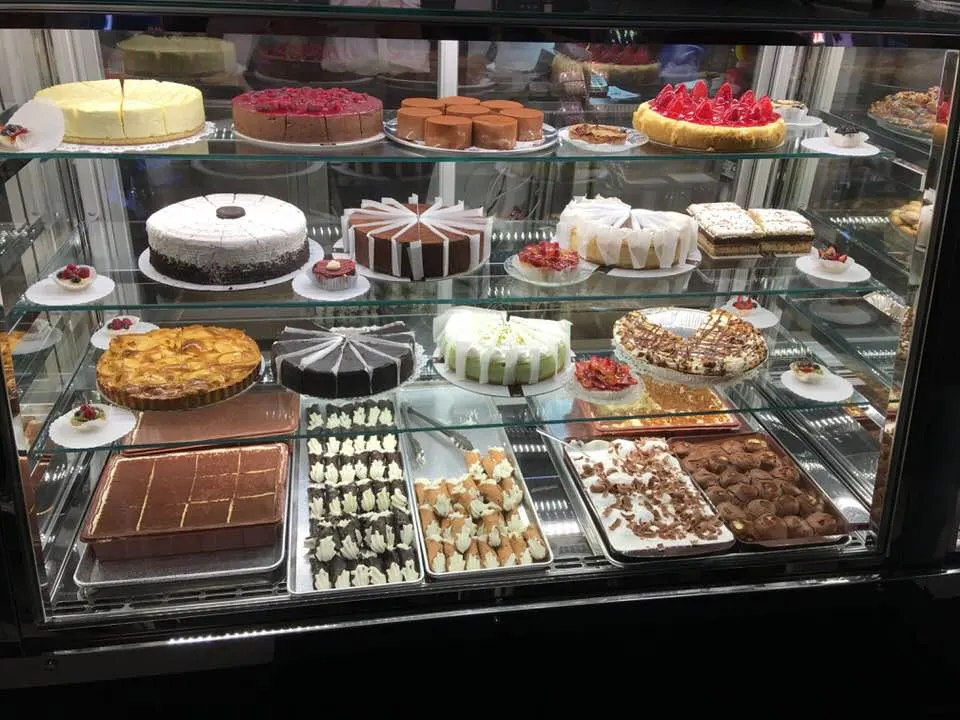 Ferrarra's on Grand Street used to be my go-to spot if I was around Little Italy and needed a cannolli fix. But I recently discovered Caffé Palermo around the corner on Mulberry Street.
They have perfect cannolli, yummy cream horns and a good selection of Italian cookies (tween traveler loves the almond-flavored rainbow cookies) and well as Italian gelato.
What keeps me coming back is the tortoni, a classic New-York-Italian dessert that's getting harder to find. It's a cup of maraschino-flavored ice cream topped with crushed roasted almonds and a maraschino cherry. It's simple and small and the perfect treat after a big Italian dinner.
5. Japanese Unicorn Ice Cream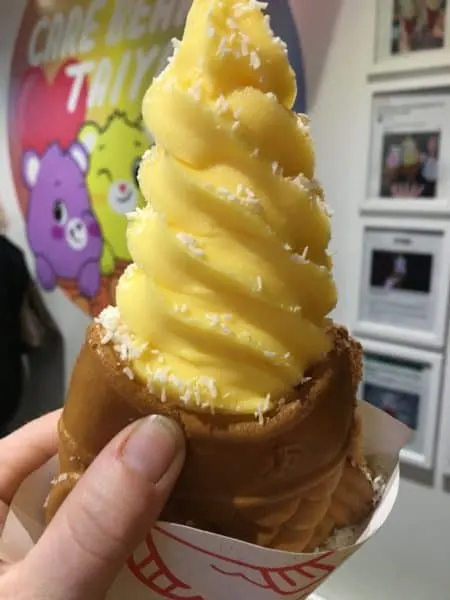 Two blocks south on Baxter Street, Taiyaki has a line out the door every time I visit. The attraction are the fish-shaped waffle cones filled with custard or red bean paste. Add soft-serve ice cream and toppings that include sauces, rainbow mochi, cotton candy sprinkles and crushed rice crackers.
The made-for-Instagram cone is the "unicorn," which has rainbow unicorn sprinkles, a small horn and ears. Tween Traveler usually goes for a chocolate-vanilla twist with mochi or a tuile cookie. I like mango ice cream with shredded coconut; very refreshing on a hot summer day.
Tip: The cone is narrower than a regular cone and it's easy to lose the ice cream off of it. If you're with a younger child, consider getting the ice cream in a cup and the waffle cone on the side. Slightly less spectacular, but less likely to end in tears.
6. Ice Cream With an Asian Accent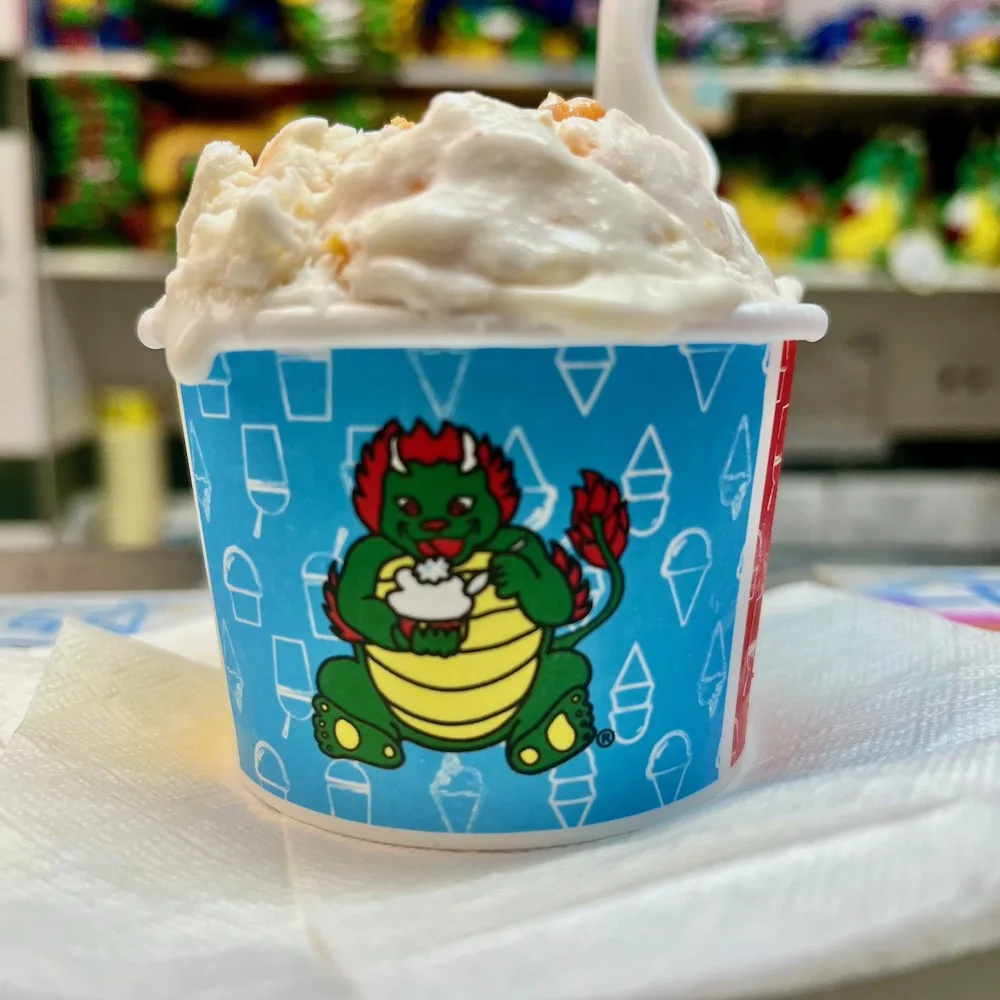 For many New Yorkers Chinatown Ice Cream Factory is the ice cream shop. It's a somewhat dinky-lookingstore tuckd away on Bayard Street, where's its surrounded by noodle-and-roast-pork joints and tchotchke shops. But if you're in Chinatown, seek it out.
The ice cream is so rich and thick it's almost chewy, which I like. The store sells familiar flavors like chocolate chip and cherry vanilla. But fans stop by for the brightly colored flavors that take their cues from all the Asian cuisines you'll find nearby. Try red bean, bright-yellow pandan, black sesame or (if you're really daring) durian.
I had a scoop of the almond cookie ice cream recently and was excited to discover it tastes a lot like the tortoni I buy a few blocks away in Little Italy. Here, crunchy almond cookies replace the maraschino cherry and toasted nuts. It was delicious.
7. Chinatown bakeries
China isn't known for its patisserie but I have a few favorite items I usually bring home when I'm in an Asian neighborhood.
Don tot, bright yellow custard tarts similar to Portuguese egg tarts, are a family favorite. The coconut custard tarts that are usually next to them are good, too. Look for tiny, crunchy almond cookies and soft, cakey donuts covered in sugar.
If you see triangle-shaped flaky pastries, these are char siu sou, filled with pieces of sweet roast pork; not quite what many of us think of as dessert but Tween Traveler and I can't get enough of them.
You can walk into any bakery in Chinatown and see what looks good. Sweets on Walker Street, New Cameron on Canal and Manna House on Mott reliably have good selections.
Tip: If you go for dim sum, you might see don tot or char siu sou among the items on offer.
Tip: The Lower East Side is hands-down the best place to take a food-themed walking tour in NYC. This is the epicenter of New York's ethnic melting pot. You can find bubble tea, Chinese dumplings, a good latte, Jewish pickles, black & white cookies and Indian chai within the space of a few blocks.
Greenwich Village
8. Ice Cream Worth Waiting For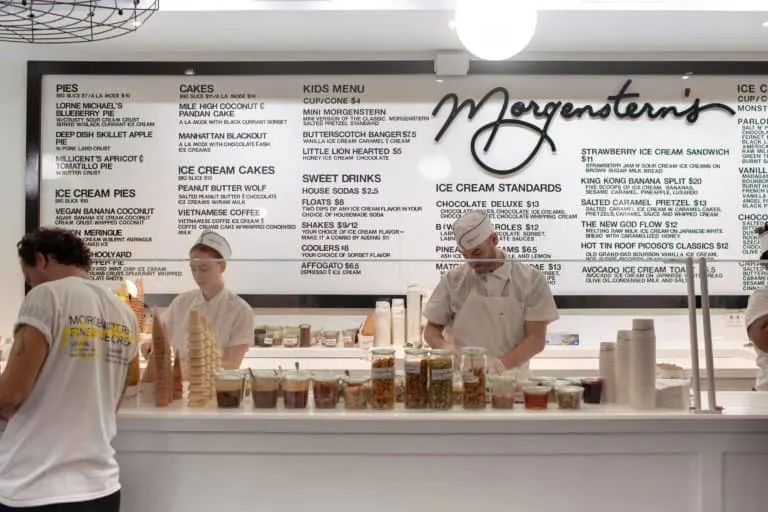 I have never not waited in line at Morganstern's Finest ice cream on West Houston and Laguardia Place. The ice cream is rich, creamy and good. It also comes in 88 flavors including three peach variations, five different coffee flavors, seven kinds of vanilla and ten ice creams and sorbets with chocolate.
Once you've done the hard work of settling on a flavor, there are also plenty of candy and cookie pieces, sprinkles and syrups for topping—oh the decisions! No wonder there's awlays a wait.
I'm usually torn between cardamom-lemon jam, Vietnamese coffee and peaches & clotted cream. Tween Traveler usually goes straight for raspberry-dark chocolate. There's never a seat inside so we head out into the summer sun and dig in before it melts.
9. Cookie Dough with a Spoon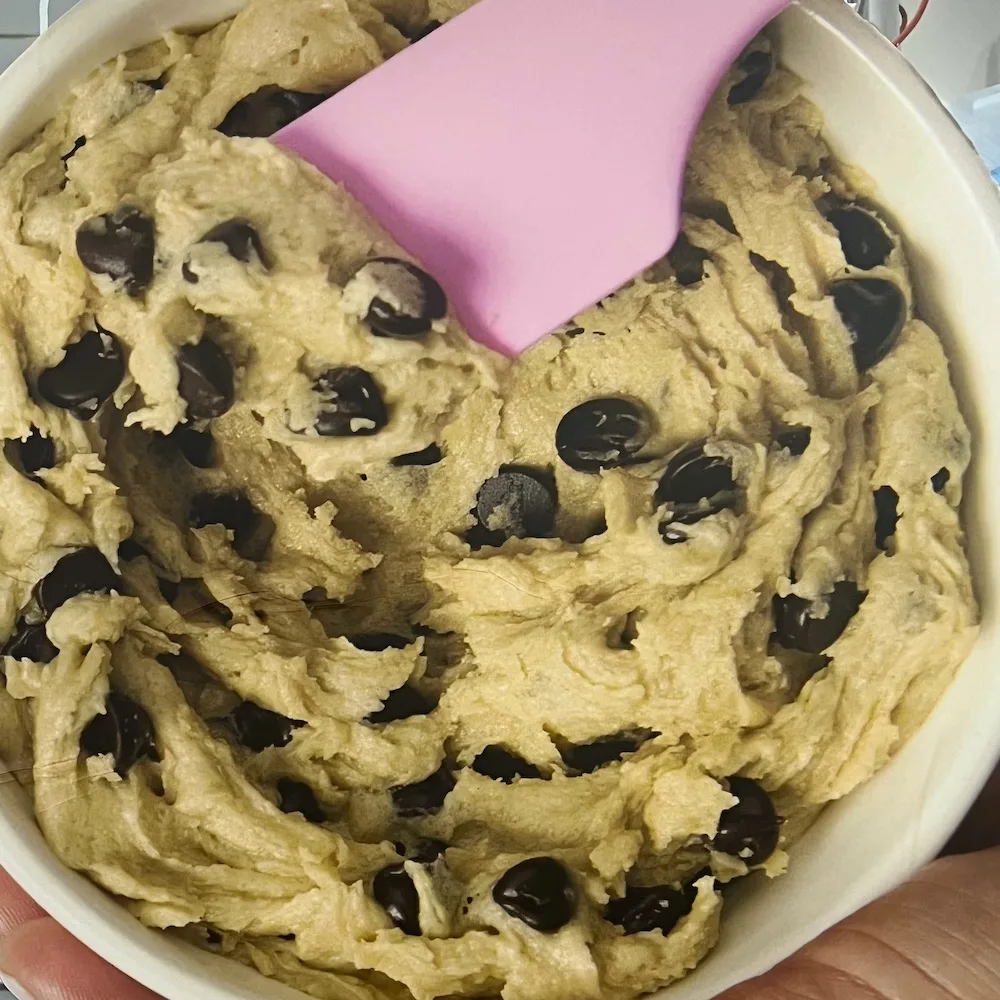 When Tween Traveler was in a summer camp down the block from Dō, just south of Washington Square Park on Laguardia Place, she made a beeline to this cookie-dough purveyor every day at lunchtime.
They have a rotating selection of 18 raw cookie dough flavors that you can buy by the scoop, like ice cream. They will top it with sprinkles or candy, mix it with baked cookies or ice cream or stir it into a shake.
I don't get the appeal of eating that much raw cookie dough, but I'm clearly not the store's demographic. Kids and teens cannot get enough of this place.

Chelsea To Hell's Kitchen
11. Chelsea Market Chocolate Overload

If you find yourself at the south end of the Highline you're likely to pop into Chelsea Market for its amazing food hall and fun shops (make sure to check out Pearl River for cheap, fun souvenirs).
You'll find good gelato and cute mini doughnuts made to order. But for me, the dessert to save room for the brownies at Fatwitch, which striked the perfect balance between fudgey and cakey and have good chocolate flavor, especially the double chocolate.
The witches come in ten flavors and two sizes. A variety pack of the witch babies is a good way to sample a few flavors. And they're rich enough that the three-bite babies are plenty. Definitely try the Snow Baby, which is made with white chocolate and veers toward St. Louis butter cake.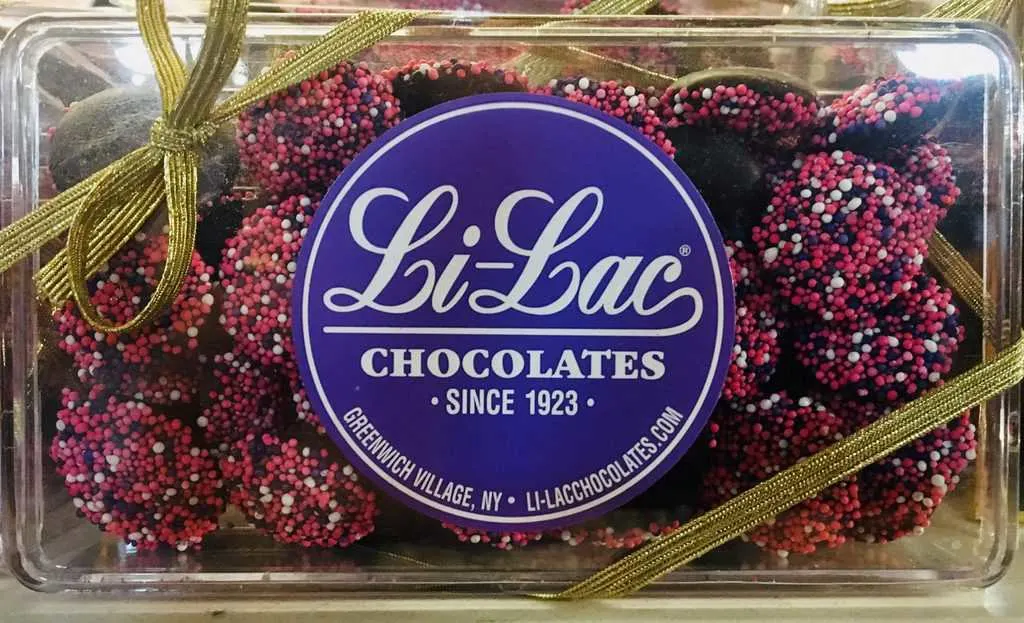 Right next store to Fatwitch is our favorite local chocolatier, Li-Lac Chocolates. Whenever we pass one of its stores Tween Traveler pops in to see if they're offering of fudge samples. If she has pocket money she usually walks out with a bag on nonpareils, the shop's chocolate value.
Li-Lac is always fun to peruse because of its fun molded chocolate that goes way beyond Easter bunnies and Santas. At Chelsea Market you might spot chocolate diplomas, statues of liberty, soccer balls, Scottish terriers, dinosaurs or even stiletto heels.
Li-Lacs' mother ship is at Industry City in Brooklyn; Chelsea Market is one of five Manhattan stores.
11. Belgian waffles piled high with toppings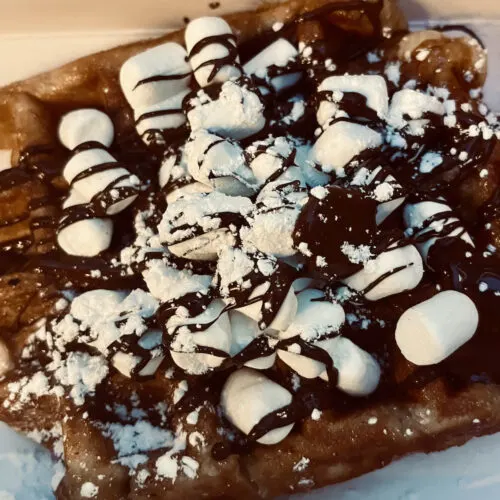 Whenever we find ourselves near a Wafels & Dinges stand Teen Traveler makes a beeline for it. The Wafels are full size or mini Liege-style Belgian waffles and dinges are the things you might choose to put on them.
Tween Traveler likes a mini waffle with marshmallows, chocolate syrup and whipped cream. I prefer a mini with spekuloos, which is a spread made from the crumbly spiced sugar cookies you find all over Belgium. In the winter sometimes I get a plain waffle and dip it in the company's very good Belgian hot cocoa.
They have regular size waffles, too, but with topping they're enough for a small (sweet) meal.
Wafels & Dinges has stands in Herald Square and Bryant Park and you'll find its carts and trucks around town. They pop up in Hudson Yards and Central Park, and there was one on Governor's Island last summer.
12. Dim Sum Dessert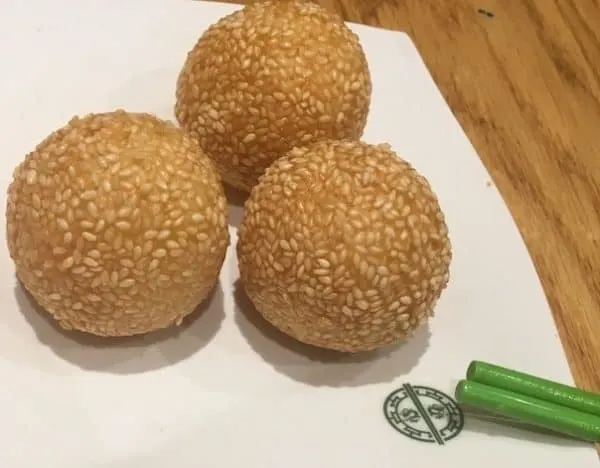 Tim Ho Wan, a dim sum joint on 9th Avenue at 43rd street, is one of our go-to spots for dinner in the theater district. Partly because it's inexpensive and really good. Mostly because we love the lava custard sesame balls on the dessert menu.
Sweet, glutinous rice balls, coated with sesame seeds and filled with vanilla custard, serve fresh from the fryer. If we're more than two people we get two orders because they're really too good to share.
Uptown
13. Frozen Hot Chocolate Forever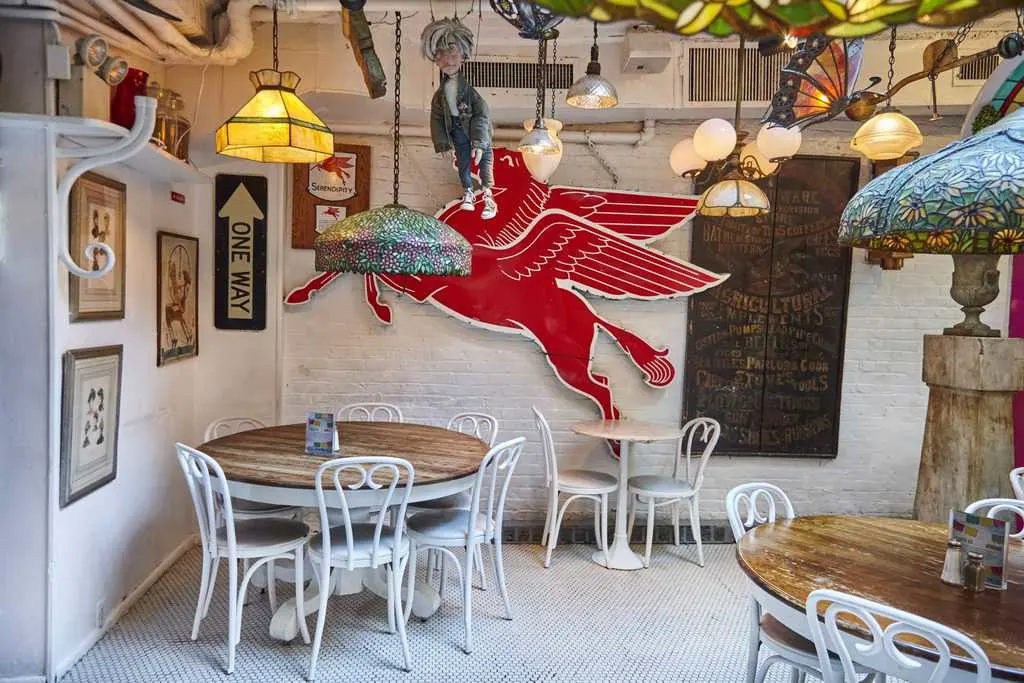 Serendipity3 on east 60th Street is one of my favorite spots in NYC. From its narrow, eclectic townhouse setting to its artfully cluttered menu, sitting down to eat here is just fun. The restaurant is known for its frozen hot chocolate but I have always come for the sundaes,
When I was a teen it was vanilla with butterscotch sauce; now it's espresso ice cream with hot fudge—and I usually get the coward's portion since I no longer have my teen-ager's metabolism. They serve savory food and it always looks good, but at a place called Serendipity it's entirely Okay to have ice for lunch instead of after it.
Tip: Don't try to go between Thanksgiving and New Year or at prime lunch hour at any time of year. It's popular (and the John Cusack movie didn't help), but worth a table if you can snag one without too long a wait.
14. An Old-School NYC Bakery—Updated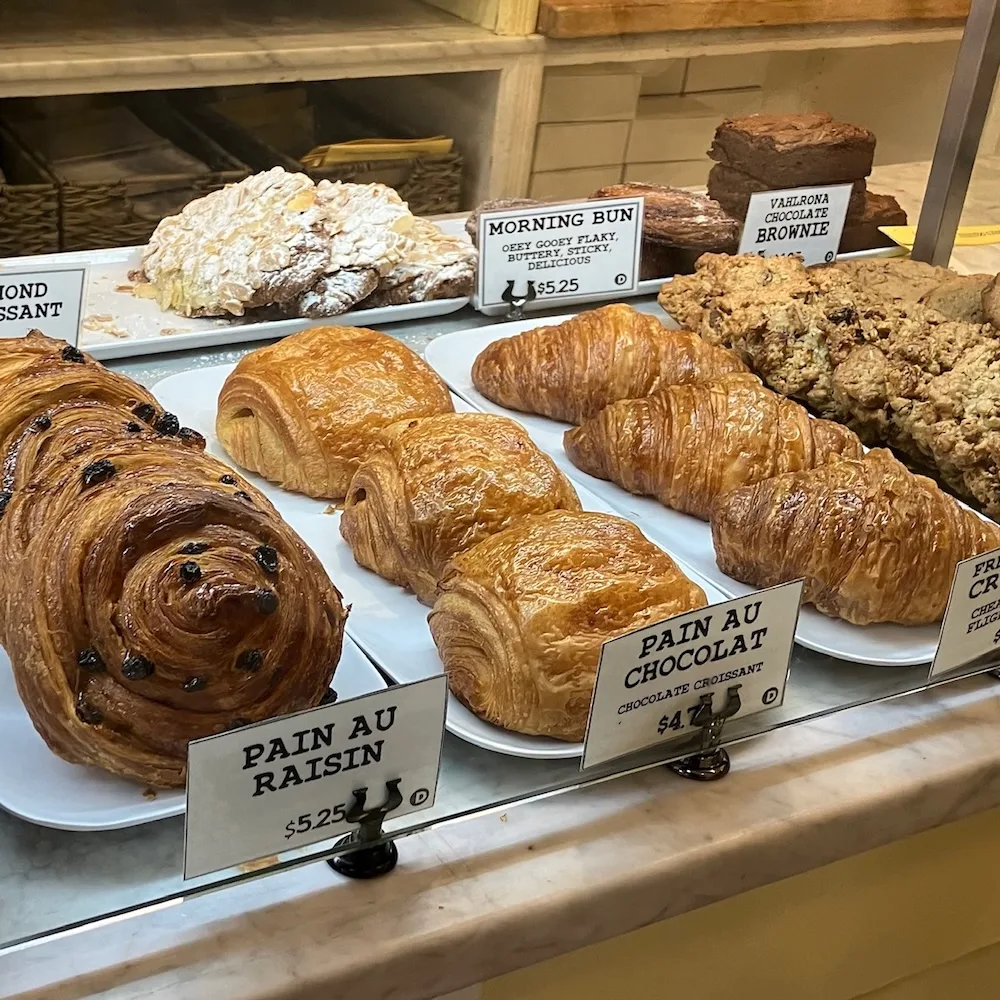 Orwashers is known for making the New York rye bread that natives grew up with and not many bakeries make any more. But they do a lot more, offering traditional items but often with modern spins.
At their original store and a newer café they sell airy (not puffy or pillowy) doughnuts filled with various flavors of Hudson Valley jam. The rugelach is filled with nuts and more of that jam and they can be dipped in chocolate or not (an updating of the pastry that I approve of).
Other cookies and breakfast pastries vary by day but count on not- overly-sweet pastries that reflect the bakery's Eastern European roots. If you like cinnamon-raisin bread, you have to try this one.
The bakery is on East 78th street at 1st Avenue and the café is across the park at Amsterdam Avenue and 81st Street.
15. A Sweet Taste of Harlem Soul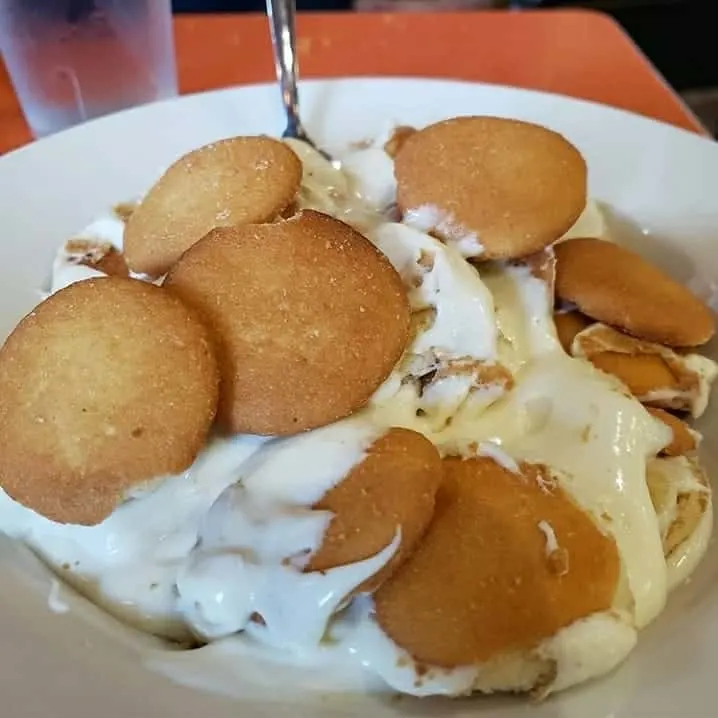 The nighclub's, musicians and writers that fueled the Harlem Renaissance are long gone. But the food is still there and still reflects the Southern roots of so many of the neighborhood's denizens. Amy Ruth's is probably one of the best soul-food places around.
Chicken and waffles have given the restaurant all kinds of bragging rights. And you can also get those waffles on the sweet side, with berries, bananas and pecans.
Whatever else you might eat here, save room for dessert. Peach cobbler, banana pudding, red velvet cake and sweet potato pie are just a few of the sweets they dish out. A few spoonfuls of any of them can make everything right with the world, at least until the last crumb is gone.
Brooklyn
16. A New Iconic Soda Fountain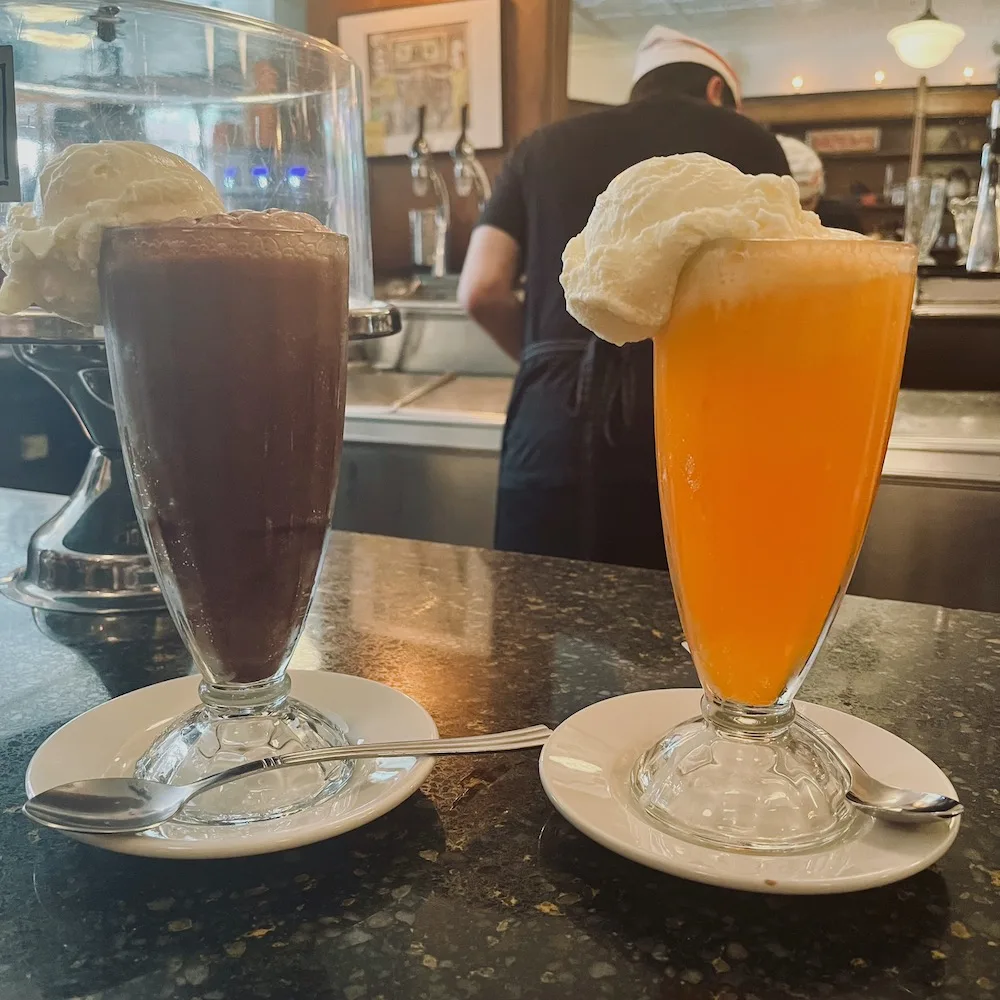 Brooklyn Farmacy, at the corner of Sackett and Henry streets in Carrol Gardens, is our favorite place to be on a hot summer day. If we're lucky we can snag seats at the counter and watch the employees making shakes and sundaes.
We love the floats because in addition to typical soda flavors they have classics like cherry-lime rickey and new flavors like hibiscus (try it with the coconut ice cream!).
They specialize in egg creams, a Brooklyn-born fountain drink that involves a generous shot of chocolate or vanilla syrup, a little milk and a lot of very bubbly, very cold seltzer. It's lighter and more refreshing than a shake or float and perfect on a hot day.
Brooklyn Farmacy is a new soda fountain housed in a former drug store—you can see a lot of the old fixtures. You can still find genuinely old soda fountains around the city and they're treasures worth seeking out.
17. Classic Cheesecake in a Classic Diner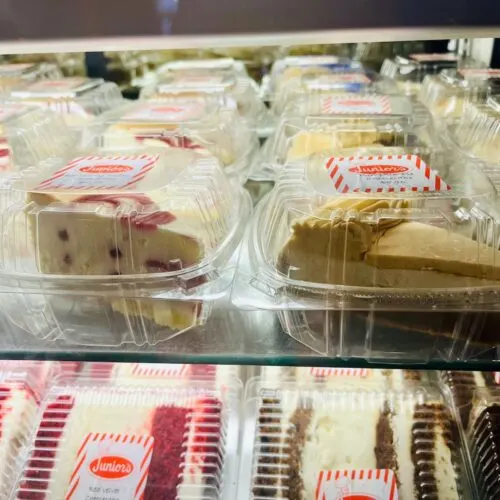 For many fans of cheesecake, Junior's cheesecake is the only one. Plain, fruit-topped or swirled with chocolate or raspberry, it's dense, creamy and delicious. You can find it around town, but the best place to eat it is at the original Junior's Restaurant, on Flatbush and Dekalb avenues.
Pass under the neon sign and settle into a booth for classic Jewish comfort food, fat onion rings, "disco fries" and really good fried chicken. The cheesecakes are on display as you walk in to remind you to save room for dessert.
18. Real Key Lime Pie Far From Key West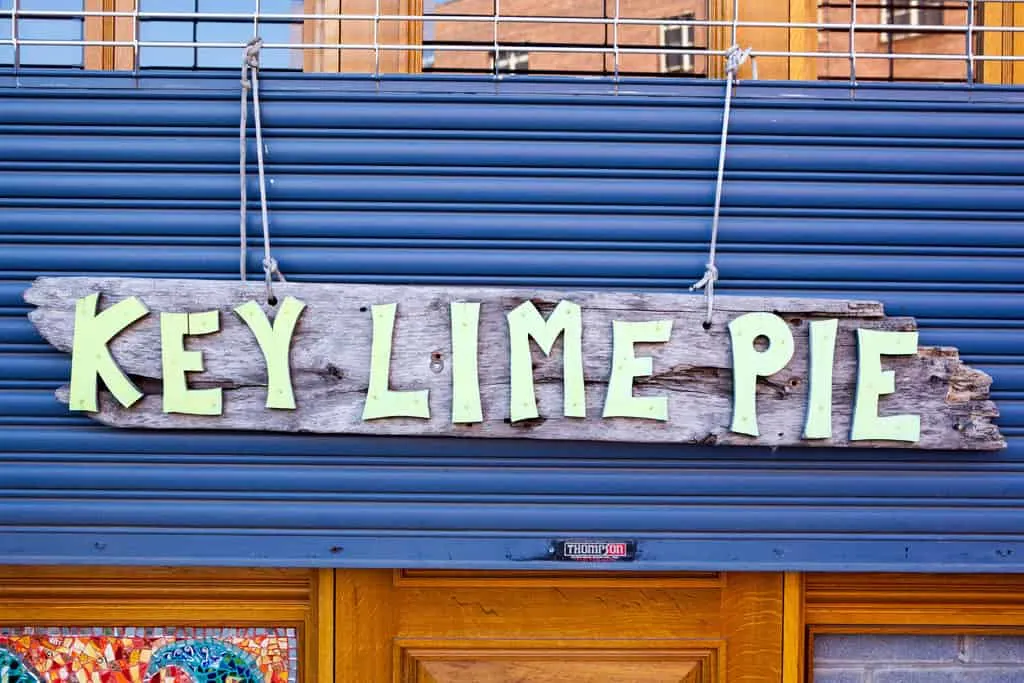 Unlike a lot of pies found north of Florida, Steve's Key Lime Pies uses real Key-limes for its sweet and puckery pies and tarts. Steve's only makes one thing and makes it well.
This is another Brooklyn item you'll find around town but their baking facility on Van Dyke Street and the waterfront in Red Hood has a retail counter. If you make your way there you'll be rewarded with amazing harbor views and pies that were likely made that day.
Spring for a whole pie and settle on the grass at Valentino Park next door to share it, ideally while watching the sunset. If you're not in a sharing mood you can buy individual tartlets that have the same graham cracker crust as the pie. If you're feeling like you need an extra special reward for making the schlep to Red Hook, buy a swingle, a Key lime tartlet on a stick, dipped in Belgian chocolate and frozen. You're already checking the ferry schedule to Red Hook, aren't you?
Queens
19. The Real King of Queens Slings Ices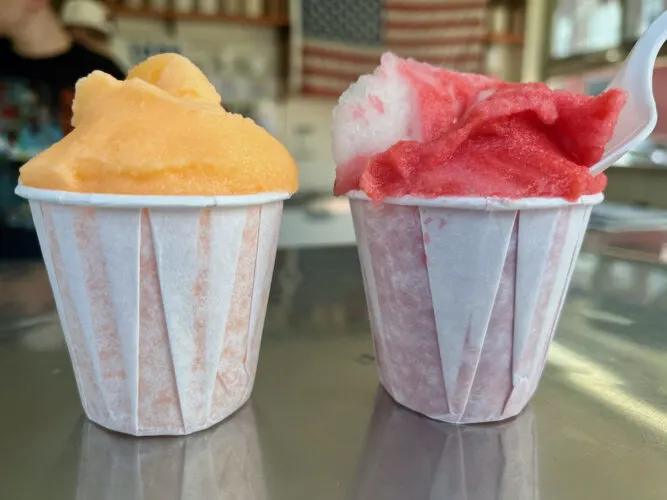 For 60 years the Lemon Ice King of Corona has been slinging Italian Ices from a counter at the corner of 52nd Avenue and 108th Street. And it's taken me until this summer to get myself over there to try them, which I now deeply regret.
These are not the crystally, food-coloring filled icees from the pizza parlor or the playground. Or the roh hard ones you can buy in the supermarket. Oh no.
These ices are soft and almost creamy (and melt quickly) the flavors are natural (with the exception of blue raspberry) and spot-on. A peach and lime ices are light and refreshing on a hot summer day. the coconut is intensely coconutty and the almond has pieces of toasted nuts adding to the flavor and texture. Cherry vanilla and blue raspberry (Teen Traelver's choices) taste like the Italian ices of my youth, but better. Much better.
The stand is 10-minute walk from the NY Hall of Science and a quick drive from CitiField, the National Tennis Center and the Queens Night Market. Lemon and orange are the classic flavors, but peach and watermelon are appealng in the summer heat, and who can resist classic tri-color spumoni?
Tip: There is a small ice cream stand two doors over from Kossar's on Grand Street and they have a selection of ices from the Lemon Ice King. Yet another reason to explore the food-fabulous Lower East Side.
Around Town
20. Fresh Mexican Paletas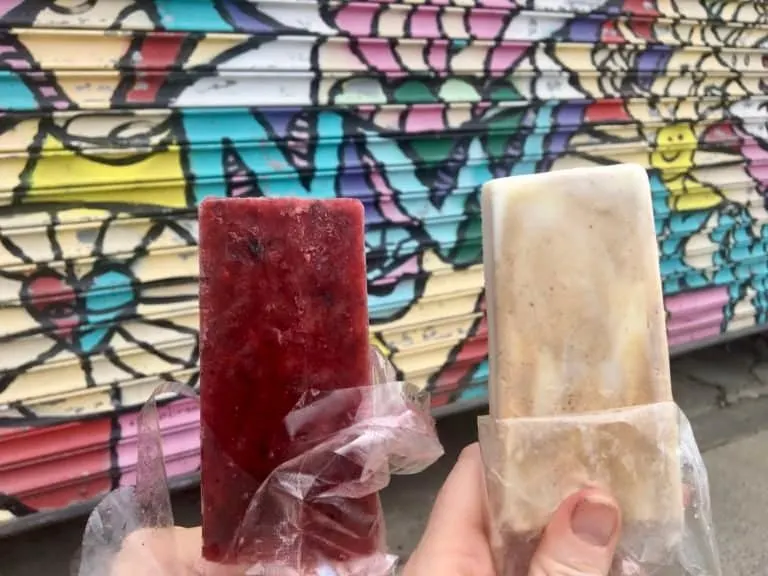 Paletas are Mexican ice pops but they are worlds away from your average bomb pop. They include fresh fruit juice and chunks, milk, cane sugar and bit of mint leaves, chocolate or other fun mix-ins.
La Newyorkiña brings these frozen treats to NYC with unique flavors like hibiscus, café con leche and tamarind as well as kid-friendly options like pink lemonade and vanilla (with real Mexican vanilla). You'll find NewYorkiña's carts around the city during the summer months.
If you're really intrepid you can visit their kitchen in Red Hook, Brooklyn, where they keep a freezer full of paletas available for walk-ins. It's on Commerce Street, just south-east of Van Brunt, an industrial block that doesn't seem promising. Just look for the bright pink door and ring the buzzer. Someone will answer to sell you a delicious cold dessert.
21. It's A Bubble Tea Time!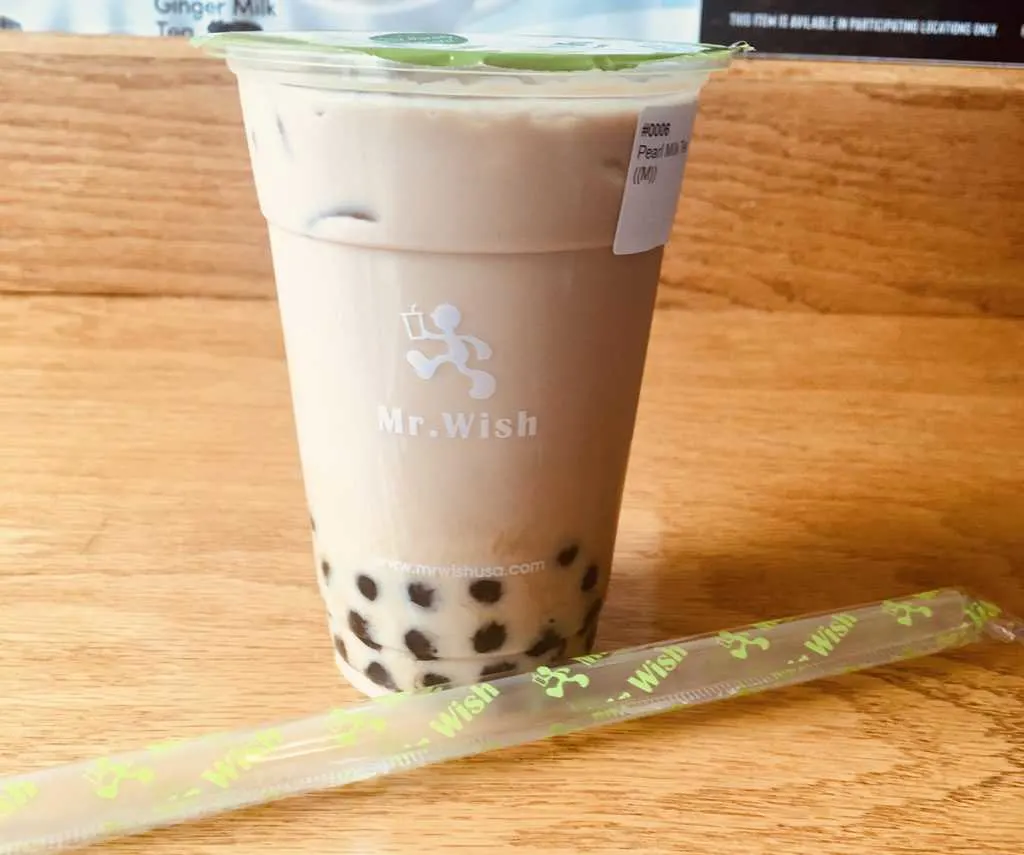 Bubble teas, or boba, are what NYC teens snack on after school. You'll find places selling these concoctions of tea, milk, flavorings and large, black pearl tapioca all over town, especially in the Asian neighborhoods.
Ten Ren's Tea Time, on Mott Street just below Canal Street is said to be the place where it all started. Here you'll find a full menu of hot and cold teas to which you can add boba, along with milk and sugar to taste. Milky, sweet brown-sugar tea is the one with a real black-tea flavor that kids like. Often they prefer fruit flavors that are tea-based but don't have much tea flavor.
You'll come across places that make authentic bubble teas with Taiwanese extras like red beans, squares of different jellies or custard topping. Other places have Americanized bubble tea with flavors like salted caramel and strawberry lemonade and add-ins like crushed cookies.
I like the brown sugar, almond and Thai tea flavors.
22. Ice Cream Walt Whitman Would Have Loved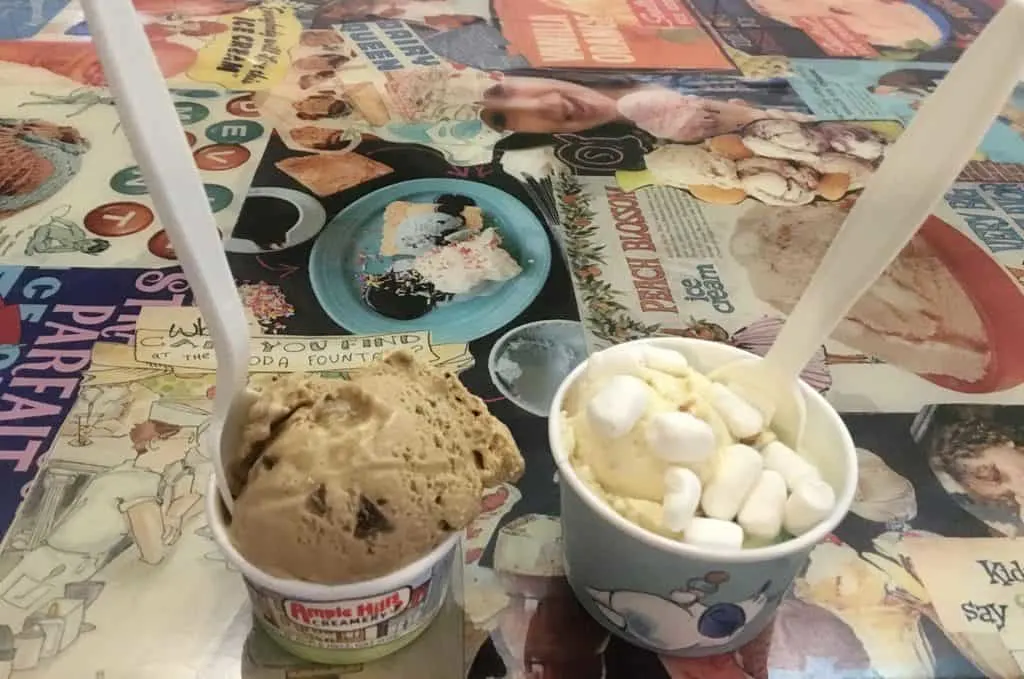 You can't get much more Brooklyn than an ice cream shop named for a line from the Whitman poem "Crossing Brooklyn Ferry."
The scoop shop has gone back to its roots after a period of too-fast growth, so you'll have to go to the flagship store in Brooklyn to try flavors like ooey gooey butter cake, it came from gowanus andsummer of love, with Baked by Melissa rainbow brownies.
Twists on old favorites include peppermint patty, sweet as honey and pistachio squared, all favorites of mine.
23. Nouveau Doughnuts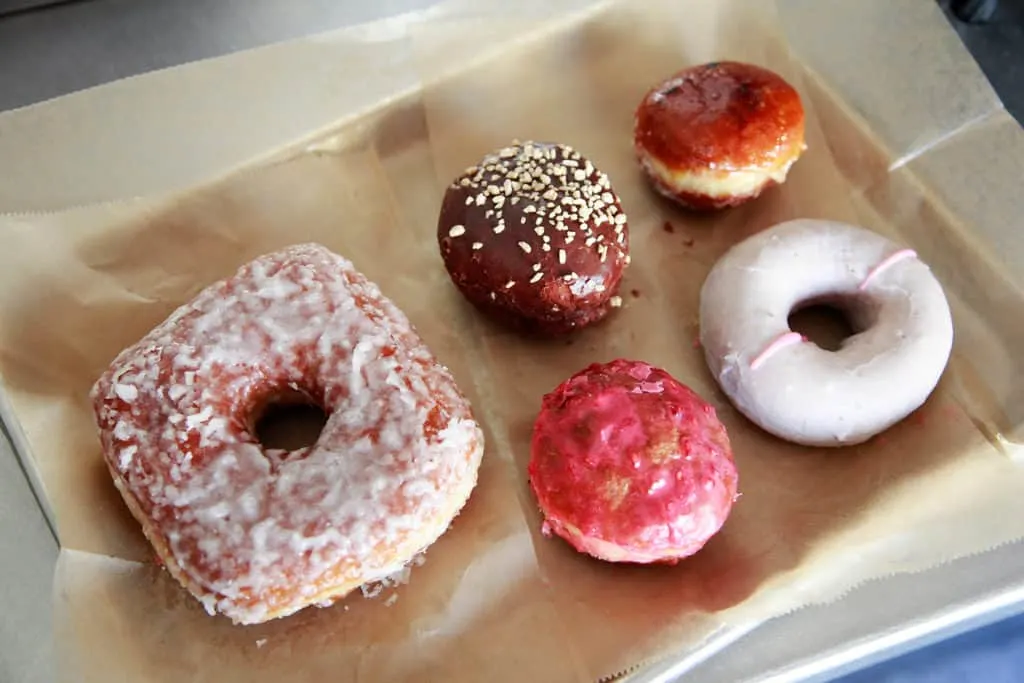 Doughnut Plant is our favorite trendy doughnut shop; it has good flavors that are creative but not crazy and it sells mini doughnuts that are perfect for kids.
Tween Traveler is a fan of the Manhattan Cream (a twist on Boston cream) when they have it. I like cake doughnuts and the Brooklyn blackout is a must-try; the carrot cake is almost healthy (ha!). If you prefer yeast doughnuts try the square jelly filled ones (jam in every bite) or the crème brulee.
Doughnut Plant has seven stores in Manhattan, Brooklyn & Queens, so it's to seek them out with your morning coffee.
Tip: While these doughnuts are very good they are not the crunchy doughnut sticks, airy French crullers and dense jelly doughnuts I grew up with. For these you need to tread a bit deeper into the outer boroughs to places like Leske's Bakery in Bay Ridge, Peter Pan Bakery in Greenpoint or Rudy's Bakery in Ridgewood.
24. The Best Two-Tone Cookies Anywhere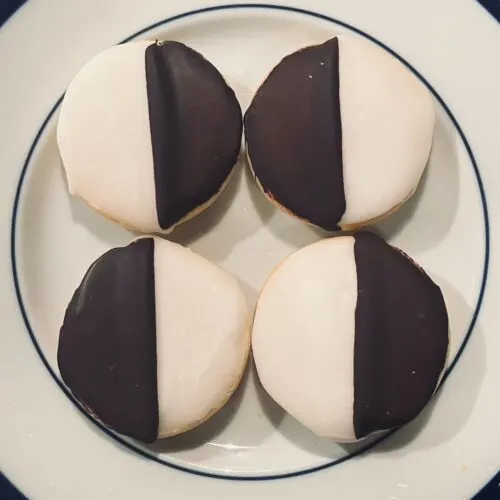 Black & White cookies are another quintessential New York snack. These are thick cakey cookies with rounded bottoms, sometimes with a subtle almond flavor. A few bakeries make the chocolate and vanilla topping with soft icing, which I like better. But usually it's fondant, which is sweeter but travels better.
You'll find the cookies in all sizes all over town, mostly in Italian and Jewish bakeries and diners (Kossar's had good minis). I haven't yet found a favorite but plenty of local foodies have very strong opinions on where to buy the best.
Pin it for later!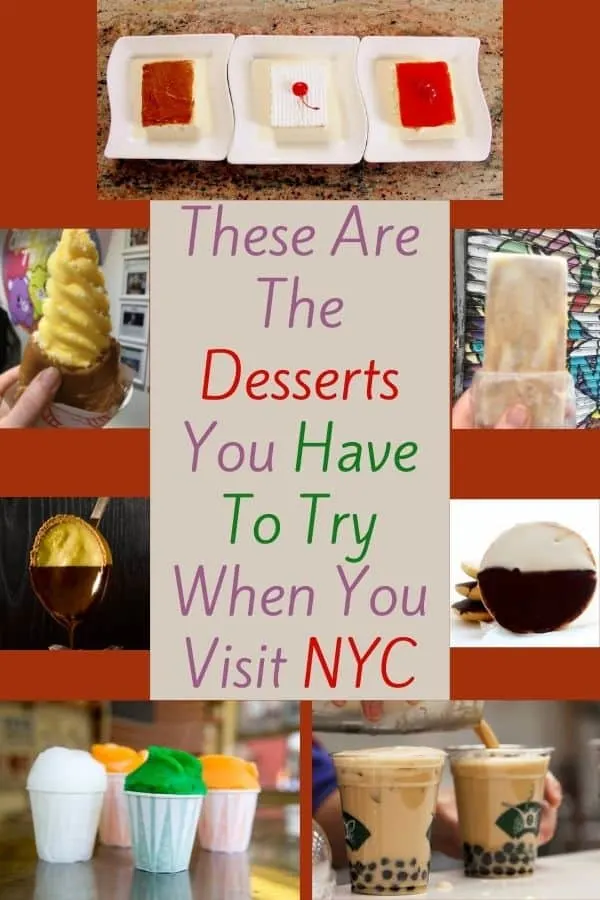 Photos: Kossar's, Taiyaki, Chinatown Ice Cream Factory, Ample Hills, Caffé Palermo, Dō, Tres Leche Cafe, Tim Ho Wan, Orwashers, La Newyorkiña, Steve's Fried Ice Cream, Wafels & Dinges, FatWitch, Li-Lac Chocolatea, Brooklyn Pharmacy, The Lemon Ice King, Juniors, black & white cookies and bubble tea photos by FamiliesGo!©. All other photos are courtesy of NYC & Co.