Between the Atlantic Ocean and the Irish sea is Ireland, an island shaped like a teddy bear. Appropriately, it's an amazing place to travel with teenagers and kids with lots of incredible things to do.
Ireland has every type of landscape you can imagine plus ruins, castles, ancient dolmens, beaches, amazingly friendly cities and great food.
I had the chance to explore Ireland without my parents when I did a high school summer program and have put together a list of the 21 best things to do with teens and tweens in Ireland, organized be province. A lot of these activities can be fun with younger brothers and sisters, too.
Keep in mind, I had nearly four weeks to explore this amazing island, so you might not be able to see everything on this list. But it should help you to plan a vacation in the Republic and Northern Ireland that kids and teens will find exciting and memorable.
You might also Like
• Fantastic Food, Music & More on Dublin Couple's Weekend
• Teens WIll Love this Day Trip From Dublin to Newgrange
• Our Teen's Top 11 Things To Do in London
A Teenager's Guide To An Unforgettable Ireland Vacation With Teens
Things To Do in and Near Dublin (Leinster)
1. Central Dublin
Dublin is by turns ancient and modern, pretty and seedy. Filled with cobblestone alleys and wide pedestrian streets, it feels made for wandering.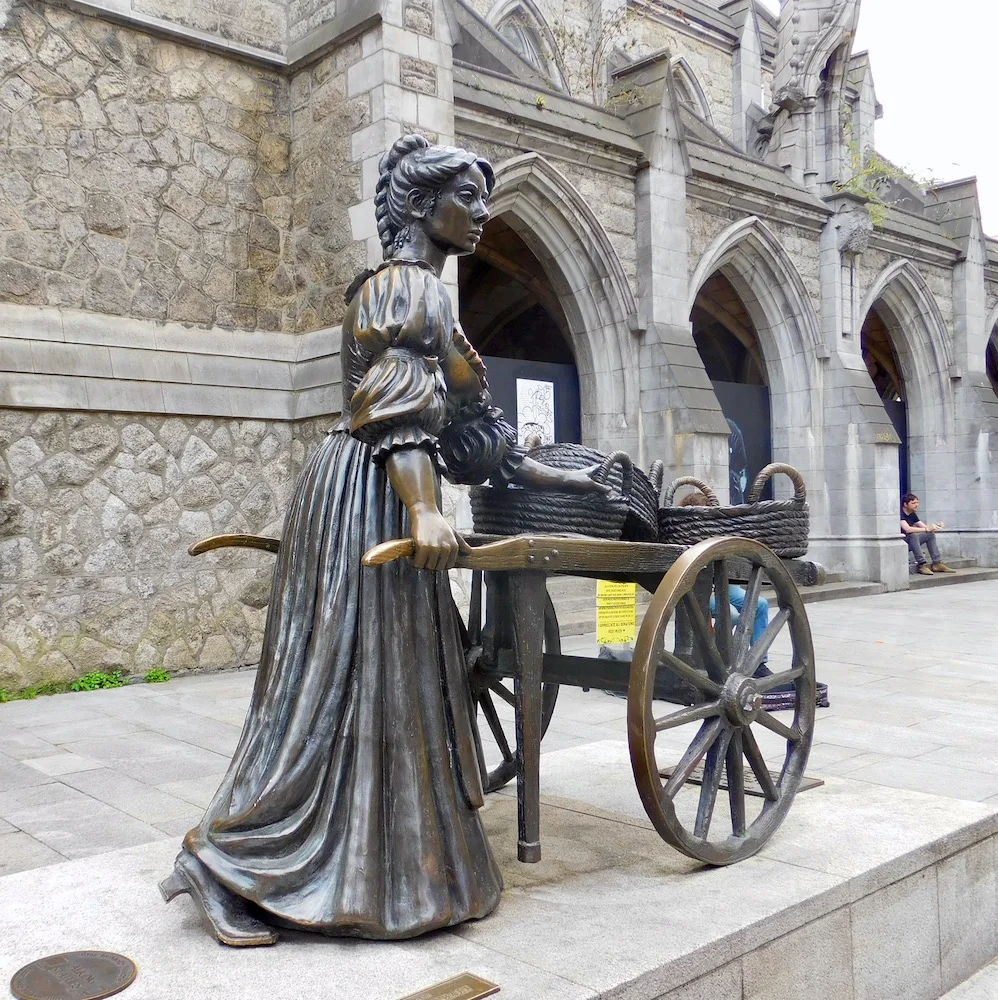 Grafton Street runs from Trinity College to St. Stephen's green. Many of its shops are chains, but it's a pedestrian zone with a fair share of good buskers and it's nice to walk along.
Off of Grafton Street you can find smaller, more-interesting local stores. I enjoyed Hodges Figgis, a four-story bookshop on Dawson street. The ground floor is almost entirely taken up by books relating to Ireland, including Irish history, mythology, and poetry. They have a large kids section, and the basement has used books.
Just down the block form Hodges you'll find the Sweater Shop, a small store with an impressive selection of scarves, sweaters and hats. It's a good place to buy Irish knitted products if you're not planning to visit the Aran Islands, or if you're looking for something less expensive and maybe less traditional, too.
Temple Bar, a narrow, cobblestone pedestrian street line with pubs, restaurants, and shops felt very genuinely Irish to me. It's a busy, nice street to walk along, even if you don't go in anywhere. I bought some Irish candy at Aunty Nellie's, a confectionery shop with locations around Ireland.
Make sure to cross the Liffey River to walk up O'Connell Street. Admire the large statues along the road and look at the bullet holes in the GPO from the 1916 uprising.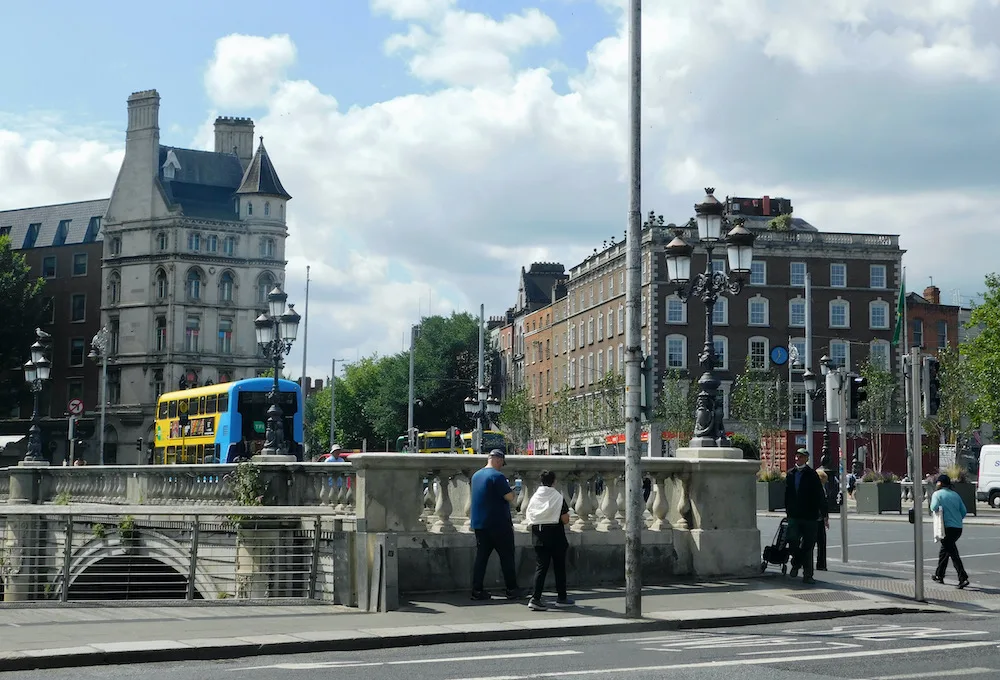 If you're looking for something different and inexpensive to do for lunch, get some take-out and have a picnic in St. Stephen's green. I got dim sum (Chinese dumplings and small dishes) at Good World Chinese Restaurant, but you can also go with fish & chips or toasties if you want something traditional.
Tip: Pubs in Ireland are family friendly. You can bring kids and teens into most of them until about 9:00 pm, when they stop serving food. This is also when the live music starts, which was a little disappointing. But my friends and I stood outside a few pubs to listen to music in the evening, and some places in Temple Bar have traditional music seisuns in the afternoon.
2. Riverdance
Riverdance is filled with so much energy! I was tapping my feet the whole time. The costumes are wonderful, and they incorporate all sorts of dancing, not just Irish step dancing. There is some singing and some music-only stretches, too. I saw it at the Gaiety Theatre, just off of Grafton Street, where it plays often. I'd say Riverdance is good for ages 10YO and up because as lively as it is, it might be long for younger kids.
3. A Match at Croke Park
Croke Park is Ireland's Wembley Stadium. It's where The GAA holds every important hurling and Gaelic football match. We went to see the all-Ireland Gaelic football semifinals.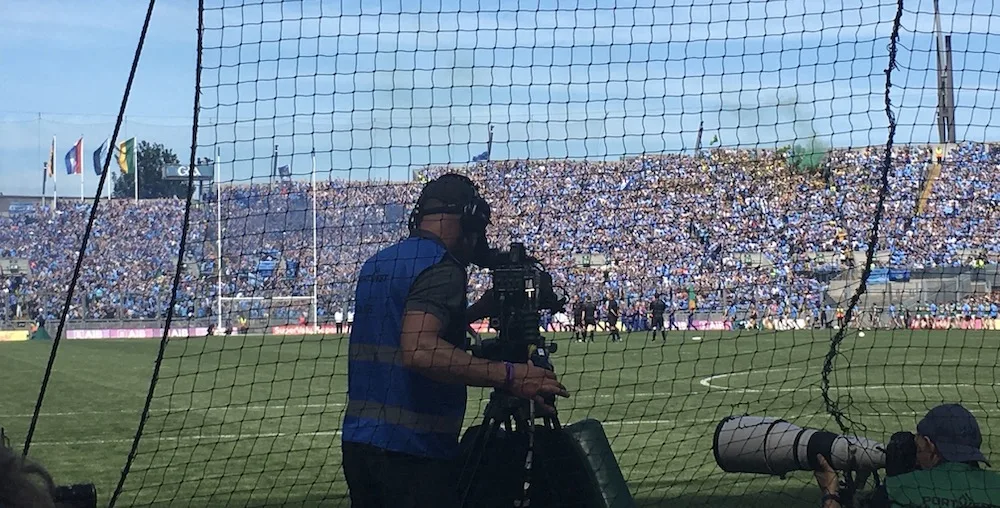 Now, I am not a sports fan. (I actually downloaded an eBook before seeing the match because I expected to be bored). But Irish football is a great sport to watch!
It's really fast, a match is pretty short, and there's always something happening. You can feel the excitement and energy as players wrestle each other, outspoken fans yell at the referee and players and sportscasters carry around huge cameras.
If you don't know what's going on, ask someone. Irish people are friendly and very happy to share their knowledge of —and opinions on— their national sports with visitors.
4. The EPIC museum
The EPIC museum is a relatively new museum about the history of Irish emigration and its impact on both Ireland and the countries the Irish immigrated to.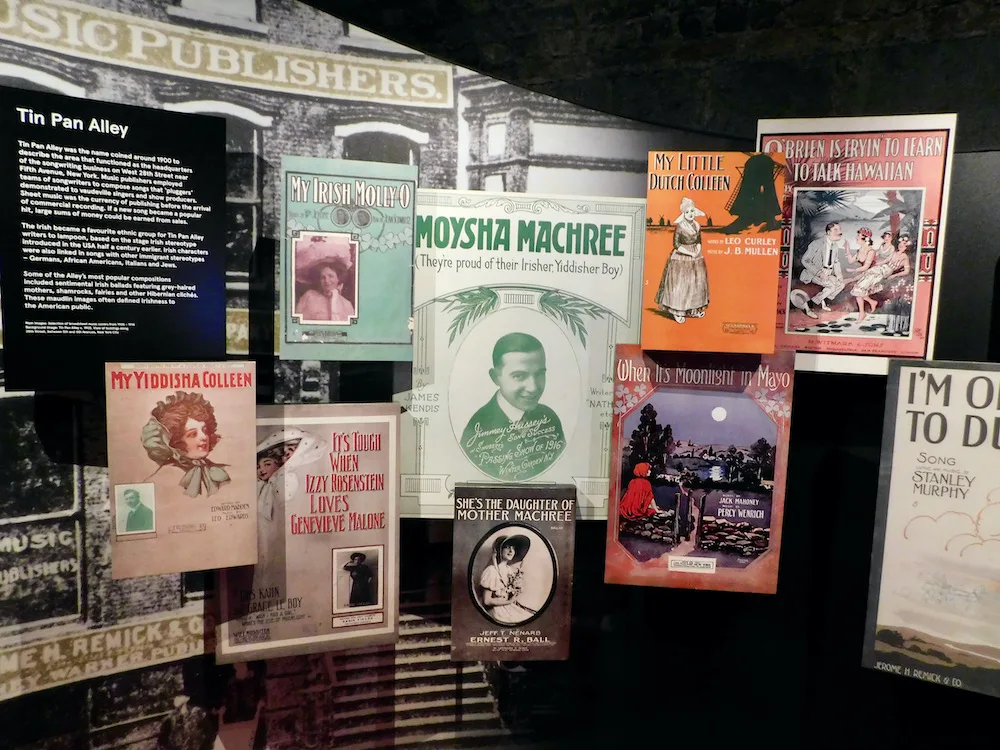 It's in the basement of an old warehouse and has a series of rooms with themes like "Music and Dance," "Storytelling" and "Leaving the Island." Almost every room has an interesting interactive exhibit and everyone in my group found something to interest them.
My favorite was the "Discovering and Inventing" room, which talked about Irish scientists and engineers. There were a lot of accomplished women scientists and mathematicians, which was pretty cool to me.
I would set aside at least two hours, though you can easily spend three hours exploring everything.
5. Glendalough
Glendalough is a beautiful valley containing a ruined monastic settlement that includes a round tower. The valley has a couple of scenic, relatively easy hikes, and you can spend a good half hour exploring the ruins.
Glendalough means "valley of the two lakes," so if it's a warm day, stick your toes in the lake that's a short walk from one of the parking lots, or skip some rocks in it, and maybe eat a picnic lunch in one of the many neighboring fields.
Things To Do In Galway & Connaught (west coast)
6. The Aran Islands
The Aran Islands are a collection of small islands just off the coast of Galway, known for their traditional fishing villages and elaborate fisherman' sweaters.
We took a ferry from Galway City to Inis Mór (which means big island) and rented bikes next to the ferry dock. Around the harbor you'll also find two restaurants (the pub has excellent just-caught fish & chips), a fudge stall and two sweater shops.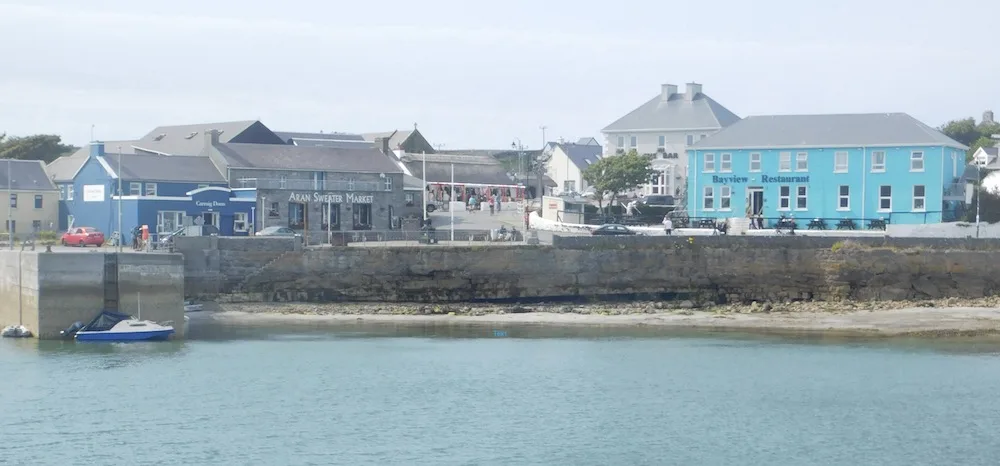 Both of these stores have an excellent selection, but there are quite a few smaller stores scattered about the island, so you might want to explore a bit before buying.
There are plenty of beaches for walking or swimming. A half-hour cycle from the pier you'll find the Wormhole, a naturally rectangular pool popular with divers. Slightly further along is Dún Aonghasa, a ruined clifftop fort. On the opposite side of the island from the ferry there's a seal colony. You can decide for yourselves which ones might be selkies.
Depending on how much you want to see, a day can be enough. But we didn't get to everything we wanted to before having to get back for the return ferry. If you want more time, there are plenty of places to stay.
The roads are very hilly, so if you plan to do a lot of biking I wouldn't take anyone under 10 on their own bicycle. And if you don't want to bike you can stay relatively close to the ferry pier and still enjoy yourself. There are some lovely roads along the perimeter of the island with views of the sea that you can walk along (you would have to keep an eye out for bikes and the occasional car) and a few nice beaches a short walk from the pier.
The Secret of Roan Inish and Song of the Sea
are two fun, well-made and family friendly movies that involve selkies
7. The Burren
The Burren is one of the strangest and most scenic parts of Ireland. I loved the way the white limestone catches the sunlight, the colorful wildflowers peek out between the cracks and cute farms are scattered here and there along the road. It feels like you've landed on another planet, or woken up 800 years in the past.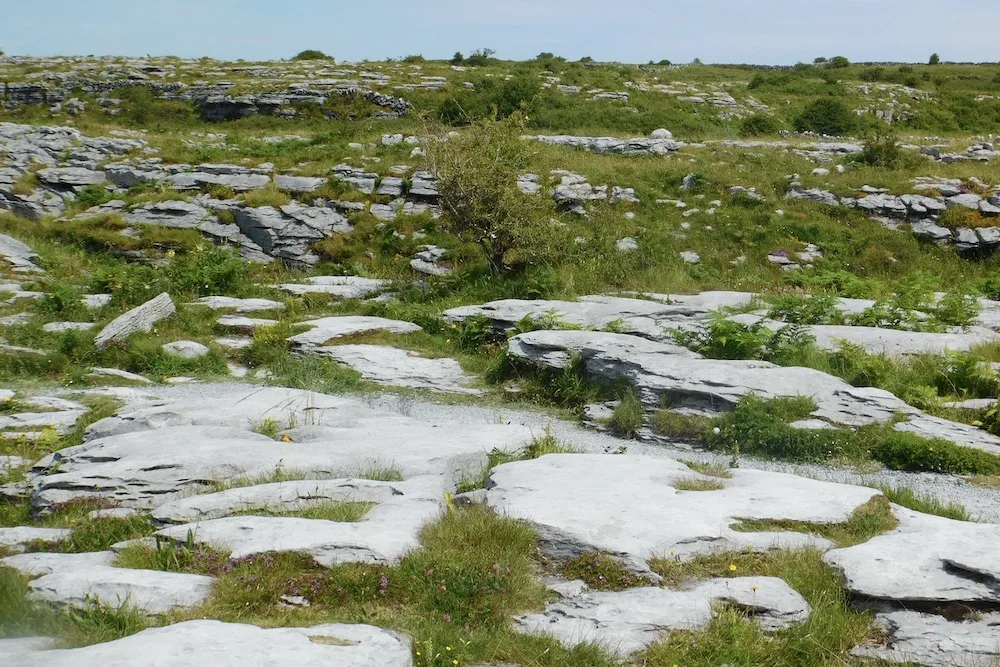 The Burren has seven hiking trails, and the National Park service offers free guided walks, though you should book them ahead of time. Make a point of visiting the Poulnabrone dolmen, only a short walk from a parking lot.
It might not be uniquely Irish, but I very much enjoyed the Burren Birds of Prey Centre. They showed a bald eagle, barn owl, and peregrine falcon flying around, and people got to hold the bald eagle and owl on their arms.
They also offer hawk walks. It was fun just walking around the center after the demonstration, where you can see a variety of different raptors. I thought that it was fascinating, and I noticed a lot of school-age kids at the flying demonstration. This could be a good all-ages activity for families.
8. Clifden Town
When most people imagine Ireland, one of the first things they think of is small seaside towns filled with brightly painted houses and small, cute shops. This is Clifden. The town center takes up about five blocks and it's impossible not to go shopping.
Everything at O'Dalaigh Jewelers is handmade. You'll find very intricate, expensive jewelry, but they also have lower priced items. I bought a claddagh ring with Celtic knots for about €30.
Connemara Blue sells unique, colorful handmade glassware that ranges in price from less than €10 to more than €2,000. I bought a Christmas ornament that looks like a bright Clifden house for a few Euros.
We also liked browsing in Prendergast Antiques, a lovely antique store stuffed-to-the-gills with interesting things, and The Bens, a small, cramped music shop with a bright green exterior. If you have time to kill explored a few of the art galleries around town. They're bigger than they look from the outside and the art was beautiful and unique.
Clifden Hotel Ideas:
• If you are passing through and want to be in town, choose the Blue Quay, which offers large, modern rooms, breakfast and parking and an ideal location.
• If you are staying for a few days, spring for the Connemara Sands Hotel & Spa. It has family rooms, breakfast and parking but also boasts a sea view, beach access, an appealing spa and seasonal, locavore restaurant for dinner.
9. Kylemore Abbey
The castle-like Kylemore Abbey is situated along such a stretch of Connemara where everything you look at seems to be a different shade of green. The abbey has been a manor house and a girls' school as well as an abbey. Nuns still live on the property, though the original abbey has been converted into a museum.
There's neo-gothic church a short walk from the Abbey that is beautiful all by itself. But the path to it goes along the lake and through trees that feel like a fairy forest, which makes it doubly worth checking out.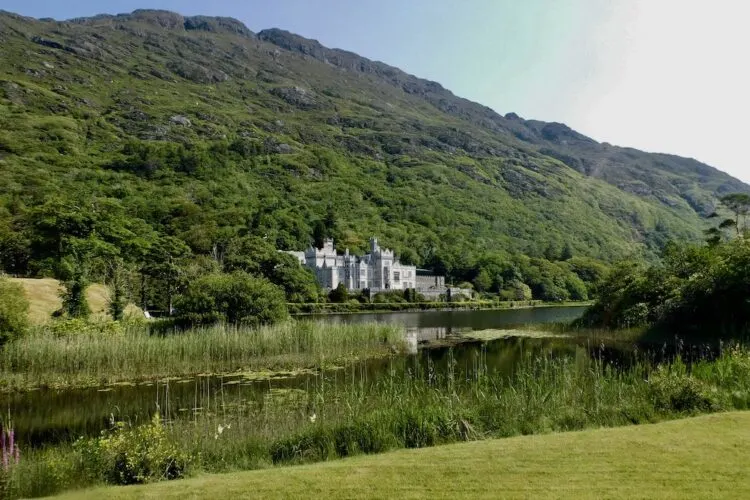 The cafe by the parking lot has delicious baked goods, especially the Victoria sponge and bakewell bar. I recommend buying some snacks, then taking a short shuttle ride to the walled garden and eating them there. There is also a teahouse by the walled gardens that serves ice cream.
The gardens are beautiful to stroll around, whether you've got an interest in plants or not, and I would set aside around half an hour for the gardens alone. The shuttle is free, but if you have time walk either to or from the gardens, because the views are spectacular. You'll see postcards all over Connemara of the Abbey and its reflection in the smooth lake in front of it.
Tween and teens will get the most out of the entire experience. But it's a great place to take kids of all ages because you can skip the museum and still see and do quite a bit.
10. Central Galway
Galway is a small lively city known for its live music. It's filled with buskers, pubs and shops. It doesn't have much sightseeing, but it's terribly fun to walk around, and it's a good place to base yourself to see things like the Burren, Kylemore Abbey and the Cliffs of Moher.
Shop Street runs from Eyre square almost to the river under various names. You'll spend a lot of your time wandering along it.
My friends and I started our last day in Galway with breakfast at Caprice, a café just off of Shop Street. They do a good full-Irish breakfast. But I recommend the fluffy buttermilk pancakes with a choice of toppings. They were some of the best pancakes I've ever had.
We found quite a few nice jewelry stores, including Claddagh Jewelers, which sells rings and other jewelry with Celtic designs. Cobwebs sells unusual antique jewelry that can be expensive, but it has some really cool things and the owners are very friendly.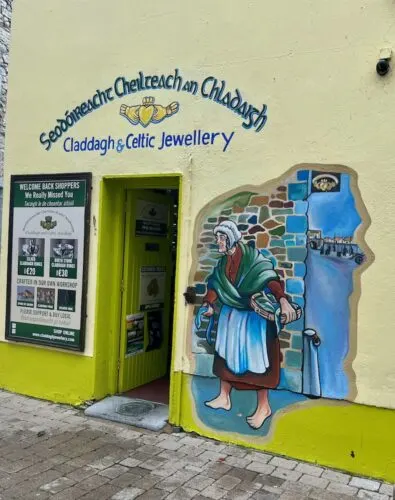 If your teen is interested in inexpensive, funkier jewelry, I recommend going to the market on Churchyard street, which runs from Wednesday to Sunday. In addition to produce and prepared foods, the stalls sell everything from fairy houses to leather bags.
My dad and I both bought tweed caps at O'Máille, a historic wool shop with a chatty owner. I also bought some really nice yarn from its large collection. And it's another good place to buy a sweater if you don't make it to the Aran islands.
If you have a kid with you (or even if you don't), pop into Wooden Heart, a two-story toy store in a narrow stone building. They have wooden toys, nice picture books and stuffed animals. I really enjoyed the music boxes that played songs like Yellow Submarine, and toy mice in matchboxes. It made me wish I knew a small child to buy something for.
Before or after all of your shopping, look for the famous Spanish arch by the river and the Galway City Museum next to it. The museum is free and the top floor has glass windows with views of the river. It has a handful of always-changing exhibits on Irish history and culture. It doesn't take long to explore and everyone in your group will find something that interests them.
Galway Vacation Rentals
Galway has a good choice of nice, small hotels that book up quickly in summer. Luckily you can also find nice holiday rentals, many right along the waterfront. Choose a modern three-bedroom duplex with harbor views or a two-bedroom townhouse around the corner from shopping and dining streets.
Things To Do in Northern Ireland (Ulster)
11. The Giant's Causeway
The Giant's Causeway sits on the windy north coast, the result of volcanic activity or a giant-led construction project, depending on what you believe. The tide pools look like very scientific Petri dishes, but the hexagonal basalt columns look like the start of a road across to Scotland and the setting makes you feel as though you're about to encounter Finn McCool himself.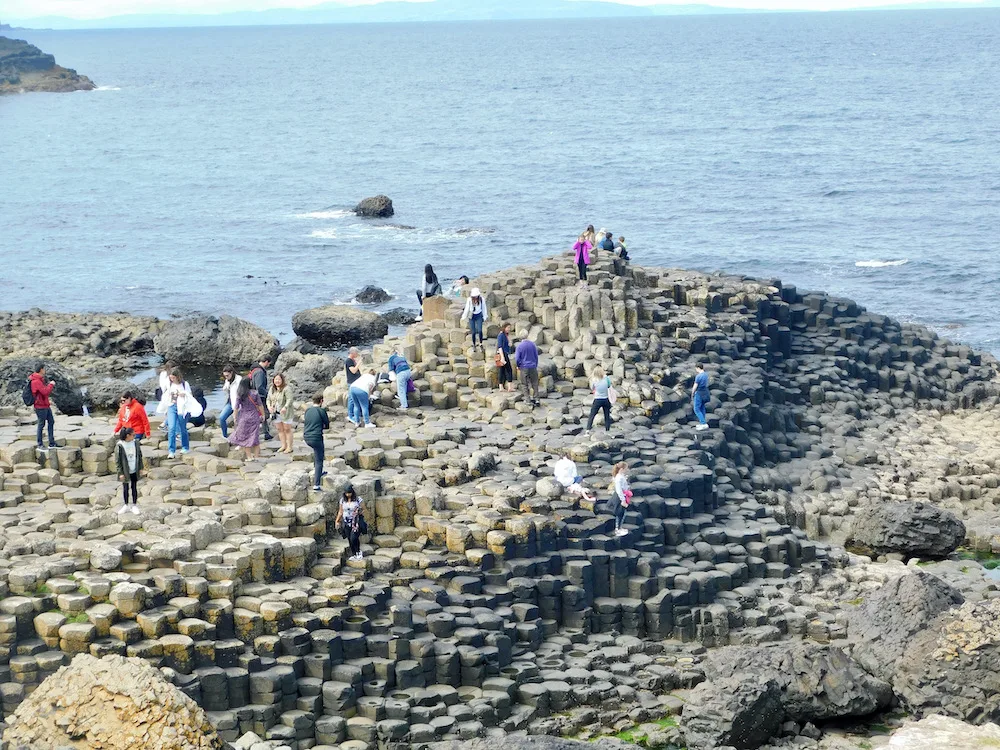 I recommend taking one of the audio guides available at the visitors center (in 11 languages). Walk along the cliffs, down to a formation of basalt columns that resemble a gaping mouth with massive fangs, then along a narrow trail on the side of the cliff to the causeway.
I loved scrambling around on the rocks and looking into the tide pools. But there are steep drop-offs that aren't always apparent and some rocks are more fragile than others. Keep an eye on small children and dogs and pay attention if one of the park employees steers you clear of certain places.
If you prefer not to walk a lot, there's a paved road leading directly from the visitor's center to the causeway; it's shorter and easier than the hiking trail but there's still a steep downhill and uphill walk. If you time it correctly you can catch a shuttle bus between the causeway and the visitor's center, a handy option if you're traveling with smaller kids or grandparents.
On the way to or from the Causeway, stop in Ballycastle, another small seaside town. It doesn't have all that much in the way of restaurants and stores, but what it has is good. I went into the Central Bar where our shrimp tempura and chili chips came quickly and were delicious! And everyone was very friendly.
Morton's, a chipper by the harbor, is supposed to also be very good. The beach, complete with a playground that has a trampoline and a humongous slide, was an inviting spot for a picnic.
12. Derry
My parents and I went to Derry after my program ended. We only knew the city from the movie Bloody Sunday and the sitcom Derry Girls, and we expected a small, grim town. But modern-day Derry is thriving, friendly and scenic.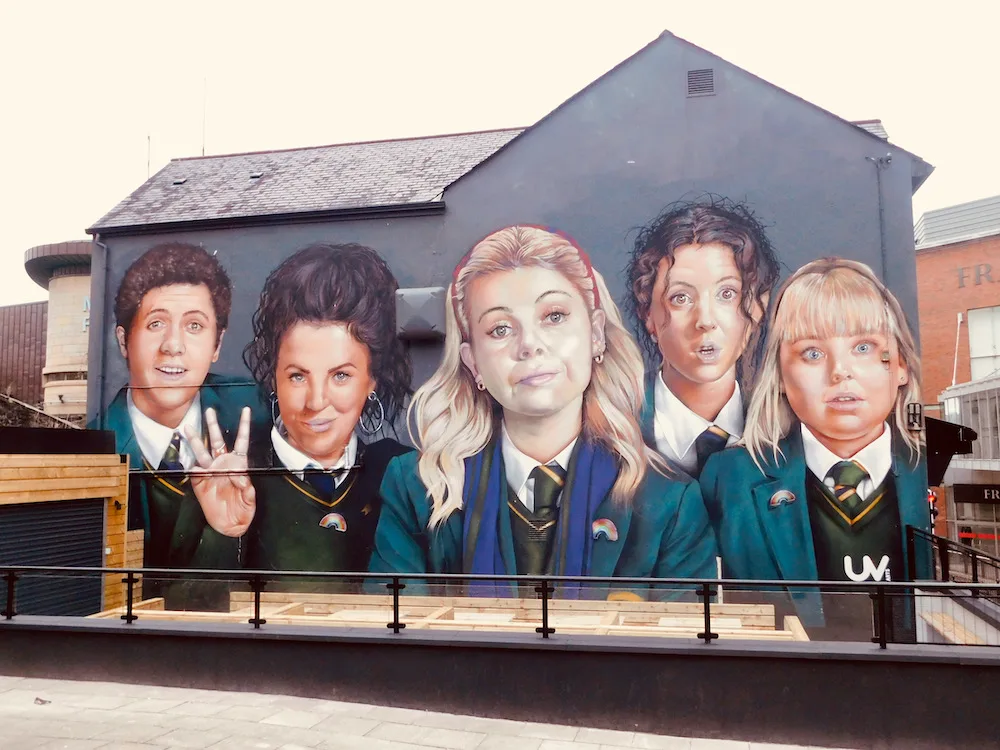 The inner city has beautiful old buildings. And there's even a Derry Girls mural on a wall just outside of Ferry Quay gate (and a walking tour).
We started our visit with a private walking tour led by a man who had been a teen during the Troubles and had been an eyewitness to some of the worst events. He began at the Guildhall, then took us along the city wall while he talked about Derry's older history.
Then we went down into the nationalist Bogside neighborhood, where he related a lot of first-person details you won't find in a textbook. We all felt very lucky to have the chance to talk with him.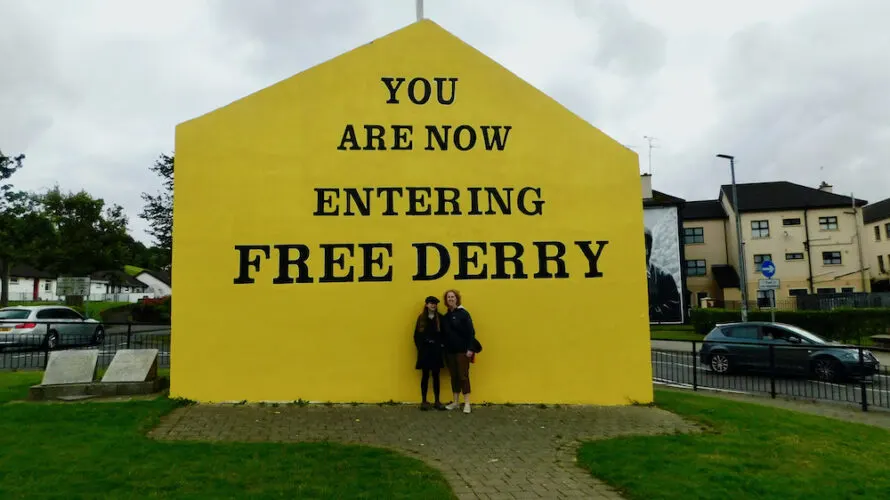 After the walking tour we crossed the winding Peace Bridge to have dinner at the Walled City Brewery, where they have a good and pretty inexpensive prix-fixe menu. My parents and I shared Vietnamese-style chicken wings and salt-and-chili squid appetizers.
I enjoyed a char-grilled steak, while my dad had the Irish lamb rump with some very good potatoes, and my mom had the pork fillet and crispy belly. For dessert, we scarfed down panna cotta with Irish strawberries. My parents liked their craft beer, while I had delicious local cream soda.
There's a kids menu and the restaurant says they'll do any regular dish in a kid-sized portion..
Derry is a small, fun city that is definitely good with teenagers and worth at least two nights. We very much preferred it to Belfast as a base for seeing nearby attractions like the Giants Causeway.
Derry Hotel
My family stayed one night in the ShipQuay Boutique Hotel, which we liked a lot. The room, with one twin and one full bed, was small. If we'd stayed for more than one night we'd have needed to book a larger room.
But the location was great: right on the main street inside the city walls, and a few minutes from the Bogside, the Guildhall the Peace Bridge and a few small museums.
The dining room/bar was bright and inviting. We didn't have dinner there but the breakfast (included) was delicious with homemade scones and a typical Irish fry up. The eggs sat on top of boxty, a thin potato cake that reminded me of a knish. My dad had Irish salmon while my mom and I stuck with sausage and bacon.
The people at the front desk were friendly, and helped us to figure out the street parking rules and find our way around. My parents were offered glasses of champagne when we checked in, which they seemed to like.
13. Dark hedges
The dark hedges, just a half-hour drive from the Giant's Causeway, is a road lined with beech trees that curve inward to create a green, leafy tunnel. It leads to an 18th century manor house. But they're known more as a filming location for Game of Thrones. But they'll appeal to anyone interested in the magical or mysterious.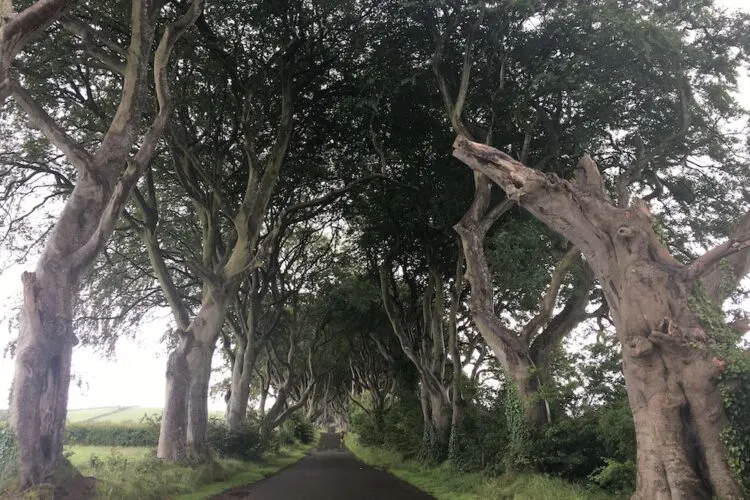 I recommend getting there early in the day. Later on it becomes packed with tourists, making it hard to get any good pictures.
Things To Do Around Waterford, Cork & Munster (Southern Ireland)
14. The Waterford Greenway
The Waterford Greenway follows an old railway line across Waterford, twisting and turning across bridges and through tunnels, along the coast and between trees. It's lovely for biking, and there are plenty of bike rentals nearby.
It's rather long, so we took a short detour to the beach where you can picnic or just to walk across the sand. There are a few ups and downs, but for the most part it's relatively flat and a large section of it is paved. It's ideal for teens and fine for any kid who can bike for a few miles.
14. The Waterford Crystal factory
Most people know Waterford for its intricate glassware. As a visitor to the factory, you can see the whole glass-making process, from blowing to etching. It's a fascinating tour and you can even hold a glass football!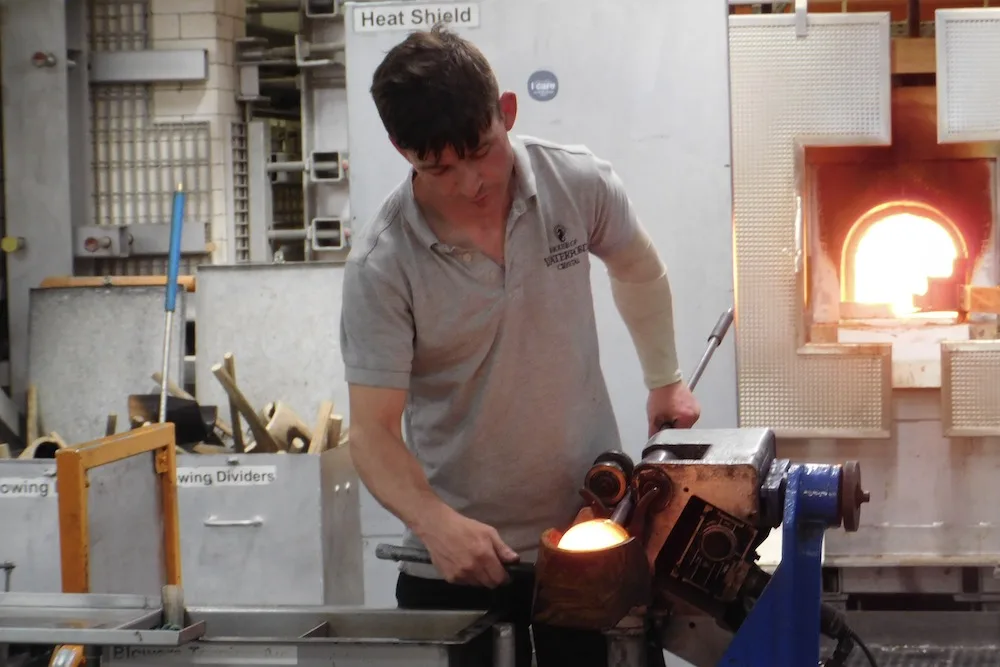 At the end of the tour, there's a showroom that's fun to look around even if you don't buy anything. There are some unbelievably intricate glass sculptures with prices that you can't believe anyone would actually pay. And they have glasses in a pattern only available onsite.
I was looking for something more economical and less breakable. Among the Christmas tree ornaments I found some from the previous year that were 50% off. Since the one I chose didn't have year etched into it, it didn't matter that it wasn't the latest. Plus, it was solid, so I could travel fairly safely with it.
This is a cool tour but don't go with anyone too young or fidgety to be trusted in proximity to a lot of fragile glass.
16. Cahir Castle
It's impossible to look at the gray stone walls of this 13th century castle on the banks of the river Suir and not think "that's a castle." From the extraordinary views from the ramparts to the cannonball embedded in the fortress during Cromwell's invasion, Cahir castle conjures images of catapults and battering rams.
Of course, at these sorts of attractions, the tour guide can make all the difference, and the man who gave my tour was great. He talked about the history of the castle, down to the tiniest details about the various ways they kept out invaders, and interspersed his explanations with wonderfully terrible jokes.
In addition to seeing parts of the Cahir Castle, there are museum exhibits I liked, including one about women in medieval Ireland and an interactive 3D map showing a siege of the castle.
17. The Rock of Cashel
On a hill high above Ireland's green patchwork of fields sits a collection of historic buildings, the most prominent of which is a half-ruined cathedral. With a round tower, Romanesque chapel, abbey and graveyard, It reminds you of the ancientness of Ireland.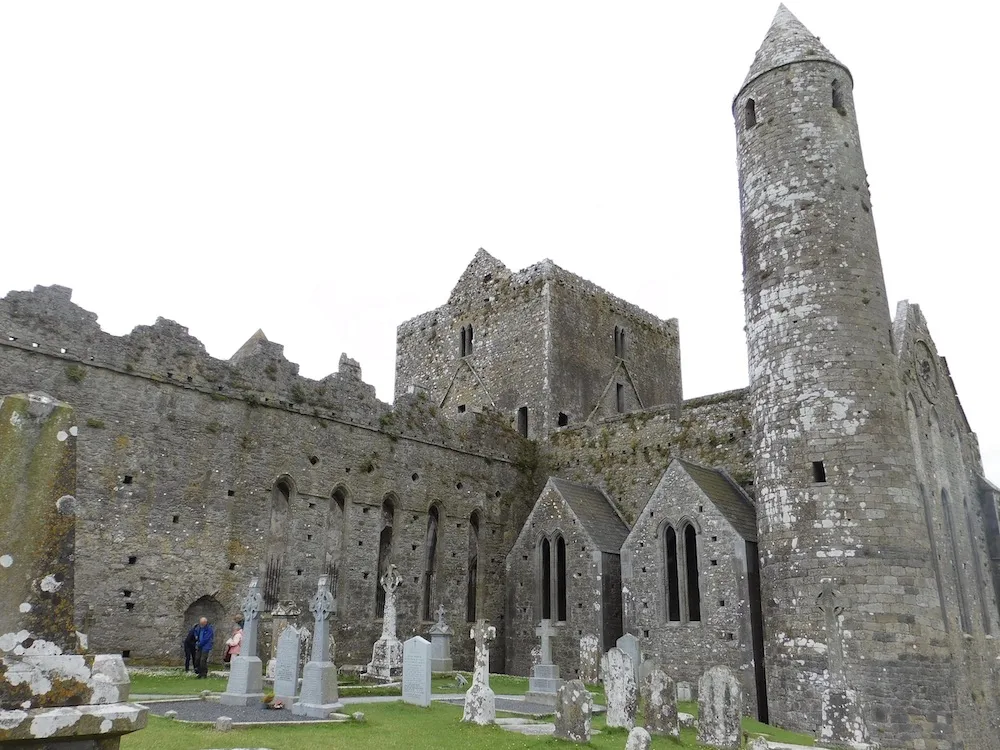 The cemetery has some very old graves and the cathedral is beautiful. Take a guided tour to learn some of its log history. I recommend taking tweens and teens who will find the history interesting.
18. Charles Fort
Charles Fort, the best-preserved star-shaped fort in Europe, has survived several major events In Ireland's history. It saw the Spanish armada land, came under siege during the Williamite wars, and was burned in the 1920s during the Irish Civil War. It's enormous and enjoys a lovely spot overlooking scenic Kinsale harbor, where you can often see brightly-colored sailing ships from the fort's soaring walls.
19. Kinsale
Kinsale is a cute Cork harbor town across from Charles Fort, and a lovely place to go for lunch or ice cream after your tour. The brightly colored houses and winding alleyways beg to be explored and are home to a large assortment of jewelry stores, sweater shops and places to buy cheap souvenirs. If you wander for long enough you'll find your way to Bookstór, a small bookshop with an impressive selection.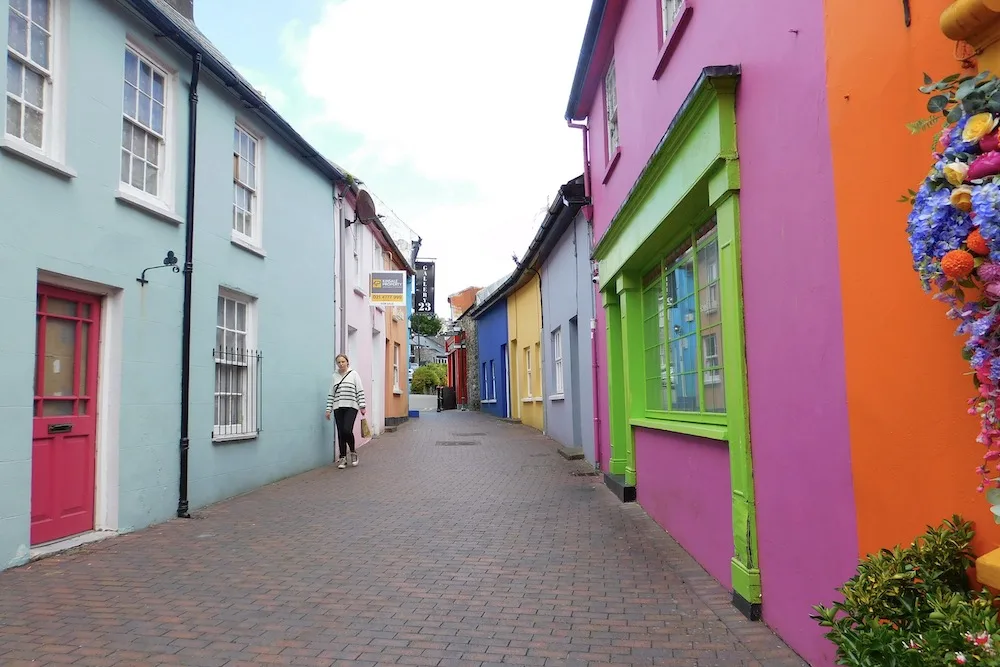 For a light lunch or heavy snack go to the farmers' market by the docks, which has everything from Indian food to pasta, For ice cream go to Sundays, a shop with a bright purple facade, interesting flavors and a wide array of toppings. I chose toffee ice cream with marshmallows.
Kinsale vacation rentals
Kinsale has a good variety of appealing holiday rentals. Choose a traditional two-bedroom cottage right in town, with a fireplace and yard. Or book a modern three-bedroom apartment overlooking the marina. It has bunk beds in one room and secure parking.
20. Torc Waterfall in Killarney National Park
This stunning waterfall cascades down rocks that look like an ancient flight of stairs in Killarney National Park. Visitors can see it from a path that goes alongside or climb right onto the rocks a little downstream of the falls. It's a lovely spot for photos and all ages will enjoy it. You can walk a bit more than a mile along a flat path from Muckross House, or just park nearby and walk about 100 feet to see it.
Killarney Hotel ideas:
• My parents enjoyed the McSweeney Arms Hotel, a small inn steps from restaurants, pubs and live music. The room was comfortable, the breakfast was stellar with amazing scones and croissants.
They ate dinner in the adjoining pub the night before collecting me and enjoyed excellent roast leg of lamb with all the trimmings. Breakfast is included and parking is available. Tip: Even if you're staying at the inn, makes reservations for dinner.
• My group stayed at the Gleneagle Apartments on the edge of town. The apartments are ideal for families looking for Killarney vacation rental. They have separate bedrooms and living rooms and full kitchens. And you can use the hotel's amenities, which include a pool and restaurant.
21. Dingle peninsula
The Dingle peninsula, one of many scenic drives around Killarney, took my breath away. It's home to countless Star Wars filming locations. But they're impressive even without those claims to fame.
My first stop was Inch Beach, where I wanted to go in the water, but it was early in the day and too cold. I recommend doing this drive in reverse and making the beach your last stop so that it might be warm enough to go swimming.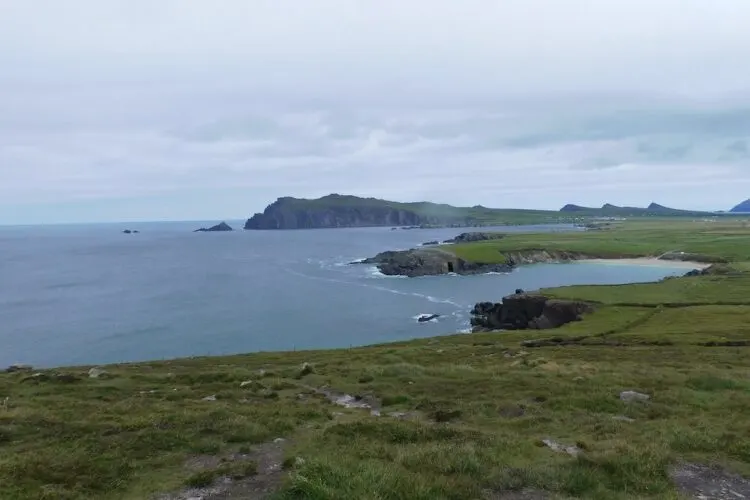 Slea Head has excellent views and is a lovely place to wander around for a bit. Just remember that there are no barriers, the cliffs can end suddenly and they can be crumbly.
Stop in Dingle, a lovely town with a crowded harbor at lunchtime and look for Harrington's Restaurant, a traditional chipper with indoor and outdoor seating by the harbor. It has a wonderful selection of deep-fried candy bars, from Twix to Mars bars. They come with ice cream, chocolate sauce and M&Ms. Trust me, you'll score a lot of points with your teen by letting them order one.
If you want something faster look for An Cupan Tae, a small tea shop tucked away from the harbor with excellent sausage rolls you can get to go.
Tip: I think the cliffs would actually be even more impressive from below. If you have the chance to see them by boat, definitely take it!
What summer program?
In case you're curious, the summer program I joined was the Irish Life Experience. It's 24 days of classes, sightseeing and cultural experiences for High school students from across the U.S.
It's a funny name for a program but it's apt. Going abroad with a bunch of kids I didn't know, having a blast and doing endless activities, I learned a lot about myself as well as about Ireland. It really was life-changing experience.
I highly recommend a summer abroad for your high schooler if you can swing it. If not with ILE than any of the other quality programs out there. But ILE really is unique and special, in my opinion.
A tip for cellular service
We couldn't pay our cellular company's roaming fee of $10/day for this three-week adventure. So Teen Traveler used WhatsApp and wi-fi for communicating with friends and family back home. If we had it to do over I would have just had her download Airalo to her phone.
Airolo is an app that provides virtual SIM cards, so you can access a local cell network without having to replace your actual SIM card and risk losing it. In most international locations now I can all the data I need for about $5/phone/week.
She could have had all the cellular data she needed for the durating of the trip for about $15. That's a great deal! I now make sure everyone in my family uses Airalo for overseas trips.
Pin it for Later!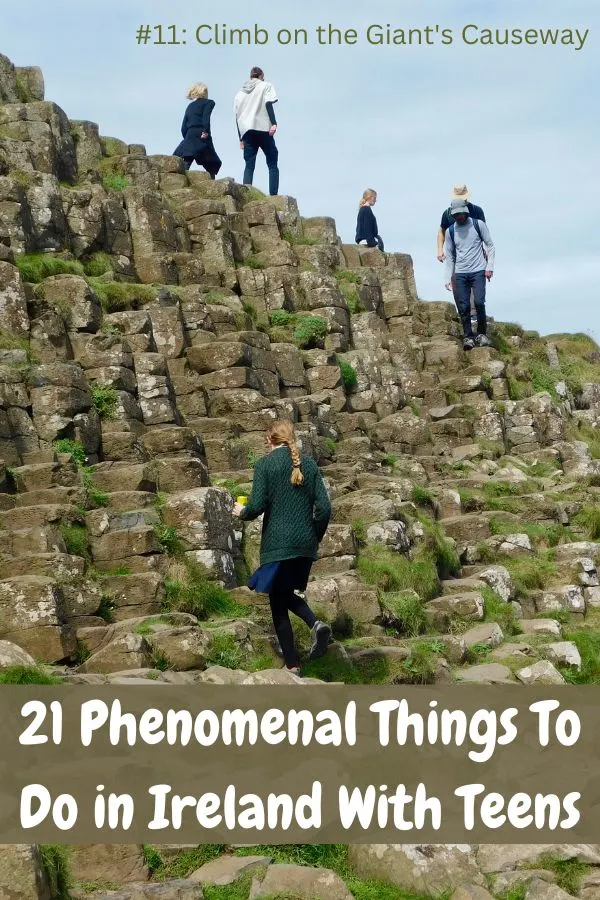 All photos by FamiliesGo!© or by Teen Traveler for FamiliesGo!©