As much fun as we had traveling with a younger child, I'm really enjoying traveling with a teen. This has been particularly true about our two recent vacations in London, one over winter break and one in the summer.
She still has the wide-eyed wonder of a kid. But she knows more and has interests we can build activities around. And it's easier than ever to find activitie that engage all of us.
Here is Teen Traveler's top-eleven list of fun things to do in London with your parents. I also have hotel suggestions that worked out well for us.
Read more:
• Plan this easy day trip to Cambridge from London
+ 11 Essential foods & places to eat in London with kids
+ 20 More Things to Do in London With Kids
2 Southbank Hotels We Loved
London is big and it can hard to know what part of town to choose to stay in. We stayed on the Southbank the first time we visited because we found a good deal and it seemed conveniet. We enjoyed it so much we picked the same neighborhood when we returned.
The Southbank has a river promenade that runs for a few miles. The area between the Millennium and Westminster bridges seems busy at every hour of the day with coffee bars, offices, pubs, food trucks, performance spaces and tourist attractions like the London Eye.
Away from the river we found neighborhood pubs, handy convenience stores and all kinds of inexpensive ethnic restaurants including an Irish pub that served delicious Thai food.
• On our most recent trip we stayed at the Hilton London Bankside just off of Southward St. on Great Suffolk St. A lot of the area hotels are basic budget brands but the Hilton is a full-service hotel with a very helpful concierge and desk staff.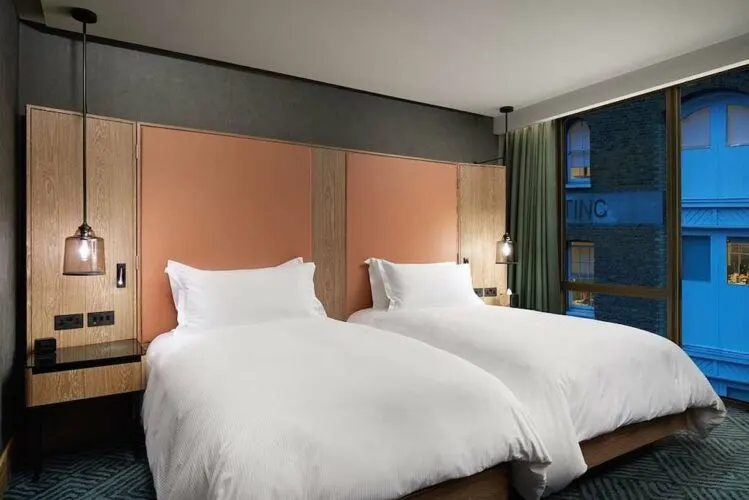 There was a large breakfast buffet, which was included in our room rate. We had drinks and dessert at the restaurant one night and we can absolutely recommend the chocolate caramel cake. There is a pool with a whirlpool that is connected to the pool and not warm. Nevertheless, it worked out the kinks from our long walks around town.
Our double room was a standard size with just about enough room for all of us to keep our bags out of one another's way. But the beds were smallish full-size, which we didn't expect. We could have used at least one of to be a Queen bed.
The bathroom had a great shower with several different settings. The room had a quirk where turning off the hallway light turned off all the lights. This made it impossible to have a small reading light on as we were settling in for the night.
Despite the quirks, overall we thought it was a nice hotel with a convenient location and good service. Next time we'd book a room with a bed and pull-out couch so we could have a queen bed.
• On our previous vacation we stayed at the Novotel London Blackfriars on Blackfriars Road.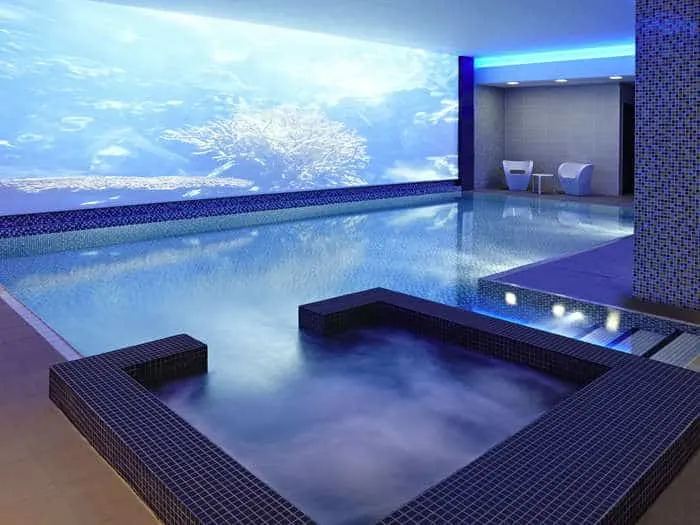 We had a single queen with a daybed in our standard-size room. It wasn't roomy but we didn't feel cramped. It has large bathroom and a very good shower and no bathtub, as is typical in hotels these days.
There was a pool, steam room and sauna, which we took advantage of most evenings either before or after dinner. Even after dinner there were usually other families in the pool with us. Once or twice we had it mostly to ourselves.
There's also a restaurant and bar onsite, but we didn't use it except to take a nightcap back to our room once or twice.
Breakfast isn't included. Most mornings we grabbed coffee and pastries at a café along the river.
11 Can't-Miss Things To Do in London With Teens & Tweens
1. Shopping & Eating at Camden Markets
We spent far more time in Camden than we thought we would. A day in Camden is all about eating and shopping. And then shopping and eating.
A few different markets have sprung up around the original market, all with a combination of food and shopping stalls.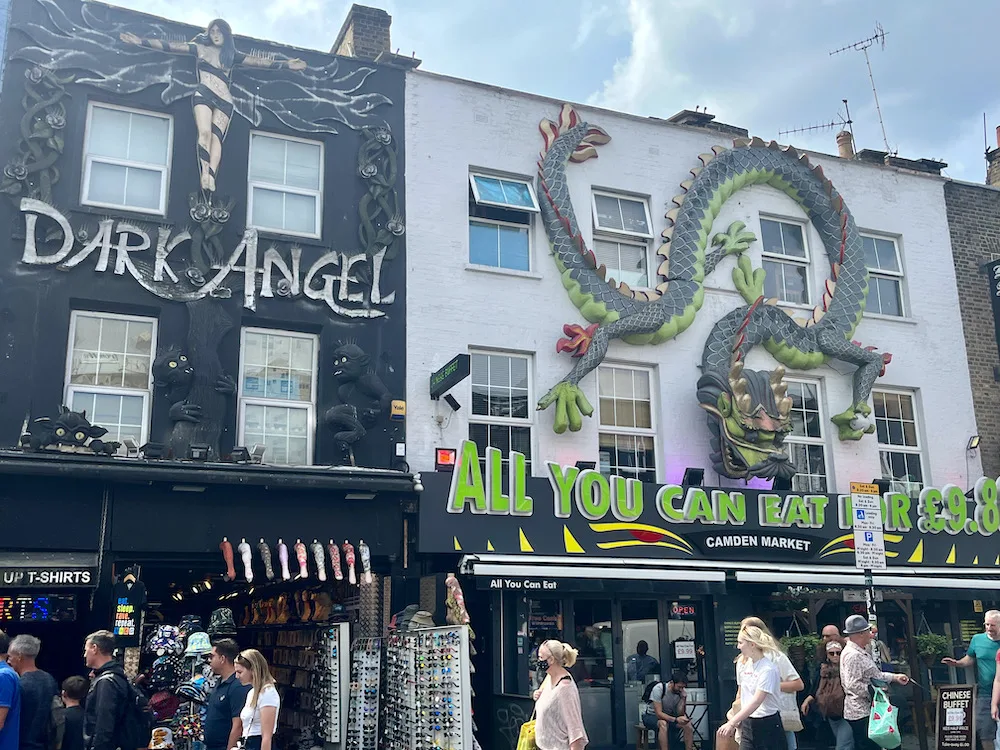 From the Camden Town tube stop walk North on Camden High Street. The stores along this stretch are junky but many have huge, funky 3D signs that pop out from the buildings.
On the right you'll see Camden Market Buck Street, which is built with colorful shipping containers and hard to miss. A stall on the right that sells games, cards and magic tricks attracted every tween and teen that walked by. I thought the prices were a little high but the owner makes sure you know how to do the magic tricks before you leave.
We also found fun food here and it's a little less chaotic than the food stalls in the main market. We shared Greek kebabs and pan-Asian bao—small, fluffy Chinese pancakes stuffed like tacos with satay chicken and other items.
Across the lock and to the left is what I would consider the main Camden Market. There are vendors at street level, down at canal level and both indoors and out. You'll find cheap, funky clothes, jewelry and crafts and pricy, stylish clothes, jewelry and crafts.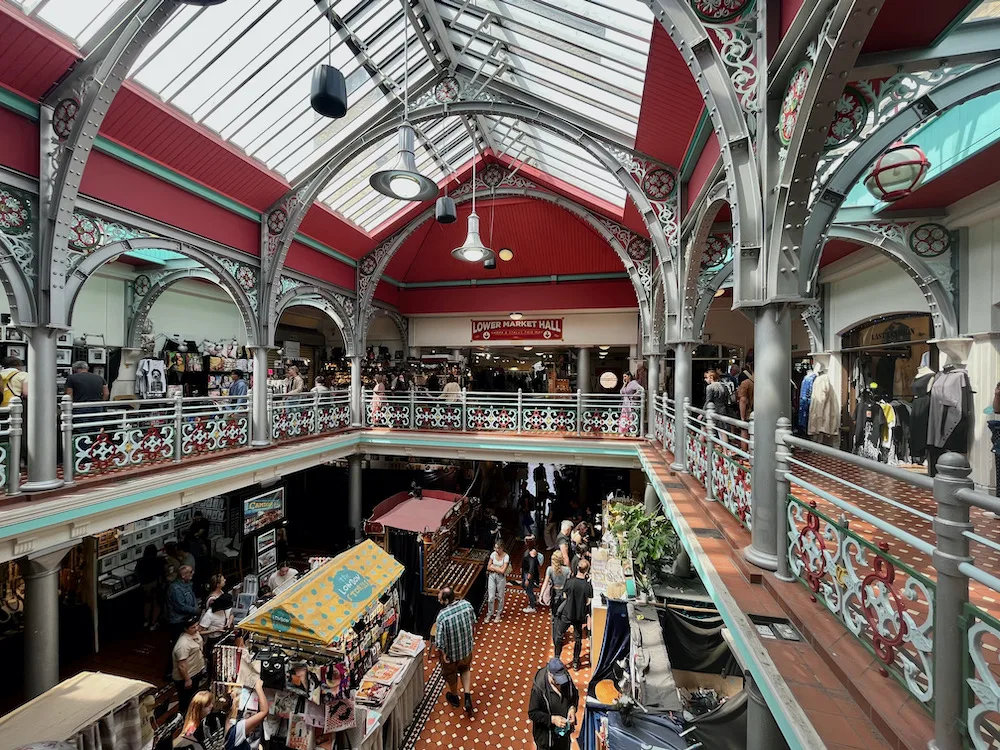 Tween Traveler went cheap and funky with a retro sun dress, small earrings and a rose gold ring, which all totaled less than £50 . Rich bought an expensive but well-cut waist coat. I fell somewhere in between with an unusual layered shirt that I thought would look good with jeans in the fall.
I also found the Half Hitch micro-distillery, where I sampled Earl Grey and a pink berry gins. They are the perfect gins for someone like me, who doesn't normally like gin. I bought small bottles of each to take home. The store doesn't have a license to mix drinks, but they will sell you a G&T kit with cups, gin and soda water.
Outdoors in Camden Market Yard West, you'll find the biggest selection of food vendors but also the most people. On the upper level, look for a bar called Lock 17. They don't serve food so you can bring your food-stall food here, sit down at one of several outdoor tables and order or a drink or soft drink to have with your lunch. This is also a good place to chill when you are shopped out but your teen wants to keep going.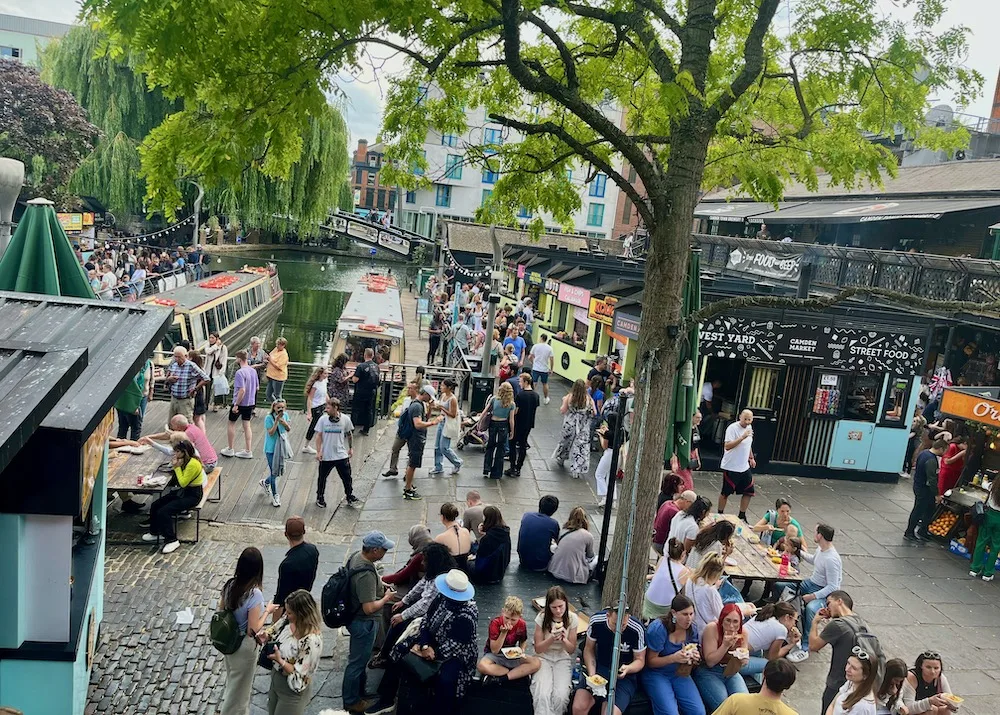 On the same side of the lock but to the right of the bridge is Camden Market Hawley Wharf. We found some cute teen clothes here, too, long with Afghan lamb dumplings. Tween traveler also bought one of her favorite things, a small jar of raw cookie dough, to eat later.
Tip: Try to catch one of the tourist boats going through the lock. Watching them lower or raise the water and manually move the gates is kind of neat.
2. Afternoon Tea
Tween Traveler is a huge fan of the Murder Most Unladylike mysteries, wherein two British schoolgirls solve mysteries while eating copious amounts of tea and cream buns.
So sitting down to a real English afternoon tea was high on her list for this visit.
We were lucky enough to be *invited for afternoon tea at St. Ermin's, a lovely Westminster-area hotel with quite a history.
Walk through a quiet, green courtyard into a Victorian style lobby with its original ornate plasterwork and a semi-spiral staircase up to the dining rooms.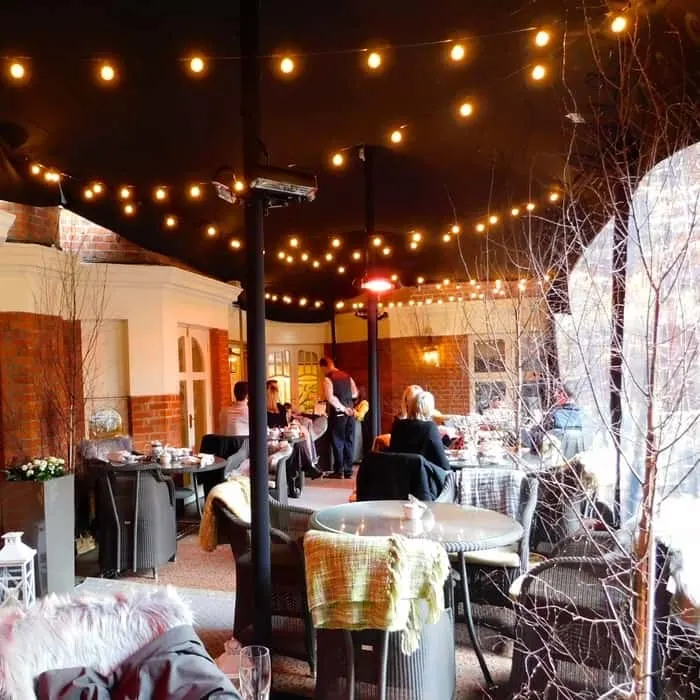 You can have your tea in a plush indoor dining room with colorful upholstered chairs or on an outside patio that's lit with fairy lights and closed-in and heated during the winter. We chose the latter.
The traditional tea includes a pot of tea and a tower of savories and sweets that change seasonally. You can upgrade to a champagne tea (or rosé in the spring) for £10 more.
I say that if you're splurging on a fancy tea why not go all the way? They pour good bubbly with a generous hand and it makes the meal feel very festive.
Everything we ate was delicious. I liked they way they mixed modern ingredients and traditional English tea foods.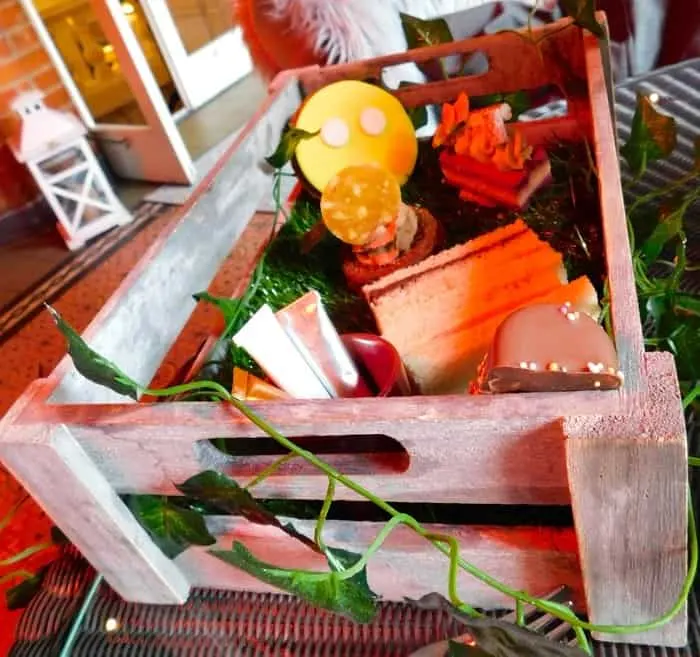 Our savories were curried chicken, humus, roast beef with horseradish and salmon. The sweets paired dark chocolate and pralines, matcha tea and yuzu, and rhubarb and cream.
The hotel's own rooftop garden and bee colony inspire the children's tea. It comes in a garden crate with ham and Nutella sandwiches, the same rhubarb parfait we had, a cookie our tween could decorate and other small treats.
They have plenty of fruity non-caffeinated tea but Tween Traveler preferred hot cocoa. It came in a bowl-like cup and won a thumbs-up from her.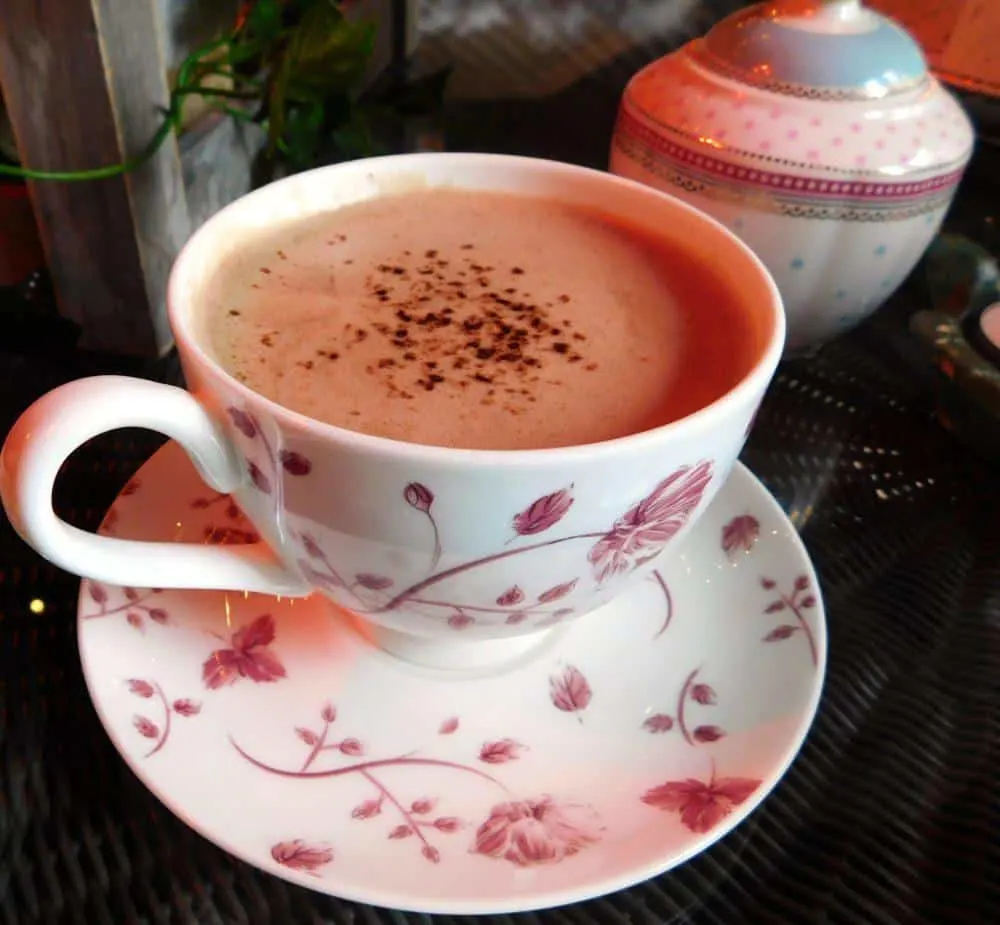 Save room for the mini scones that are served last. Clotted cream is one of the brilliant English culinary inventions. We generously slathered the scones with it and some house-made strawberry jam.
Tip: We didn't stay at St. Ermin's but I certainly would love to. It offered a quiet street in convenient central location, very nice family rooms and gentler nightly rates than you might expect, especially off-season.

3. Harry Potter Studio Tour
We saved the Warner Brothers Studio Tour for our last day. And this was a wise move. Once you do it, the rest of your holiday will pale in comparison, no matter how good it is.
We loved in partly because we're not big thrill-ride people. And so it was all the fun of going to a really immersive theme park without having to bother with the rides.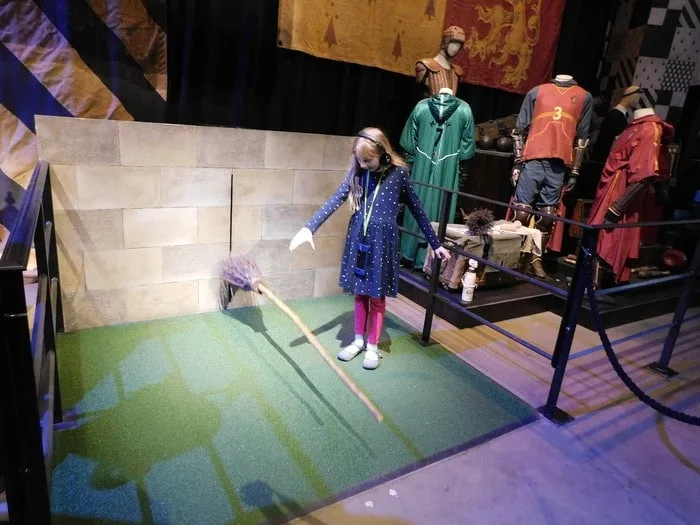 You get to walk through the great hall at Hogwarts and down Diagon Alley. You see the Griffindor common room, Snape's classroom, Hagrid's hut and the Weasley's living room, including Mrs. Weasley's fantastic clock.
You see costumes from the Yule Ball and other major scenes, all the cast members' wands, the Hogwarts Express and a hippogriff.
Quite a few secrets are revealed too, like the fact that most of the cast wore wigs for continuity. You also learn how the quidditch and the train scenes were done.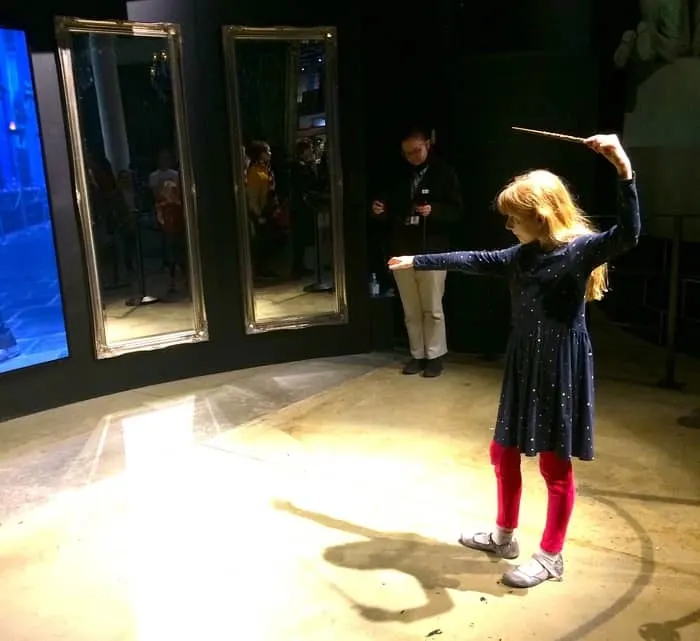 There are lots of great photo ops, including one where you're pushing your luggage cart through the wall at Kings Cross. Kids can duel with wands and fly a broom in front of a green screen, and you can get your family portrait in wizarding robes.
You're going to want to see the broom video and photo proofs, and you'll inevitably buy one or both. If you have multiple adults with you, save time by having one wait in the purchasing line while the other stays with the kids in the broom line.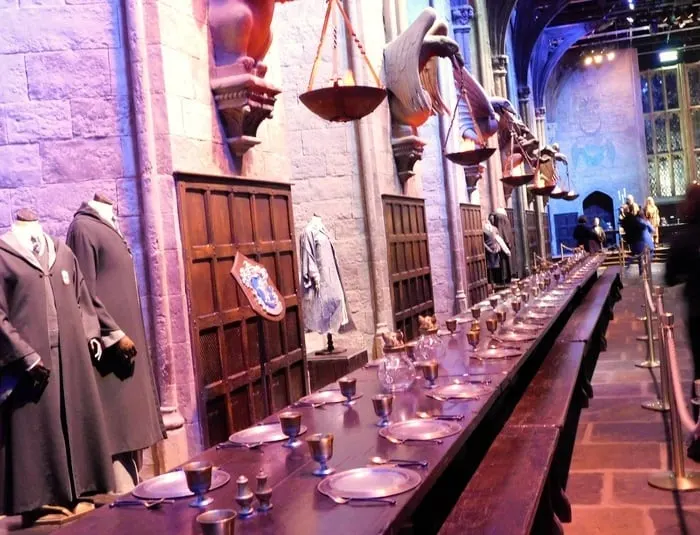 They add new and seasonal features every so often. So we got to see a Gringotts Bank feature. Tween Traveler minted a wizarding coin and we learned the secret behind metal chalices, swords and other treasure (most of it was painted rubber).
I think they recommend three hours for a visit but if, like us, you want to do everything, it will take most of a day.
Good Things To Know:
Tickets: I was tempted to book this before we even had our plane tickets. I didn't But it sells out months in advance so plan accordingly. You'll have the option to buy a regular ticket or a package that includes a souvenir book and audio tour. I bought one children's package and it was plenty. The souvenir book is nice but not essential and Tween Traveler handed the audio guide over to her dad about an hour in (apparently pairing the guide to what you're looking was tricky).
Wizard clothes: Plenty of kids were wearing wizard robes. So if your kids have Harry Potter costumes, pack them.
Shopping: As you would expect there are multiple gift shops, all selling Honeyduke's candies. The souvenirs are expensive, of course, but a lot of them are pretty cool, too. We managed to steer Tween Traveler away from a £20 Ravenclaw pen to a somewhat more practical £30 sweatshirt (she wore it daily for three months it was money well spent). The £1 house pencils near the cash registers are a handy item to bring home for friends.
Dining: You pass by the café at the start of the tour and halfway through. It offers fast food, butterbeer and butterbeer ice cream. The ice cream is sweet but pretty good.
There are also a few pubs and other places to eat in the in the town where the train pulls in. We found the Ocean World chipper a block from the shuttle bus stop on Queens Road. It looks like a hole-in-the-wall but everything was cooked to order and it was some of the best fish 'n' chips we've had. One order easily fed three of us.
The Train: Pay attention to the train schedule leaving London and be sure to wait for an express train. We accidentally hopped on a local on the way there and it took two or three times as long as the express train we took back to the city. Luckily we left London early so we managed to arrive in time for our timed entry.
4. London Theater
We seem to always see a few shows in London. TKTS has great deals at its booth in Leicester Square. And even without them prices are well below what we pay for Broadway shows in New York. Plus, the secod time around we discovered TKTS has a website where you can buy discounted same-day tickets online. We jsut picked a show in the morning before we headed out for the day and the tickets were emailed to me on my phone for that evening.
On our saw a fantastic staging of My Fair Lady at the London Coliseum. It's a gorgeous theater with an old-fashioned orchestra pit and a stage that is made for big musicals. If you've never been I recommend seeing what is playing there when you visit. The play and the theater itself make for a double treat.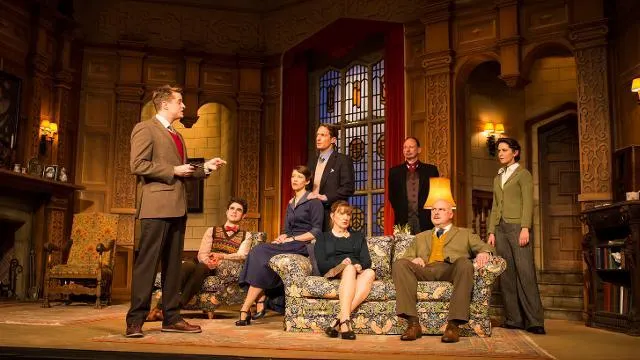 The last time we were town we saw The Mousetrap and this time we saw Witness to the Prosecution, both Agatha Christie plays.
We chose The Mousetrap because it's been running on the London stage forever and is a classic. Rich and I wanted to see it and Teen Traveler actually likes reading Agatha Christie. So it was an easy choice.
We all liked it a lot. Tween Traveler spent intermission speculating about who did it. I had read the play and knew who did it but was still caught up in the suspense.
Witness is being stage in a former county hall in a room that looks like a real court room with the judge on a dais and the audience sitting in a U around the stage. If you pick your tickets right you might wind up sitting next to the crown prosecutor or defense attorney. You might even wind up in the jury box.
I had read this one, too. But couldn't remember how it ended. This one has quite a few plot twists that kept us all guessing until the end. I think that because pf the unique staging we liked it even better than the Mousetrap.
During our winter visit when we still has a tween we also saw a Matilda, a musical based on a Roald Dahl book (an authoer we all love). But it could be fun to pair Mousetrap with the Play That Goes Wrong, a slapstick comedy that parodies Christie-type mysteries. It's very funny and kids love it. Both of these plays will cost a bit less than the big musicals, too.
Tip: London theaters almost always sell cups of ice cream at intermission. Teen Traveler thought this was just fantastic. And compared with theater concessions stateside the prices are very reasonable so we were happy to let her indulge.
5. Shakespeare's Globe Theater
If your kids are old enough to have been exposed to some Shakespeare, see what's going on at the Globe Theatre, a recreation of the Bard's open-air London stage.
There are tours, exhibits and demonstrations most days and performances in the afternoon and early evening. During school breaks they give family tours and hold classes where you and your kids can explore a classic Shakespeare play together. They have different sessions for younger kids and for tweens and teens, so there's no fear your 13YO will be surrounded by first-graders.
Seeing a Show at the Globe
On our winter visit we took a backstate tour of the Globe. We enjoyed it so much that when we returned in the summer we made a point of booking tickets to a play. We chose The Tempest because it has iconic characters and none of us had either seen or read it.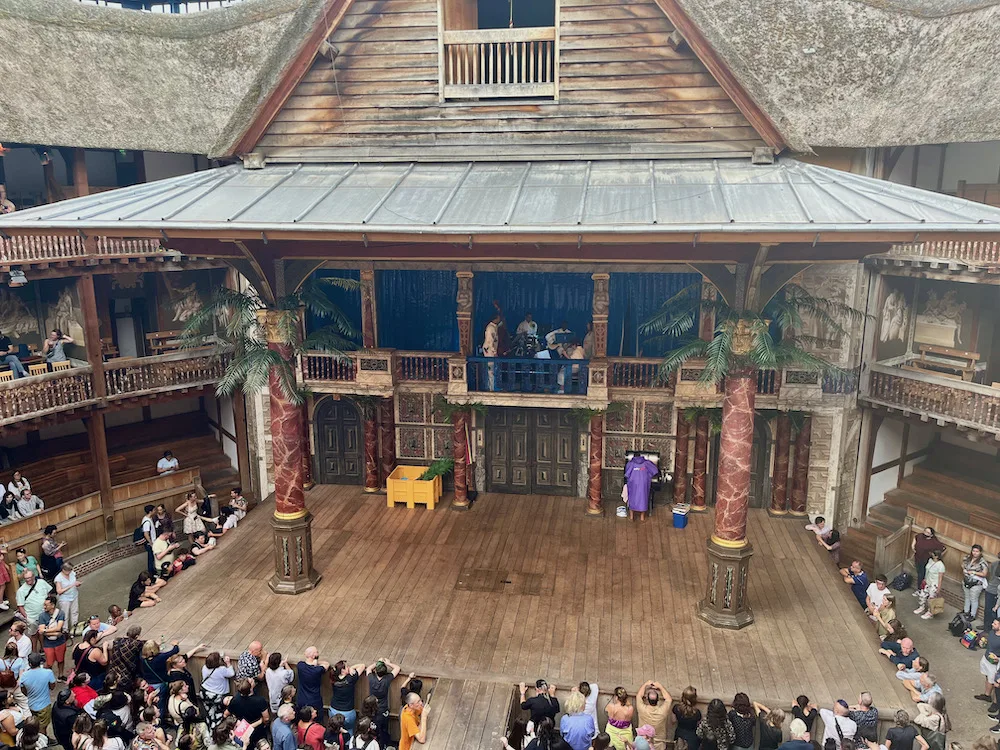 The theater presents the plays as traditionally as possible—no lights and no sound system—so they take place while there is daylight. The actors can see and make eye contact with the audience and they interacted with us in a different way than actors do in a dark theater. I felt like I wasn't just seeing a play; I was sharing a theater experience with the actors and other audience members.
It was very cool. If you have a theater kid or a future English major it's totally worthwhile to do this.
Just because the presentation is traditional doesn't mean the staging is. Our Tempest was set on at a desert island resort with the cast in various kinds of beach attire.
You can buy standing room tickets that put you right in front of the stage where the action is happening for a mere £5. It can be a fun experience, but you do have to stand for the length of the play. Seats in the stalls range from £25 to £65. If you choose the stalls pay the extra small fee for cushions. The benches are not the most comfortable places to sit and the cushions help.
Tip: You can bring food and drinks from the concessions to your seats. Even with a 20-minute intermission the lines were crazy long. Look for the QR code that lets you order online. There was almost no wait at the online pick-up spot.
Take a backstage tour
Our winter break trip coincided with the U.K.'s winter break, so there were family tours happening and we were able to book one for tweens. Our 20-something guide engaged directly with the kids but imparted enough historical information to make it interesting for the parents, too.
We all gained new insight into Shakespeare's time and how his plays were meant to be performed. These family events do fill up. Definitely make reservations beforehand.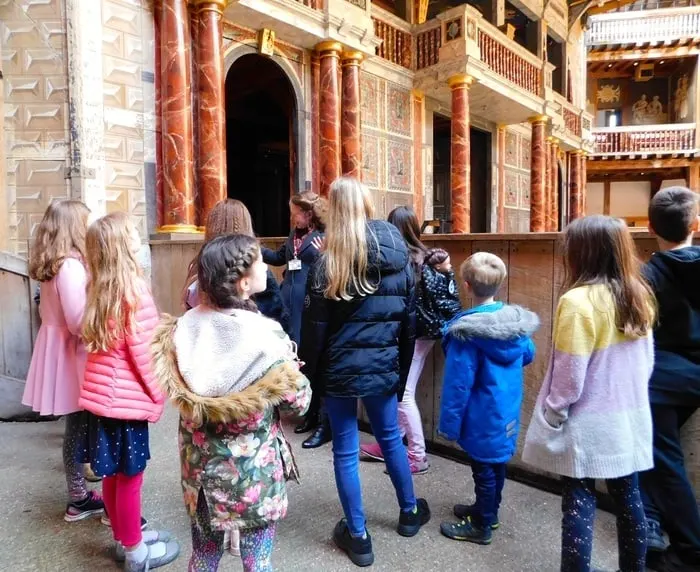 Tip: The great thing about visiting the Globe is that it puts you on the South Bank esplanade.
Give yourselves time before or after to take a walk toward the London Eye, You'll pass the Tate Modern, some attractive pubs, cafés and food trucks, and a lovely playground near the Eye in ase your kids are still young enough to appreciate a good romp.
For a longer U.K. trip:
• Read about things to do with kids in Edinburgh,
• with kids and teens in Wales,
• and about sidetrips to seaside towns.
6. A day trip to Greenwich
Greenwich is a good destination for lots of different ages. There is quite a bit to do and things are spread out so plan to spend the better part of a day.
If you get there by boat the first things you see are the Royal Naval College and the tea clipper the Cutty Sark, which is dry docked next to the college.
The Naval College: At the Naval College visitors center you can buy separate tickets to the Cutty Sark and to the Royal Observatory and planetarium show, as well as admission to the college.
In the same building you'll find an exhibit that explores the history of the site— it's been home to a royal palace and maritime hospital as well as the naval college over the past few hundred years. It's worth a quick breeze through but we didn't feel the need to linger. The main attraction is the Painted Hall across the campus.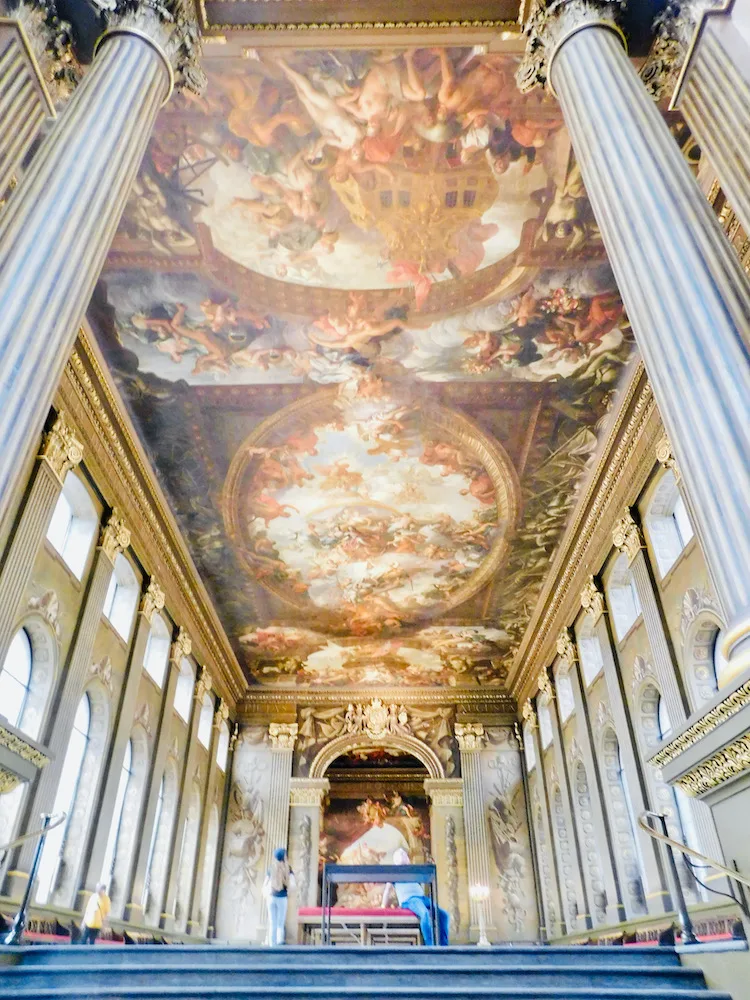 They call the Painted Hall Britain's Sistine Chapel and its 40,000 square feet of murals celebrating English royalty, naval might and empirical ambitions are impressive. Try to catch one of the 30-minute talks they give throughout the day. It helped us to understand and better appreciate what we were looking at.
Below the hall you'll find a small but pretty naval chapel and a skittles alley, which you can try playing the way the hospital residents did, with discarded cannon balls.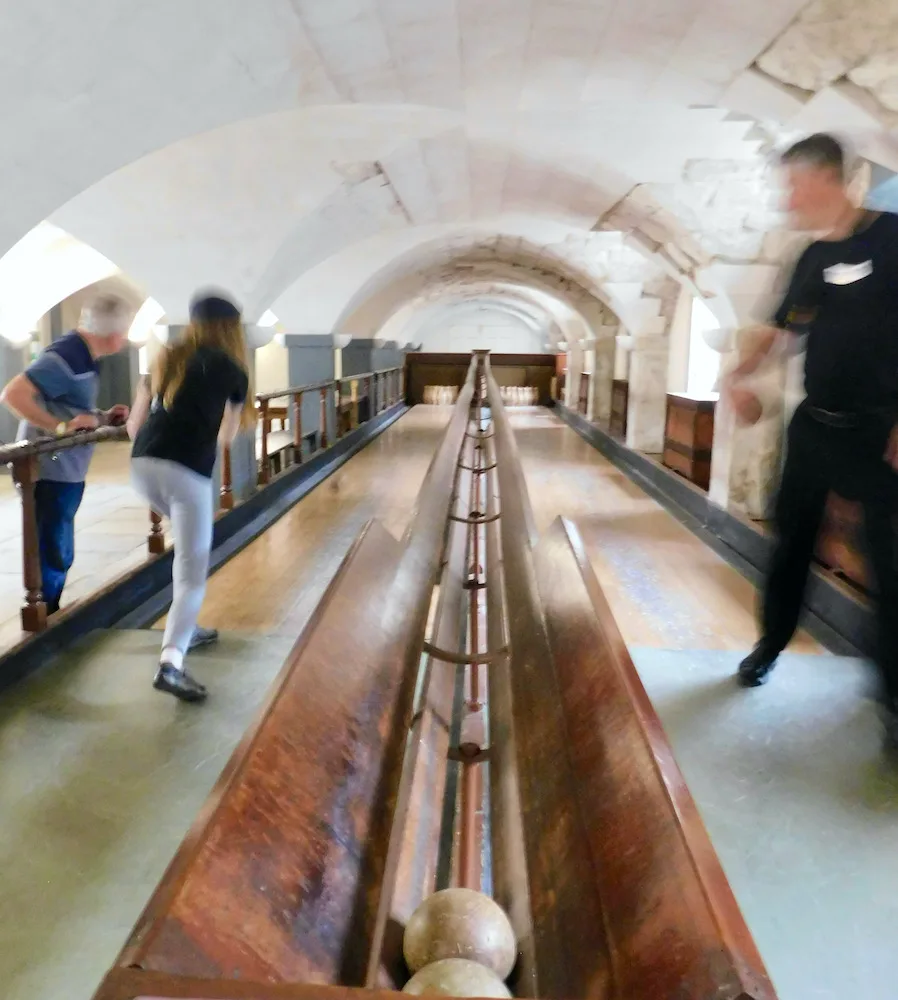 You emerge from the building on a quad that Marvel Movie fans will from Thor: the Dark World. The college has stood in for various palaces and other building in several other films and tv shows.
This part of the day is probably best appreciated by teens and maybe tweens if they have an interest in history and/or art.
We didn't climb aboard the Cutty Sark, but probably would have if Teen Traveler were still in elementary school. You can tour the ship on your own and on weekends and school holidays you can talk to costumed interpreters. You can also pay extra to climb the rigging, which we all agreed is probably way harder than it looks.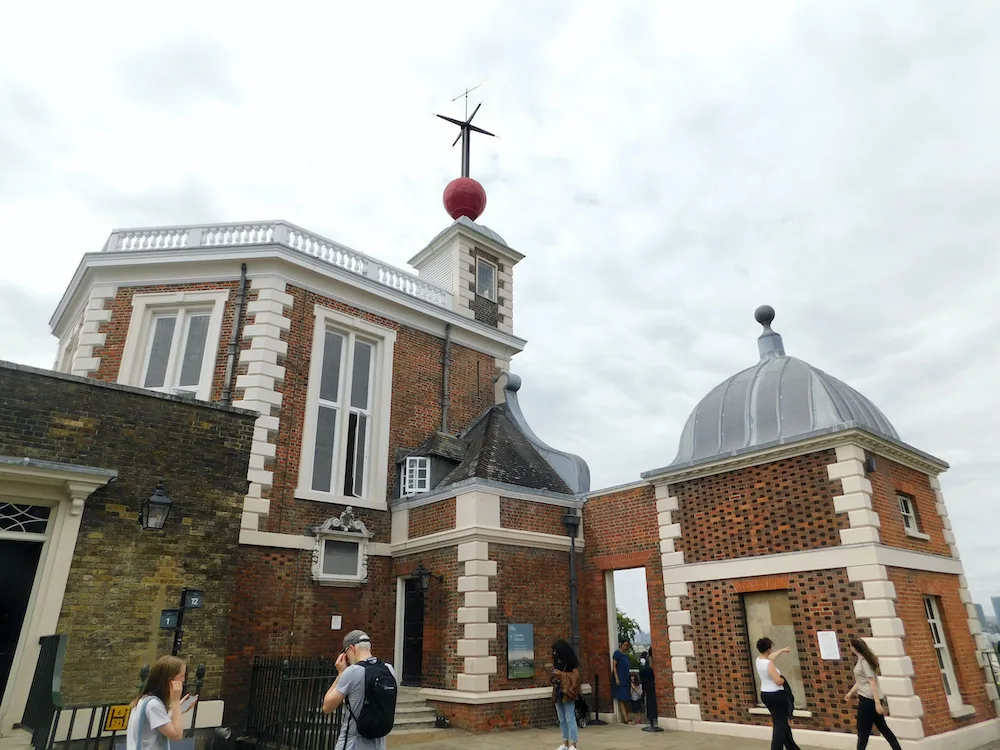 The Royal Naval Observatory and the Prime Meridean: The Royal Naval Observatory is at the far end of Greenwich Park, up a short but surprisingly steep hill. At the top you have a great view of the park, the naval college and the Thames.
It's small but has engaging exhibits that explain how astronomy was important to ocean navigation, which was integral to expanding the British Empire. It also explains how and why we developed the idea of prime meridean and how it moved over time as instruments became more precise.
There are also cool telescopes and a camera obscura that you don't want to miss. Also check out the Royal Astronomer's house, which has a room shaped like an octagon to facilitate star-gazing before the observatory was built.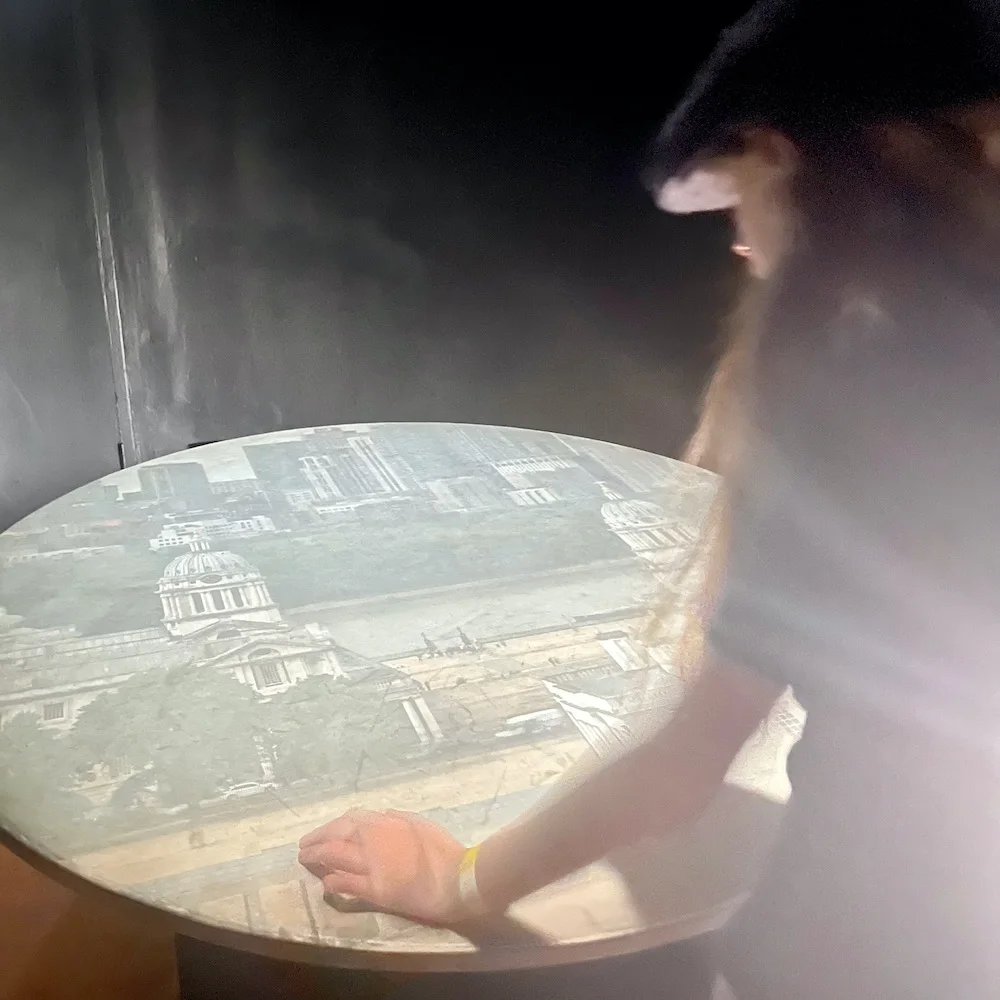 There's an adjacent planetarium but we didn't realize you needed separate tickets and wound up skipping it. We mostly saw families with younger kids headed that way.
Tip: The observatory is one of those places where everyone is taking the same photos (in front of the clock, on the Prime Meridien line), but have patience and you'll get the shot you want.
Greenwich Park is a lovely park with plenty of room for picnicking, flying a kite or kicking a ball around (though the grass was very brown when were there because of a U.K. heat wave) and it has a nice playground with a huge sand play area.
Rich wanted to go to the Naval Museum, which is free, but teen traveler and I had had our fill of museums for the day. He reported that it was much less stuffy and less focused on war than you might expect and there was quite a bit to engage kids.
While he did that we went to the Greenwich Market to buy sausage rolls and Portuguese egg tarts and look at jewelry and t-shirts.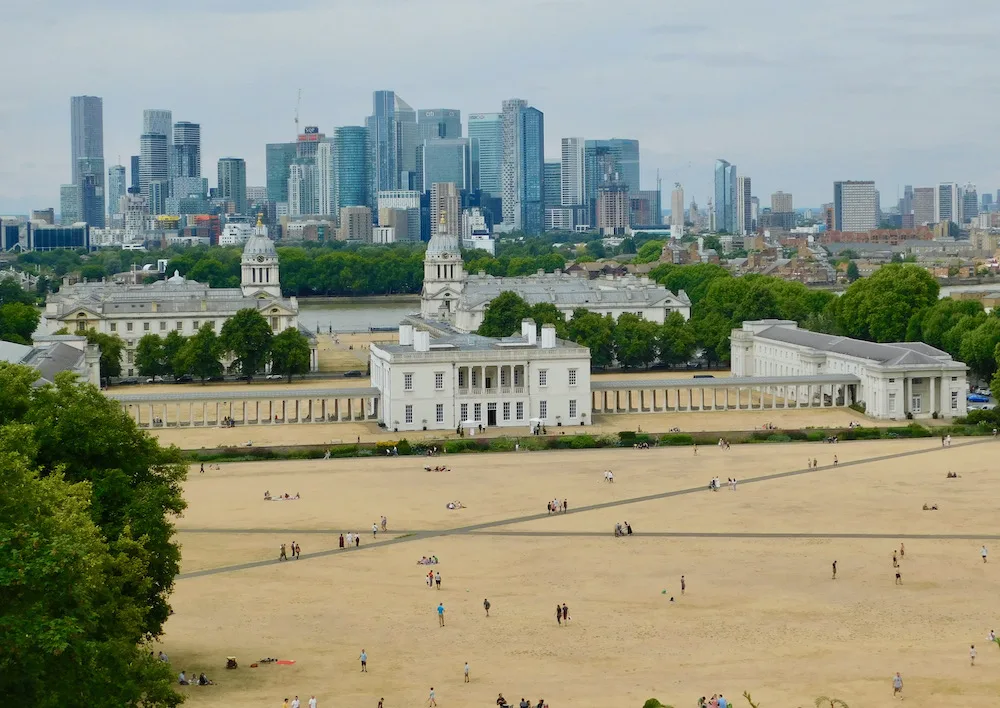 Exploring Greenwich: When you step off the boat, King William Walk takes you past the Royal Naval College campus and up to Greenwich park and the Observatory. You'll find a few pubs and ice cream stands along here.
The small but really great outdoor Greenwich Market is half a block to the right on College Way. One full block to the right is Greenwich Church Street, where you'll find bakeries, cafés, a book store, ATM and cheap dining options like Indian and dim sum.
We didn't figure this out until later and just popped into the Admiral Hardy pub near the college. But we had great food including a not-traditional but very good raspberry Eton mess for dessert.
Getting to Greenwich: It's fun to take the Uber water taxi here, which you can access with your Oyster card and takes about a half hour from the Bankside dock, where we caught it. There are stops along the Thames and on both banks.
It was easy catching a water taxi in the morning, but the wait for a return boat was more than an hour. I recommend buying a one-way taxi fare. It gives you the option to catch the Docklands Light Railway (DLR) at the Greenwich train station in the afternoon. It connects to several tube lines. You can plan all your travel on the Transport for London website.
If you aren't in a hurry you can take a scenic boat ride from Westminster to Greenwich. It takes an hour this way but offers narration that the Uber boats don't.
7. Fortnum & Mason
"I love this store!" Tween Traveler declared after about 15 minutes of window shopping.
Fortnum is a fancy-food store the sits on the border of Picadilly and St. James's. Although it was only February, we had the good luck of seeing it decked out for Easter.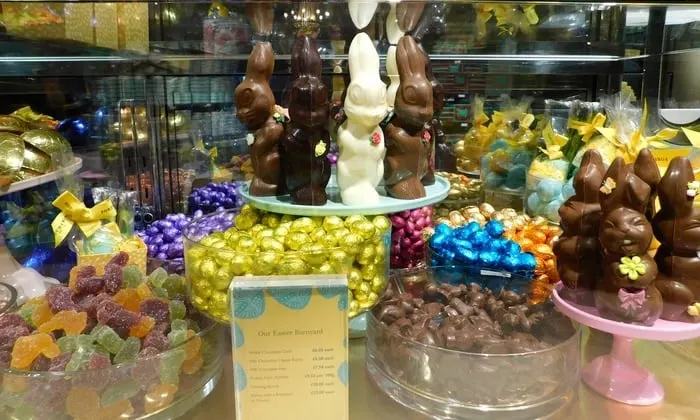 In addition to the shelves of expensive tea, exotic savories, dainty pastries and artisan chocolate there were piles of candy eggs, chocolate animals and marzipan flowers.
We spent more than a half hour looking at everything. I bought Jubilee tea in a classic green Fortnum tin. And Tween Traveler decided to dip into her souvenir money when cream puffs with pastel icing proved tempting and not too expensive.
Her recollection of that ceam puff drove her to revisit Fortnum on our second visit. Alas, they had fewer pastries than on our last visit and since it wasn't Easter, there was less candy too.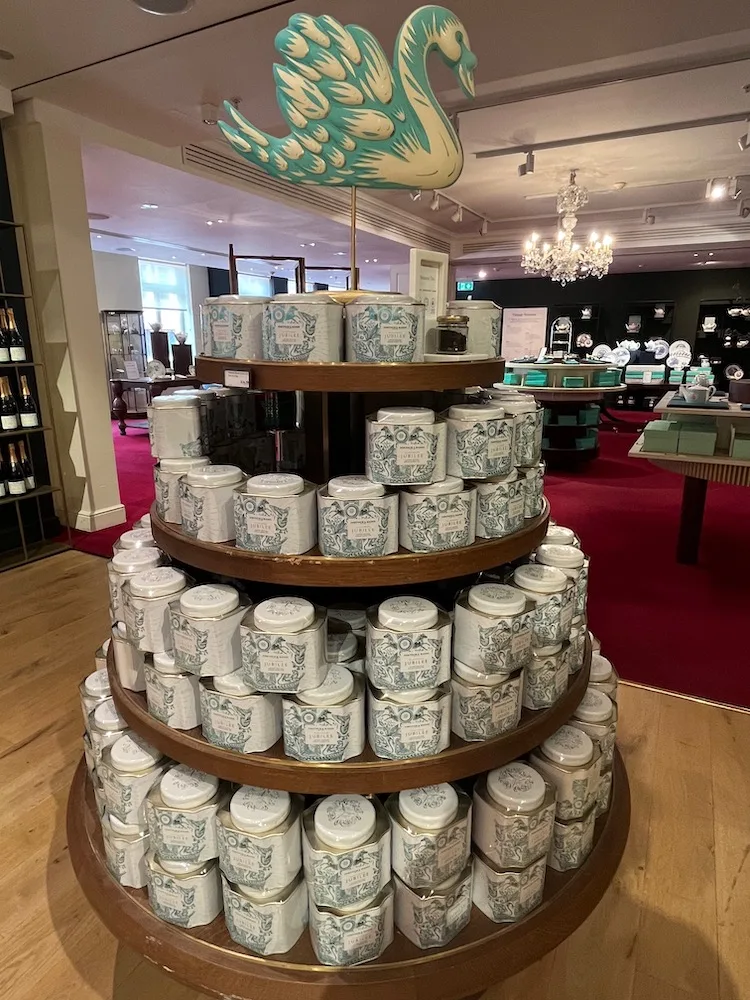 Instead, most of the store was dedicated to the Queen's 70th Jubilee, which was kind of amusing. Gold and teal colors festooned both floors. In addition to a new blend of Jubilee tea, they had jubilee cookies, jubilee chocolate, jubilee jam and even jubilee beet relish.
We bought a couple of eclairs, one covered in gold frosting, and they were as good a the cream puff.
8. Draughts gaming Café
Tweens and young teens are often night owls but evening entertainment options are still a bit limited for their age group.
On each of our trips we spent an evening at Draughts, a gaming café tucked into the vaulted arches of a train underpass behind Waterloo Station.
The location seems better suited to a rave party than wholesome family entertainment, but the café is quite nice. They allow kids under 18 until 9:00 pm.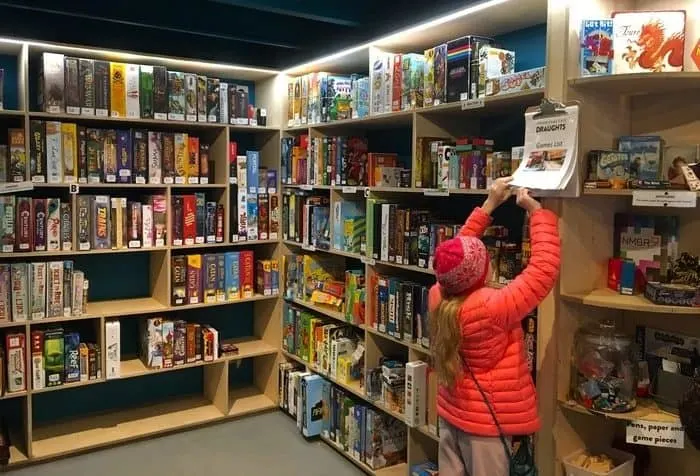 The other people in the café are usually a mix of families, groups of 20-somethings and a few people on dates.
For £5 per person you get a table for two-to-three hours and access to their library of some 400 games.
They also have a short menu of creative pub food, a bar and soft drinks. We tucked into Korean chicken wings on both visits and buffallow, calamari and fries. We Carcassone and Sagrada, two games Tween Traveler knew on our first visit and tried several games none of us had played on our second.
Our evening of food and entertainment came to just about £50 and it was a lot of fun.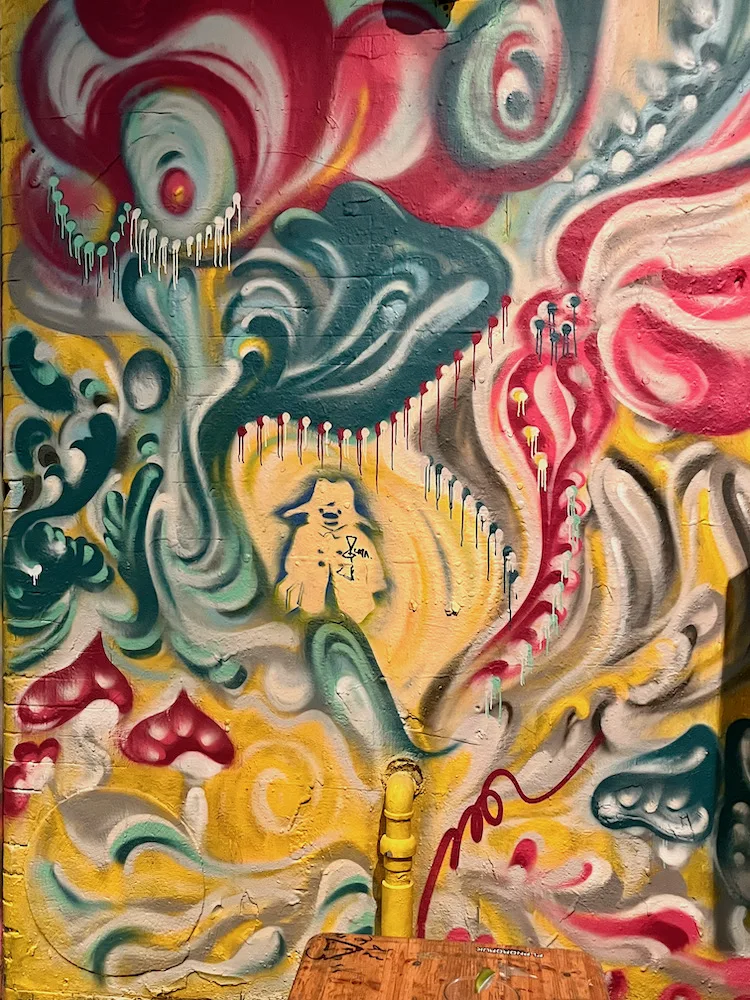 The café is located in a tunnel that has become known for its graffitti. Take a look at it some of this wonderful street art before or after your gaming session.
Tip: The place is busy, even on weeknights. Reserve ahead if you can.
9. The Museum of London: 2 Locations
Barbican in Center London
This free museum, built into the remains of the old Londinium City walls, is not a kids' museum, but it's interactive, engaging and kid-friendly, and much less crowded than other museums.
Following the exhibits in order, you trace London's history from the time when it was grassland and marshes through Roman conquest, medieval times, the plague and the great fire, through modern day.
It's two floors and takes about two hours to see thoroughly. But take three or so if you want to see everything.
The exhibits combine large murals and paintings, detailed dioramas, artifacts, clothes and digital elements.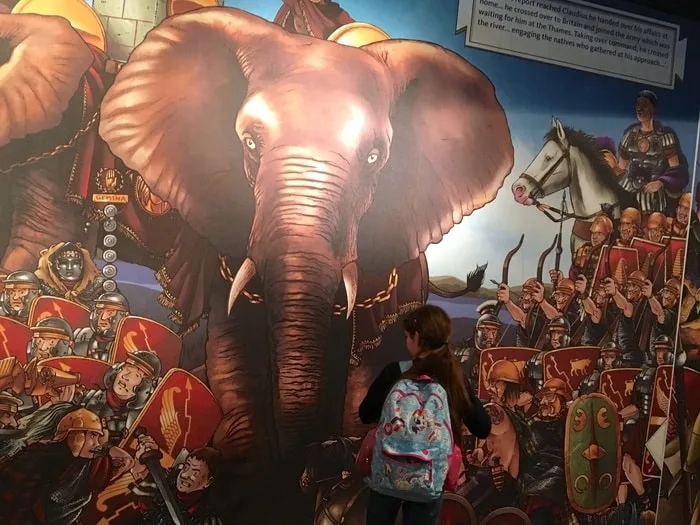 You can walk into a saxon house, a Victorian pleasure garden or a city shopping street, use a touch screen to find out the many ways water was unsafe in earlier days, and peek at a miniature model of a 1960s Hackney street.
They almost always have temporary exhibits, too. While we were there the exhibit focused on how diseases shaped the city through time, which didn't appeal to Tween Traveler at all.
The Beasts of London, a largely digital experience running through January 2020, definitely has more kid appeal.
The museum also gives walking tours of the city and of the Roman ruins beneath it.
This is another spot that has activities for kids during school breaks and on weekends. The day we were there, the staff had touch tables set up around the museum with artifacts like old coins.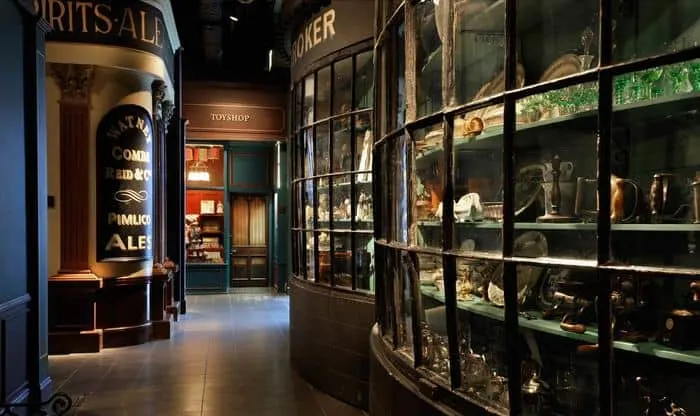 In the lobby they were letting kids make medieval shields out of cardboard. I thought Tween Traveler might decide she was too old for this, but she was game and even took time creating her own coat of arms.
Docklands at Canary Wharf
The free Docklands Museum is housed in a former sugar warehouse. It has three floors of exhibits that were surprisingly engrossing. We spent about three hours exploring the space, probably twice as long as we expected to.
The museum goes into how the London docks operated, how that evolved over time, how they affected the growth of the city and the role they played in the Empire's trading. There is an exhibit that deals matter-of-factly with the slave trade, how the growth of the domestic British economy relied on it and why it eventually fell out of favor.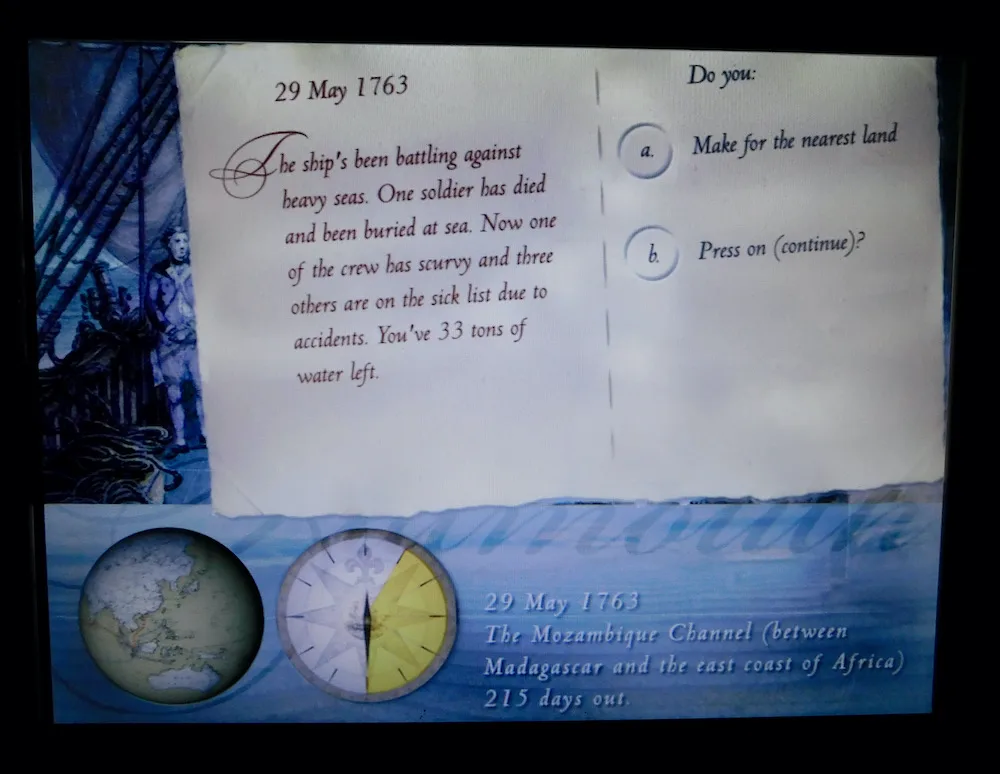 You can (digitally) navigate a trade ship from London to the Far East and back again, turn the man-powered wheel that used to be used to lift crates on and off of ships, and wander through an 18th century dockside neighborhood.
A large part one floor goes into what happened to the docks during WWII (hint: they were bombed a lot) and how the British responded to protect them. The bottom floor takes a look at the decline and eventual resurgence of the East End after WWII.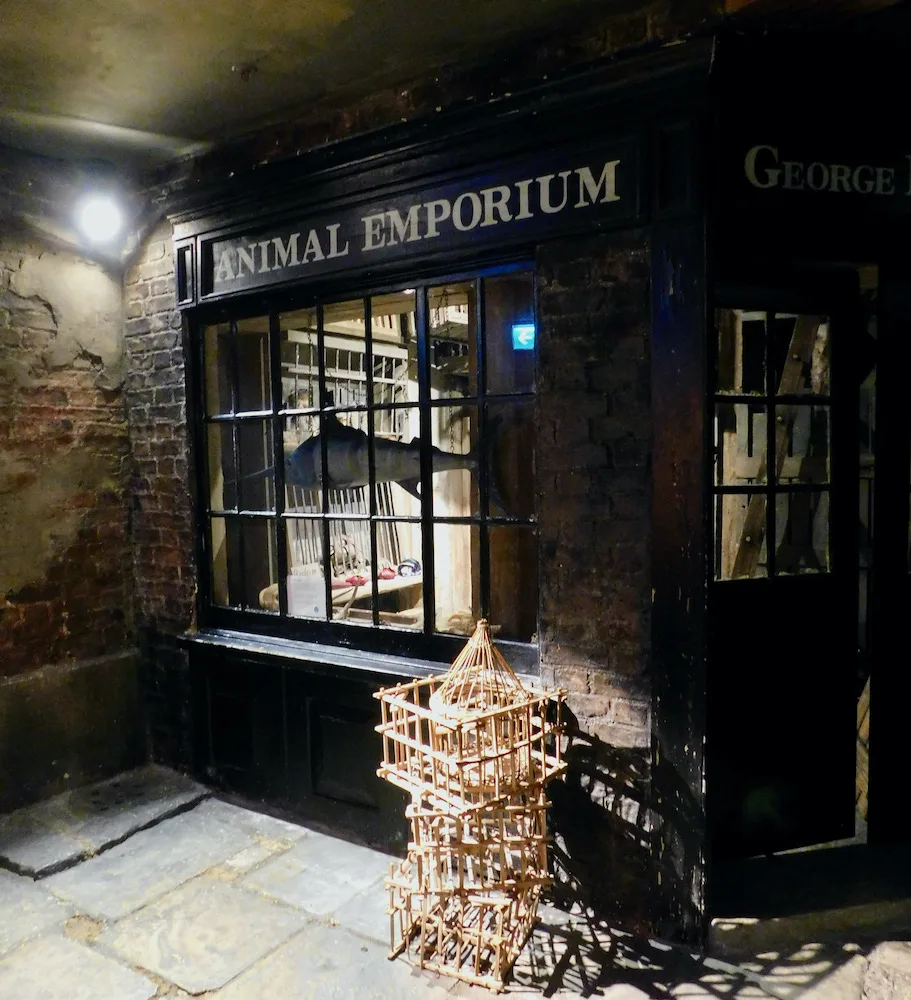 There are a bunch of first-hand oral histories of East End residents toward the tail end of things. You might be eager to get to the gift shop by then by stop and listen to them; they're worth it.
If you're traveling with kids of different ages you, know that the Docklands has the Mudlarks Gallery, a 5-and-under play space you can use with a free timed ticket that you can book ahead or request when you arrive.
Around the Museum: They are trying to make Canary Wharf a destination even when offices are closed. There are restaurants, coffee shops and beer gardens, boat rentals, a climbing center, a bar with table shuffleboard and some shopping.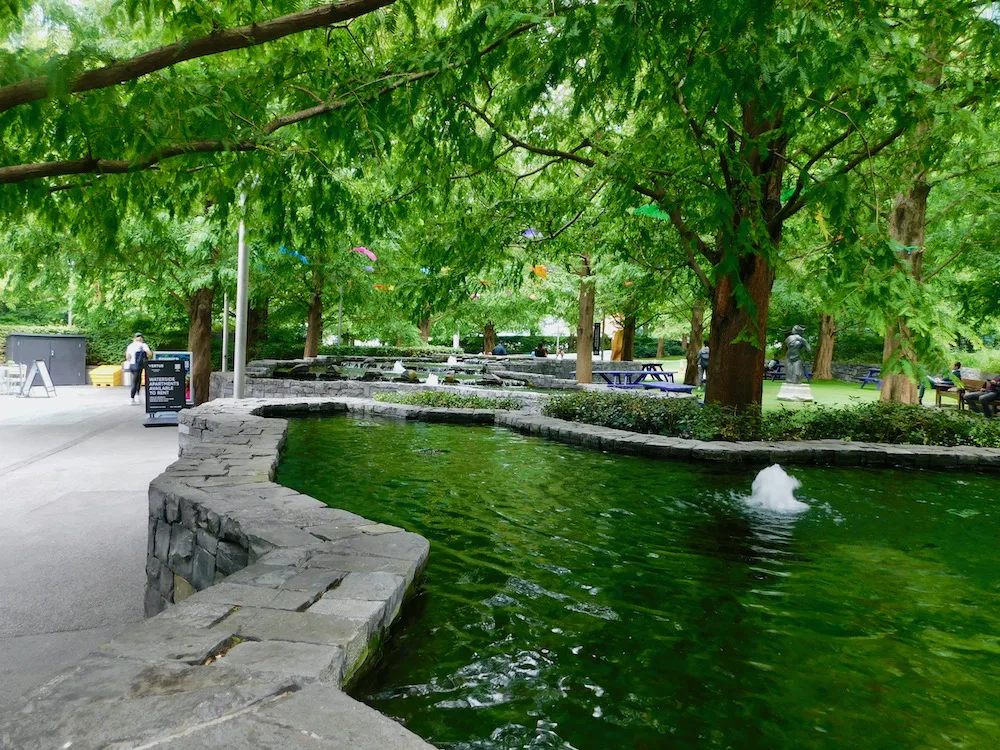 You come up out of the Canary Wharf tube station into Jubilee Park, which is sort of like coming out of the underground and finding yourself in Wonderland. It's small, pretty and whimsical; take some time to appreciate it.
10. The Churchill War Rooms
We each got to pick one thing we absolutely wanted to do on our summer trip and my choice was to visit the Churchill War Rooms. I've seen this underground warren of offices Churchill and his cabinet used uring the WWII Blitz because in movies and documentaries and wanted to see them for real.
I worried that Teen Traveler would be bored, but we all found the experience very engaging. There is a very good audio tour, which helped a lot. Teen Traveler used the same one we did, but there's a separate one for kids.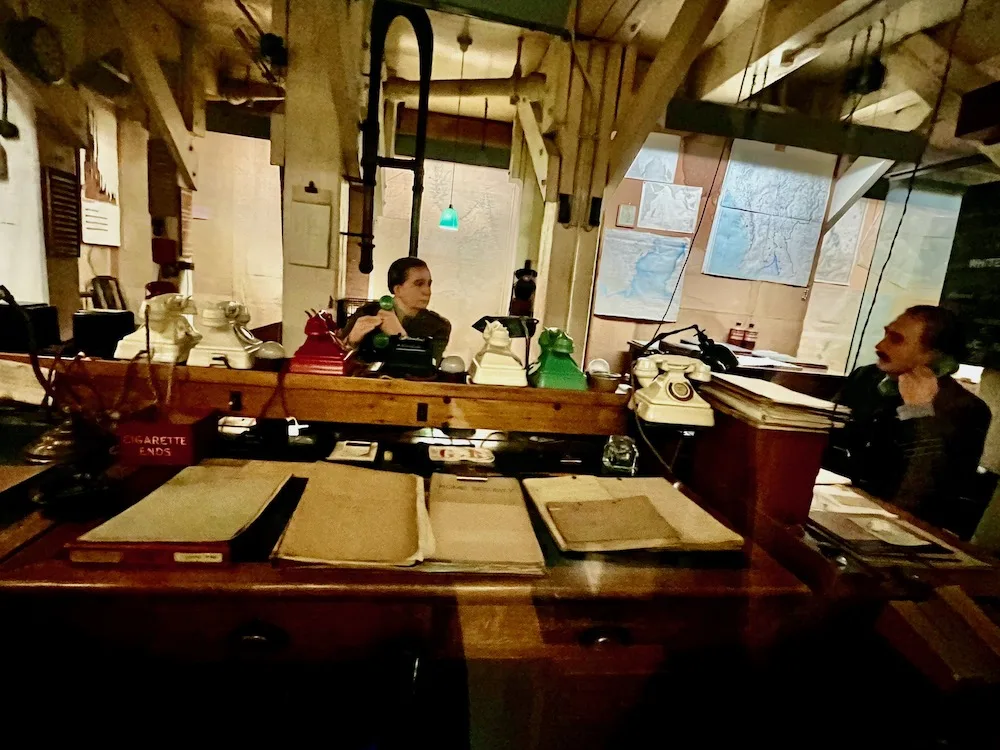 Churchill, his wife, staff and military and government advisors ate, slept and worked in these windowless spaces for weeks at a time, constantly worried about being bombed or invaded.
The rooms have been left largely in tact with desks, beds, typewriters and wall maps from the time left largely how they were when people were using them. The tour is peppered with first-hand accounts, letters and diaries from both high-level advisors and members of the typing pool.
Listening to these while looking at the spaces their talking about gave us a real "in the room where it happened" feel that brings history to life and that I think kids appreciate. Teen Traveler was definitely drawn in by it all.
There is an additional room focused on Churchill's life but we found it cluttered and not well organized. We did a walk-through but preferred to focus on the war-room part of the exhibits.
Lunch with the Spooks
Afterward, we went to St. Ermin's Hotel agan, this time for lunch. It was something of themed day, given St. Ermin's colorful history.
Winston Churchill's WWII special operations team made its home here starting in July 1940 , as did MI6. When they weren't training secret agents in sabotage, resistance and guerrilla warfare they frequented the hotel's Caxton Bar. James Bond's creator Ian Fleming drank here when he worked for the SOE. So did foreign agents hoping to befriend and turn their British counterparts (they sometimes succeeded).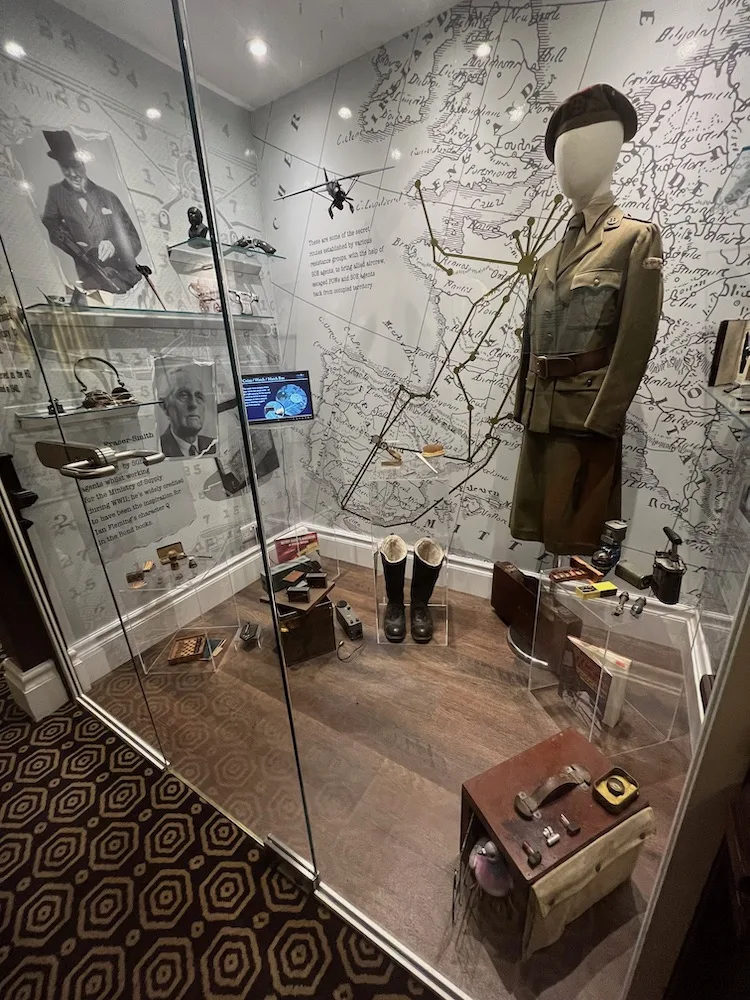 Churchill gave several speeches and press conferences at a meeting hall next door. There isn't a record of a bar tab, but the staff believe it's likely he knocked back a few G&Ts here afterward.
Fittingly, the hotel recently acquired a small collection of original SOE field equipment, which was almost certainly the inspiration for the gadgets Q dreams up Fleming's books. There's a compass hidden in a coat button, pilot boots that convert to shoe and knives hidden in everything from suitcases to hair brushes.
You can buy a book that delves into St. Ermin's cloak-and-dagger history in the hotel gift shop. Kids even get their own secret agent file when their families stay at the hotel.
The Caxton Grill is a bright and airy dining room adjacent to the bar. If you're in the mood for something a little fancy it has a lovely, well-priced prix fixe lunch. It's summer menu leans toward both sides of the Mediterranean.
Rich and I both had appetizers that used summer tomatoes, his in a burrata salad and mine in a light tortilla soup. His roast chicken and Teen Traveler's cauliflower and couscous both had Moroccan flavors. My squid risotto and roasted broccoli rabe conjured Southern Italy. Teen Traveler couldn't resist a side of duck-fat roast potatoes and you can be sure there were no leftovers.
11. Neighborhoods
We like getting away from the heavily touristed areas of a city and exploring the residential and ethnic neighborhoods if we can. This is always a bit hit and miss with kids, but we usually manage to find something everyone likes.
Portobello Road
We arrived in Notting Hill late on a Saturday afternoon and wished we had been able to give it more time. There is a lot to explore here. We spent our limited time at the Portobello Road market is a mash-up of antiques, vintage clothes, original maker items, food vendors and some activities for younger kids.
It was winding down somewhat when we arrived. But still, we all found things to interest us and it makes for fun window-shopping. Tween Traveler and I bought really cute handmade cloth headbands that you can reverse the fabric on for two differen looks.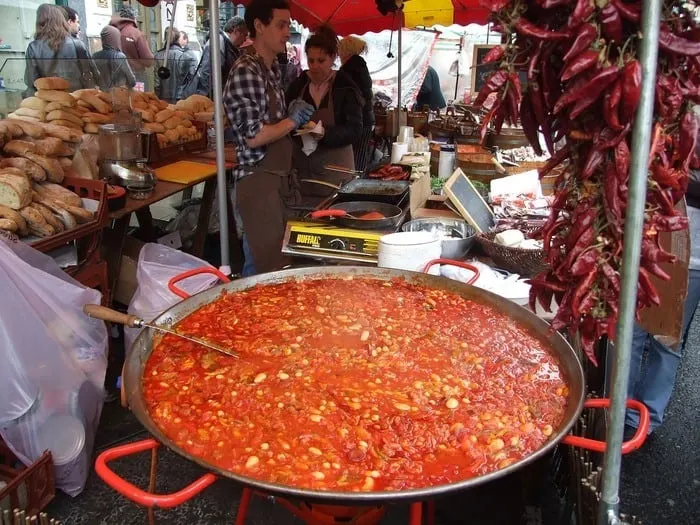 In addition to the street vendors, there are plenty of pubs and cafés along Portolbello road and the streets around it. Unfortunately there was a huge rugby game happening that night and most pubs were full to brim with the crowds watching it.
Luckily we found 7 Saints, a small bistro two blocks off of Portobello. It's one of those places that balances upscale food with a casual neighborhood vibe. It didn't have a kids menu.
But the small seasonal menu had gnocchi and roast lamb, which tween traveler likes. And they were willing to do plain pasta for us.
I'm not sure I would recommend for every family. But Rich and I really enjoyed the food and friendly service, and thought it was the perfect last-night-of-vacation treat. it was worth improvising a bit to feed our picky child.
Shoreditch
We also had a fun day exploring Shoreditch and Spitalfields, which offer up a lot of fun things to do. They're full of ethnic food, cheap cafés, lots of street art and an ecclectic group of shops and markets
We started at the Shoreditch BoxPark, a collection of quirky shops and food vendors set up in a pile of shipping containers. Upstairs there is a food court set up around common tables.
There's even a playspace for younger kids to do activities while parents linger over a beer. Our Tween was a bit too old for it.
But she enjoyed looking at some of the shops, especially the "gift" items at Gift Box and Play Box (bow-ties for your dog, obscure Pez dispensers, political mugs, etc.) and the tiny notebooks at Papersmiths.
Next we made our way down Brick Lane, which is now a mash-up of Indian and Pakistani restaurants and shops, old Jewish delis and hipster boutiques.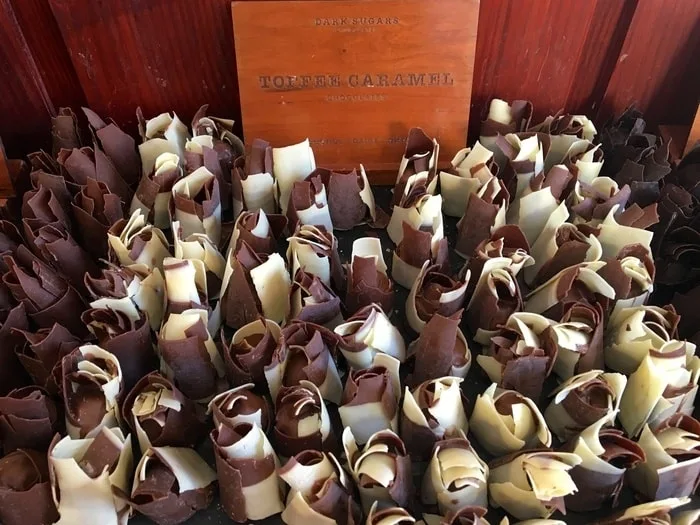 We sampled chocolate in a beautiful African chocolate store and admired the rainbow colored baked goods in an alternative bakery.
There is an indoor/outdoor Brick Lane Sunday Market and the Sunday Upmarket just down the block in an old Brewery building. We've heard good things about them, but weren't there on the right day.
We ended our walk at Spitalfields Market, where the food vendors are packed at lunch time with young workers from nearby offices. The variety of food stalls was amazing, ranging from made-to-order pasta and Chinese dumplings to American-style pulled pork and African jollof. We were a little sorry that we weren't hungry because everything looked and smelled good. On our return visit duringn the summer we made a point of having lunch here.
The high-ceilinged Victorian market has vendors selling antiques, trendy clothes, jewelry and accessories. On our first visit Rich and Tween Traveler poured over a stall selling antique weaponry and we all perused a stall selling rare books. Neither was there when we returned but it was a week day and several stall were empty. We suspected some vendors only show up on weekends.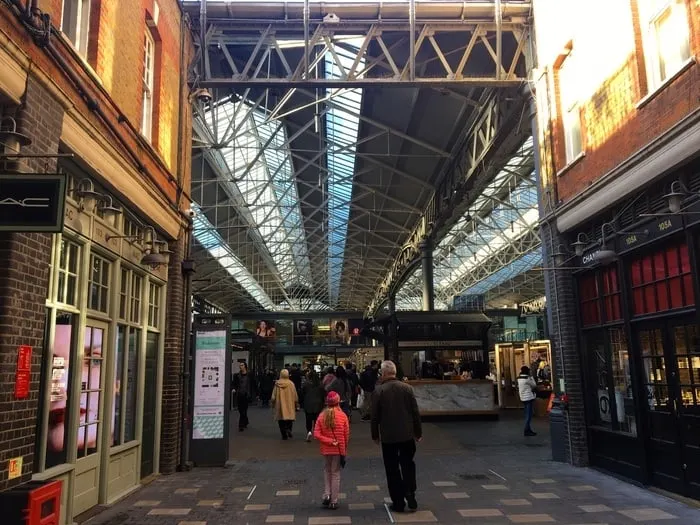 Despite all the food around us at all the markets, we actually had at breakfast at a place called the The Book Club, an airy space that's popular for coffee meetings with the creative workers in the area.
Rich had eggs with salmon, I had avocado toast and Tween Traveler had a scrambled egg with bacon. The coffee was good and prices were fair. And our breakfasts were filling enough that we didn't bother with lunch.
A tip for cellular service
For most of our travel outside the U.S. our cellular service charges us $10/phone/day in roaming fees. This adds up, even when we agree that only one of us can have roaming service at a time. So I was very happy when a fellow traveler writer introduced me to Airalo. It was a where-have-you-been-all-my-life moment.
Airolo is an app that provides virtual SIM cards, so you can access a local cell network without having to replace your actual SIM card and risk losing it. In most international locations now I can all the data I need for about $5/phone/week.
For $15, all three of us can have full use of our phones for a weeklong trip, instead of $70 for one of us to be able to. Big difference! Will I be using Airalo for all our overseas trips from now on? Yes, I will.
Pin it for later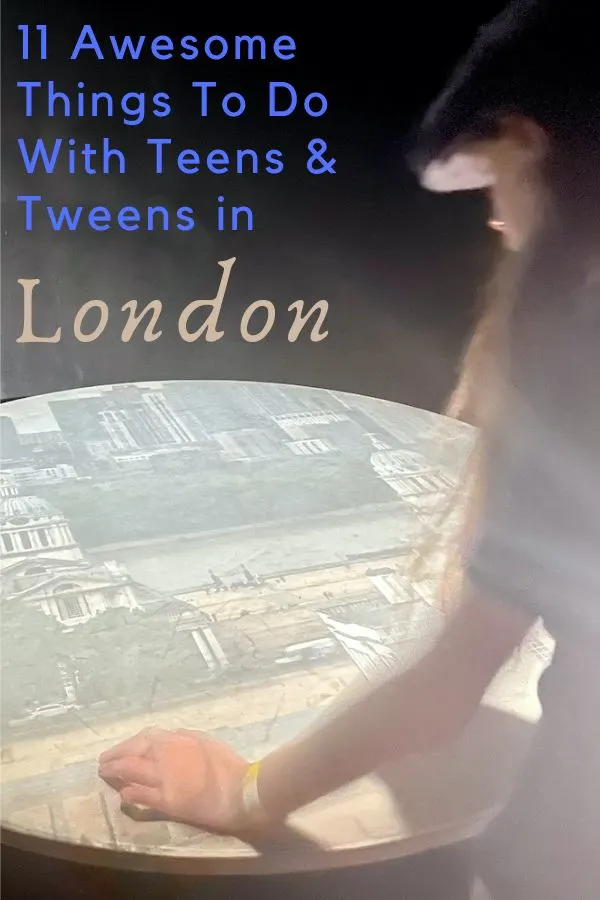 * All photos are propery of FamiliesGo! except the cast of The Mousetrap (Visit London), the Victorian street (Museum of London), Portobello Road Market (Oren Majar/Pixabay) and the hotels (Hilton and Novotel, respectively.
* St. Ermin's Hotel hosted our afternoon tea, our lunch and a tour of the hotel. We did not agree to any particular coverage in exchange for the meal and our opinions are always our own.
We used points to pay for our stay at the Hilton Bankside.