Rich and I enjoyed 48 hours of couple time in Dublin, Ireland this summer. It felt pretty sophisticated after 15 years of family vacations and the odd romantic weekend not far from home!
You know that you have reached a new stage of family life when your vacation involves rendezvousing with your teenager in Europe after she has spent three weeks on a summer program with other American teens. That's exactly what we did after our three days of adult-time.
Dublin is a great destination for a kids-free couple weekend. While you can't see everything, you can get a good feel for the city in three days. And you can take advantage of the excellent restaurants and vibrant pub scene to give your 48 hours a decidedly grown-up feel.
Here are some ideas for where to stay, things to do and interesting places to eat and drink.
You might Also Like
•10 Romantic Getaways Planned by Busy Parents
• 12 Things To Absolutely Do With Teens in Ireland
• A legend-filled day trip from Dublin
The Perfect Romantic Dublin Hotel
We normally prefer to stay in local hotels but the stylish Morrison Dublin, a Hilton/Curio hotel, is hard to beat for couple time. It's right across the Millennium Bridge from Temple Bar, which gave us the convenience of a location in the city center without that neighborhood's noisy nightlife.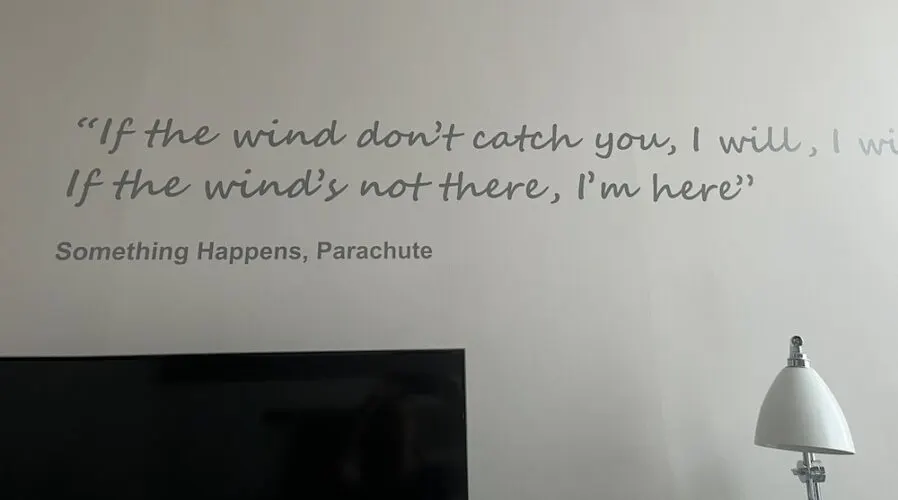 This boutique hotel feels urban and cool, while still being comfortable. It has excerpts from Irish literature and music scrawled on the walls and lots of big windows, high ceilings and natural light. Our relatively compact king-bed room had a spacious feel thanks to those details.
It was comfortable, with a built-in couch, room to keep our suitcases out of our way and a sleek modern bathroom. A small box of truffles appeared in our room on the first evening of our stay; good chocolate will always score points with me.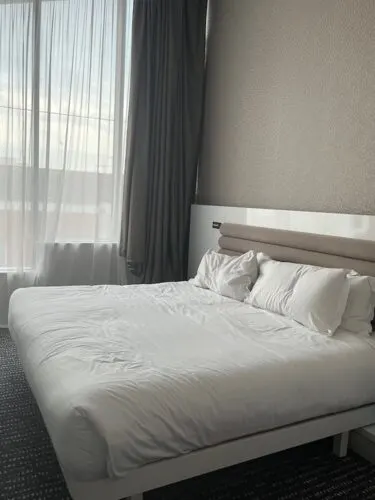 The room rate includes a breakfast buffet, where you can assemble a full Irish fry up if you want to, or just choose your favorite parts of it, which is what I did.
They didn't have brown bread, an essential morning food in Ireland, in my opinion. But they had Guinness stout bread, a more-than-okay substitute. They also had mini meat pies and the usual cereal, yogurt and pastries.
If a buffet breakfast isn't your thing there are a handful of coffee shops, bakeries and cafés between the hotel and O'Connell Street Bridge.
Your Plan For 3 Amazing Days of Fun Dublin Activities for Couples
Welcome to the New Dublin
I spent nearly a month in and around Dublin as a teenager. I returned for a couple's weekend about 15 years later and then again this summer.
Dublin has changed dramatically in the past 30 years and mostly for the better. On my first visit the city had a lot of bland boiled food and a steady exodus of highly educated, underemployed young people.
By 2000 its E.U. membership was allowing Ireland to become increasingly prosperous. Dublin was holding on to its workforce and stylish restaurants were opening, helmed by chefs that took pride in Ireland's wonderful local meat, dairy and produce.
Today Ireland's capital city is a global city. It has a robust tech sector, it imports labor from other E.U. countries and you can find food from all over the world.
I still want a newspaper cone of fish 'n' chips when I'm in town. But we could easily have chosen French, Japanese, Chinese, Thai or Italian food had we wanted to. I never got around to buying a "99"* because I was too distracted by all the gelato and artisan ice cream in flavors like Irish brown bread and chocolate whiskey.
So it's not surprising that there were quite a few new things to do since our previous visit.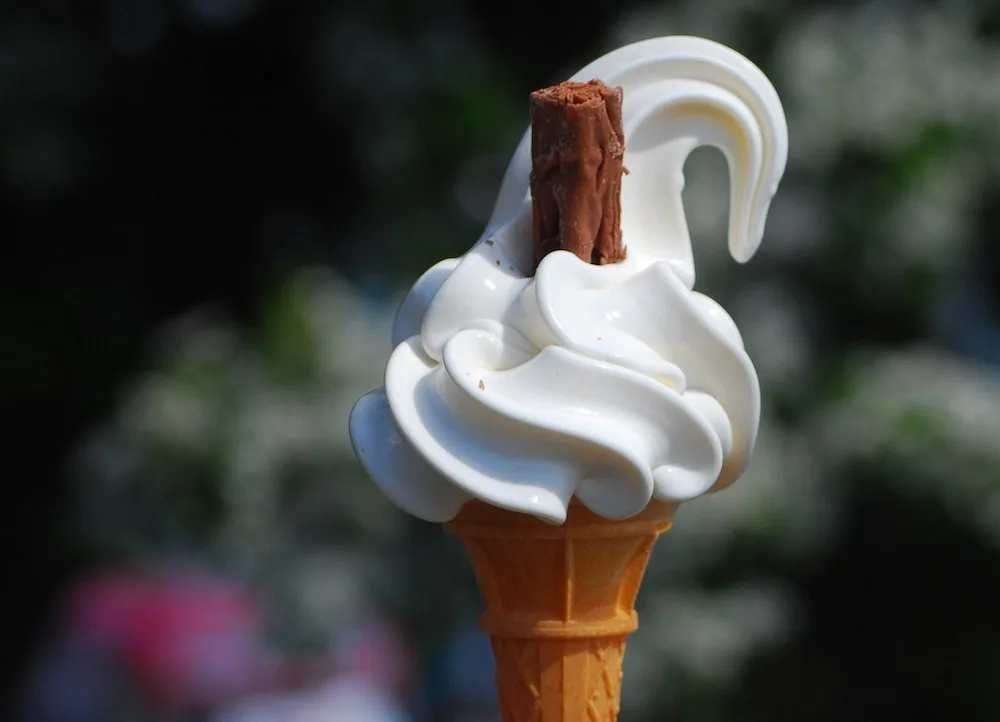 *Note: A "99" is a soft-serve ice cream cone with a Cadbury chocolate Flake tucked into it. It's a quintessential, inexpensive Irish treat available from ice cream trucks and shops all over. I love them, but it was hard to resist the full-fat artisanal stuff.
2 Unique New Museums To Explore
The Epic Museum:
Teen Traveler raved to us about the EPIC: The Irish Emigration Museum, and made us feel we had to see it. We were glad she did.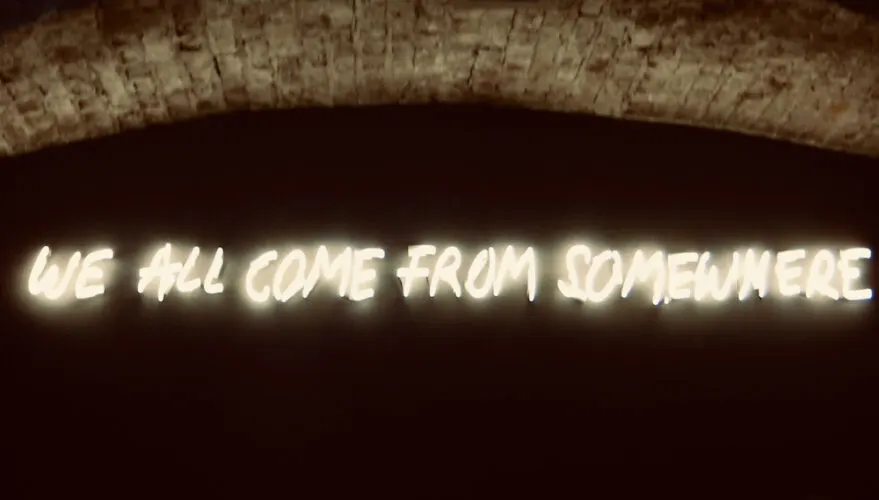 Founded by a former CEO of Coca Cola (and an Irish emigrant) Epic is housed in a former Dockside tobacco storehouse. Its high-tech and highly interactive permanent exhibit tells the "epic" tale of Irish emigration, examining the impact it has had both on Ireland and the many places the Irish immigrated to.
There is a certain amount of celebrating every famous Irish emigrant in history, which is to be expected. But it's easy to look past that and appreciate the story being told.
Your journey starts in a luggage room where you're given a passport that guides you through exhibits on history, politics, science, sports, music, movies, theater and more. Teen Traveler enjoyed seeing large number of Irish women who are accomplished scientists and mathematicians.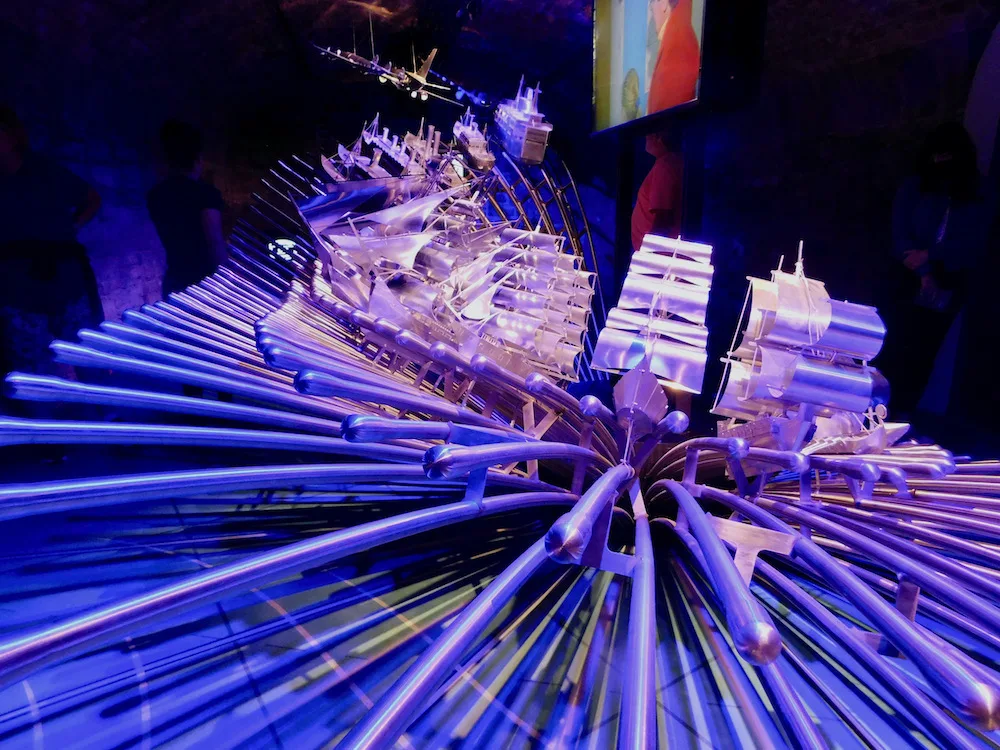 I enjoyed the opportunity to revisit some of my favorite actors and musicians and learn some interesting footnotes to Irish and American history.
Depending on how in-depth you get with the exhibits give yourselves at least 90 minutes and up to three hours here.
Around the Epic Museum:
Lunch Break: The information-desk person at Epic recommended the Harbourmaster pub to us for lunch. It's a nice old stone building—a former harbormaster's office—and has gorgeous wood and glass fixtures inside. It was busy at lunchtime and the food was nicely presented.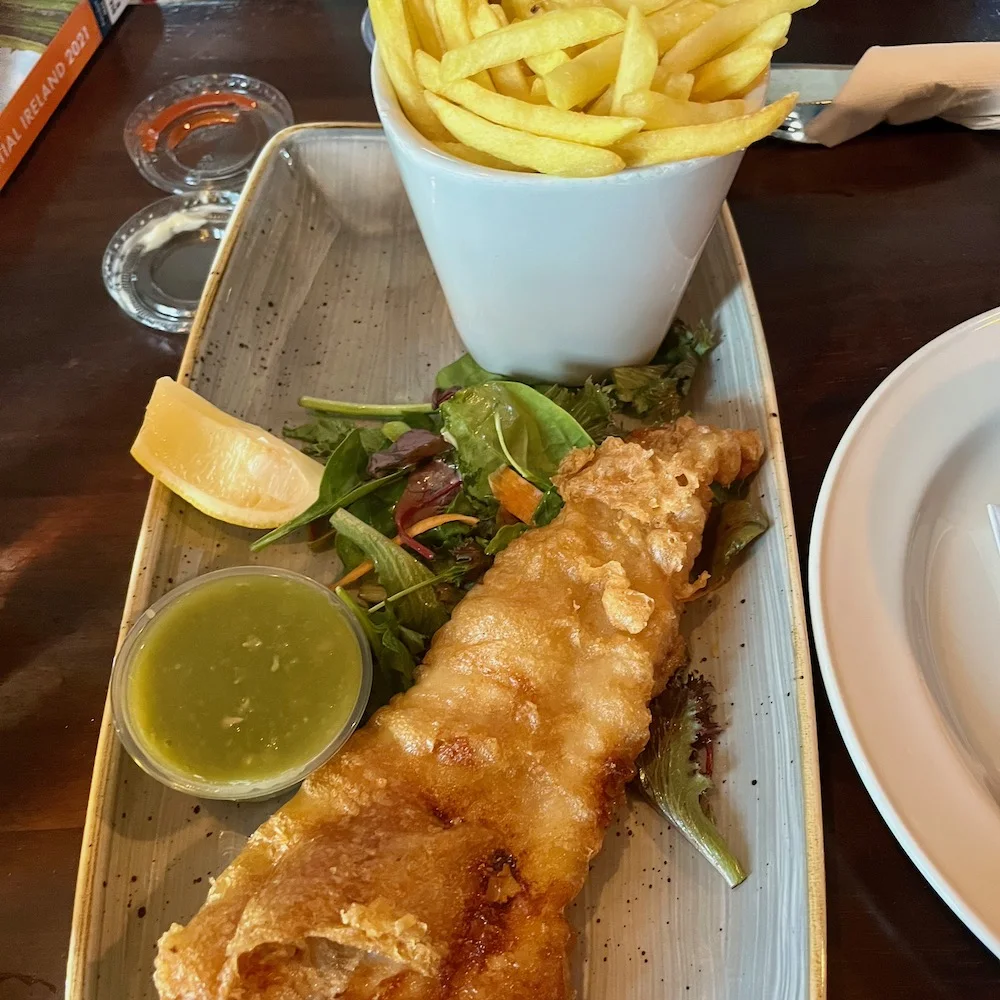 We had a chunky, creamy fish chowder that was excellent. Our fish 'n' chips came with shoestring fries, not proper chips, but the fish was fresh and the batter crisp and it had mushy peas and a salad alongside.
Urban Brewing is in the same building as Epic. It also features the storehouse architecture and puts a modern, global twist on local Irish ingredients. It was a toss-up between there and the Harbourmaster. I hoped to get back there to try their beer and have a snack but we never made it.
Along the way: On the way to Epic you'll pass the Customs House. It was completely burned to the ground during the Irish War for Independence because it held all the records the British needed to manage its colony. The entire building was never rebuilt, but the parts that were match the previous building almost exactly.
You can visit for free and the first two floors have exhibits on the building's history and architecture.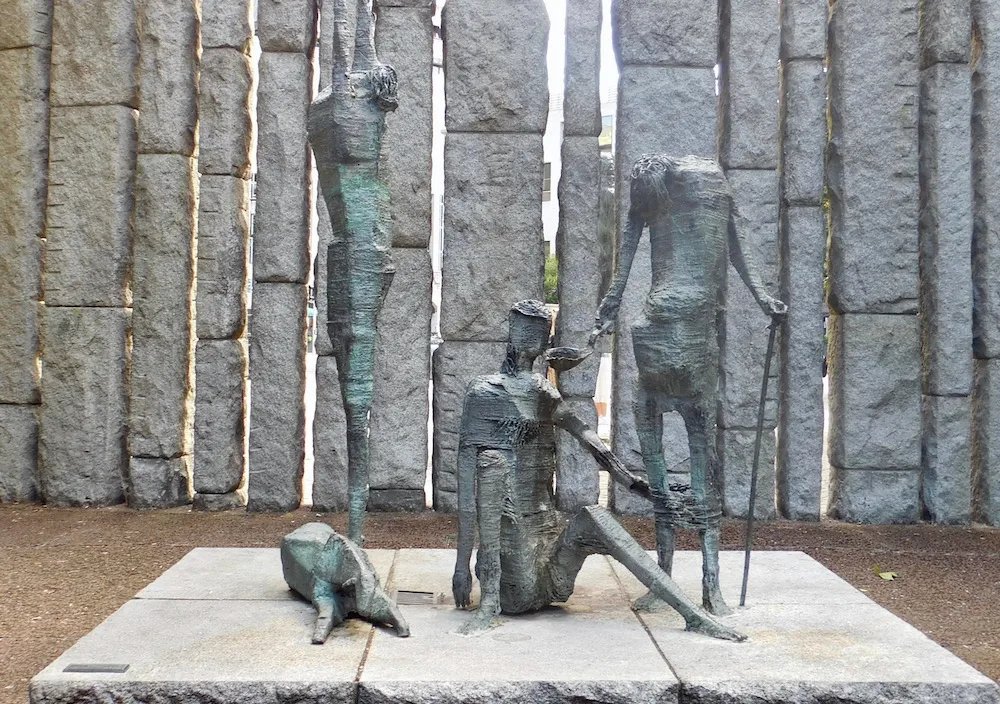 Near the Customs House keep an eye out for the stark, haunting Memorial to the famine that killed or displaced a quarter of the population in the 1880s.
And just beyond Epic is the Jeanie Johnston, a replica of the sailing ships that carried emigrants away from the famine. We skipped the ship, but you can get a combination ticket that includes Epic and the ship.
After you've done all of that, cross the elegant Samuel Beckett Bridge (top) that resembles a harp and a ship's sail. Make your way over to the Grand Canal to appreciate the fast-changing Dockside neighborhood.
Take a good look at the Bord Gáis performing arts center and plaza designed by Daniel Libeskind to resemble the ships' masts and guideposts of Dublin's busy harbor. I really liked it; Rich didn't like it at all. It's that kind of building. When you're ready you can make your way back to Temple Bar along the river or via Pearse Street.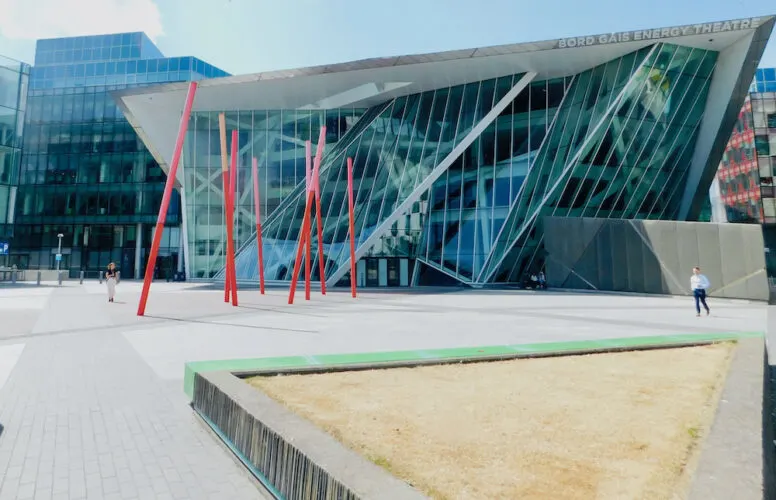 Beer break: Before heading back toward Temple Bar we stopped at The Ferryman, a cozy pub with friendly bartenders and large beer selection near the Sam Beckett Bridge. They claim to have an extensive selection of Irish whiskey but it was a bit early in the day for that.
We perched on outdoor stools with a couple of local beers. The mix of tourists and young tech workers passing by made for good people watching.
There is another place called Dockers directly across the river from the Jeannie Johnston that is stylish and a bit upscale with cocktails and food. It looked promising, but we didn't stop.
Literature Museum
The Museum of Literature is in a former UC Dublin townhouse on the south side of St. Stephens Green. It was on my must-see list for this trip because I'm an Irish literature geek and they have the very first copy printed of James Joyce's Ulysses.
Rich was doubtful about a museum built around the solitary pursuit of reading. But we spent nearly two hours here and were surprised at how engaging it is. There was a room that explored James Joyce's life and the role Dublin plays in his books. Alongside that copy of Ulysses they had some of Joyce's notes and early drafts (he revised like crazy).
Another room had artifacts exploring how Irish literature influenced Irish politics and vice versa.
And a small exhibit explored the idea of inspiration. We could pick up a series of old-fashioned phones and listen to modern Irish writers talk about how they find inspiration. I really enjoyed hearing from some of my favorites, like Roddy Doyle.
They also have changing exhibits. And the docents are happy to field questions about the exhibits, the building or Irish literature in general.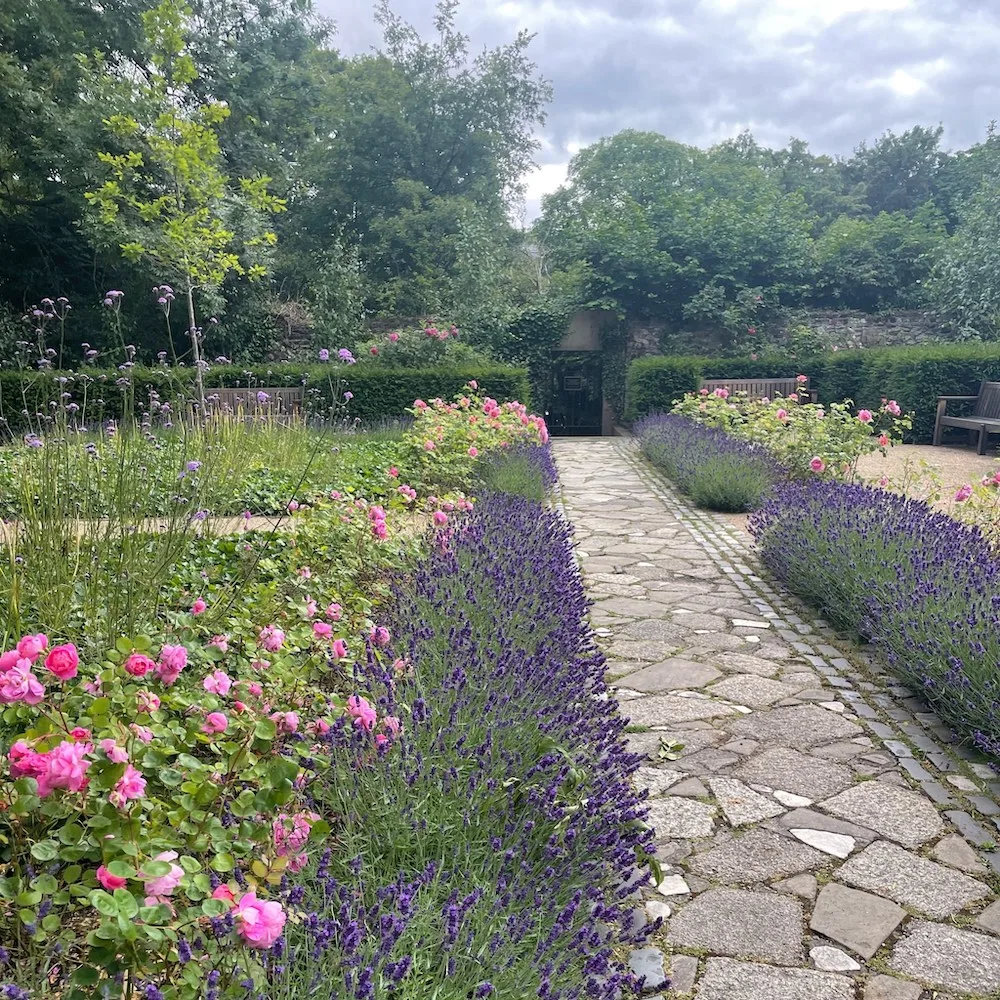 If you visit on a nice day leave time to explore the gardens out back. They are extensive and lovely with paths to wander and shady benches to sit on while you contemplate all the great writing this small city has produced.
Lunch break: The museum has a pleasant café with good food. We sat on the terrace and had homemade lemonade, cheese toasties and tomato soup; the perfect light lunch.
Tip: This is a relatively inexpensive museum and they give discounts for families or a parent-child combination.
You Might Also Want To Read
• The Best Dublin Day Trip To Do With Kids
Shopping in and around Temple bar
Dublin has fun shopping.
• If you love books (clearly I do), you have to spend time in Hodges Figgis, a huge store. Most of the first floor is devoted to Irish history, travel, mythology and both classic and modern fiction. The basement has used books. And the two upstairs floors have everything else, including an academic department for Trinity students.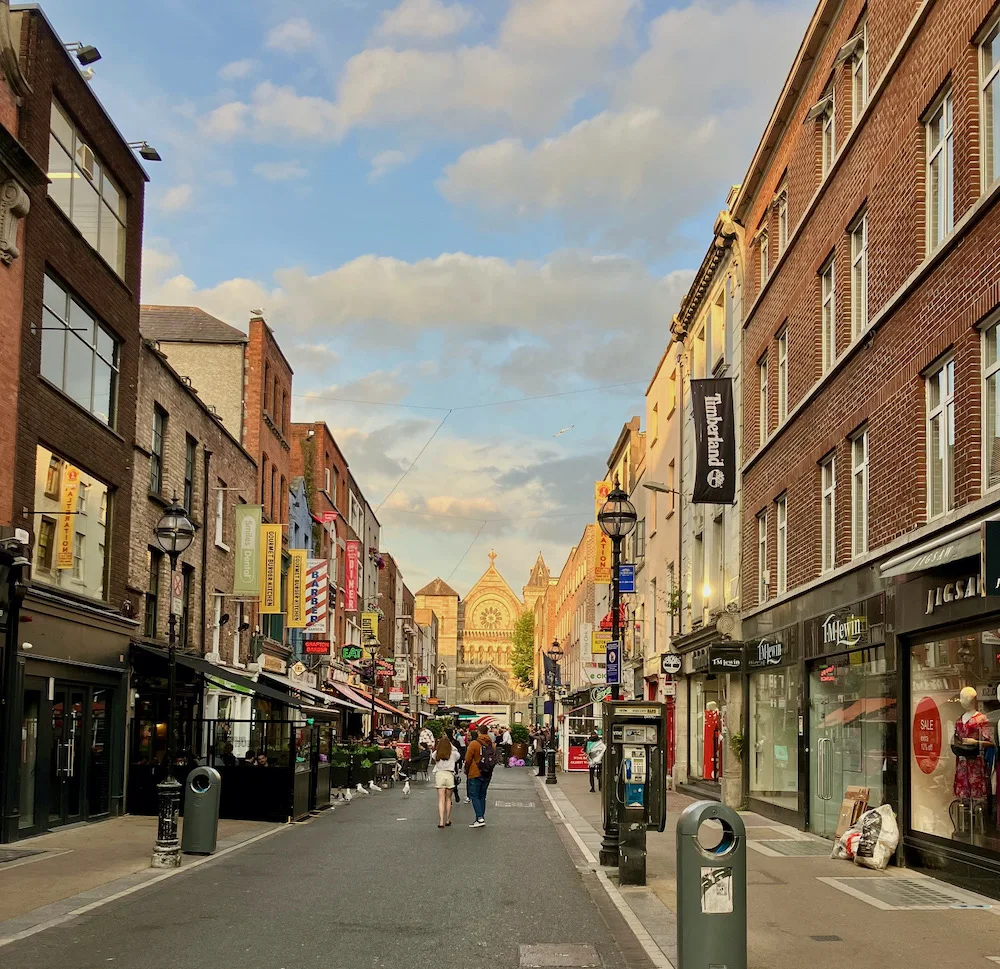 There's been a Hodges Figgis in Dublin since the 1760s (it's mentioned in Ulysses). It's largely retained its own personality and lovely building even though it's now owned by Waterstones.
• The smaller Dubray Books and ages-old Ulysses Rare Books, with its collection of first editions, are nearby.
• Around corner on Nassau Street you'll find Kilkenny shop, which has a hodgepodge of made-in-Ireland products. Some are touristy — hand-knit sweaters, crystal, Christmas decorations—but you'll also find clothes and jewelry by modern designers and locally made beauty products with ingredients like North Atlantic seaweed.
• Grafton Street is historically the city's main shopping street. These days it has a lot of chain stores, but it's a pedestrian zone that always has very good street musicians and a lot of activity.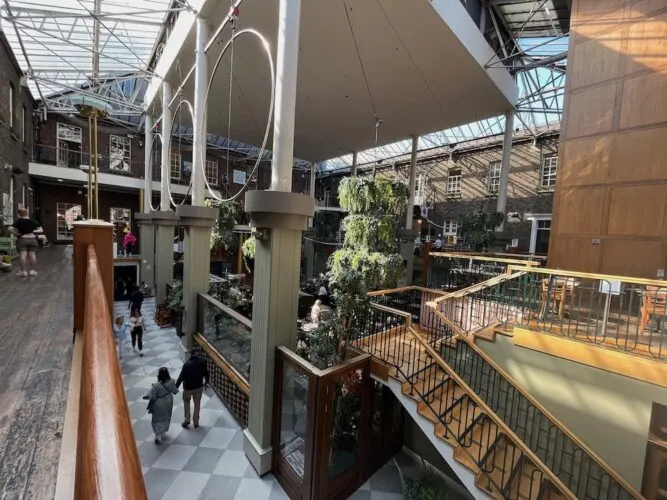 • Powers Court Centre runs from Clarendon to Williams streets, alongside Coppinger Row. It's in a Georgian townhouse that is considered one of the most elegant and elaborate in Dublin.
It's filled with luxury boutiques. But even if you don't shop there, walk to the very interior of the Centre and look up. It was once an inner courtyard and has a glass ceiling, marble floors, elegant staircases and greenery everywhere you look. It's quite something.
• After Powers Court make your way along Drury Street Castle Market and it will bring you to the back of George's Street arcade. The shopping here is far more affordable and definitely a little funky. Think: used records, vintage clothes, locally designed clothes with global influences and the requisite vegan restaurants.
The arcade was built in the 1890s to give everyday Dubliners an elegant shopping experience. It's a bit cramped inside but try to find a good vantage point to appreciate the tile floors, hanging lamps, arched windows that let in light, and the metal work and terra cotta trim. The red stone exterior is so nice it's hard to believe it's always been a shopping center.
• Cross George's Street from the arcade and you'll come upon Designist, the sort of household-goods store they only have in Europe and that we love to browse.
We admired fun cabinet knobs, dishware and glasses, perused nice stationary and laughed at amusing bathroom accessories— including a toothbrush-holding bunny— that we don't need but absolutely wanted to buy. You can pick up Harry-Potter-style reading glasses and cheap umbrellas, too. I doubt anyone walks out of this store with nothing.
Dublin Restaurants: Two amazing dinners
We had two excellent, sophisticated dinners at two very different modern-Irish restaurants. Either will remind you that you are sophisticated, fun-loving adults in addition to being parents.
• The Winding Stair was down the block from our hotel and just looked interesting, so we chanced walking in on the early side without a reservation and actually got a table. It's a small room at the top of a winding stair. It has big windows, which provide nice light early in the evening as well as views of the Liffey and the city beyond it.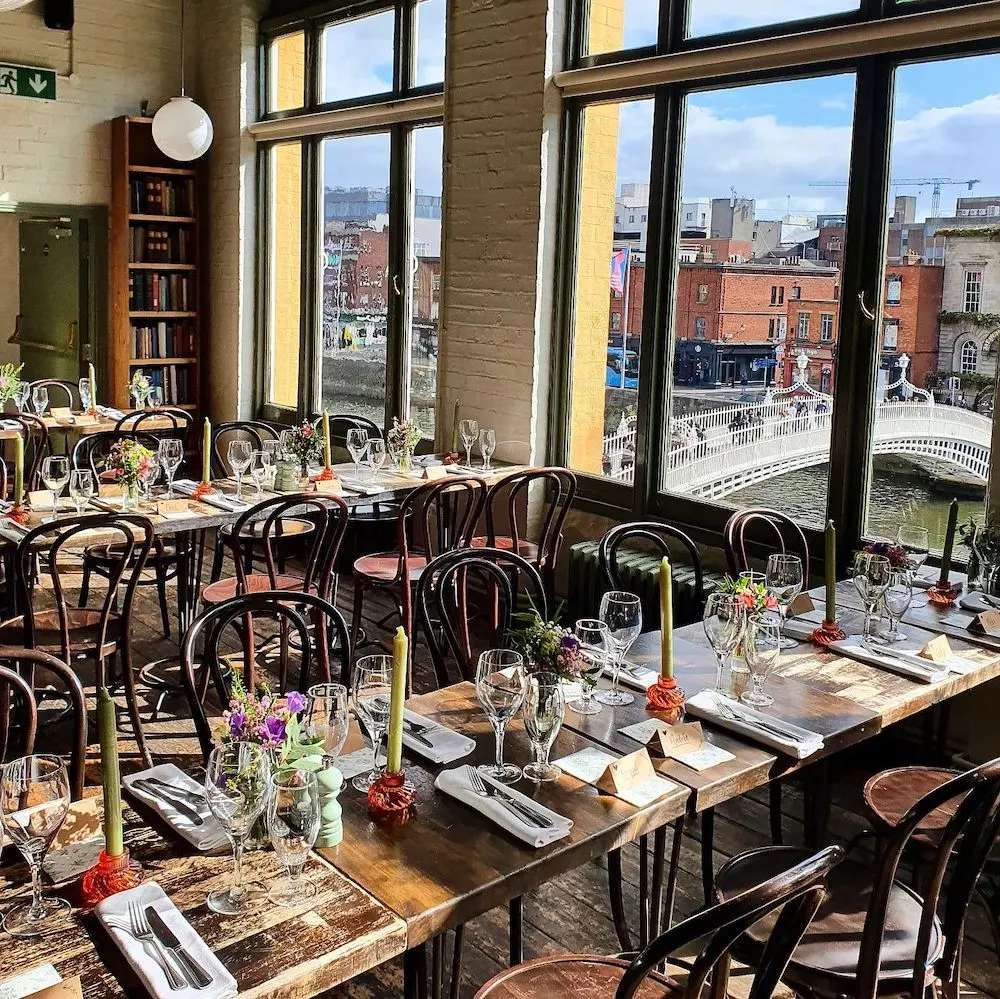 It turns out the Winding Stair dates back to the 1970s when it and a downstairs bookshop were a gathering spot for local writers and musicians. It almost closed in 2005 but a new owner revived it and created a menu focused on local Irish produce with as much as possible made in-house.
We mentioned to our waiter that it was our first night in Ireland and he replied that we were setting a high bar for the rest of our meals there. I was taken aback, but the decided I liked the pride he took in the restaurant where he worked. Also, he was right.
We did what we often do and shared a bunch of appetizers so we can try more things. The potted crab, one of the items they're known for, was creamy and full of sweet, fresh crab meat. We spread every last bit of it on the fresh bread it came with.
A scotch egg had a thin, very crisp coating of local sausage and a soft yolk. It wasn't greasy or heavy and it's what every Scotch egg should be. The charcuterie board was distinctly local and all good.
We finished with a ginger-pear cake that we ordered because other people were eating it and it looked good. It was spongy and moist and had an autumnal mix of flavors that would be perfect for a Thanksgiving dessert.
• On our second night we went to Fade Street Social, which is on the edge of Temple Bar just off a street with several popular restaurants including a sushi place and steak house. Fade Street was in some ways the exact opposite of Winding Stair. It was big, a bit loud and felt as trendy as the other restaurant felt timeless.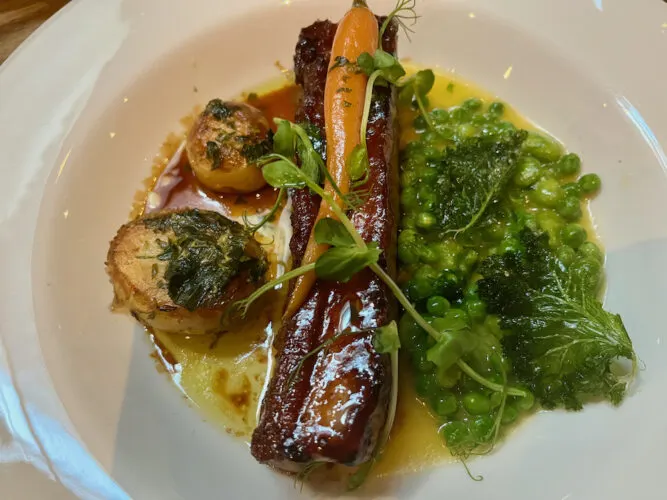 But none of that is to detract from it. The service was good. We had fun, well-made cocktails like my Fade Street sour, and fresh, raw Dublin Bay oysters that were as good as they're known to be. They make good use of a wood-fired oven throughout their menu.
Rich had roasted sea bream with crisp and pureed artichoke. I had roasted pork belly with summery green vegetables. Both were nicely presented and very good.
Pubs & Music in Temple Bar
• On our previous visit we did a nighttime literary pub crawl, which I highly recommend. Local actors take you to some of the older but quieter pubs away from Temple Bar that have connections to Irelands many writers. You settle in with a pint and they recite selections of literature and tell tales about the pubs and writers. Beer, history and literature: what more could you want?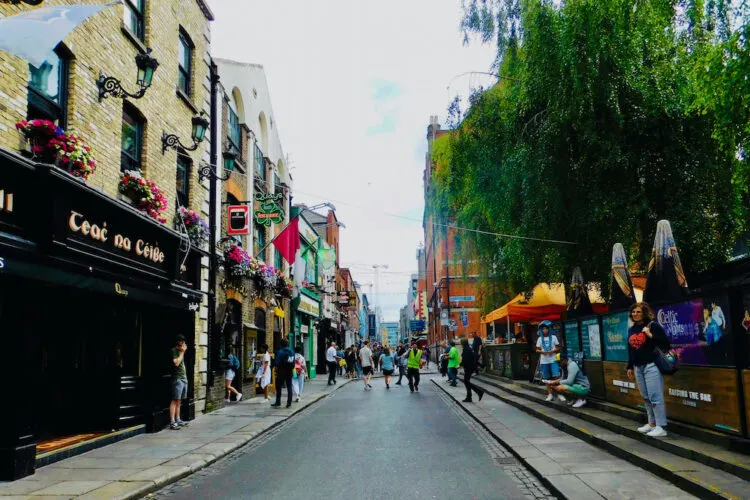 There is a lot of music throughout Temple Bar at night, but you're more likely to hear bands covering the Proclaimers and Bruno Marz than you are to hear them channeling the Clancy Brothers.
You have to hunt a bit for traditional music. And for an informal traditional seisiún you'll have better luck in the afternoon or at pubs away from Temple Bar, in areas like Merrion Square and even Ranelagh.
• We spent part of our second evening in the Oliver St. John Gogarty. At the corner of Fleet Street and Bedford Row. It has two different semi-traditional bands playing upstairs and down and the place can get rowdy but in a generally good-natured way.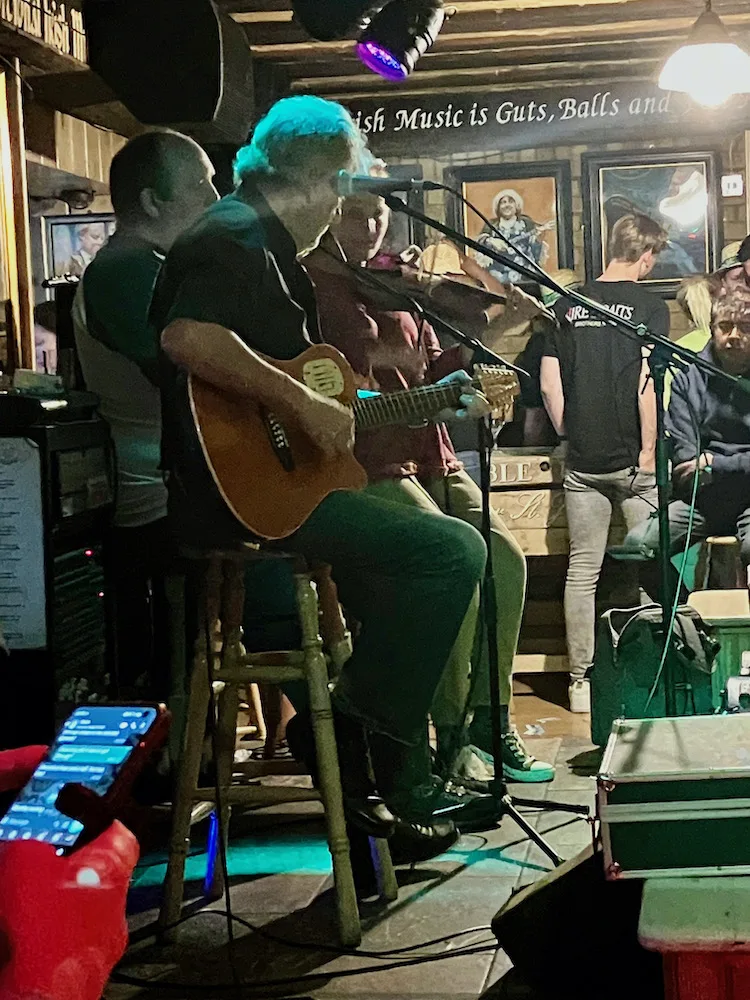 The band we saw were playing traditional instruments but a mix of Irish, American country and crowd-pleasing standards. It wasn't entirely what we were looking for but the crowd was enthusiastic and the band was good. We had a fun time.
• We popped into Fitzsimmons Temple Bar at Eustace and Essex street because a band was indeed playing the Proclaimers' 500 Miles and the crowd seemed to be having a lot of fun.
The FitzSimmons has a roof deck and a second-floor lounge. Both are pleasant if you want a quieter spot in Temple Bar during the late-night craziness. We stayed for a few songs, leaving after a rousing chorus of Sweet Caroline.
• For a quiet drink and conversation visit the Palace Bar, a beautiful Victorian pub on Fleet and Westmoreland streets. Plenty of people pop in for a pint but it's known for its extensive selection of Irish Whiskeys. The bar tenders know their stuff and are friendly even when they're busy. Even so, their knowledge is probably best enjoyed at 3:00 in afternoon when it's quieter.
The back room has a lovely skylight; pop back there to take a look even if you can't find a seat (which is unlikely at night). Pairs of bar stools are separated by fancy wooden dividers, giving you a sense of privacy in crowded place. The details in the woodwork, lighting, ceiling trim and windows are lovely.
• We also stopped in to J.W. Sweetmans, on the south side of the river, just east of O'Connell Bridge. The draw was that they make a half-dozen of their own beers. We had their red and blonde ales, which were flavorful, well-balanced and not overly hopped. They have a good selection of other local beers and ciders, too. The food going by looked good, especially the sizeable hamburger.
Essential Things to do on a First Visit
• The most popular tourist attraction in Dublin—and no doubt the most fun thing to do— is the Guinness Storehouse. We showed up at 4:00 in the afternoon without tickets and the bouncers all but laughed at us (the taxi driver who took us back to our hotel did laugh at us).
The main attraction for us was the opportunity to have a Guinness in the glass-enclosed rooftop tasting room, which has lovely city views (so we've heard). You can only visit the tasting room as part of the tour, and we were very bummed we didn't have a chance to see it.
Definitely do this and definitely book your tickets ahead. Or see Guinness and Jameson together on a tour.
• It's also best to buy tickets ahead to view the Book of Kells at Trinity College. The Long Room where it's kept is absolutely beautiful and home to College's oldest books.
The Book itself is easily the best surviving Medieval illuminated manuscript anywhere in Europe. It dates to the 9th Century and contains the four Gospels of the New Testament in Latin with Irish scrollwork and elaborate illustrations throughout.
Tip: You can pair your Kells visit with a tour of Trinity by a student, if you like or with a visit to Dublin Castle.
• Dublin's compact center makes it an ideal place for a walking tour. There are several well-respected free tours that will provide an overview of the city's history from the Vikings, through the Easter Rebellion and War for Independence, to modern Dublin. If you're short on time or want to focus on specific things, you can also book a private tour.
Theater in Dublin is world-class and inexpensive. Don't leave without seeing a play. Two leaders of the Irish Renaissance created the Abbey Theatre in 1904 to be Ireland's National Theater. It stages a repertory of classic and modern Irish plays and always has something on that's worth seeing, often with prominent Irish or British actors.
The Gate Theatre has been in its current home since 1930 and it strives to support new voices. Its choice of plays tends to be more experimental and cutting edge. Come here to see who the next great Irish playwright might be.
The Gaiety is a Venetian-style theater built in the 1870s to resemble continental Europe's opera houses. It's steps from St. Stephens Green and tends to host popular crowd pleasers. Riverdance is often on stage during the summer. At other times you might see a Martin McDonagh drama, a Harry-Potter spoof or Disney's Aladdin.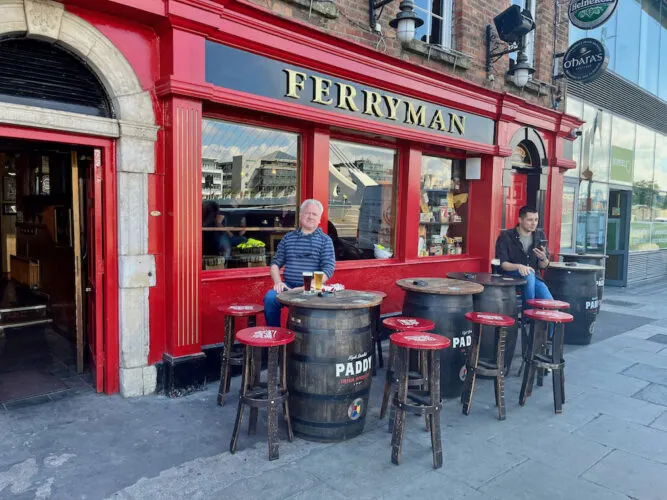 Practical Information
Flying Into Ireland
Ireland has two International airports, Dublin Airport and Shannon Airport in Limerick. Many people who plan to road trip around the country fly into one and out of the other. Dublin Airport is a bit bigger and handles more flights to and from Europe. Both have plenty of trans-Atlantic flights.
You'll have to shop around a bit to see which airport is cheaper to fly into and out of for your travel days.
On your return to the U.S. you'll go through U.S. customs and immigration in Ireland. To be comfortable figure this will add a up to 30 minutes to how long it takes to get from curb to gate (though we were through in ten minutes).
Getting To And From Dublin Airport
There are inexpensive buses that will take you downtown, probably reasonably close your hotel if you're staying in the city center.
But we gave in to jet lag and caught a taxi from a queue outside the terminal. Cab fares are reasonable. And Dublin cabbies know their city without relying on Google maps. Cab drivers knew our hotel off the top of their heads and even knew the car rental office we wanted to go to without us having to provide an address.
Tip: Lyft doesn't operate in Ireland and Uber can only hire licensed taxi drivers. It functions as a cab-hailing app and you'll pay the same rates as you would hailing a on the street or having your hotel call one for you.
Renting a car in Dublin
I wanted to pick up our rental car in town on the day we were heading to Killarney. I thought it would be wise to have a couple of days to shake off our jet lag before we had drive an unfamiliar car, possibly with a manual transmission, in an unfamiliar place, while driving on the opposite side of the road.
I researched car rental rates extensively using Kayak, and I changed my reservation 3 or 4 times as I found better deals.
Keep in mind roads in Ireland are often narrow, as are parking spaces in garages and lots. Opt for the smallest car that can comfortably hold you and your stuff to decrease the odds of bringing it back with a small dent.
Your rental rate is likely to be higher if you want an automatic transmission or if you plan to pick up and drop off in different places. At the rental counter the clerk was asking customers if they plan to drive into Northern Ireland. So that might incur a surcharge, too.
Despite all of this, with some hunting I managed to find an in-town rental— with an automatic transmission — for less than an airport pick-up would be. With gas prices high last summer it actually made sense for us to pay the fee to bring the car back empty and we did.
Time & Weather in Dublin
Ireland is on Greenwich Mean Time, the same as the United Kingdom. They are five hours ahead of Eastern Time and also change their clocks for daylight saving.
June and July are the sunniest months in Ireland. The temperature can get up into the 80s in June, July and August. But count on days in the 60s and 70s, too. And count on rain.
What To Pack
Pack a waterproof shell that you can layer underneath as you need to, and a light scarf. Sturdy shoes are handy because you'll walk a lot and the cobblestones are hard on your feet, If you're staying for more than a weekend and traveling beyond Dublin you'll be glad to have a pair of light, quick-drying hiking shoes with you.
The Irish are laid back and will never make you feel out of place because of your sartorial choices. But Dublin is a major European city and people dress stylishly for the office and to go out in the evening.
Guys will want to bring khakis and a button-down shirt for going to dinner or the theater. Women will want at least one dress or dressy two-piece ensemble. Whether you want to deal with heels on all those cobblestone streets is entirely up to you. I opted for flats.
A tip for cellular service
For most of our travel outside the U.S. our cellular service charges us $10/phone/day in roaming fees. This adds up, even when we agree that only one of us can have roaming service at a time. So I was very happy when a fellow traveler writer introduced me to Airalo. It was a where-have-you-been-all-my-life moment.
Airolo is an app that provides virtual SIM cards, so you can access a local cell network without having to replace your actual SIM card and risk losing it. In most international locations now I can all the data I need for about $5/phone/week.
For $20 both of us could have cell service for our whole two-week trip, instead of $140 for one of us to have cell service at a time. Big difference! Will I be using Airalo for all my overseas trips from now on? Yes, I will.
Pin it for later!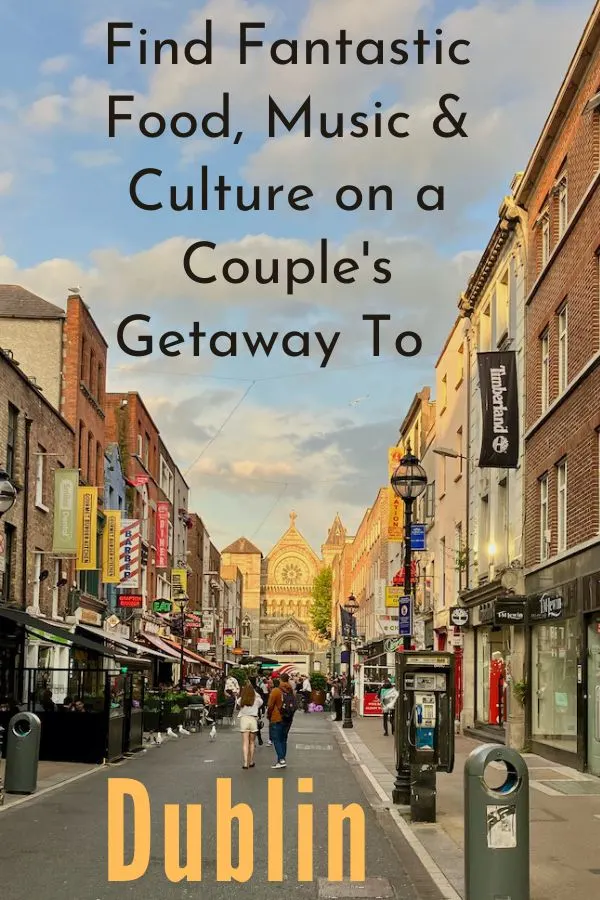 All photos by Richard, Teen Traveler or Eileen for FamiliesGo!© except the 99 (Creative Commons) MOLI gardens (courtesy of the museum) and The Winding Stair (courtesy of the restaurant).