Like many American sun-seekers I had never heard of the Caribbean Island of Guadeloupe.
Then a Guadeloupian mom at my daughter's school spent an afternoon telling me about the rainforests, waterfalls and volcanoes, beautiful beaches, world-class marine reserve, and French-creole cuisine.
It sounded like Hawaii with French cooking, and there is absolutely nothing bad about that. So when friends spotted a very good winter break deal there, I jumped at the chance to check it out.
It was every bit as charming and scenic as I hoped. Now that the secret is getting out, here are ten things to know about visiting Guadeloupe's two main islands of Grand-Terre and Basse-Terre with kids.
Guadeloupe Is The Caribbean's Best Kept Secret:
Here's What You Need to Know For a Winter Getaway Here
1. Guadeloupe has direct flights from the US
My first question in planning our tip was how to get there. The French Islands don't seem to have asmanny flights from the states as other Caribbean destinations.
Jet Blue has direct flights from New York City to the capital city of Pointe-A-Pitre several times a week from November through April. Air France and American Airlines have year-round flights from Miami, which is a pretty easy connection to make. And Air France and Air Canada have year-round flights from Montreal.
2. Guadeloupe has great local resorts
Aside from a Club Med, we didn't see brand name mega resorts on Gaudeloupe, and I think this is a good thing.
Club Med is also the only true all-inclusive, but you can expect the hotels to include breakfast with your room and many will offer full board as an option.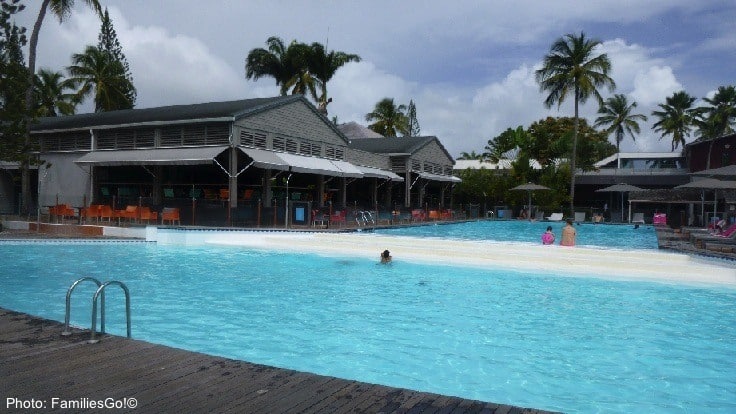 Our resort, La Creole Beach had pool, beach, good restaurants, live music at night, a water-sports desk and an excellent kids club. But it had only a few hundred rooms, a local feel and real charm.
An ample breakfast buffet is included in the room rate, and you can choose an all-inclusive meal option, which Europeans prefer. We opted for breakfast only because like to explore the local dining scene and most of the restaurants we happened upon were pretty reasonable.
At the Ti-Moun kids club there were usually 6-10 kids and 3 adults. A big friendly counselor with dreadlocks always greeted my daughter by name.
One day the kids colored sand with paint and did art with it; on another they made crocodiles with lanyards and beads. She also got to play Uno in French with the other kids.
3. Guadeloupe is French
The island is part of France. Bring Euros and your electric outlet adapter.
It's not been a popular U.S. destination (though that might be changing) so some people speak a little English; many don't. If you don't speak French, download a translating app.
If you put your child in a resort kids club, expect her to be surrounded by French kids. This was a great opportunity for Tiny Traveler, who is learning French in school. It was not so good for her English-only travel companion who skipped the club.
Savings: Europeans take it for granted that breakfast will be included in almost any hotel stay. Expect to be fed in the morning—we ate very well— and to not pay extra for it.
4. Guadeloupe has gorgeous scenery
It's essential to spend a day exploring rain-forest-covered Basse-Terre.
Hiking to the top of the volcano and back takes three to four hours. We didn't do it with 8YOs but other parents said their 10YOs loved it.
The volcano, hot springs and big waterfalls in the south are all away from the main road and don't connect to one another; plan for a long but no doubt worthwhile day.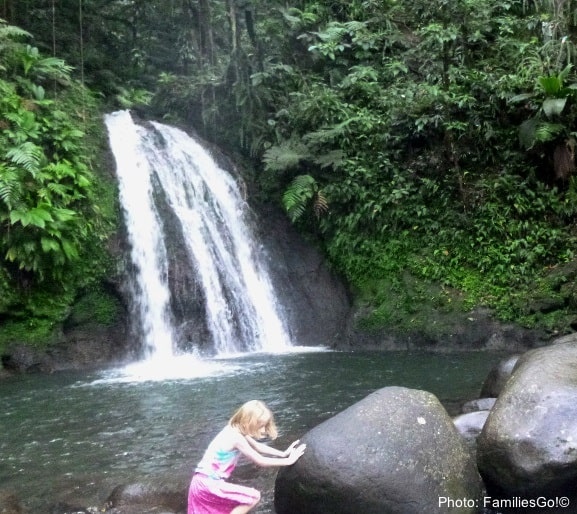 We drove across the island's middle, stopping to wade in a small waterfall and then heading to Plage de Malendure (above) and Pigeon Island, with its marine reserve made famous by Jacques Cousteau.
We hoped to visit a chocolate plantation, too, but ran out of day too quickly.
5. Guadeloupe has easy driving, but…
We rented cars on two separate days and found driving around the island pretty easy. Signs were clear, roads were good and local drivers followed rules we could recognize.
We were told repeatedly that from our hotel in central Gosier it was an hour to the islands' furthest points.
But that timing does not account for the steep and winding one-lane roads on rain-forested Basse Terre or the congestion in the popular tourist towns on Grand Terre.
We saw maybe 2/3 of what we hoped to each day. We could have used two more days to do all the sight-seeing we wanted and still have pool time.
Cost: Renting a so-so minivan at the airport was $140 for a day. The concierge got us a better minivan delivered to the hotel for $85 a day.
The lesson: the airport is not necessarily the best place to rent and your concierge might know where the local deals are. Of course the best bet is to shop around before you arrive.
---
Planning a Guadeloupe vacation?
• Check TripAdvisor for the best resort rates.
• Or rent a house with a private pool and sea view.
• I strongly advise reserving a car ahead of time during school breaks.
• Use Kayak for that and for finding the best air fares.
---
6. Guadeloupe has lovely beaches
The beaches are small but varied and scenic. Malendure had volcanic black sand, some smaller islands have pink; Grand-Terre's seemed mostly yellow.
We did a coastal drive along Grand-Terre, stopping for a beachside lunch in stylish Saint-Francois before taking in the crashing waves and scenic rocks at Pointe de Chateau.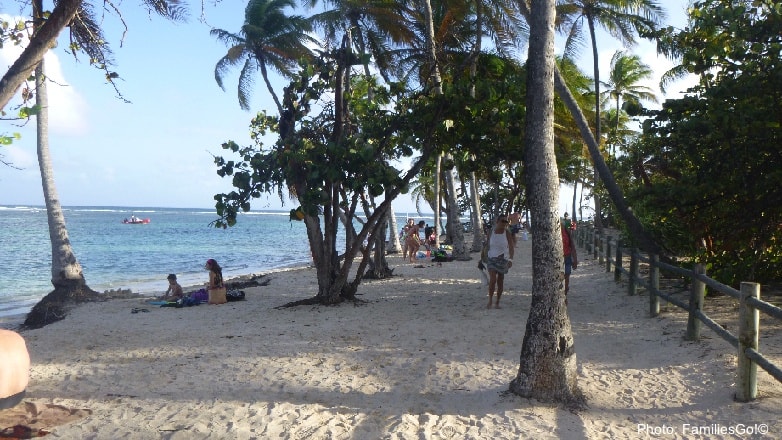 We then headed to Saint-Anne's very popular (with reason) Plage Caravelle.
Its skinny stretch of sand is interspersed with palm trees and shrubs that give it a castaway island feel and obscure all the people sunbathing and swimming just a few feet away.
The water is calm and vendors sell inexpensive pocket pies and donuts. We parked in someone's backyard for €2.50 and it was money well spent.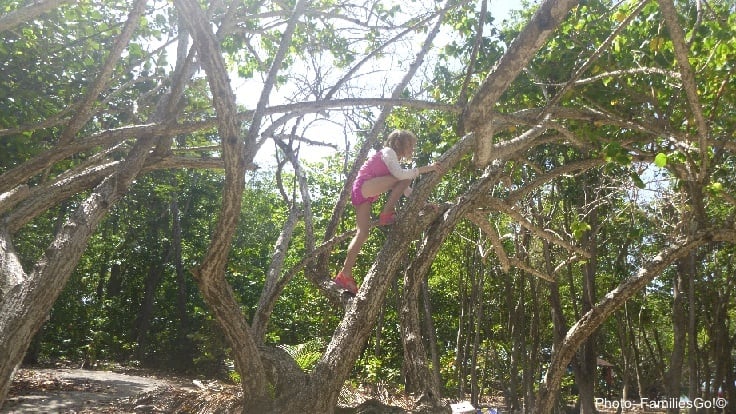 We also took wave runners from our hotel to Islet Gosier one day.
Locals tie up hammocks and barbecue while tourists eat at the very casual outdoor restaurant (rice with grilled chicken or fish that had been caught a few minutes earlier).
More castaway-island beaches ring an interior full of bent-over trees made for climbing. The island is about the size of a city block so kids can't get lost if they wander off on their own.
Once you learn to avoid the sea urchins you can snorkel here as well.
7. Guadeloupe has its own pace
If you sit down to a meal, plan to be there for an hour or two. If your rental car is scheduled to arrive at 9:00 it will roll up at 10:00. Fresh towels will arrive at the pool and your room eventually.
It's easy to complain that the service is indifferent or neglectful, but it really isn't. Everyone we interacted with was friendly and helpful, but Guadeloupe, like most of the Caribbean, runs on island time.
If you want a prompt and efficient vacation, go to Zurich. In Guadeloupe, you pour a second cup of good local coffee, order a planter's punch with your lunch, hang your towel up to dry and relax with a book. No one else is hurrying anywhere so why should you?
8. Guadeloupe has impressive snorkeling
SCUBA and snorkeling are probably the top things to do in Guadeloupe.
So we couldn't visit Plage Malendure without taking a peek under the water. We took a glass-bottom boat and snorkel tour on the Nautilus and loved it.
The hull is glassed in (rather than the flat glass floor we expected) and the views were so good we almost didn't need to snorkel.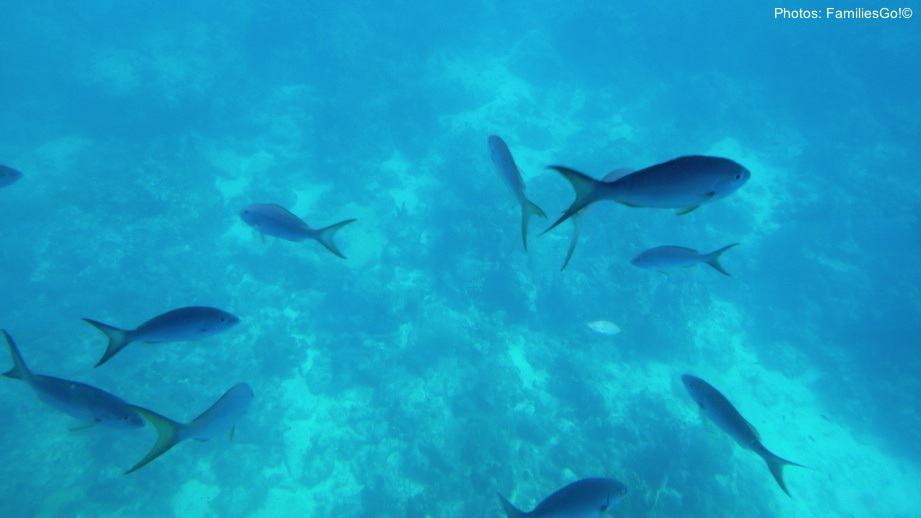 The reefs are deep but the water is very clear and visibility is amazing.
The water is rough, though; if your kids aren't good swimmers bring a real swim vest (don't count on boat operators to have them).
Tiny Traveler wasn't keen on snorkeling but she stayed in the keel for every last second of the ride. She saw tons of fish, turtles and divers and she waved to us through the window while we snorkeled.
But the real surprise was at Plage Carevelle, where (free) snorkeling near a stone jetty in the middle of the beach was fantastic. We were nose-to-nose with schools of fish in all kinds of colors, swimming, eating and sleeping.
In spite of Malendure's reputation, this was the best snorkeling for us.
Note: Bring your own snorkel gear for impromptu snorkeling off the beaches, and because the gear we saw on the boat was not impressive.
9. Guadeloupe has yummy food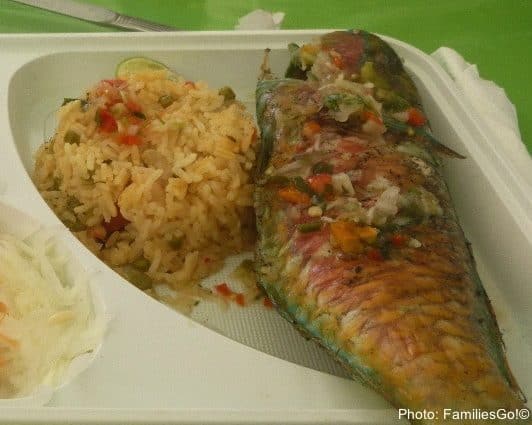 We chose restaurants entirely at random and did not have a bad meal.
Local fish ran from €10-€20 and usually came with rice and salad. Fish soup was good, grilled chicken was reliable (and a good kids' choice), accras (cod fritters) were addictive.
We had excellent Senegalese food near the hotel and a gorgeous view with our meal in Malendure. Ice cream was reliably good and we ate it daily.
We didn't see a lot of take-away options, but if you don't want to spend an hour eating lunch, keep your eye out for one of several Leader Price super markets.The take-out shop that's always next door has excellent rotisserie chicken.
Casino supermarkets are full of French breads, cheeses and cold cuts for picnics.
10. Guadeloupe has Pointe-A-Pitre
The main city of Pointe-a-Pitre is full of dilapidated colonial charm, with a heavier accent on the dilapidated than I expected.
But it's worth taking a morning to visit the markets and shop. Madras plaid is the local look and it makes for fun sunhats and sun dresses; we of course brought some back.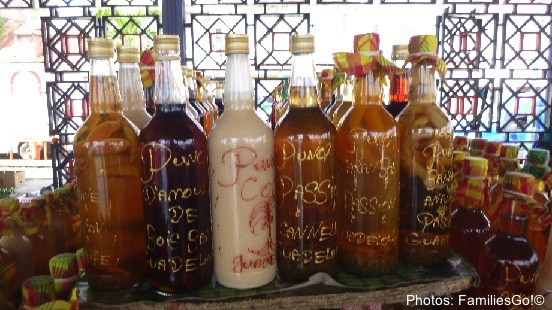 The open-air market and spice market are full of cinnamon sticks, vanilla pods, mulling spices and fresh Caribbean fruit like tiny red bananas. We even saw fresh peppercorns still in their furry pods.
Homemade concoctions of vanilla, fruit, spices and rum are pretty, but I think you'd have to be a brave person to buy them.
There is a huge, new Museum of Slavery in an architecturally outstanding building on the water. I wish we'd had time to visit it.
We are still struggling to decide how to recognize, honor and teach this ugly part of our history. So it would have been interesting to see how the people here are tackling this part of their past head on.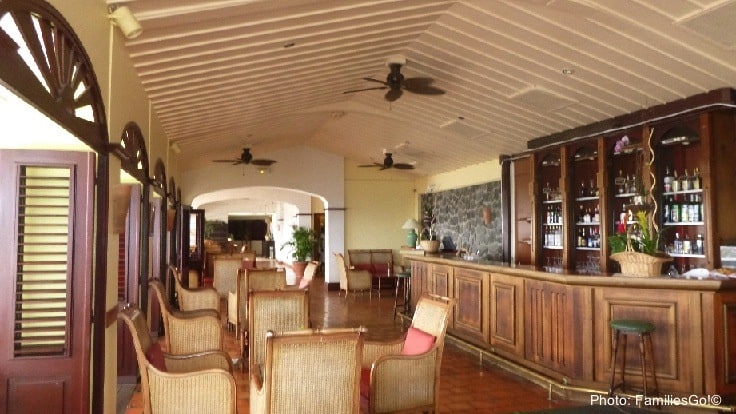 Note: For spiffed up colonial charm take an adult-only hour and have a drink at the bar of Auberge de la Vielle Tour in Gosier.
Built around an 18th century windmill, it's all dark wood, subdued colors and local art. Sit back with a punch planter and be as lazy as the ceiling fans swirling above.
We did a lot during our 6-day stay, but clearly could have used more time. I'd be happy to return anytime.
Pin it for later!