My family took a summer Mediterranean cruise on Holland America's Oosterdam, one of its Vista-class ships. It held one-third of the passengers of other ships we'd been on. And the experience has really made me rethink what cruising can be – in a good way.
The ship's general manager explained to me that the goal of the Holland America Line is to immerse passengers in the region they're exploring on a given cruise; It isn't trying to offer a floating theme park.
We have mixed feelings about our vacations on the latest mega-ships. So I was curious to see how Holland America's smaller, more low-key ships would be. This trip definitely suited our travel style better, especially now that we're traveling with a teen and not a child.
Here is a review of our experience sailing on the Oosterdam with a teenager.
Settling In To Our Oosterdam Balcony Cabin
Our balcony cabin was on par with cabins of a similar class on other cruise lines. There was ample closet space and luggage storage for three people. The main bed was two twin beds connected to make a queen.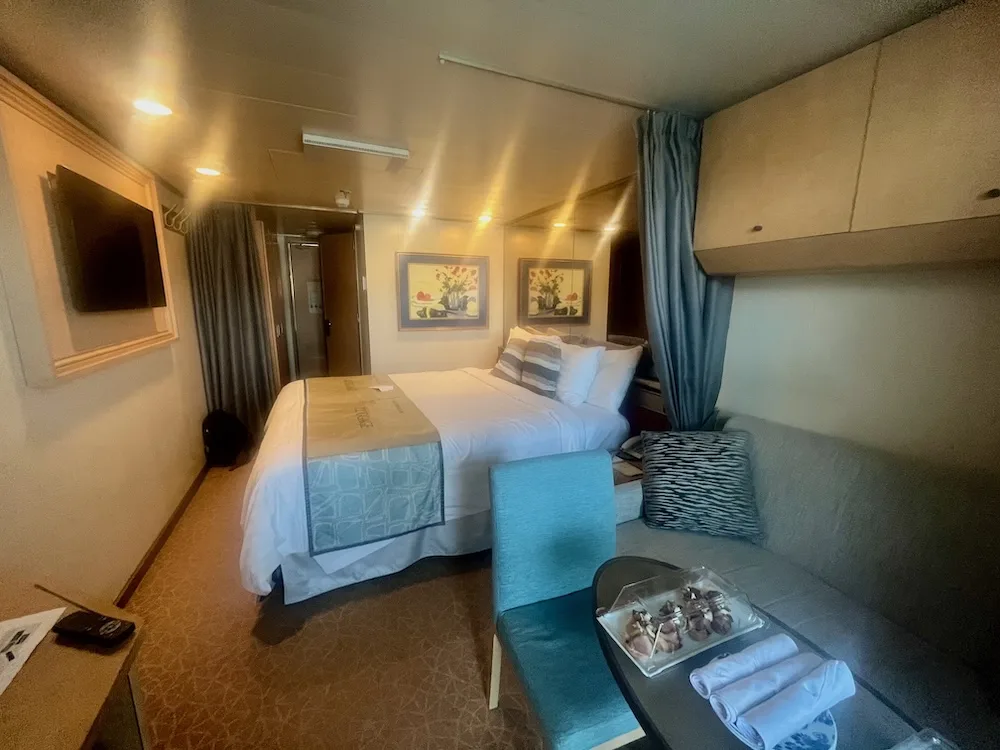 Teen Traveler had a pull-out couch with cabinets above it. She liked this because she could keep all her clothes and other items right above her and separate from our things, which were in closets on the other side of the room.
A fold-out couch provides a bigger and more comfortable bed than a fold-down bunk would have been. But we would have preferred a bunk because when the couch was open it blocked the balcony doors.
The best thing about having a balcony cabin is opening the curtains every morning and stepping outside to see what the day's destination looks like. Having to scoot across her bed to do it was a bit awkward.
The porters don't automatically fold the beds up each day (not everyone wants them to). We asked them to fold ours away because it was also nice to sit out on the balcony in the afternoon with a glass of wine, especially when we were setting sail out of a port.
All rooms have a small fridge that we used to keep cold water and wine handy. They have flat-screen TVs, too, which apparently offer a wealth of information about the ship as well as movies and more. It never occurred to us to turn on the television and it appears we missed out on a great resource.
The ocean-view and balcony-class rooms have a small bath tub and shower. Suites have a full-size tub with separate shower and side-by-side sinks.
As on all ships, the interior cabins are the smallest. They're best for people who want to save money and don't need to spend a lot of time in their room. Next up are cabins with a window but no balcony. These can be a good budget compromise because they're also relatively inexpensive and smaller but you have natural light.
The balcony cabins are another step up with more room and seemed to be on the most central decks. Each of these classes are a bit bigger than the one below it. But the only way to get significant extra room and a larger balcony is to book one of a handful of suites.
Time To Eat: Holland America's Appealing Restaurants & Cafés
The main dining options on the ship are the Lido buffet, one main dining room and two specialty restaurants. There's also a Dive-In burger-and-fry place and a taco bar by the pool. The Crow's Nest has the Explorations coffee bar where I'd get chai or a latte after breakfast.
The Dive-In had good burgers, fries and loaded hot dogs. The burgers were made-to-order and they make the buns daily in ship bakery. There are a couple of meat-free "burgers," too. The portions were reasonable, which kept us from feeling like we'd overindulged.
On our day-at-sea Rich and Teen Traveler went to afternoon tea in the main dining room. She doesn't actually drink tea and she's not keen on finger sandwiches. But he ate those and she focused on the cakes and scones.
The Lido Market buffet was good enough that we didn't get tired of it after a few days. In addition to the usual pizza, grill and salad stations, there were always Indian, Chinese and Japanese dishes at lunch. The Indian food was well seasoned and these provide good vegetarian options.
At dinner they had Greek and Turkish theme nights when were in those ports, which adds more variety.
There was always a huge selection of fresh breads. At breakfast we could choose congee (Chinese rice porridge) or from a large selection of cold cuts if we didn't want the usual waffles and eggs.
There are very few self-serve stations. I was told that having staff dole out dishes has helped to stop the spread of germs on the Holland America ships. It also controls portion sizes, which I appreciated as it helped me to avoid overdoing it.
Having staff control portions also cuts down on food waste, which is a priority for cruise line. To this end they've also stopped providing trays at the buffet, a move that cut food waste by more than half, according to the general manager.
Cannalletto is an Italian restaurant they create by closing off part of the buffet area at night. It seemed odd at first, but the service was attentive and the food was a good mix of classic and modern Italian.
For example, we had tiger shrimp with pesto for an appetizer. Then Rich had a veal chop that was the night's special. Teen Traveler and I had classic chicken Parmesan, which was a heartier dish but it came with haricot verts and zucchini. I'm always happy to see fresh vegetables on my plate on vacation.
We ate the Pinnacle Grill, which is a steakhouse, for our wedding anniversary. The must-try item here is the maple-candied bacon served on a "clothesline" with plenty of cracked black pepper. It's irresistible if you like a good sweet-and-salty combo.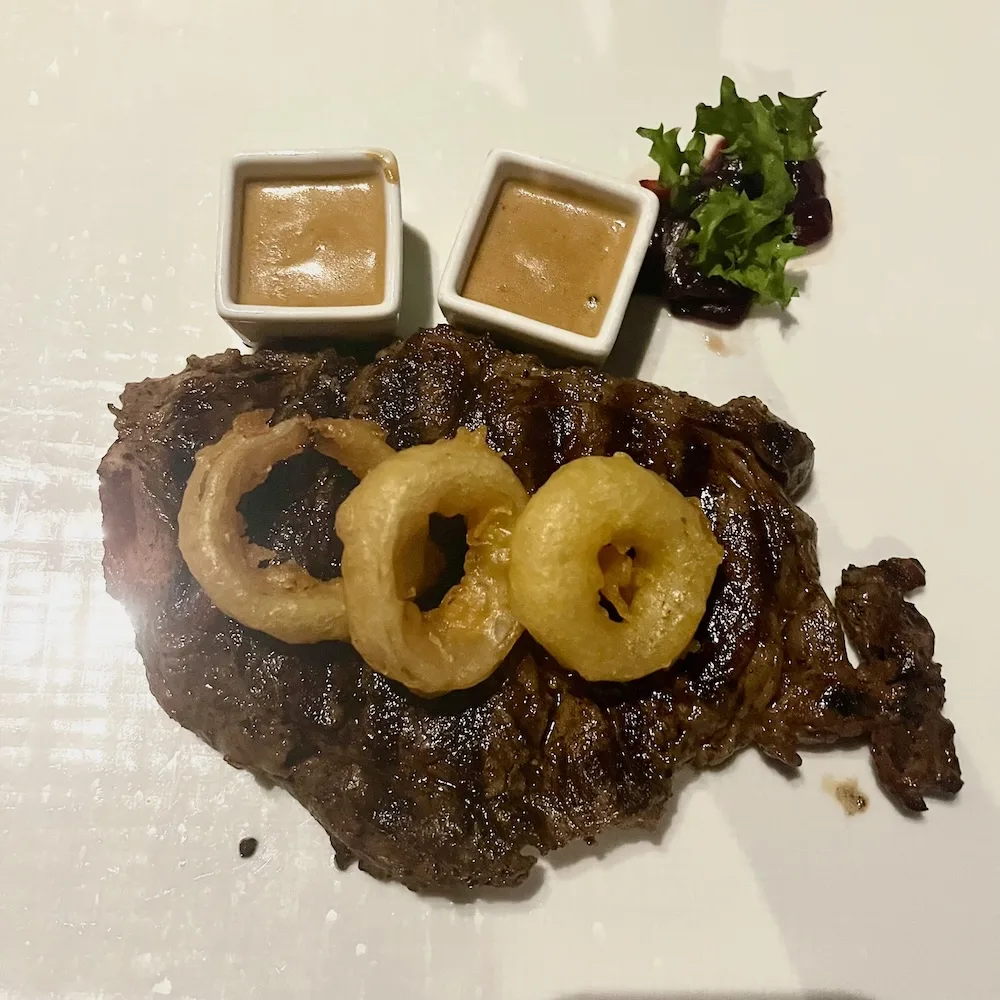 We tried the lamb chops and a few cuts of steak over two nights. All were perfectly cooked and the steaks came with nice sauces on the side. If you're not counting calories, the onion rings are huge and crispy. If you want something lighter, the grilled scallops or the classic steak tartare are a good way to go; I liked both.
The staff brought us a small chocolate cake that was rich and very good for our anniversary. And on another night we had Key lime pie and a fun baked Alaska and I recommend both.
The Main Dining Room is a lovely room and the menu had a wide variety of tempting items and fun desserts every night. They manage to mix light and hearty, simple and more complex without the menu seeming like a mish-mash.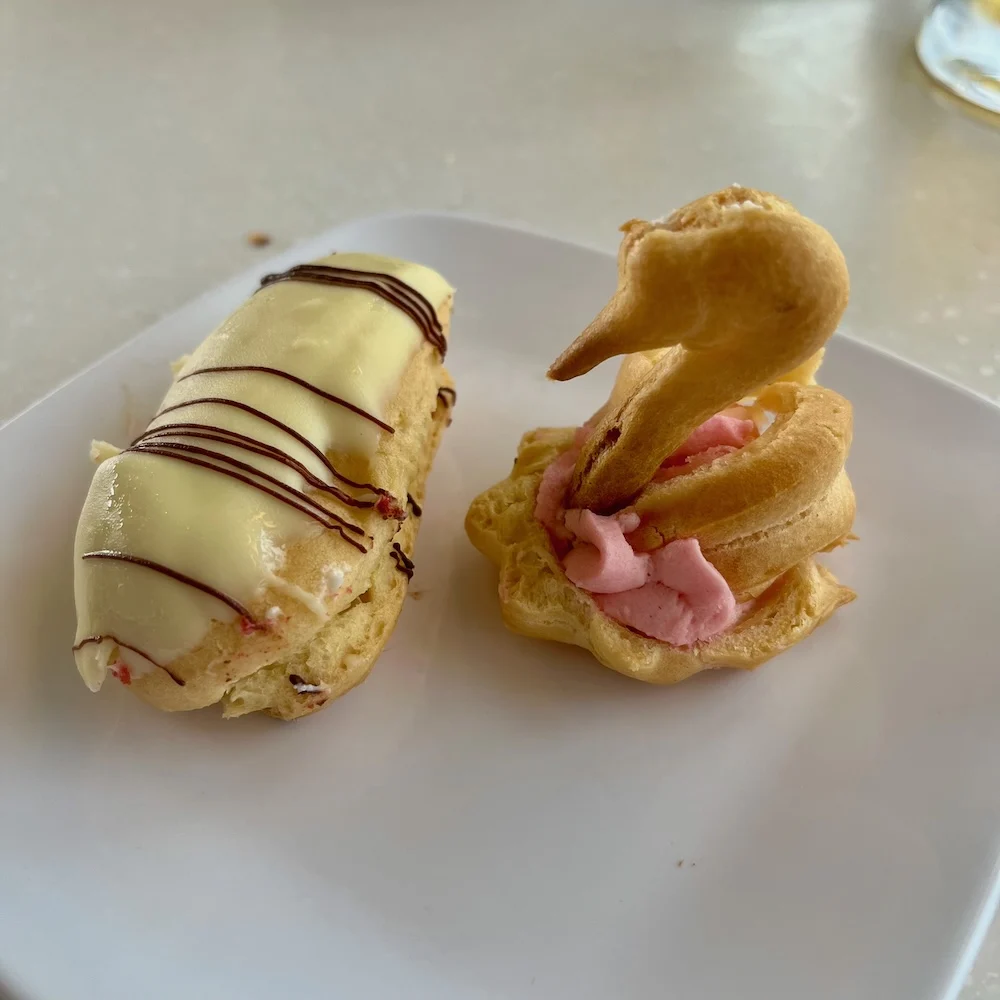 It was the only place where we ran into difficulty getting a table.
I greatly underestimated how many people would make reservations for this restaurant before even getting on board. On the day we set sail the only reservations we were able to get were at odd hours later in the week. They say they take walk-ins, but we didn't know what the wait would be for that and didn't want to try.
Luckily we were invited to join a group of other travel writers on board, so we had a chance to experience the food here. Next time around, I would get a few reservations in place before we left home and then try to switch things around if I needed to once our trip began.
At Canaletto and the main dining room the menus change somewhat from night to night. This is partly because they buy local ingredients in port whenever they can, especially seafood. When there is something local they highlight it at the top of the menu.
Daytime Fun Onboard the Oosterdam
We took full advantage of our port days. On our one sea day we slept late and spent much of the day chilling out after nearly a full week of sightseeing both before and on the cruise. There was as much to do on board as we felt we needed, but admittedly we didn't need a lot.
There's a full schedule of daily activities if you want to keep busy. Holland America's customers do skew a bit older, so you can find daily mah jong and bridge games on board. But not everything is aimed at Boomers.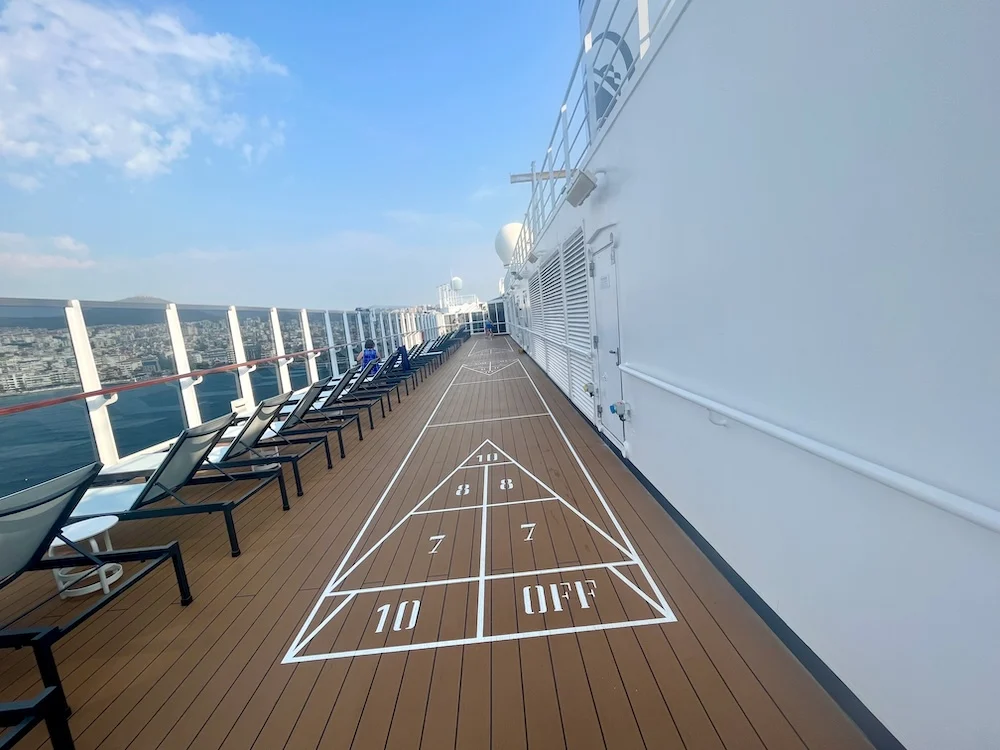 There's a basketball court and a pickleball court, and the requisite shuffleboard and bean-bag toss, which we fooled around with here and there.
About halfway through the cruise, I asked about the hydrotherapy spa and got a discounted price for a pass that let me use it as much as I wanted to for the remainder of the cruise. It was bliss.
There is a pool with a series of different jets to target different parts of the body. After a full day of walking around sightseeing I would stay in there until the spray worked out all the sore muscles in my legs, feet and back. Then I'd go to the relaxation room, which has saunas, a steam room, rain showers and heated stone recliners where I almost always drifted off to sleep for a half hour.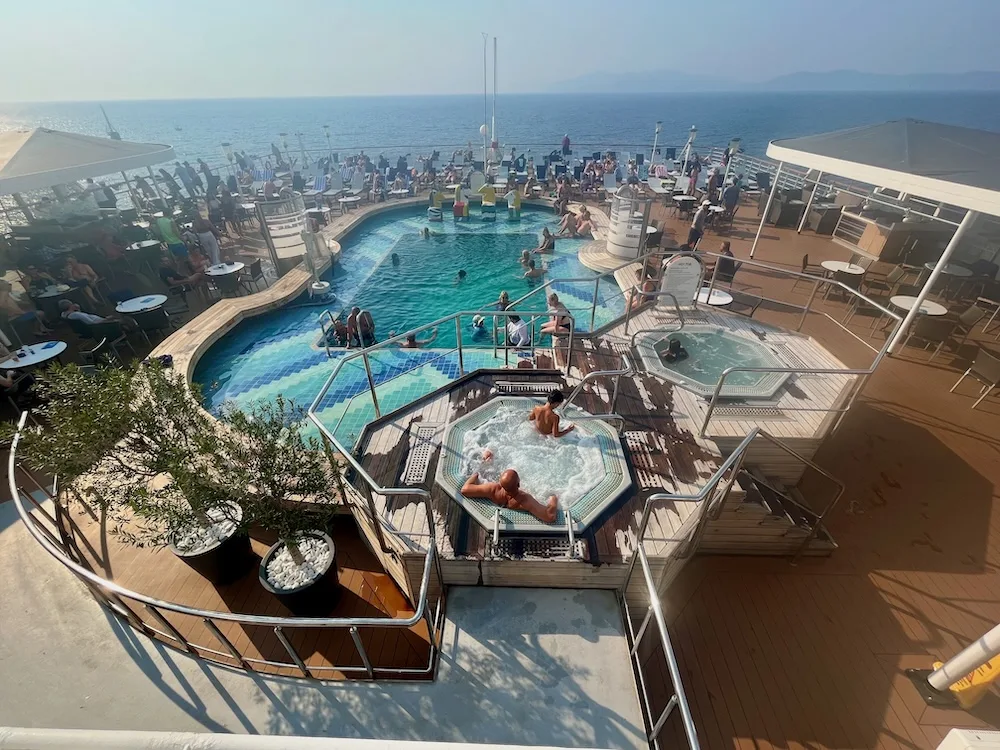 Outside on the Lido deck there are two pools with five hot tubs between them and we used them all. If we couldn't find lounge chairs by the main pool we'd find them in the back, probably because that area has less shade.
In theory the pool-area at the back of the ship was adults-only. But it wasn't busy. No one seemed to care when a group of teens were hanging out around a table there, or when a woman was swimming with her small children (albeit, too small to be rambunctious).
I played pickleball a few mornings and was surprised to see a wide range of ages on the court. I partnered with a middle-schooler and a woman in her 70s and every age in between.
While I worked on my backhand, Rich convinced Teen Traveler to go with him to talks on art and regional history. They tried to cover a tremendous amount in under 45 minutes, which is difficult; the latter was better than the former.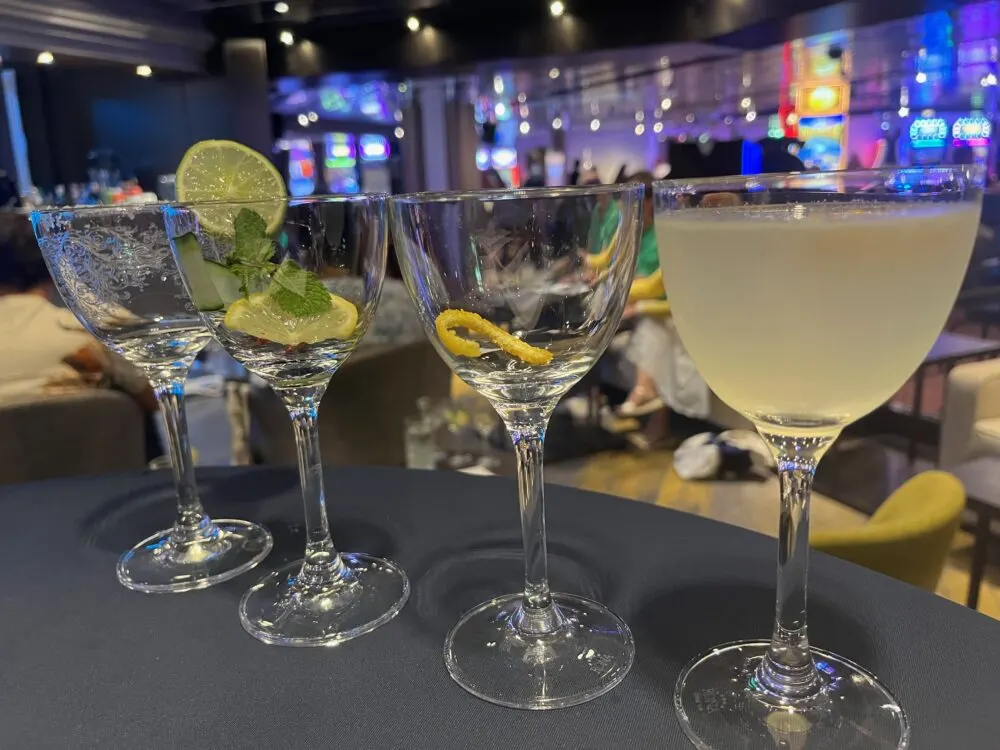 We took part in the late afternoon trivia contests and went to a cocktail demonstration featuring the cruise line's signature gin.
We also spent a lot of time in the Crow's Nest, a big lounge at the top front of the ship with windows on three sides. It's the perfect place for reading, journaling, catching up on news or e-mail, playing games, doing one of their jigsaw puzzles and striking up conversations with other passengers.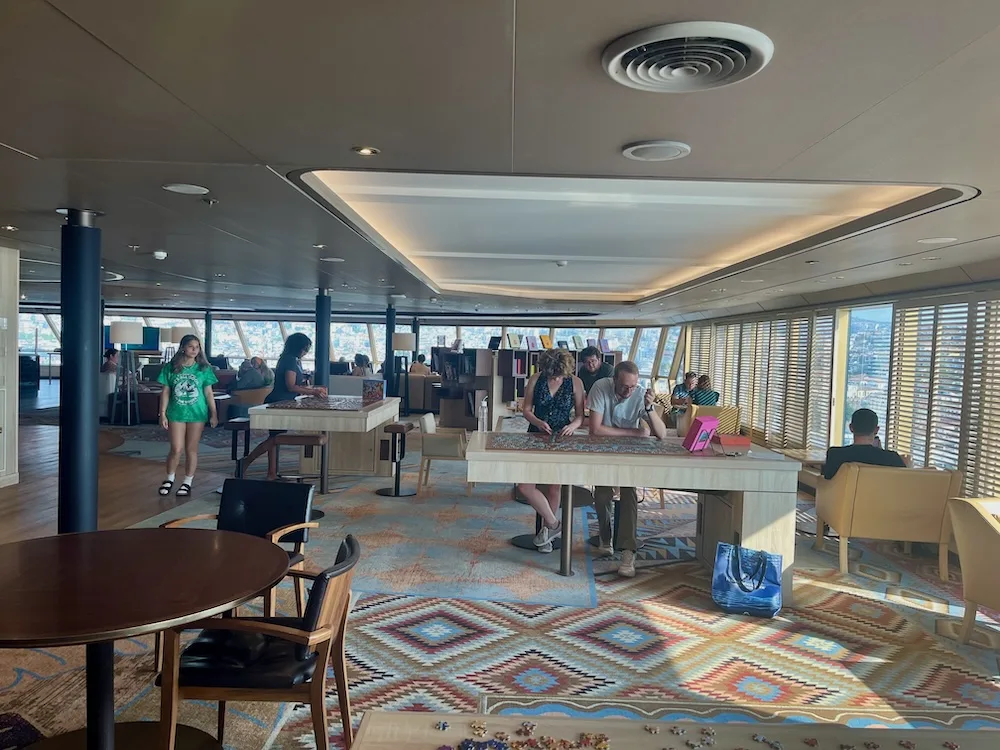 The Important Stuff: Things To Do for Kids, Tweens & Teens
Holland America is introducing a new concept in kids programing and they need to work a few kinks out. High Score is a game room for kids from ages 7 to 17. But the hours weren't listed in the daily schedule and we never knew when it was open. As a result, there was never anyone in there when we walked by.
My daughter went to a teen mixer on the first night and met some girls her age but didn't run into them again during the cruise. She turned up to a "teen" scavenger hunt hoping to run into some of them but it was clearly aimed at tweens and was too young for her so she left almost immediately. The schedule didn't say what the movie would be on teen movie night and she didn't want to risk it being another tween activity so she skipped it.
Kids, middle-schoolers and high schoolers don't want to hang around with each other or do the same activities. I think they need to specify different hours for these three groups at High Score and put the hours on the schedule. They also need the organized activities to differentiate between tweens and teens and be age appropriate.
Somewhere in High Score there was a Kid Zone where parents can go with kids from 3 to 6. The hours for the kids' activities only show up on the TVs for people cruising with kids; They aren't on the paper schedule. If you don't turn on your TV you might not know about them.
There didn't seem to be any hours when parents could drop kids off for supervised play.
One date night on a 7-night sail and a few hours of drop-off play on the at-sea days and maybe one of the shorter port days would give parents a needed break. It would also allow them to take advantage of the spa, the bars, the premium restaurants and the nighttime entertainment, which is a win-win for everyone.
There's more robust kids' programming on the winter-time Caribbean cruises, which attract the largest number of families. And the company will probably evolve the High Score programming as it gets customer feedback.
Our Alluring Ports of Call and Shore Excursions
This cruise stopped in Split and Korcula (both in Croatia), Rhodes and Santorini (Greece) and Kusadasi, a resort town in Turkey. The final port was Athens, where we spent a few days.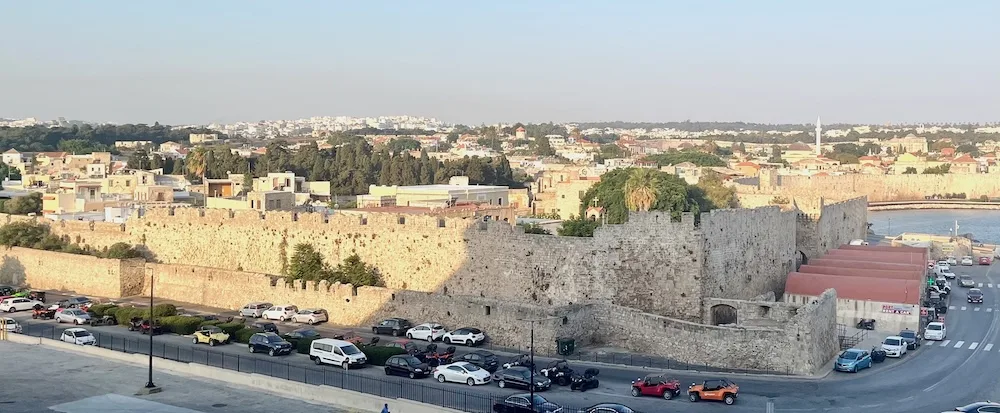 One of the best things about the cruise was that in all five ports we disembarked in the main town we would want to explore, not in a nearby secondary port town. This made it easy to be independent.
We booked activities in all five ports. But after each one we took a few hours to explore, eat lunch, get gelato, have a seaside drink or shop and made our own way back to the ship. For independent travelers like us, it was a good balance of free time and the tours we wanted for the historic sites.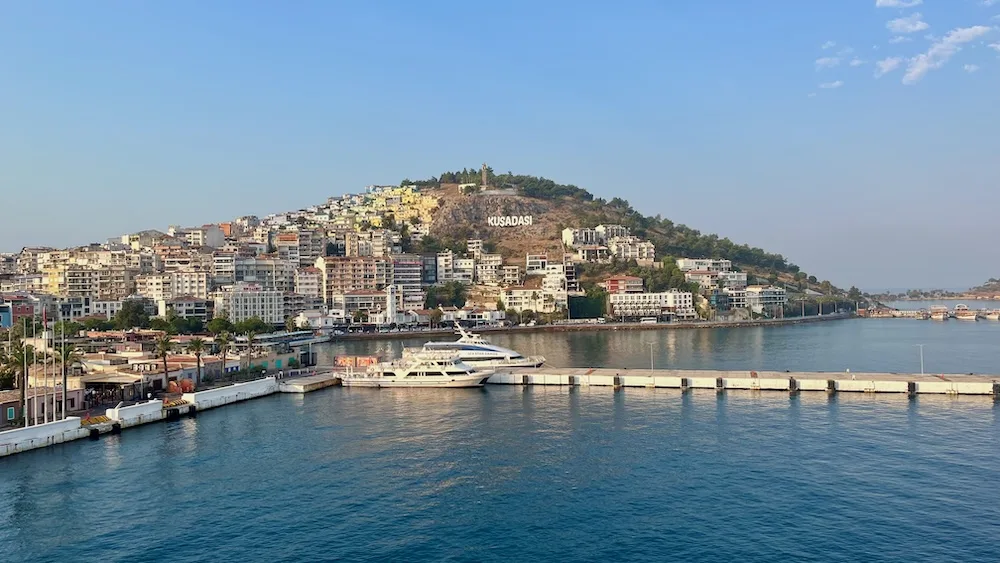 We did two private tours, then one with a medium-size group (12-to-15 people) and one with a large group (20-to-30 people). They were all very good; and we learned as much from the group guides as we did with the private ones.
This made me think that the size of the group is less important than the quality of the guide. Find a tour company you trust or a cruise line with good partnerships and you'll have good experiences.
The private tours offer flexibility, however, which is nice handy. There were six ships in port the day we stopped in Santorini so our guide tried to time things to avoid the worst crowds at the most popular places. In Turkey, after a very hot morning exploring ruins we asked to go swimming at a local beach. It wasn't the original plan but the guide made it happen.
One of the highlights of our trip were the talks given by Ed, the cruise and travel director, on each of the evenings before we arrived in a new port.
Ed ran through the practical details like the quality of taxis and public transit and where you could realistically travel to on your own during the time in port. He touched on the best things to see and do, foods to try, convenient beaches and unique shopping.
He was also frank about things like pick-pockets, locals that could be curt and navigating towns that would be packed with passengers from multiple ships.
On NCL these types of talks focused on the in-port shopping. And on our Caribbean cruise it felt like the cruise company was going out of its way to keep us from experiencing any local culture first-hand. Here, the cruise team was helping us go out and have interesting experiences on our own.
Tip: The Mediterranean is hot during the summer these days. Very, very hot. And very, very sunny.
A travel writer on board with us had two boys under 10YO with her. She and her husband doubted the boys would have the patience for most of the shore excursions. In most of the ports then went into town on their own, walked around, got some gelato and returned to the ship when the kids grew hot and cranky.
It's great that the logistics of the ports made it easy to do this and all the towns were picturesque and enjoyable to wander around. But if you are going to plan this cruise with younger kids, consider how you'll feel being close to some of the most impressive ancient ruins in the world and not exploring them.
If you choose only one ancient site to explore with kids, make it Ephesus. It's the footprint of a city that was bustling and important in the ancient world. It's easily the most impressive site we saw on this trip (including the Acropolis in Athens).
And it's all on ground level; no climbing steep marble steps. This means there's less opportunity than at other sites for kids to injure themselves.
Day 1: Boarding Our Ship in Trieste
Our 7-day "Greek Enchantment" cruise left from Trieste, Italy, which is a two-hour bus or train ride from Venice (which is the airport you would fly into).
Holland America offers hotel and transit packages for guests who want to spend a few days in Venice before sailing. We did this and the transfer was super easy. They provided a water taxi from the airport to the hotel. And a boat to a bus to get to the ship
Trieste had a miles-long cement promenade along the water that was filled with swimmers and sunbathers. There were some wooded parks with nice playgrounds on the edge of town.
Directly across from the very nice Art Deco cruise-ship terminal you'll find the Savoia Excelsior Palace , which was a gem of the Austro-Hungarian Empire when it was built in 1911. If you want to be able to walk across the street to check in to your cruise, I think staying here would be a treat.
There are some ruins, historic buildings and piazzas and a couple of small museums walking distance from the hotel, which provides more than enough to fill a day here before sailing. But it seems that people who stay longer than that usually use it a base for day excursions.
Nighttime Fun: The Oosterdam's On Board Entertainment
I have to admit I can't write much about the entertainment because we didn't get to see a lot of it. We always came back from shore excursions on the late side. Then we'd swim, chill out a little and eat dinner at 7:30 or 8:00 pm. We never finished in time to see the dance reviews in the main theater.
We did catch part of a comedian's act on the main stage one night; Teen Traveler and Rich thought he was good but he wasn't my cup of tea. There are have live music in the evening, in the Rolling Stone Lounge and Billboard Onboard, if you want something more intimate. The music always sounded good when we were passing through but we weren't sure teens could be in those spaces in the evening and didn't stop.
My Biggest Lesson From the Oosterdam: Cruise Ship Size Matters
The Oosterdam's capacity is 2,350 passengers and the week we sailed it was 150 shy of that. This sounds like a lot of people. But it's way smaller than the mega-sized cruise ships we've been on that hold 6,000 passengers.
We never waited online or worried about timing activities to avoid peak crowds.
On a day when the pool was "crowded" it had 20 people, and often it had no more than a handful. We always had room to float around and enjoy the pool. Better still, we could show up on the pool deck at 3:00 in the afternoon and find empty lounge chairs.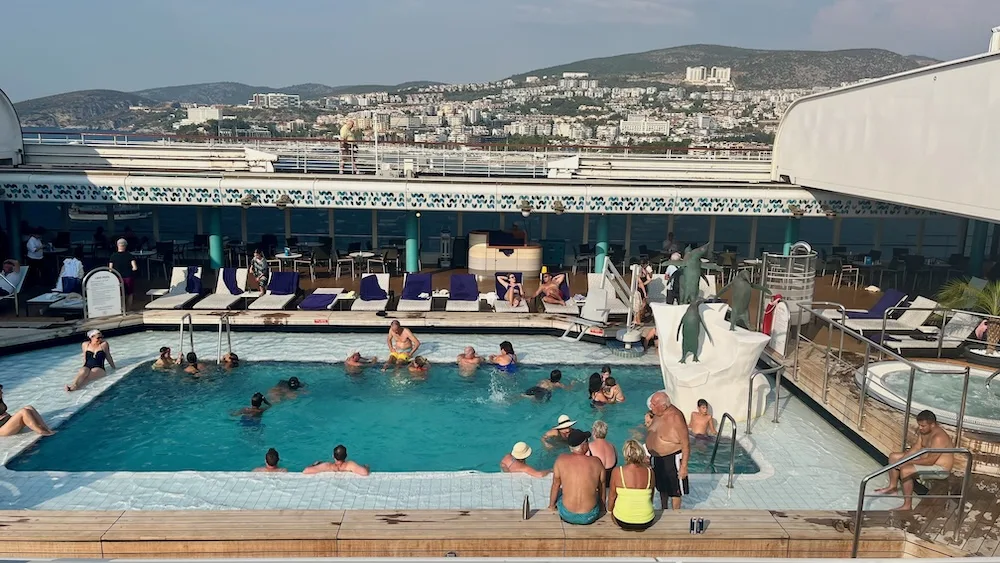 We could get an elevator whenever we needed it. The buffet wasn't packed. We didn't have to track down that tucked away bar no one knows about to get a drink in a reasonable time. These little things made our time on board completely chill.
The ship had 775 crew members, providing a crew-to-passenger ratio that's typical for this size ship. Several of the staff-members I got to speak with had been with the company for more than a decade. That level of experience, especially unusual after Covid-19, gives customer service a real boost (it also indicates staff are relatively happy).
I couldn't stand in the hallways outside my cabin for 30 seconds without one of our two stewards appearing. Even at the pool bar, which is always the busiest, when I got the bartender's attention I had his full attention. And they all knew how to make a Shirley Temple, which is unusual when you're outside the U.S.
What To Pack For your Holland American Mediterranean Cruise
I recommend arriving at least one full day ahead of your cruise and two is better. It gives you two nights to get over your jet lag before your starting your cruise. And it's enough of a buffer that you won't stress if you have flight delays or your luggage gets lost.
In summertime, a Mediterranean vacation is all about mitigating the effects of the sun and heat.
Pack water bottles and fill them with more ice than ice than water before you set out for the day. The ice will melt in about an hour. Sweat-resistant sunscreen, sunhats and sunglasses are essential. Baby powderis handy to prevent chafing in the heat and mole skin or band-aids are helpful for blisters.
Pack small snacks if you have kids with you; they handle the heat better if they aren't hungry.
The best tip I got before I left was to pack summer shoes with excellent non-skid soles. The ruins have a lot of marble floors and stairs and it's startling how easy it is to slip. I thought I would wear sneakers most days but they we hot and gave me blisters. So, I wore my sports sandals on shore days. Make sure to break in any new sneakers or hiking shoes before the trip.
Consider light long sleeves to keep the sun off of you. Skirts or sun dresses are cool and easy for shore days, especially if you might be going into churches. Shirts that wick sweat are good to have, too, for men and women.
A large scarf for entering churches. They're serious about not allowing bare shoulders and if don't have a scarf they will lend you what looks like a burlap sack; not what you want wrapped around you in a church with no air conditioning.
On the ship, there is an optional fancy-dress night where people really go to town with cocktail dresses and suits. But even for regular nights, don't plan on sneakers, sport sandals or shorts in the main dining room or premium restaurants. They'll even turn away men in Bermuda shorts.
Men need a pair of nice Khakis or slacks, a collared shirt and real shoes, even if they're just loafers or dock shoes. A jacket isn't necessary but isn't out of place. Women need slacks, stylish pantsuits, dresses and skirts, plus dressy sandals or heels.
I always pack a spare bathing suit because they take a long time to dry inside your state room. And a cover-up is useful.
I brought a small drawstring backpack with me. That or a tote is handy for keeping your book, phone, sunglasses and other small items together when you're walking around the ship.
I've finally learned to pack lanyards for our room keys. Rich didn't need one because he always has pockets. But Teen Traveler and I seldom did and we didn't always want to carry our phones to hold our key cards.
Many Holland America ships have both American and European electrical outlets, and USB ports. Charging your devices isn't a problem if you come prepared. The Crow's Nest has great tables for board games. If your family likes playing them, pack a few small ones.
Pin for later!