We spent a few days in January touring four of the many colleges in Boston and Cambridge, MA.
These first campus tours were less about making a list of schools to apply to and more about learning what kinds and schools she prefers. The Boston area is a great place to begin this process because you can check out a wide variety of schools in two or three days.
In three days my high-school student could see how an open, urban campus compares with a self-contained suburban one and how a school with 15,000 students feels different from a school with 6,000.
We got to see what the campuses were like when school was in session. And we experienced the worst of Boston winter weather, which helped to make the point that you are choosing a place to live for four or more years as well as choosing a school you like.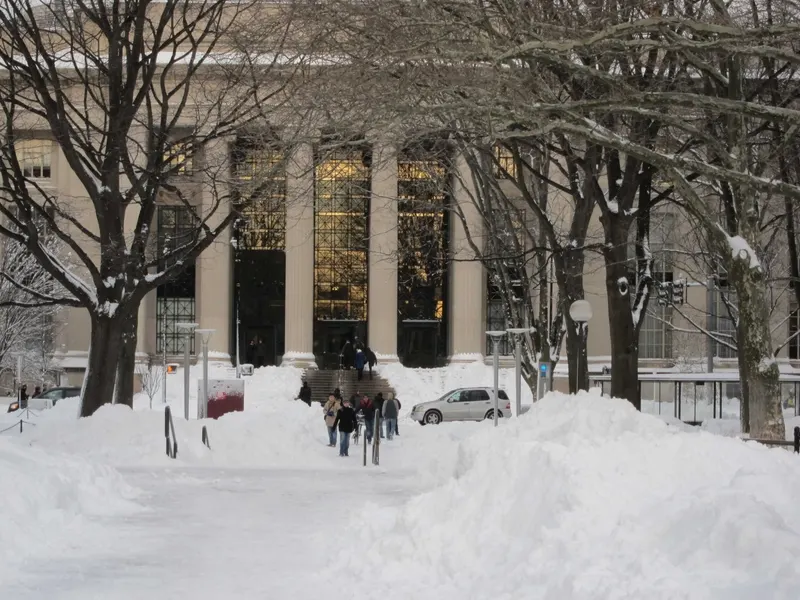 But the fact that there are so many colleges to choose from can make choosing schools and coordinating tours can be a little overwhelming.
Here are some tips for touring Cambridge and Boston colleges with your teen.
Read More:
• My Tips For Planning a Good College Tour Trip Anywhere
• The Best Things To See, Eat & Do in Boston With Teens
3 Things To Know Before Planning To Tour Cambridge & Boston College With Your High Schooler
1. Choose A Central Boston Hotel
We stayed at The Onyx Downtown, one of Hilton's Curio hotels. It was near Fanueil Hall and the North End, which gave us a lot of dinner options right nearby. And the staff was extremely helpful. It also has free breakfast that wasn't great but provided coffee and a quick bite to eat on our way out in the morning.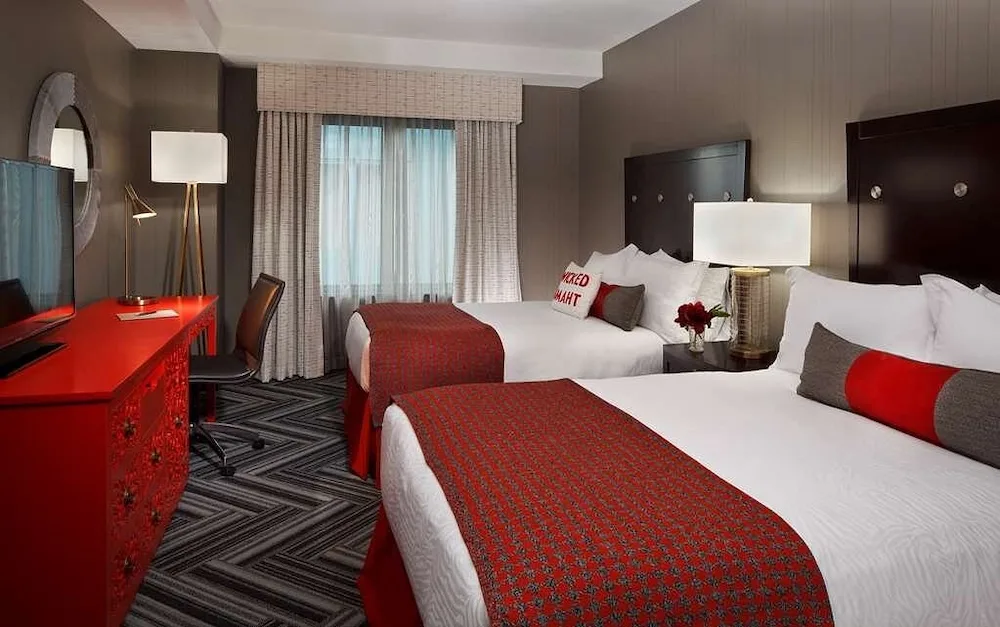 But, I have to say it didn't have the style or amenities of other Curio hotels I've stayed in. There was no restaurant or bar, for example. And the lounge looks much more inviting in the photos than it actually is.
Our room was compact. It was fine for two of us. If you have three people I would suggest a deluxe double room for more space. If you have four people and two are teenagers, consider booking two rooms.
On a few previous visits we've stayed at the Hilton Boston Back Bay. It feels newer and the rooms are bigger.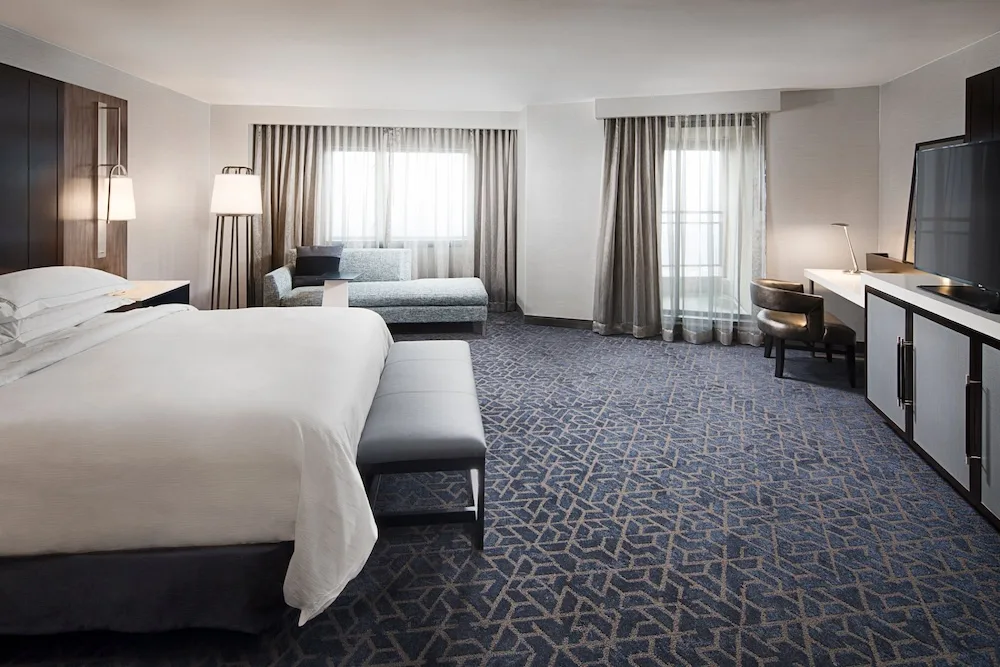 I don't like the dinner options around it as much as around the Onyx. But it has a pool, has both a Tatte and Flour Café & Bakery nearby for breakfast and would be even more convenient for seeing colleges. I'd go back there when we inevitably visit the Boston-area for more college tours.
2. Park Your Car and Take the T Around Town
We drove to Boston, but I parked the car in a garage and used the subways to get around while we were there.
For colleges in Boston or Cambridge it's very easy to take public transit. The stations where we got off the trains were always between 400 and 1,000 feet from where we had to sign in for our tours. And Boston has a flat-fair system. So we paid $2.40 apiece no matter how far we were going.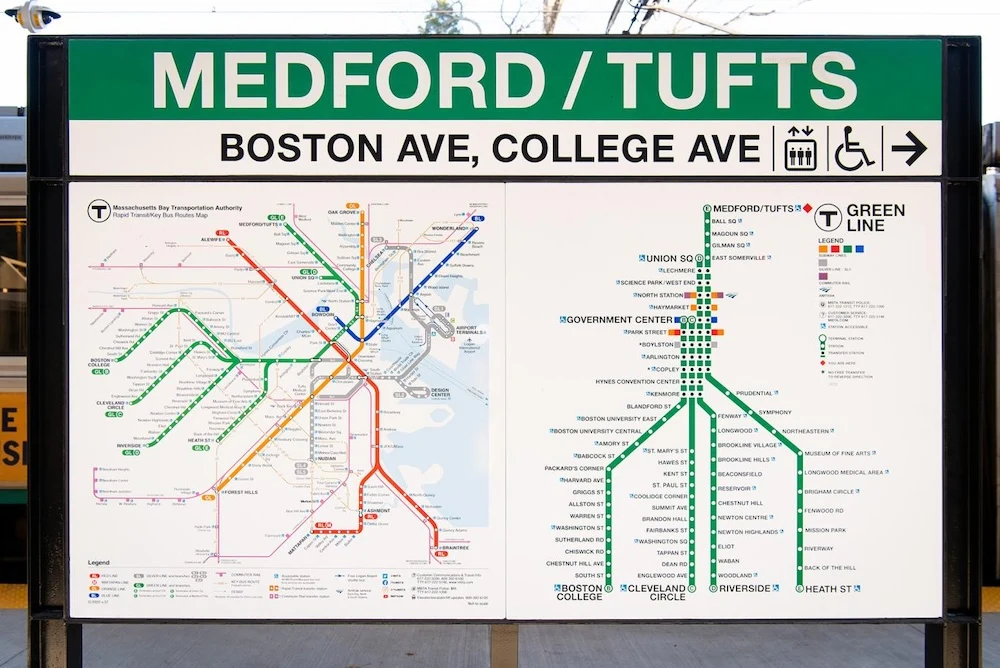 On the other hand, Boston and Cambridge have bad traffic, notoriously difficult street parking and cops who are famous for generously issuing tickets.
Looking for legal street parking would have taken extra time and garage fees would have added up over the four schools. Moreover, parking was sometimes well across campus from where we needed to be.
You'll want to drive to schools that are outside the city, like Brandeis University, of course. Tufts University has a multi-story parking garage below its visitors' center, which makes driving there easy. (The T left us about a block from the visitors' center and it was a 20-minute ride from our hotel.)
Regardless of how you get around, map out the colleges to see where they are in relation to each other before you start booking tours. We could have saved ourselves travel time by booking BU instead of Tufts on the same day we saw Northeastern. Tufts can be combined with any of the Cambridge schools.
3. Some Tips for Getting To & Touring Specific Colleges:
• We spent a lot of time transferring between the red line, which goes to Cambridge, and the green lines, which extend from the Fens and Back Bay areas across downtown to the North End, Fort Point and beyond.
• A central hotel near either the red or green lines is ideal. The Copley Circle area or around Boston Common would both be handy.
The Onyx's closest subway stop was only two stops to the Park Street station, a major hub where the green and red lines meet.
• Boston College and Boston University are on the B green line; BC is the last stop.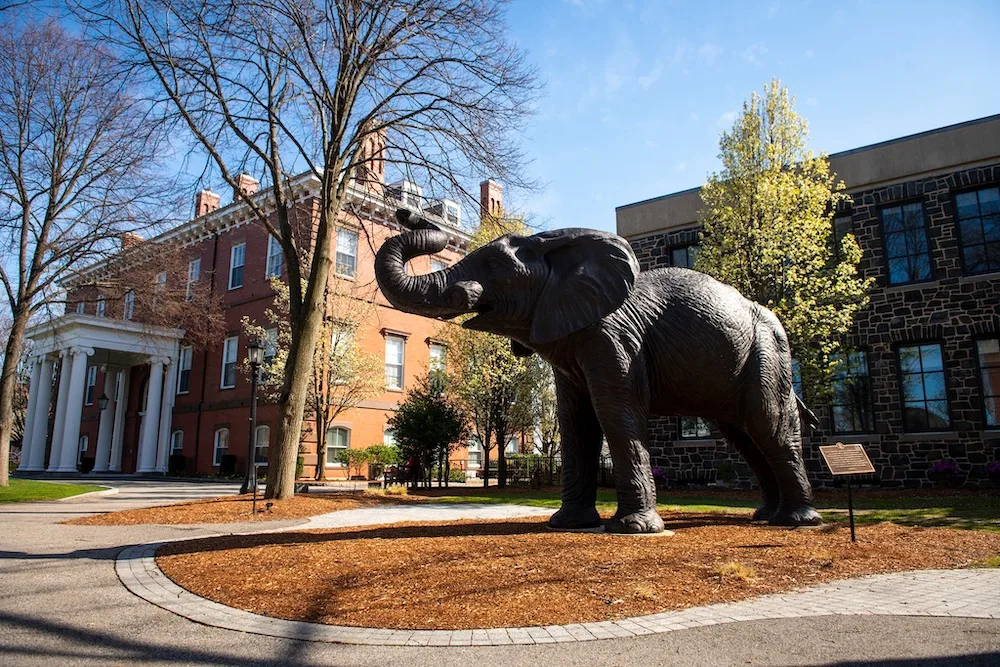 • Tufts University and Northeastern University are on opposite ends of the E green line. Our longest trip, between these two schools, took 45 minutes. Nothing in Boston is far. Simmons University is on this line, too, a few stops past Northeastern and the Fine Arts Museum.
• Harvard University and the Massachusetts Institute of Technology are on the red line (direction: Alewife). Get off at Kendall Square for MIT's visitor center and Harvard Square for Harvard.
It's about a mile up Massachusetts Avenue from the Vassar Avenue side of MIT to Harvard square. If the weather is good and you have spare time, Massachusetts Avenue has shops and restaurants and makes for a fun walk.
If you're in a hurry or the weather is bad you can easily hop the subway or take a quick cab ride between the two campuses.
Some of the schools have several tours a day while others have only one or two. Take a look at all the schools you are considering touring to see what your options are before you start scheduling.
Tufts is built on a hill and there are a good number of stairs and inclines during your walking tour. MIT and BU are right next to the Charles River, making them especially cold to walk around in the winter. No matter when you visit dress for the weather.
4. Where to find lunch cafés
• A few of the colleges have a café called Tatte nearby (it rhymes with Latté) and their ambiance beats Starbucks' any day. They all have black-and-white subway tiles, marble café tables and an actual coffee bar where you can sit and watch the baristas make drinks, all of which makes them feel very European.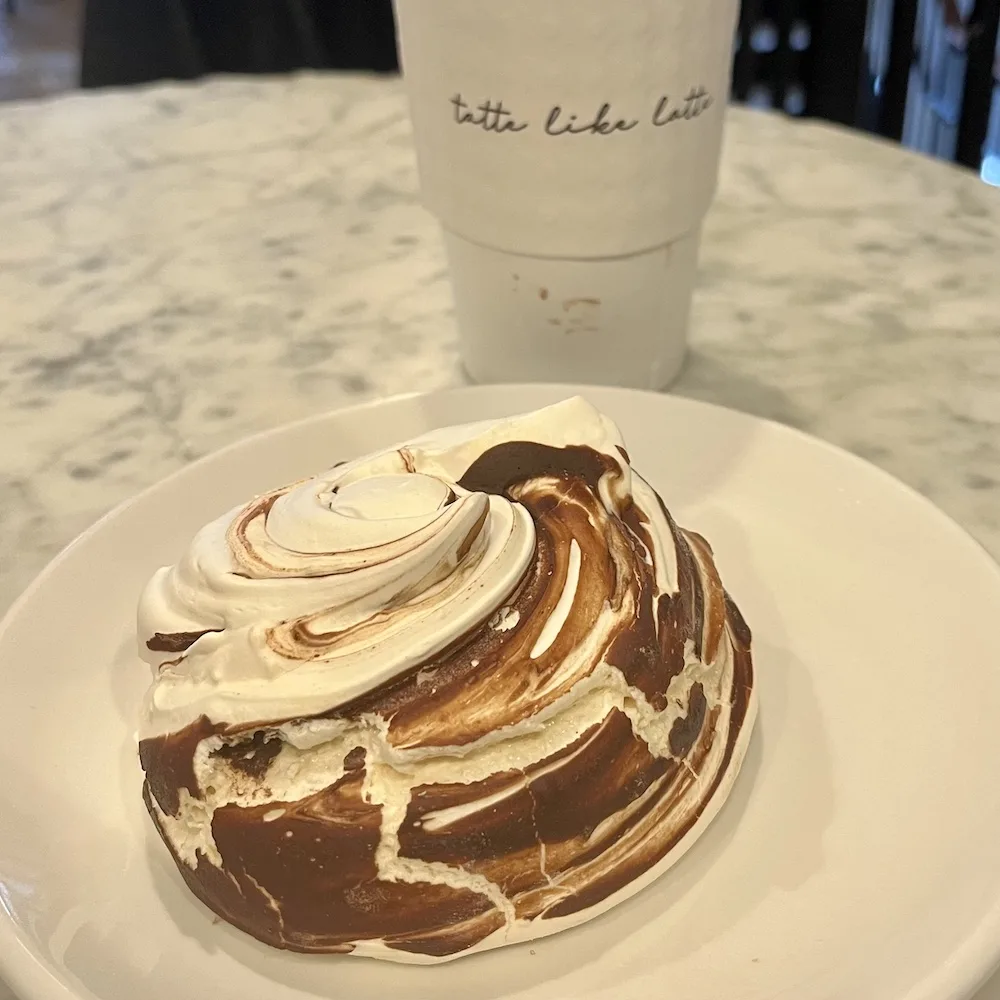 Their baked goods are as pretty as they are tasty and they have good hot cocoa and coffee drinks. They were handy when we had time to kill or wanted to chill out after a campus visit.
There was nothing like warm drinks and a pretty merengue to speed us across town to our next tour.
• The Cambridge schools have ample options nearby for lunch or an afternoon snack. Harvard Square has a bit more options in the immediate vicinity than Kendall does. But we had a nice, warming lunch at the Cambridge Brewing Co. a few blocks from MIT.
• Despite being urban campuses, Northeastern and BU didn't have as many options around the campuses as we expected.
• Tufts has a short street with cafés and pizza places about a five-minute walk from the visitors center. It was limited, but we found a Danish café with excellent European-style cakes and pastries and a campus café vibe. There's a bigger dining area around Davis Square, about a mile from campus.
• We didn't ask if it was possible to pay cash in any of the student dining halls or food courts. If we had been able to it could have been a good opportunity to get a different perspective on the campus —while also sitting and eating.
Pin it for Later!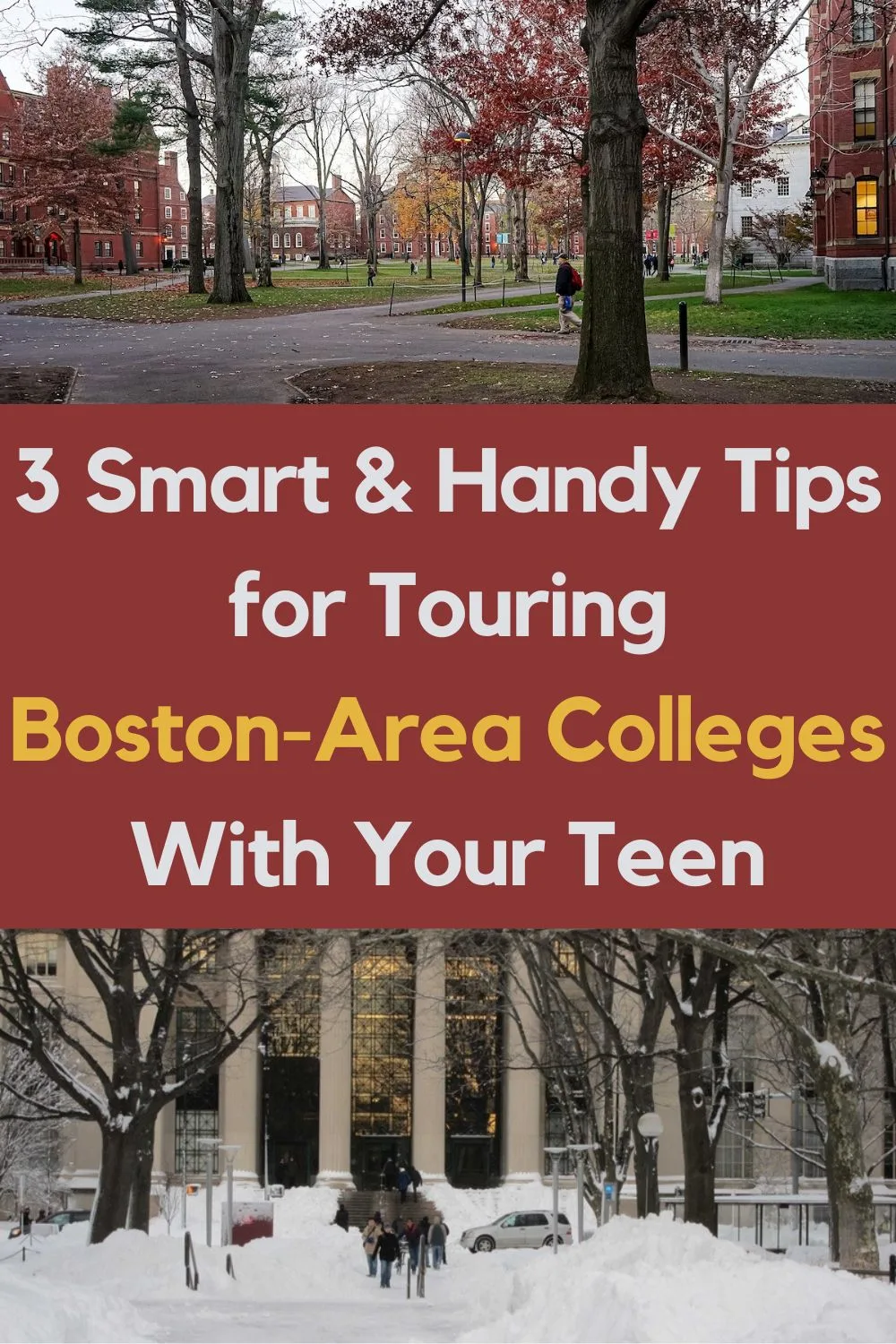 Photos: Harvard campus (Pixabay), hotel rooms (Hilton) MIT campus (MIT Admissions), T Map and Tufts elephant (Pixabay), Tatte merenge (FamiliesGo!©)