I was lucky enough to be invited by USAID to visit Kazakhstan recently. I launched into my pre-trip research into things to see and do with kids. And I quickly found that all the guide books and travel blogs assumed I would be traveling in Central Asia for three or six months or even a year. But I only had one week, about the length of a typical family vacation.
Did I get to see the entire country in seven days? No, no more than you could see all of America or Canada in that time. But I did get to experience enough to get a good sense of the country and people.
And I saw more than enough to make me want to go back and explore more. That's the best thing you can say about any destination.
Here are my suggestions for exploring Kazakhstan with kids using Almaty as your base over the course of about 10 days.
Read more:
• Here's everything you need to know to plan a trip to Kazakhstan with kids
• What to expect on an African Safari vacation with kids
• 5 Amazing Things To Do With Kids in Borneo
Almaty Hotels
We stayed at the Grand Mildom, a relatively new hotel with a good location.
The hotel's excellent points include being across from Dostyk Plaza, a Western-style mall. We popped over there often because it has a supermarket, drug store, ATMs and places to get a good espresso or an iced caramel latte, should you crave one.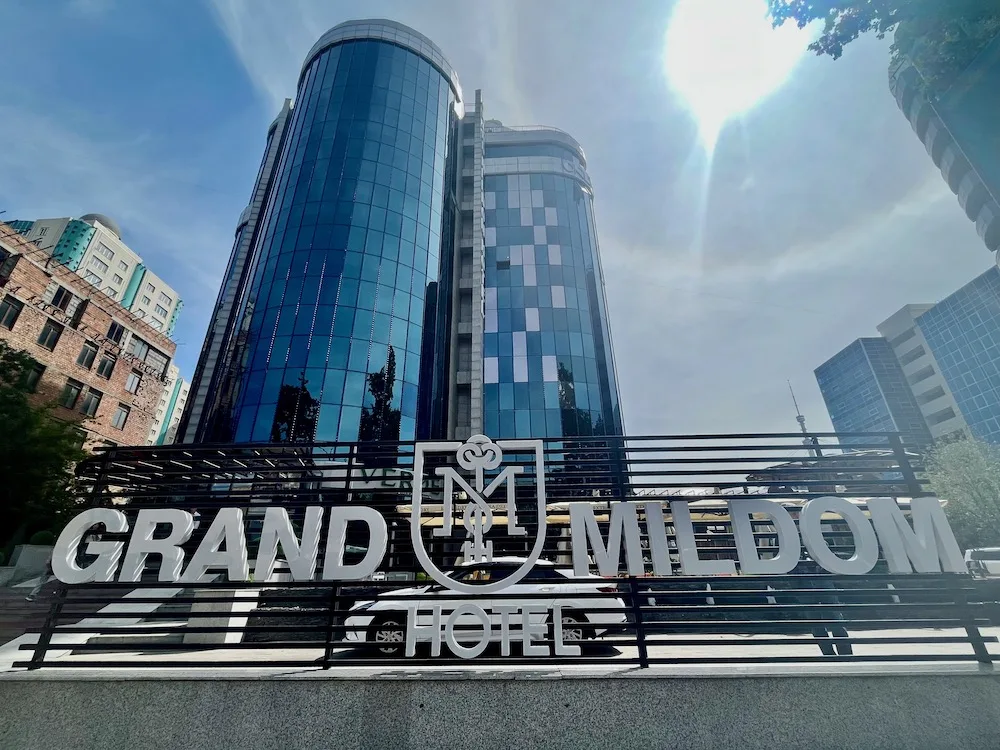 It's also on Dostyk Avenue, a main thoroughfare that leads to Panfilov Park and has shops, restaurants, other hotels and small parks along the way.
The hotel has a nice pool and a Turkish-style sauna, where I spent a few relaxing evenings. The front desk was helpful about answering questions and called a taxi for me one morning.
But the Grand Mildom has its quirks. The rooms vary greatly in shape and size. Mine was pretty tight and awkwardly shaped while others in my group had tons of room. Some rooms are near the upstairs nightclub, which you really don't want if you have kids with you.
If you book, try to get a room on a lower floor and make sure it will properly sleep the number of people you have. If you don't like your room, let them know; they were pretty good about changing rooms for us when we asked.
The room rate includes a breakfast buffet that had the usual fresh fruit, a daily egg dish, cold meats and cheeses, lots of rolls and elaborate pastries filled with sweet cheese. There were chicken wings (which kids might actually like) and a variety of milks and milk products, not all of them from cows.
The coffee was mediocre—hence our trips across the street for espressos and lattes—and they keep the cow milk off to the side so it doesn't get mixed up with the other milks, some of which are fermented and definitely not good in coffee.
If you prefer a reliable Western hotel brand you can certainly find them. There is a Novotel and a Doubletree by Hilton, both fairly central with rooms well under $200 a night.
The Intercontinental and the Rixos Almaty are a step up with bigger rooms, fancier facilities and rates under $300.
If you want real American luxury, the Ritz-Carlton is a little less central but has stellar mountain views and is an easy cab ride from everything you'll want to do. It's also a short walk to the city's botanical garden and a short ride from the Sunkar ski-jumping complex.
25 Things You Have To See With Kids In & Around Almaty, KZ
Planning Your Time
First, for my one-week stay in Almaty I was away from home for ten days. I traveled for 18 to 24 hours in each direction and with time changes it amounted to three days.
Given the travel time and the jet lag that comes with it, one week felt a little short. Ten days on the ground would have allowed me to see more and explore at a more relaxed pace.
If you can spend two weeks in the country you'll be able to check out other cities like Turkestan, which has a more traditional Moorish feel, and ultra-modern Astana, the capital.
Cell service is rare in more remote areas. The upside of this is that on the days you explore the national parks and other outdoor destinations the kids can't disappear into their phones, increasing the odds that they'll engage with you and what's around them.
Start with 2-to-3 Days in Almaty
A Morning Walk
I really liked visiting Almaty and wish I'd had more time to explore its many busy shopping streets and museums and linger at its outdoor cafés.
Several of the most important things to visit are within a few blocks of each other and this is the best place to start getting to know the city.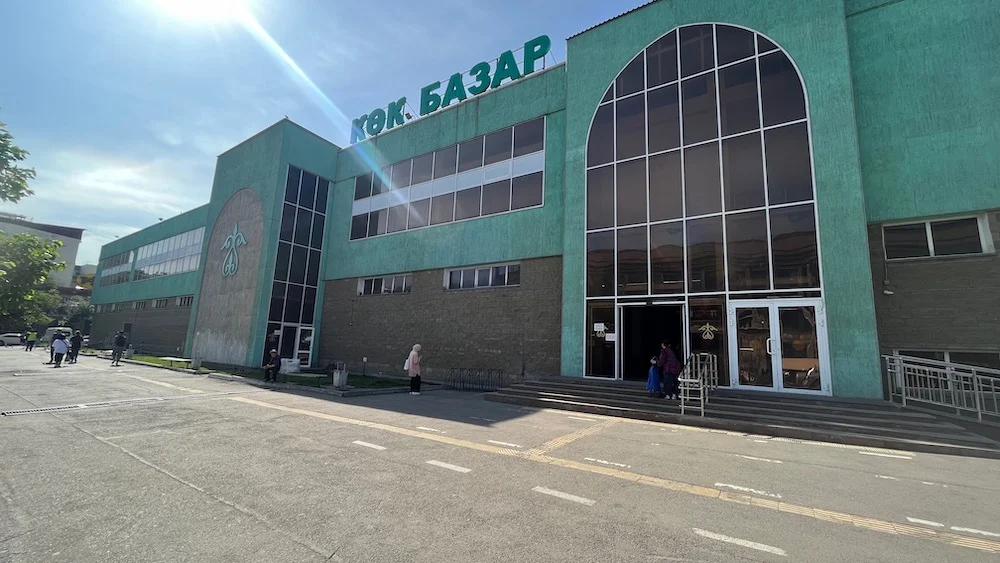 • Start at the Green Bazaar. If your hotel doesn't have breakfast (or even if it does) you'll find a coffee bar just inside the main entrance on Mukagali Makataev Street. It's inexpensive and has excellent coffee and a tasty pistachio roll.
Then you can wander between the two buildings looking at the fresh produce, dried fruit, nuts and spices, candy made from boiled-down milk and fish, dairy, and meat stalls. The latter make it abundantly clear how much of a meat-loving culture this is.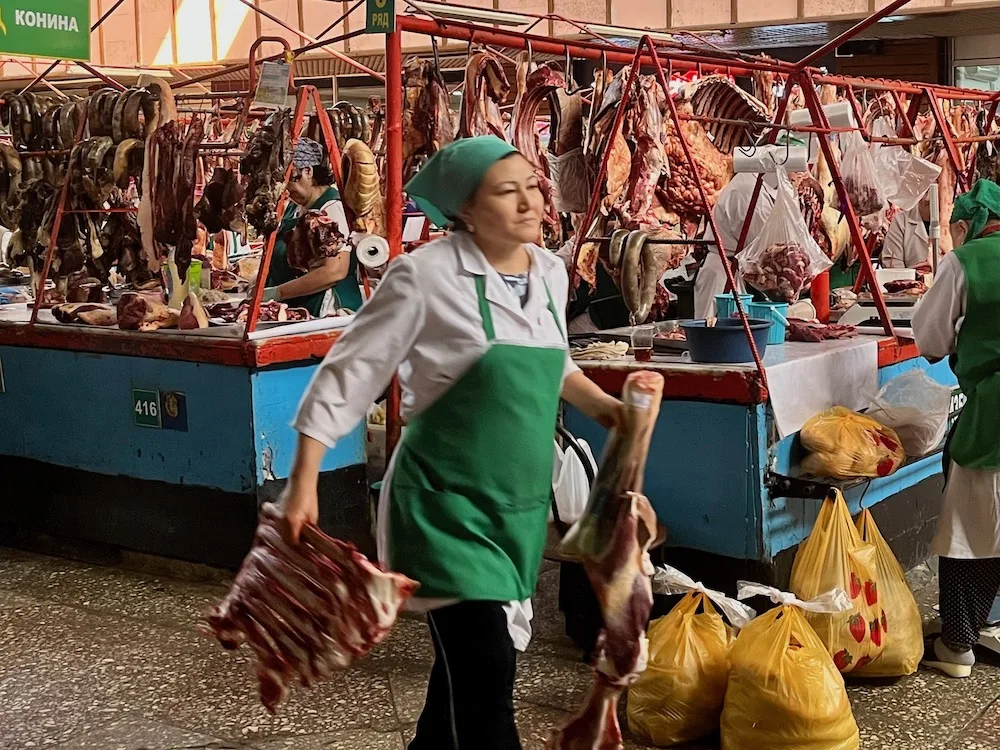 The vendors were eager to talk to me, partly out of curiosity but mostly to try to sell me things. They're very free with samples. But if you decide to buy something be prepared for them to keep loading a bag until you tell them—somewhat assertively—to stop.
If you suspect you're being given a "tourist price," tell them no. I bought some sugar-coated almonds and the vendor quoted to me a price that was so outrageous I laughed out loud. He quickly cut it in half. It was probably still egregious but it was also cheap enough that I didn't care.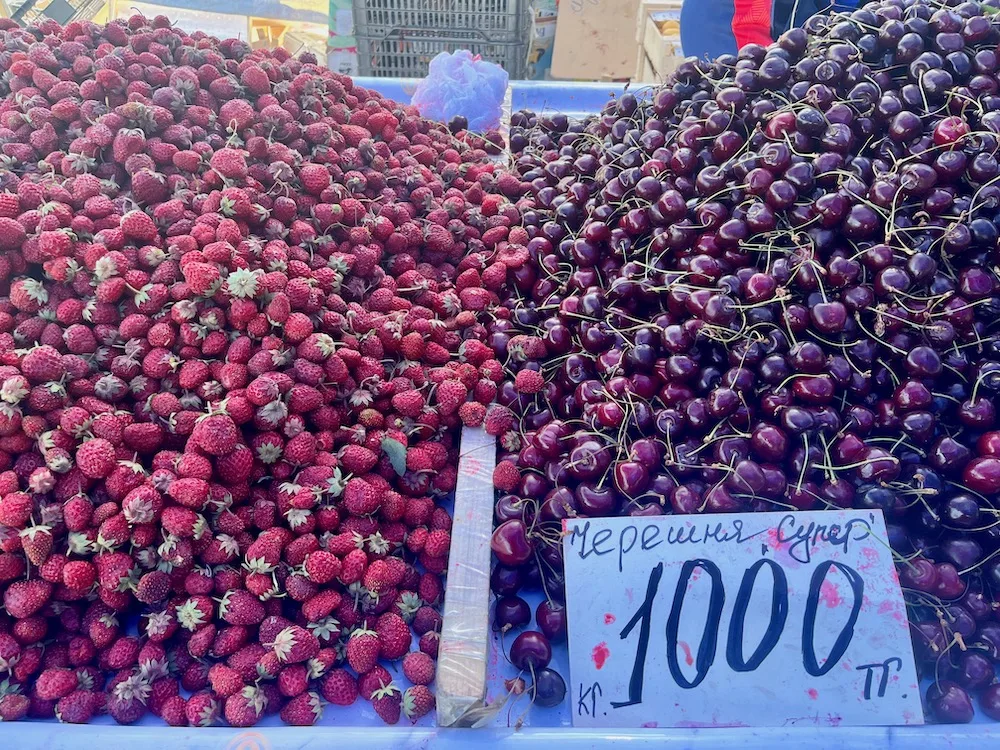 The berries and other fruit are very alluring. If you buy them give them a good rinse with bottled water. Almaty comes from the word for apple and there are still orchards in the area. It's worth asking if the apples you see are local.
On the outside there are small shops and stalls where you can shop for souvenirs. There isn't a lot, but one of my fellow travelers bought a traditional string instrument called a dombra. I bought a wool and silk scarf for about $10 and a small ceramic camel to hang on our Christmas tree. If you pay cash you can bargain with the vendors, but if you use a credit card they won't budge.
• While walking around outside the bazaar you will smell the unmistakable scent of chocolate. Follow your nose. The Lotte Rakhat chocolate factory is about a block away and has a large store on Zhibek Zholy Street, the back side of the bazaar.
The chocolate is good. The milk chocolate is rich, fruity and not overly sweet with a good melty quality. The dark chocolate isn't too dark and also has nice fruity tones. They discount the sticker prices by 15% but I don't really know how that compares with the prices you'd pay in a supermarket.
When you go in, do your best to not buy everything in sight. None of the labels are in English but you can probably ask for help if you want something in particular. I just picked out a bunch of different size bars based on which of the picturesque wrappers I liked the best.
• When you're finished shopping you can walk one block south on Zenkov Street to Panfilov Park, named for a Soviet general whose bust sits at the south entrance.
With its shady paths and outdoor cafés it's a pleasant place to wander and cool off. But there are two must-sees here: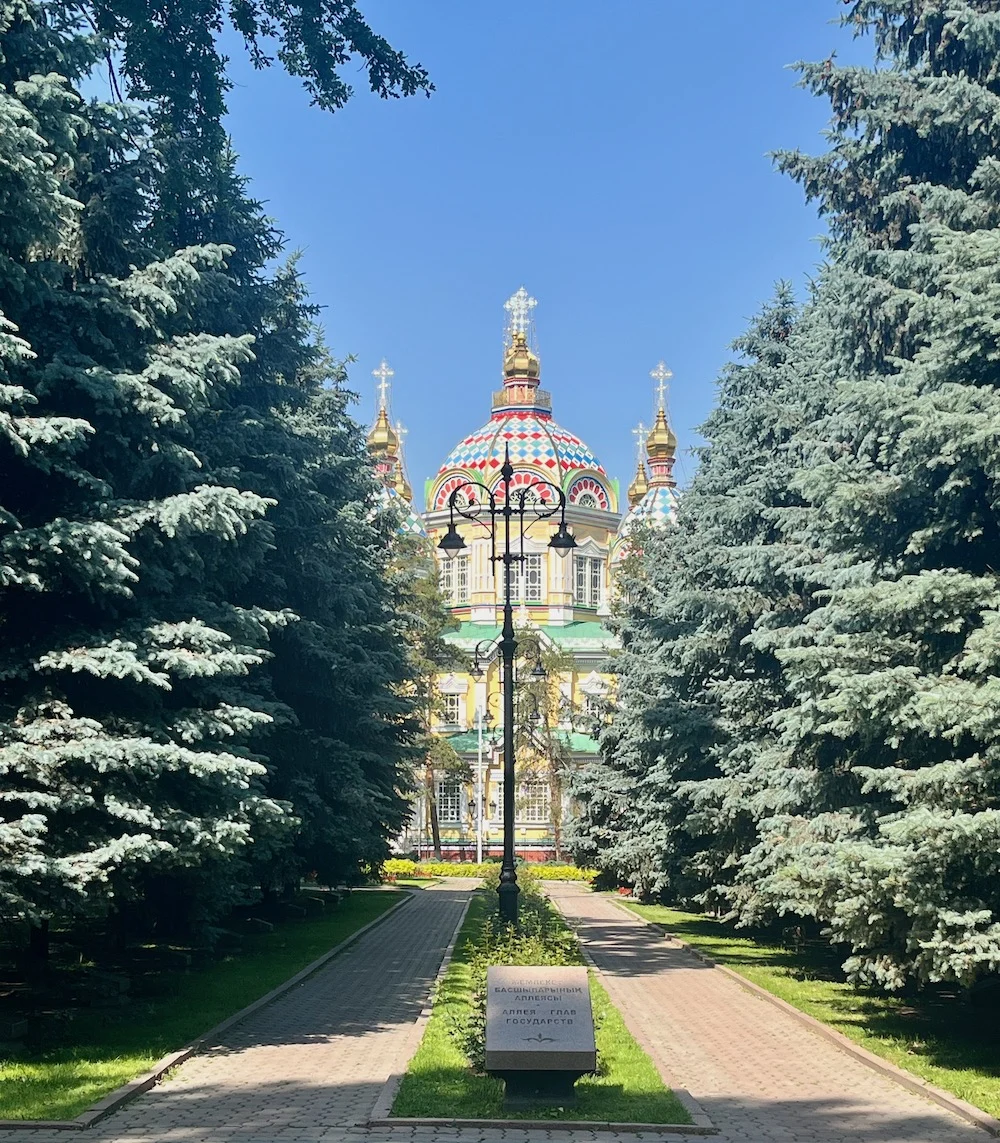 The first is the Ascension Russian Orthodox Cathedral in the park's center, popularly called Zenkov Cathedral after its architect.
The yellow cathedral is as colorful as an Easter egg and impossible to miss. Built in the early 1900s, it's made entirely of wood and without nails. It's the second-largest wooden church in the world.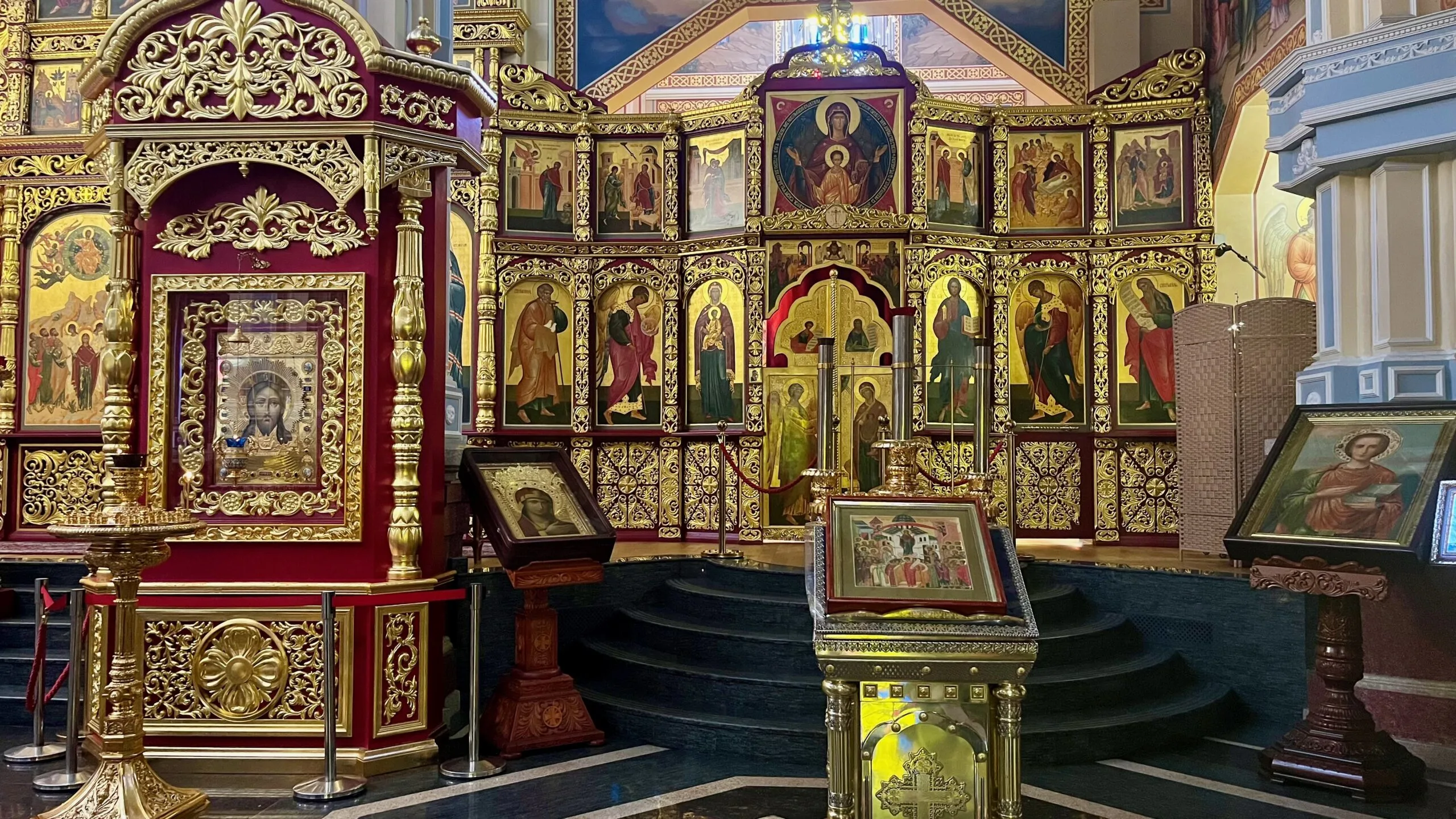 Inside you'll find the heavy iconography and gilding that's typical of Orthodox churches; it's impressive and the details are beautiful. Women need to don a headscarf to go in. There are services most mornings.
When you leave the church head to the east side of the park to spend a few minutes at the sprawling war memorial to Kazakhs who defended Moscow during World War II. It features a small eternal flame and some very good examples of blunt Soviet-era statuary.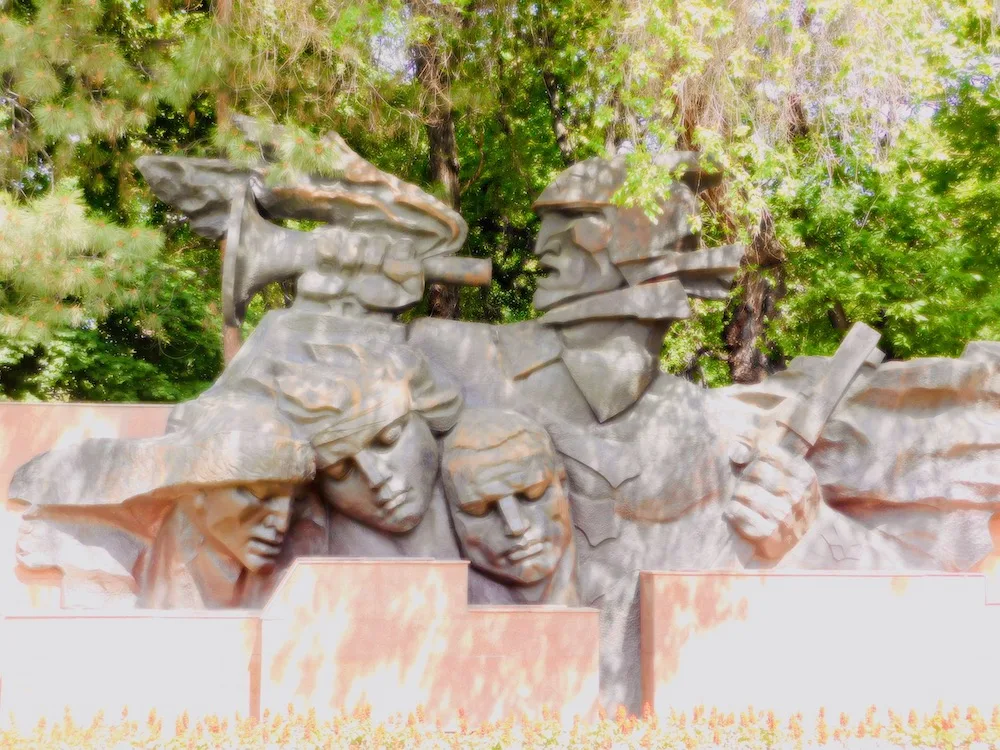 There are a lot of hard-to-miss Soviet statues around the city and I think they'll eventually replace them with Kazakh heroes, like the legendary poet Zhambyl Zhabayuly, whose statue is easy to spot on Dostyk Ave. But some of the older generation feel strong ties to the old U.S.S.R., so it won't happen overnight.
• Three blocks to the west and about half a block north of the park you'll find Arbat Street, a manicured pedestrian zone with restaurants, shops and benches where you do some people watching with a cold drink.
• You can also walk south from the park along Dostyk Avenue. You'll pass restaurants and cafés including both an English and Irish pub, some small parks and playgrounds, a metro station and the city's performing arts center.
A Scenic View & Fun for the Kids
• Next to the performing art's center (and behind the Novotel) you'll find the Kok-Tobe Gondola. You can ride up and back down again to admire the views from Kok-Tobe Peak, the highest point in Almaty.
If you want to reward your kids for good behavior during the morning's sightseeing, though, hang out and enjoy the small amusement park. It has a large Ferris Wheel, mountain coaster and treetop climbing course among other amusements and casual dining. Keep your eye out for the two-person wooden see-saw/swing which seem popular around the city.
I didn't get to check it out, but some of my fellow travelers and report having a lot of fun up there.
A monumental Park
• If you need some shade and a place to let the kids run loose, head to First President Park, a 20-minute cab ride from the area you've been exploring and ten minutes from the Ritz-Carlton.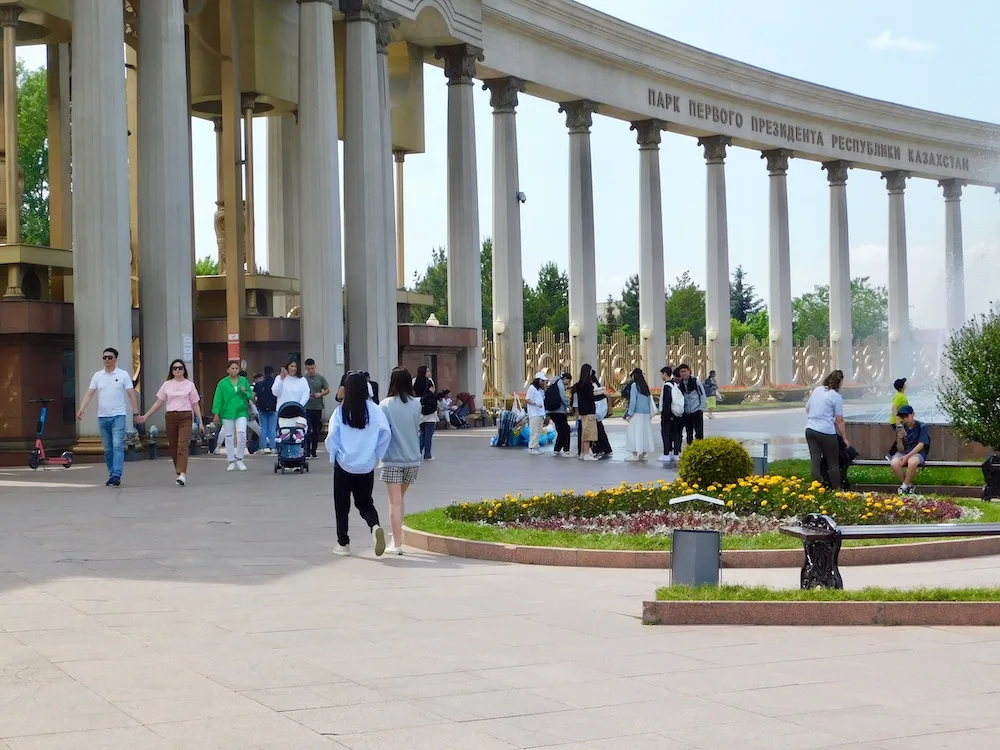 The park sprawls with winding bike paths, open fields, a hilltop pagoda and an enormous fountain where kids and teens were happily dunking themselves on the very warm June day when I visited.
The entrance features a colonnade the length of a city block with flower beds, grass and a smaller fountain in front of it. There are also giant tumbling apples next to an artful caterpillar, which are supposed to represent the city but brought to mind the Eric Carle book.
3 Worthwhile Museums
I didn't get to any museums, unfortunately, but the enormous Central State Museum of the Republic of Kazakhstan is in an interesting building that simultaneously looks traditionally Muslim and modern. As you would expect, it has a wide cross-section of artifacts related to Kazak history and people.
It's south of Panfilov Park, a few minutes' walk from Dostyk Plaza.
The Almaty Museum is more manageable size and is a bit Smithsonian-like. Its quirky exhibits celebrate the city's ancient history, more recent past and modern-day culture.
The National Academy of Sciences houses four small museums that you can see for a couple of dollars per person. They include archeology and natural history museums plus a collection of rare books and a museum that explore the history of science in Kazakhstan. Something for everyone!
Just be prepared for only some signage to be in English and have Google Translate handy.
Day Trips From Almaty
Ile-Alatau and Birds of Prey
Once you're ready for an easy day trip out of the city, spend an afternoon at Ile-Alatau, a national park that covers more than 75 square miles with hiking trails, fast rivers, lakes including Big Almaty Lake, alpine forests, mountain peaks with world-class skiing and more.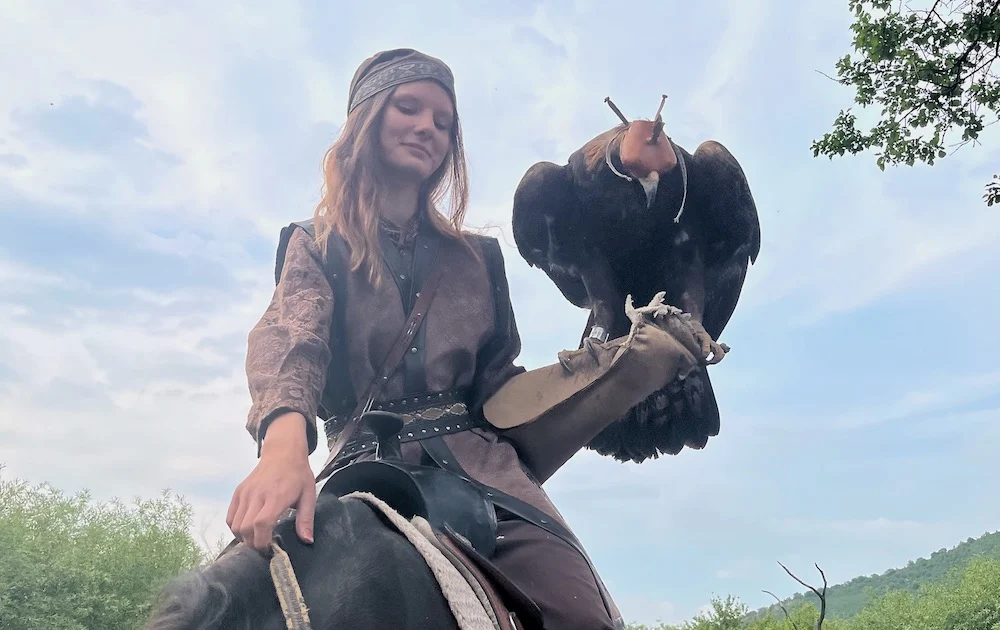 We paired a visit to the park with the late afternoon Birds of Prey show at Sunkar Raptor Sanctuary. The sanctuary was opened to protect a local falcon species that was in danger of going extinct in the 1980s. It now breeds these falcons and other birds of prey.
It finances its work with a daily bird show during the warm weather. The German handler we saw was quite the entertainer. He spoke a few languages, including English, and knew how to build suspense.
He genuinely wowed us with feats that demonstrated how these birds stalk and capture their dinner. At one point he threw some meat in the air for a wild bird to catch mid-flight.
A guided day trip that includes stops at Shymbaluk ski center, an ice skating rink and Big Almaty Lake as well as the falcon show would be a fun, well-paced excursion that would introduce you to the many varied topographies near Almaty.
If you want more walking, another guided day trip takes you to the lake and to Big Almaty peak, passing by an abandoned space station, as well as to the falcon show.
The Asy Plateau, Summer Pastures & a Golden Man
I really enjoyed the day trip I took to the Asy Plateau. The area provides summer grazing land for Kazak horse herds and cattle. We saw hundreds of horses grouped into large herds as we drove along the flat grassy fields around the plateau (top).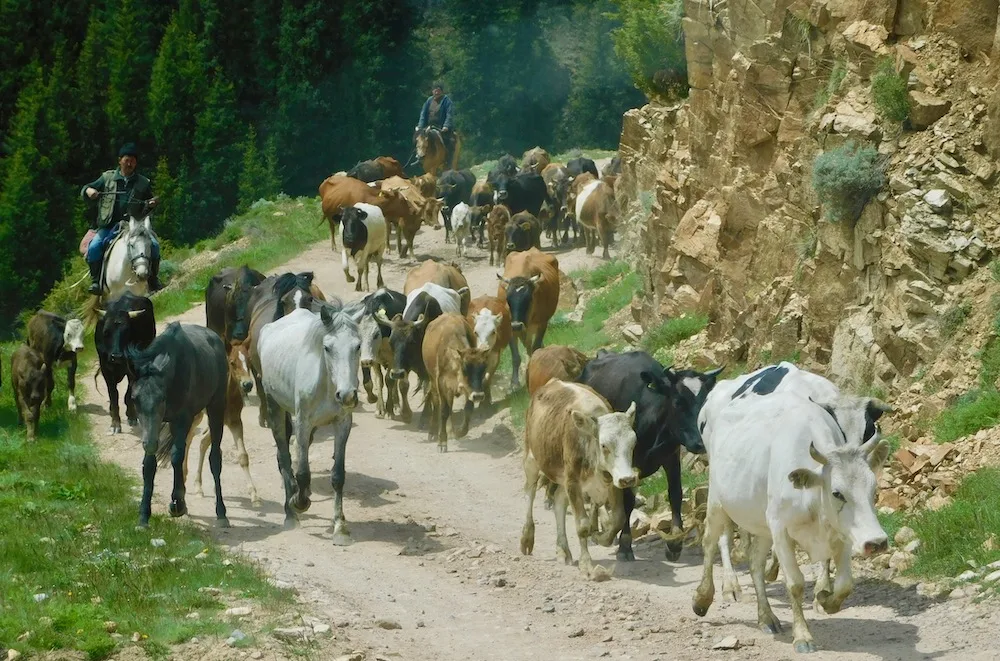 Dotted among the horses were the traditional yurts that still serve as summer homes for the herdsmen. In a nod to modernity, some of the yurts had four-wheel-drive trucks parked next to them. Cow and sheep herds migrate, too, and we those as well.
I'd never seen as much wildly different scenery all in one day.
The forested mountains and streams on the far side of Ile-AIatau National Park gave way to huge, sprawling fields, which led up to the wind-swept plateau. Once there, we had a bird's eye view of the fields below as well snow-capped mountains in the distance.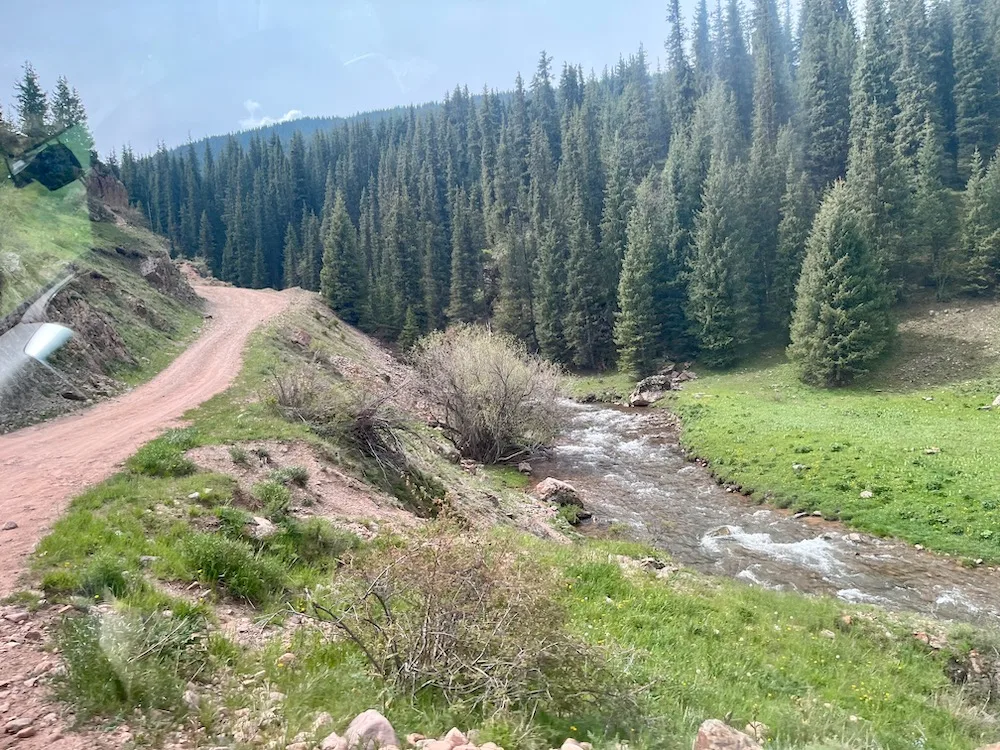 It felt like quite an adventure as the road we took grew narrower and more rutted, then turned into a dirt track and then barely even that.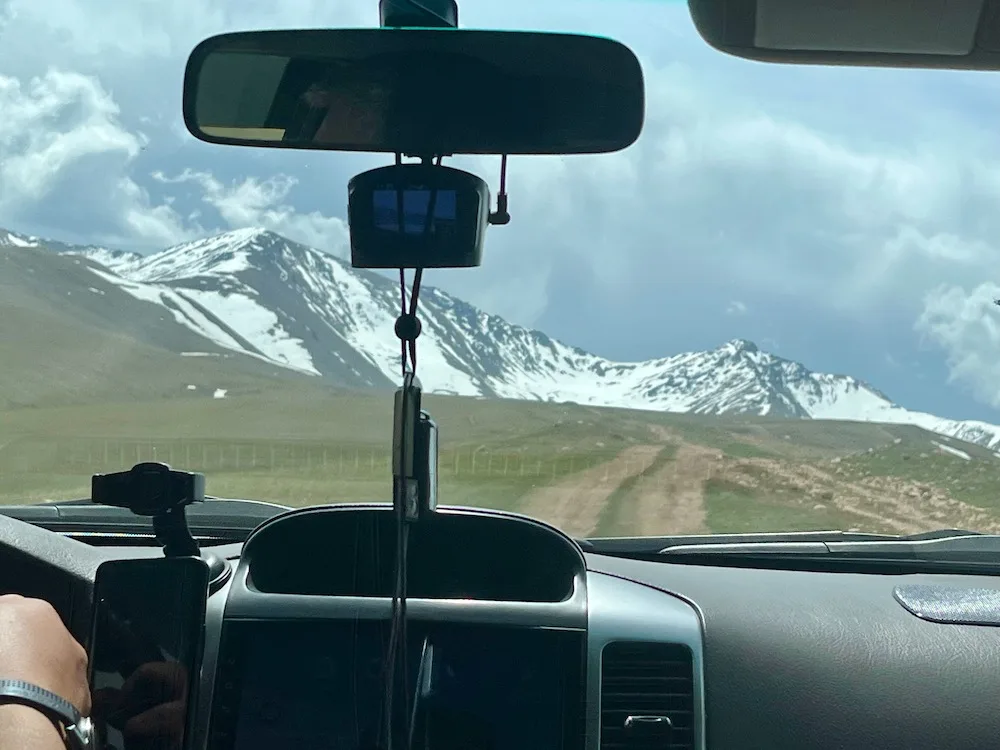 We drove past rivers getting to the plateau and on the way back, we stopped at a fish camp to eat fried trout plucked from them that morning. Some of the camps have stocked ponds where you can try to catch your lunch; this was a popular activity for families.
We also stopped at the Esik State Historical and Cultural Museum to see a copy of the Golden Man, who was found in a nearby burial mound.
Most of the burial mounds had been raided over the centuries since but this one had a hidden chamber that was overlooked. Inside, they found a remarkably intact skeleton dressed in dazzling gold and red clothing.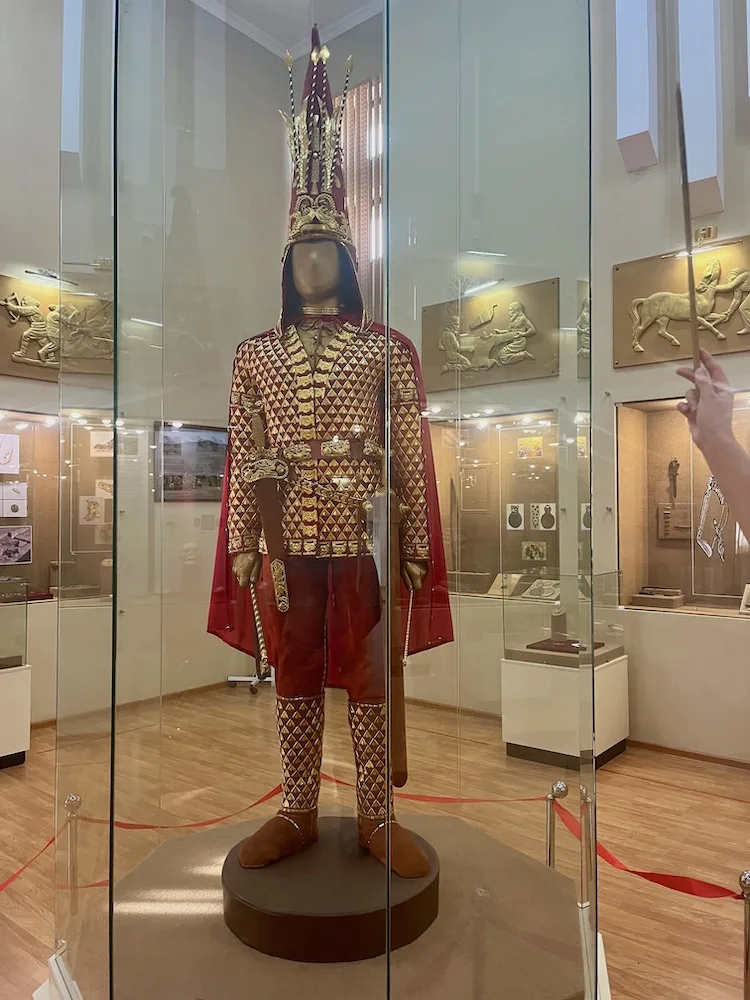 The clothing is impressive and they display it well. The museum had more archeological items, tapestries and other relics of the traditional nomadic tribes.
It's a small focused museum and easy to see in 45 minutes or so, which is my favorite kind of museum, especially when traveling with kids. All the signage is in Kazakh, but there was an English-speaking staff member on hand to walk us through the exhibits.
The Assy Plateau day tour, is very much a scenic drive and not much of an active day out. We stopped to take pictures and for lunch and the museum, but didn't do any hiking or scenic walks.
I think teens could enjoy—or at least deal with— the drive and will appreciate the scenery, especially the horse herds and the view from the top of the plateau. Younger kids will be bored and restless.
We did drive along the far side of the Ile-Alatau park and you could look for a day trip that incorporates here or on the plateau. You can also see the plateau as part of a three-day exploration of several lakes, waterfalls and walking trails in the region, if you're up for a some basic glamping.
Tip: Avoid one-day trips that include a stop at Lake Issyk. It was once a huge lake and popular destination, but a poorly managed dam project caused a massive mudslide that left the lake a fraction of its original size.
It's a popular picnic spot for local families and some tours. But it's a good 30-minute drive from the main road and there isn't enough to do or see around the lake to make it worth the detour if you're only out for the day.
Also, several tours will mention the observatory at the top of the plateau. It's old and impressive, but not open to the public.
Visit the Huns Ethno-Village
"The Huns" ethno-village is another day trip I really enjoyed. It's an easy way to learn a bit about traditional Kazak nomadic life. It's a bit hokey, as these things tend to be and teens will feel obligated to roll their eyes. But school-age kids will get into it and younger kids will like the traditional music and colorful costumes and getting to go inside an authentic yurt.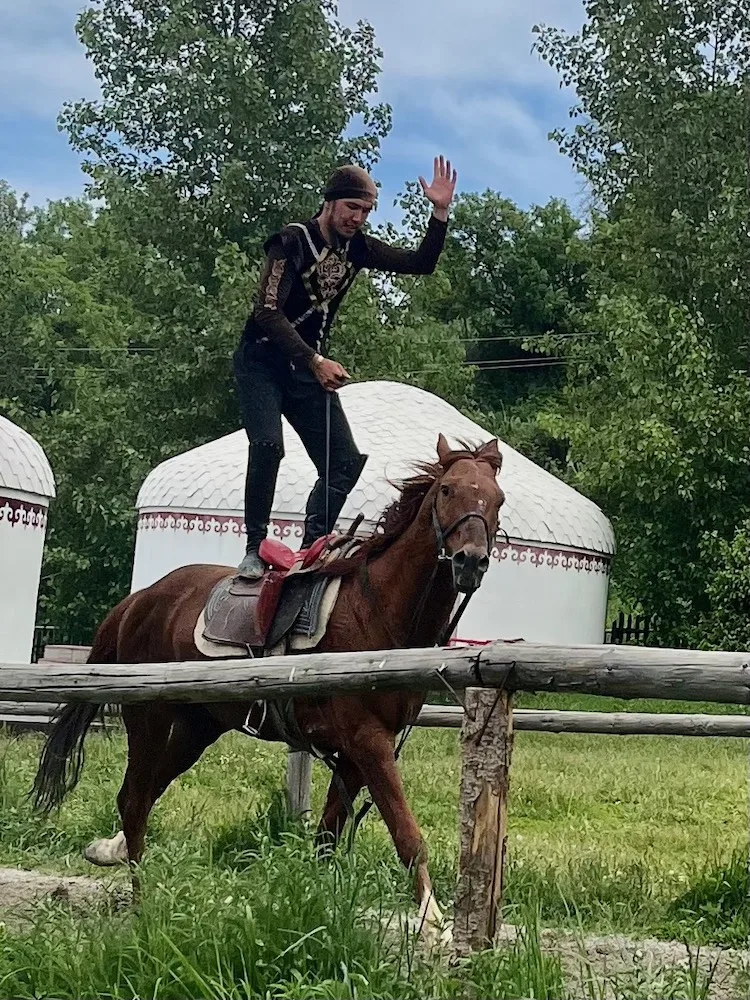 The highlight of this is the trick horseback riding. Four young men and women flip themselves upside down, sideways and all around on galloping horses. And the women do everything the guys do.
We watched them shape and fry traditional rolls called baursak and drank a tasty traditional tea. We had a chance to try fermented horse milk, an important food to Nomadic tribes before refrigeration and still a big part of the local diet.
You have to try it so you can say you did, but it's an acquired taste.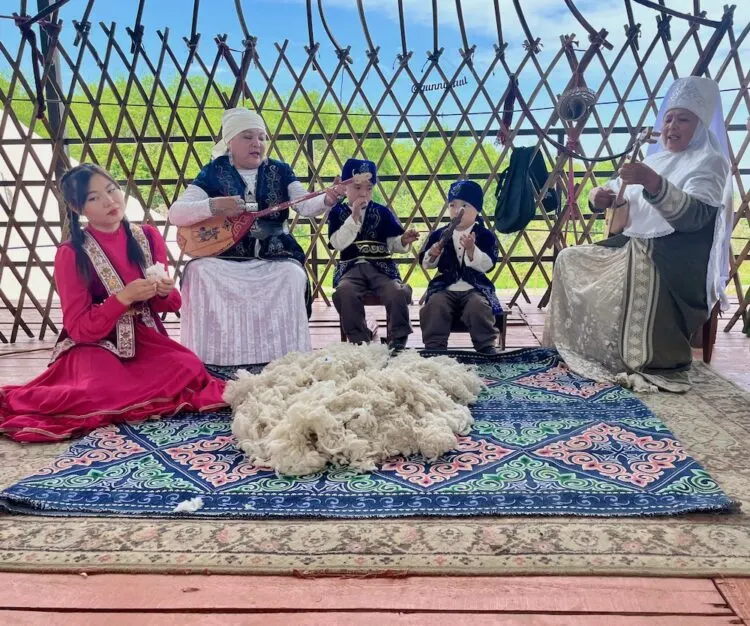 There was also traditional music, dancing, games and weaving. And we spent a few minutes in a traditional yurt, full of handmade carpets and animal pelts.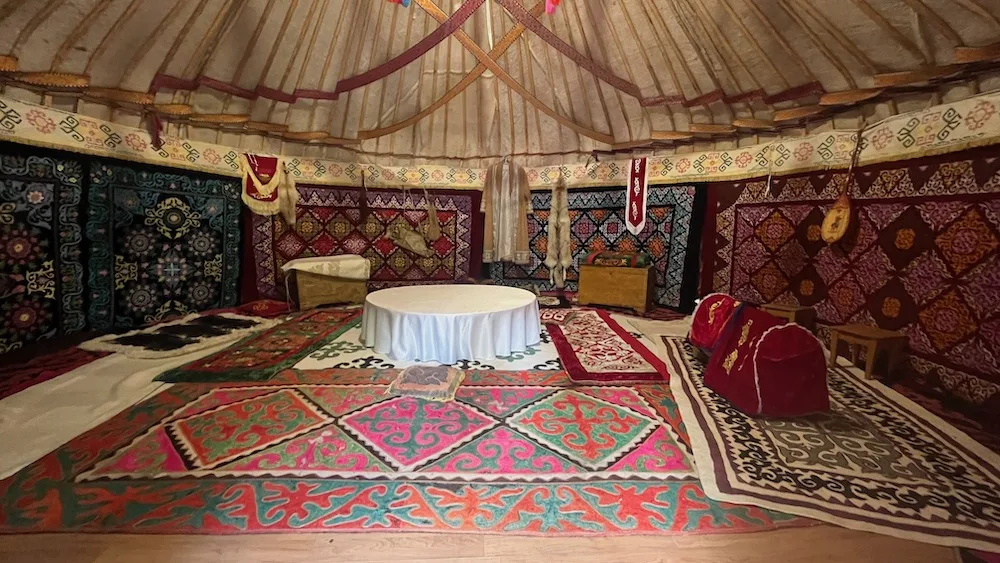 The lunch we had there was good and one of the more vegetarian-friendly meals we had with lentil soup, salads and a meat-free rice pilaf.
It's about an hour's drive from Almaty and the entire visit is two to three hours, including having lunch.
Overnight in the Kazak Catskills
We combined the Hun Village with an overnight stay at Oi Qaragai Mountain Resort, about an hour away from the village. In the winter it's one of a handful of small ski resorts around Almaty. In summer, it offers a Kazakh take on the Catskills Resorts you see in Dirty Dancing and Mrs. Maisel,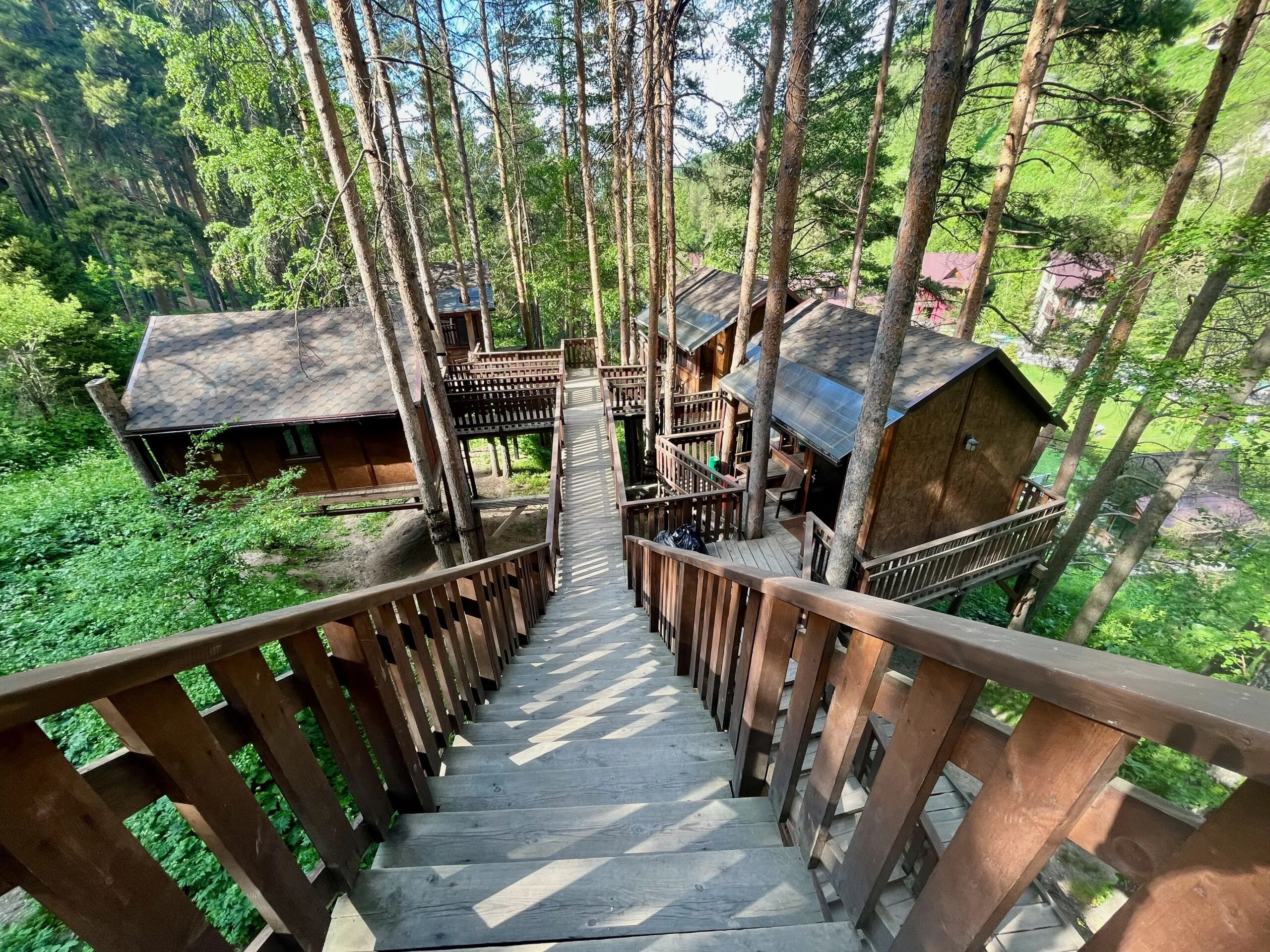 We stayed in the "treetop cabins," which are rustic and will make you feel like you're at summer camp. They have fold-down bunks for the kiddos. But, the showers had amazingly good water pressure.
There isn't a lot of room for luggage. We left out suitcases at the Grand Mildom and just packed what we'd need overnight, which made the small space was manageable.
There are modern buildings with bigger more traditional hotel rooms. They also have the advantage of not being at the top of a big hill. And groups can rent whole houses that are quite luxurious, with their own hot tubs.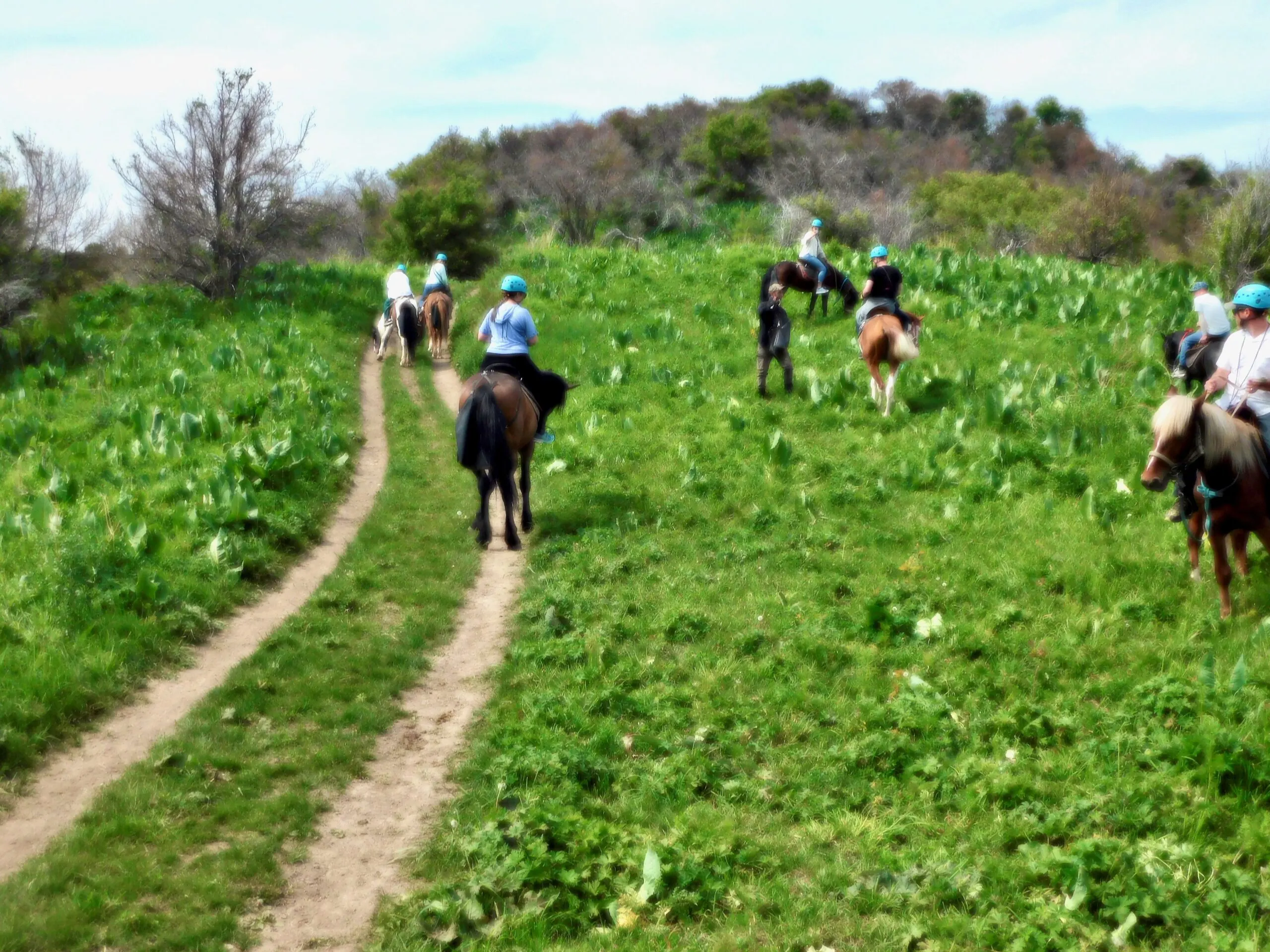 I joined a group horseback riding. The trail went up into the hills where we had fantastic views of the valley below. The horses were nice and the ride was the right length to not be in pain the next day.
You can also take a ski lift to the top of the ski trails to ride mountain bikes or three-wheeled mountain carts back down. There's a truly scary-looking zip-line, a tree-top rope course, archery and guided hikes.
A Kids Club has a huge outdoor play area and rope course for little kids. Your youngsters will be very happy there if you want to avail yourself of the tranquil spa that has very reasonable prices and treatment pavilions next to a babbling brook.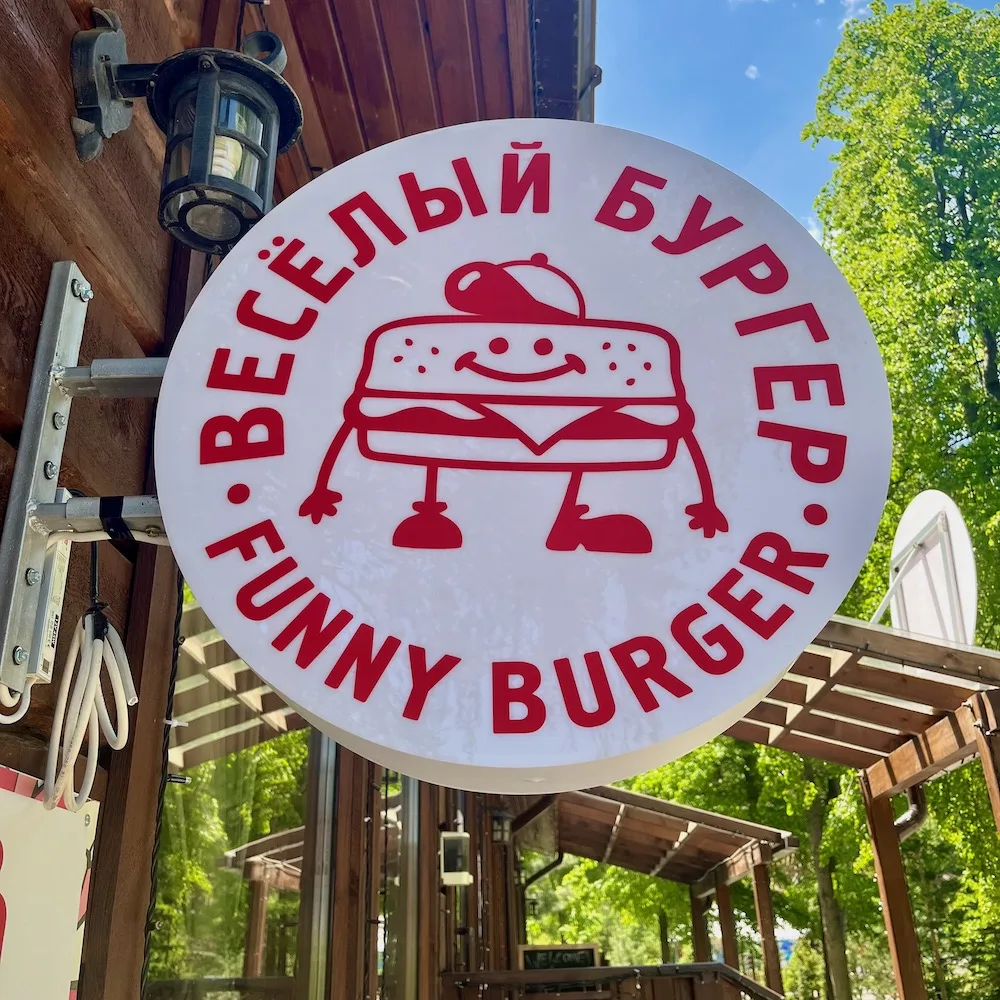 We ate surprisingly good pizza and salads at an Italian restaurant at the resort. Your kids will welcome that or a meal at Funny Burger after days of Kazak food.
But if you haven't had your fill of local food, we had a good Kazakh lunch in a festive tent in the center of the resort. The Italian place also had a great breakfast buffet with made-to-order eggs and Italian coffee.
There's no place to swim, which would have been welcome on the warm day we had. One night here is a relaxing break from sightseeing and plenty of time to do what you want at the resort.
It can get chilly at night in the mountains; plan on the temperature dropping ten degrees or more from the daytime. And if you plan to sit outside at night, which is lovely, bring bug spray.
Exploring Kazakhstan's National Parks
The concept of a National Park is relatively new in Kazakhstan; it didn't have any prior to 1985 and now has 13. The government has made a serious effort to delineate large protected areas for locals, tourists and wildlife to enjoy.
Since they are a work in progress, facilities can vary a bit from park to park. They're worth seeing so you just have to go with the flow.
Mountains & Sand Dunes
I was in the half of our group that visited Altyn Emel National Park, which has dramatic red and brown mountains and brush-filled dessert valleys. It was different from what we'd seen elsewhere and reminded me of the American Southwest.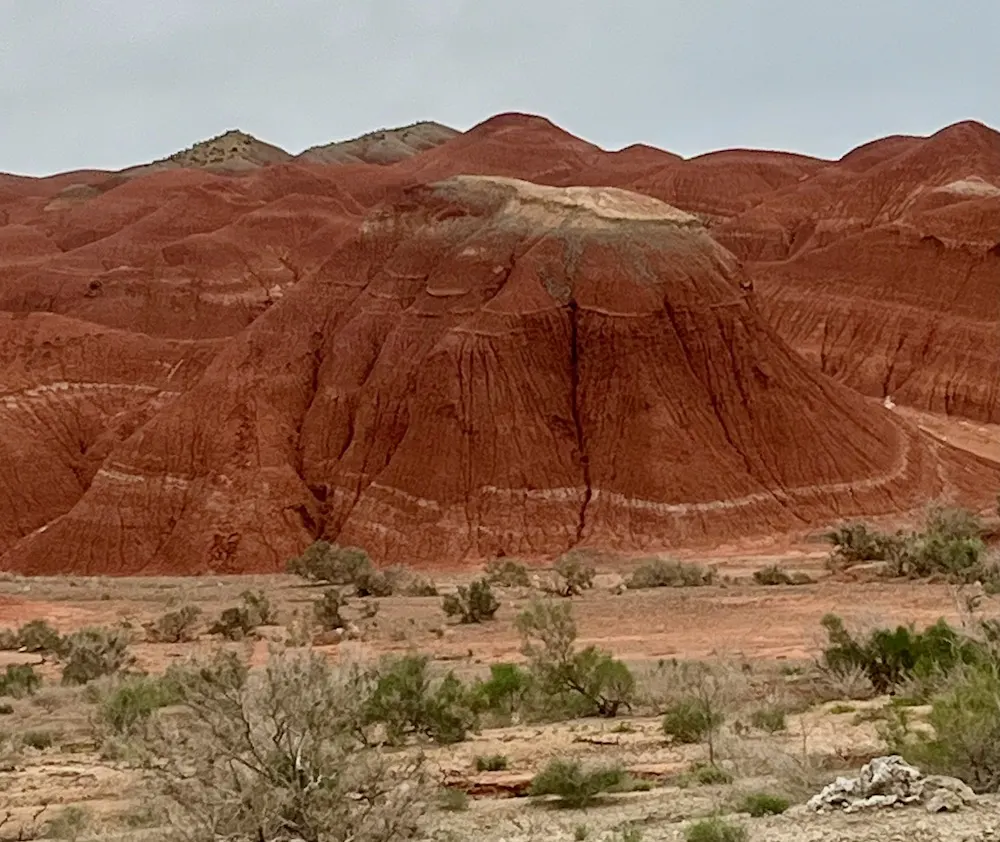 We took a walk through a canyon to stretch our legs and take in the scenery but didn't explore any hiking trails. Another stop inside the park was the Singing Dunes, a large sand dune that you can climb. When the sand slides it makes a singing (some say screeching) sound. There's no sand anywhere else in Kazakhstan and they don't know how these dunes got there.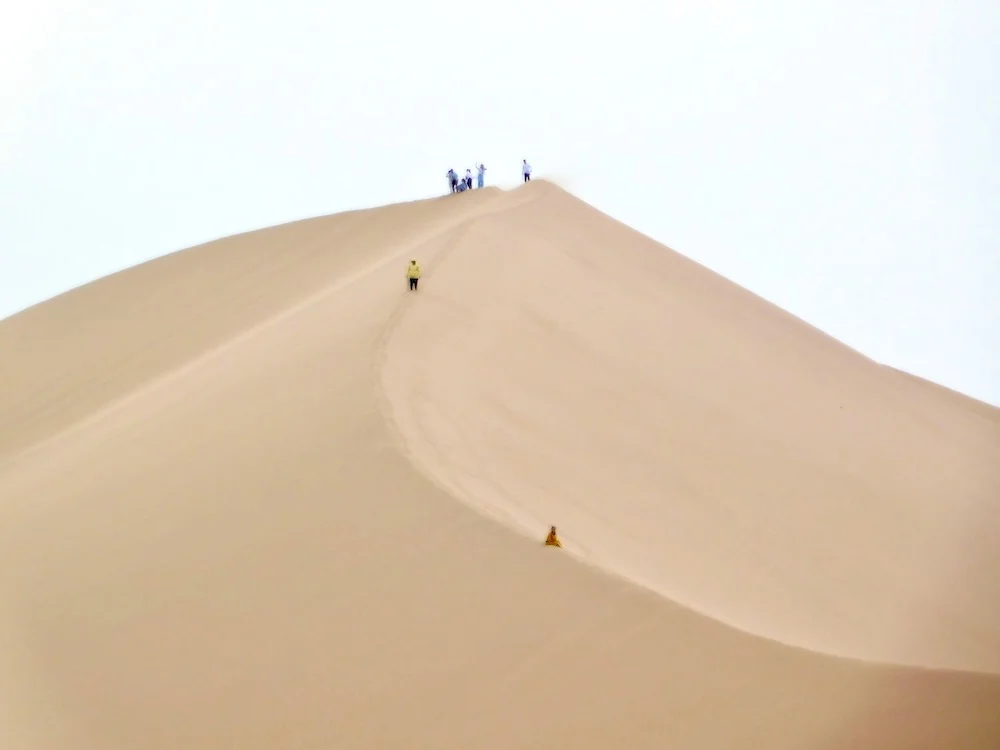 It's harder than you might expect, but you can climb to the top on bare feet or sport sandals; boots and sneakers just fill with sand and make your feet sink.
Altyn Emel was an interesting place, but way too much driving for what we saw and did. Also, the very rough roads were tiring after a while and hard on our group members prone to motion sickness. I would say do it, but not as a day trip; if you stay overnight you'll see more of the park, and have the chance to stay in a small guest house.
Canyons & Lakes
The other half of the group squeezed Charyn and Black canyons and Kolsay and Kaindy lakes into two days (which I also don't recommend). They gave them all great reviews, especially Charyn Canyon, which is one of the most popular destinations in Kazakhstan, and Kaindy Lake, known for its sunken birch forest.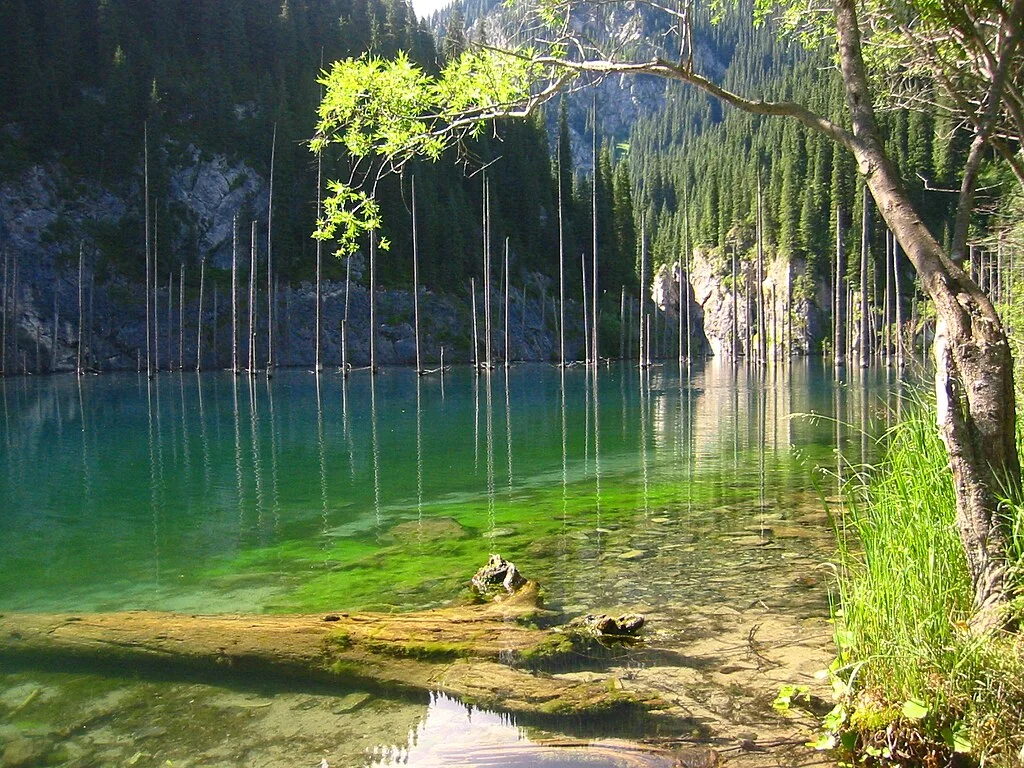 You can book two, three. four-day or even five-day trips that include some or all of these places as well as Altyn Emel. Choose one that's the right activity level for your family and that gives you time to enjoy the destinations you choose to explore.
Head back to Almaty afterward and pamper yourself with a day or two of city hotels and restaurants before starting the long journey home.
Pin It For Later!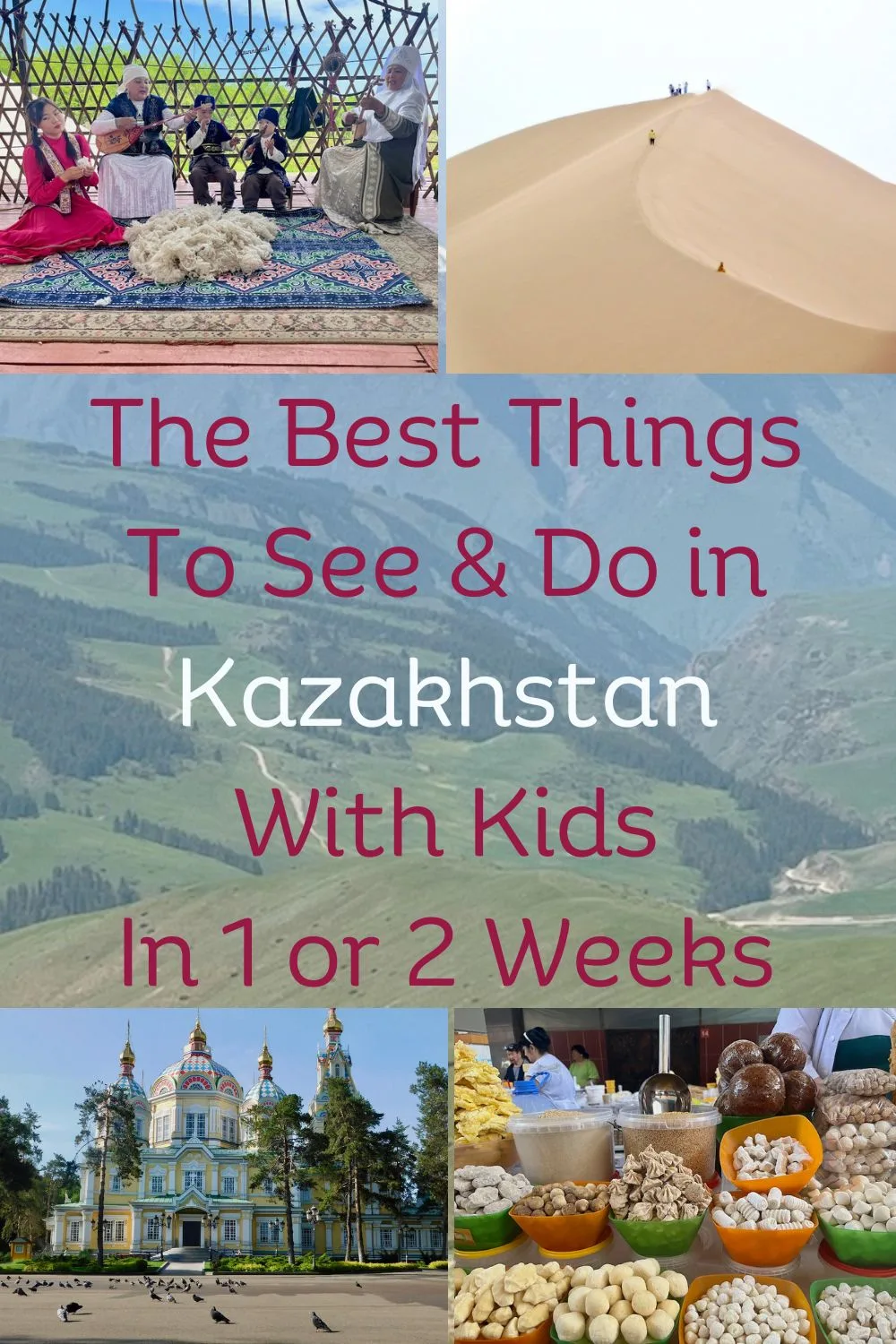 All photos by FamliesGo!© except Kaindy Lake (Jonas Satkauskas via Wikimedia Commons).