Why in the world would a family in New York City fly north to Quebec City for spring break?
It was still pretty wintery and gray in this Canadian city. But we did it because we found a fantastic off-season airfare-hotel package and nothing was very crowded.
With its sophisticated French food, and its focus on museums, culture and history, Quebec didn't seem like the ideal place to vacation with a 4-year-old when we first arrived. But over the five days we stayed we found plenty of places to eat and things to do with kids. Rich, Tiny Traveler and I had a fun stay.
Check out the video to help with your itinerary for a Quebec family vacation. See more details below about activities in Quebec with little kids.
You might also like:
• Things To Do In Montreal
• Yummy Montreal Foods Kids Love
• 6 Places You Have To See In Canada With Kids
48 Hours in Quebec With Kids: Where to Find Quirky Winter Fun
Fun-For-All-Ages Things To Do
Exploring Upper and Lower Old Town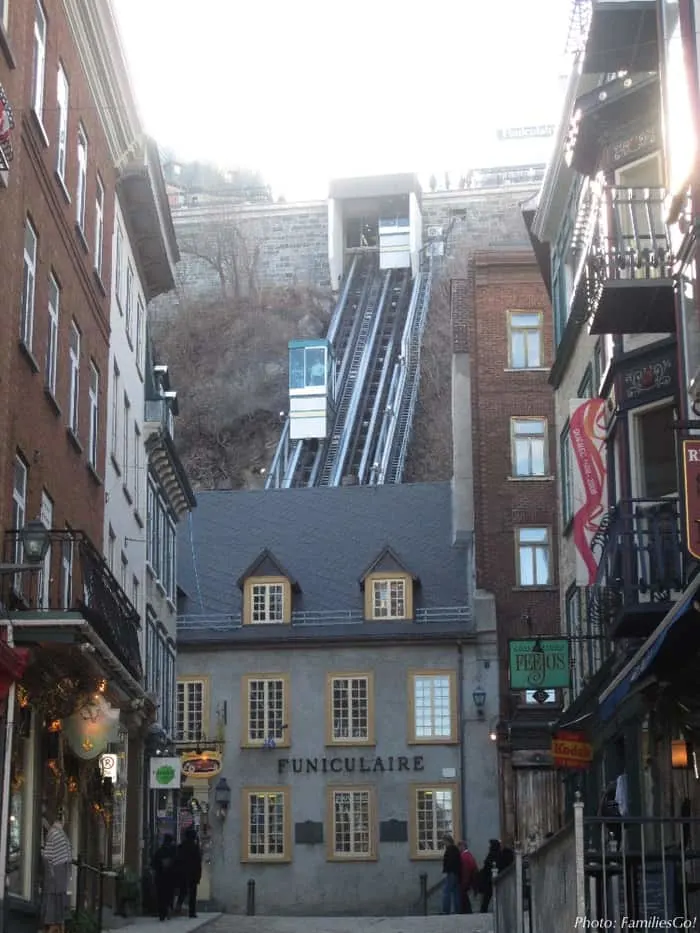 The old town or Vieille Ville, is the heart of Quebec City. You'll spend a lot of time wandering the narrow streets taking photos, eating, popping into sweet shops and window shopping. The chilly late winter weather gave us good reason to stop into cafés for very rich French style hot chocolate.
Kids love the funicular, a diagonal glass elevator, that you take you between the Haute Ville (upper town) and Basse Ville (lower town). Plan to ride it a few times.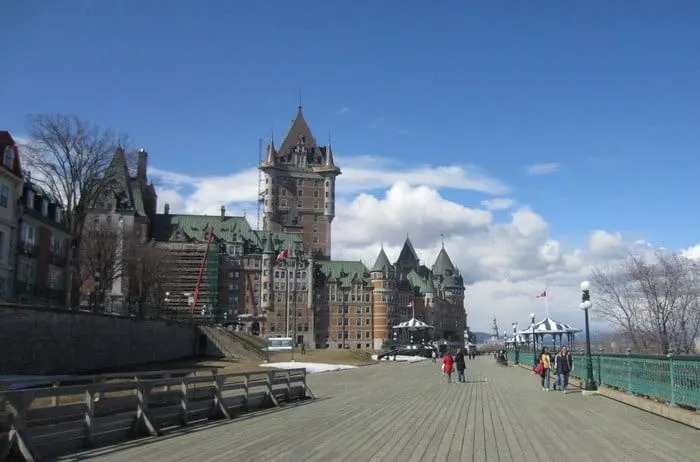 The Promenade that runs along the upper quarter behind the Chateau Frontenac is a fine place to stroll and let your run loose a bit. We had it to ourselves in March. But in the summer it's hopping with buskers and other activities.
We generally preferred the lower town. It was more picturesque and found more shops and restaurants that we liked. We stopped into a fudge shop for chocolat chaude and coffee.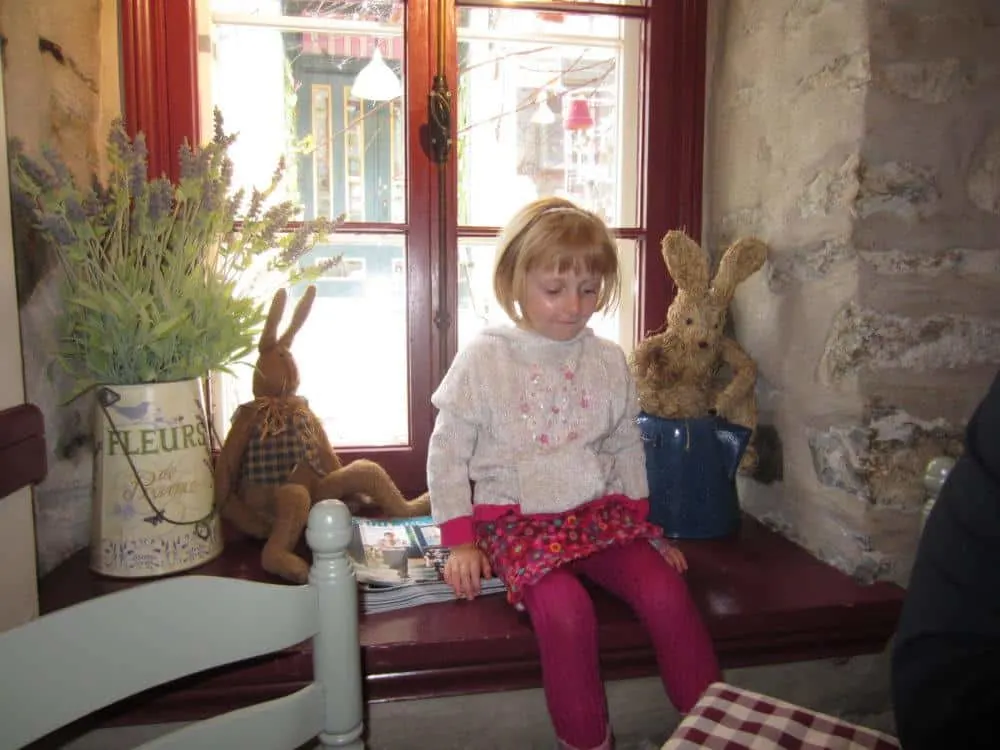 The Chateau Frontenac Hotel:
It looks like a castle and so Tiny Traveler and I made a game of exploring the giant lobby looking for the resident princess.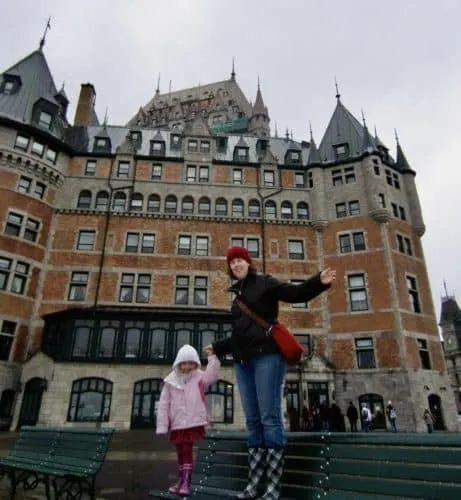 Off-season you can find some surprising good deals and if you find one, absolutely stay here. The location and ambience can't be beat.
The Museum of Civilization: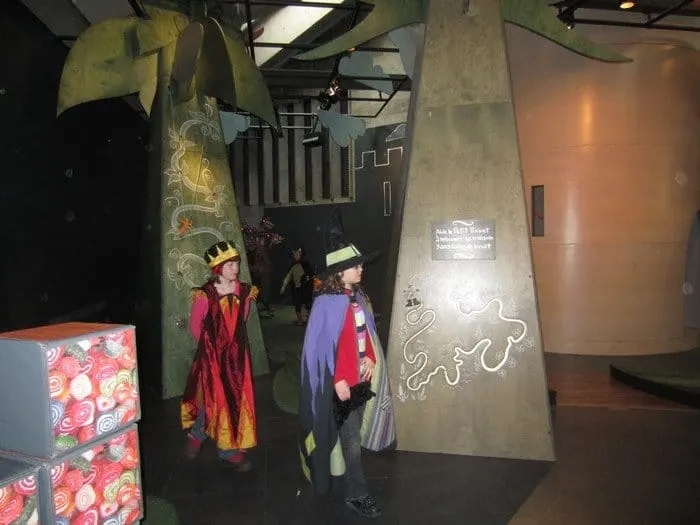 The fun things for kids are downstairs. If you want to explore the historical exhibits on the ground floor do that first, as it will be hard to draw kids away from activities for them.
The hands-on Once Upon A Time exhibit is the ideal choice for kids 8 and under if you have a rainy day.
Kids 8 and up will like experiencing an earthquake and playing with tornados in the hands-on Earth Unveiled exhibit. Be prepared for all the interaction to be in French, of course.
With older kids and tweens the museum is small enough to let them explore downstairs while you explore up.
Explore Neighborhoods Beyond the Old Town
Quebec is a city of neighborhoods and Old Town is not the only place with atmosphere.
Grab your stroller, scooters or a good pair of walking shoes and take some time to explore Saint-Roch, Saint-Jean-Baptiste and Haute-Ville. They all have their own unique collections of houses, restaurants and shops.
Saint-Roch is particularly interesting. It's an evolving neighborhood with newer boutique-style hotels, inexpensive ethnic restaurants and casual brasseries.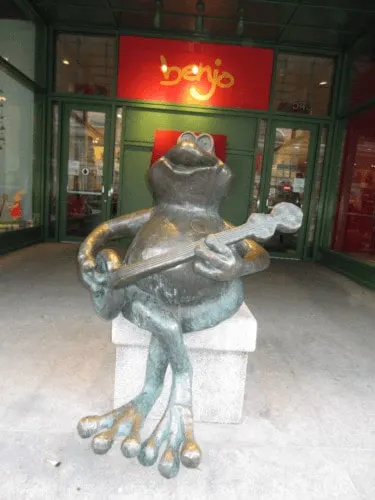 Benjo is a fun kids' clothing and toy store on Boulevard Charest, where kids have their own pint-size VIP door. (Look for the frog with a banjo.)
Your tweens and teens will be happy to spend a few hours just across the street at La Revanche, a game store where you can also hang out, order drinks and snacks and play one of the games in it's library.
The area around Blvd. Charest and Rue St. Joseph is a good in general for finding shops and restaurants.
Play on the Plains of Abraham:
The park has beautiful river views and plenty of green space for running around.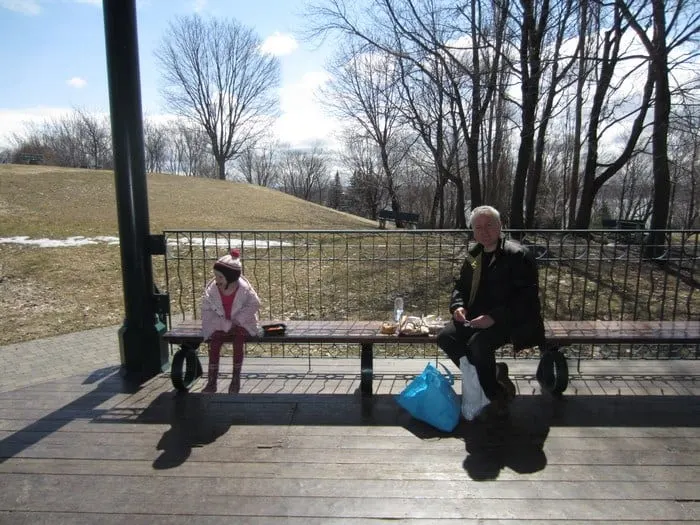 The only playground we came across in town was here, just in front of the Art Museum.
It was a surprisingly old and worn-in playground but our preschooler was happy for a chance to climb and slide a bit.
The fort at the end of the park closest to the old town is a popular attraction but we didn't find it compelling, especially with a 4YO and skipped it.
Take An Easy Ferry Ride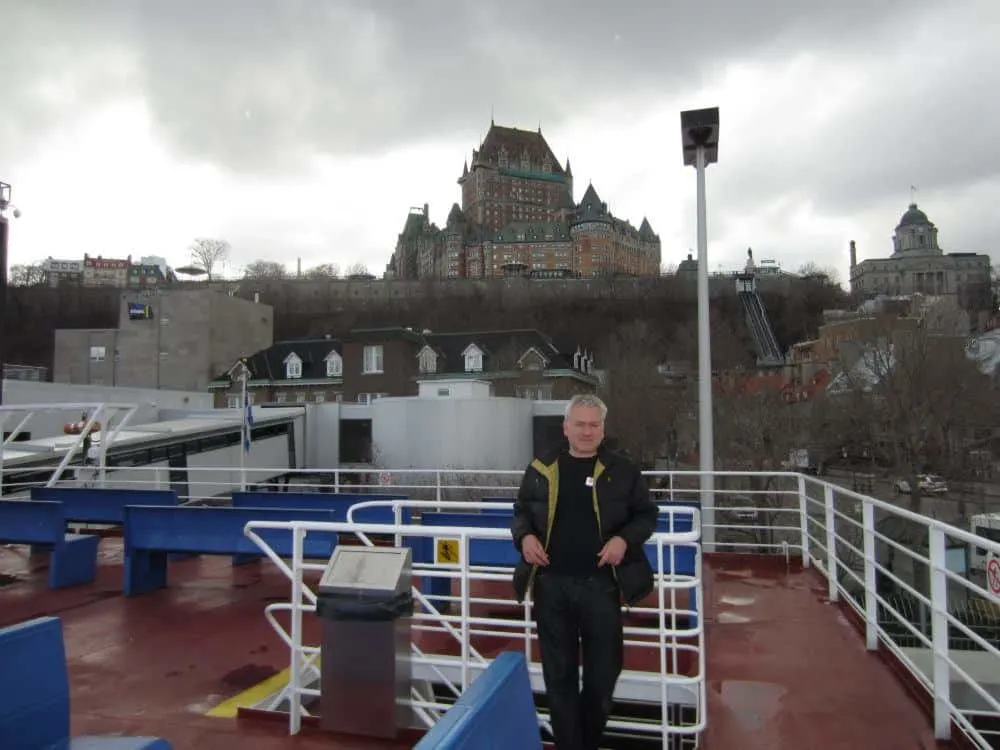 The Québec–Lévis Ferry across the St. Lawrence River was easy and cheap and we all liked it, despite a gray day. It's a handy way to spend an hour. Plus it offers some great views of Chateau Frontenac and Old Town.
Our 2 Favorite Places To Eat
Le Lapin Sauté in Vieux Quartiers
We found a great lunch deal at Le Lapin Saute a Lower-Town restaurant with a cozy French country cottage ambience, and a set lunch menu.
Rich and I warmed up with French onion soupe and cassoulet. There is rabbit on the menu if you can eat it with adorable stuffed rabbit toys looking at you. We shared the dessert of the day, a silky maple créme brulee.
Tiny Traveler munched happily on bacon-wrapped sausages. Kids can also opt for poutine, chicken in mustard sauce or salmon. She had a tough choice for dessert: 2 rabbit cookies or a pot de chocolat.
Les Halles du Petit Quartier:
Les Halles Cartier is is a small but very nice food market on Avenue Cartier, near the Plains of Abraham. Local and homemade charcuterie, cheese, coffee, bread, pastries and prepared food.
It's a great place for breakfast or to stock up for a picnic on the Plains of Abraham, which we did despite the gray March weather.
Take A Quick Day Trip From Quebec
If you have an extra day, rent a car ad head out of town to the impressive Montmorency Falls. The gondola ride to the top is fun for all ages.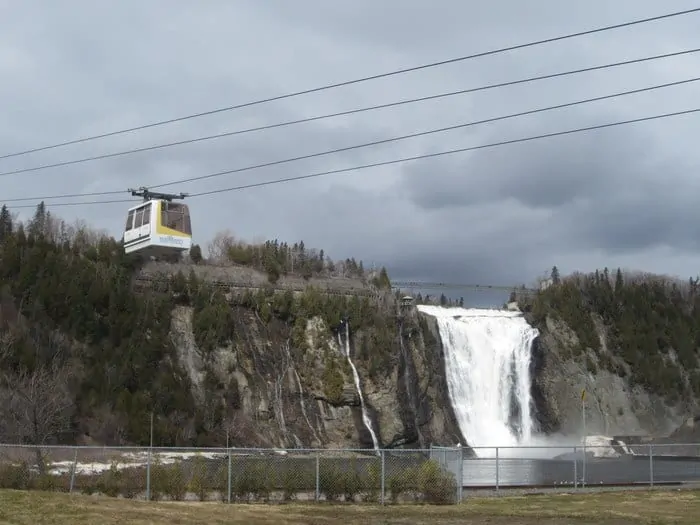 There's a long suspension bridge across the falls. You get great views and photos. But it's not for the acrophobic. With older kids you can cross it and do some hiking around the falls on the other side.
There's a playground at the top of the gondola and another down below on the far side of the falls. The one at the top was small but nicer than anything we found in the city, and Tiny Traveler was happy to find it.
We had a cold-weather picnic at tables inside the visitors Center. It sounds a little underwhelming, but there were big windows and great a great view of the falls. And it was warm! So we felt quite cozy as we tucked into our baguette, cheese and saucisson.
After the falls take a drive around the quaint Ile D'Orleans in the middle of the St.Lawrence River.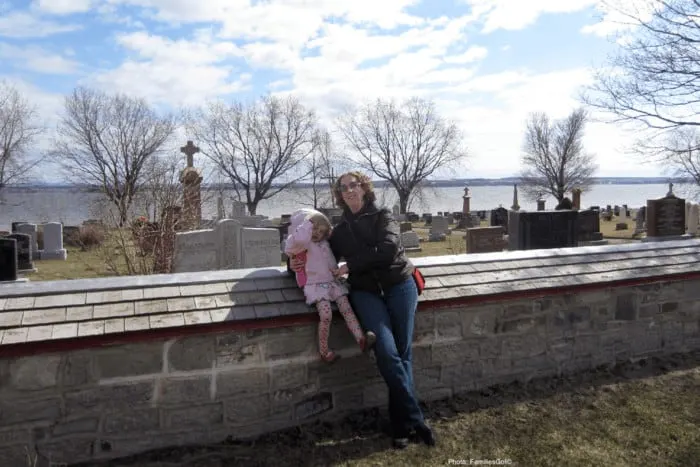 The island is small and it was quiet when we were there in the off-season. It probably took us a bit more than an hour to circle the whole place with stops at a gourmet chocolate shop, roadside jam stand and for some scenic photo ops.
In the summer there might be more to do and you might spend more time a the scenic spots. There might also more cars on the narrow road. So allow more time.
---
Planning Your Trip:
Get the best rates available on Quebec hotels on TripAdvisor.
Experience Quebec's best neighborhoods with a vacation rental from VRBO,
like this charming old-town duplex.
Find out the best airfares at any time of year with Kayak.
---
Practical Information
Where is Quebec?
Quebec City is due north of the Maine-New Hampshire border, but further north than you might expect. It's about three hours from Montreal, four hours from Ottawa and Burlington, VT; five hours from Portland, ME and more than six hours from Boston.
It's about nine hours from New York City. Unless it's part of a road trip through New England and Eastern Canada it makes the most sense to fly—and to find a good off-season package as we did.
How many days do you need in Quebec?
You can easily explore the Old Town and a bit beyond in a weekend. We spent four nights, which gave us time to get out of town to the falls and Ile D'Orleans for a day. And it allowed us ample time to explore several worthwhile neighborhoods.
Quebec makes for an easy weekend destination if you're within driving distance or are near an airport that's a short flight. But you can definitely plan a longer trip. A week would allow you to really explore Quebec Province's countryside, too.
Stroller or no stroller?
If yo are visiting Quebec with a baby be ready for a lot of outdoor staircases, steep hills, narrow sidewalks and cobblestone streets. It's not especially stroller friendly.
If your baby or toddler is small enough for a carrier, plan to rely more on that, especially in the Old Town. If you do want a stroller (we did a lot of walking), pack one that is easy to fold and carry up and down stairs.
Language:
In case you don't know. Quebec is in the part of Canada where French is the first language. You'll find more reluctance to speak English here than you will in Montreal. And you will encounter a few people who don't know much English, especially if you travel into the countryside.
Money & Passport
The Canadian dollar is generally weaker than the U.S. dollar and prices tend to be lower, making Quebec a very affordable way to feel like you've traveled to Europe.
Your whole family will need passports if you fly into Canada. At the border anyone over 15 needs a passport, passport card or enhanced driver's license. But if you have passports the easiest thing is to just bring them, even by land.
Navigating Quebec City Jean Lesage Airport With Kids
Jean Lesage is a small airport and super easy when it's not busy. We left our center city hotel, checked in and cleared security in 45 minutes flat, leaving us plenty of time to cool our heels.
Luckily there was a great play area with a focus is pretend play and small toys (there's one small slide). It's clean and bright and we were dragging Tiny Traveler away from elaborate pretend cake baking when it was time to board.
---
Toronto Pearson Airport With Kids
Flying to Quebec From The U.S., Chances are you'll have to connect and complete your customs and immigration in Toronto, both going there and coming home.
Navigating: This is a big airport with endless terminals. If you're connecting and have kids in tow, give yourself time to get from point A to point B.
Moreover, If you're connecting, leave ample time to claim your bags, go through immigration and customs, and place them on a connecting flight carousel on the other side.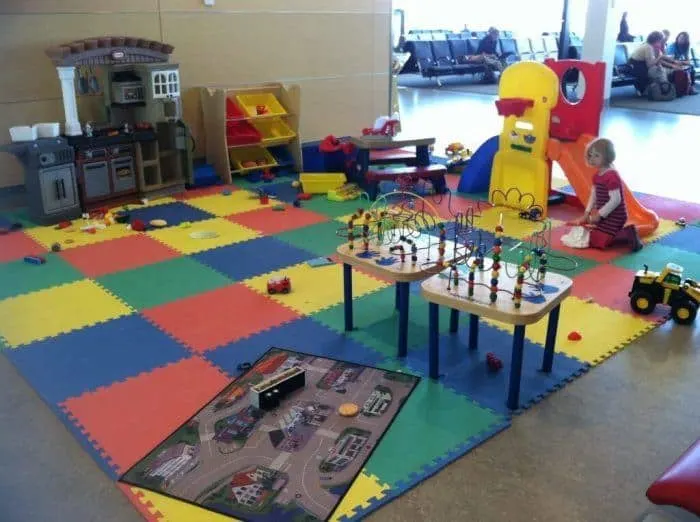 Claiming Your Bags: Entering Canada this is easy and straightforward. Heading into the US, our bags weren't on the carousel with the rest.
Instead, we had to head upstairs to the US immigration/customs area, claim our luggage on a special carousel, go through all the bureaucracy and then recheck our bags.
No one explained this to us and no signs pointed us this way. Luckily a baggage handler noticed us waiting around and tipped us off.
Eating and Playing: The domestic terminal had options for eating and shopping and a small play area at the very very very far end of the terminal near gate D22 (above). It seemed like an afterthought but made Tiny Traveler happy enough.
On the return flight, the information desk told us there was no play area in the international terminal and we didn't find one. The airport website says there is one near gate D24 (info desks are often not good sources of information about family amenities so always check the website before you go). Worse, short of one very standard airport bar/restaurant, most of the shopping in that terminal was before security and on the other side of a glass wall, taunting us in a so-near-and-yet-so-far kind of way.
---
Pin it for later!