We always do a lot of walking when we're in Montreal, partly because we tend to do a lot of eating in Montreal.
There is nothing like a Canadian winter day to make you want to something hardy and warming. And this French Canadian city offers plenty of options. Here we give you some idea for where to eat and and what eat with kids on a vacation here.
More Great Travel Ideas
• Plan This Awesome Montreal Winter Weekd With Kids
• Do This Surprising Winter Weekend With Kids in Quebec
• 6 Places In Canada You Must See With Kids
7 Essential Food To Absoutely Seek Out With Kids in Montreal
1. French Pastries
The French Bakery at the Atwater Market has croissants so crisp on the outside they practically shatter when you pull them apart.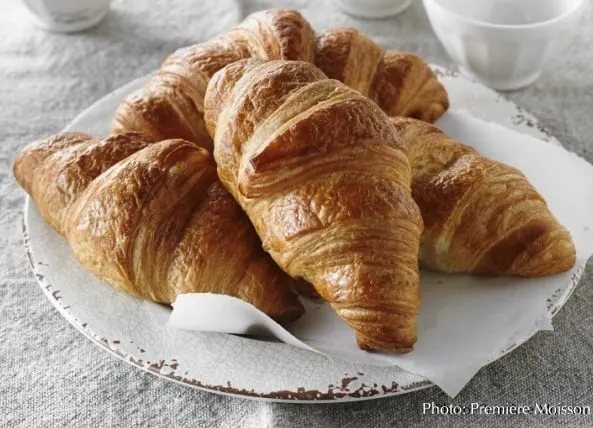 At the Complexe des Jardin next our hotel, every day coffee places had respectable croissants, pain au chocolate, palmier, brioche and things with almond or pastry cream that tiny traveler inhaled.
In short it's not hard to find French bread and pastries and they're better than most of what you find in the U.S Take advantage.
2. Authentic French food
The souvenirs we brought home took the form of local cheeses and patés we acquired at the markets.
Good French restaurants are not a dime a dozen, but they exist and are worth seeking out.
La Prunelle, a neighborhoody BYO place off of Rue St. Denis is the place to go if you can wangle a date night.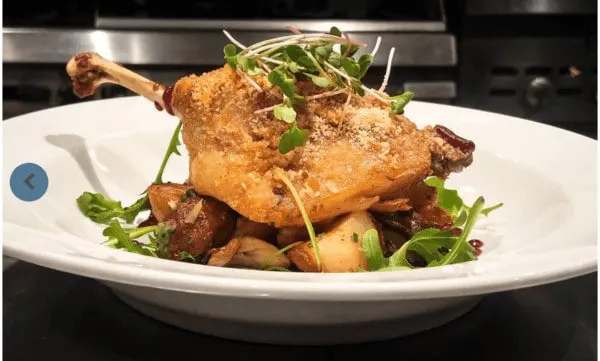 I think it's safe to say that the French bistros don't cater to kids but they will try to accommodate you if you come on the early side. At Les Deux Gamins Tiny Traveler ate a ½ order of a pasta dish while Rich and I enjoyed duck confit and lamb shank.
3. Maple foods
It seems as though the city runs on maple syrup. Restaurants offer special maple menus during syrup season and you'll find maple syrup and sugar at the green markets (top).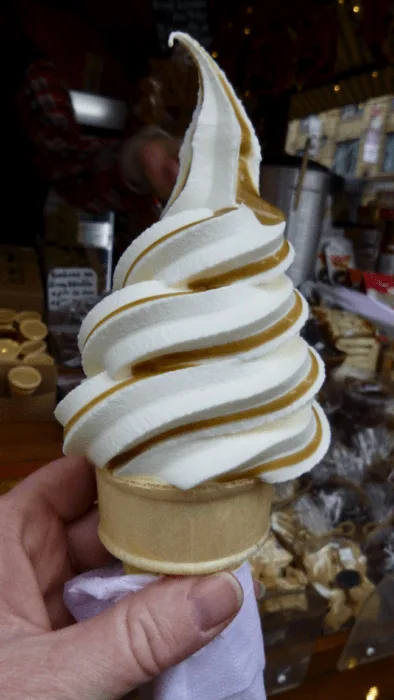 The upscale café and store Délices Érable et Cie has tasting counters and a creative variety of maple and cranberry products to take away.
Around the city you'll spot maple stalls selling products as well as maple-spiraled ice cream and frozen maple syrup wound on a stick like toffee. Even if you don't try it, it's fun to watch them make it.
4. Poutine
My main requirement for good poutine is that it be piping hot. If it's fresh from the kitchen and the French fries are crisp, this plate of potatoes, gravy and cheese curds will make you feel cozy no matter what the weather outside is doing.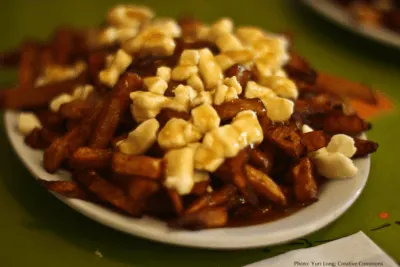 Some people like to add meat or other things on top. That's fine but I'm happy with basic poutine any time. It's not a hard dish to find. Brew pubs, diners, food trucks are reliable purveyors.
This is one of those foods that you expect to be kid friendly but tiny traveler won't go near it (That's okay; more for me!). The great thing about a winter-time visit to Montreal is that you can tuck into this local treat without guilt!
5. Smoked Meat
Smoke meat is Montreal deli food and so quintessential to the city you have to try it. It's in the same family as pastrami and corned beef, but not quite the same as either.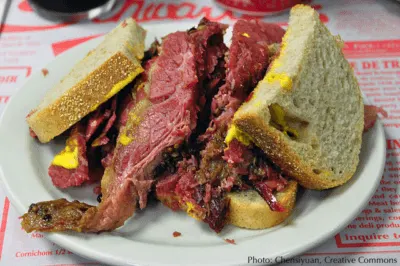 We tried visiting Le Roi du Smoked Meat on a rainy afternoon but it was closed for a movie shoot.
We found good smoked meat sandwiches at a diner down the street, but would have preferred the old-school deli setting at Le Roi, or Dunn's or Reuben's downtown, Schwartz's on Blvd. St. Laurent or Lester's in Mile End.
Plan This Trip:
• You can find great hotel deals in Montreal all year round.
• Book a vacation rental in one of Montreal's hip neighborhoods.
Find fun food-related tours on Viator.
6. Bagels

We've never actually had a Montreal bagel, to Tiny Traveler's chagrin—we're usually too busy eating almond croissants in the morning —but I hear they are good and perhaps closer to what bagels used to be than New York's are (perhaps).
St. Viateur in Mile End and other parts of the city is the place to go for your plain, poppy seed and other bagels.
I've seen bags of St. Viateur bagels in the markets, but if you want to try them, I say do it right and make your way to one of their stores in the morning. You can even take a class and learn the secret to making them. I'm sure this also involves eating quite a few of them.
7. Other ethnic food
French and Canadian foods are not all there is to try in Montreal. We've had good Greek tapas in the past, there is a small Chinatown near the old quarter and there is good Middle Eastern food to be had as well.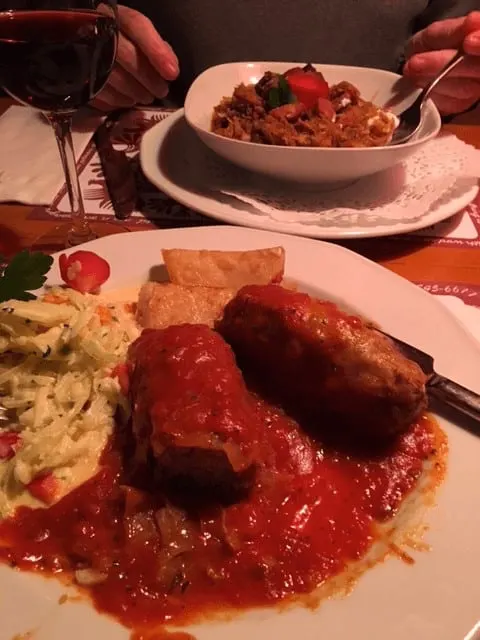 One chilly night we tucked into Polish food at Stash Cafe in the old quarter, which has live piano at night. Tiny traveler ate potato pancakes while Rich had a a cabbage and meat stew and I had stuffed cabbage; both well-seasoned and satisfying.
Pin it for later!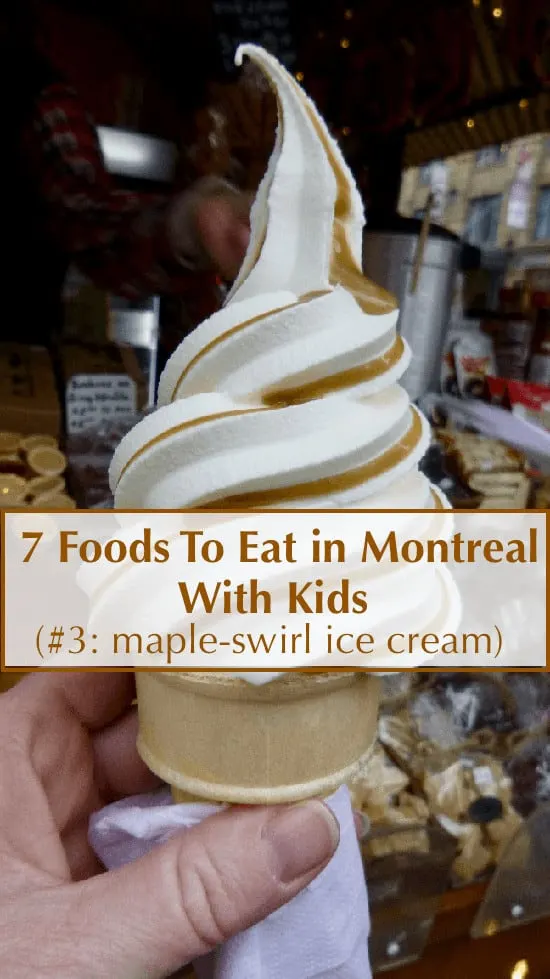 Photos by FamiliesGo!© except the Croissants (Pixabay), outine and smoked meat (Creative Commons) and bagels (St. Viateur).