Everyone knows what to do with little kids at Walt Disney World, but visiting with tweens and teenagers might seem less obvious.
Visiting a Disney park with teens has certain advantages—you can let them wander off on their own and you don't have to wait in line to meet Anna and Elsa— and it might be essential if your teen has younger siblings.
The good new is there is all the theme parks within Disney World have something to offer older kids
Here are six things across Orlando's Disney Resort I think are most likely to get a positive reaction—maybe even a grudging "cool!"—from your teen.
6 Teen Attractions at Disney World
Find the Magic Kingdom's Thrilling Side
A visit to Disney World with teens is your chance to try all those Magic Kingdom rides that are too scary for little kids, including Pirates of the Caribbean, Space Mountain, Splash Mountain and Big Thunder Mountain Railroad.
They are all spectacular. If possible, ride Splash Mountain and Big Thunder Mountain Railroad at night.
The newer Indiana Jones Adventure will keep them on their toes, and the Seven Dwarves Mine Train is good for tweens with a lower thrill threshold.
Drop In To Hollywood Studios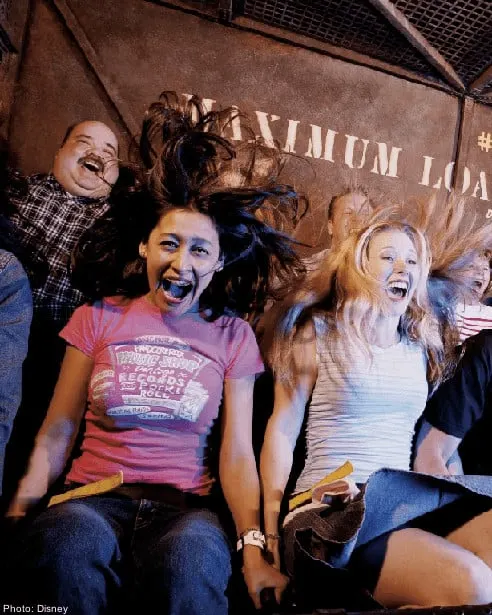 If the Mountains were too tame, send your older kids to Hollywood Studios to experience The Twilight Zone Tower of Terror and the Rock 'n' Roller Coaster Starring Aerosmith.
Disney loves to entice visitors with a story, but The Tower of Terror's is darker than the usual Disney fairy tale.
In 1939, guests of the Hollywood Hotel entered an elevator and plunged to their deaths. Now you and your family can ride in the same elevator!
The Rock 'n' Roller Coaster rockets from 0 to 60 mph in 2.8 seconds!
Try the Indiana Jones Stunt Spectacular if you need a break from rides, but don't expect to catch your breath.
Plan a Long Day At Epcot
Epcot's interactive take on technology and world cultures draws in tweens and teens. Ride Test Track and Soarin' as early in the day as you possibly can. They're seriously cool, but lines are long and even Fastpasses run out quickly.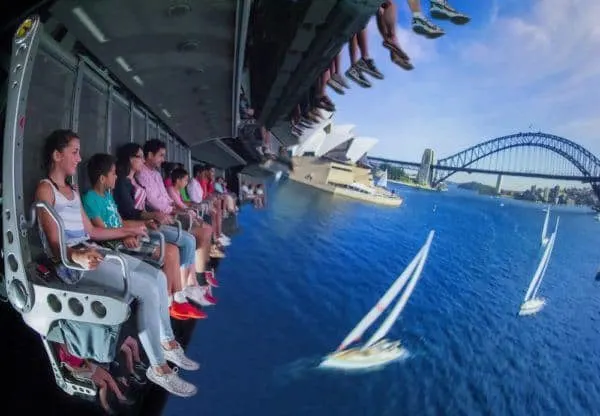 Your teen will thank you for sending them on Mission: Space, which places you on a space ship crew bound for Mars.
Dedicated thrill seekers can join the Orange Team on a ship that spins and tilts to simulate G-forces. Less adventurous space travelers can join the Green Team and blast off without the centrifugal spinning.
Teens ready to widen their horizons will enjoy the world pavilions at Epcot, where the food is reliably authentic and well prepared enough to please parents, too.
Consider dinner at Teppan Edo in the Japan Pavilion, where the chefs prepare fresh stir-fries on tableside grills.
Get Wild at Animal Kingdom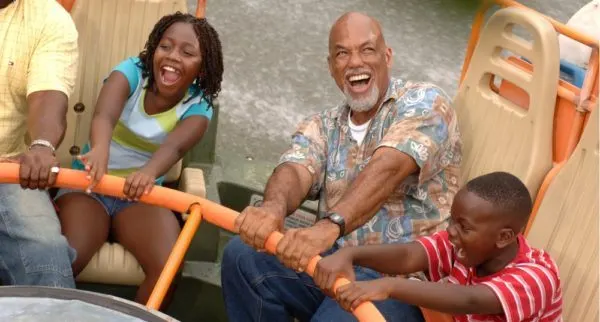 Start the day at Expedition Everest and come face to face with the Yeti!
Here's the trick for riding more than once: Get there as close to the opening time as possible (I realize that with teenagers this may be difficult, but they can sleep back at home).
Head over to the ride and grab Fastpasses. Get on the still-short regular line for a first go, and then use the Fastpasses for an encore ride.
Naturally, Animal Kingdom has plenty of animals. The exotics ones you encounter on the Kilimanjaro Safari (okapis, rhinos, wildebeests) will impress visitors of any age.
When your teens are ready for more rides, head to Kali River Rapids, a medium thrill ride best enjoyed on a hot sunny day.
Or let them try the virtual reality ride Flight of Passage in the new World of Pandora.
Indulge Their Teen-Size Appetites
I truly believe that most Walt Disney restaurants are absolutely amazing and visiting with young people who can sit through longer meals give you a chance to try the upscale restaurants at Epcot the and hotels.
If you have teenagers along be sure to check out Beaches and Cream Soda Shop in the Beach Club Resort. The old-fashioned diner style joint has burgers, hot dogs and ice cream sundaes.
I recommend the 8-scoop Kitchen Sink or the smaller No Way Jose that mixes vanilla, chocolate and peanut butter—you might actually hear them say they're full!
Give Them Some Chilling-Out Time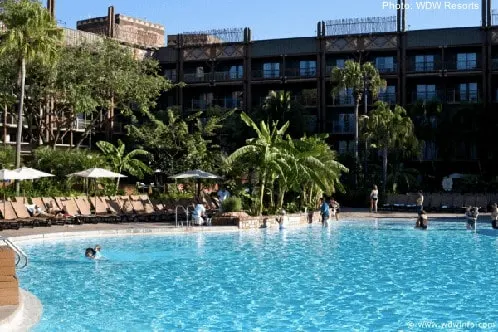 Disney Resorts —including Animal Kingdom Lodge, above have amazing pools and it's worth it to carve out time in the afternoon for lounging around.
Your tween and teen are unlikely to join in the limbo contests and swimming games that the staff organizes for kids.
But they'll almost certainly pry themselves off their lounge chair at some point to dive into the pool and try one of the slides the resort pools often feature. They might even forget to try to look cool while they do it.
Pin it for later!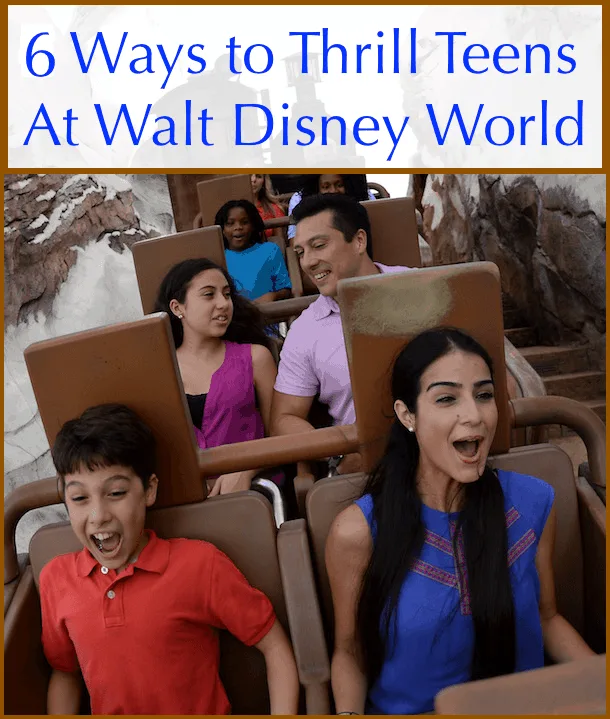 Jeffrey Merola has written numerous books on planning a trip to and navigating Walt Disney World. In addition to being a big fan of the Mouse, he's a teacher, football coach, husband and father.