The Question:
We are looking into Caribbean beach resorts for two adults & two kids, ages 3 and 5. We must have child care or a kids club for at least part of the day for both kids, but I'm finding most places provide only for ages 4 and up. Any suggestions?
My Answer:
A kids club is incredibly handy on a resort vacation. It gives the kids the opportunity to play with other kids and do fun activities designed just for them. And it gives parents some much-needed couple time (or individual me time) to do an activity that you would enjoy and the kids would not, or to just relax and read, nap or swim for a few hours without interruption.
And you're right; finding a kids club for toddlers is tough. One reason is that resorts often want to make sure the kids in their care are out of diapers. To make things even harder, some resorts that had offered for-fee babysitting for babies and toddlers suspended that care during the worst of the Covid-epidemic. It's best to check with the individual resorts to find out if they've resumed child care for individual families.
Still, I did some digging and found a few very good Caribbean resorts with kids clubs for 3YO and a few that even take 2YOs. Almost all have additional private child care you can pay for.
Keep in mind resorts use different age groups to organize their kids clubs. If it's important that your kids will be together ask about that.
I tried to include a good price range, but the more childcare a resort has the higher end it tends to be.
More Ideas:
• 5 Realistic Tips for a Vacation With A Toddler
• Why Turks & Caicos Might Be the Most Relazing Place to Vacation Wth A Toddler
• 5 Caribbean Resorts For Every Family's Vacation Style
11 Caribbean Resorts With Kids Clubs For Babies & Toddlers
Antigua
1. Carlisle Bay resort offers a Cool Kids Club for kids age 2 to 6 who are out of diapers. The might go starfish hunting, do finger painting, water play, treasure hunts and beach games. And they have access to a clubhouse with a jungle gym, sandbox and paddling pool. Care can also be arranged for babies from 6 months and up.

Kids ages 7 to 12 can join Crew Blue and take advantage of resort's water sports, tennis courts and movie screening room. They also play sports and explore on the beach.
The Club is open for most of the day with a break for families to have lunch together.
2. At Jumby Bay Resort, which sis on its own private island, kids from ages 3 to 11 can head to the Camp Jumby Pavilion for their own days of fun. Activities might include cooking lessons, ocean and nature activities, crafts, theater, science experiments and pirate-themed fun.
Kids under 3 can join in to some of the activities with a parent or a babysitter, which the resort provides for a fee. You can also hire a sitter for very little ones for an additional fee.
Grenada
3. At Spice Island Beach Resort, on the beautiful if somewhat lesser known Island of Grenada, kids from ages 3 to 12 can head to the nutmeg pod for board games, storytelling and arts and crafts.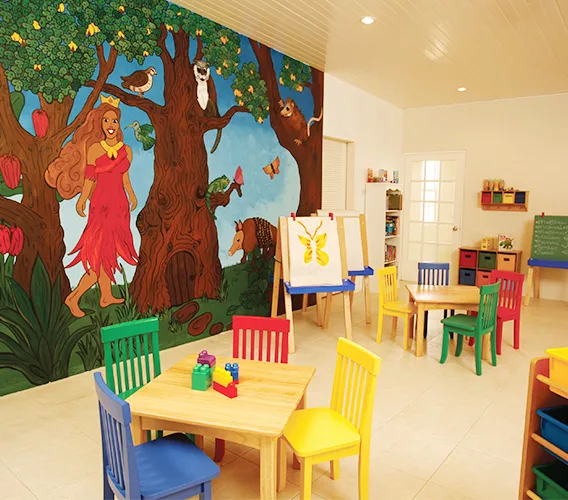 Preschoolers must be out of diapers to join in the fun. While Covid persists they are allowing kids to sign up in small groups for 90 minutes sessions, which is at least long enough for a leisurely massage at the spa. You'll just want to make sure the kids in your children's pod are of similar ages.
---
Read more about the beautiful island of Grenada
Secure your rooms at Spice Island Beach Resort today!
---
St. Lucia
4. St. Lucia is known for its pampering, high-end resorts so it's no surprise that Coconut Bay Beach Resort & Spa has 9-to-5 care for kids from ages 3 months to 12 years. They offer periodic evening club hours, too, so you can enjoy a quiet dinner on your vacation.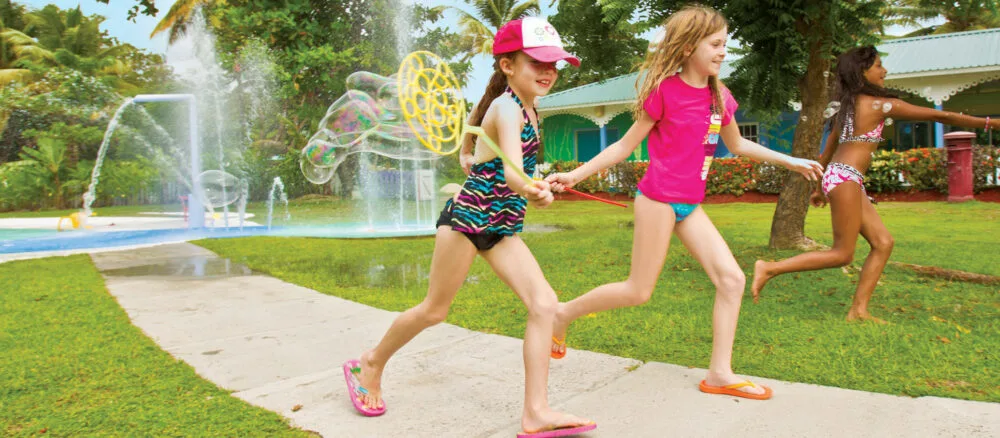 Families who stay at Splash! the family part of a resort that also has adults-only areas, have access to the Cocoland Kidz Club. Kids are groups by age (3YO and under, 4-7Yos and 8-12YOs) and have the chance to learn a bit about St. Lucia's history (pirates!), flora (coconut trees) and fauna (parrots!) through games, crafts and outdoor activities. The club also has a pirate-ship-themed jungle gym with a kid-size climbing wall and zip line.
The counselors here are CPR-trained and will provide you with a local cell phone so you can easily keep in touch with them. At the moment, you can drop babies off at the nursery anytime, but you need to make a reservation for kids ages and 2 and up so they can control the number of kids who are together at any given time.
Jamaica
5. Round Hill Hotel & Villas in Montego Bay lets kids from ages 3 to 6 join the Pineapple Club. These little ones have the opportunity to do arts and crafts take nature walks, play in the water, learn some reggae moves, watch movies and hear stories read. Older siblings can play board games, foosball and Wii or curl up with a book from the club's library.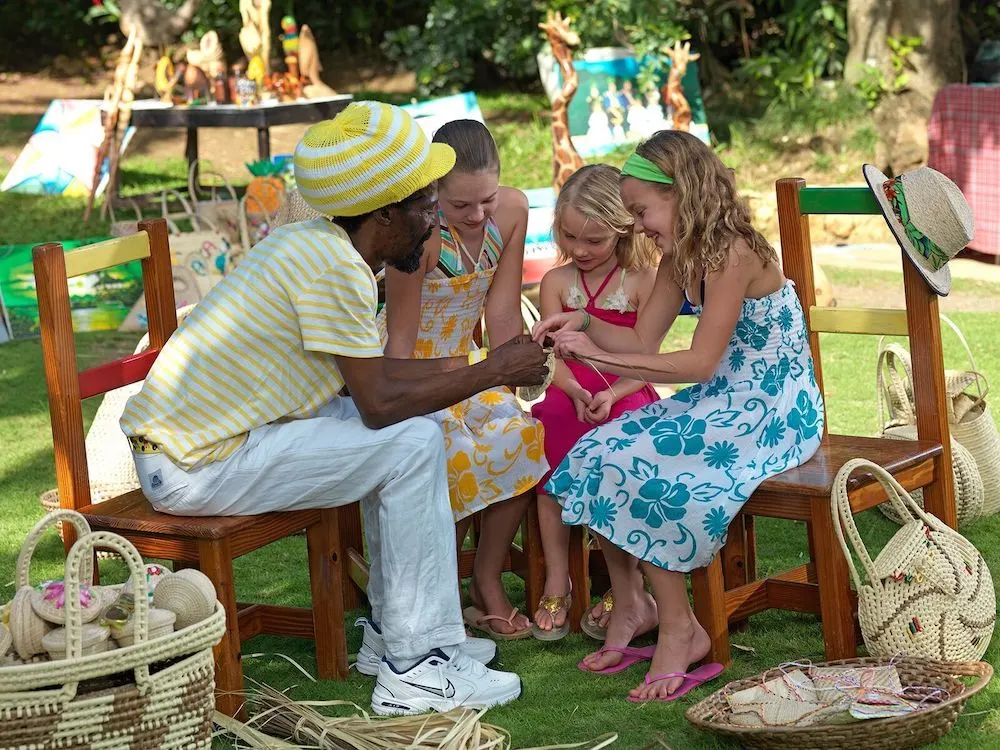 If you're traveling with kids under 3 and need some grown-up time, the day fee for the resort's nanny service is very affordable. You can laos hire nannies after the kids club closes in the evening.
6. Franklyn D Resorts is perennially popular among families with small kids because the all-inclusive rate is very reasonable compared with places like Beaches and Club Med. And it includes a nanny who is assigned exclusively to your family for your entire stay.
When the nanny isn't with your kids she is straightening your room and keeping your fridge stocked for you.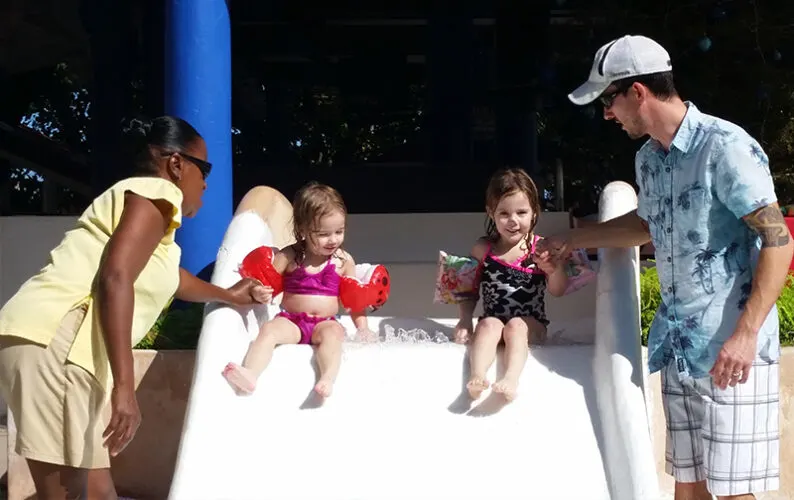 There are kids activities like tie-dying and other crafts, beach games, snorkeling lessons and cooking classes throughout the day. Age isn't an issue because little kids have their parents or the nanny (or both) with them all day. There is a club house with a playground, gaming systems and a playground, which families mainly use when they need some time out of the sun.
Read More: An Easy & Refreshing Day Trip In Jamaica With Kids
Barbados
7. The Sandy Lane resort's complementary Tree house Club accepts kids ages 3 to 12. The kids might do crafts, play games, swim and engage in resort activities like sailing and tennis, depending on their ages. It's open until 8:00 pm, which allows you at least one date-night dinner while you're away.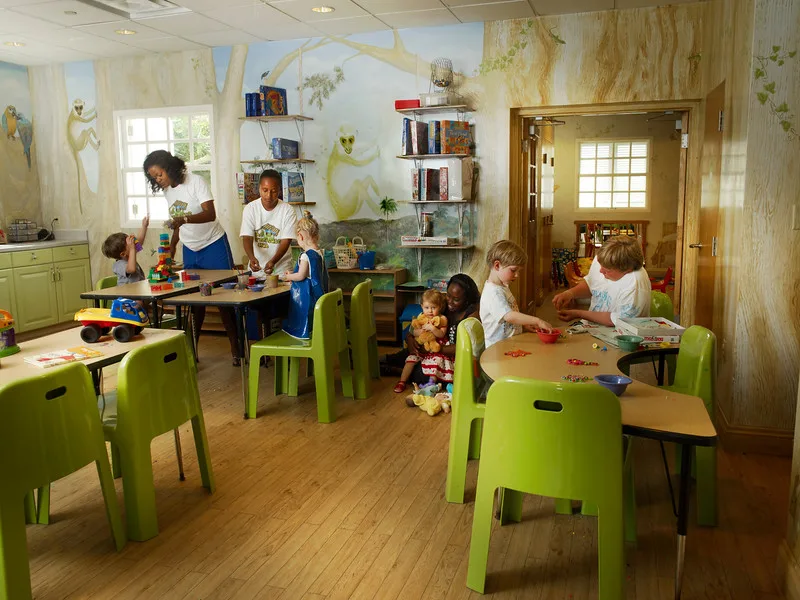 There is a baby-and-toddler play area in the kids club where little ones can go with a parent or babysitter. But the resort doesn't provide the sitter.
Try Palladium Group
8. Grand Palladium resorts are high quality, family friendly all-inclusives in Jamaica, the Dominican Republic and along the Yucatan Peninsula. Most of these resorts have a Baby Club for 1 to 3YOs with a lot of free play. The mini-club for 4-to-12YOs includes eco-walks around the resorts, pool time and other activities.
Make sure to choose one of the brand's family resorts for the kids clubs as well as extra amenities like a communal parents' room with a microwave, sterilizer and extra snacks.
Try Club Med
9. Club Med has resorts it designates as its family destinations, and I don't think any resort offers more comprehensive chlld care than this well-known brand.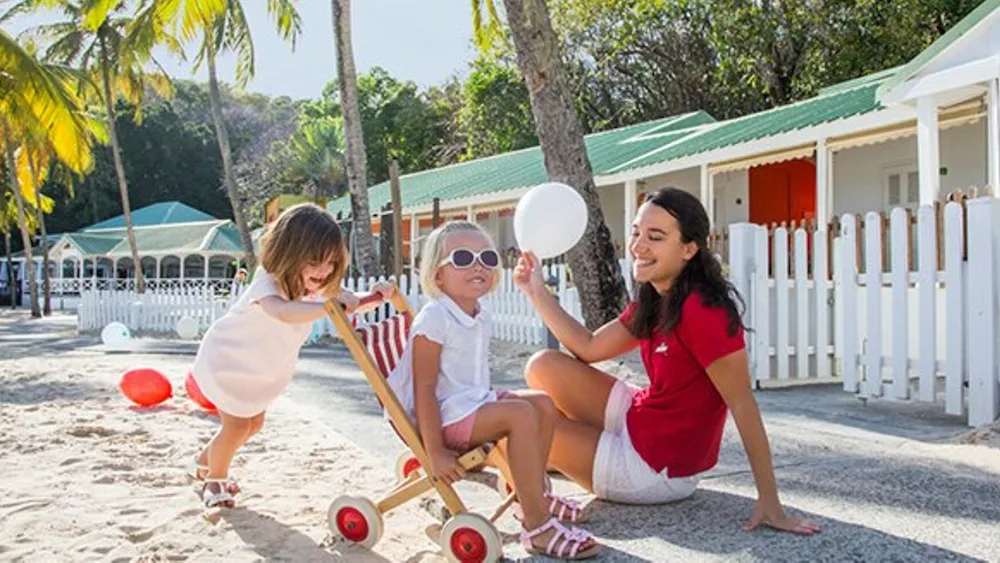 At resorts in Cancun and Martinique, and two in the Dominican Republic, kids club care starts at 4 months, though there is an extra fee for those under age 4. Kids younger than 2YO can hear nursery rhymes sing songs, get taken on walks, and explore an indoor play area that's just their size. Kids who are 2 and 3 have their own play area and can try their hand at crafts, games, songs and other activities.
Kids from ages 4 to 10 are broken up by age and offered activities that might include cooking, crafts, nature exploration, games, sports, surfing or trapeze lessons, water skiing and more depending on the age group.
Read more: Our onsite review of Club Med Punta Cana in the Dominican Republic.
Easily book the best rates for Club Med Punta Cana on Trip Advisor
Bonus: Kids under 4 stay for free at Club Med. These resorts have almost anything you might need while staying with a little one from cribs and strollers to changing mats and bottle warmers.
In Guadeloupe, Turks & Caicos and the Bahamas, the kids clubs start at age 4, with one-on-one for-fee babysitting available for younger kids.
Try A Beaches Resort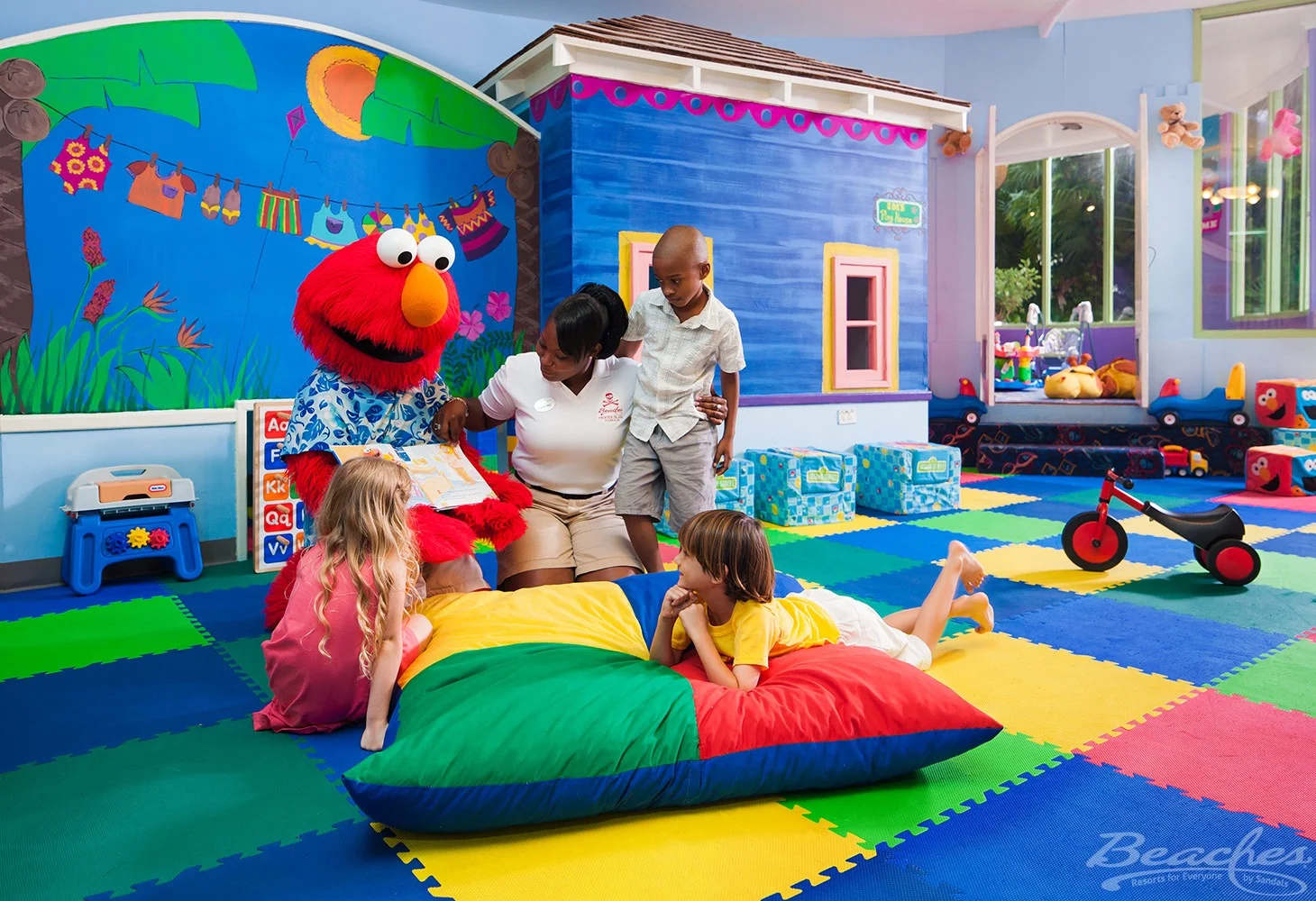 10. Beaches rivals Club Med in its comprehensive child care and kids club options. At its three resorts in Jamaica and Turks & Caicos you can place babies and toddlers up to age 2 in the nursery for one of three daily sessions. Be prepared to bring along anything your child might need from diapers to snugly toys to formula.
Kids from ages 3 to 14 are broken into four age groups for preschoolers, school-age kids and tweens. Toilet-trained preschoolers get to try shell collecting, face painting, treasure hunts, puppet-making, dress-up, magic shows and sand play.
While older kids can try their hand at the beach olympics, surfing lessons, capture the flag, beach soccer, water gun battles and more, depending on their age group.
The resort group has a partnership with Sesame Street, too, giving your preschoolers the chance to interact with some of their favorite tv characters.
Try A Dreams Resort
11. Dreams has about two dozen all-inclusive resorts in Mexico, Dominican Republic, Panama, Costa Rica and Curacao.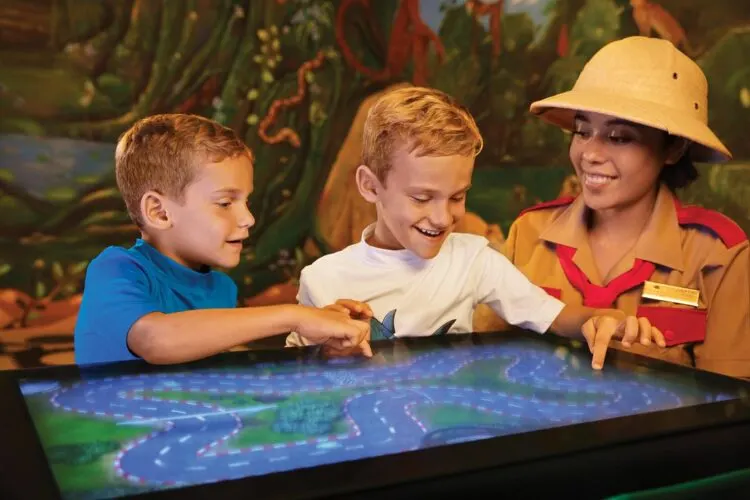 Each offers its own Explorers Club for kids 3YO and up. They vary in their activities but all include caregivers certified in CPR from the Red Cross. Some have outdoor playgrounds or climbing equipment; all have a clubhouse for crafts, movies and and indoor games. Expect beach camping in some places, treasure hunts, sandcastle contests and beach games in others.
Explorers should be out of diapers. You can hire sitters for kids who are under 3 or still in diapers.
Pin it for later!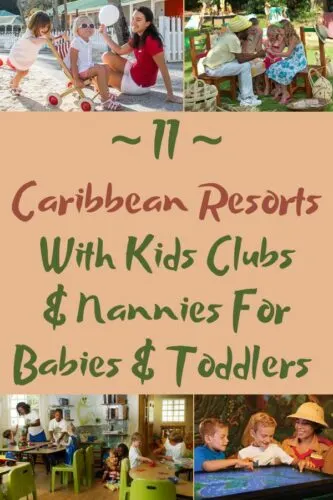 Photos are courtesy of the respective resorts and resort groups.