Howdy, partner! Dallas is so much more than the Texas you're probably thinking of!
Yes, we have great BBQ, cowboys and tall hair, but a Dallas family vacation is also full of culture, history and fun family activities!
We take the kids for weekend getaways to Dallas fairly often and by now we have some favorite things we always have to do.
Here are five activities and attractions most people want to see on their first visit to the Big D. With my tips for seeing them with kids of different ages.
More Nearby Getaway Ideas:
• The Best Things To Do and Places To Eat in Lafayette, LA
• Things To Do In San Antonio After You Visit the Alamo
48 Hours in Dallas With Kids
1. Perot Museum of Nature & Science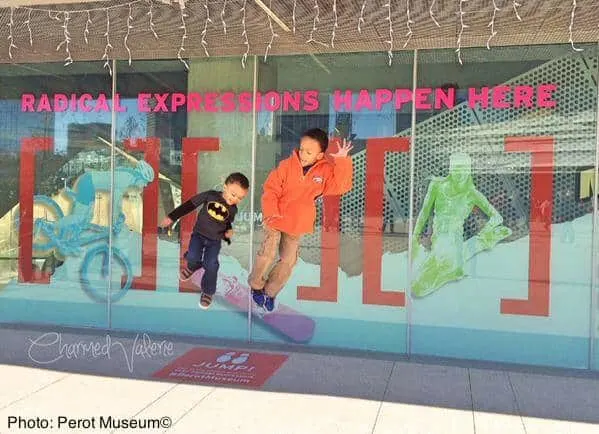 Arguably the best Nature & Science museum in the country, this relatively new museum has hands-on exhibits you couldn't even imagine.
Exploring the permanent exhibits we soared like an eagle, felt an earthquake, threw footballs with NFL players, programmed robots and raced against a cheetah.
They also have rotating exhibits, an IMAX theater and a children's museum for little ones.
My oldest was 12 at the time and my youngest was three and we all found things to interest both the tots and the tweens. At 15 the oldest still wants to go back.
2. The Sixth Floor Museum at Dealey Plaza
Take a step into history with an audio tour of the Book Depository (below left) from which Lee Harvey Oswald shot President John F. Kennedy on that fateful November afternoon.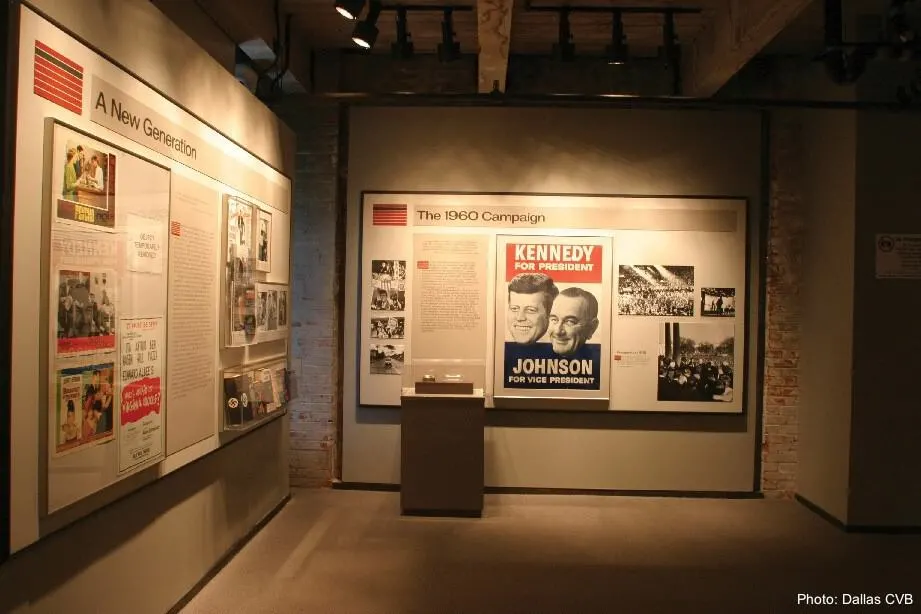 The Sixth Floor Museum is very tastefully done, walking you through the political history leading up to the assassination.
There are two versions of the audio tour; one for children 10 and under and another adult version. This is definitely for tweens and teens.
My 10YO and 12YO found it very interesting. The 3YO played with my iPhone in her stroller.
Age 7 or 8 is probably the youngest at which kids will be able to follow the tour's narrative and get something out of it.
3.

Klyde Warren Park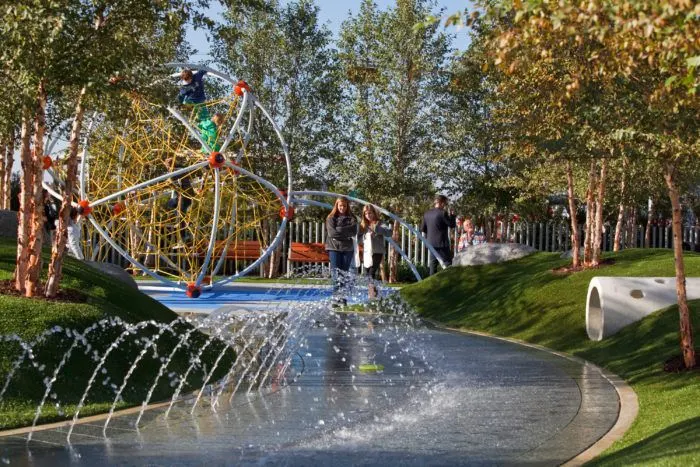 This is a new park that was built over the top of a freeway in downtown Dallas. My kids really enjoyed just hanging out in a park that provided books, board games, Ping-Pong, foosball, and more.
It's a totally new concept for a public park and a great place to relax when you need a break from site seeing. Like the zoo, this is an all-ages activity.
Planning a Trip to Dallas?
• Attractions: Save 38% on the city's top attractions with *Dallas CityPass.
• Tours: Or book the most popular Dallas sightseeing tours on *Viator
• Hotel: Check reviews and save up to 30% by booking a hotel on *Trip Advisor.
4. Reunion Tower GeO-Deck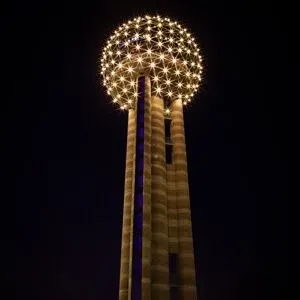 Get a bird's eye view of the city from the top of the Reunion Tower (top). The GeO-Deck sits 470 feet high and is a fun way to view this great city as a whole.
The Cloud 9 casual restaurant is a fun place to eat with kids. During the week eat sandwiches and salads with a view. On the weekend they add hot dishes like brisket chili and mac & cheese.
Everyone will be impressed with the height and the views, but the younger children are the sooner they'll get bored; something to keep in mind before you pay for tickets.
5. Dallas Zoo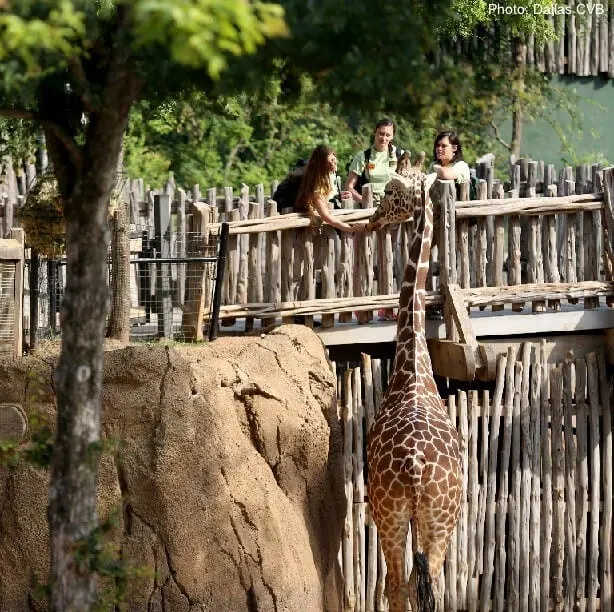 This Zoo has been around for a while and has not always been one of our Top 5 points of interest.
However, it's has added some really amazing features and upgrades in the past few years that have turned it put in on our must-see list.
The animal interactions in particular are top notch! Our family loved feeding the giraffes face to face. Zoo educators also showed us how they train lions and even got the elephants to "show off" for us.
This is an all-ages experience for sure.
If you still have time…
If you manage to do all of this and still have time, check out the gorgeous Dallas Arboretum and Botanical Garden. Explore recent history at the new George W. Bush Presidential Library and Museum.
---
Side Trip To McKinney, Tx
Just 30 minutes from Dallas, McKinney is a great side trip or weekend getaway from the city.
(Book a McKinney Hotel)
Explore Hands-On history
My kids, ages 6-14YO all like Chestnut Square Historic Village, a collection of the county's oldest existing buildings
The village has a seasonal farmers market (April to November), living history days, tours (above), ghost walks and activities that combine history and food. Check the website to see what's coming up.
On any day you can explore buildings that that demonstrate life in the 1850s, including a one-room schoolhouse, chapel and blacksmith shop.
For more local history you can also visit the nearby Collin County Farm Museum. The Heard-Craig Center, built in 1900, as much of an attraction as the Kathryn Heard-Craig art collection it houses.
Get out in nature
The Heard Natural Science Museum and Wildlife Sanctuary, a 289-acre nature preserve, is a great place to get outside with kids.
Outdoors it offers a variety of nature trails and most are stroller accessible. Our favorite goes through the small "Animals of the World" zoo. There's also a pioneer village and butterfly garden,
When we want to escape the Texas heat we explore the indoor animals and plants.
Enjoy a little culture
The McKinney Performing Arts Center sits in an 1875 courthouse. Check the schedule for upcoming performances. Or do what we do and drop by to peak at visual arts in the working artist studios and gallery.
Saving the most unique for last, we love Adriatica, a residential and retail complex modeled after a Croatian village.
It's easy to imagine you are stepping into an Old World waterfront town, complete with cobblestone streets, seafront dining, piazzas with fountains and bell towers, and canal-lined streets.
Lunch break in Adriatica
If we don't bring our lunch we like to snag a patio table overlooking the lake at Harry's on the Harbor.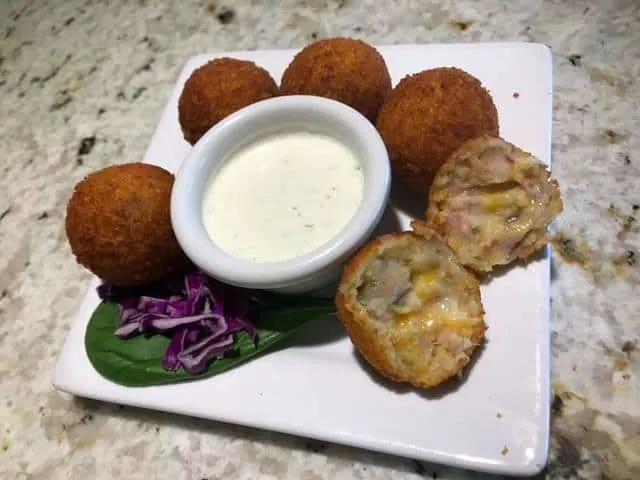 This upscale sports bar isn't particularly Old World, but it is child-friendly and has menu options to please everyone in my family. We all agree on the rusty nuts, which are loaded potato croquets.
— By Jessica Bowers at Suitcases & Sippy Cups.
---
Pin it for later!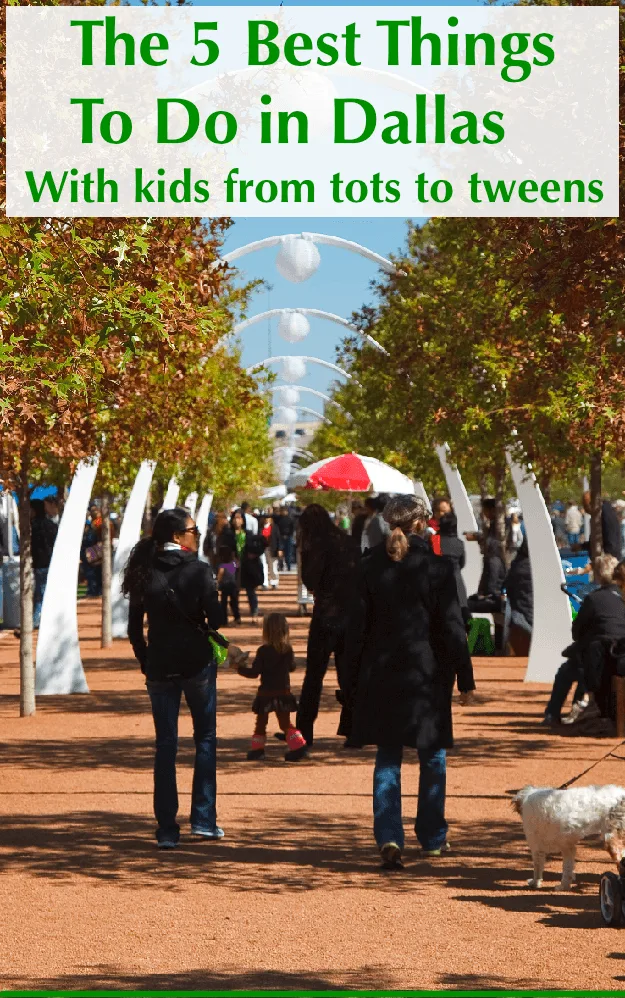 Rebecca Darling, is native Texan and momma to 3 sassy Texas kiddos, Her ultimate goal is to make exceptional memories for her family. She writes a blog dedicated to family travel at R We There Yet Mom?