My family has been living in Japan since 2008, and in that time we have returned many times over to a region called Kansai because of the many family friendly things to do in its cities of Kyoto, Nara, Osaka and Kobe. These attractions mostly show Japan's fun, pop-culture side and provide a nice break for kids if you've been spending a lot of time exploring Japan's history and the more conservative side of its culture. Here are our five top go-to weekend spots in Japan, all easily accessible by train from Tokyo.
Looking for more on Japan?
Read these posts on Kyoto and Tokyo.
Explore Japan's Pop Culture With These 5 Fun Day Trips
1. Umie and Harborland, Kobe
The large Umie entertainment area overlooks beautiful Kobe harbor, across from the iconic Kobe Tower. Unique novelty and artisan shops line the spacious al fresco shopping streets. Most restaurants here have indoor and outdoor seating with great views in the nice weather. Kids always find their way to the Sega video game arcade where crane games offer the promise of plush dolls, toy key chains, pillows, and even live sea creatures!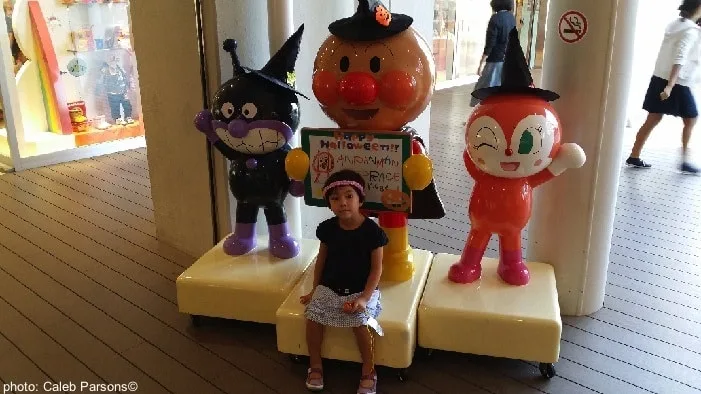 A large Ferris wheel next door offers the best views of Kobe bay and the many ships that pass through it.
Next to the Ferris wheel is the Anpanman Children's Museum & Mall, which is themed around the popular Japanese cartoon character Anpanman and his friends. Fans will revel in the themed toys, stationary and even pastries found throughout the mall.
The museum has fun photo stand-ins, moving miniature models of different Anpanman cities, themed block toys and slides. The museum is small; two hours is plenty of time, including the live show. It's best for kids aged 2 to 5.
Nearest train station: JR line Kobe
2. Kids Plaza, Osaka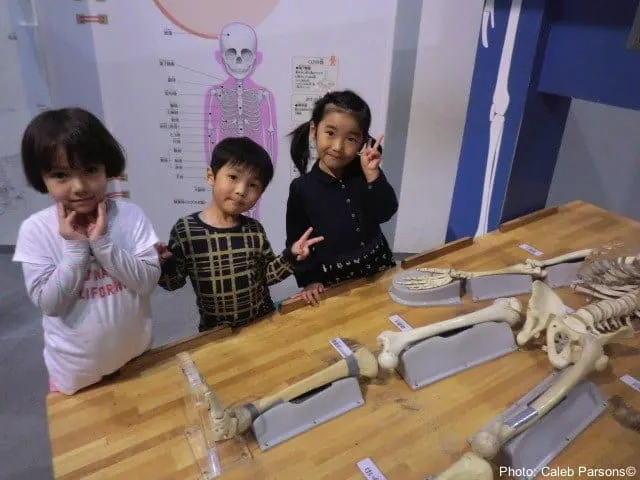 As an educator, I highly recommend this "exploratorium." Our child loves experimenting with magnets, bubbles and water evaporation and learning about the human body in fun ways. There's a cultural area where you can dress up in different ethnic clothing and even a zone where you learn what it's like to have a disability by using a wheelchair to enter and exit a train. We found it to be a good place to relax while the kids run around and have fun.
Nearest train station: Tenjinbashisuji line Ogimachikouen
3. Tempozan Harbor Village, Osaka
Our family can easily spend an entire day at this enormous family entertainment district on Osaka Bay. The main attraction is the Osaka Aquarium Kaiyukan with its hundreds of sea species. The gigantic whale sharks are the main attraction and are featured in daily shows.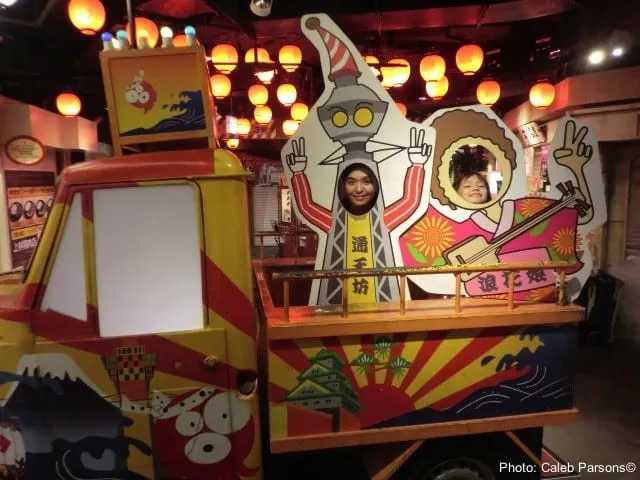 Next to the aquarium, look for a booth selling tickets for a cruise around Osaka bay in a replica of the Santa Maria boat Cristopher Columbus sailed. There are day and twilight cruises with different prices.
For rainy day indoor fun, head to the nearby Tempozan Marketplace. A Hello Kitty store, Japanese sweets shop, and a 100-yen shop provide ample opportunities to buy inexpensive and fun souvenirs.
In addition to shopping, the ground floor has a fun video game arcade. There's a Legoland Discovery Center on the second floor, and the Tempozan Anipa petting zoo. Here your family can pet and feed household dogs and cats as well as kangaroos, alpacas, owls, iguanas and capybaras. The animals peacefully coexist all in the same room!
The food court has western restaurants from KFC to Subway for any homesick kids. You'll find Japanese food of course, and a few ethnic restaurants from around the world, too. You'll have to be a little daring though, you might not see a lot of English. No matter where you eat, for dessert, stop by the soft-serve ice cream shop to try Japanese flavors such as cherry blossom, green tea and black soybean.
For Japanese food in a unique setting seek out Naniwa Kuishinbo Yokocho, next to the food court. It transports you back in time to 1950s Osaka with peep-through photo boards, period props and more.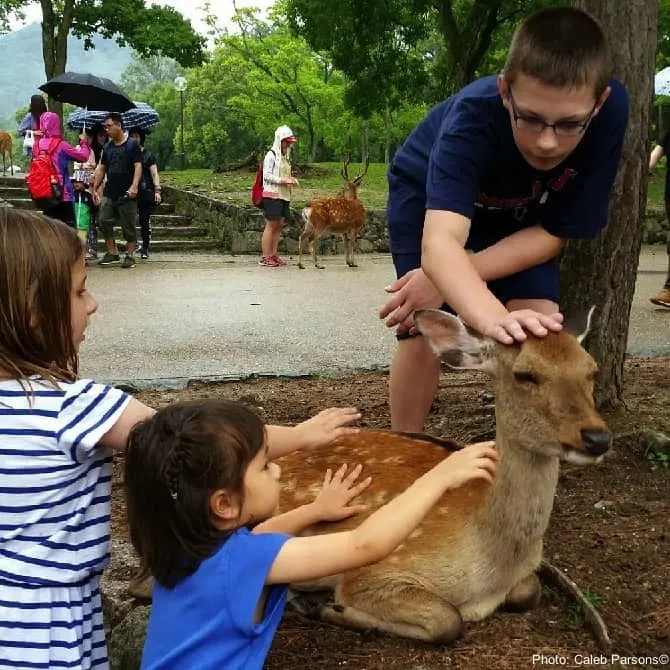 Before heading home, take a spin on the large Ferris wheel next door. From the top you can see the bay and downtown Osaka.
Nearest train station: Chuo line Osakakou (Access is also easy from the downtown shopping area of Namba.)
4. Nara Park, Nara
This massive park, a UNESCO World Heritage Site, houses the ancient Toudaiji Buddhist temple with its giant bronze Buddha. You might be overwhelmed by its size, but on a summer excursion our daughter fell in love with the hundreds of deer that roam free outside of the temple complex.
Nearest train station: Kintetsu line Nara
5. Toei Kyoto Studio Park, Kyoto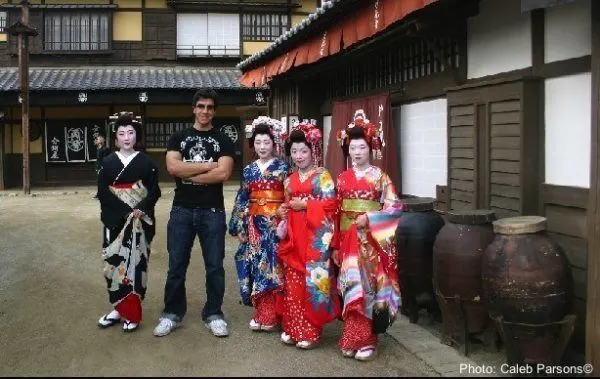 Commonly referred to as Eigamura, this entertainment center offers a unique opportunity to explore a real Japanese movie set. Its main attraction is a replica of a Japanese village during the Edo period (1603-1868) that's still used for filming. Families are free to explore, even during movie shoots. We had a great time dressing up in Edo period clothing that transformed us into geisha and samurai. There is also a Japanese haunted house, anime museum and ninja shows.
Nearest train station: JR line Uzumasa
I hope you get to explore some of these attractions on your next trip to Japan.
Pin it for later!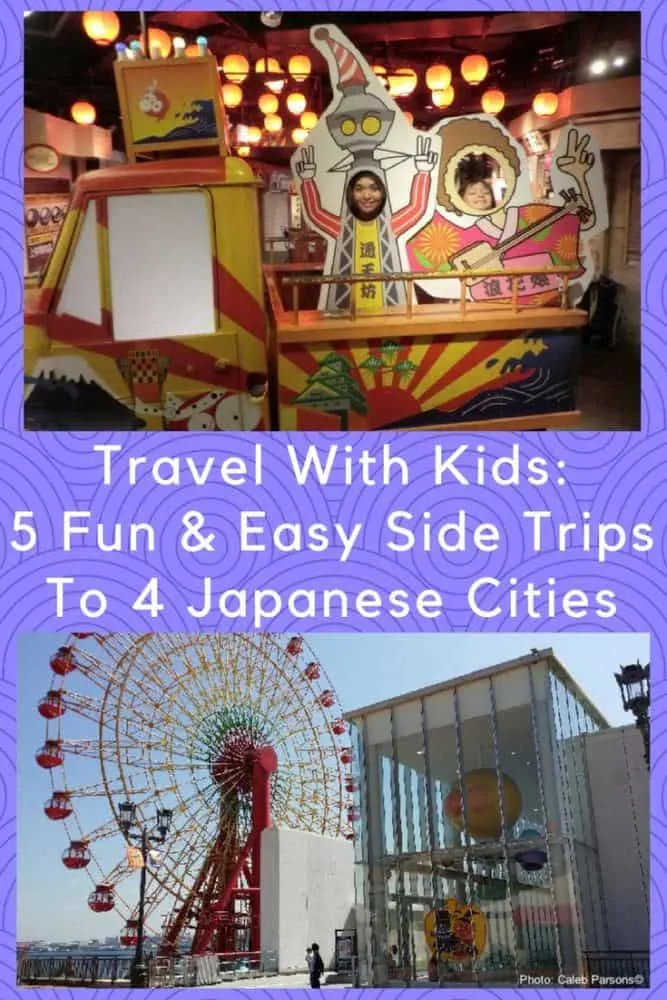 Caleb Parsons is a California native teaching English in Japan and the founder of Kids Travel Japan, a program that creates cultural exchange events that bring together foreign families touring Japan and local Japanese families.