We visited Legoland outside of San Diego in the fall, satisfying my long-held curiosity about it. The park was about what I expected: Enjoyable but made for bigger Lego fans than we are. But we were really surprised by how much of a blast we had at the Legoland Hotel.
Here's why Tiny Traveler and I really enjoyed our stay here.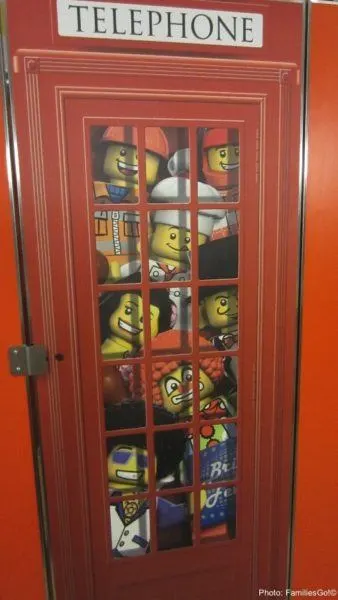 Read More:
Our Best Advice on what to do in San Diego Year Round and on a Fall Weekend Getaway with kids
Legoland California Hotel Review
The Legoland Hotel Vibe
There is no doubting this hotel's theme. A giant Lego dragon guards the parking lot (above). There are Lego statues or bricks to play with in the lobby, the pool, your room and the restaurants. Lego characters appear to be bursting through the walls in every corridor; even the bathroom stalls are themed (right).
Needless to say, this isn't a hotel where childless adults stay. Given all the families (with young children) that fill the rooms, there are a lot of children everywhere, all the time.
Given all of this, I expected our stay to be entirely kid-centric with nothing for me. But once I accepted the setting for what it was I found that with my child thoroughly entertained I was able to relax and enjoy myself, too.
I tried the local microbrews and talked with other adults while Tiny Traveler ran around in a play castle after dinner. Checking in, packing up, printing boarding passes and checking out were easy because she played in a pen full of Lego bricks in the lobby (below) while I took care of those things.
The Legos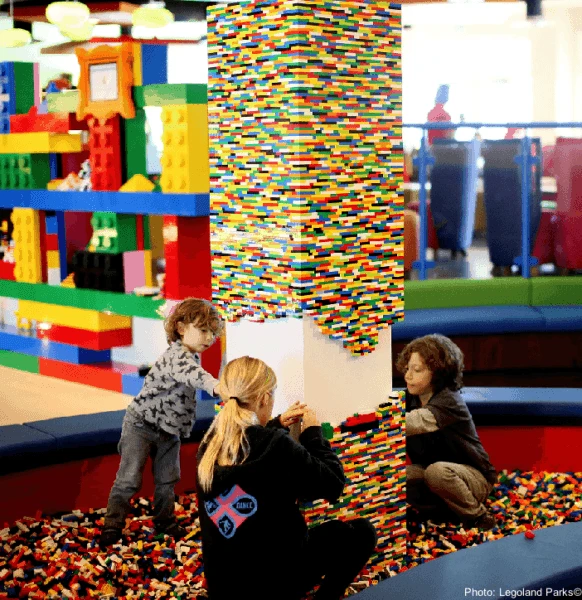 Those Legos in the lobby are just the beginning.
Kids get a scavenger hunt at check-in, then use it to collect numbers they need to unlock a safe in their room. Inside, Tiny Traveler found Mini figures and chocolate coins to keep.
My 7YO was greatly amused by the prospect of playing with giant foam Legos in the pool. We spent a good part of the evening building floats, islands, and bridges. On an off-season week night we could grab all the bricks we wanted. On a summer weekend I imagine it's harder. I was surprised the pool area didn't have water slides or a splash pad to spread the kids out a little bit (a hot tub for the parents wouldn't have hurt either).
Read about what we liked best about Legoland (it might surprise you).
Read about San Diego with kids and in the fall
The Legoland Hotel Rooms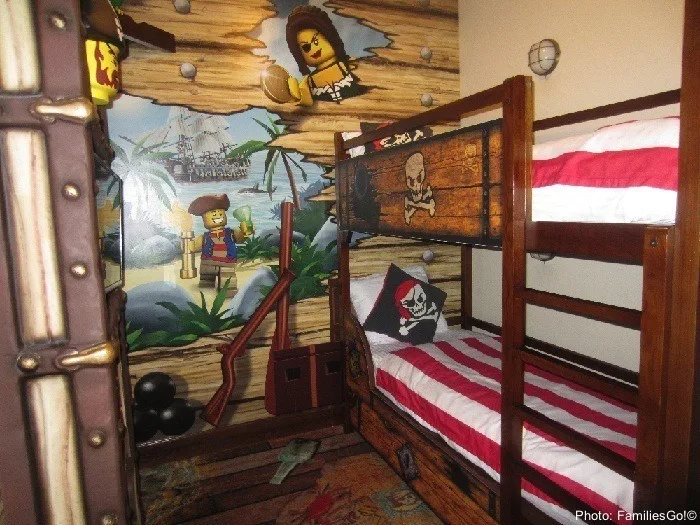 The basic rooms all have their bathroom separating a kids' bunk-bed cove from the adult sleeping area—a nice touch parents appreciate. All the rooms have a basic or fully loaded pirate, adventure or kingdom theme.
Our fully themed pirate room had a door that looked like a brig, carpets that looked like a flooded ship's deck, and a Jolly Roger canopy over the parents' bed. It was so well done that Tiny Traveler insisted on sleeping in my bed–and not on the side where a pirate was bursting through the wall.
With girls who are not specifically into pirates, I'd choose one of the other themes. And with little kids I'd consider a basic room with subtler décor.
Also note, the hotel is only three floors and sprawls more than you think. If you don't travel light or would prefer less walking, ask for a room near the elevators.
The Food at Bricks Buffet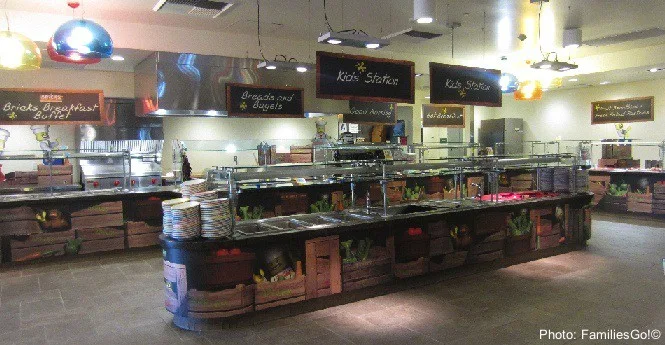 We ate both dinner and breakfast at the Bricks buffet, which I really enjoyed. They put the kids' selections—which are what you expect them to be— at a height where they can serve themselves. The adult dinner had a Mexican theme. Stuffed peppers, enchiladas, and molé were freshly made and tasty enough that I had no room for dessert.
For dinner you can eat at a la carte at the Skyline café or pay $60 per room (up to 4 people) for the buffet, including soft drinks. Whether or not this is a good deal depends on how old your kids are and how much they eat.
Breakfast—which offered a good balance of healthy and kid-friendly—is included in the room rate.
The Bottom Line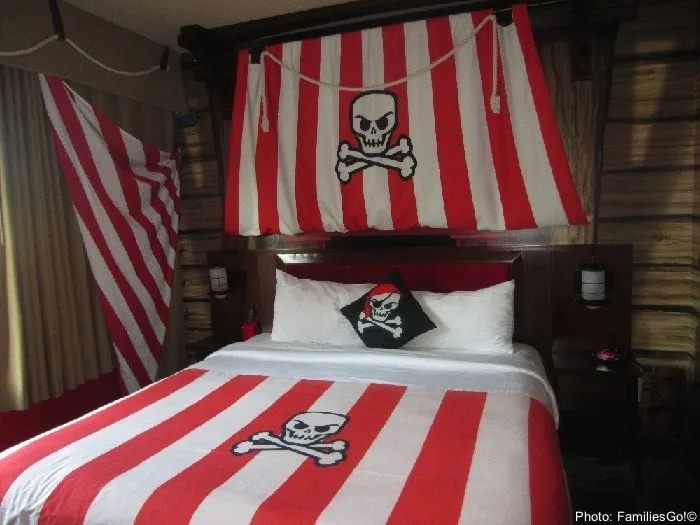 The rates for a basic room at the Legoland Hotel start just above $200 if booked far ahead and can climb to nearly $400 in peak season. Because of the colorful, kid-centric décor and basic pool, the hotel feels more casual and less upscale than similarly priced hotels in places like Williamsburg or Hershey. But the rooms offer parents some privacy, the service and food are very good, and you can relax and enjoy a well-made cocktail while your kids play. This is what you're paying for.
For kids and adults who love Legos the theming is cool and the reason to go. For a kid's birthday or if you're passing through, I would consider staying again even I weren't planning to go the theme park.
While not every parent wants a Jolly Roger canopy over her bed, if you can laugh at that and appreciate the uniqueness of the place, you will have a fun and enjoyable night's stay.
Pin it for later!