On previous, child-free trips to Newport, Rhode Island, we grooved in the hot sun at the famous Folk Festival, kayaked Narragansett Bay, slurped raw clams and drank a lot of beer.
These activities weren't likely to go over well with Tiny Traveler, age 4.5, so I wondered what we would do during a two-night stopover on the way from Mystic, CT to Cape Cod.
As it turned out, there were more to things to with kids than we had time for. Here are ideas for things to do, eat and drink on your own family weekend in Newport.
Read More
• Where To Eat and What To Do on Cape Cod with Kids.
• 48 Hours in Mystic, CT.
48 Hours in Newport, RI With Kids: Where to Eat, Sleep & Have Fun
A Central, Kid-friendly Newport Hotel
On many summer weekends the answer is, the best hotel is one where you can find a room. This port town is popular and holds a few summer music festivals so it can easily book out in high season.
The Newport Harbor Hotel & Marina where we stayed is next to Bowen's Wharf, on the water, right off of Thames street. It's exactly where you want to be.
The rooms are a good size for sharing with kids. The harbor-facing rooms on the first floor have private patios and andirondack chairs.
On the upper floors, only some of the water-view rooms have balconies. Be sure to ask for one if your kids go to bed early. It's a handy second room in warm weather.
The heated salt water pool was a treat to swim in. And we could step outside to sit in the sun after our swim.
The hotel's Salt Water Harborside restaurant has a fantastic view and good menu. But with so many places to eat in town we didn't get around to trying it. Next time I would make a point of at least having breakfast there once.
On an impulse overnight not long after this one we tried to book a hotel last minute and wound up at a B&B that was lovely and served a very nice breakfast. While they were very friendly to Tiny Traveler, they were not set up for kids.
We wound up improvising a bed for her out of pillows because the colonial double bed didn't fit all three of us. And she wound up eating Cheerios and watching the Disney Channel in our room while we ate the very lovely omelets and fancy stuffed French toast that she had no interest in. C'est la vie.
Top Things To Do With Kids
Explore the Harbor
We arrived at noon and immediately headed to Bowen's wharf for a boat tour of the harbor. The wind and sun on an outdoor deck can be a lot for a little kid, so we chose the Majestic, which has some inside seating.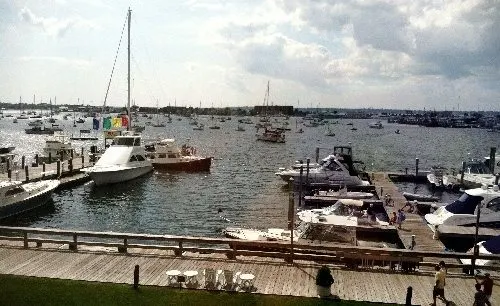 Tiny Traveler looked at the boats, the fancy houses and the action in the harbor while I listened to a tour that included local history, sailing trivia and gossip about who owned which yacht and who had partied in which mansion.
Tiny Traveler was mostly content for the hour it lasted, but started to get squirmy toward the end. I wouldn't take a longer tour.
Walk Around The Town
After lunch and a swim in the pool, we took a walk down Thames Street, window-shopping and admiring the harbor views.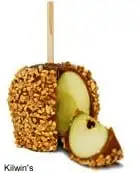 We stopped at Kilwin's candy store, across from Bowen's Wharf to watch workers dip caramel apples and bought Oreas and pretzels dipped in chocolate for after dinner.
Go To The Beach
Though I hear it can get busy, Easton's ("First") Beach on Memorial Drive wasn't crowded on a weekday morning.
We got there early and snagged a coveted metered parking spot ($2/hour for three hours max) so we didn't have to pay $10 to park in the beach parking lot.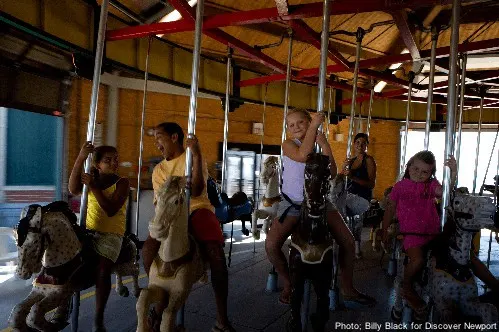 Easton has a lot for kids to do. Tiny Traveler played in the sand and the shallow low-tide water, ran around an old but serviceable playground and rode an antique carousel.
There was also a bouncy slide and a small aquarium, which didn't seem worth the money for the amount of time we had, but could be if you're there for the day.
The showers and changing rooms are fine. And there's a clam and burger shack so you don't have to leave the beach for lunch.
The Cliff Walk & Cottages
The Sea Cliff walk starts just before the beach and we walked the first leg of it, stopping for photos at the 40 steps. If you're not going to the beach, parking on Narragansett Avenue will put you closer to the Breakers and other impressive "cottages."
Either way, I think that this is something you have to do on a Newport visit. It's free. And if you're with kids whi might not do well touring inside the cottages, it at least gives you a good look at them from the outside, which is impressive enough.A self-guided Cliff Walk tour can tell you which cottage belonged to what family and other interesting tidbits.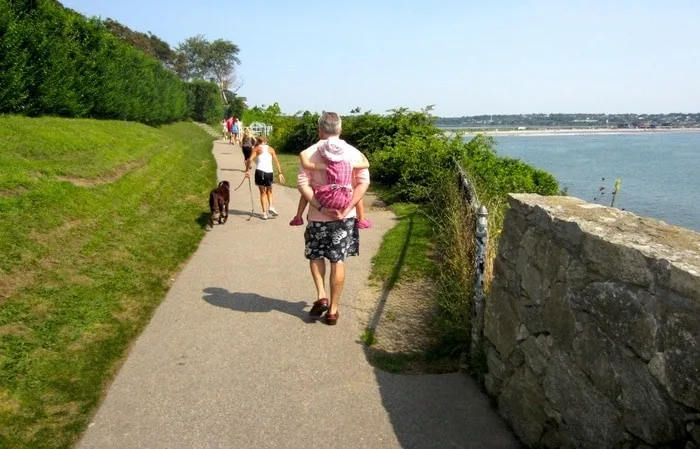 Enjoy A Kid-Friendly Happy Hour
Our first day's walk came to an abrupt halt at O'Brien's, a pub on lower Thames with a large outdoor patio. Little kids ran around a large stone fountain in the center, harvesting plastic ducks and fish with toy crab nets. Nearby, their parents relaxed with their happy hour pints. Our entire family was sold.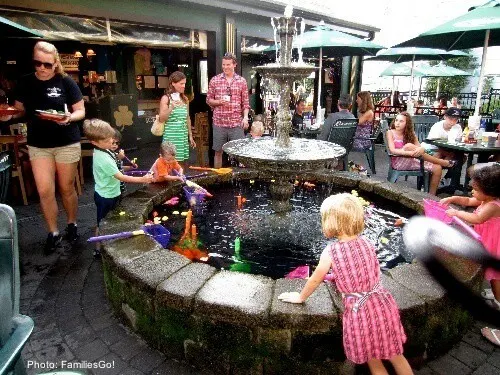 Most of the food is standard bar fare but the waitress told me the cod was local so I decided to stay for dinner and ordered the fish & chips.
The crust was thin and crunchy and well seasoned (not your usual puffy beer batter), and pleasantly surprised me. I even managed to lure Tiny Traveler away from the fountain long enough to eat half of it with me.
Next Time We're in Newport…
One thing we really wanted to do and didn't was to visit Thames Glass. In the afternoon, kids 7 and older can help a parent create an ornament, paperweight or vase ($30 and up). Families with younger kids can stop by to watch the glass blowing anytime.
I thought Tiny Traveler was too young for the mansion tours (the original owners called them "cottages" to distinguish them from their larger winter homes). The tours are expensive and can take up to 90 minutes per house. We'll come back when she's older.
If you want a taste of Gilded-Age splendor with young children, try the Green Animals Topiary Garden at the northen end of the island in Portsmouth.

If you have slightly older kids, the Breakers is easily the most famous cottage. It has a family-oriented audio tour that features stories about the Vanderbilt children and tales from staff members who spent their childhoods there. There are plenty of options for touring the Breakers, as you can imagine,
If you'd like a morning that's fun and free, a few Newporters suggested heading out to Brenton Point State Park. On windy mornings, especially on the weekend, you can picnic and watch a lot of kite flying. Pick up a kite for yourself on Thames St.
So, we already have a list of things to do on a return trip; plus I'd get another crack at that lobster sandwich …
Kid-Friendly Newport Restaurants
The restaurants around town are pricey and busy, especially on the wharf. But most are kid friendly and generally good. Almost everyone serves fresh seafood. Always ask what's local.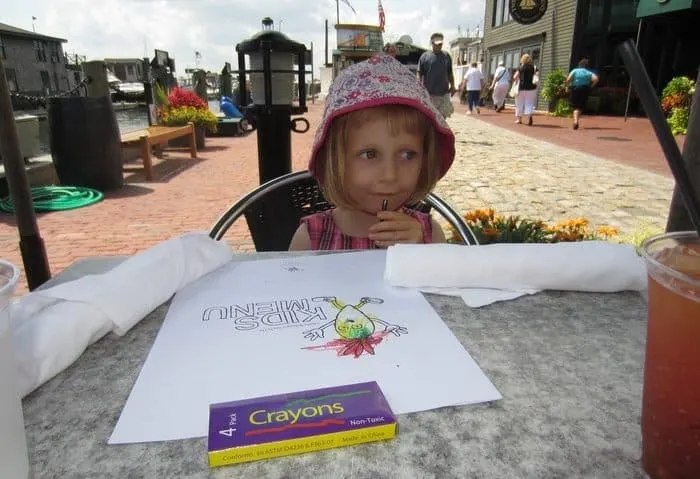 After our boat ride we stopped at 22 Bowen's, where Tiny Traveler had a kids' burger and I decided to be a good with a summer salad.
All the in-the-know local diners around us were ordering the lobster grilled cheese, piled high with plump, pink lobster meat. I almost went back at dinner to try it.
After the beach we hopped over to nearby Flo's Clam Shack, a well-known seafood shack. Tiny Traveler got a kick out of the patio's desert island theme, especially eating her hot dog under a shaggy pink umbrella.
But the food is hit-or-miss. Fried clam bellies were piled high and good, but the "stuffy" (a large stuffed quahog) was short on clam, long on breading and oddly sticky.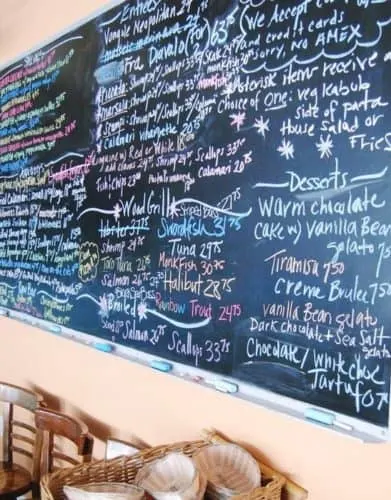 On our second evening we ate at Scales and Shells, a seafood restaurant on lower Thames that's quiet around 6:00 but jumping by 7:30.
There's no kids menu but early in the evening they're kid-friendly. You can make a kid's dinner from sides or half-portions. Tiny Traveler had spaghetti and grilled asparagus.
My clams Neopolitan, bursting with clam juice and garlic, was easily the best thing I ate on our entire East Coast road trip.
Pin it for later!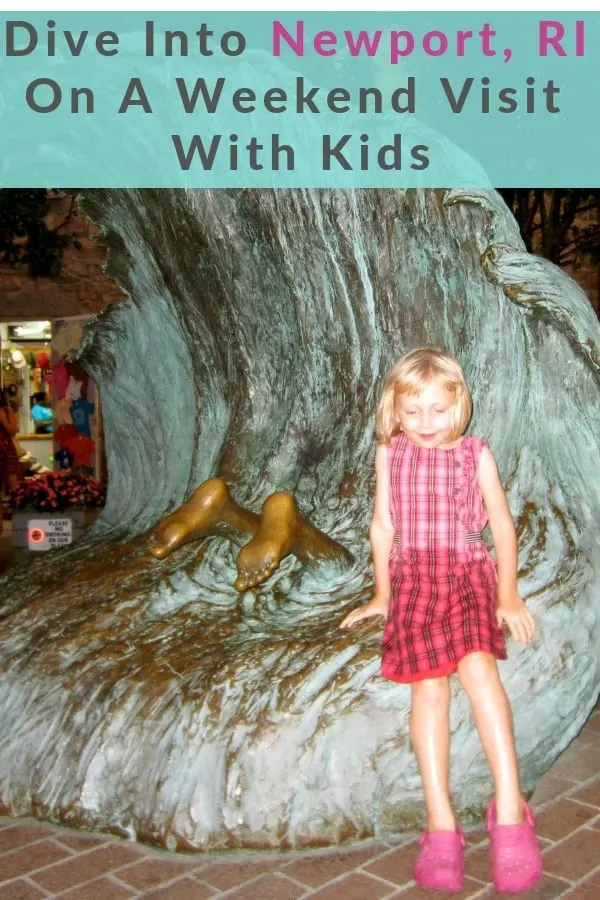 *We were guests of the Discover Newport at the hotel. We did not agree to editorial coverage or to particular coverage in exchange. Our opinions are always our own.
* All photos by FamiliesGo!© except the Kilwin's Apple (Kilwin's), the carousel (Discover Newport) and the topiary garden (Newport Mansions).