We've been to Mystic with our daughter three times now at very different ages. It's an easy weekend from New York City and Boston and its New England coastal vibe — sailboats, wood frame house, clam shacks and ice cream— deeply appeals to me.
Plus there are more things to do than you might expect and countless good places to eat.
Here are my recommendations for a visit with preschoolers, kids and tweens.
Read More:
• Here are the Best Things To Do & See, and Top Places To Eat with Kids on Cape Cod
• Plan this Easy Newport, RI Weekend With Kids
Mystic Offers A Seaport, An Aquarium & Much More For Families
Mystic Aquarium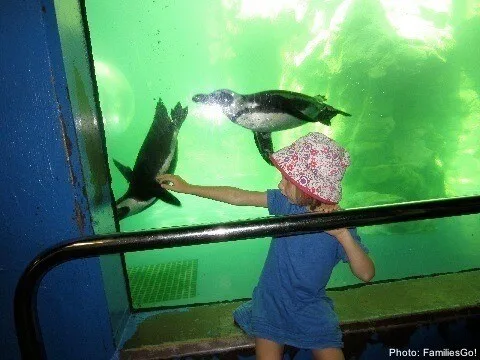 I'd frequently heard that the Mystic Aquarium is fantastic but shockingly expensive, and it's a pretty fair assessment.
The unexpected highlight for all of us was the seasonal Birds of the Outback exhibit. At the birdhouse entrance we each got what looked like a birdseed lollypop. Walk in, hold up your stick and tiny yellow or blue parakeets land for a snack.
A contrived "game show" theme turns ten minutes of sea lion tricks into a 20-minute show that had me rolling my eyes. I love sea lions, but I've seen better. Most kids seemed to like the eight-minute SpongeBob 4-D flick, but it was jarring to 4.5 year-old Tiny Traveler, who doesn't do well with loud noises.
There are Beluga whales (adorable), lively African penguins (TT's favorite) and indoor tanks with a plethora of fish, jellyfish and other sea creatures (I petted a small shark!).
The aquarium is sprawling and largely outdoors. Consider a stroller for 6-and-unders, and remember water and sunscreen. It takes easily half a day to see everything.
Mystic Seaport
I love Mystic Seaport's* setting. The view of trim 19th century buildings backed by boats on the Mystic River is picture perfect on a sunny day. Seeing and doing everything will take the better part of a day.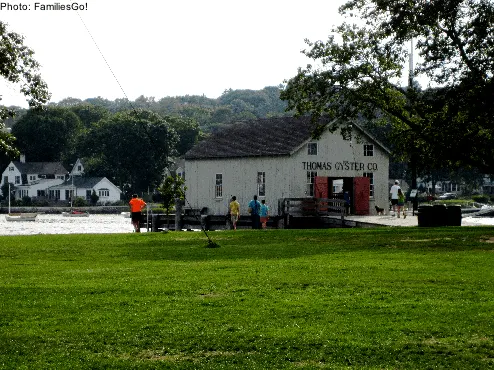 On that previous visit when TT was 4 1/2 we took time out for boat building, which she loved, and candle making (which we didn't see our a recent trip). When I needed a rest but she still had energy we head to the Children's Center, a ship-themed play space under-7s and the boat-themed playground across from it (below), which attracts younger and older kids. There's also a new Home Port for 8-t0-12 YOs with some small art activities and oversize versions of old-fashioned board games.
We enjoyed crabbing with small nets on the small beach behind the oyster house on this visit, looking at the faces on the collection of figureheads (in the Home Port) and admiring all the fancy nautical gizmos and old-fashioned clocks in the clock shop. I love sea-shanty singing in the gazebo, but TT was thoroughly bored.
Update: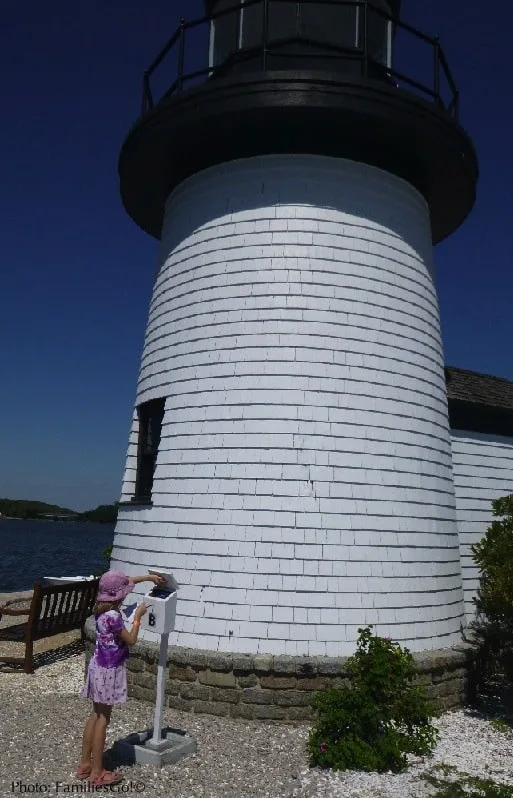 We revisited during the last week in August when TT was 8 1/2. Our favorite activity this time was Navigation Quest, which you start at the clock shop.
By using a map, compass and GPS and counting paces, you find four locations around the village, collecting cards as you go.
TT had a fun time learning to use the compass and map. And upon returning to the clock shop she was able to trade her four cards for a compass of her own.
Aside from that it was a frustrating visit. Mystic changes over to its fall Schedule a good week before Labor Day, which means the most popular kid activities, the toy-boat building and a staged man-overboard rescue, are on weekends only.
This was hugely disappointing to TT, who was planning out her next boat in the car on the way.
The Mystic folks might want to consider offering boat building for an hour or two a day during shoulder weeks like this, as we were one of several families asking about it.
There was a printing activity for kids in the print shop, but you have to sign up ahead and they don't note this on the schedule, so when we turned up at the print shop 15 minutes before it started it was full. We weren't the only ones turned away, so Mystic might want to offer more than one of these or make or note the limited space and sign-up on their schedule.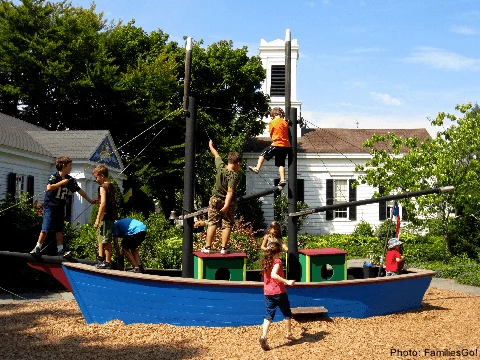 Two strikes on the interactive front and TT was starting to complain of being hot and bored. So we also tried the planetarium, for which you have to pay $4 extra per person. This is extremely skippable. The show was supposed to be "The summer sky and maritime navigation." In reality an intern (who mumbled) use a pointer to tell us where all the common constellations are in the summer sky. She went into way too much detail and told us nothing at all about how sailors used the stars to navigate, which would have been interesting. If the Seaport wants to charge extra for this they need to improve their show and also offer age guidance; kids younger than 6 were bored and noisy, which didn't help things.
We did enjoy an exhibit on whaling, Rich and because we learned quite a bit and TT because she got to see an example of hardened whale vomit (amber Gris). We exited and got to check out the whaling ship they've restored. So that ended a mixed visit on a relative up beat.
A Way To Save
A Mystic Pass combines General Admission to the Aquarium and the Seaport. You save a few dollars per pass on admission, and it carries discounts at area stores, restaurants and hotels (have your passes before you make your hotel reservation).
When you buy, keep in mind that kids under age 6 get into the Seaport for free (and under age 3 at the aquarium). Also, the aquarium's General Admission doesn't include the 4-D movie or Birds of the Outback (a Value Ticket includes them or you can pay for them separately inside).
Other Nearby Excursions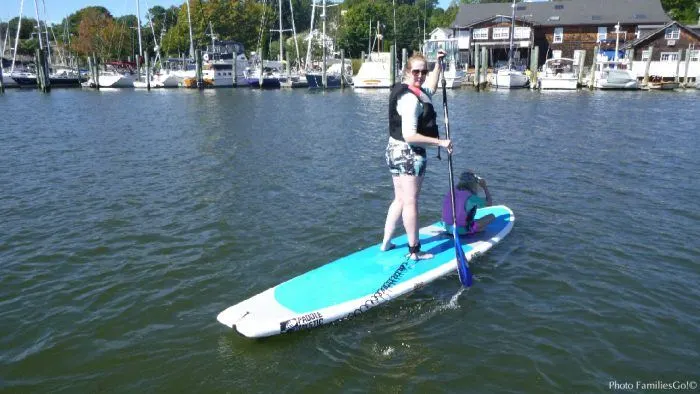 Renting SUPS: On our return visit we rented stand-up paddleboards from Mystic River Adventure Co. Whenever we visit Mystic, the river looks inviting with its various sailboats and watercraft. So I was excited to finally get a chance to go out on the water myself. It was $60 for an hour for two SUPs, which is plenty of time. TT sat on the front of our boards, swimming between them from time to time. It's an easy sport to learn, there is a current but it wasn't very strong, and it was indeed really fun to get a view of the other watercraft, the bridges, the coastline and th Seaport from out on the water.
Blown Glass: The first time around, we visited Jaffrey PanStudios, a glassblowing workshop 15 minutes from town, where they give free 30-minute demonstrations daily. We liked watching as a molten glass blob evolved into a peppermint-stripped drinking glass. If you go, you'll recognize the studio's work on the aquarium's walls.
Charming Town: The genuinely old town of Stonington, 15 minutes from Mystic, is a nice evening destination. Walk to end of town to admire the tiny stone lighthouse and clapboard houses, then choose one of a handful of welcoming restaurants for dinner. Afterward, detour to the marina for ice cream at Dog Watch Café.
Narraganset, RI and Hammonasset State Park (Madison, CT) are about 45 minutes to the north and south, respectively. Both are known for great beaches.
Dining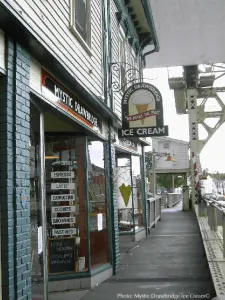 You can leave the seaport and the aquarium (get a handstamp) for lunch, which I recommend, given all the good food nearby.
Mystic Town Center has a short river walk and drawbridge. Its three or four blocks of shops and restaurants are far more interesting than the strip-mall options closer to the aquarium. No matter where you eat, leave room for ice cream at Mystic Drawbridge Ice Cream, where creative homemade flavors and yummy seasonal-fruit ice creams will knock your socks off.
I loved S&P Oyster Company's children's menu. Instead of the usually fried chicken fingers, TT got a juicy grilled breast that came with cauliflower. The adult food was really good, too and there's a nice outdoor patio. prices are more family friendly at lunch.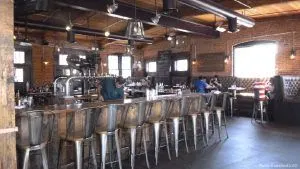 The price of our SUP adventure included a coupon for a free beer or soda for each of us at nearby The Engine Room, a ruggedly stylish pub located in a former boat-engine factory. So we decided to go there for lunch and really enjoyed it. All the kids menu items are freshly made including the breaded-just-enough chicken nuggets TT ate up along with a local root beer. My hunter-style hamburger special was assertively seasoned with pickled cabbage and beer-cheese sauce; it was a nice change from a usual burger. Rich's steak sandwich was a jaw-stretcher but also tasty and everything else coming out of the kitchen looked good.
Cove Fish Market is a clam shack less than 5 minutes from of town by car. We had a generous pile of plump, fresh steamers for $11, a great deal.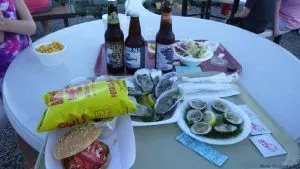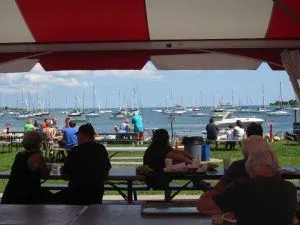 The Seaview Snack Bar is on the river, pretty much next door to the Seaport. We always avoided it on the premise that it must be too convenient to be good. But we went for convenience on our second visit and enjoyed fried clams — whole bellies fried crisp on the outside and still briny and soft on the inside— crispy fries and a burger for TT, all at a very reasonable price.
At Abbott's Lobster in the Rough lunch we enjoyed lobster rolls, raw oysters, steamed shrimp and freshly brewed iced tea with the best water view of any clam shack I've been to. It's in Noank, about ten minutes from the Mystic drawbridge and so worth it.
Note: It's BYOB, but there is a package store on Pearl St., about two blocks before Abbotts. When we returned for dinner on our second visit we picked up a few bottles of local beer (for a bar tab of about $6). Supping on cold beer, raw oysters and clams and more lobster rolls with a view of the river was a great way to signal that we were indeed on vacation.
Pin it for later!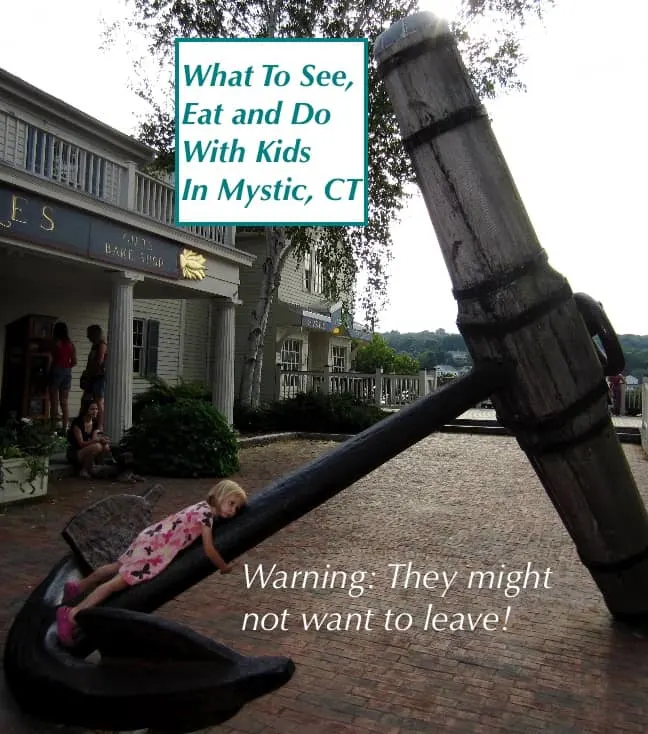 *We were guests of CTVisit at these venues on our first visit but not subsequent ones. We did not agree to provide coverage or to any particular coverage in exchange for being hosted. Our opinions are always our own.