As soon as we heard we would be traveling to Pittsburgh for a family event, Rich and I knew we wanted to visit FallingWater, the spectacular Frank Lloyd Wright home in rural Western Pennsylvania.But did we dare bring our 8YO along to look at a house—even a house that is considered a masterpiece?
At the time we had a pretty good kid, one who is generally willing to go along with things, even if they don't thrill her. So we booked our tickets and went for it. (She has since turned into a tween and much more vocal when our plans don't suit her).
It was worth it!
The house is as amazing as it's reputed do be. The tour is very well done, and our kid made it through the tour pretty easily, even if it wasn't her favorite activity that weekend. H
Here's what to expect and what we recommend if you try it, too.
You can visit FallingWater and another Wright home, Kentucky Knob, as a side trip from Pittsburgh or Nemacolin Resort in the Laurel Highlands.
• Read my review of Nemacolin.
A Guide To Visiting FallingWater With Kids
What to Expect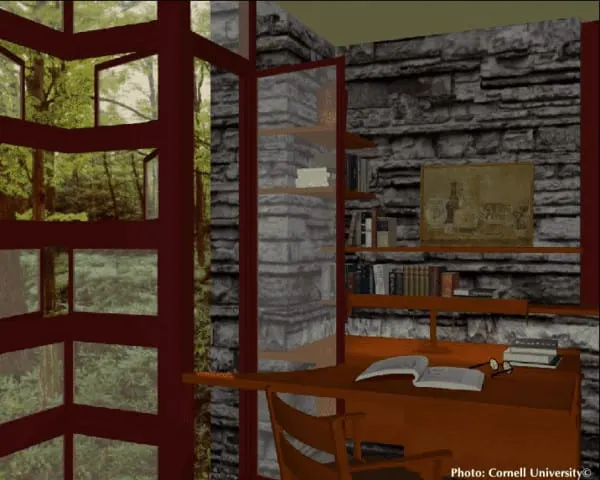 The tour was longer than we expected, nearly two hours. And despite the large size of the house the rooms and passageways are compact.
Not surprisingly, they don't allow kids younger than 6 —including babies in carriers. But I would consider 8 to 9 the minimum age for a visit, depending on your child's attention span and ability to behave.
They do offer family tours, which include a kids' activity and an abbreviated tour of the house. Off-season and during the week this wasn't an option for us.
I think if you drive all the way there it's tough to resist seeing the whole house, but the family tour is certainly a good option for families with 6 to 9 year-olds.
They also provide some kids activities online you might consider printing out before you come.
Tiny Traveler liked FallingWater more than we thought she would.
Here's What Our Kid Thought
Houses are places where people live. Kids can relate to the idea of a home and have some context for evaluating one versus another.
A lot of the tour deals with how Wright made use of shapes and space and light, which she was able to understand a little from her art classes at school. She was also interested in what the different rooms looked like and why.
She had opinions about what she saw, and she liked the views from the house's many terraces.
Before You Start Your Tour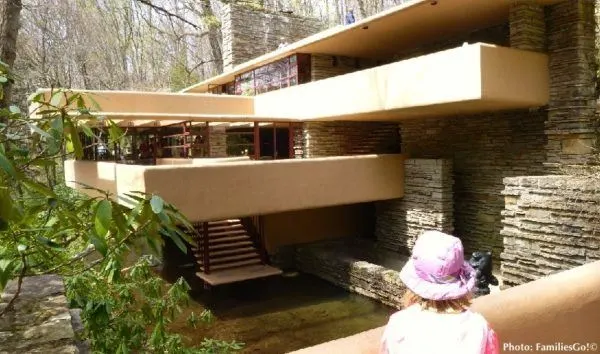 Before leaving Pittsburgh for FallingWater we let Tiny Traveler run around a playground for an hour. Getting some ya-yas out definitely helped her to behave during the tour.
When we got there we discovered the property has a lot of woods and hiking trails. If you have kids who are too young to see the house or who need to run off their own extra energy before you start, consider arriving early enough to explore the woods before your tour.
It goes without saying that you can't eat in the house. Having a snack while waiting for your tour to start will also help kids to keep it together during the tour.
Know Your Kids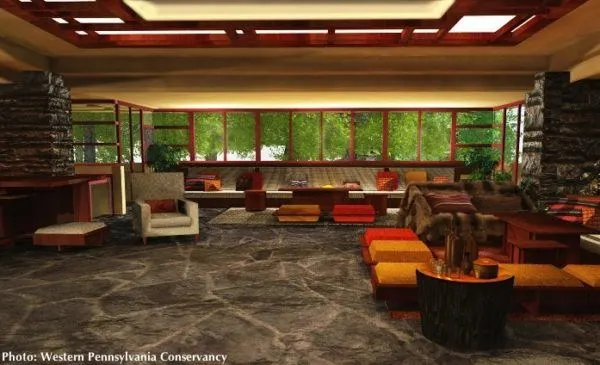 All that said, both tours are $25 for adults and $18 for kids. If I child starts getting fidgety or boisterous I'm almost certain they would ask you to step outside with him or her.
Given all of this, I have so say, know your kid. If you really doubt their ability to behave for the length of even the shorter family tour, wait until they're older. Or make it a couple getaway weekend.
A grounds pass without the house tour is $8. It provides access to the hiking trails and some nice, photo-ready views of Falling Water from the outside. So that's an option, too.
Dining Nearby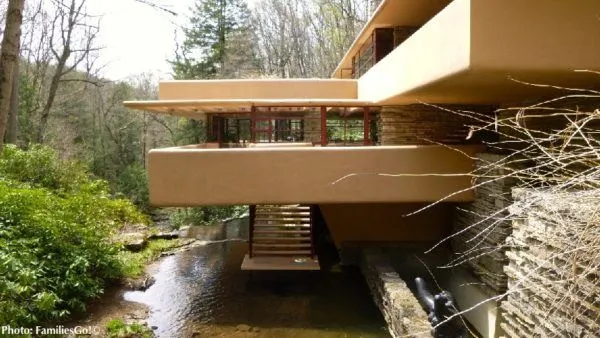 Our tour finished up in time for us to be more than ready for lunch. The Café onsite was surprisingly good.
Tiny Traveler got a kids meal that included a hot dog, apple and fountain drink. Rich and shared an order of pork tacos that were made to order, well seasoned and came with a side of crunchy coleslaw. The small outdoor tables have a nice woodsy setting.
I didn't look into picnicking options because it wasn't an option for us. But I think if you chose to BYO you could find a place to sit and eat.
We did see one or two possible places to eat on the road from the highway (but they didn't look promising). Given that the café food looked fresh—and prices were about what you would expect— it seemed easier to eat onsite than to chance driving to one of the local places that we couldn't be sure were open..
Getting There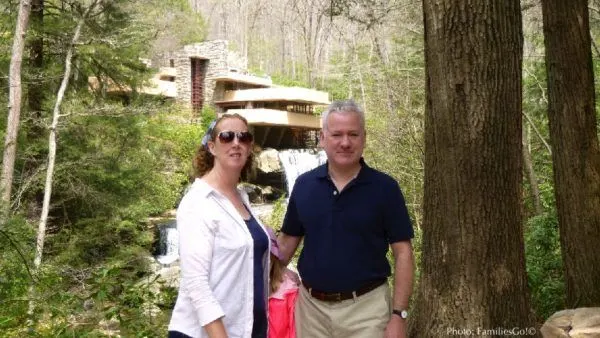 FallingWater is about 90 minutes southeast of Pittsburgh. Heading from that city back to New York, Baltimore or Washington, DC, it will add about an hour of driving to your trip; not a bad detour.
A winding road: If your kids get carsick be aware that the house is 30 minutes from the highway along a very, very windy road.
Tiny Traveler, whose ears were clogged with allergies, was nauseous both going and coming. There's no way to avoid this road, so allow enough time to take it slowly and stop if you need to.
Tip: You don't want to drive all the way to FallingWater and not be able to get on a tour.
At any time of year, but especially in summer, make a reservation online. It ensures you a spot and also gives you a small discount on the tickets.
Pin it for Later!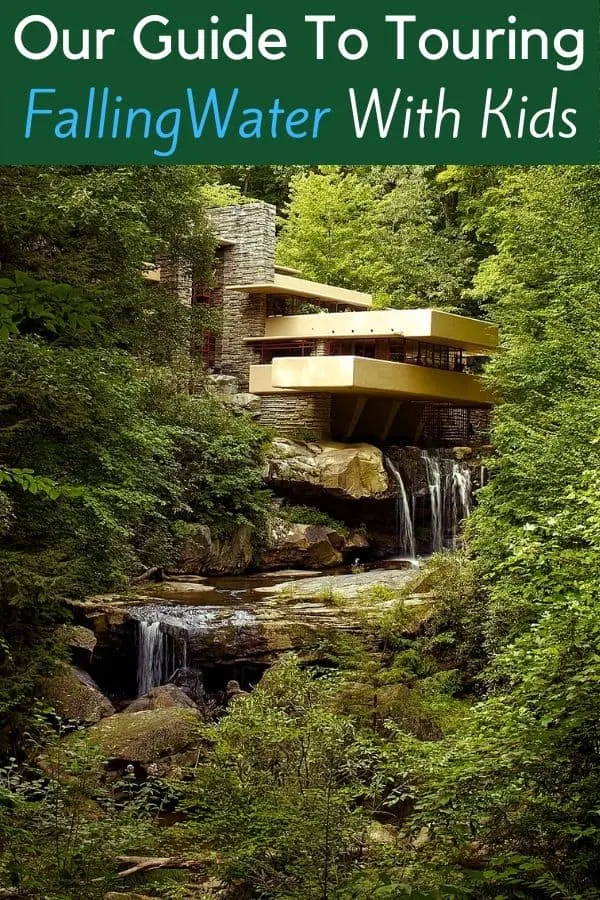 All photos by FamiliesGo!© except were noted.