Is Pittsburgh worth a weekend visit with your kids? Easy answer is yes, absolutely!
A family event sent us to Pittburgh, a city new to all of us. We liked its energetic vibe, its robber-barron-funded arts and culture and its wealth of family activities.
Our family event based us in the city's Oakland neighborhood, a few minutes drive from downtown. This was a clever move on the part of our local hosts. There is so much to do in this corner of the city with kids and tweens that we barely left it all weekend.
There are a few hotel options and plenty of places to eat. Unless you're primarily in town for a football or baseball game I'd say this is an ideal place to base yourself.
Here's what we did on our family trip. Use it as a starter itinerary for your own weekend with kids in Pittsburgh.

You Might Also Like
• 18 Weekend Trips from Washington, DC
• Indulge in Family Luxury & Fun at Nemacolin Resort
• Yes, You Can Take Kids To FallingWater
Unique Things To Do With Kids On Pittsburgh Weekend Getaway
Some Fun Things To Do & See
Look at colleges
The University of Pittsburgh and Carnegie Mellon are both in Oaklande, which means lots of green space, your pick of coffee spots and plenty of places to try local beer.
The don't-miss stop is U. Pitt's towering Cathedral of Learning. On the first and third floors are 30 Nationality Rooms, class and conference rooms designed and furnished by Pittsburgh's various ethnic communities.
They evoke respectively, an Indian Temple, Irish and Italian monasteries, a village in Ghana, a palatial dining room in Austria, Greek and Hebrew temples and a Turkish home, among other things. The variety and detail are amazing and truly unique. A switch by each room's door will tell you about what's inside.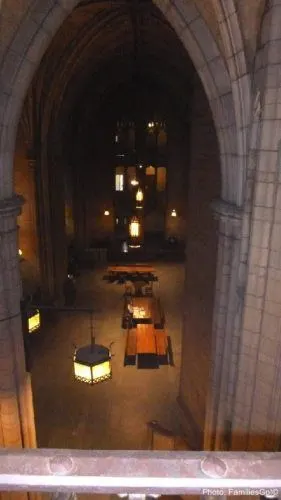 Also, the building itself is fantastic. Tiny Traveler, who is currently obsessed with Harry Potter, loved the soaring Hogwartsesque gothic common room on the ground floor. However, she stood in the hallways and refused to go into any of the nationality rooms. We think that because they're so unusual she was convinced we weren't supposed to go inside and that her parents were flagrantly breaking the rules.
This is a better stop with tweens and teens than with toddlers.
The Carnegie Museums
The Carnegie Museums of Art and Natural History are one museum. You can wander out of the hall of dinosaurs and into the hall of Architectural history, which is handy if your family's interests are as wide-ranging as ours or you have kids in a wide range of ages.
The dinosaur exhibit tries to provide some environmental context, which makes the skeleton displays less sterile and more inviting than at some other museums.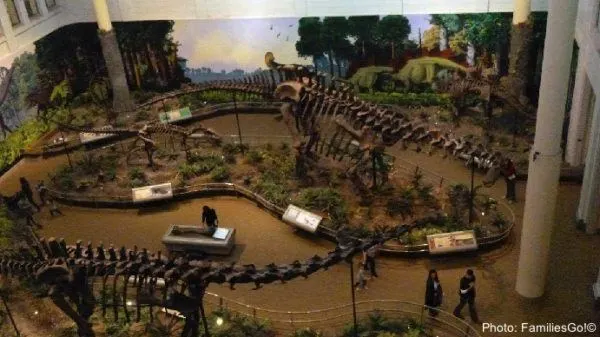 A temporary Pterosaur exhibit allowed us all to simulate flying, diving and catching food like these ancient birds. Tiny Traveler, and every other kid in the room, loved it.
On the art side, an interactive modern exhibit that was going on engaged all of us on different levels.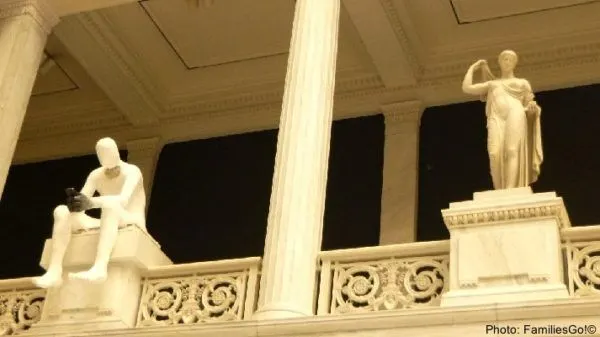 There is obviously something for every age here. Whether you spend more time in art or natural history will depend on whether you have tots, kids or teens and where your family's interests lie. It's very easy to do at least a bit of both
Note: As museum admissions go, $20 for adults and $12 for kids seemed reasonable for two museums. The Pterosaur exhibit was $5 extra per person. It's a small exhibit and sending one parent in with our daughter would have been an easy way to save a little.
Phipps Conservatory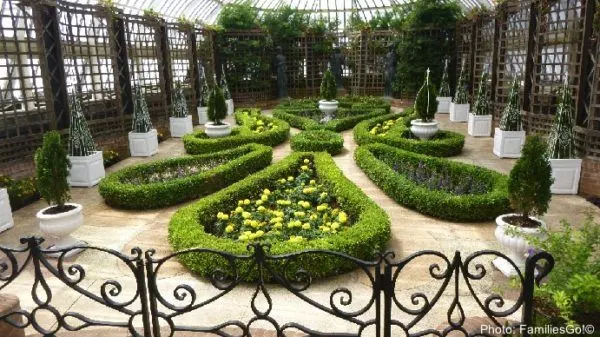 Want to go to a botanic garden on a rainy or cold or exceedingly hot day? The Phipps Conservatory is mostly inside, so you can. We really loved it. The outdoor kids' discovery garden is fun on a sunny day.
If the weather doesn't cooperate stroll from one plant habitat to another ­­– tropical, Mediterranean, desert and so on – as you walk from room to room. Tiny Traveler liked tracking down specific species of fig trees and cacti for the Bingo game they give to kids.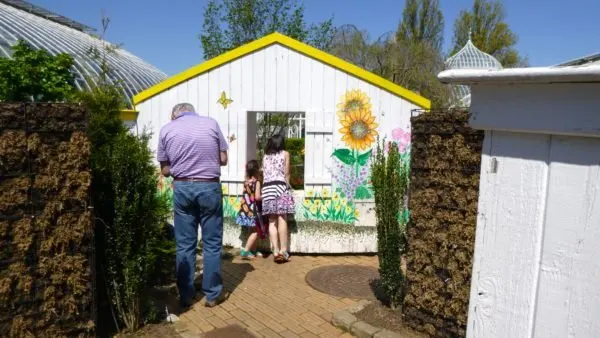 Tip: We really enjoyed it, but given that it's a walk-through rather than stay-and-play botanical space, and we were done in less than two hours (with a good half hour in the kids garden), I can see some families thinking it a little steep compared to other gardens. Still, if you need a rainy day activity (that isn't a kids' museum), this is a good option.
Schenley Park and Plaza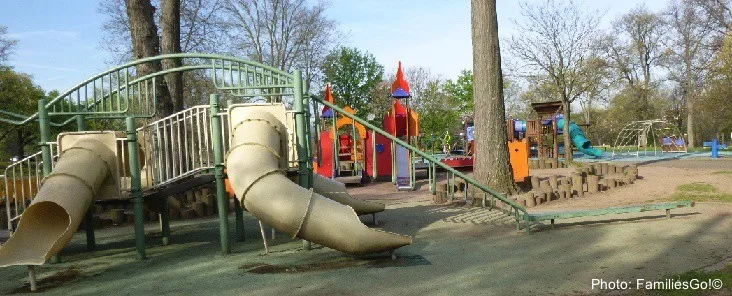 The conservatory sits on the northwest corner of enormous Schenley Park, which has walking and biking trails, an ice rink in winter, plenty of running around space and the Anderson Playground.
This older play space has four distinct, mismatched sections that almost look like a study in the evolution of playgrounds. It provided a good hour of climbing, spinning and jumping before we got in the car for the long drive home.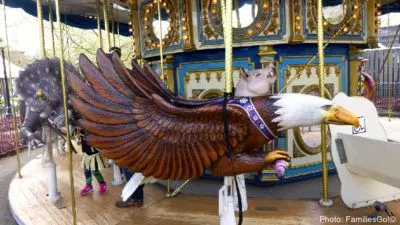 Schenley Plaza sits adjacent to the park with a colorful carousel and the university's Frick Fine Arts building, which has a nice inner courtyard and art display that are worth a quick peek.
A Great Downtown Park
We did stray from Oakland briefly to explore The Strip and visit Point State Park. The park is a popular weekend spot with picnicking families and teens playing frisbee. There's no playground but Tiny Traveler joined lots of other kids kids splashing in the large round fountain.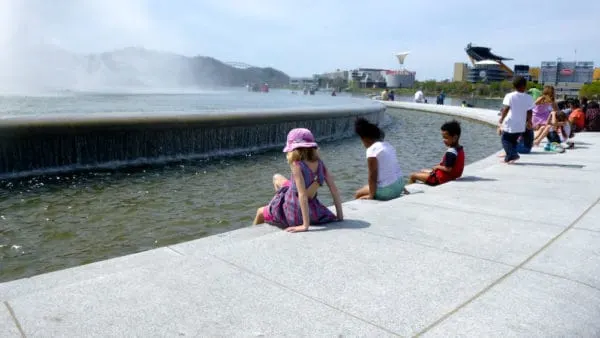 The park comes to a point (hence its name) where the Allegheny and Monongahela rivers meet the Ohio River. It offers nice views of the city's bridges, stadiums, the incline and more. Parking nearby was tight, even on a weekend, but it's a worthwhile stop for getting a sense of the city and running around a bit.
What We Missed
There were a few uniquely Pittsburgh things we would have tried if we'd had another day or two. These include the Duquesne Incline railroad for its city views, the National Aviary and the Heinz History Center, which seems like a fun Pittsburgh-centric museum akin to the Smithsonian's American History museum (indeed, it's a Smithsonian affiliate museum).
Rainy Day at the Children's Museum
My family traveled from Washington, DC to Pittsburgh to take in a Pirates game. We couldn't have picked a rainier weekened. After breakfast on day 2 we gave up on sightseeing plans and did the easy thing: We walked six blocks to the Children's Museum. It was a good plan B; this was one of the best kids museums I've been to.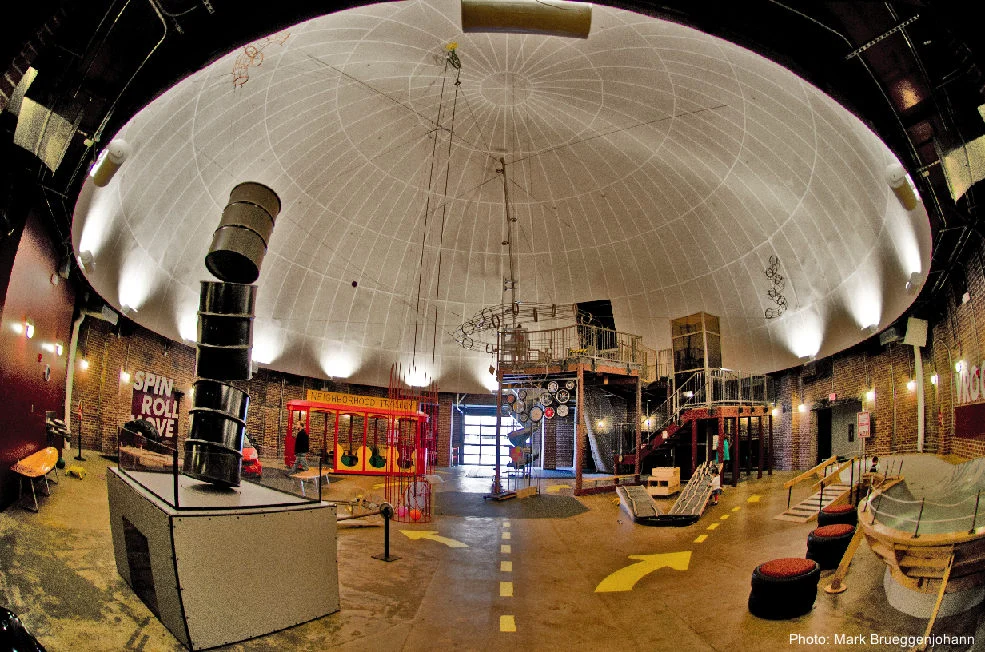 We spent a lot of time in the "garage,", where a mechanical pulley is rigged to send plastic balls onto a track system across the high-ceilinged room. They had a rope ladder to an indoor slide and a car to hang out in.
It has temporary exhibits that take on things like meditation and emotions. Artists in residence create interactive art installations and run art programs with the kids.
Upstairs, the kids could have spent forever in the water-play area, pumping, directing and damming the flowing water. A change of clothes is not a bad idea if your kids small or the weather is cold. Despite donning waterproof smocks they were both soaked.
So we left Pittsburgh the same way we arrived: wet. But this time by our own doing.
— by Melinda Brent
Pittsburgh Food
Some Kid-Friendly Pittsburgh Restaurants
We managed to hit the Porch at Schenley, on Schenley Plaza, for all three meals at some point in our weekend. I would call it enlightened casual American. For dinner I had a butternut squash pizza with fennel and roasted kale, while Rich had a springy pea risotto.
For lunch it was homemade soup; breakfast was egg and prosciutto sandwiches on sourdough bread. Tiny Traveler twice ate a kids' hamburger that came with great roast potatoes (these also come with egg dishes during weekend brunch).
Near the universities, South Craig Street at Filmore Street has a college-area vibe with a bookstore, cafes and a variety of ethnic restaurants.
We had an excellent Italian dinner at Lucca Ristorante, where we had cacciatoris, handmade pasta and housemade desserts like tiramisu and olive oil cake. Kids can choose ravioli, spaghetti & meatballs or chicken parm. It's a little bit upscale but very family friendly. It's more the sort of place where parents spring for dinner when visiting their university students.
The blocks around Forbes Avenue and Atwood Street have local sandwich, pizza and hot dog joints as well an outlet of kid-friendly Noodles & Co. We attempted to try local brewpub Fuel & Fuddle at dinnertime. The thin-crust pizzas and burgers looked good but the music was way too loud for us.
We also checked out the Strip area downtown for lunch. It struck us as interesting but definitely a work in progress. Any of the restaurants we saw would have worked with kids, but none seemed a slam dunk; they tended toward loud, crowded and trendy.
We wound up at the Beer Hive, which had some interesting burgers and tacos on the menu. We stuck with fried pickles, wings and chicken fingers, all good. And there's a rotating beer list with a lot of regional brewers on it. The waitress was friendly and the upstairs dining room is more family friendly than the bar area.
A Candy Emporium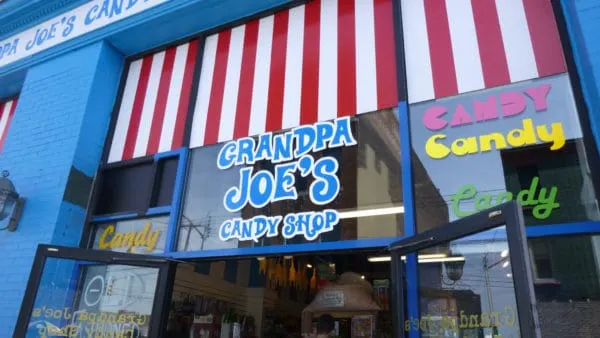 As far as Tiny Travel was concerned, the best thing about the Beer Hive is that it's across the street from GrandPa Joe's Candy Shop. It's a treasure trove of retro and regional candy and chocolate. And it has new treats like Bertie Bott's Beans.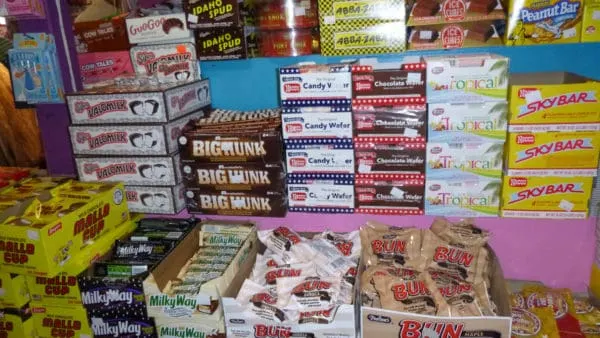 We spent quite a bit of time browsing, and walked out with red licorice nibs, Bertie Bott's Beans and a bagful of Zots, hard candy filled with sweet powder that we'd never seen before and that Tiny Traveler fell in love with.
Basic Pittsburg Information
Pittsburgh Hotels
We stayed at the Wyndham Pittsburgh University Center, a non-descript hotel down the street from the Cathedral of Learning. Our room was pretty standard, and fine for three people. The basement pool was a good size and perfect for family swimming. It's exceedingly convenient for visiting the University of Pittsburgh or Carnegie Mellon. It was a short walk to most of the things we did and given the student population there are plenty of places to eat at any time of day and many are inexpensive.
If you want to be more central you'll find a Drury Plaza and Embassy Suites among the family friendly hotels downtown.
There is another handful of family friendly hotels, including a Hyatt Place, around PNC stadium on the North Shore. For something a little different in that neighborhood, you can book the Parador Inn, A Caribbean-accented hotel in a converted 1870s Mansion.
Where is Pittsburgh?
Pittsburgh is two hours from Cleveland, three-and-a-hald from Buffalo, four hours from Baltimore or Washington, DC; and five hours from Philadelphia.
It's a good seven-hours from New York City. We wished we'd stayed four nights; there was enough to do and it would have broken up the drive more. You can break up the drive with a night or two in Hershey or Harrisburg. Consider a stop at Frank LLoyd Wright's FallingWater if you're driving in that direction.
If you want a quick weekend visit you can catch a regional flights to Pittsburgh Airport and rent a car.
Getting Around
Pittsburgh struck us as a city where you get around by car. Aside from inside Schenley Park, we wound up paying for parking everywhere where we went. Consider yourself lucky if you find street parking downtown, but don't plan on it (especially around The Strip). If you visit for a baseball or football game pick a hotel in walking distance of the stadiums on the North Side or downtown.
Pin it for later!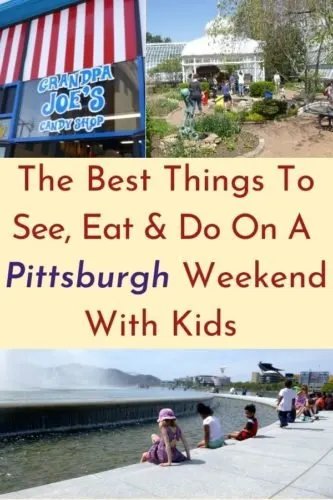 *Visit Pittsburgh provided us with a press pass that partly covered our admission to the conservatory and museums. We never agree to coverage to any particular covered in exchange for press access. Our opinions are always our own.
Photos by FamiliesGo!© and Melinda Brent (Childrens Museum)
Malinda Brent contributed to this post. She is a former daily newspaper reporter who lives in Washington, D.C. with her two girls and photographer husband.