Here's What We Loved About Our Nemacolin Woodlands Getaway
The Vibe:
Nemacolin Woodlands, a luxury resort in Pennsylvania's Laurel Highlands, doesn't have a single vibe. On the resort shuttle we spotted groups of men who'd come to golf, shoot or fish, women who were there for the spa and restaurants, and families like us with kids ranging from tots to teens.
The type of vacation you have depends there on where you stay—one of three hotels or on-property vacation homes—who you're traveling with and what activities you've come for.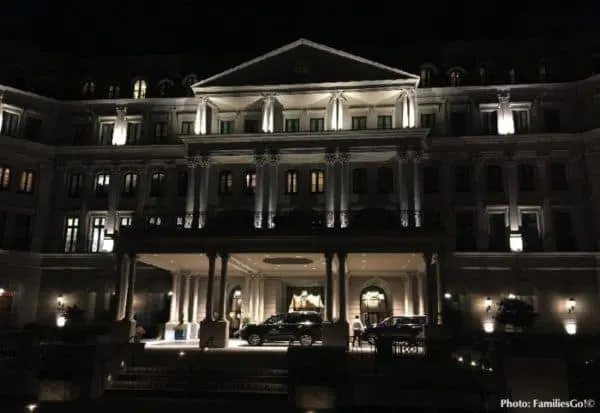 While there was some overlap—the Tavern was popular with both golfers and families— those groups largely had their own favorite activities, restaurants and even pools.
This is by no means a bad thing. We heard one golfer who was there on a guy weekend say he used to come with his wife for golf and the spa. He added that, given how much they've added for families he would probably now return with his kids.
The way the resort is laid out, families can be themselves without worrying that they're bothering the kid-free adults. And adults—who have two pools all ot themselves— don't have cannonballing kids disrupting their poolside zen. It's a win for everyone.
The Location:
Nemacolin resort is in a rural area 60 miles south of Pittsburgh and about 190 miles each from Baltimore and Washington, DC.
From Philadelphia or New York City you might consider flying into Pittsburgh, or using Nemacolin's private airfield. You can also drive with an overnight stop in Hershey or Harrisburg.
It's definitely a destination resort and where you'll spend most of your stay. But there are more things to do in the area than you might expect (more on this further down).
The Room:
On two stays I had rooms at the Chateau, Nemacolin Woodland's main hotel. The outside is designed to look like the Ritz in Paris. Inside it offers luxury on a larger scale than that classic hotel.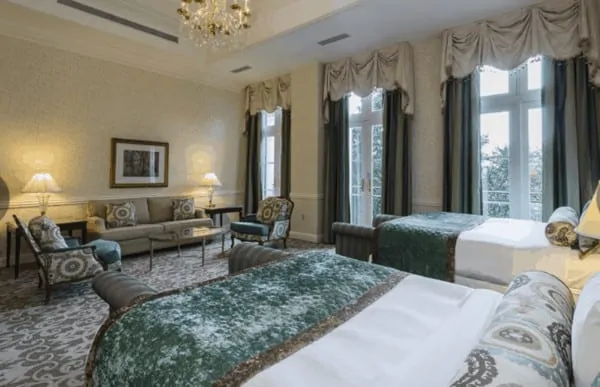 My queen rooms were enormous.
Each bathroom had a deep Jacuzzi tub, separate shower and two sinks. The refrigerator was stocked with liquor but also had an empty shelf for us to use. Two puffy armchairs were comfy places to sit while checking email or reading.
Tiny Traveler was impressed by having a chandelier in our room and sleeping in a bed that was so high she had to run and jump to get into it.
The communications director told me that families favor the Chateau for its big rooms, or the townhouses if they have a larger group.
But if crystal chandeliers and French-court-inspired furniture are not your style, try the adjoining Lodge, which was the original building when the property was a hunting lodge.
Today it's décore conjures understated 1920s luxury with jazz-inspired art and animal heads hanging about. Because it's the oldest part of the resort you can expect smaller, plainer rooms.
Booking a Room for a Kid-free weekend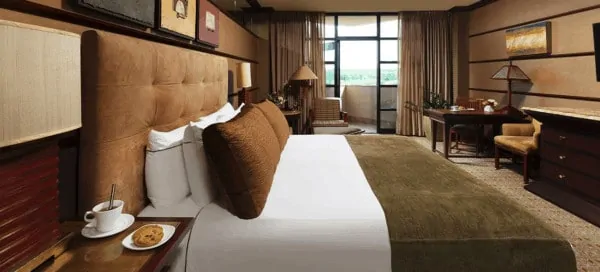 There is also Nemacolin Falling Rock Resort, a boutique hotel with butler service and architecture inspired by Frank Lloyd Wright's nearby houses.
It's near the golf courses and holistic healing center and has its own infinity pool. It's suited to a splurgy romantic weekend rather than your family vacation.
The Resort Amenities:
Nemacolin Woodlands has more than enough to keep guests busy, and families will find things to do no matter your interests or your kids' ages
My family spent a lot of our time at the large paradise pool, an outdoor heated pool with a small slide and a separate heated whirlpool.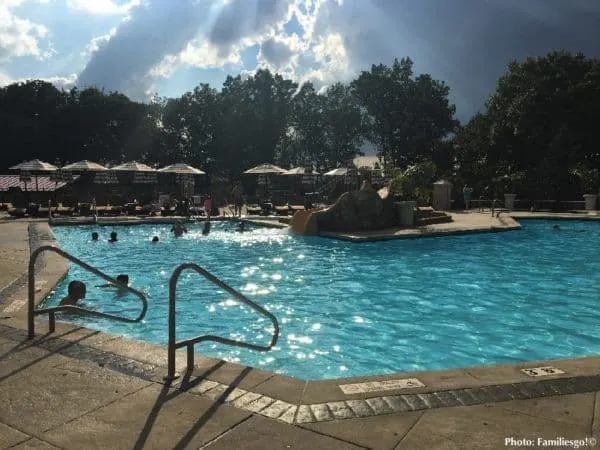 It's open from about late May to late September and has a bar for cocktails, smoothies and lunch. This was by far Tiny Traveler's favorite feature.
Other complimentary activities include a fantastic and very pretty mini-golf course with waterfalls and several cleverly designed holes .
There's also a croquet court, a good size playground, exercise classes and the outdoor Nemacolin zoo. If you visit around 9:00 in the morning you can watch the bears eat their breakfast.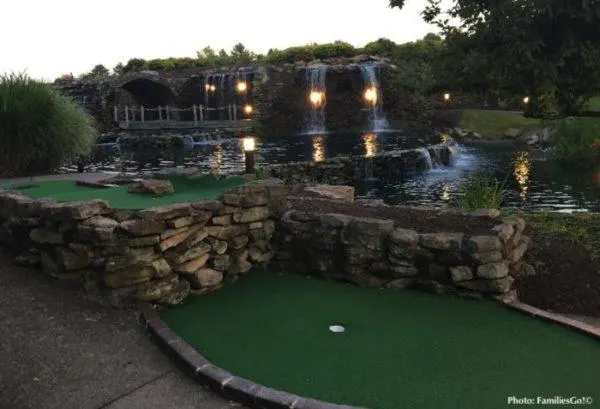 There are plenty of trails on and off-property for hiking and biking. But the resort doesn't have bikes. If you want to bike around the resort bring your own or rent some in town.
The resort's owner is an avid art collector and there are paintings, sketches and statues everywhere you look. We particularly appreciated the outdoor sculptures because you never knew what would pop up where.
The wifi and valet parking are free included.
Activities That Are Extra
For additional fees there are animal encounter programs, horseback riding, a gymnastics center, art classes for kids and adults and an adventure center with rope courses, zip lines, a climbing wall, paintball, off-road driving. During the winter there is tubing and a small ski hill
A summer midway near the mini-golf featured a free bouncy house and carnival games. You pay $10 for four games, which is plenty for each kid. And rest assured, every kid walks away with a prize (or three).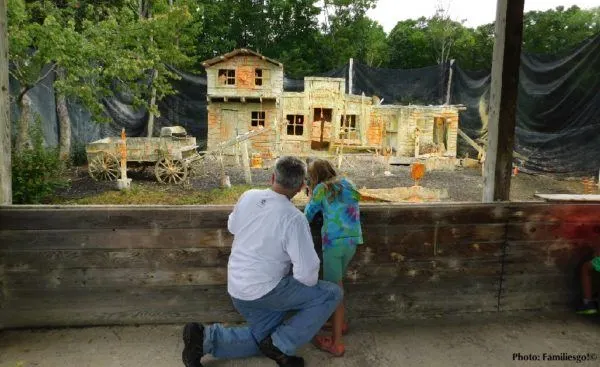 We wanted to sample the adventure center together but the only thing all three of us could agree on was target paintball. We shared two guns with 400 paintballs apiece.
To our surprise, 9YO Tiny Traveler got a big kick out of splatting the paint against the wall and in making targets swing and spin when she hit them.
With so much ammunition we could try as many times as needed to hit a tricky target.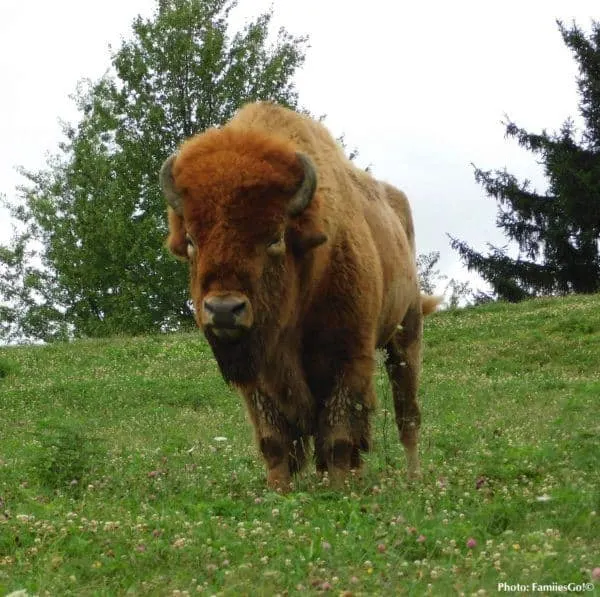 We also did the safari tour, where you visit the zoo with a staff naturalist who tells you about the animals' personalities, habits, provenance and so on.
The highlight is getting to feed goats, a cow, lions, hyena and mountain lion. We also watched the zookeepers give tiny marshmallows to very large bears to ensure they would have enough fat while they hibernated.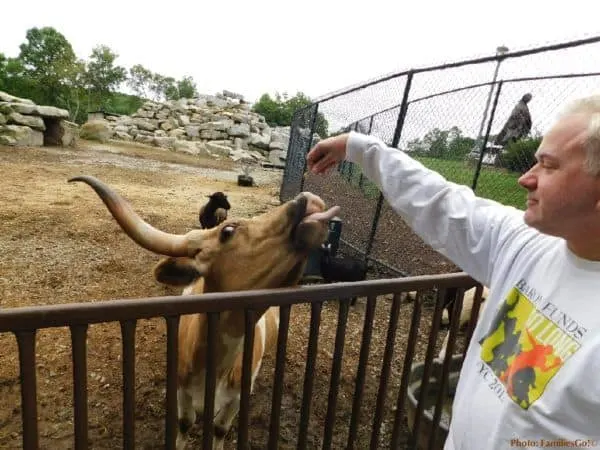 We fed the wilder animals by putting meat on a stick and poking it through a hole. It was interesting to see how they reacted, with the mountain lion pouncing and the lion holding on to lick off every last bit.
Rich and I debated whether the experience was worth the steep per-person fee. It was a tough call.
We've all been to bigger and more sophisticated zoos. But we saw every one of these animals up close (which rarely happens on most zoo visits). And both Rich and Tiny Traveler agreed that feeding a lion was a unique experience and the highlight of the vacation.
The Kids Club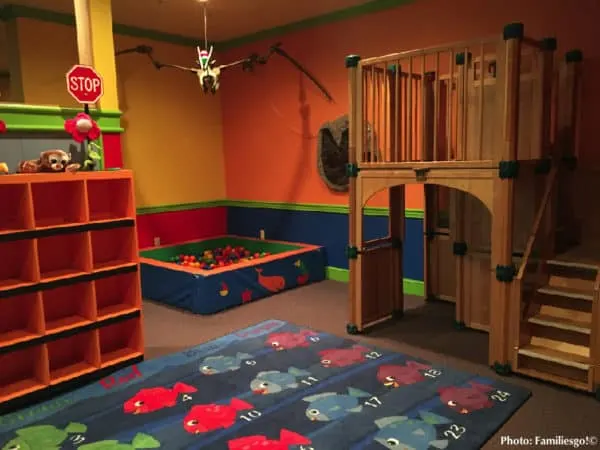 Nemacolin's kids club was open during our mid-week visit but wasn't very busy. They have great onsite spaces for small kids (say up to about 6) with a playroom full of toys, a small ball pit and indoor play structure.
Kids 7 and up meet at the clubhouse but then typically do activities around the resort. If I wanted to be certain of having other kids for my child I'd choose summer, a weekend or holiday week to visit.
There is a small 3-foot-deep indoor kids pool adjacent to the kids club. This is the only cold-weather swimming option for people under 18 and I received mixed responses when I asked if it was just for the kids club or if families could use it.
I think that during the winter when outdoor activities are limited they ought to have family hours at the large adult pool in the spa. Without an indoor swimming option there isn't much to draw families with smaller kids during the winter, especially if it isn't cold enough to make snow.
Carve out some Me time for mom at the Spa
On my return visit I had the chance to enjoy the Woodlands Spa. It's much bigger than it looks from the outside with four floors of treatment rooms and relaxation spaces.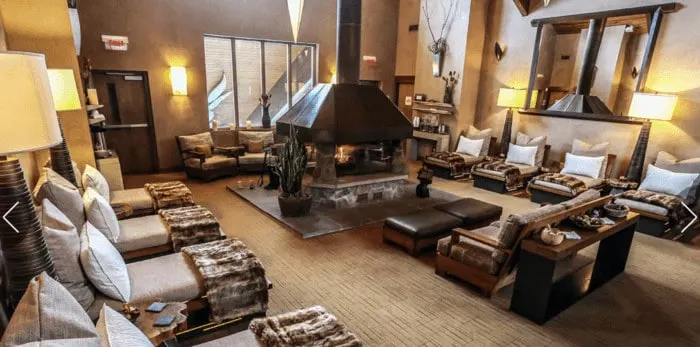 I've had plenty of resort-spa massages that were enjoyable but not particularly therapeutic. I have to say the deep-tissue massage I received here was indeed deep and one of the best I've had anywhere. The therapist even had arnica gel on hand for my muscles that were sore from biking in the mud.
Massage prices range from $150 to $330, on par with resort spa prices. Treatments come with access to the adults-only indoor lap pool and single-sex saunas, steam rooms and spa tubs (for which you need a bathing suit).
I took full advantage of the facilities and enjoyed myself immensely. If you visit in the cold weather be sure to ask about the fireplace room for relaxing after your treatment.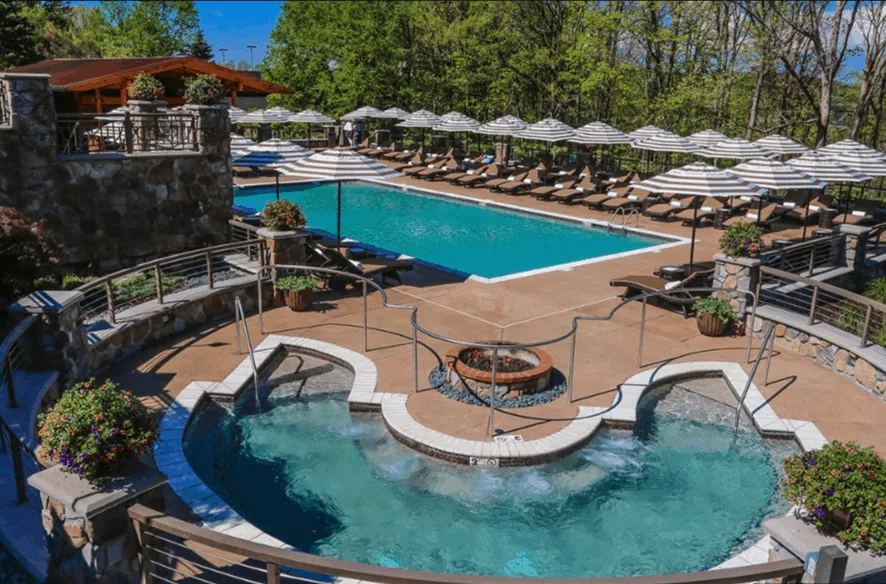 There is also an adults-only outdoor pool and hot tub on the terrace below the family pool.
Things To Do Nearby
There are plenty of things to do in the surrounding Laurel Highlands.
If you want some light adventure, the nearby town of OhioPyle has outfitters who can set you up to kayak and raft on the Youghiogheny River or bike on the 150-mile Great Allegheny Passage, both of which pass through the tiny town.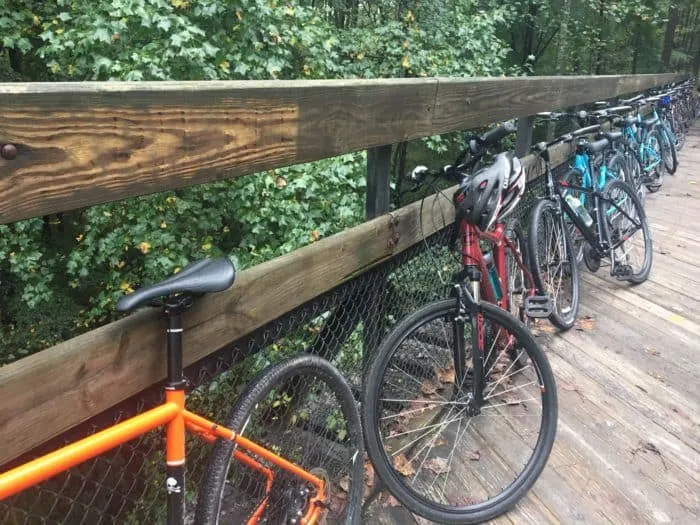 On my solo visit I had the chance to bike the GAP. All that rain made the trail slower than it would be if it were not muddy. It's flat and wide enough to easily ride two abreast.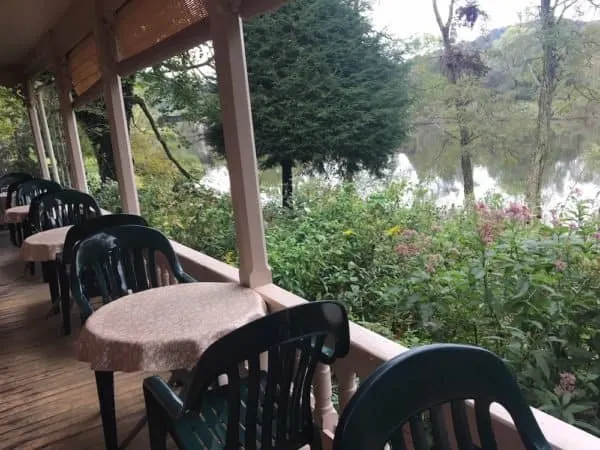 It's definitely doable with older kids riding their own bikes or riding on a tandem or with younger kids on a bike seat or in a trailer. We had sturdy bikes with fat tires but our tour leader had a road bike. If the trail is dry, my hybrid would have been fine, as would have most kids' bikes.
Towns on the trail are about ten to 20 miles apart. We biked 11 miles from OhioPyle to Confluence.
We ended our ride there and had lunch at at the River's Edge Cafe, which offers a lovely porch overlooking the river and quaint dining rooms. It has good appetizers and burgers (locals recommend the smoked gouda appetizer and so do I).
The advantage of renting bikes is that you can bike one way and have the outfitter bring you and your bikes back to where you started.
Laurel Highlands Outdoor Center offers kids bikes, trailers and detachable tandems. But always call ahead when you need special gear.
When it coms to river sports the river's rapids will vary depending a lot on what time of year you visit and what part of the river you travel.
On my September visit the river was surprisingly high because of a spell of heavy rain. But the most popular route was still a combination of moderate rapids and fast-moving flat water.
Talk to the local outfitters to plan a trip suited to your kids' ages and abilities.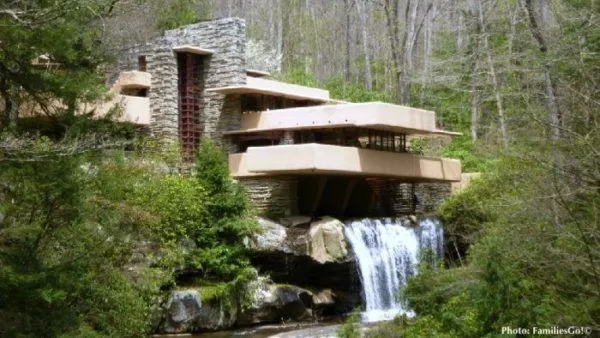 If history and culture is more your speed, the Frank Lloyd Wright homes Falling Water and Kentucky Knob are nearby. You can explore Fort Necessity, which saw the opening salvo of the French and Indian War and extensive Laurel Caverns.
The fourth plane that crashed on 9/11 did so in this part of Pennsylvania. The Flight 93 Memorial, a National Park Service sight, is a short drive.
Created with local private money, it has pretty gardens and is very tranquil and well done. It's perfectly OK to bring kids. They might not get it, but nothing will upset them.
If you get hit with bad weather, Pittsburgh is 90 minutes away and had plenty for families to do.
Read more
• A Fun Easy Pittsburgh Weekend With Kids
• Yes,You Can Visit Falling Water With Kids: Here's How
Resort restaurants:
We had a really enjoyable dinner at Autumn (now Rockwell's), which features local and seasonal ingredients, steak and game. It has an upscale but still relaxed and kid-friendly vibe. It has a nice terrace when the weather is good.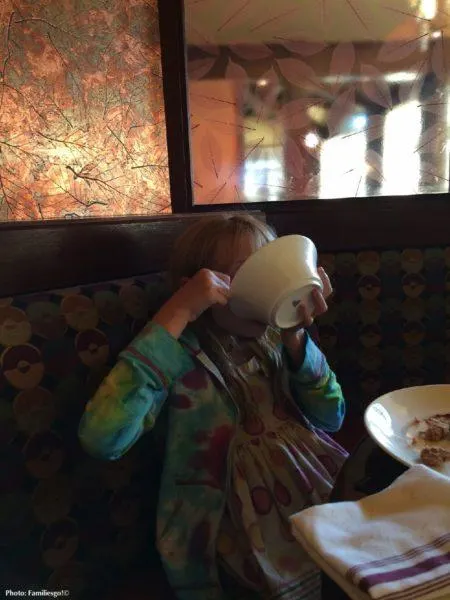 We sampled appetizers including good tuna sashimi and a signature salad. Our desserts included a deconstructed s'more and very good house-made raspberry sorbet. Tiny Traveler especially liked the sorbet (see above photo).
This is also the restaurant that serves breakfast. There's a buffet but we chose to order off the menu. We had great egg dishes, including breakfast tacos and good pancakes.
For other meals we stuck to the Tavern, where we were pleased with the sandwiches, tacos, and sides as well as with the prices.
We had lunch once at the Caddyshack, which has a great deck and surprisingly good barbecue (the smoker is right out front so you can't miss it). A lunch sampler was more than enough for three.
The Sunset Terrace at Falling Rock is in a gorgeous outdoor setting and has a kids menu. Having lunch there is the perfect way to check out Falling Rock if you're visiting as a family but might want to come back as a couple.
The Bottom Line: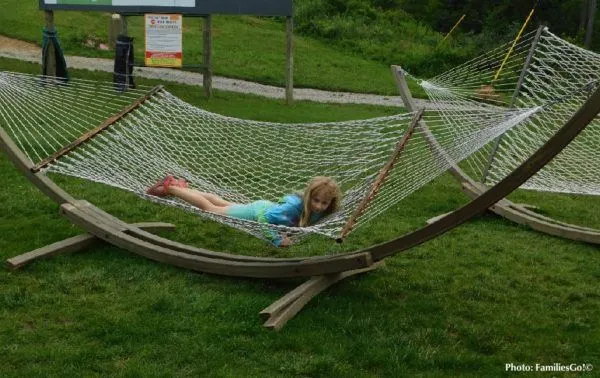 When we think of resort vacations our minds usually travel to the Caribbean. Real full-service, total getaway resorts are not as common as we would like stateside and they are never budget destinations.
Room rates at Nemacolin Woodlands start just below $400/night off-season and above $500 in summer.
I wondered if we would feel like we were missing out if we didn't fill our schedule with the paid activities, but if we had done nothing but the pool and mini-golf Tiny Traveler would have still come away raving about her vacation. And one or two half days of sightseeing rounds out a trip nicely.
The midway, bike rentals, bowling, tennis and rock climbing are the most accessible activities with kids and also the least expensive. The animal and art activities are the most unique and probably most worth the splurge.
The quality of the rooms and food, the high level of service and the ample amenities make Nemacolin feel like a good value. It's easy to relax and have fun with even very little kids and you can let teens do their own thing in a safe environment. We saw families with kids of all ages looking very happy.
We were certainly one of them.
Planning a trip?
Find the best rates for Nemacolin Woodlands and book your stay today.
Pin it for later!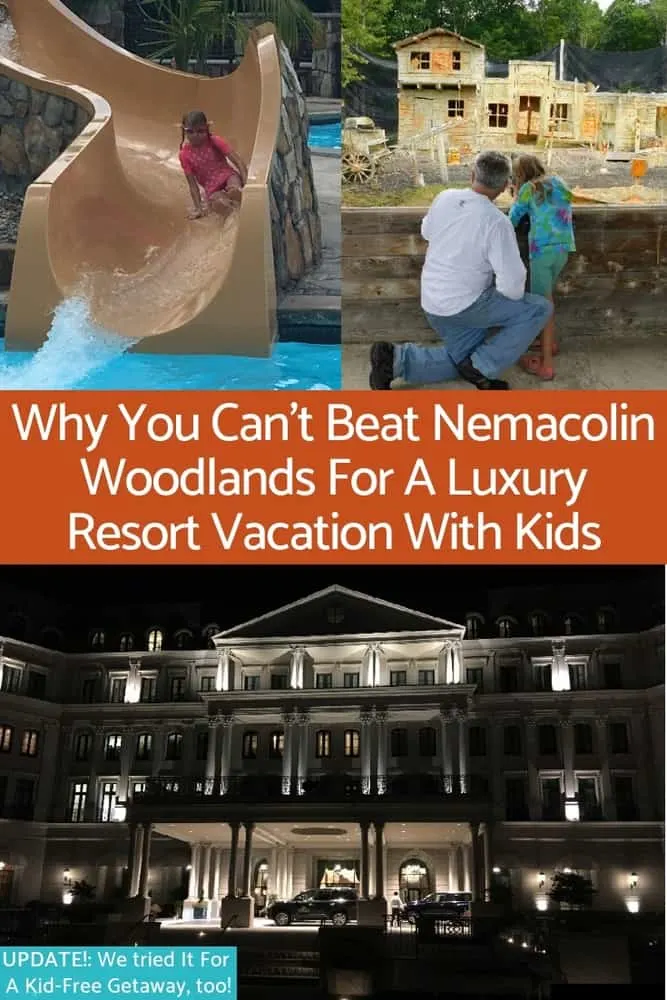 *We were guests at the Nemacolin Woodlands and received our room and certain activities for free. We paid for our meals. We did not agree to review the hotel or to write any particular content in exchange for the stay. Our opinions are always our own.