As we checked into the upscale Sanderling Resort on North Carolina's Outer Banks on a sunny summer day, a front desk staffer told us all the usual things about beach towels and where to find coffee in the morning.
Then she said, "Now when you want to go to the beach, call the front desk to let us know you're going. One of our staff will meet you on the sand to set up your chairs and umbrella for you." That was the moment I knew we would love this hotel.
Half an hour later we called, and three chairs and an umbrella were ours.
Here's how the rest of our delightful stay went.
Read more About North Carolina:
• 5 North Carolina resorts For Every Family.
• 6 Have-To-Try Outdoor Activities on the Outer Banks
• 10 Places to Explore History on the Outer Banks
• 10 Things You Have To Do On Vacation in North Carolina
The Sanderling's Vibe
The Sanderling is the quintessential boutique beach resort with sun-bleached shingles and summery white furniture. All rooms face the ocean or the bay and have porches with exceedingly deep, comfortable chairs. The main building has front and back porches with rockers and a cozy upstairs lounge with large windows.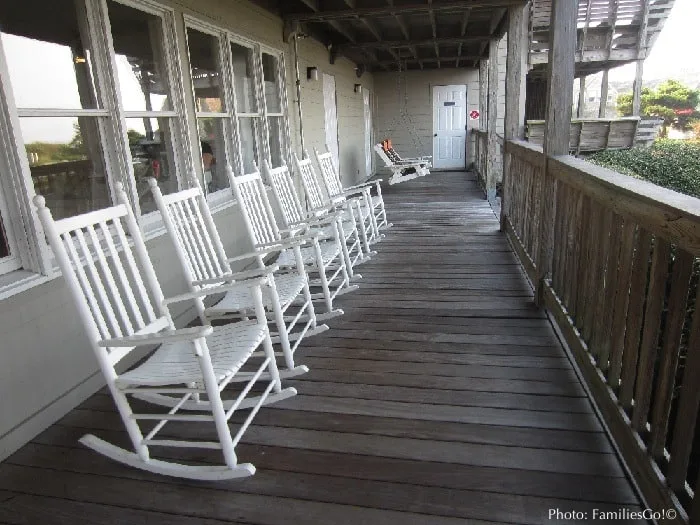 Our Rooms at the Sanderling Resort
We stayed in two different rooms at this boutique resort; both on the bay side, one upstairs and one down. On either side, the upper rooms have better views. The rooms were roomy, particularly the second, which was a corner room and had a bigger porch.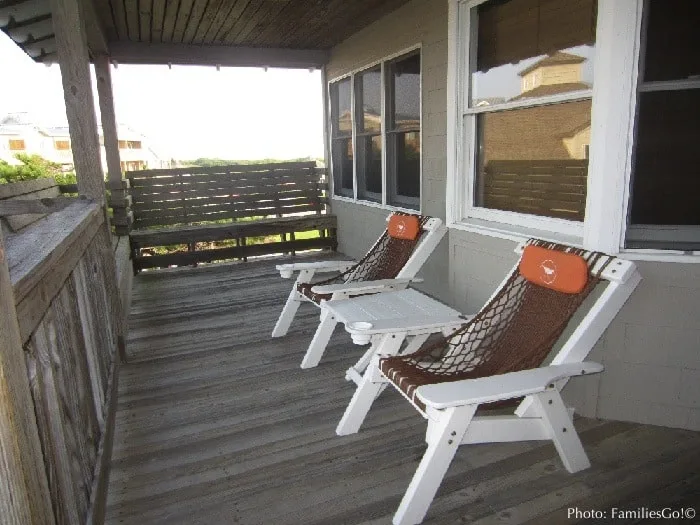 Tiny Traveler slept on a pullout sofa, and even with it pulled out we had enough space to not be tripping over it. The large bathrooms have plenty of places for hanging wet bathing suits and towels—a detail too many hotels overlook.
Note: All the rooms have walk-in showers; a few don't have bathtubs.
We stocked the refrigerator in the room with breakfast items, snacks and drinks. It was pleasant to grab coffee from the lounge and eat breakfast on our private balcony, especially on those mornings where Tiny Traveler slept late or wanted to watch cartoons. We filled in the gap between beach and dinner with drinks, snacks and card games there as well.
The Sanderling Resort's Ver Nice Amenities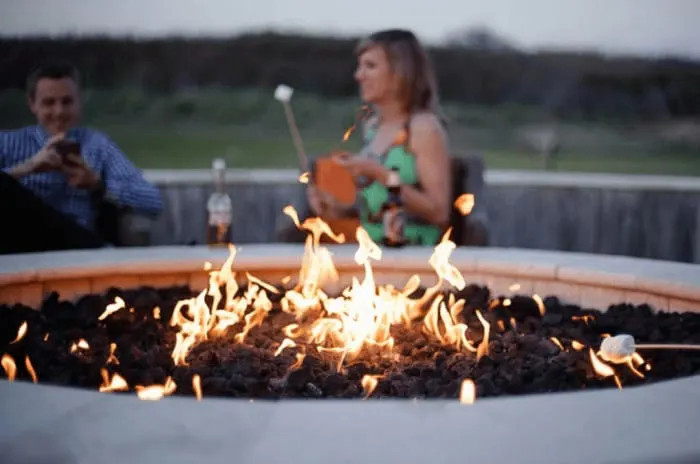 For Tiny Traveler the Sanderling's most important amenity is the s'mores kit we found in our room when we arrived. At night they light two big fire pits where you can toast your marshmallows and mingle with other guests. They had live music one evening and on another a local tour guide popped by to tell local ghost stories and legends, which we really enjoyed.
The hotel has a beach, a family pool, an adults-only pool and an indoor pool that is housed across the road with the spa. There is an indoor bar, outdoor bar with a grill (lunchtime), a more formal restaurant for dinner only and an upscale casual restaurant that serves all three meals.
We had dinner twice on the outdoor patio of the casual restaurant, the Life Saving Station. The food had a subtle Southern accent with a fair number of local ingredients. Dishes were pretty without being pretentious.
Dining at the Sanderling With A Kid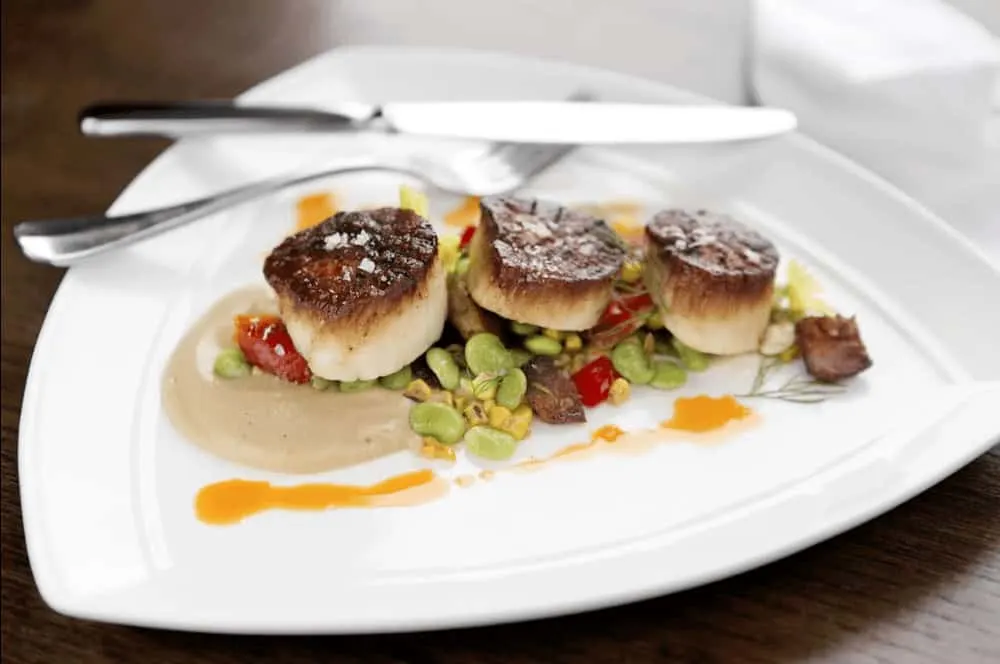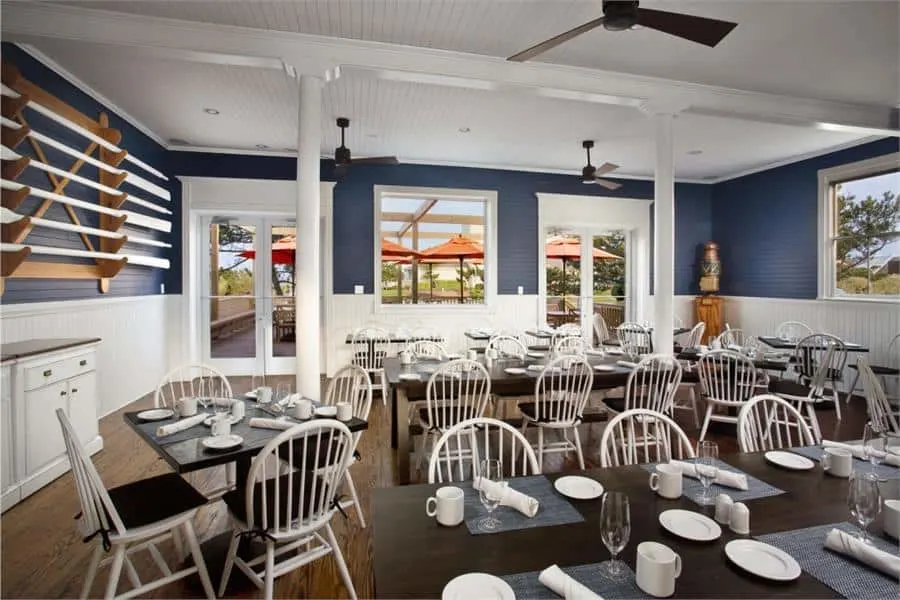 TT had string beans both nights and ate them (I love it when kids menus offer veggies). we ate shrimp and grits, scallops, and heirloom tomato salad. Dinner for three topped $100, but that's par for the course on the Outer Banks. It was by far a better value than other meals that had similar tabs.
On a night we didn't feel like dining in a restaurant we brought in pizza, bought drinks at the bar and ascended to the upstairs lounge (below), where we found several other families doing the same thing. It's a nice space and I imagine it's cozy in the fall and winter, too, when they have the fire places lit.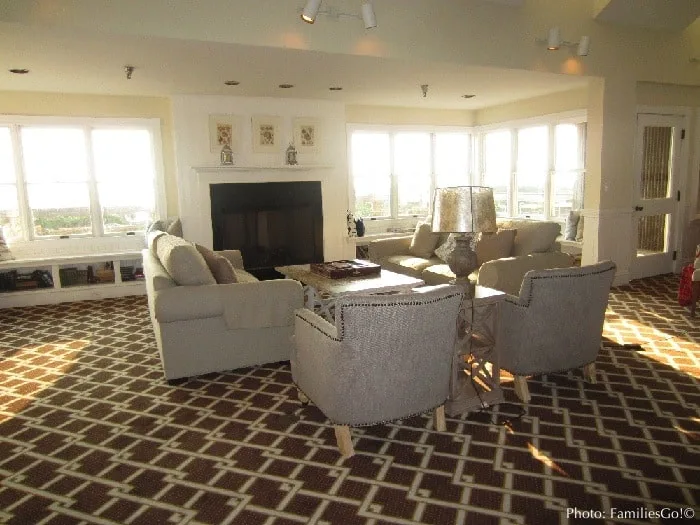 Note: Most of the other families we saw at the Sanderling had kids ages 6 and up. I didn't get any sense that smaller children would be unwelcome. But we definitely enjoyed the amenities and activities more with a 7YO than we would have with a child too little stay up in the evenings or to spend an afternoon playing Uno.
Moreover, it's the sort of place where you expect kids to be reasonably well-behaved; with a toddler I would have been too self-conscious about disrupting other guests to really relax.
The Sanderling's Outer Banks Location
The Sanderling is in Duck, on the northern half of the main island. It's the more upscale part of OBX. I thought it offered a nice compromise between the more affordable, built-up middle around Kill Devil Hills and the far south Outer Banks, which is nice and quiet but lower on amenities. We thought the Duck-to-Corolla stretch had the best balance of nature, activities, stores and restaurants.
In Short…
We arrived in the Outer Banks following a very busy few days in Williamsburg, VA. So we came to the Sanderling to relax. And it's a good place for that.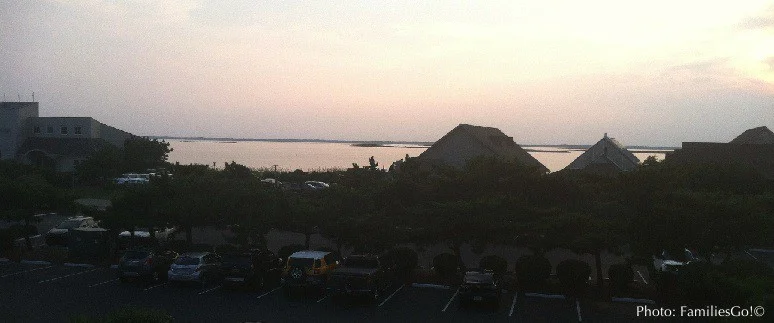 Beach destination hotels command a premium and OBX is no exception. Rooms here start above $400 a night during the high season (you can might find them for a little less on travel booking websites). They drop below $300 in the low season. And if you sign up for news updates you'll learn about specials (right now select rooms are $299 during the last few days of August).
There is plenty to do nearby should you get the urge to rouse yourself from your beach chair (we did after a day or two).
But between the friendly staff, pools, beach, spa, restaurants, the evening fires, and plethora of lounges and porches for reading or playing a board game, it's an easy and comfortable place to enjoy quality downtime with your family. If you find it in your budget to stay here. You'll feel you got value for your money.
Pin for later!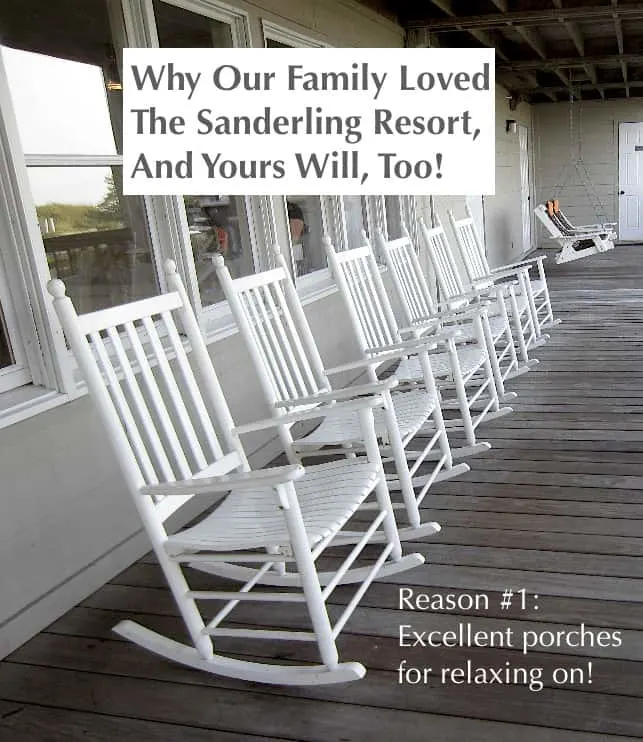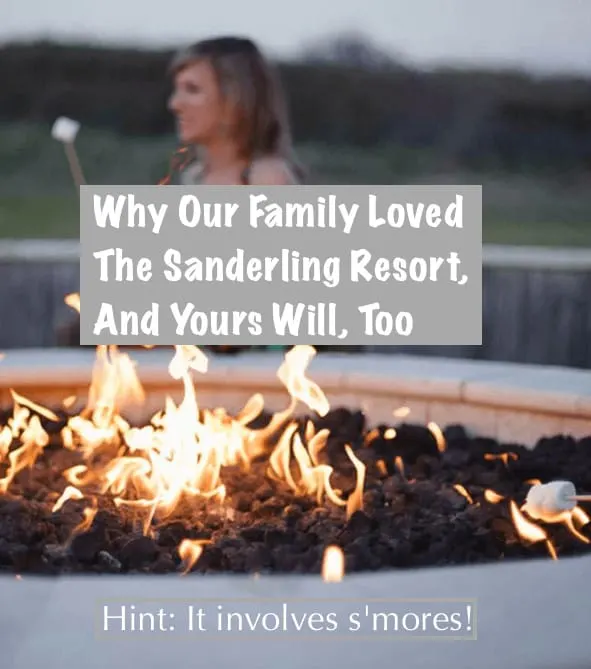 *We received a media discount, about 50% off, during our stay here. We did not agree to write about the hotel or provide particular coverage in exchange for the discount. Our opinions are always our own.