After a relaxing week at the beach in South Jersey I'm feeling very chilled out. We often "vacation" by returning home to Europe. It's a flurry of jet lag, suitcases, visiting family and staying in lots of improvised guest rooms. We needed a real break, an easy journey from home, and so we rented a vacation home in Cape May and loaded up the car.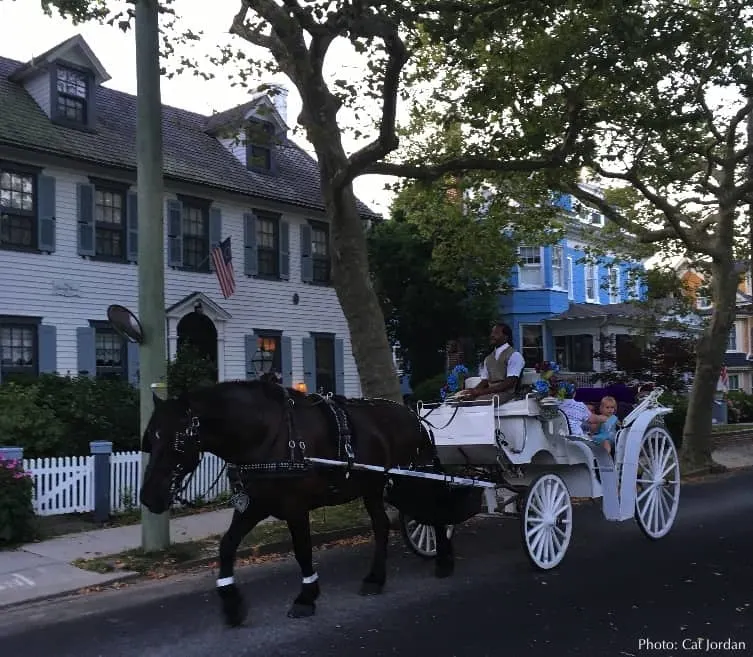 Just 150 miles or so from New York City and a short hop from Philadelphia, Cape May is set apart physically and aesthetically from the rest of the Jersey Shore. With its delightful mix of pretty streets and lovely old houses it's retained a lot of the charm of yesteryear. For a Brit that misses having long history around me, it was nice to see so many old houses lovingly restored and cared for.
Of course, kids don't get all that excited about Victorian homes, no matter how well maintained they are. Cape May also has a killer beach, easy dolphin sightings, theme parks nearby, and a free (yes free) zoo.. We were four adults and four kids ages 3,4,5 and 6, so we put this destination through its paces.
Here's our top 5 Cape May Capers. They might also be ideas for you and yours.
Read More:
• A Cool Couple's Getaway Weekend in New Hope, PA
• Our favorite things to See, Do and Eat in Philadelphia with Kids
The Best Ways To Spend A Cape May Weekend With Kids
1. The Beach (of course)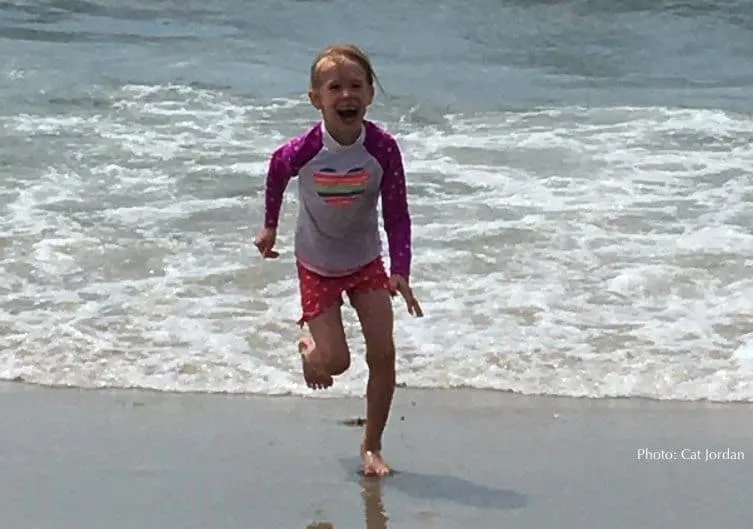 A vast sandy beach that is well maintained and so large it can't fill up, Cape May's town beach is a great place to spend the day. We hired some umbrellas and chairs to make it more comfortable and the kids made sand castles and surfed all day.
Tip: You can see Dolphins from the Beach all summer long. Keep your eyes open and you are guaranteed to see them swimming by in the distance. Look out for the yellow dolphin-watching boat Thundercat; they tend to swim in its wake.
Note: You need a beach pass for the main Cape May town beach. If your holiday lodging doesn't provide them (ours had seasonal passes for us) you can easily buy one at every entrance to the beach. If you want to avoid the fee, other beaches are an easy drive nearby.
Who knew there could be so many funnel cake fryers, bad t-shirts and ice cream shops in one place? This is the louder, brasher Jersey Shore we all hear about. However, it's still a fun day out. There's a reason Wildwood's Boardwalk was voted one of the TOP 10 US Boardwalks in 2016 by National Geographic.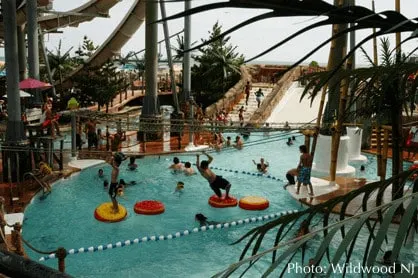 Wildwood has the best choice of theme park entertainment for miles around. Morey's has three piers with rides for all ages plus a water park. There is also a more family (and budget) friendly park called Splash Zone.
We did a few arcade quarter machines, bought some water ice and then headed to Splash Zone for the afternoon. The kids said it was their best day ever and the adults had fun too. It's always a little embarrassing when Mom is more scared than the kids on the rides, but thankfully I was able to hold it together.
Tip: Both Morey's Piers and Splash Zone do limited time deals, such as 10:00 -12.30 or from 3:00 onwards. This is worth considering if you can time it right. We could easily have done plenty in that time, saved some cash and not tired out the kids too much. You can also look deal sites like Living Social before your go; they sometimes have vouchers.
I cannot put into words how magical a sight it was for me to see more than 20 Dolphins swimming just yards from the boat. I'm a boat person. I've always loved a boat trip even if that's a water taxi to Brooklyn and my daughter is the same. Plus, the bright yellow Thunder Cat was a speedboat, which was pretty exciting by itself for two little boys with us. They took us out along the edge of the Cape May and around the Point. It was such a clear day we could see Delaware.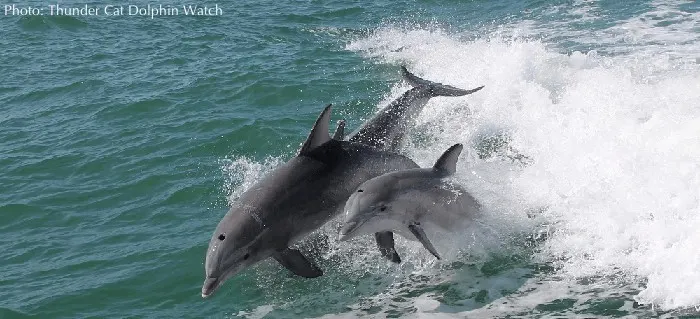 The real fun was had when they sped up a bit and fanned out their wake so that Dolphins who wanted to play came and chased us jumping out of the wake. There were babies too and all of them clearly loved the fun they could have in the boat-made waves. It's an experience I will never forget.
The Dolphins come every year to Cape May from Spring through Fall so you're pretty much assure a good siting.
Tip: Remember, kids who are prone to be carsick are also likely to be seasick, as well. We learned this the hard way!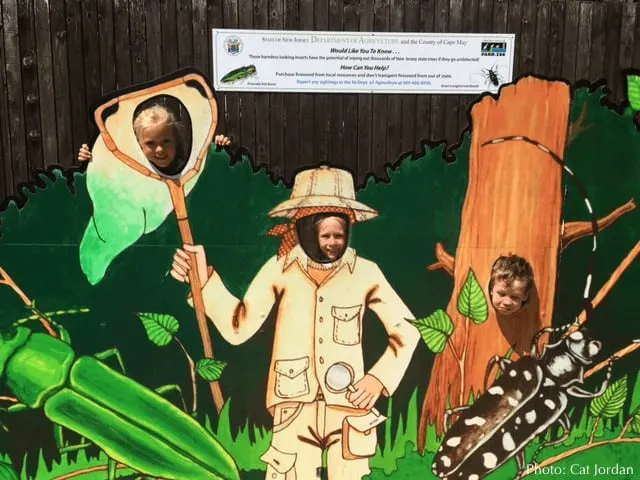 A 20-minute car ride North of Cape May, the Cape May Zoo is a nice early morning or afternoon trip for little kids and big kids alike. They zoo has snow leopards, giraffes, lions and more, and as mentioned before, it's free!
Tip: Plan to eat before or after your visit. You cannot eat your own food in there at all and the snacks available were pretty basic fare.
But note, the zoo is inside a park, so you can bring a picnic and use the picnic area by the parking lot. It was a little overrun by Camp kids on a weekday in July, but it might be quieter on weekends.
Best thing we learned: My husband is about the height of a baby Giraffe. They are about 6-feet tall when they are born!
This sweet little beach sits on the on the West of Cape May Island, thus facing the sunset. Time your trip for about a half hour before sunset and enjoy a lovely sky. While you're waiting for the sun to set, kids can search for "Cape May diamonds," quartz crystals that have eroded from the upper reaches of the Delaware river. They come in lots of pretty colors and our kids loved them.
Lovers of nautical history can search offshore for the wrecked hull of the concrete ship the U.S.S. Atlantis. Used in WWI when the lack of steel led to experimental ships with concrete hulls, this ship settled in Cape May when she was being moved and broke her moorings back in 1926. There's a little restaurant and a gift shop at the beach too.
Tip: When you're done watching the sunset you can find mini golf nearby (you'll find mini-golf all over Cape May).
Note: From May through October the beach upholds a 40-year-tradition of honoring veterans. All the flags you'll see flying veterans' casket flags brought there by their loved ones.
Family Dining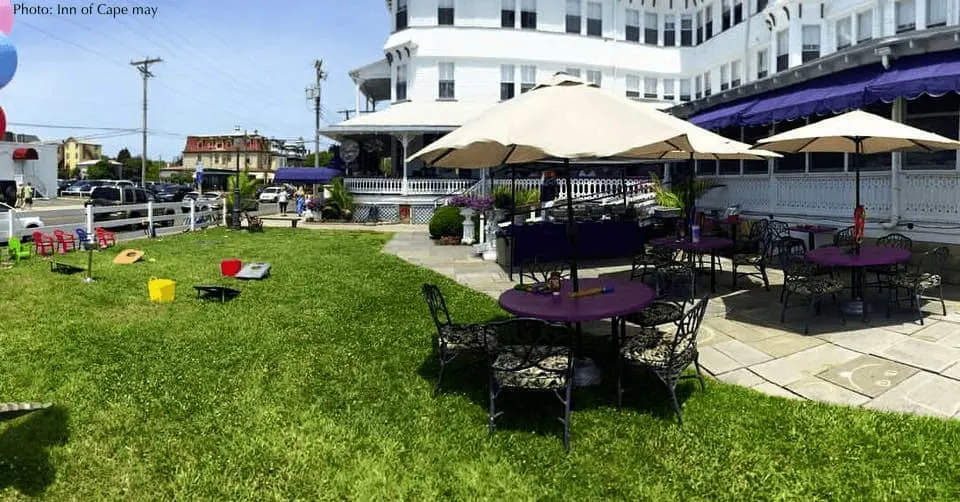 When you're on vacation you want places where your kids can safely entertain themselves and you can have a nice glass of something cold. Two such places that worked for us were the Inn of Cape May (left) with a huge garden right next to nice dining on the terrace, and Harbor View, which was outside of town, on the harbor, with a huge wooden dock and a casual "outside" menu. Beyond those two favorites, everywhere we ate had kids menus and staff that were incredibly friendly toward the kids.
Babysitting
We hired a sitter from Guardian Angels sitting service, and it worked out well. We got an adult night out and had a once in a lifetime experience watch dueling piano's in a local bar!
Pin it for later!