We came to the Outer Banks of North Carolina for the beach, no doubt about it. But every beach vacation has its rainy day— or that point where our blond, blue-eyed family has had way too much sun and needs to retreat off the sand for a bit.
Luckily the Outer Banks has a wealth of tourist attractions for families that offer a break from the beach or provide an easy itinerary for a spring or fall visit. Here are the historical and cultural sites on the Outer Banks that we liked best and a few we wish we'd had time for.
Read more About North Carolina:
• 5 North Carolina resorts For Every Family.
• 6 Have-To-Try Outdoor Activities on the Outer Banks
• 10 Bucket List Activities For a North Carolina Vacation
• Book Your Family In To the Wonderful & Relaxing Sanderling Resort
10 We Explored Local History on the Outer Banks
Climb a Lighthouse
There are four lighthouse towers along the Banks. Ocracoke and Hatteras lighthouses are in the south and the Currituck and Bodie Island lighthouses stand toward the north end.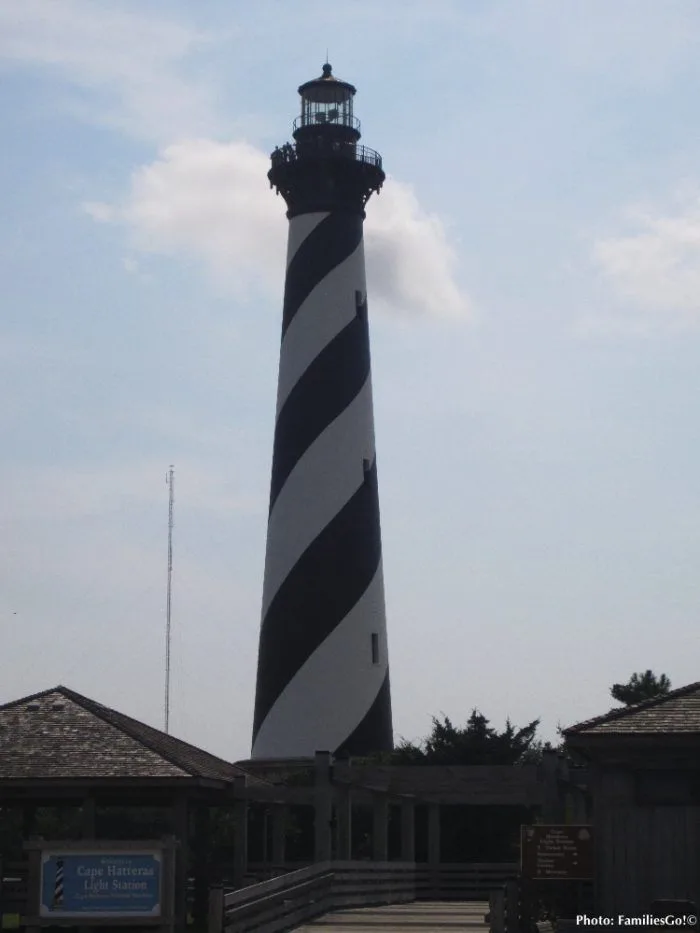 There's no need to visit them all unless you really love lighthouses. But they are so integral to the islands' history and culture­­—and they offer such amazing views—that you ought to visit and climb to the top of one.
We stopped to take a photo of the Hatteras Lighthouse (left), famous for its black and white stripes and for having been moved inland from its eroding beach. We climbed to the top of Currituck. It's a hike and not for acrophobes, but the views and the water and surrounding islands were well worth it (below).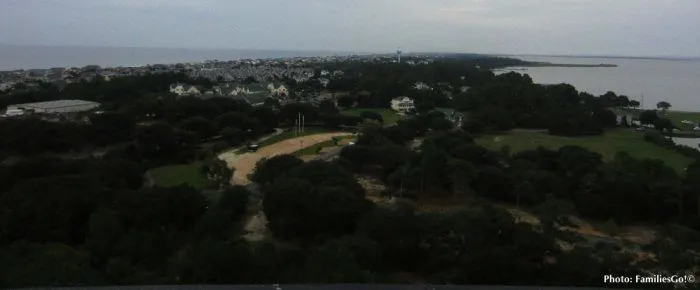 Celebrate the First Flight
We just about squeezed in a visit to the Wright Brothers Memorial and Visitors' Center and wish we'd been able to give it more time.
Inside the center, the park ranger's story of the brother's work and momentous first flight is riveting and inspirational. The reproductions of that famous plane and the glider that preceded it drives home how daring and clever they were.
If you catch a cloudy day or come in a cooler season head outside, where you can follow markers that trace the first flight. The day we went it was just too hot and sunny to try.
The Memorial itself is fairly plain. But just beyond it is a life-size sculpture that recreates the one photo they managed to get of the first flight. And this is really cool (top).
You can cover the highlights in an hour or so, but budget more than that. My second grader definitely understood that what we were seeing was significant and cool, even if she didn't entirely understand why just yet.
Revisit the Roaring 20s
We were not sure we wanted to visit the Whalehead Club. A wealthy Yankee's Jazz-Age hunting retreat didn't seem likely to enthrall a 7YO and it seemed too out of sync with our Southern beach-and-barbecue sojourn. But the Outer Banks tourism folks recommended it pretty enthusiastically and it was raining. So we gave it a whirl.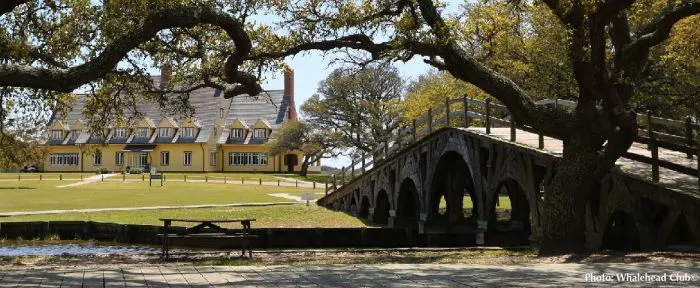 And we were glad we did. The house is straight out of an F. Scott Fitzgerald novel, which Rich and I appreciated. Its history and Art Deco details are pretty interesting and the tour guides share juicy details about both. For Tiny Traveler it was more relatable than older historic houses we'd visited. In the kitchen she could spot older renditions of tools we still use. And she appreciated details like a bright yellow bathroom, pink kitchen tiles and flower-shaped Tiffany lamps. It's worth an hour or two on a rainy day and that's really all you need.
Things We Plan To Do Next Time
Explore Found Treasure
I really wanted to go the BeachComber Museum in Nag's Head, which features a random and eclectic collection of items one OBX local collected during a lifetime of beachcombing.
These shelves of everything from shells and stones, to toys, fishing equipment and even a WWII flashlight called to me. Alas, it didn't call to the rest of my family—even though they both love clutter way more than I do— so I'll have to wait until next time.
Go Back to the Beginning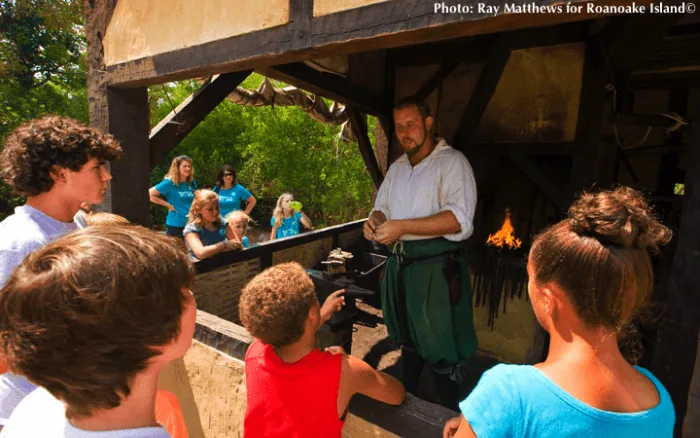 You could easily spend two or three days on Roanoke Island, exploring the earliest days of Outer Banks history.
The Roanoke Festival Park is similar to the recreated Jamestown settlement in Virginia. You can see a copy of Sir Walter Raleigh's ship, the Elizabeth II (it's always astounding how small these ships were). There is also a Native American village, an English Settlement and a series of small museums; choose from the interactive Roanoke Adventure Museum, maritime and Native American museums, a performing arts space and history center. I would say second grade or up is best for this. That's the age where kids start to understand and get excited about hands-on history.
The Elizabethan Gardens bloom year-round but are no-doubt a particularly good spring excursion. We find Gardens like this to be a good option when trying to please a variety of ages; everyone likes flowers and roaming around a large garden.

The Island Farm, a recreation of a working 19th century OBX farm, has lots of activities and is a good option for kids too young to appreciate the historical content of the other sites.
Pin it for later!