Baltimore is a small city with a lot of great food packed into it. Its Southern leanings show up in desserts like the multilayered Smith Island cake. There are also the varying flavor accents of the many ethnic groups that have called the city home. And of course there are all the wonderful things locals do with crab.
This is by no means a comprehensive list of places to enjoy local Baltimore specialties (we didn't get to any of the Charm City's famous diners, to Bertha's for mussels or to Vaccaro's for cannoli). But these six places were recommended to us over two visits* by local folks who know the city well.
These restaurants each have something interesting to offer and they're near things you want to do around Fell's Point, the Inner Harbor, the National Aquarium and Camden Yards. Better still, many of Baltimore's best restaurants are casual and family friendly. They don't all have kids menus, but they do make kids feel welcome and go out of their way to please young eaters.
You can also read about My favorite things to do in Baltimore with kids.
6 Must-Try Baltimore Restaurants For Families
What: Miss Shirley's Cafe
Where: Across from the Inner Harbor
For: Breakfast, brunch or lunch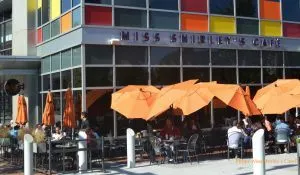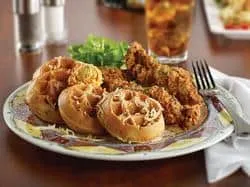 On a Friday afternoon Miss Shirley's, a casual café with a distinctly Southern flavor, was a popular lunch spot for nearby office workers But it's definitely kid friendly.
Tiny Traveler's chicken fingers and waffles with fresh fruit was a smaller portion of the same dish on the regular menu, which I like.
The restaurant has changed its kids menu recently and everything seems to come with sweet potatoe fries, but you're still sure to see fruit and veggies on your kids plate.
The mini-slider plate kept me from having to choose between the pulled pork and crab cake sandwiches, an impossible choice. Plus, they came with a nice salad. They've changed this menu, too, since our last visit. If I went back I'd head right for the sesame-seed-studded chicken sliders or the chicken and waffles.
*What: Phillips Seafood
Where: Inner Harbor
For: Dinner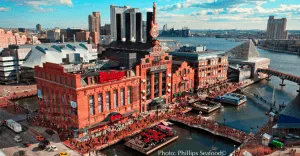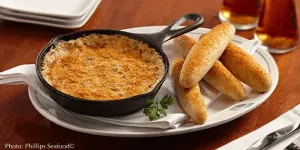 I was a bit wary of Phillips when we walked in because of its prime Batltimore Harbor location.
This is the place where local families come to splurge on a special birthday, anniversary or graduation. Tour groups find their way here, too. So it's big and busy and lots of tables have large parties.
But with turnover like this seafood is bound to be fresh. And indeed, every thing we had was good.
The crab dip, crab cakes and crab macaroni and cheese all had ample amounts of the key ingredient. The raw bar is irresistable, salads were crisp, pastas were not overcooked.
The kids menu had quite a few seafood items as well as the usual options. Desserts were too rich for me but Tiny Traveler made a valiant attempt at a chocolate lava cake.
What: *Joe Squared Pizza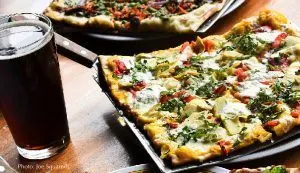 Where: Near the Inner Harbor, across from Port Discovery
For: Lunch or casual dinner
You come to Joe's for unique pizza and very good beer.
The creative pizzas are cooked in an ultra-hot oven that has them charred and bubbling in a few quick minutes. The beer list is interesting and geared toward the food–and they'll let you sample things before you commit to a pint.
In other words, it's the kind of pizza joint you'll like better than your kids will. But the were happy to serve up plain pasta for Tiny Traveler when she eschewed my pizza topped with artichoke, eggplant and sausage.
If you like this gourmet pizza and believe in drinking local beer this place is worth seeking out.
What: *Dempsey's Brew Pub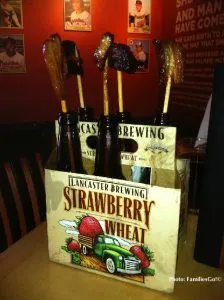 Where: It backs up the outfield of Camden Yards.
For: Lunch or casual dinner
Don't even think about coming to Dempsey's on a game day when you need a stadium ticket to get in and have to be crazy to try. But if the Baltimore Orioles are off or out of town it's worth checking out this spacious pub for the well-crafted house beer and creative sports-bar fare.
It's the kind of place where we like to make a meal of appetizers like gooey warm crab dip, fresh pretzels and bacon on a stick, an irresistible salty-sweet-fatty snack that Tiny Traveler devoured (I ate quite a few myself).
Burgers and salads are reliable and their interpretation of Smith Island cake is worth saving room for.
What: Captain James Crab House

Where: Near Fell's Point
For: Dinner
The only thing we knew we had to do on our second visit to Baltimore was crack open crabs with a hammer and eat them with our hands, our fingers sticky with Old Bay seasoning.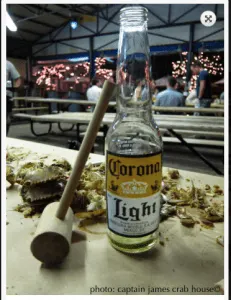 We chose Captain James (the crab house, not the Landing fish house), where the crab boil comes with corn on the cob and crab soup (crab overkill, but who cares). Opening and eating the blue crabs is messy and a lot of work, but it's tasty and quintessential Baltimore.
We consider this night out and would do it again. But I will caution that this was not the ideal meal to eat with a 5YO.
Shelling and eating all the crab you possibly can takes a while and Tiny Traveler was done eating long before we were. Sitting at the outdoor deck (top) would have given her space to wander and look around at the water and the boats while we finished our meal, but rain kept us inside where she was a bit more cooped up.
Ice cream helped (it always does), and we certainly didn't need dessert after eating our full of crab meat.
Also, if your kids don't like crab their options will be limited. Tiny Traveler had corn and hush puppies for dinner. Now that she's older and has a broader appetite, we could order wings, steamed shrimp or fried calamari for her.
What: V-No Wine Bar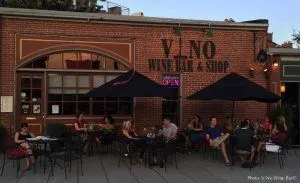 Where: Fell's Point
For: A drink with or without snacks or a light lunch
We stepped off the Inner Harbor Water Taxi in Fell's Point not quite ready for dinner and this casual wine store and wine bar caught our eye.
We weren't sure they'd be happy to see us with a 5YO, but they assured us we could come in and have a drink. They even made a "cocktail" for Tiny Traveler with ginger ale and a candied hibiscus flower. She was impressed. It was what we hoped it would be; a friendly wine bar with knowledgeable staff and a nice selection of wines.
Pin it for later!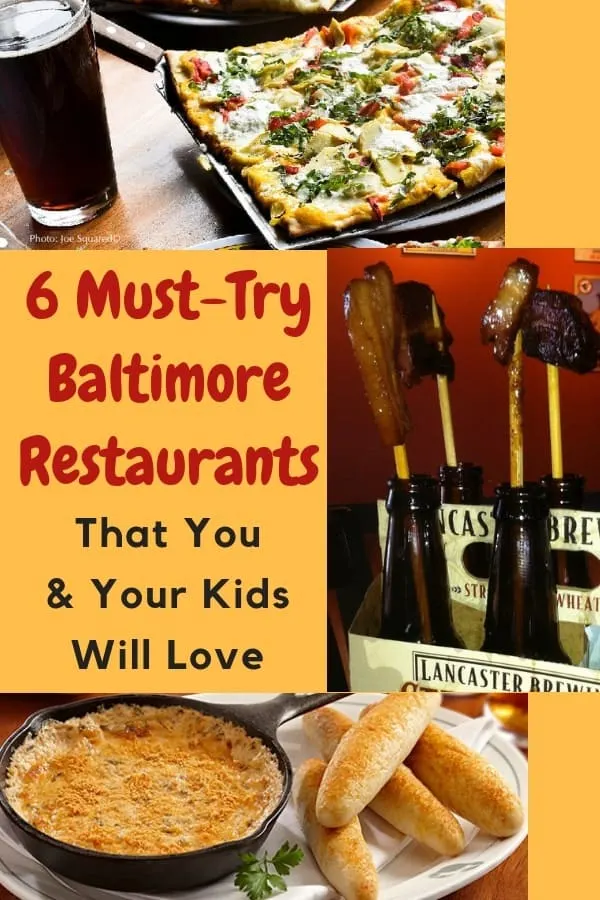 *On our first visit we were guests of Visit Baltimore and the three meals noted were complimentary. We did not agree in advance to cover these restaurants or write any particular thing about Baltimore. Our opinions are always our own.
This blog was part of Weekend Travel Inspiration. Visit our partners:
• AlbomAdventures
• ContentedTraveller
• TheCrowdedPlanet
• Malaysian Meanders
• ReflectionsOnRoute
• Safari254