If you haven't thought of Las Vegas as a Christmas destination with kids, think again.
You'll find plenty of glitz and glamour to light up the Las Vegas Strip year-round. But the city is even more has fantastic and has lots of family friendly things to do during the holiday season .
Here are some of my favorite things to do with kids, both on The Strip and off of it, between Thanksgiving and New Year.
Read More:
• Our Vegas Weekend with a teen who didn't want to like Vegas, but did.
• Some unexpected free things to do in Vegas.
10 Holiday-Season Things You Can't Miss In Las Vegas
The Rink at Cosmopolitan Las Vegas
One of my family's favorite holiday-season traditions is ice skating while overlooking the Las Vegas Strip. The Cosmopolitan Las Vegas brings a slice of wintery fun to the desert by transforming its Boulevard Pool into a winter wonderland with 4,200 square feet of real ice for ice skating.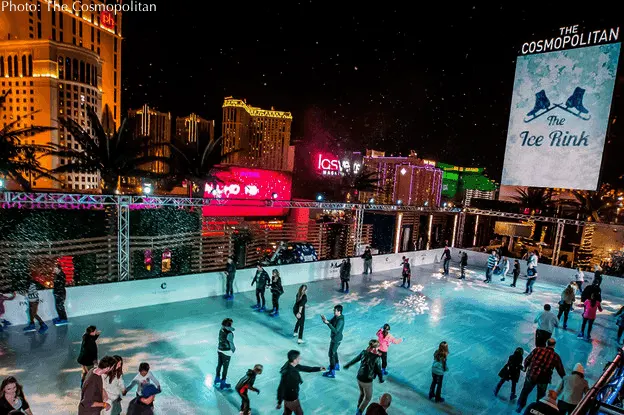 The café at the rink is a kid-friendly place to eat, with items like mac & cheese bites, pigs in blankets and beignets with nutella on the menu. Parents can enjoy a beef short rib melt if they want something a bit more sophisticated.
If you would like something more adult, try tasty holiday-themed cocktails like the Griswold, the Scrooged, or the Sugar Plum Fairy. There's hot cider and hot cocoa with add-ins like peppermint of pumpkin spice, too.
Reserve a fire pit for a bit of extra indulgence and a wintery feel.
Details: An all-day pass is the same price with or without skate rentals. You can rent "skate aids' for learners. Guests can be age 2 and up but skaters under 18 must be with an adult. The rink is open from Mid-November through the New Year.
It's free to check out the winter landscape surrounding the rink. Better still, a light snowfall happens every 30 minutes on select days. And you can watch popular Christmas movies like Elf and a Christmas Story while you skate.
Snow & Santa Claus at Town Square
Even Vegas can indulge in some nice Americana at this time of year. The Town Square Las Vegas, an outdoor shopping mall south of Las Vegas Boulevard (past Mandalay Bay) presents a visit with Santa that's worthy of Norman Rockwell.
Find Santa inside a warmly lit home next to a beautifully lit 45-foot Christmas tree. Of course there are the traditional photos with Santa inside.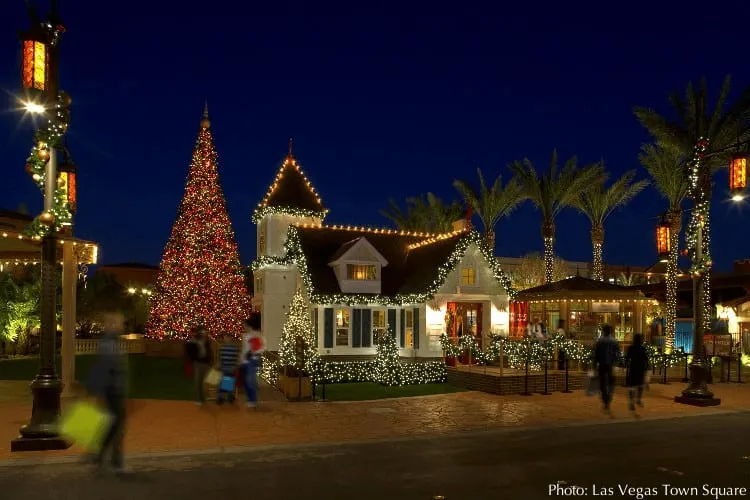 Tip: In usual years you can nake a reservation online for the exact time and date you want to visit Santa to avoid long lines and fidgety kids.
While you're there enjoy Snow in the Square (we do a lot of fake snow dustings here in Vegas; it is Vegas after all!) Monday – Thursday at 7 p.m. and Friday – Sunday at 7 and 8 p.m. There are Holiday concerts by local performers on Thursday evenings, too.
Details: Santa visits Town Square Las Vegas from November 11th to December 25th. Reservations for photos end on December 23rd, but you can still walk in on December 24th.
New Year at Town Square, too
Cool to know: If you're in Vegas with the kids on New Year's Eve, make your way to Town Square to ring in the New Year with Noon Year's Eve: from 10 a.m. – 1 p.m.
Festivities include an inflatable slide and rock wall, bounce houses, face painting and balloon artists. A DJ from 98.5 KLUC will provide a fun-filled count down and dance party music before toasting the Noon Year with juice boxes.
Other Holiday Happenings on the Strip
For more holiday fun on The Strip, you might check out Winter Parq at the Linq hotel promenade, which has featured a surprisingly tall snow tubing hill in past years, an ice bar ad other cool, novel, holiday fun.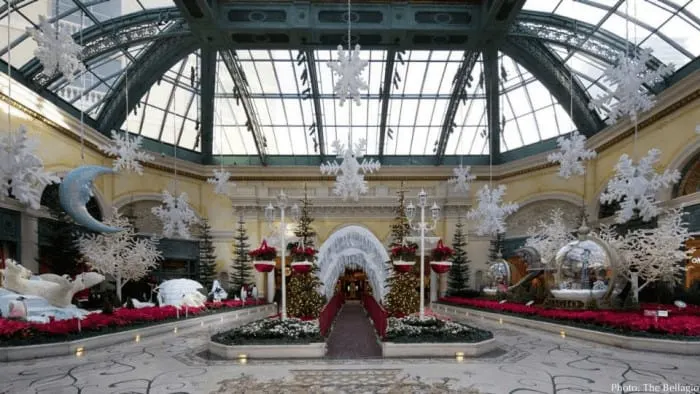 There is often Ghirardelli hot cocoa and a fatastic holiday display in The Conservatory at the Bellagio.
The Four Seasons Hotel often has an elaborate gingerbread village in its lobby with houses handmade by Four Seasons by pastry chef Jean-luc Daul.
Holiday Activities off the Strip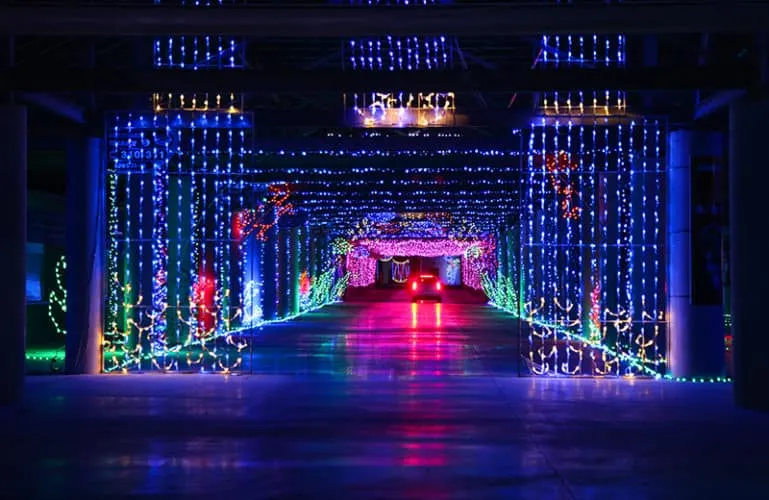 Glittering Lights at the Las Vegas Motor Speedway is a drive-through event so it's on for 2020 from mid-November into January. Tickets go on sale in early fall.
If you want to get off the Strip, Ethel M. Chocolate Factory's Holiday Cactus Garden is always lights up for the holidays. Also, Christmas and chocolate totally go together, right?
The Magical Forest at Opportunity Village usually opens the week before Thanksgiving.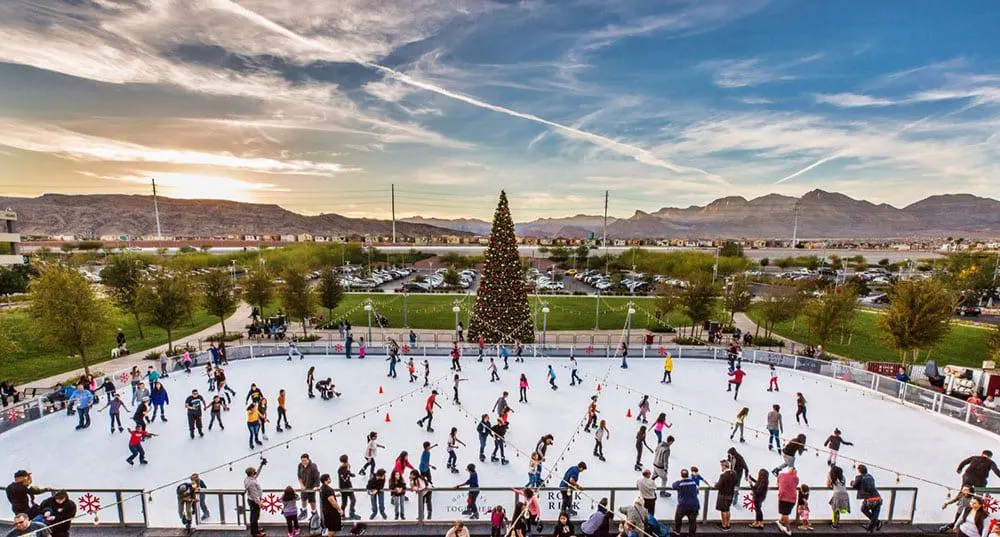 The outlying neighborhood of summerlin has a parade/street performance on Friday and Saturday evenings from mid-November to the weekend before Christmas.
The downtown area also has a large outdoor ice skating rink with views of the surrounding mountains. Check out for the surreal experiene of ice skating in the desert.
Pin it for later!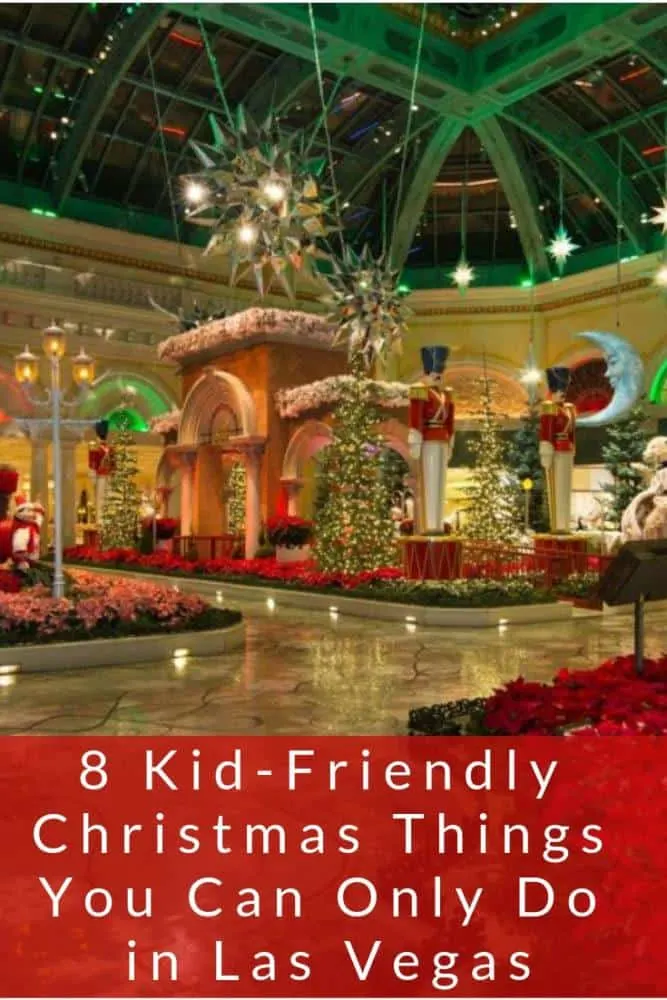 Stefanie Van Aken is a luxury family travel and sophisticated lifestyle writer She blogs at RockStarMomLV.com
Photos courtesy of the hotels or event owners.