Rich and I told Teen Traveler we were taking a three-night trip to Las Vegas over winter break. Teen Traveler responded that she was sure she would hate it because "It's fake and commercial and I hate things that are too commercially."
Much to her surprise, she —and we— had a lot of fun in Las Vegas. She even reluctantly admitted to enjoying some of the cheesier parts of the Vegas Strip. And we found quite a bit to do away from the strip, both around town and outside of the city.
Here's all that we crammed in to a four-day weekend in Las Vegas with a teen, including the surprise hits and near misses.
---
You might also like
What to do in Las Vegas at the Christmas Holidays
My Best Tips for the Grand Canyon, a popular Vegas side trip.
• 5 Surprising Things To Do With Kids in Palm Springs, CA
---
Two Las Vegas Hotels For Families With Teens
If you do a mid-week visit you can usually find a good deal on hotels in Las Vegas. On weekends rates go up, especially if there are any major sporting events going on; people come to Vegas to bet on sports happening all over the country.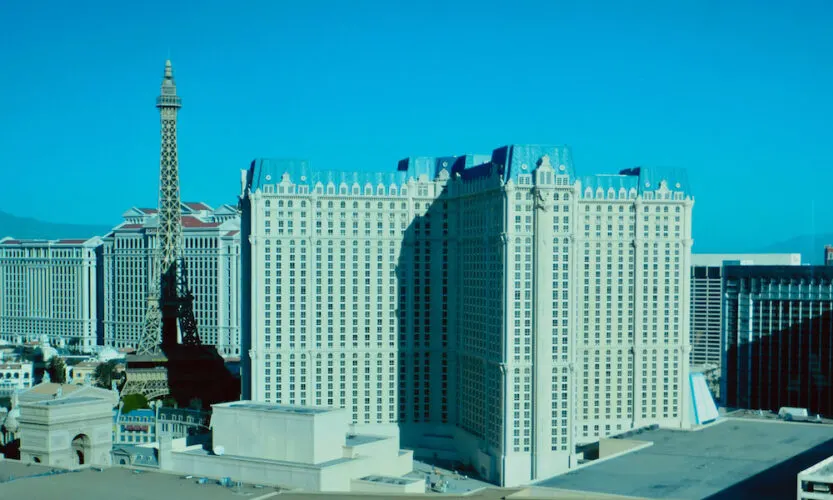 We stayed at the Elara by Hilton Grand Vacations because we got a complementary stay through Hilton's loyalty program. All the rooms are apartment style suites with one to four bedrooms, a large living space with a kitchen and comfortable seating area. The bathroom was large and well-designed to be shared.
The room had stunning views of the city and mountains. The hotel has a good location, next to but not right on the Strip. It doesn't have a smoke-filled casino, which was nice when you're visiting with kids. There were almost always taxis waiting out front.
But the room definitely had its quirks. It had 4 large-screen TVs in three rooms (including the bathroom) and a projector that would allow you to watch TV on the living room window shades. Apparently this is for guests who have come to Vegas specifically to bet on sporting events.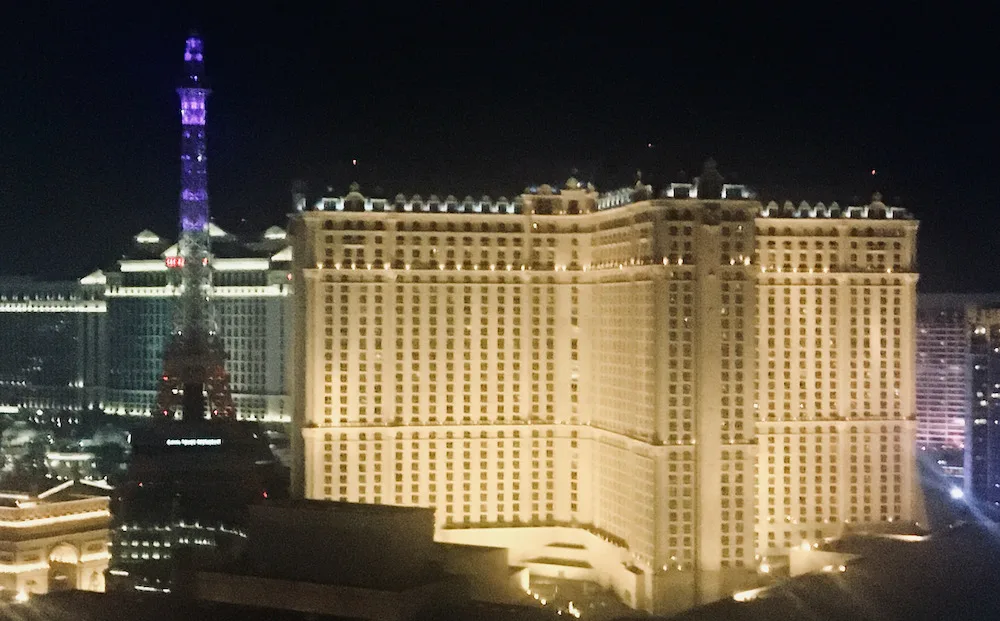 The jacuzzi bathtub was in the bedroom instead of the bathroom. The shades on the floor-to-ceiling windows could be fully open or full closed, but nothing in between. And the lighting seems designed for effect rather than to provide useful light for things like reading, using your computer or playing games.
We didn't use the kitchen but if you wanted to cook a bit and have a car you could find a supermarket in one of the outlying neighborhoods. Our only dining area was a counter with two stools, not ideal for a family meal. We could certainly have brought pizza or takeout though and eaten in the living area. Some of the bigger suites have more seating for dining.
There was a nice-looking heated pool with a large patio around it but most Vegas hotels close their pools from late October to early March so we were a few weeks to early to use it, unfortunately. There's no hotel restaurant but the Mall next door has options if you want to dine close by or bring something in.
If I were to stay in the one of the themed hotels on the strip with a teen, I'd choose Mandalay Bay Resort. We would all be happy to chill out by its fake beach with its wave pool, lazy river and poolside grill.
The hotel and its adjacent Mandalay shops have a good selection of casual pizza, burger, Mexican and Chinese noodle shops that are inexpensive and have teen appeal. There's even a shipped-from-Ireland pub. It's all the way at one end of the strip but plenty of hotels and shops have sprung up around it to give you places to eat and things to do nearby.
---
Book your Elara suite with a view or another luxury apartment on the Strip on VRBO.
Secure the best rates at the Elara by Hilton and Mandalay Bay on Trip Advisor.
Explore more Vegas Strip Hotels.
---
Top Things To Do, See & Eat With A Teen On A Las Vegas Weeken
On the strip: Hotels, shopping and free entertainment
Themed Hotels to Explore
The first thing we did after checking in to our hotel was to take a walk on the strip to take a look inside the hotels. Our first stop was the Paris Hotel. Walk into the lobby and it looks as though you're inside the base of the Eiffel Tower. "OK. This is kinda cool," she admitted.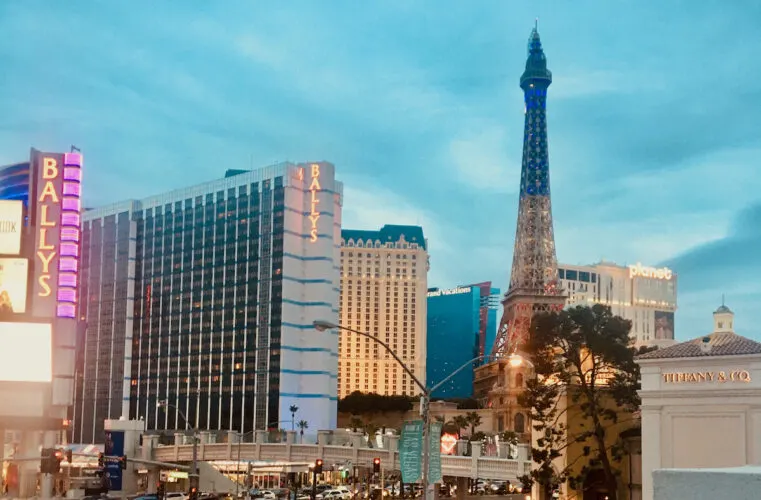 A smokey, slot-machine heavy casino dominates the hotel's lobby, unfortunately. But wind your way around it and there is a small shopping and restaurant area that has the feel of Montmartre's old, narrow streets. We spotted a crepe stand and made plans to return for breakfast.
Her favorite hotel, surprisingly, was the Bellagio. The hallway where we came in had the feel of a glass-covered European arcade. The Chihuly-glass ceiling in the lobby wowed her.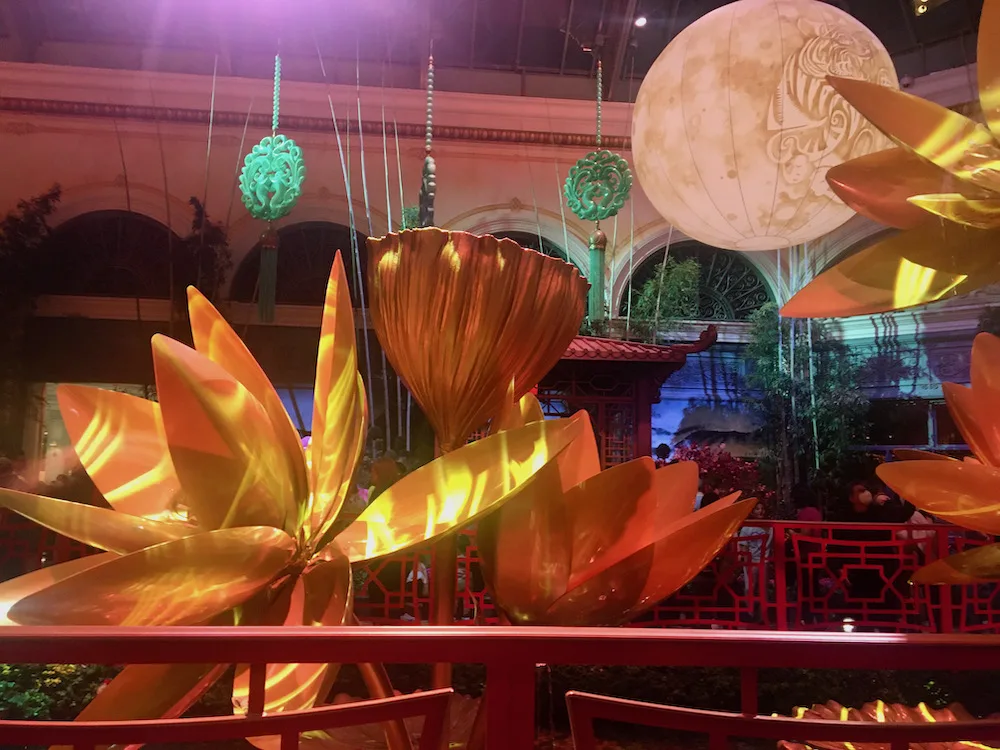 The conservatory, which always has something sensational going on, was decorated for Lunar New Year. It had colorful oversized Asian symbols of wealth and good luck – Chinese coins, a tiger, flowers, a huge moon and so on. We saw Lunar New Year theming in a few hotels, but this was by far the best.
We spent a fair amount of time in the Grand Canal Shops at the Venetian. The canals look incredibly fake but the Rialto Bridge has moving sidewalks up one side and down the other, which were surprisingly fun.
The shops are a mix of high-end galleries and accessible brands like Tommy Bahama. And the Venetian has a plethora of good places to eat.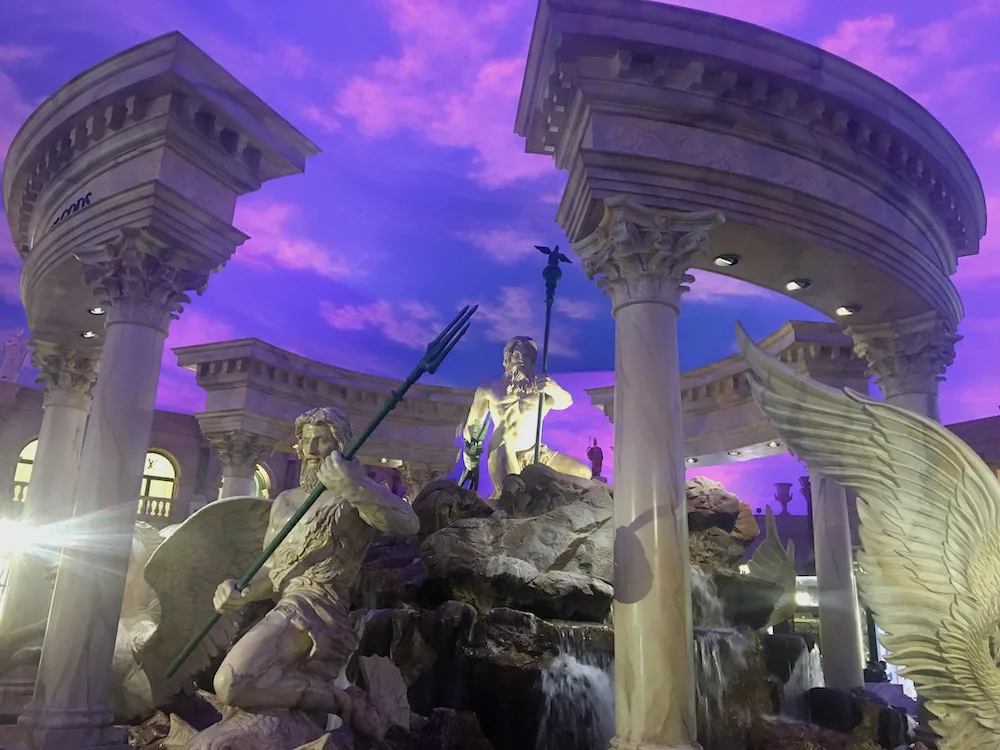 We also liked the over-the-top theming inside and outside of Ceasar's Palace. The brands in the Forum Shops are all very high end. But the atmosphere is nice and there are some good places to eat.
Also the Forum Shops have the free Fall of Atlantis show that you have to see; less because it's good than because it's so cheesy in the best possible way. King Atlas has to decide which of his offspring to leave Atlantis to. The young rivals battle with fire and water until Atlas tires of them both and sinks his city to the bottom of the ocean.
There are talking statues, 360 screens, real fire and dramatic music. The sound quality is terrible and the dialogue is hard to hear. But it really doesn't matter. The story is obvious and special effects are the point. It plays every hour on the hour from 11:00 am to 10:00 pm. The audience starts gathering about five to ten minutes before, which I recommend doing if you want a good spot.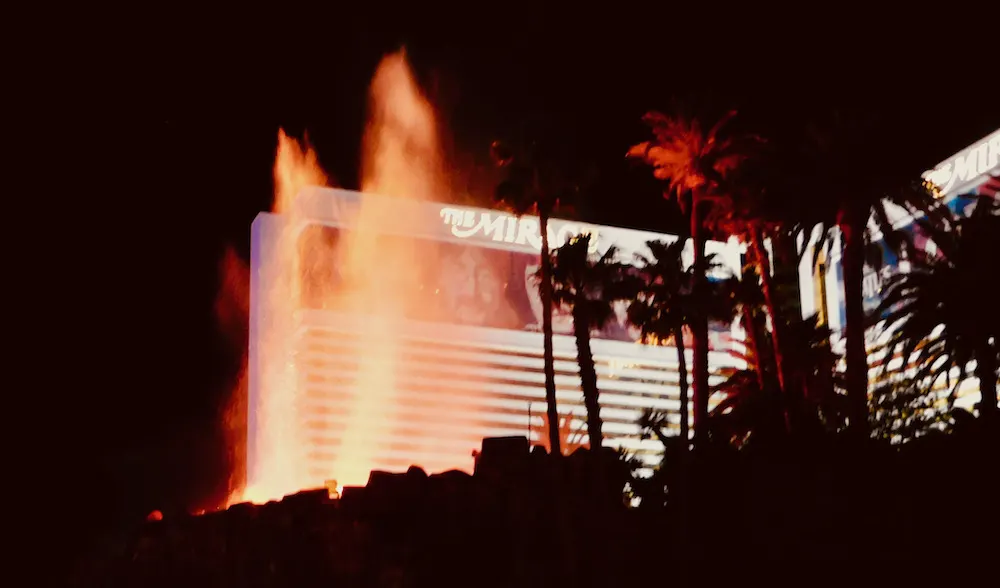 She was very impressed with the free nighttime volcano show outside of the MGM Mirage. It lasts for about ten minutes and has music, explosions and flames leaping up into the air. It's hard to not like it. The volcanoes erupt nightly on the hour from 7:00-11:00.
Easy Shopping
If your teen wants to actually do some shopping, head to the Miracle Mile mall, next to the Planet Hollywood hotel. With brands like H&M, Desigual, Loft, Billabong and Guess, teens can find clothes that fit their style and budget. Teen Traveler found a store called Lillyful, which has not yet made it to the East Coast from California and liked their spring looks a lot.
Our hotel, the Elara, also opened on to the mall and we felt comfortable letting her explore it on her own (which I can't say about the rest of the Strip at all) so she spent a good chunk of her free time window shopping here; and then bringing me with her for the actual shopping.
The mall's desert theming is left over from when Planet Hollywood was the Aladdin and the mall was the Desert Passage. The visuals are pretty cool but they seem somewhat random now. Most of the dining was either crowded or fast-food brands you can find anywhere.
There are two bars in the middle of the mall that offer a full breakfast for under $5 (I don't vouch for the quality but how far wrong can you go with bacon and eggs?). And the mall has an ABC store, which is a handy place to pick up drinks, sodas and snacks for the room, items like sun glasses or sunscreen if you forget them, and souvenirs.
On-The-Strip Adventures
The Linq Hotel, mid-strip, has a zipline and the High Roller observation wheel. It no doubt offers some great views of the city at night; it's expensive but you're on it for about a half hour.
Mandalay Bay has an aquarium you can pay to enter that features sharks and a tunnel with sea life on all sides . At the same end of the strip, New York New York still has its roller coaster and Hershey's Chocolate World.
A lot of families like going to the M&M store and Coca Cola Store near the MGM Grand. We didn't make it down to this end of the strip. And having been to Hershey Park with its chocolate museum and Chocolate World we didn't feel the need to explore these shops.
Off the strip: Old Fremont Street, Neon and the Atomic Age
The Neon Museum
Unanimously, our favorite activity on this trip was visiting the Neon Museum near downtown Vegas. It's basically a big yard filled with old neon hotel, restaurant and shop signs in various states of health and restoration. Some light up at night. Others are backlit so that in photos they look as though they are lit. We signed up for a nighttime guided tour, which takes about an hour.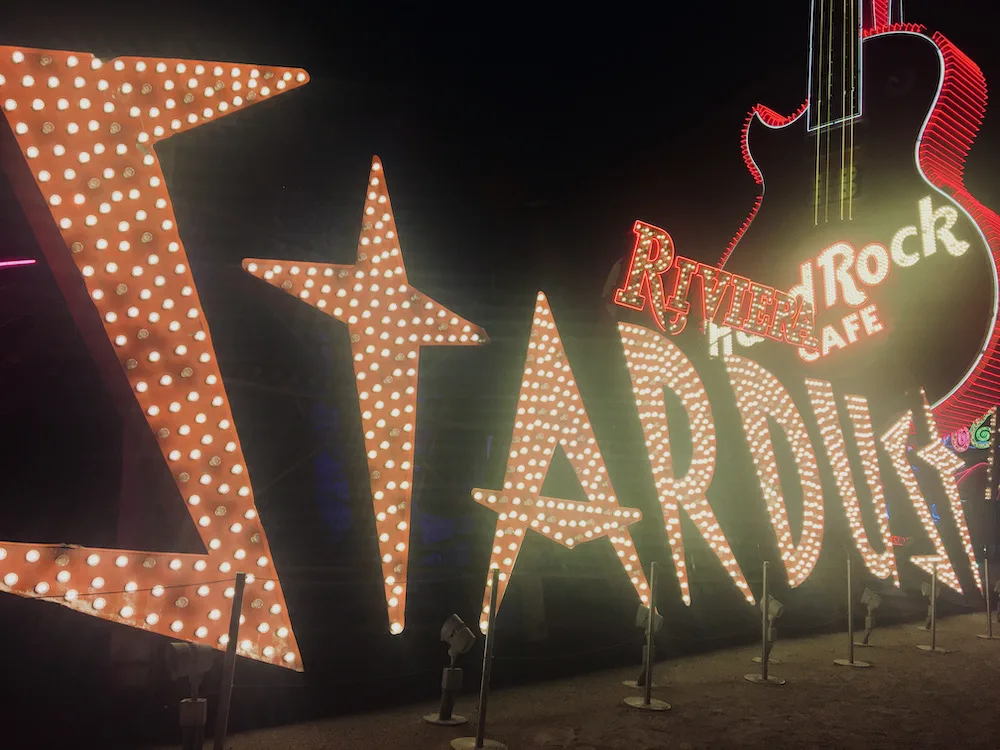 The guide talks about how the signs are acquired and restored, goes briefly into the history of neon in Vegas and tells the story behind a series of signs in the "boneyard," as they call it. We took some really great photos and learned some of the city's colorful history.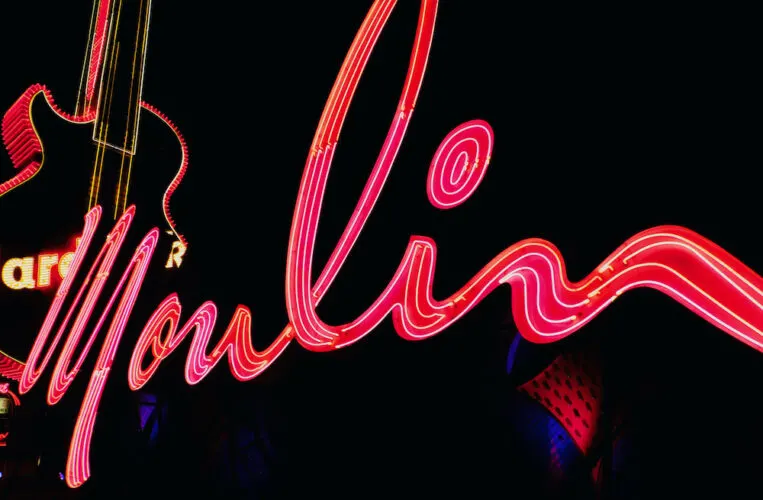 You can explore the "boneyard" on your own in the afternoon until 6:00 (last admission at 5:15), but I don't know why you would. You can appreciate the neon so much more when it's lit up and the guide provides a lot of color that you would otherwise miss. The guided tours start at 6:15 and the last one is at 10:15.
They recommend 10YO and up during the day and 12YO and up at night. There's a lot of fragile signage around so kids have to be able to stay on the path and keep their hands off things. There are a handful of picnic tables under a pavilion just across from the museum entrance where you can have a take-out dinner before your tour if the weather is nice.
Classic Vegas: Fremont Street
It's fun to pair the Neon Museum with a visit to Fremont Street, a five-minute drive away. Much to her surprise, Teen Traveler loved Fremont Street, which was the first paved street in the city and the heart of it's tourist scene before the Strip overshadowed it.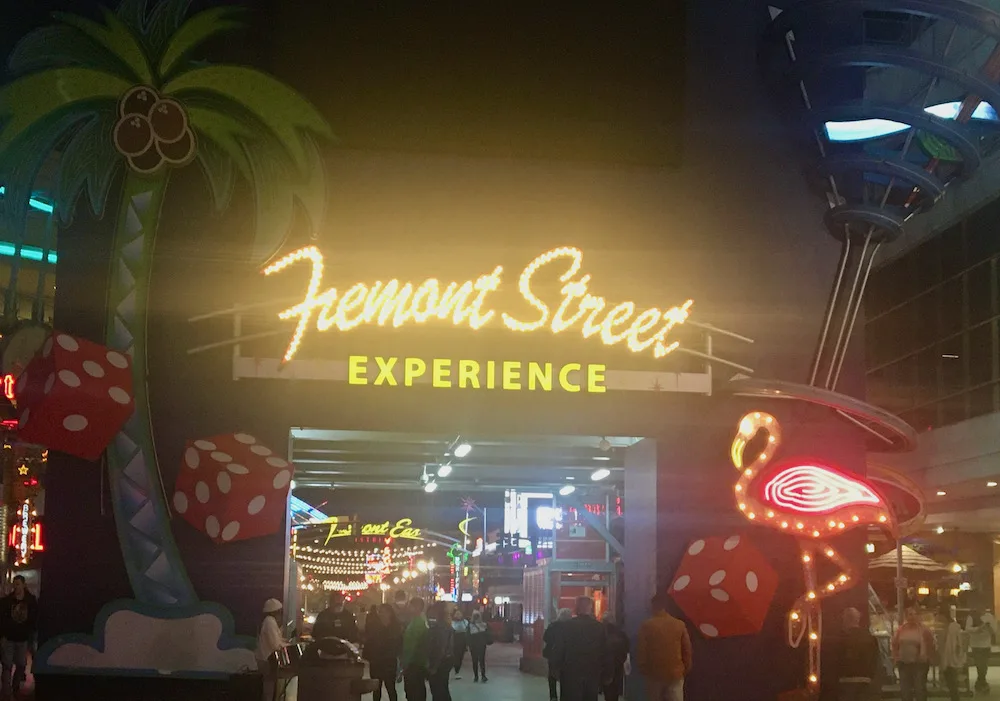 A lot of the vintage signs you see at the museum come from the Old-West-themed casinos that were and still are located here, like Binion's Horseshoe, the Golden Nugget, the Golden Gate and the El Cortez. Got after dark so that you can appreciate the vintage-style neon —and actual vintage neon, like Vegas Vic the cowboy.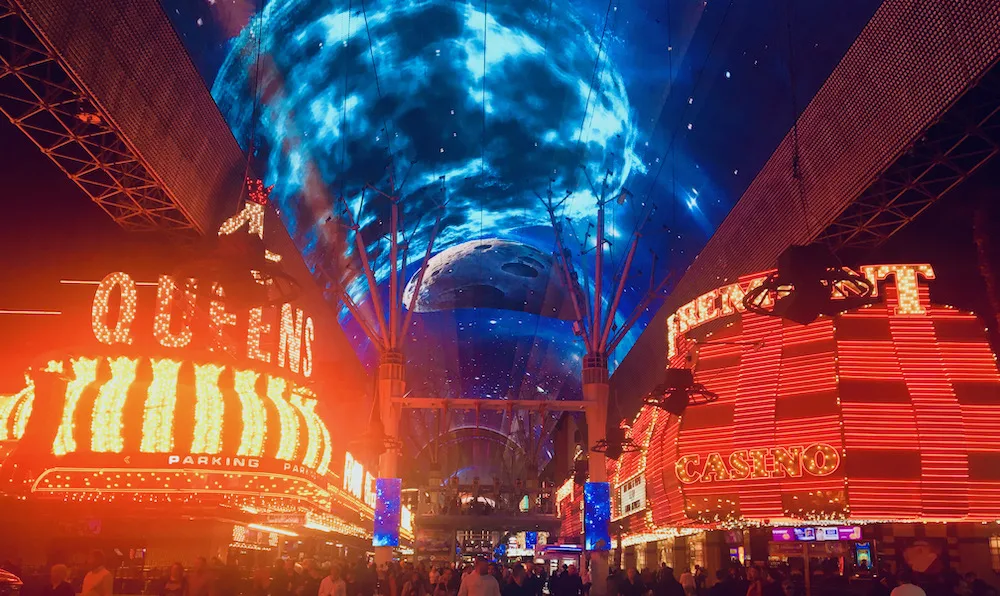 The two-block stretch of Fremont that's covered features The Fremont Experience, a sound, picture and light show reminiscent of the laser shows we used to see at night at the New York Planetarium, but much bigger and cooler. You can fly on a zipline that same length of Fremont Street, which seems way more fun to me than the zipline at the Linq.
Area 15 Entertainment Complex
We spent an evening at Area 15, a relatively new entertainment complex a ten-minute drive from the Strip. We went primarily to see Meow Wolf's Omega Mart installation because we liked the original House of Eternal Return installation in Santa Fe.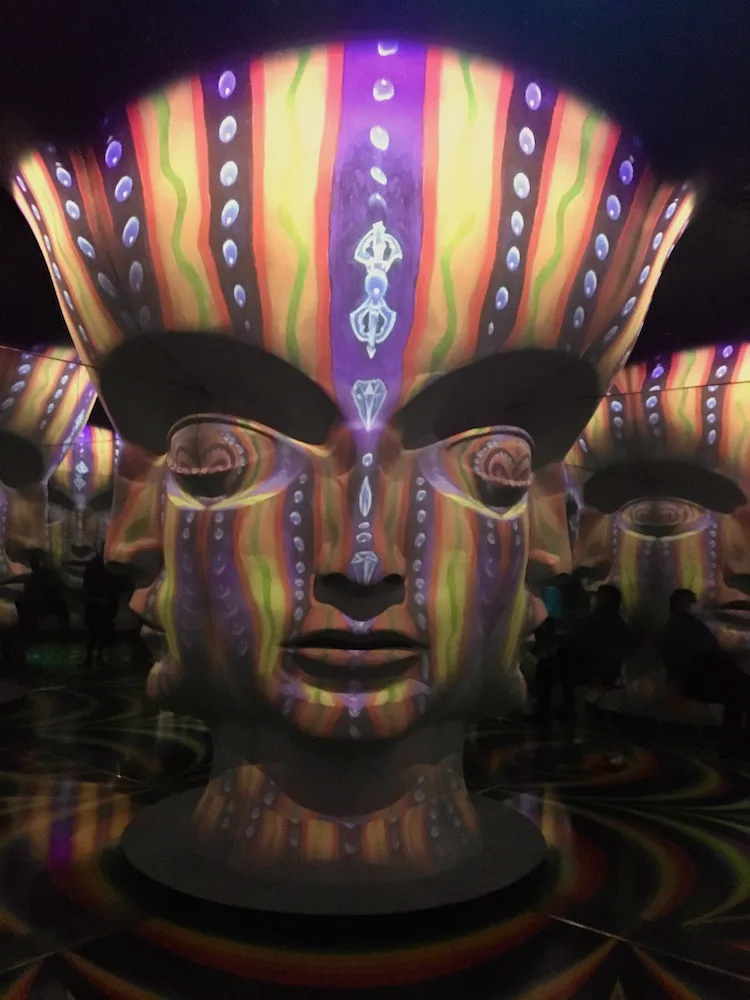 We would have been more wowed by Omega Mart if we hadn't been to the New Mexico experience, which is much bigger, had several more portals and seemed more immersive. That said, Omega Mart is very cool and fun.
You can spend a good amount of time walking around the Mart itself, looking at all the odd products on the shelves. And inside there are a lot of creative, beautiful and funky visuals. There is a conspiracy-driven story line about a grocery-chain-gone-wrong (on a cosmic scale) that you can spend as much or as little time as you like diving in to it.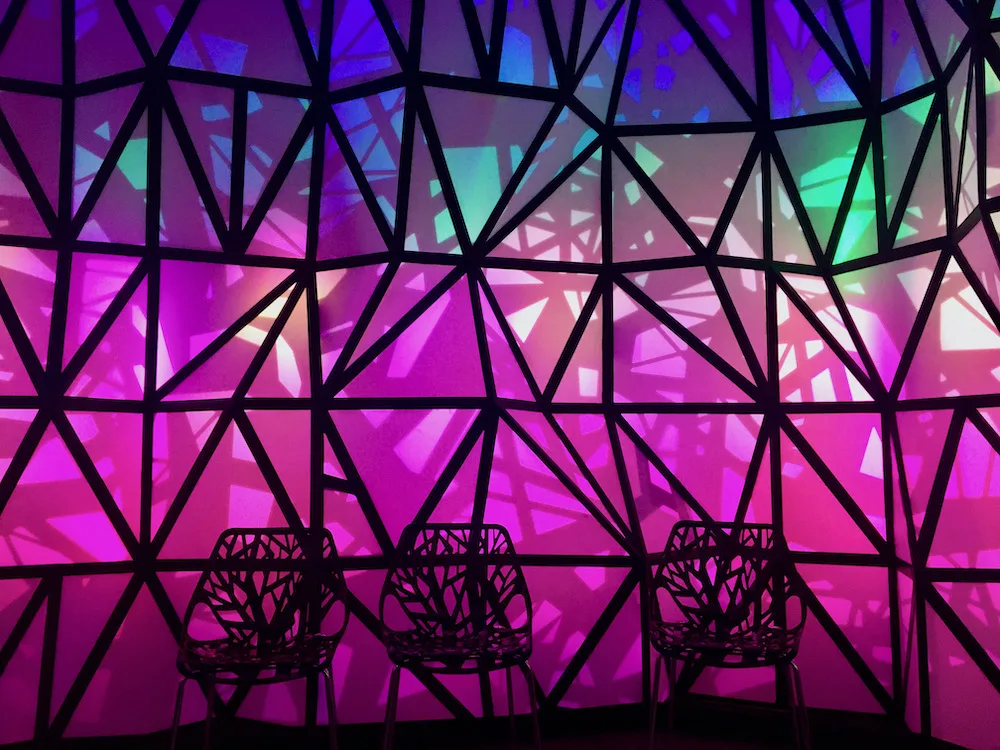 Perhaps the coolest part is that it has three dark twisty metal slides that are fast and fun, and just a little scary. They periodically close the slides for cleaning so when you see one open, hop on while you can. Teen Traveler managed to try all three; I only managed to do two. But one was a worm hole into another dimension, so whose complaining?
Give your family 90 minutes to 2 hours to do everything. And have a plan for meeting up at a given time. Our child quickly ran off and left us and yours probably will, too.
We thought that after we explored Meow Wolf we would check out Area 15, maybe have dinner, and see if any of the other activities looked appealing. There is ax-throwing, a handful of VR and augmented reality experiences, a simulated golf driving range, and a couple of other immersive sound-light-art experiences. The most promising, Wink, was created by one of the founders of Blue Man Group.
But the whole place is dark and mysterious, which makes it hard to tell what's going on where. I realized afterward that we walked right by some of the activities without knowing they were there.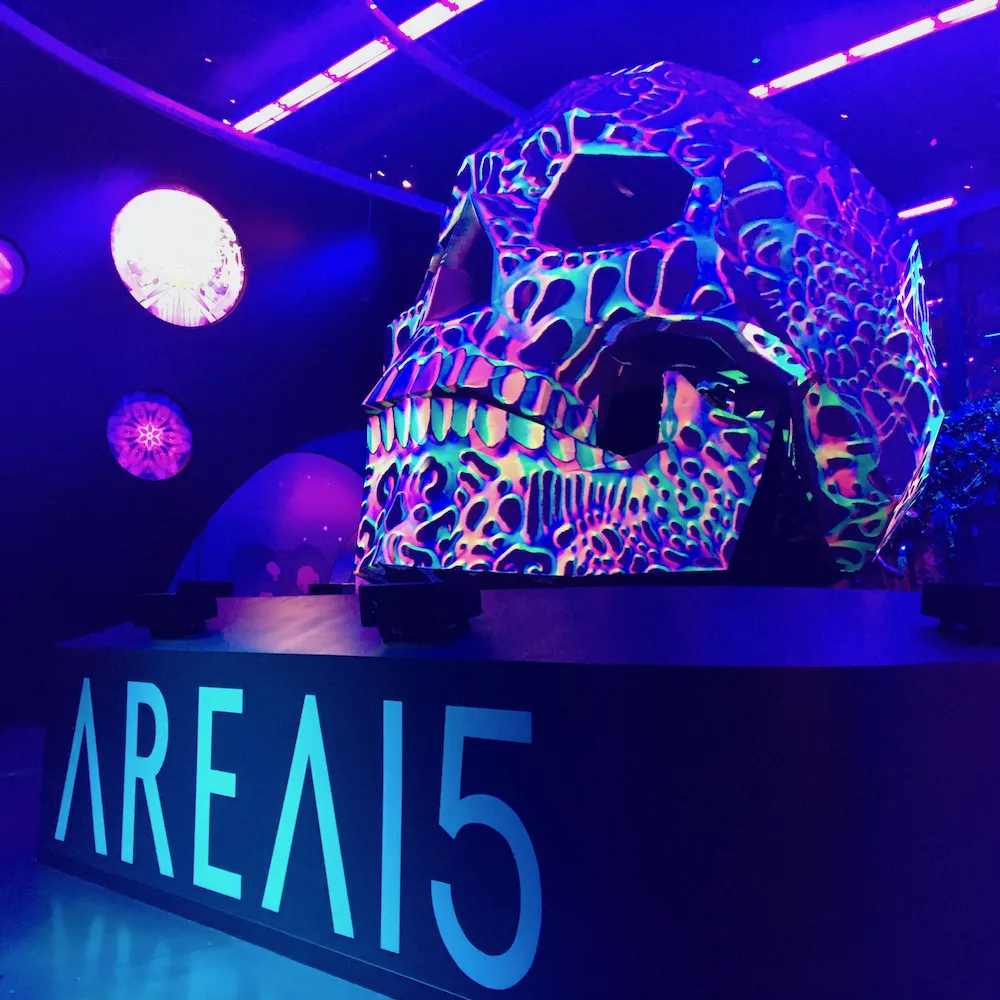 We did explore most of the shops, though. In the Rocket Fizz candy store, Teen Traveler took the opportunity to stock up on salt-water taffy and I bought some local chocolate bars. There are toy store and clothing stores that were fun to look around. And the Meow Wolf shop is amusing.
The Oddwood bar in the middle of the first floor had a tree with bright-neon leaves that called to me. But Vegas has strict bar rules and we didn't think we'd be able to have a drink there with a teen. There is also an arcade/bar that is definitely 21+ only. The one restaurant, Beast by Todd English, has space tacos and a Kraken burger on the menu, which is hard to resist. But it was loud and seemed busy so we skipped it and headed back to the strip.
My advice is to look at the Area 15 website quite thoroughly before you go or even while you are there, so that you can plan a few activities and make an afternoon or evening of it. Keep in mind tickets and food can add up quickly and Under 21s are not allowed in after 10:00. Beast doesn't take reservations, so if it looka busy check the waiting list before going off to your VR campaign.
A Novel History Museum
We had a surprisingly fun afternoon at the Museum of Nuclear Science in Albuquerque so we jumped at the opportunity to visit the National Atomic Testing Museum, a Smithsonian affiliate that's less than a mile from the Strip.
It was more about the history of the testing program and its role in Nevada's growth and development, than it was about nuclear science. It had a lot of things to read and only a few interactive features. It wasn't as much of a fun science museum as Albuquerque's. It was also less even-handed about the pros and cons of nuclear technology, which was surprising given its emphasis on education.
We spent an hour there and could perhaps have used another 20-30 minutes but not much more. One of the few interactive activities happened to deal with a topic Teen Traveler had recently researched for her chemistry class, which pleased her.
Both she and Rich said they enjoyed it and would recommend it to people interested in engineering, nuclear science and technology or the social history of nuclear development. It's also an inexpensive and easy way to get away from the Strip and see a very different side of Las Vegas for an hour or two.
Things To Do Out of Town:
Hoover Dam via Boulder City
You have to drive through Boulder City to get to the Hoover Dam so it makes sense to stop for lunch on your way to or from. If we had more time I would have looked into a walking tour of this small town because it has an interesting history that's closely tied to the building of the dam.
Boulder City has made concerted efforts to curb its growth and density. It's small historic downtown—about 2 square blocks— has the feel of a former boomtown that has matured and is neat and charming.
Along one block of Nevada Way we found a brewpub, wine bar, classic diner, fudge shop, pizza place, coffee bar/bookshop and Mexican cantina. All looked inviting and we probably would not have gone wrong with any of them.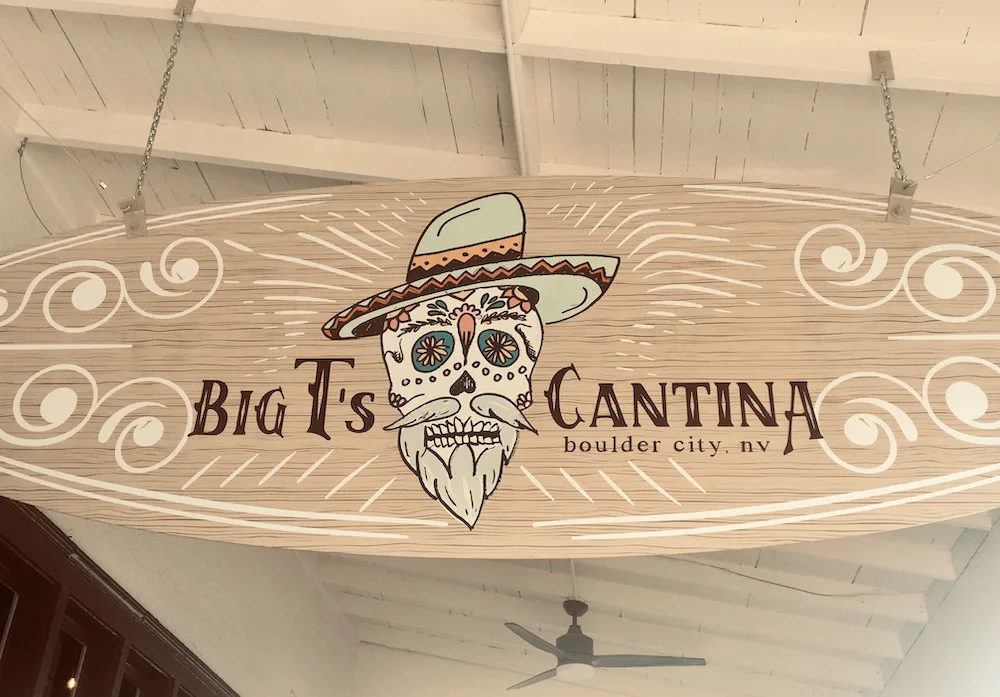 We chose Pico's Cantina, a new place in town for southwestern Mexican food. Everything from the salsa onward was freshly made and had a lot of flavor without a lot of heat. Teen traveler, not a fan of any kind of sauce, ate asado enchiladas covered in red sauce with enthusiasm. Rich had equally good cheese enchiladas.
The chicken in my fajitas was a little dry but the grilled veggies, guacamole, pico de gallo and salsa compensated. It came together with good grilled and peppery flavors. They had churros for dessert, which were tempting. But Grandma Daisy's candy and Ice Cream shop called to us (well, to our youngest diner).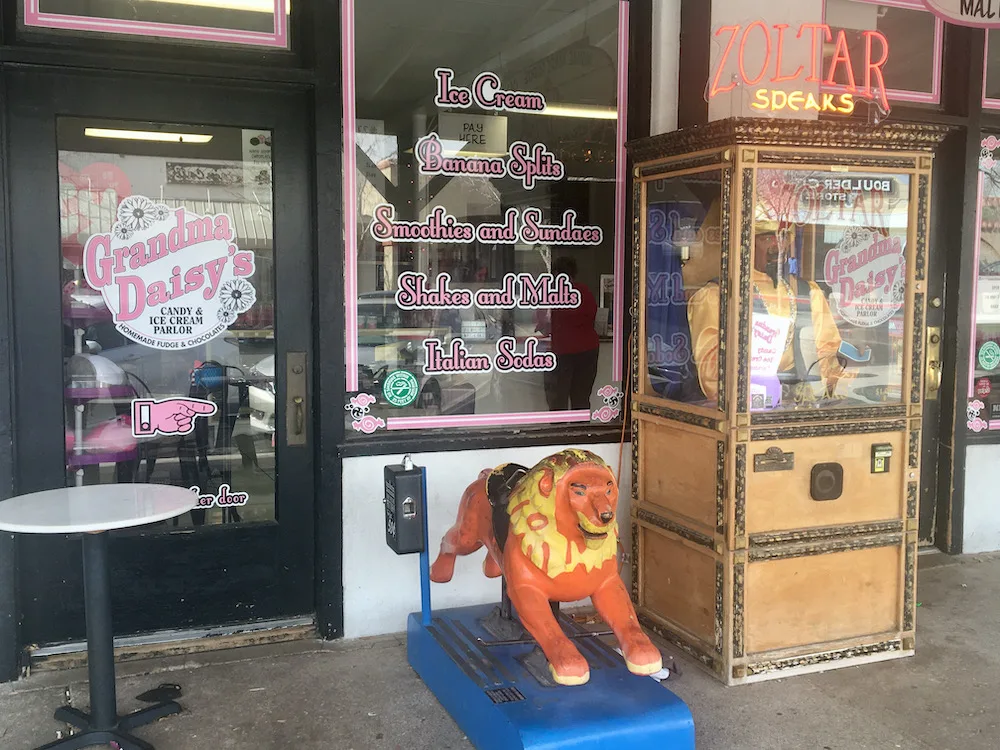 At the ice cream/fudge shop I bought some dark chocolate filled with crunchy honeycomb from the selection of hand-dipped chocolate.
Teen Traveler was intrigued by a menu of homemade soda concoctions. She chose mead water, a mixture of Coca Cola, blue raspberry syrup and cream. It was sea green, and looked like something the Little Mermaid would drink in an undersea malt shop. But I have to admit the flavors were good together and it was the perfect dessert after spicy Mexican food.
We got to the Hoover Dam later in the afternoon than we intended and had less than an hour in the visitors' center. A visit starts with a movie about the building of the dam. Some of it was out of date, especially in its praise for the ample supply of water and electricity it delivers to the surrounding states. But it was interesting to learn what went into planning and building the dam.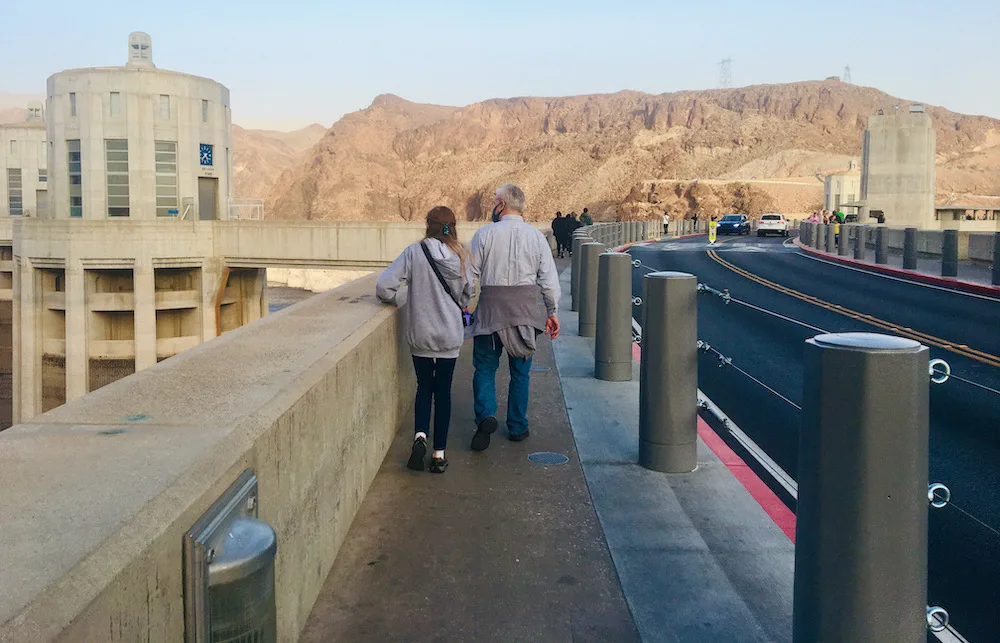 The exhibits cover the same ground in more depth, and a top-floor outdoor observation deck gives ideal views of the dam, powerplants and the Hoover Dam memorial bridge downstream.
You can walk or drive across the top of the dam to take in the views and photograph Lake Mead, the Dam, the Colorado river below the dam and the bridge. The one advantage to getting their late in the date was that it was dusk by the tame we were leaving and that provided a lovely pink sky for our photos.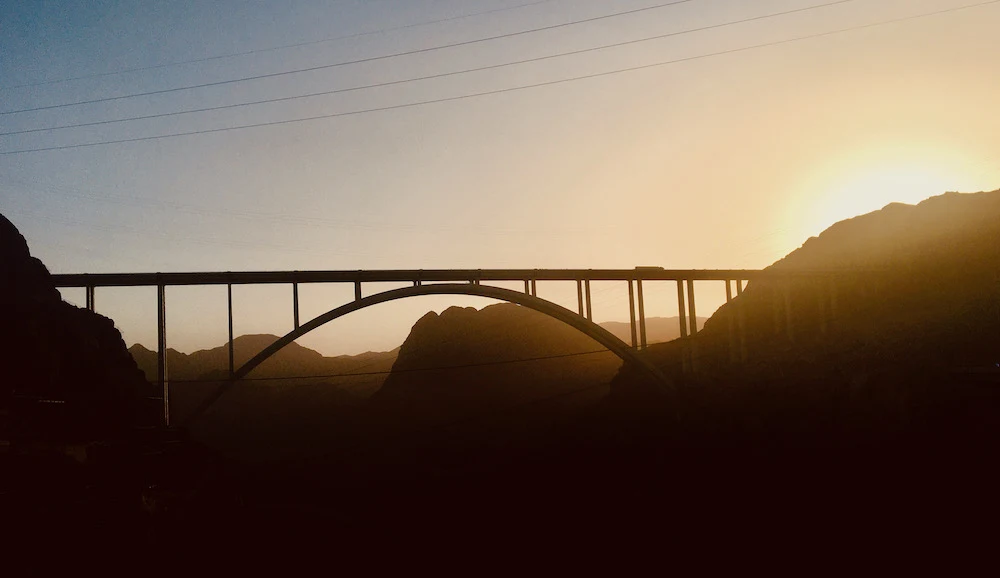 There are tours of the dam and power plant but they weren't available when we were there, much to my STEM kid's chagrin. When they offer them it's on a first-come-first-served basis so get there early if these are a priority for you.
The old visitors center has additional exhibits including a 3D model of the dam and surrounding area, but there were no signs to indicate ut was open so we missed that as well.
The old visitors center and the top of the dam both have great art-deco details (some of it reminded me of NYC's Rockefeller Center, which was built around the same time). So I would have liked to have a peek inside.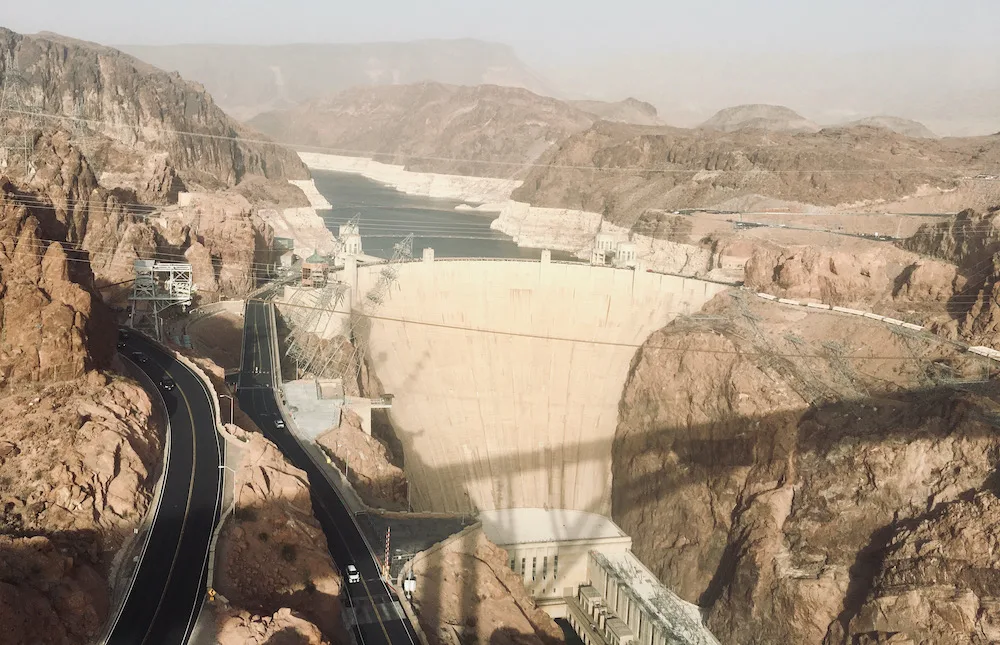 On the way to or from the dam you can pull off into a parking area for a pedestrian path that you can take to walk across the memorial bridge. It gives you stunning views of the dam and the lake. Stop to read some of the signs that explain how the bridge was built; it was an engineering feat in itself.
Tip: There is a highway that bypasses Boulder City if you want to save time on your way back to the city.
Kayaking the Colorado River:
A very late flight out on our last day allowed us to do a half-day kayaking expedition on a stretch of the Colorado River that starts a bit past Boulder City. The weather wasn't optimal—cloudy and unseasonably cold; it even rained on us for a few minutes—but the kayaking was scenic and not too difficult and in the end we had a fun day.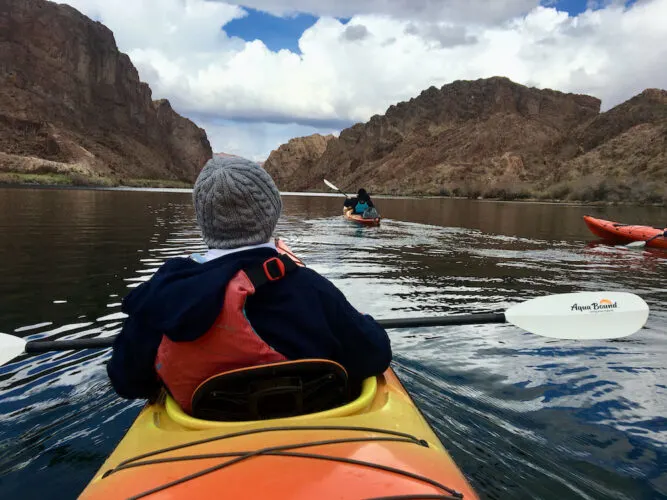 We had booked three single kayaks but the tour company called the day before to tell us they expected wind and suggest teen traveler pair up with one of us, which was a good call. We should have an easy paddle downstream on the way back but there was indeed wind which required some effort.
The half day is a four-mile round trip. Our guide Mike was good at helping and encouraging the less experienced paddlers and keeping us together. We stopped once at a beach for snacks and water.
Then we took a very short hike up to the ruins of a surveyor's cottage (one of the many folks out scouting he Colorado for the right spot to build a dam). It was on a cliff with great views of the river and mountains and Mike was happy to take photos for people. Along the trail he told us about some of the local flora we passed.
Then we went to the Emerald Cave, which on a sunny day has bright emerald green water. Even with the clouds we could appreciate the unique color. Of course the sun broke through a few minutes after we left the cave. He suggested we pull in at a small beach next to the cave for another snack break and to appreciate the emerald tinge of the water off the beach.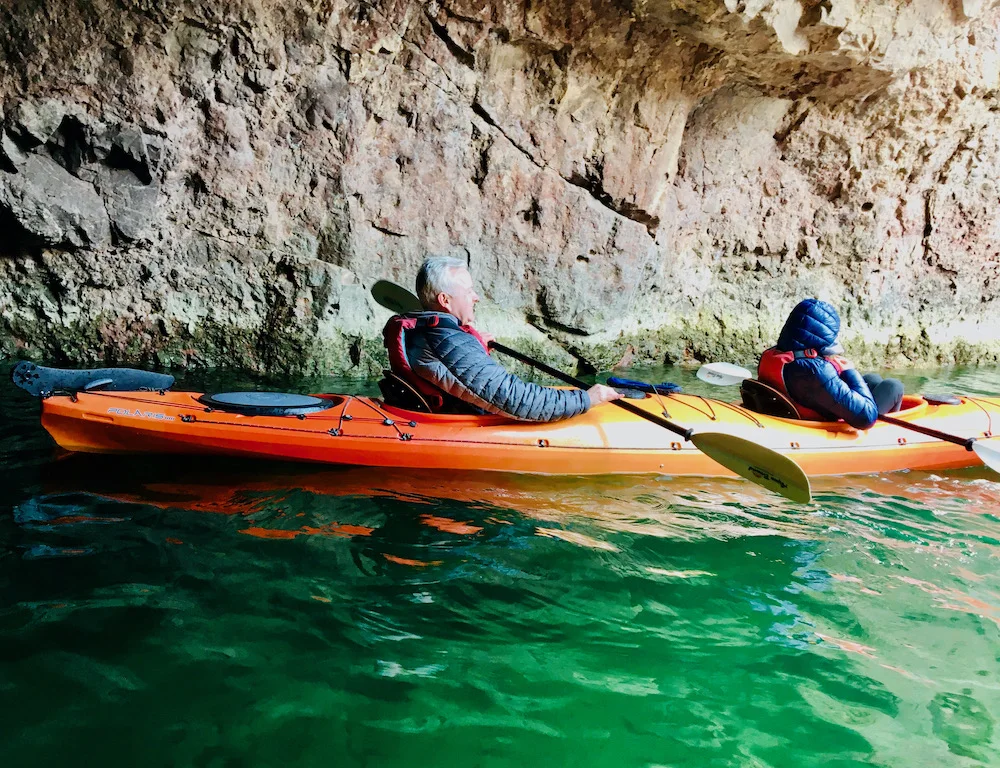 We had to wait for another group to go into the cave and come out before we could, which took ten to 15 minutes. He said that during their busy season they wait can be up to an hour.
It was a fun day with just the right amount of paddling. If you want something more challenging, the full day is 12-miles one way down stream. You start near the dam and stop at hot springs as well as the cave. It's probably a really great day but more than we were game for.
There are several tour companies that offer kayak trips. We went with Blazing Paddles largely because they included transportation in the tour price and picked people up at a good half-dozen hotels on the strip, which made it easy to find a pick-up spot near us (the Paris). We can definitely recommend them.
Some of the other companies only stopped at one hotel, or asked you to call to arrange transportation after you booked the tour, or added a fee for it on top of the tour price. So look closely at what you're booking.
More Outdoor Fun
If you want more outdoor activities, there is hiking in the Valley of Fire, Red Rocks, Mount Charleston and other state park areas. And there are some water activities, including more kayaking, in the Lake Mead National Recreation Area.
Great Teen-Approved Las Vegas Restaurants on and off the Strip
To say the Vegas dining scene has recovered from the pandemic is an understatement. There were a couple of places where we wanted to eat that we didn't get to try because reservations were impossible and wait lists way too long.
We didn't lack for good meals though. We had two good (expensive) dinners at the big hotels. And we had two very good and inexpensive dinners at local spots recommended to us by a hotel valet and a taxi driver.
Teen-Friendly Restaurants on the La Vegas Strip
1. We enjoyed tapas at Jaleo, a branch of the lively Jose Andres restaurant, at the Cosmopolitan. Rich and shared half pitcher of fruity red-wine sangria.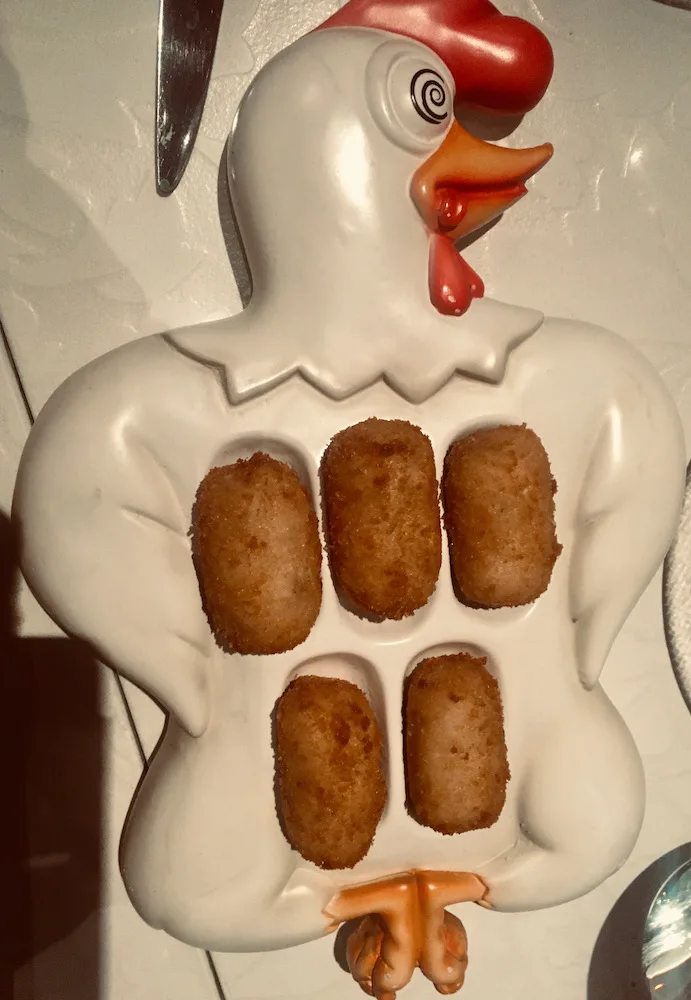 Tween Traveler ate most of the creamy chicken croquettes that were served on a chicken-shaped plate. And she dug in to the shrimps in garlic that came with bread for dipping. She wanted no part of the bacon-wrapped dates, cured Jamon Serrano or grilled eggplant and peppers (more for us). It didn't seem like a lot of food but we were too full to order more.
2. There are several Italian restaurants around St. Marks Square in the Venetian Hotel. While perusing the menu at Brera Osteria, a staff member told us they make all their pasta and bread in-house and import their ingredients from Italy. That won us over.
It was a really good meal. Handmade long pasta with a braised lamb sauce was robut and the best of the three dishes we had. Veal-filled tortelli had more subtle flavors and seemed mild by comparison but was nicely done. Tween Traveler dug into gnocchi in a creamy cheese sauce.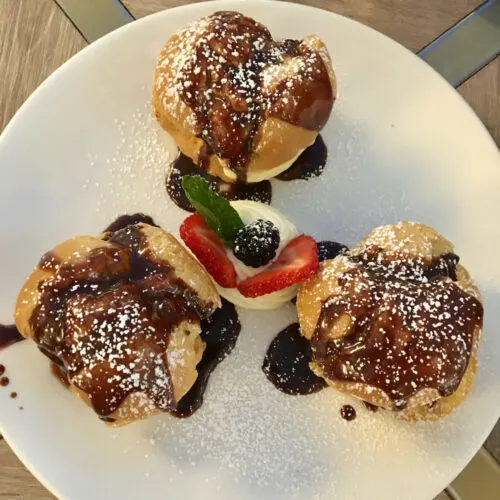 The profiteroles we ordered for dessert came as a trio, which mean we didn't have to fight over them, which is convenient because the combination of pastry, chocolate sauce and vanilla gelato was perfect and we would have.
Dining "al fresco" on the square is actually quite lovely. The weather is always perfect and unlike the real St. Marks Square, there are no pigeons.
3. We also enjoyed inside "al fresco" dining in the Forum Shops at Trevi, so named because it sits alongside the absurdly oversized fountain of the gods. We were just there for an afternoon snack and ordered prosecco and calamari. The latter was fried to a crisp with a peppery aioli for dipping. The brick-oven pizzas at the other tables all looked inviting and we contemplated going back to try them.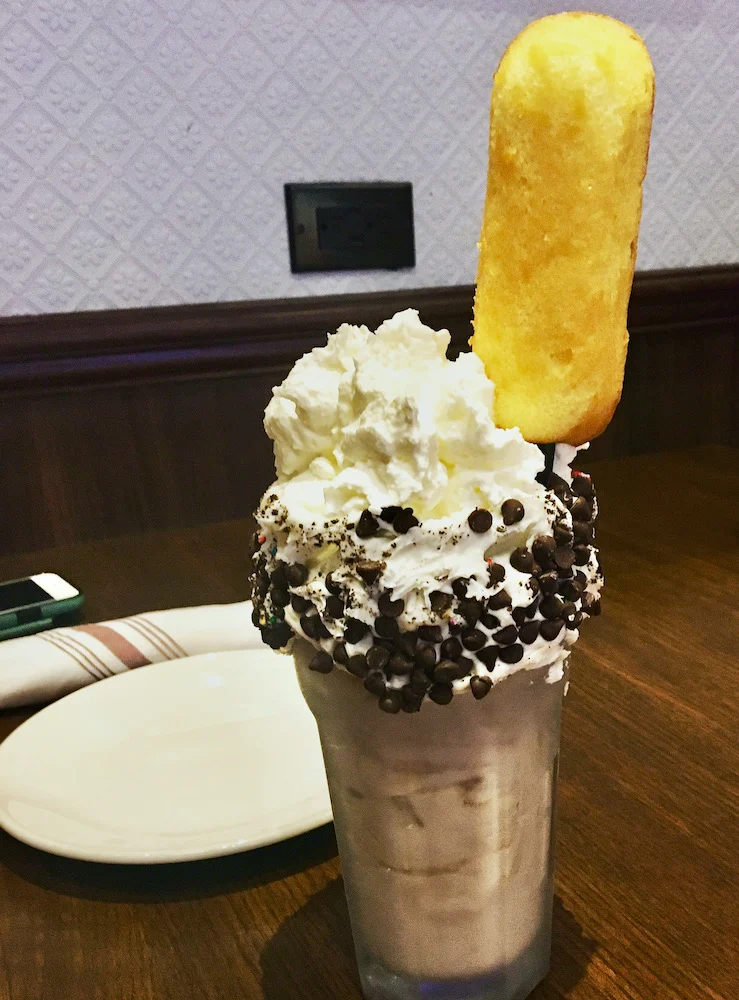 4. We stopped for a snack on another afternoon at Royal Britannia, a British-style pub in the Venetian. Rich and I ordered local Vegas beers and a plate of wings to share. Tween Traveler ordered a chocolate milkshake, though this seemed an unlikely place to get a good one.
She was delighted with it. It had a pile of whipped cream, chocolate chips around the rim of the glass and an extra-long straw had a Twinkie speared on it. It was an ideal way to cap off our day of kayaking.
5. We fueled up for the kayaking trip at La Creperie, in the Paris. It was on the pricey side and had quite a line. But the line cook had four pans going at once so things moved quickly.
Rich and I split a ham & cheese crepe and a lemon-and-sugar to try both the sweet and savory options. We both liked the sweet one best, to our surprise. Teen Traveler loved her crepe, which was covered in Nutella, chocolate and sugar-glazed hazelnuts (you have to envy that teen metabolism).
They only sell regular drip coffee at the crepe stand, but the café alongside it has more elaborate coffee drinks if you want them.
Fun (and Cheap) Places to Eat Off the Strip
6. We asked the valet if there was any place good to eat out near the Neon Museum. He hesitated, then told us to go to Taqueria Casa del Sabor, a Mexican taco truck that parks in front a tire-repair place at the intersection of East Bonanza Road and Las Vegas Blvd, a two-minute drive from the museum.
You could walk up to the window or wait in your car for someone to come and take your order. It was busy and it was easy to see why the taco truck in the middle of nowhere was popular. We had tacos with asado steak, chorizo, chicken, tongue and pork belly.
Rich ordered a cabeza taco for himself. They all come with lines, chopped onions and red and green salsa. But had enough flavor that you barely needed these garnishes. We liked them so much we went back and ordered an asado quesadilla, which came with the same garnishes and was equally tasty.
7. We wanted to grab dinner before our late-night flight, didn't want to eat on the strip again and didn't really know where to go. So we got in a cab and asked the driver to take us someplace good in the direction of the airport. He took us to a strip mall with a pizza place, a nail salon and a hookah lounge, among other things and pointed to Gangnam Asian BBQ Dining. "It's the best Korean food in Vegas," he told us. We trusted him.
And we had great Korean BBQ with very friendly service for about one-third of what similar restaurants charge in NYC.
We snacked on spicy garlic-pepper edamame and charred shishito peppers while grilling tofu, shrimp and marinated kalbi. A side of steamed rice was handy for countering the heat that makes Korean food so good.
8. Lotus of Siam is a popular local northern Thai restaurant famously touted by Tony Bourdain. It happens to be across from the Atomic Testing Museum and we hoped to have lunch there. Alas, the day we went to the museum it was closed at lunchtime and we couldn't get a table for dinner.
Luckily, we found Mint Indian Bistro in same strip mall as Lotus and they were serving a buffet lunch. As we tucked in to curried lamb and chicken saag we realized it was the first time we'd eaten at a buffet in more than two years. Having people get a fresh plate each time they returned was one of several steps they took to keep it safe.
It was definitely a better-than-average Indian buffet. All the dishes had distinct flavors, which doesn't always happen. One dish I hadn't had before and liked was pepper chicken, where green peppers provided a fresh and crunchy counterpart to the spiced meat.
Teen Traveler liked the veggie pakora and they had good paneer, cauliflower and potato dishes, making the place a good option for vegetarians. They even labeled the buffet dishes to signal which ones were vegetarian, vegan and gluten-free. And here buffet lunches with soft drinks rang in at under $50.
---
Book your Elara suite with a view or another luxury apartment on the Strip on VRBO.
Secure the best rates at the Elara by Hilton and Mandalay Bay on Trip Advisor.
Explore more Vegas Strip Hotels.
---
Basic Information For Las Vegas
Getting to and around the city
McCarran is the main airport and is only about ten minutes from the Strip. Some hotels have airport shuttles but they seem to be the ones that are a but away from the main drag. You can order a Lyft car or just grab a local taxi from the dispatch line. The local taxis charge a flat rate to a series of "zones" along the strip, which means at peak times they are probably a better deal than a Lyft.
If you want to get out of town, you'll want to rent a car for at least a day or two. Reserve in advance and get to the rental place a good half-hour before your reservation time. The lines for cars were incredibly long and it seemed to me that they were renting cars out as they came back in.
If you don't want to pay hotel parking rates there is a two-square-block public garage behind Planet Hollywood and the Paris (access it through the Miracle Mile mall). Fees maxed out below $20 for 24 hours, which is pretty good for tourist-area parking.
If you don't have a car, taxis are not hard to come by. We never waited more than ten minutes for a Lyft and most of the hotels have local taxis dropping people off at regular intervals, A few times it was faster to hop in one of these instead of using an app.
You can also book tours that will get you out of town to the Hoover Dam, Red Rocks, Valley of Fire, Lake Mead and other outdoor destinations. Letting someone else plan the day and handle the driving is easy and relaxing and this is what we did on our kayaking trip.
But having a car gives you flexibility to dine and explore off the Strip. We made the most of the one day we rented a car by hitting Boulder City, the Hoover Dam, Fremont Street, the Neon Museum and the taco truck. We would have done more had our rental been available earlier.
Las Vegas Weather
Spring and fall are the ideal times to visit Las Vegas. It's warm enough to sit by the pool but not too hot to get out and explore.
We visited in February and it was in the mid-70s the day we arrived. On the day we left it was in the low 40s and some places outside the city had snow. This is to say, the winter can be chilly and the weather is quite changeable. Don't plan to go swimming.
From June to September the temperatures are high and the sun bakes you. If you want to do any outdoor stuff, do it very early in the day or late in the afternoon when the sun is lower.
Regardless of the time of year you are there, make a point of drinking water. Even when it's chilly the sun is strong and the air is dry. You can easily become dehydrated when you least expect it.
What To Pack for Las Vegas
Bring a pair of comfortable walking shoes. Each hotel on the Strip takes up at least a city block (Caesar's takes at least two). Just walking from one end of the hotel zone to the other is more than a mile. And you'll want sneakers or hiking shoes if you plan to explore any of the many hiking areas nearby.
In summer you'll need a sweater or hoody indoors for the air conditioning. At other times of the year layer. The days might take you from short sleeves to a fleece or light puffy jacket. Guys should bring at least one button down shirt they can wear with jeans or khakis. And women should toss a medium-casual dress or some slacks and a blouse into their suitcase.
As you might expect, Vegas has people who are dressed to the nines rubbing shoulders with people wearing flop-flops and cut-offs. To some extent, how well you want to eat influences how nicely you want to dress.
Flip-flops are perfectly fine if you're heading to P.F. Chang's or Guy Fieri's Kitchen & Bar at the Linq. Trade them in for cute sandals or ballet flats if you're heading to some of the trendy and stylish spots at the Cosmopolitan, Aria or MGM Park; Guys can probably get away with nice sneakers in these places, but loafers can't hurt.
For very high-end places like Mansion or Guy Savoy, choose slacks or a dress and don heels if you brought them. Have the guys at least don khakis and a button-down shirt; no sneakers please. A jacket is nice but not necessary in most places.
Needless to say, make sure your teens pack something better than jeans and hoodies if you're planning to dine in nice places.
Pin it for later!